Pages 368-386
Survey of London: Volume 42, Kensington Square To Earl's Court. Originally published by London County Council, London, 1986.
This free content was digitised by double rekeying and sponsored by English Heritage. All rights reserved.
Christ Church, Victoria Road
This conventional Gothic Revival church was built in 1850–1, to designs by Benjamin Ferrey.
Christ Church began as a daughter church to St. Mary Abbots, which from 1842 was ministered to by John Sinclair. Unlike other local Anglican churches, it never acquired its own district and has always remained under the parish church's aegis. The idea of building a 'chapel of ease' in this area probably goes back to the mid 1840s, when development on H. L. Vallotton's estate in Kensington New Town was in full spate. By 1848, at any rate, 'A Constant Reader' complained to The Builder that though Vallotton had given a site in Victoria Road, 'they seem to sleep over it'. Two years later, another correspondent urged The Builder to stir up the building committee of 'this long-talked of new church', for which subscriptions had been for some time solicited. (fn. 16)
The reasons for the delay do not appear, nor do we know details of the arrangements for the design of the church. However, it seems that more than one architect was approached, since illustrations survive showing a church by W. B. Moffatt, described as 'Christ Church, about to be erected at Kensington'. (fn. 17) Though different in some stylistic features, this design had a similar plan to the church afterwards built in Victoria Road, with a tower in the unusual north-east position and an entrance from a north-west porch (Plate 140a). For whatever reason, Moffatt failed to secure the commission, and his fellow ecclesiologist Benjamin Ferrey was chosen as architect instead. In May 1850 the site was finally conveyed by Vallotton, and Ferrey's design was put out to tender. The well-known church builder George Myers of Lambeth won with a bid of £3,540 and work started immediately. The foundation stone was laid on 24 July 1850 and the church was consecrated by Bishop Blomfield on 23 July 1851. The total cost of building appears to have amounted to £5,000 and 700–800 sittings were provided, of which only about 100 were free. (fn. 18)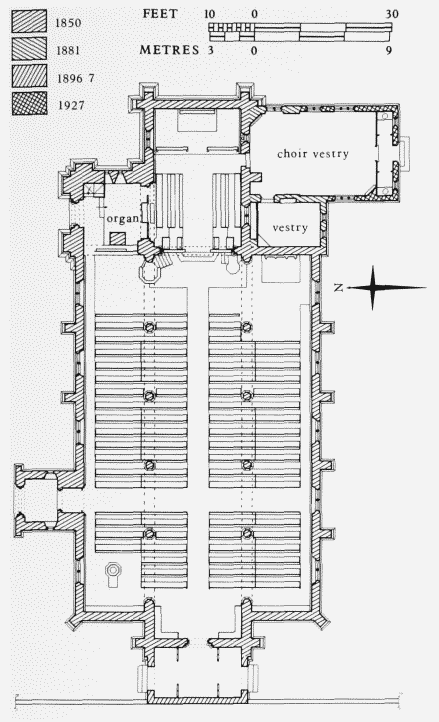 Ferrey's design was in a respectable, humdrum SecondPointed Gothic, with the separate nave, aisles and chancel expected by church-building orthodoxies of the moment (Plate 140c,Plate 140d, fig. 144). The materials used were Kentish ragstone with dressings of Bath stone. The church was peculiar only in having aisles with their own pitched roofs and in the position of the north-east tower and broach spire. Probably using the architect's own information. The Ecclesiologist published a full report which commented knowingly on its 'remarkable resemblance, though with some improvements' to Ferrey's previous St. Mary's, Barnstaple (1846). (fn. 19)
In architectural character, Christ Church remains now much as it was when first built. The nave arcade is of five bays, with plastered walling above and elsewhere throughout the church. The nave and chancel roofs are both of open timber and run through at a single pitch. The aisles are ample and the seating entirely immerses the bases of the nave piers. This was supplemented originally by a west gallery across the breadth of the nave and aisles. The tracery of the windows is quite conventional; originally the west window of the nave had three lights only. Formerly there was quiet Minton tiling throughout the church, while on the sanctuary floor could be found 'a richly embroidered carpet, worked by ladies, of a very fair design'. Between the choir and tower came 'a good oak parclose'; behind it was a vestry with the organ above. There were stalls with poppyheads, an altar of oak, a stone pulpit (no doubt the present one shown in Plate 144a, but then on the south side of the chancel arch), but no font. Nor was there any pictorial stained glass at the time of consecration. Instead 'all the windows are filled with Powell's quarries, and have colour in the heads and borders'; some of these lights survive. (fn. 19)
'Considerable decorations in polychrome are in contemplation for the chancel', announced The Ecclesiologist in 1851. (fn. 19) Whether these were carried out we do not know, as the next mention of change at Christ Church comes thirty years later, in 1881, when Edmund B. Ferrey, son of the original architect, was called in to lighten the nave, which had no clerestory, by means of adding dormers in the roof. In the same year the east window was stained and a stone reredos installed. (fn. 20) Then in 1896–7 the younger Ferrey added a west porch, removed the west gallery, enlarged the window above and installed a font close to the north door. (fn. 21) (fn. c1)
No further modifications of importance seem to have taken place till 1914, when during the short-lived ministry of the Reverend Harry Pearson the chancel acquired some fittings of greater dignity. These included the present reredos (by James Powell and Sons), a low chancel screen and stalls (by Heaton, Butler and Bayne), and altar rails and a mosaic sanctuary pavement (designed by J. Arthur Reeve and carried out by Robert Davison). (fn. 22) The chancel was further embellished in 1923–4 with a new cross and candlesticks (by Omar Ramsden) and a new east window by Powells to replace the old one installed in 1881. In 1927 a new choir vestry was added in the south-east corner of the church. In 1941 the tip of the spire had to be taken down following blast damage. Subsequent changes include a south altar and reredos of 1961. (fn. 23)
With the exception of a naturalistic Victorian window at the east end of the south aisle (said to be after Sir Joshua Reynolds), and a west window in late Pre-Raphaelite taste, the stained glass is of no special interest. There are however some pleasing memorials, notably a bas-relief to Charlotte Athanass Stewart (d. 1860) and a credence table with attached brass plaques in memory of Amelia Ward (d. 1888). In the south aisle is a plaster cast of a bust of the founder of the church and Vicar of Kensington, John Sinclair.
St. Cuthbert's Church, Philbeach Gardens
St. Cuthbert's, Philbeach Gardens, is much the grandest church to have been built in western Kensington. Raised under the auspices of the Reverend Henry Westall to a design by H. R. Gough in 1884–7, it was greatly enriched and beautified over the succeeding thirty years. Next to it stand a clergy house (1883) and the Philbeach Hall (1894–6).
The early history of St. Cuthbert's is rife with the complicated relations and jealousies between existing churches nearby. Its parish was taken from that of St. Philip's, Earl's Court Road, but its founder and its traditions derived from another and closer church, St. Matthias's, Warwick Road, established in 1869. St. Matthias's, a High-Church foundation, had been quick to broaden its influence, and in 1872 set up the daughter church of St. Patrick's in Kenway Road — a private initiative frowned upon by the ecclesiastical authorities, as this part of Kensington was already dense with churches. Consequently the funds to translate St. Patrick's from a temporary into a permanent structure could not be found, nor could money be raised to rebuild the little iron church in Kenway Road when it burned down in September 1879 (pages 380–2).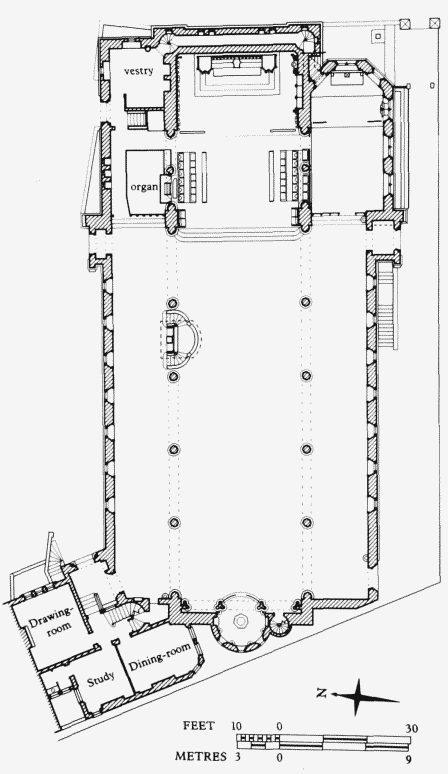 In the rest of St. Philip's parish, however, there was a genuine dearth of church accommodation, notably south of West Cromwell Road in an area specifically excluded from the parish of St. Matthias when that was defined in 1871; here, building operations were rapidly going forward. In about 1880, therefore, a 'Bishop's Commission' investigated sites and authorized the incumbent of St. Philip's, Walter Pennington, to erect a church 'in the heart of the new streets North and West of the Earl's Court Station'. (fn. 24) But Pennington, an insecure personality whose income depended wholly on his pew-rents, proved an ineffectual church-promoter. In September 1880 he agreed to join forces with the clergyman hitherto in charge of St. Patrick's, the Reverend Maxwell Ben-Oliel, in building a church to be called St. Mary Magdalene probably on the future site of St. Cuthbert's. This project foundered, it seems, because of Bishop Jackson's suspicion of anything like a second St. Matthias's, and Ben-Oliel promptly left the district. (fn. 25)
Nevertheless the idea of building a new church under cover of the authority vested in Pennington was promptly taken up by another clergyman, Henry Westall, who had been the principal curate at St. Matthias's for a decade. As such, Westall was no more acceptable to the Bishop and his local advisers than Ben-Oliel, and the history of St. Cuthbert's until 1885, when Frederick Temple succeeded John Jackson in the see of London, was to be one of perpetual, muffled strife against ecclesiastical authority. With Pennington's agreement, Westall in February 1881 held a public meeting at which the name of St. Cuthbert's was adopted, a building committee formed, and trustees of unambiguously High-Church sympathies were chosen as patrons. (fn. 26) But immediate progress was blocked. Firstly, the Bishop objected to the merely nominal endowment and pointed out that the proposed parish would contain 'far too small an admixture of poor'. (fn. 27) Then in July 1881 Pennington, evidently under pressure (Westall was to describe him as 'kind-hearted and generous' but 'scarcely his own master' and 'desperately in want of money'), suddenly announced that he would oppose St. Cuthbert's unless compensation were paid to him for the loss of a lucrative part of his parish. (fn. 28) Nothing daunted, Westall and his building committee abjured such a 'shameful sale of Spiritualities' and resolved to proceed under the Private Patronage Act, a measure scarcely used for fifty years. (fn. 29) After sundry legal complications, caused chiefly by changes in the patronage of St. Philip's, they prevailed. Pennington relented in his objections in December 1882, and in June 1883 formal consent for the church was at last obtained. (fn. 30)
By this time a temporary church was already functioning and plans for a permanent building were well advanced. Financing in these early stages, when St. Cuthbert's had no official status, was always precarious, but with the help of bank loans the future site of the church and clergy house were secured in September 1882 for £2,475, of which £1,875 was for Lord Kensington's freehold interest and £600 for the builder G. E. Mineard's leasehold interest. After some problems with the Metropolitan Board of Works, a temporary iron church of the usual kind was erected in the winter of 1882–3 and opened on 2 February 1883; by certain of the faithful it came to be nicknamed 'the dust-bin'. (fn. 31)
Meanwhile, preparations for a permanent church were in readiness. As early as 1881 an architect, Hugh Roumieu Gough, had been chosen and his preliminary plans approved, displayed and illustrated in the Building News. (fn. 32) Gough (1843–1904) was an experienced church architect of some refinement but little originality who designed rather in the later manner of Arthur Blomfield; possibly his large church of St. Paul, Hammersmith, planned with J. P. Seddon in 1880 and built in 1882–3, brought him to the notice of Westall and the building committee.
For St. Cuthbert's, Gough designed an austere, lofty structure of Transitional style and Cistercian type, with proportions modelled upon Tintern Abbey. (fn. 33) It was unified by a single main roof and lit from a tall clerestory running the whole length of the church (Plate 145a,Plate 145b, fig. 145). There were to be lean-to aisles, again uninterrupted except in the south-east corner, where an apsidal Lady Chapel was planned. Below the church was a crypt for vestries, a public meeting-room, and a mortuary chapel (originally it had been intended to use this crypt as a temporary church, but the Bishop had vetoed the suggestion on the grounds that people would not 'go into the ground to say their prayers', thus adding considerably to expense (fn. 34) ). No tower was intended, its function being supplied by a slender flèche upon the roof, a double bellcote above the western gable, and twin finials at the east end. The most unusual feature of Gough's design was a great blank arch in the east wall, furnished externally with niches for statues instead of window lights. Almost all these ideas were retained in the church as built, but Gough dropped his intention of using terracotta dressings to supplement the basic red-brick walling, reverting instead to the more customary Bath (Corsham) stone dressings. Whether the core of the walls is of concrete, as originally conceived, is uncertain.
A clergy house attached to the north-west corner of the church was incorporated into Gough's scheme and was the first element to be built (fig. 146). It was undertaken in the latter half of 1883 for a contract price of £1,622 by S. Belham and Company of Buckingham Palace Road, who were to be the builders for the church as well; it consisted of the two southernmost bays of the gaunt Gothic building in Cluny Mews, and is now known as No. 50 Philbeach Gardens. (fn. 35) The church itself followed on from the spring of 1884, slowly at first for lack of funds. Belhams took up the first contract for £2,937 and the foundation stone, a block quarried at Lindisfarne, was laid by Earl Beauchamp on 2 July 1884. (fn. 36) Not long afterwards work had to be stopped while Westall appealed for a further £4,000. For perhaps a year the building stood unfinished, with the temporary church in place looking like 'a Swiss Chalet perched on some mountain beside a deep ravine' and the walls round it scarcely above crypt level except at the west end, where a donation made it possible to complete the baptistery and use it as a sanctuary for the 'dustbin'. (fn. 37) Tenders for the second contract were not submitted until May 1886, when Belhams resumed their work for a price of £7,836. (fn. 38) In July 1887 the structure was being roofed in but the iron church was still blocking up the interior. The consecration by Bishop Temple finally took place on 18 November 1887 but the Lady Chapel was apparently not finished until the following year. As completed, the church seated about 950; the cost of its construction was estimated roundly at £11,000, of which £8,000 had been obtained on loan from the London and County Bank. (fn. 39)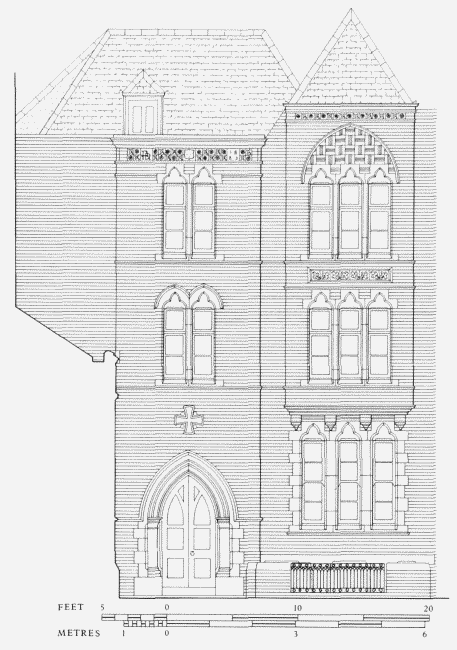 At the time of its consecration, St. Cuthbert's was far from being the richly elaborated repository of HighChurch fittings which one sees today. But it was more than a bare, well-proportioned shell, since Gough's interior in itself suggested a certain opulence, with its noble six-bay Early English arcade and tall clerestory above marching from end to end unimpeded by a chancel arch. The arcade itself (Plate 145c, Plate 146a,Plate 146b) is supported upon clustered columns of polished Torquay marble, 'the largest monoliths ever sent out by Messrs. Goad, of Plymouth'. (fn. 40) (fn. n1) In the chancel there is one main arch on either side, subdivided to screen off the Lady Chapel on the south and the vestry and organ chamber on the north. The lancets lighting the aisles are all cusped and have shafts of polished marble, while the clerestory windows are in pairs of two lights each, with colonnettes of Bath stone. The aisles possess simple lean-to roofs, while the main ceiling structure is not the stone vault which Westall had hoped for, but a simple pointed wooden roof, boarded to conceal iron lattice girders above. The original covering of the roofs was green slating, copper being reserved for the flèche.
At first the interior walling was finished off in plain brick, in anticipation of decorative glories to come. Nevertheless some rich fittings had been installed by the date of consecration, notably the fulsome Caen stone pulpit, designed apparently by Gough and carved by Baron Felix de Sziemanowicz of Kennington. Sziemanowicz also executed some carving outside the Lady Chapel and the sedilia and piscina (1888). (fn. 42) Also ready in 1887 were the hanging light fittings, designed by the art-worker W. Bainbridge Reynolds (then an employee of the firm of J. Starkie Gardner and Company). Reynolds, a regular worshipper at St. Cuthbert's, was to be the biggest single influence upon its fittings for the following decade. The only stained-glass windows inserted at the time of consecration were those in the baptistery, by Kempe. (fn. 43)
Under Westall, St. Cuthbert's grew rapidly in influence, until it was soon the most flourishing High-Church foundation in Kensington. The church also quickly became known for its extreme Anglo-Catholic ritualism, and in 1898 was to be the scene of a notorious episode in the career of the Protestant agitator, John Kensit. St. Cuthbert's had been marked down in Walter Walsh's The Secret History of the Oxford Movement for its annual service of the Adoration of the Cross. (fn. 44) On Good Friday, 15 April 1898, Kensit with some of his followers duly attended this service, and waited until his turn came to kneel down and kiss the cross. Instead, he 'seized the crucifix, and, holding it aloft, said in a clear and distinct voice, "I denounce this idolatry in the Church of England; may God help me".' A scrimmage ensued, and Kensit and his supporters were with difficulty ejected from the church, to cries variously reported in court as 'Murder. I die a martyr for the Protestant faith', 'Latimer', 'Ridley', 'My bonnet', and (according to The Guardian) '"Hallelujah, my wife", …Hallelujah, my wife", "Hallelujah, my hat". (Laughter).' Kensit was charged at Kensington Magistrates Court for behaving in a riotous and indecent manner, found guilty, but acquitted on appeal, though without costs. (fn. 45) The incident did St. Cuthbert's no harm, and Westall's calm deportment throughout the proceedings enhanced his reputation. It became Kensit's fate to be depicted on one of the misericords in the chancel, with protruding asses' ears. (fn. 46)
Associated with the vigour of St. Cuthbert's was a policy of beautification, which proceeded without a pause from 1887 until 1914 and turned an impressive but unoriginal building into a monument to turn-of-the-century AngloCatholic taste rivalled in London only by Holy Trinity, Sloane Street. Several architects and many craftsmen, professional and amateur, were involved in the process. The more elaborate jobs were entrusted to skilled professionals such as Bainbridge Reynolds, the clergyman-designer Ernest Geldart and the architect J. Harold Gibbons. But in addition the church's supporters organized themselves into 'guilds' which took on manifold decorative tasks in the Arts-and-Crafts spirit. Classes and workshops under professional guidance were arranged in stone- and woodcarving, metal-working and church embroidery, and the guilds then proceeded to their long labours. For example, the carved stone diapering of varying pattern gradually extended round the walls between 1890 and 1909 (fig. 147) was the responsibility of the Guild of St. Peter, the chancel stalls were made by the Guild of St. Joseph, and the vestments by the Guild of St. Margaret. In 1900 the Revue Bénédictine described, doubtless with a touch of exaggeration, how these tasks were undertaken. 'The faithful friends who execute them are mostly people in easy circumstances, whose whole pride consists in devoting their time, their money and their work to the ornamentation of their beloved church. A guild of gentlemen practise the arts of carving in stone and in wood… The ladies are occupied in painting on glass or on panels, they embroider the vestments, the banners, and the hangings; others are excellent workers in metal; others have charge of the flowers in the church. In the monthly paper which the clergy publish they have only to say what they want, and they get it in abundance and more than is asked for. Some ladies strip themselves of their rings and jewellery to adorn the Chalices and the Crucifixes … all are united to emulate in piety and generosity.' (fn. 47)
Precisely how these jobs were co-ordinated is unclear, but plainly the influence of Westall, who remorselessly bullied and cajoled his congregation into giving more of their time, labour and money towards the ornamentation of St. Cuthbert's, was paramount. Gough, the original architect, contributed little to the church after 1888, but he did design the rood (1893) and the obtrusive organ chamber, built out on the north side of the chancel in 1899 by Dove Brothers. (fn. 48) In 1896–7 a dispute occurred when Cyril E. Power, an architect previously commissioned to design objects for the Guild of St. Oswald, exhibited and published drawings for a grandiose scheme of embellishment, with a new organ and reredos. Gough objected that this scheme was merely an idea, but Power replied that it had been produced at the instance of 'one of the assistant clergy, with the approbation of the vicar, some 14 or 15 months ago' and presented at a meeting in the parish hall, 'presided over by the vicar'; yet it was not carried out. (fn. 49) By contrast the great reredos (Plate 147c,Plate 147d), filling the whole eastern wall, was entrusted to Ernest Geldart apparently at his own request; his overwhelming Hispanic design, in the most fervent Counter-Reformation spirit, was made in 1899–1900 but had to wait until 1913–14 for funds sufficient for its execution. (fn. 50) The other outstanding fitting was Bainbridge Reynolds's inventive and graceful lectern of wrought iron and copper (1897), perhaps the most remarkable example of Arts-and-Crafts church metalwork in England and a striking instance of what Sir John Betjeman termed the 'nouveau-Viking style' (Plate 148b). (fn. 51) Other fittings are listed at the end of this account.
Of later building works at St. Cuthbert's, the most considerable was the Philbeach Hall, erected north of the clergy house to Gough's designs in 1894–6. This building (No. 51 Philbeach Gardens) housed a library, a hall, a gymnasium and six sets of bachelor chambers for curates. Extra land was leased for this purpose from Lord Kensington, and the total cost of the project came to some £6,570. (fn. 52) The northern end of the building was largely destroyed by a bomb in 1940 and more simply rebuilt in 1956–7 to designs by J. Harold Gibbons working in partnership with D. R. Humphrys and R. W. Hurst. (fn. 53) Another project, prepared in 1908 by J. Harold Gibbons, would have added a mortuary chapel and cloister on the south side of the church. For this purpose the lease of the adjacent garden was acquired, but Lord Iveagh (from 1902 the freeholder of Philbeach Gardens) objected and the idea was dropped. (fn. 54)
Embellishments to the interior of St. Cuthbert's continued unabated until 1914, but few changes were made after the war of 1914–18. Westall died in harness in 1924 but his traditions were continued by his successors. There was damage to the church in the war of 1939–45, during which the Lady Chapel windows were blown out by bomb blast in 1944. They were replaced with new stained glass by Hugh Easton in 1947–60, and in 1946–8 the church was deprived of its damaged western bellcote and entirely re-roofed in copper under the supervision of J. Harold Gibbons. (fn. 55)
The principal fittings and fixtures of St. Cuthbert's are as follows:
Nave and aisles. Stone diaperwork and marble dado to aisles carried out by Guild of St. Peter, 1890 etc. (fn. 56) Stations of the Cross in aisles painted by Franz Vinck of Antwerp, 1888 etc. (fn. 57) Hanging lamps designed by W. Bainbridge Reynolds and made by J. Starkie Gardner and Company, 1887. (fn. 58) Lectern of wrought iron and copper designed and made by W. Bainbridge Reynolds, 1897, with additions of 1910–11. (fn. 59) Pulpit designed by H. R. Gough and carved by Felix de Sziemanowicz, 1887; soundingboard designed by J. Harold Gibbons and made by Pearson, Brown and Company of Manchester, 1907 (Plate 147a). (fn. 60) Statues over piers by Gilbert Boulton of Cheltenham. Royal arms (hanging in south arcade) by W. Bainbridge Reynolds, 1904 (Plate 148d). (fn. 61) Clock on west wall by W. Bainbridge Reynolds, 1898. (fn. 62) Clerestory and aisle windows mainly designed by Charles Edward Tute, 1890 etc. (many in clerestory destroyed). (fn. 63)
Baptistery. Font and cover designed by H. R. Gough and made by Harry Hems and Sons with panels 'after Müller's pictures at Düsseldorf', 1888. (fn. 64) Windows by C. E. Kempe, 1888. (fn. 65) Stone diaperwork by Guild of St. Peter, aumbry by Guild of St. Joseph, 1896–7. (fn. 66) Roof painting by Mrs. Falcon and daughters, 1897. (fn. 67) Screen by W. Bainbridge Reynolds, 1905. (fn. 68) Candle standards by W. Bainbridge Reynolds, 1905. (fn. 69)
Screens. Rood screen designed by H. R. Gough and made by Jones and Willis, 1893, with Christ after figure in Capilla Real, Granada Cathedral. (fn. 70) Screens between north aisle and organ chamber, south aisle and Lady Chapel, and on north and south sides of chancel all by W. Bainbridge Reynolds, c. 1895–1904. (fn. 71)
Lady Chapel (Plate 148a). Structure completed in 1888. Carving and diaperwork including cherubs in apse by Guild of St. Peter, directed by Andrea C. Lucchesi, 1903–7. (fn. 72) Altar rail by W. Bainbridge Reynolds after screen in St. Anselm's Chapel, Canterbury Cathedral. (fn. 73) Roof painting by Julia Allen. Reredos designed by J. Harold Gibbons and made by Pearson, Brown and Company, 1908. (fn. 74) Windows now by Hugh Easton, 1947–60 (originals by C. E. Kempe, 1888). (fn. 75)
Chancel. Reredos designed by the Reverend Ernest Geldart, 1899–1900, carried out in 1913–14 mainly by Gilbert Boulton of Cheltenham, with figures by Taylor and Clifton. (fn. 76) Choir stalls with panels and misericords by Guild of St. Joseph, 1896–1901 (Plate 146c). (fn. 77) Priests' stalls made by Gilbert Boulton, 1891 (south side) and 1899–1900 (north side). (fn. 78) Organ made by Robert Hunter of Clapham, 1899–1900. (fn. 79) Decoration of north and south sanctuary walls by 'Mosaicans' and Guild of St. Joseph, 1908– 13. (fn. 80) Altar rails in brass and steel by W. Bainbridge Reynolds, 1905 (Plate 148c). (fn. 81) Sanctuary paved in marbles by Walton, Gooddy and Cripps, 1905. (fn. 82) Paschal candlestick by W. Bainbridge Reynolds, 1905. (fn. 83) Bronze standards by Fonderia Artistica, Turin, 1904, after originals at the Certosa di Pavia. (fn. 84) High Altar with silver-panelled front by W. Bainbridge Reynolds, 1910 etc. (replacing front of 1890 designed by G. Somers Clarke junior and painted by Reynolds). (fn. 85) Tabernacle designed by J. Harold Gibbons and made by W. Bainbridge Reynolds, 1933. (fn. 86) Crucifix ancient, mounted by Hart, Son and Peard. (fn. 87) Sedilia and piscina designed by H. R. Gough and carved by Felix de Sziemanowicz, 1887–8 (Plate 147b). (fn. 88)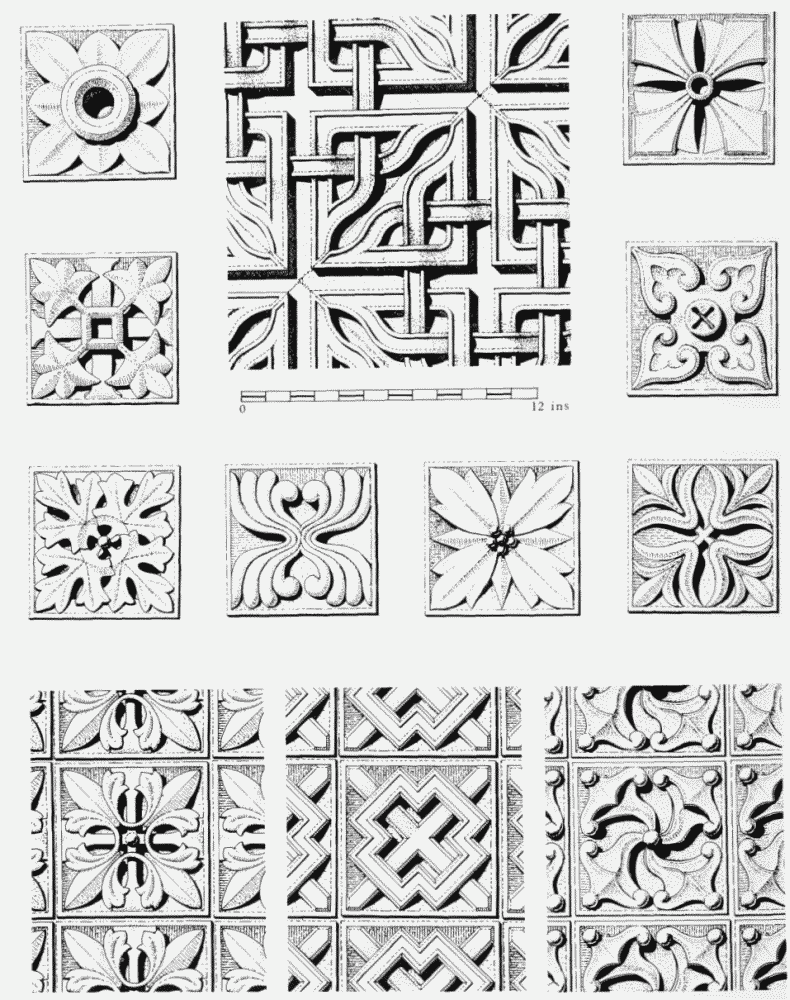 Vestments, frontals etc. Many designed by Reverend Ernest Geldart for the Guild of St. Margaret, 1899–1914. (fn. 89)
External work. Calvary outside east end designed by J. Harold Gibbons and made by Guglielmo Tosi. (fn. 90) Statue of St. Gregory in niche on east wall by Gilbert Boulton, 1908. (fn. 91)
St. Jude's Church, Courtfield Gardens
Designed by George and Henry Godwin, the church of St. Jude, Courtfield Gardens, was built in 1870, its tower and spire apart; these were added in 1879. The vicarage adjacent dates from 1874.
Three churches, each the work of the Godwin brothers, arose on the Kensington estates of Robert and James Gunter to attract development and serve the communities which settled there. The earliest, St. Mary's, The Boltons (1849–50), coincided with the first period of building on Gunter lands; its successors, St. Jude's and its nearcontemporary St. Luke's, Redcliffe Square (1872–3), accompanied later phases of development. (fn. 92) St. Luke's at least had been envisaged some six years before it was realized. But of St. Jude's nothing is heard before December 1868, only fifteen months in advance of its commencement. More than St. Mary's or St. Luke's, it ran ahead of house-building in its district. Competitiveness in church-building was keen in Kensington; perhaps, with the impending promotion of the ritualistic St. Matthias's not far away, quick action seemed urgent to the LowChurch party, with whom St. Jude's was to be firmly associated.
The initiative for St. Jude's came from the Reverend J. A. Aston, the Evangelical first vicar of St. Stephen's, Gloucester Road (itself opened only in 1867). Anticipating the development of the northern part of the Gunter estates in Kensington, Aston appears to have concluded an agreement with Robert Gunter committing himself to building a church and vicarage on the present site. The church, destined at first to be called St. Matthew's, was to cost at least £6,000 and seat 900 persons or more. In December 1868, the patronage of the new church was vested in George Thomson of Elvaston Place, acting as Aston's trustee. (fn. 93) For a time, it seems, Aston tried to raise funds for the venture, and at an early stage he secured a powerful preacher, R. W. Forrest, as first incumbent. Then as money was slow to come in, Forrest approached the wealthy glove-manufacturer John Derby Allcroft for help. Though not a Kensington resident, Allcroft was a known benefactor of Evangelical church-building causes. Altogether he paid for five churches during his lifetime, two on his Shropshire estates and three in London: St. Martin's, Gospel Oak (1865), St. Matthew's, Bayswater (1881–2), and St. Jude's, as the new church now became known. (fn. 94) With Allcroft's promise to relieve Aston of his liabilities to the tune of £16,000, the fund-raising burden upon the building committee disappeared and matters went rapidly ahead. Having put in the lowest tender of £11,300, the builders George Myers and Sons started in March 1870 on the body of the church, which was opened, less only the tower and spire, in December. (fn. 95) In that month also, Robert Gunter sold the site to the Ecclesiastical Commissioners. By this time, however, Aston had parted company to some degree with the promoters of St. Jude's and tried vainly to delay the consecration, for reasons which remain obscure. (fn. 96)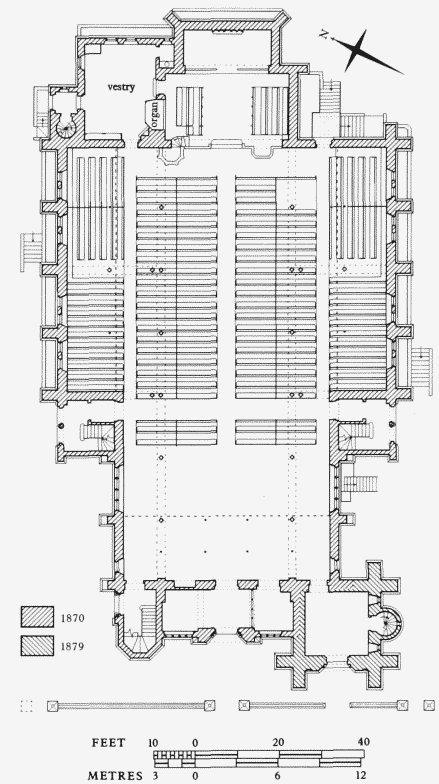 St. Jude's was planned as a church which, on the strength of Forrest's preaching, would draw large congregations from well outside the district (fig. 148). There were to be altogether some 1,600 seats. (fn. 97) But the facilities of an auditorium had by this date to be balanced against the perceived propriety of distinct nave, aisles and chancel. To reconcile these ends, Henry Godwin (to whom St. Jude's is specifically ascribed) probably studied at least four recently erected churches: the two built by Bassett Keeling in northern Kensington, St. Mark's, Notting Hill (1863), and St. George's, Campden Hill (1864), the church in Kentish Town funded by Allcroft, E. B. Lamb's eccentric St. Martin's, Gospel Oak (1865), and the nearby St. Stephen's, Gloucester Road, designed by Joseph Peacock (1866–7).
St. Jude's combines ideas from these churches with idiosyncrasies of its own. With a seven-bay nave over a hundred feet in length, it maintains the traditional orientation of Anglican churches. But the arcade is carried not by solid piers but, on the promoters' instructions, by thin iron columns, and for two-thirds of the nave's length its aisles broaden into double transepts, of which the upper halves hold capacious galleries supported on an outer row of iron columns. The eastern half of the nave is therefore nearly eighty feet broad, but this extent is screened by the arcade, which is nowhere interrupted by gallery fronts. Only at the west end does a further deep gallery break into the line of columns. In comparison the chancel is a small affair, only about thirty feet in length and within sight of nearly all the gallery seats. On its north side is a vestry and organ chamber, while below it further substantial chambers were originally used as a 'lecture-room' and 'retiring-rooms'. (fn. 97)
In style, the interior of St. Jude's mixes the blunt early French Gothic of the type championed by Street with brusquer Victorian modernisms (Plate 142d). The big Geometric windows of the east end and transepts are 'correct', and the original insistent colouring of the brickwork followed the example of Street's St. James the Less, Thorndike Street. But the nave roof queerly combines scissor-bracing with king posts, while the proportions of the thin, high iron columns and the arcade which they carry are entirely of their day and owe much to the experiments of Bassett Keeling. The columns themselves (fig. 149) are twice doubled on either side, where cross walls from the transepts intervene; their capitals are faced with sheet copper, but the colour-washing of the entire interior hides this as well as the patternwork of the walls. Formerly the prevailing tone of the brickwork was buff, and the ironwork was painted to match this.
Externally St. Jude's, like the Godwins' other churches in Kensington, is of Kentish ragstone (treated here in jumper-work), with dressings of Bath (Box Ground) stone (Plate 142a,Plate 142b). The roofs, in two colours of slate, have now faded but the old patterning is still discernible. The north and south sides of the church are cut up into an almost arbitrary medley of separate roofs; nave, choir and sanctuary are all steeply pitched at different heights, the transepts display their own big double gables, the gallery entrances are capped pyramidally, and the western aisle windows also have separate gables. There is much buttressing, some of it eccentric in profile. At the west end, the conjunction of lean-to narthex, projecting north-west staircase, central porch and south-west tower with its own entrance adds to the general jostle.
A small parish was assigned to St. Jude's in 1872, following some altercation as to its size. (fn. 98) Despite this, Forrest was able to carry on a prosperous and successful ministry for nineteen years, relying much on outsiders. As fixed in 1874, the pew-rents raised the very substantial annual sum of £2,211, and from 1876 seat-holders were expected also to contribute to a 'voluntary rate' to defray church expenses. (fn. 99) William Pepperell, visiting St. Jude's in 1871 during his journalistic rounds of all Kensington's places of worship, described the church as standing out 'boldly, treeless, and alone, a striking object in the surrounding plain … it has within three months collected one of the largest congregations to be met with around London'. (fn. 100) Another sermon-taster of the time, the Reverend C. Maurice Davies, declared St. Jude's to be 'upon the very outskirts of civilization… . Cockney lovers were gazing spoonily into the cabbage-gardens as I sped through the mud and snow on Septuagesima Sunday to church. Crowds of well-dressed worshippers were defiling through those lanes, disturbing Corydon and Phyllis in their conversation, and making Mr Forrest's advent a very death-blow to their billing and cooing', he added with mock relish. (fn. 101)
The interior, Davies explained in a long description of some piquancy, bore no resemblance 'to what used to be called a Church of "the strictest sect".' He noticed a 'rather gorgeous altar' with 'two highly aesthetic Glastonbury chairs' within its enclosure, a 'low reading desk', a 'not very high pulpit … a lectern with bookmarkers as wide and as gay as a ritualistic stole, and a graceful coloured corona hung suspended from the roof. Certainly it was never so seen in Islington or Clapham. I had almost forgotten to add that the very Palladium of old Evangelicalism—the Ten Commandments—had been conveniently disposed of by dwarfing them to the smallest possible dimensions, and setting them up in orthodox ecclesiastical hieroglyphics in a corner, where they obtruded as little as possible on the public gaze. The body of the church was seated with low pews for a vast congregation, and the galleries retired modestly into the aisles, as if protesting against the necessity of their presence. Most of all unlike the Evangelic arrangements of my boyhood, the pew-openers were not the mob-capped widows and spinsters I had remembered, but male attendants in white ties, bearded like Broad Churchmen, but smiling seraphically as they handed the initiated to their seats… . The ladies were largely in excess, and the bulk of the congregation were of the upper middle class. It was scarcely what one would call a fashionable or intellectual congregation, but they were, to a spinster, devout "Forresters". I could see that.' (fn. 102)
When the service began, observed Davies, Forrest was attired 'in episcopal-looking surplice, with largely developed Dublin M.A. hood, but still that badge of orthodoxy the Geneva bands, which always were, for some unac countable reason, the mainstay of the Evangelical body, seeing they are among the most "Catholic" of all appendages'. He read the lessons 'somewhat pompously', preached in 'surplice, hood, and stole' and with 'great copia verborum, but there were frequent repetitions and no very logical arrangement'. Summing up, Davies was inclined to classify Forrest's regime at St. Jude's as belonging to 'the Transitional Evangelical Church of England'. (fn. 103)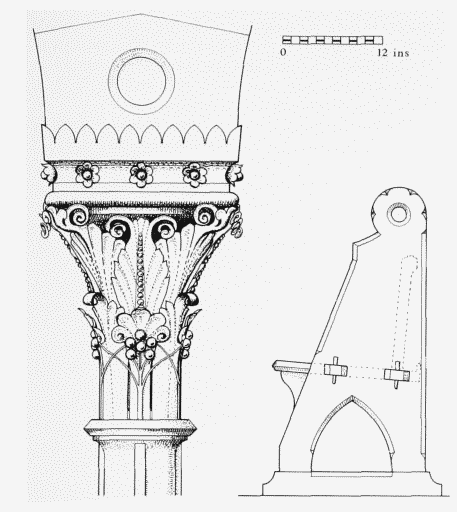 In fact the interior was not richly decorated at first. An east window by Clayton and Bell, given (as at St. Luke's) by the Gunters, was ready at the time of consecration, and there was Minton encaustic and majolica tiling round the sanctuary with mosaic panels behind the altar. A pulpit, prayer-desk and font, all modest, were also present, and there was an organ north of the chancel. (fn. 104) In 1879–80 Edward Frampton, a stained-glass artist trained with Clayton and Bell, replaced the Minton tiling in the sanctuary with murals depicting angels, prophets, apostles and elders flanking a new reredos of alabaster and marble, carved by Thomas Earp and inset with mosaics by Salviati and Burke: the whole represented the Adoration of the Lamb. (fn. 105) Frampton also designed various windows for the church between 1879 and 1889, to add to others installed by the firms of Lavers, Barraud and Westlake and of Gibbs and Moore. (fn. 106) In 1881 appeared the present hefty pulpit of coloured marble and alabaster, again by Frampton and Earp and a fit setting for Forrest's florid preaching (Plate 142c); the brass lectern, also by Frampton, is of c. 1880. The chancel screen and steps date from 1895. (fn. 107)
Meanwhile the tower and spire had been added in 1879, after a lengthy period of fund-raising. They were built by T. H. Adamson and Sons for £3,625 to a design which Henry Godwin altered from that first proposed, a Streetian broach spire giving way to an entirely octagonal one with pinnacles at the base. The stone of which tower and spire were built subsequently gave trouble; the top twenty feet of the spire had to be rebuilt in Ketton stone by John Thompson and Company in 1898 and repairs were made to the tower in 1909–10, on both occasions under the supervision of J. S. Alder, architect. (fn. 108)
By the turn of the century St. Jude's was past its prime. Church Bells in 1899 denied that it enjoyed, 'as is sometimes asserted, the richest congregation in London. The parish is not so well-to-do even as it was ten years ago'. (fn. 109) In 1908 the vicar could allude to 'something of the nature of a crisis in the neighbourhood of late'; in 1911 he was finding the church's finances increasingly difficult, and in 1917 he noted a 'serious drop in income from pewrents'. (fn. 110) In consequence few important changes were made to St. Jude's in the early twentieth century. A series of memorial tablets round the walls to sundry parishioners and worshippers proliferated; these were all by Powells, who also designed the war memorial (1920–1). In 1921 a small side chapel was constructed under the south gallery. (fn. 111)
In September 1940 a bomb fell upon No. 65 Courtfield Gardens, damaging the east end and blowing in most of the stained glass. (fn. n2) Martin Travers was called in to restore the church in 1947. He rearranged the altar and transferred some surviving figures from a Frampton window in the north transept to replace the destroyed Clayton and Bell east window. 'Thanks to Hitler, the dark and gloomy interior was restored to its original lightness', comments the church guide. (fn. 112) Further works took place in 1969–70 under Romilly Craze. At this time the church was colourwashed, the organ rebuilt, a new wooden font supplied, and at the west end the area under the west gallery was incorporated into club-and 'amenity' rooms. (fn. 113)
North of the church is the vicarage of St. Jude's. This is a plain but substantial house of brick with a few stone dressings and residually Gothic features. It was built in 1874 by the firm of R. and T. Pargeter to designs by George and Henry Godwin for a sum of about £3,500. (fn. 114) (fn. n3) In accordance with Aston's original agreement with Robert Gunter, its site had been separately purchased by J. D. Allcroft in 1870 and was transferred by him to the Ecclesiastical Commissioners after the vicarage had been built. (fn. 115)
St. Matthias's Church, Warwick Road
St. Matthias's Church, at the corner of Warwick Road and the northern approach road into Earl's Court Square, was built in 1869–72 to designs by J. H. Hakewill. It was demolished in 1958, when its parish and affairs were amalgamated with those of St. Cuthbert's, Philbeach Gardens. To the south of its site the church schools, erected in 1898–9, survive.
St. Matthias's dated from a period when churches were being precipitately built all over Kensington to keep pace with estate development, regardless of proven need or financial security. These circumstances were reflected in the church's history. Parochially, it grew out of St. Philip's, Earl's Court Road, where High-Church traditions had developed under the first incumbent, the Reverend Joseph Claxton (page 382). By 1868, when St. Matthias's is first heard of, St. Philip's was deemed too small. Building had just commenced on the southern acres of Lord Kensington's large freeholds at Earl's Court and it perhaps appeared that development in the district would go on more rapidly than it did. The opening in 1867 of St. Stephen's, Gloucester Road, and the forthcoming promotion of St. Jude's closer by in Courtfield Gardens, churches which initially both clung to Evangelical principles, may also have induced the High-Church party in Kensington to stir.
At any rate Lord Kensington (who seems to have taken scant interest in the new foundation) was induced to part for £1,000 with a good freehold site 'mainly owing to the importunity exercised by Lady Elizabeth Arthur', a pious noblewoman living in Queen's Gate. (fn. 116) There were then no buildings at all hereabouts on this side of Warwick Road, but houses were rising directly opposite as part of the development of Kempsford Gardens and Eardley Crescent. Behind the east end of the plot allotted to the church ran a narrow, green-hedged lane. The alignment of the building reflected Lord Kensington's estate plans, whereby this lane was soon to be abolished and a road laid out along the church's northern side.
A first service was held in an upper room in Hogarth Road, probably early in 1869. By March of that year, St. Matthias's had acquired its first, controversial vicar, the Reverend Samuel Charles Haines, and an architect who specialized in Gothic churches and restorations of rather humdrum type and quality, John Henry Hakewill. Here, Hakewill produced a frugal brick design in the lancet style which could be built in stages. First, however, a temporary iron nave was erected and opened for worship in April 1869. (fn. 117) In that month the builders George Myers and Sons began work on Hakewill's chancel, for which they had submitted the third lowest tender of £1,988; this was dedicated on 10 July 1869. (fn. 118) Nearly two years elapsed before bids could be sought for building the permanent nave and aisles. Even then, so short were subscriptions that the successful tenderers, Robert Aviss and Company of Putney (whose price of £2,644 was amended to a contract figure of £2,867), obtained a bond guaranteeing payment from twenty prominent supporters of the church; and at some point Haines took out, as collateral for debts to contractors, a life-insurance policy for which the premiums were paid out of church-building funds. (fn. 119) With these securities, the nave and aisles were started round the iron nave in the autumn of 1871 and opened on 11 April 1872. (fn. 120) When this work was practically complete, the temporary church was dismantled and transferred to the site of St. Patrick's in Kenway Road off Cromwell Road, an intended daughter church which Haines was already busily promoting (page 380). (fn. 121)
As completed, St. Matthias's was a broad-naved, narrow-aisled church in an 'Early Pointed' style, built of red brick with only a few Bath stone dressings on the outside (Plate 143a, Plate 143b, Plate 143c, fig. 150). There were brief transepts, and chancel aisles with their own pitched roofs. Externally the best feature was the bare, high-shouldered west end, which rose cleanly up to the bellcote without the interruption of doors or buttresses; the west windows consisted of three high pairs of double lancets with cusped round lights above, the centre pair being raised. The doors were on the sides rather than at the west end because Haines wished to avoid 'the gathering of idle persons around the entrance from the main road, and so securing greater quiet in the services'. (fn. 122) A tall tower capped with a pyramidal roof, proposed by Hakewill for the south-west corner and to be slightly detached from the church by a short 'cloister', never materialized. (fn. 123) The clerestory was lit by rows of triple lancets and the transepts by two long lancets each. The original east window was of three lights only. Internally, the nave had an arcade of four bays succeeded by a further high arch which opened into transepts west of the chancel arch. The walling was in red bricks throughout, with stone drums for the nave piers and occasional stone voussoirs in the arches. The chancel arch and the side arches between the chancel and its aisles were minimally more ornate, having subdivided colonnettes and ribbed arches. The first form of the roofs is uncertain; the nave roof was described in 1872 as of open-timber construction, (fn. 120) but later photographs show both nave and chancel roofs boarded, the latter at least having been altered during some unusual works undertaken in 1873.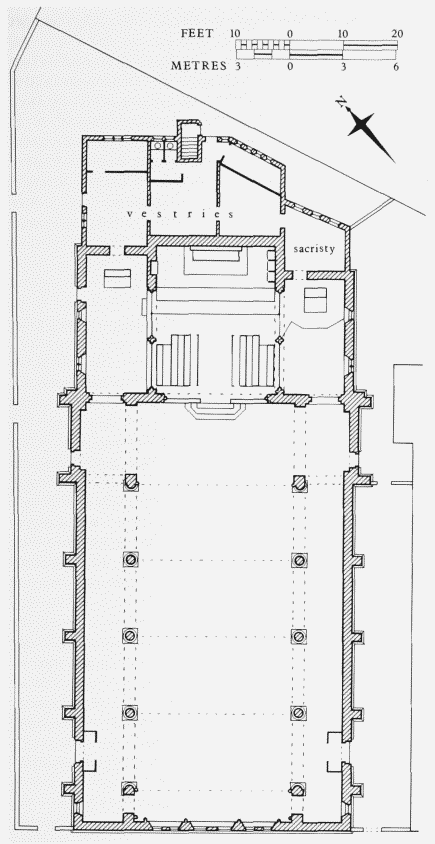 These changes took place to designs not by Hakewill but by Henry Conybeare, an eccentric engineer and amateur architect then living at No. 1 Scarsdale Place, Kensington. (fn. 124) At about the same time Conybeare also produced an ambitious scheme for St. Patrick's, Kenway Road, and some details of his career are given under the account of that church (page 380). In about 1868 Conybeare had published the only part ever to appear of a grand work on proportion and composition in Gothic architecture. (fn. 125) Here he argued that modern Gothic must return as regards style and proportions to the 'rule of law' to be deduced from mediaeval churches. Hakewill's St. Matthias's evidently failed this severe test, for in 1873 the builder William Wigmore of Fulham contracted to make alterations costing almost £1,000 to the church under Conybeare's supervision, the most important of these being to raise the chancel roof and enlarge the east window to one of five lights with a stiff, geometric pattern. At the same time a small school for boys and girls was built by Conybeare and Wigmore to the south of the church in Warwick Road; this cost nearly £1,100. It is likely that Conybeare paid for these works himself. (fn. 126)
Haines's nine years at St. Matthias's were fraught with the controversy which Victorian ritualistic parsons so readily attracted. According to Henry Westall, his curate, he was constantly summoned before a disapproving Bishop of London for Anglo-Catholic excesses but 'invariably came off scot-free, his wit being too much for the Bishop's frown'. (fn. 127) One early bone of contention was the size of the parish. Haines and Claxton wanted St. Matthias's to take in everything south of the Cromwell Road 'extension'. They also claimed the poor district east of Earl's Court Road around the present Kenway Road, which the church's promoters asserted would have first claim on its ministrations. On the counsel of the Vicar of Kensington, Archdeacon Sinclair, the ecclesiastical authorities allowed Haines to have this poor area, but on the west side of Earl's Court Road they gave him nothing north of the District railway line; this neighbourhood was in due course to be allotted to St. Cuthbert's, Philbeach Gardens. (fn. 128)
During Haines's ministry, services at St. Matthias's were fashionably extreme and attracted wide attention. In Holy Week of 1873 or 1874, for instance, C. Maurice Davies 'passed from the fast disappearing green lanes into the handsome church of St Matthias' to witness the first two hours of Tenebrae, a novelty in the Anglican canon, before making his escape. (fn. 129) Eventually Haines may have gone too far, for in 1878 he resigned under what seems to have been something of a cloud. His successor W. H. C. Luke undertook to manage the church differently and there was a 'marked diminution of ritual', at least until Frederick Temple took over the see of London in 1885. (fn. 130)
Under Luke the church began to accumulate worthy permanent fittings and embellishments. Before this there is record of a font (1873), some stained glass (including that in the east window, installed in about 1874), an organ and a pulpit with canopy. (fn. 131) But in 1884–5 the church was cleaned, ventilated and redecorated under the superintendence of Arthur Blomfield, at a cost of £2,820 or more. (fn. 132) From this time dated the elaborate scheme of painting by Heaton, Butler and Bayne, which included the stencilling of the walls and roof throughout the church, some richer frescoing on the west and east walls and round the chancel arch, and a long figurative series under cusped blank arches in the aisles (which lacked the normal lancet windows). In 1886 an altar designed by G. H. Fellowes Prynne was dedicated in the Lady Chapel south of the chancel, to be followed quickly by a painted reredos; further decoration was undertaken here in 1895. In 1893, the year in which the third vicar, J. P. F. Davidson, arrived, a new painted reredos with folded wings was installed over the High Altar by Heaton, Butler and Bayne (Plate 143b). (fn. 133)
Further adornment of the Edwardian years included a tall wooden chancel screen and rood (1901–2); wooden sedilia designed by C. E. Kempe (1901); choir stalls carved by Harry Hems of Exeter (1903); a rich pulpit with figures in wood on a stone base and with a Gothic sounding-board, probably also carved by Hems; and a lectern. (fn. 134)
As elsewhere in the district, the fervour for 'church improvement' at St. Matthias's fell away after 1918 and the parish entered upon a slow decline. The presence close by of the more imposing St. Cuthbert's, founded in 1882 by Haines's ex-curate, Henry Westall, had contributed to this predicament.
A war memorial in the shape of a stone crucifix was erected on the outside wall of the north transept in 1920. Sir Charles Nicholson was acting as architect to the church in 1922, when electric lighting fixtures were supplied by W. Bainbridge Reynolds Limited. Another architect, Philip A. Robson, was associated with St. Matthias's during the inter-war years and supervised the rebuilding of the organ in its original position in the north transept in 1927. (fn. 135)
During the war of 1939–45 the church was without a vicar and was temporarily administered from St. Cuthbert's nearby. Plainly it was too big for its muchdiminished congregation, for in 1948 the architect J. Harold Gibbons produced a plan to take down the nave and convert the chancel and its side chapels into a church seating a mere 144, with the orientation altered to northsouth; there was to be a new transverse roof, and a bellcote was to be slapped on to its northern end. (fn. 136) This plan came to nothing, and the church survived until 1958, when the whole structure was razed.
South of the church site, Conybeare's original school of 1873 was augmented with an infants' department added in 1879–80 by Walter Nash, a local builder, with help from a prominent parishioner and quantity surveyor, C. B. Trollope. (A vicarage proposed here at this time was never built.) (fn. 137) These schools proved inadequate, and in 1898–9 were entirely demolished and rebuilt by Lathey Brothers to designs by John Dixon Butler, for the contract sum of £5,663. (fn. 138) Butler's building, gaunt and with an unfinished look about it, survives as the schools of the united parish of St. Cuthbert and St. Matthias.
St. Patrick's Church, Kenway Road
The brief, bungled history of St. Patrick's, Kenway Road (sometimes known as St. Patrick's, Cromwell Road), affords an instance of the precariousness of churchbuilding in Victorian South Kensington. The year 1869 saw the opening in a temporary iron building of St. Matthias's, Warwick Road, the High-Church party's original stronghold in Earl's Court (page 378). Less than three years later, with the permanent fabric of St. Matthias's nearing completion, its vicar and promoter, Samuel Charles Haines, set a district church going in the limited area assigned to him east of Earl's Court Road. In February 1872 he applied to re-erect the iron church on a site just off the Cromwell Road, (fn. 139) a vicinity then 'being very rapidly covered with first-class houses, which are occupied as soon as finished'. (fn. 140) The plot chosen was audaciously close to St. Jude's, Courtfield Gardens, a church opened as recently as 1870 and one trenchantly Evangelical in its form of worship (page 375). The exact site, on land belonging to the Metropolitan District Railway and left over after construction of the line to Earl's Court, lay at the angle between Providence Terrace (then being aggrandized into Kenway Road) and Raspberry Lane, a thoroughfare on the brink of extinction; it is now represented by Nos. 56– 70 (even) Kenway Road. As late as 1874, it was formally sold to Haines himself—a sign that this was a personal venture unsupported by the ecclesiastical authorities. (fn. 141)
Here for some seven years stood the little iron church, with a tiny brick chancel attached. Its continuance was not for want of ambition, for on St. Patrick's Day, 17 March 1873, Lord Eliot laid the foundation stone of its intended replacement, a permanent church which was to contain 1,400 free sittings. (fn. 142)
This church had been designed by Henry Conybeare, then resident at Scarsdale Lodge, No. 1 Scarsdale Place, Kensington. (fn. 124) Conybeare was not a prolific architect; indeed he was strictly not an architect at all, but an engineer. A son of the geologist and divine W. D. Conybeare, he had begun his career in India, where in the early 1850s he designed and laid out waterworks for the city of Bombay. Returning to England at about the time of the Mutiny, he ran an office as a civil engineer until 1870; later, in 1878, he was to emigrate to Caracas, where reputedly he died in 1884. (fn. 143)
Throughout his life Conybeare nurtured a passionate, eccentric interest in Gothic architecture and the problem of modern church-building. As early as 1846–7 he had designed a church for Colaba, Bombay, and later he produced drawings for sundry English churches, of which only one, a small but competent and very French example at Itchen Stoke, Hampshire, seems actually to have been built (1866). (fn. 144) In about 1868 Conybeare issued the first, ramshackle but scholarly section of what was to be a voluminous work explaining the rationale of his church designs, namely to bring modern Gothic architecture back again 'under the reign of law' through strict adherence to structural principle. The book, illustrated largely with Conybeare's own designs, was privately published, failed to make a mark, and was never continued. (fn. 125)
By 1873 Conybeare had fallen in with Haines, for in that year he altered St. Matthias's (page 379) and produced his designs for St. Patrick's. These were shown at the Royal Academy and fully published in the Building News, with a commentary evidently of their author's own devising. (fn. 145) The church was to be an unusual one (Plate 143d). To use space to the utmost it was tightly planned from north to south in a semi-basilican manner, with a narthex at the south end (entered from Providence Terrace), a broad seven-bay nave with passage aisles or 'ambulatories', a brief choir, and an apsidal sanctuary incorporating a further ambulatory behind (fig. 151). At the northern end of the site, a hexagonal chapel and vestries filled in the awkward angle. The dress of the church was to be ashlar, and its style 'Rhenish Romanesque' verging upon the earliest Gothic. The roof rose to seventy feet, and the nave arcade incorporated a triforium and a clerestory of cusped rose windows, echoing a larger rose window at the south (liturgically west) end. The chancel and sanctuary were vaulted, and there was a high baldacchino over the altar. Outside, turrets rose from either side of the chancel. The one next to Providence Terrace abutted on a tall campanile with a prominent bell-stage, in which Conybeare anticipated 'a first-class peal of eight, similar to Mr. Denison's at Doncaster', swinging freely and chiming out the melody of 'that most beautiful of Schubert's Songs without Words, "La Berceuse"'; and for good measure he set out the intended notes on one of the drawings. But Conybeare omitted to mention that the church's plan was taken almost exactly from one he had produced some years earlier for Holy Trinity Church, Dorchester, and published in his book of 1868; (fn. 146) in the case of the saucer-domed narthex, the likeness amounted to identity.
Conybeare's grand church appears never to have been seriously started, doubtless for lack of funds. In 1876 Haines sold the freehold of St. Patrick's for £3,500 to the Reverend A. G. H. Harding of Thistle Grove, but took a mortgage back for £2,000. (fn. 147) Harding was succeeded in 1877–8 by Maxwell Mochluff Ben-Oliel, a clergyman who had previously created some stir at St. Mary Magdalene, Addiscombe, Croydon. Ben-Oliel paid £4,310 for the church and site and spent a further £1,000 on the fabric in an attempt to keep St. Patrick's going against the odds. (fn. 148) Early in 1879 a correspondent of the Kensington News described the quaint iron church under Ben-Oliel's cure, still soldiering on in hope of a brighter future, with its blue-painted walls, its harmonium, its 'asthmatic bellpull' and pretty, 'baby-like' font. (fn. 149)

In September 1879 St. Patrick's burnt down. (fn. 150) BenOliel quickly had a mission-room re-established, and issued an appeal for funds. (fn. 151) This was peremptorily quashed by a statement from the Bishop of London, John Jackson: 'I have distinctly told him, as the two previous owners of the chapel, that I have no intention of consecrating, or of consenting to the assignment of a district to, any permanent church built on that site. The neighbourhood is not a poor one.' (fn. 152) Obliged to go along with this edict, Ben-Oliel decided to look for a new site. The existing plot, he admitted in a circular, was 'on the verge of four different parishes, and three of these have their own churches very near this particular spot'. (fn. 153)
A first attempt to raise funds for a new church elsewhere met with scant response. So in 1880 Ben-Oliel joined forces with the vicar of St. Philip's, in promoting the new church of 'St. Mary Magdalene, Earl's Court', to be built 'in the heart of the new streets North and West of Earl's Court Station'. In this scheme lay the origins of St. Cuthbert's, Philbeach Gardens (page 370). Ben-Oliel himself gave up his connection with the project and left the district in 1881. He did, however, retain the site of St. Patrick's. Freed by Haines from the covenant that the ground should be used only for a church building, in about 1881–2 he built upon it the present Nos. 56–70 (even) Kenway Road (page 221), designed by H. R. Gough, the prospective architect for St. Cuthbert's. (fn. 154)
St. Philip's Church, Earl's Court Road
St. Philip's Church, situated at the southern corner of Earl's Court and Stratford Roads, was built to designs by Thomas Johnson of Lichfield in 1857–8 and enlarged in 1863.
St. Philip's was one of the earlier products of the Kensington church-building boom of 1850–85. It was an offshoot of St. Barnabas's, Addison Road, to which in 1842 had been formally allotted much of the western district of Kensington parish. (fn. 155) In about 1849 an 'Upper Room' at the corner of Warwick Gardens and Pembroke Gardens had been brought into use in the southern portion of St. Barnabas's parish 'as a temporary church among the poor population of Earlscourt'. (fn. 156) A permanent church was promoted in its stead from 1856 by the Vicar of St. Barnabas's, Francis Hessey, and his curate Joseph Dickson Claxton, who was in particular charge of the locality. They proposed to raise a church seating nearly 1,000, to serve a population of some 2,500 in the district. As a reason for proceeding quickly, Hessey cited the recent establishment of a Roman Catholic parish in Brompton staffed from the Oratory. (fn. 157)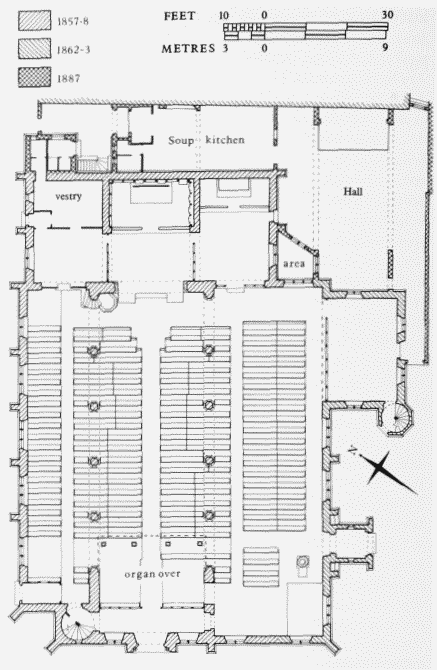 Characteristically, the site selected for the permanent church lay not in the poorer part of Karl's Court but in a 'respectable and rising locality', (fn. 158) the estate of James Rhodes and the London and County Bank, then being built up with good middle-class houses whose inhabitants could be expected to afford the two-thirds of the seats which were to be rented. The freehold was purchased in 1856–7 for £260; (fn. 159) the foundation stone was laid on 6 May 1857, the consecration took place just a year later on St. Philip's Day, 1 May 1858, and an independent district was duly assigned to the new church. (fn. 160) Nominally St. Philip's was paid for out of the 'Earl's Court Fund', but in the event rather under half the total cost of some £6,500 was raised by subscription, Claxton supplying the rest out of his own means. (fn. 161) Claxton's father-in-law Thomas Johnson, architect to the diocese of Lichfield and a prolific builder of churches in the Midlands, naturally enough designed the new church. The builder was William Hill of Whitechapel. (fn. 162)
Johnson's St. Philip's is an unpretending, orthodox church of stock brick, stone dressings and slate roofs (Plate 140b , fig. 152). Its Decorated style of Gothic veers uncertainly forward to Perpendicular in the aisle windows and back to Geometric in the circular lights of the clerestory. Externally the chief show is on the west front towards Earl's Court Road, which has a gabled entrance, a thin bell tower with octagonal upper stages in stone and a five-light window larger than its four-light counterpart at the east end. As first built, the nave had lean-to aisles on both sides, the southern aisle having a porch of its own. Within, the nave has a west gallery, a five-bay arcade resting on thin octagonal piers, and a coarse hammerbeam roof with scissor-bracing. The walls in both nave and chancel were originally plastered, but in the 1950s the rough brickwork in the nave was revealed and painted; it is currently washed a strong red. In recording the consecration in 1858, the West Middlesex Advertiser attributed the stone carving of the corbels and some other features to 'one of the most eminent sculptors', and noted that the Ten Commandments were set up above the chancel arch instead of in the more customary position against the east wall. (fn. 158)
Because of the 'magic rapidity' with which the local population grew, (fn. 163) St. Philip's soon proved too small. It was enlarged in 1863 at Claxton's sole expense, by means of extending the south aisle to a width equalling that of the nave and pushing out a south transept, which contained a gallery; this furnished another 300–400 seats. Again the architect was Thomas Johnson, with Thomas Holland of Kensington as builder. In the sanctuary Johnson also added a reredos of Caen stone and alabaster, ornate Gothic sedilia, and blank arcading, all nicely carved with foliage by William Farmer. (fn. 164) Together with altar rails of alabaster and verde antico, these features survive, but the reredos has been quite covered up. The other significant early fitting to remain is the font. The only losses of note were two ambitious compositions in stained glass in the east and west windows, both installed in 1861 by the new firm of Heaton and Butler but irretrievably damaged by blast in the war of 1939–45; that in the west window was a memorial to the fourth Lord Holland. (fn. 165)
Under Claxton, St. Philip's cultivated a doctrinal position characterized in 1871 as 'principally, though not exclusively Anglican… . There is certainly no trifling with rubrics, and no need for the dexterous evasion of ecclesiastical injunctions.' (fn. 163) In 1872 part of the parish was ceded to St. Matthias's, a new church which Claxton had helped promote (page 378). He was succeeded at his death in 1877 by Walter Pennington, under whom St. Philip's fell on hard times. Pennington, whose sole source of income was the pew-rents, became so encumbered with debt that, by a bizarre turn of events only possible under ecclesiastical law, the church and its pew-rents were sequestrated in 1880. Pennington stayed on until 1884, paid from a stipend by the sequestrator on the diocese's behalf. (fn. 166) According to the secretary of the building committee for St. Cuthbert's, Philbeach Gardens, Pennington was 'commonly spoken of in the neighbourhood as a disgrace to his sacred office', (fn. 29) but St. Cuthbert's vicar, Henry Westall, conceded that Pennington had his kindly side and noted that he generally could procure tickets for Drury Lane Theatre, 'having been of great service to Mr. Harris the lessee'. (fn. 167) Since the promotion of the new church, again within St. Philip's parish, foreshadowed a further diminution of his income, his antagonism to St. Cuthbert's can be well understood.
Pennington was succeeded by William Smale, whose ministry lasted till 1909 and saw various improvements. In 1885 Arthur Baker, an architect and Kensington resident who also altered St. Barnabas's, brought back the church from a 'state of dilapidation' by means of works to the value of £544; and in 1887–8 he added a parish room and soup kitchen immediately east and south-east of the church, on ground formerly reserved for a vicarage. (fn. 168) Within the church Baker carried out some further works in 1889–90, comprising the redecoration of the sanctuary, where Minton tiling was laid down, and the installation of a rich stone pulpit (Plate 144b). (fn. 168) In 1893–4 the chancel was being further decorated. This was probably the date at which the upper parts of the walls were stencilled, and a new set of choir stalls appeared. (fn. 169) A little later, in 1898, Ernest Newton produced an abortive scheme for rearranging seats at the west end and for building a porch. (fn. 170)
No other alterations are recorded until 1911, when a Lady Chapel was formed south of the chancel where the choir vestry previously stood. It was simply fitted out, with a plain oak reredos (recently taken out), pleasantly turned altar rails, and a screen to divide it from the chancel. It was designed by Francis Bacon, a young pupil of Mervyn Macartney, and carried out by the builders Maides and Harper of Croydon. (fn. 171) In 1913–14 a new organ replaced the old one on the north side of the chancel and the present painted reredos was installed, extending the whole width of the east wall and affording a welcome blaze of richness and colour (Plate 144d). This was designed by Walter Tapper, but the painter seems not to be recorded. (fn. 172)
In the 1920s J. O. Cheadle (of Cheadle and Harding) undertook several works at St. Philip's. One (1922) was a war memorial in oak at the east end of the south aisle, with a relief panel by Esmond Burton depicting the life of St. Martin; another (1926) was an oak screen at the end of the north aisle. In 1929–30 the lower half of the south transept was shut off from the aisle, perhaps also by Cheadle, and made into a vestry and 'transept room'. (fn. 173)
St. Philip's suffered from blast damage in the war of 1939–45 and lost most of its older stained glass (including a sixteenth-century Flemish window formerly in the south aisle). The most important post-war changes took place in 1962–4, when the north chancel aisle was freed for use as vestries and a heavily rebuilt organ was installed in an extended west gallery; the new case and gallery front were designed by Noel Mander of N. P. Mander Limited. (fn. 174) In 1966 a new east window by Alfred R. Fisher of Whitefriars Stained Glass made its appearance. (fn. 175) Further changes to the interior were made in 1978–82, when the aisles were levelled up, the chancel stalls and many of the pews were taken out, and a dais was extended from the chancel into the nave. (fn. 176)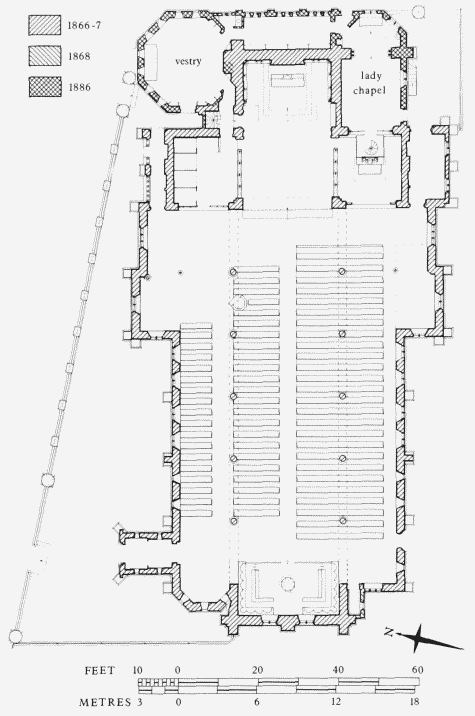 St. Stephen's Church, Gloucester Road
St. Stephen's Church stands at the south corner of the junction between Gloucester Road and Southwell Gardens. It was built in 1866–7 to forceful designs by Joseph Peacock, was enlarged in 1887, but has since, in the words of H. S. Goodhart-Rendel, been 'tamed by other hands', (fn. 177) notably those of G. F. Bodley and Walter Tapper in 1903–10.
During the 1860s H. B. Alexander's lands east of Gloucester Road were in process of intensive development. St. Stephen's, sited strategically on Alexander's freehold midway between an area already being built up and another earmarked for impending development, seems to have been first conceived as an estate church, looking especially towards the rising neighbourhood of Queen's Gate Gardens and Place to the east. But no doubt it was expected to appeal also to the whole new district between Harrington Road, Gloucester Road, Kensington Road and Queen's Gate, where St. Augustine's was not built till 1870–1.
St. Stephen's owes its origins to Archdeacon John Sinclair, Vicar of Kensington. By March 1864 Sinclair had agreed with Alexander for the site, which was to cost £3,000. An architect, Joseph Peacock, had been chosen and a design settled; subscriptions were now solicited. (fn. 178) First, however, a temporary church was built on the east side of Gloucester Road, a little to the south of Cromwell Road, and opened early in 1866. At the same time the foundation stone of the permanent St. Stephen's was laid. It took just under a year to erect, being consecrated on 10 January 1867. Simms and Martin were the builders. Their tender of August 1865 amounted to £7,777, but the cost of construction was reckoned a year later at about £9,500. For the time being Peacock's tower was postponed, though by the terms of the agreement with Alexander it had to be added within five years. A large proportion of the money came from John Cator of Woodbastwick Hall, Norfolk, who became patron of the church. (fn. 179)
As it appeared on completion, St. Stephen's was the most accomplished of a group of four South Kensington churches, all built between 1866 and 1873, which shared elevations of rough-hewn stone, polychromatic brick interiors, plans which set out to reconcile the tenets of ecclesiology with the seating traditions of Evangelical worship, and strident styles of Gothic verging upon what has become known as 'roguishness'. (fn. n4) Peacock (1821–93) was numbered by Goodhart-Rendel among the 'rogues' of the Gothic Revival, but little enough is known of his career or intentions. He was probably trained as a surveyor, yet became primarily an architect of churches, among which St. Simon Zelotes in Milner Street, Chelsea (1858–9), is the best-known and best-preserved example. (fn. 180)
Peacock's brief at St. Stephen's seems to have been to provide a 'Broad Church' interior which could house a large and fashionable congregation without recourse to galleries; 1,100 sittings in all were required, of which most were for renting. He therefore planned the church on 'correct' ecclesiological lines, with distinct nave, aisles and chancel (fig. 153). But in order to give extra capacity he enlarged the easternmost bays of the aisles and built large, commanding transepts north and south of the choir.
These arrangements were candidly, indeed piquantly, expressed on the exterior of the church (Plate 141a, 141c), which was broken up into contrasting and occasionally colliding parts with some semblance (as at the junctions of the transepts with the gables to the aisles) of portions added over the years. Peacock's massive Rhenish tower, had it been built, would have added to this sense of separate elements, for it was to stand detached in a north-west position next to the porch. The exterior, which is in a French thirteenth-century style, is marked by a predilection for odd but well-calculated window sizes and shapes (fig. 154). Rose windows boldly surmount lancets or other thin, tall lights at the east and west ends and in the transepts, while in the queer, squat fenestration of the clerestory Peacock evidently 'enjoyed himself', to quote the Reverend B. F. L. Clarke. (fn. 181) The buttressing throughout is pronounced and no doubt exaggerated beyond necessity, notably at the end of the north transept, where it is thrice pierced by an arched passageway with a lean-to roof. The facing of the exterior is in small coursed blocks of Bargate stone rather than the commoner Kentish rag, with the usual Bath dressings. At first Peacock had wanted to vary the colour with some diaperwork, but this was suppressed in execution. Nevertheless the small columns at the corners of the chancel and transepts are of Red Mansfield stone, and the roofs were originally of green slate.
Internally, the church was also formerly gay and colourful (Plate 141b). The piers of the nave were of blue-grey Pennant stone and their capitals and bases of Hollington stone. The arches above were ribbed in Bath stone, but their faces were finished in a variety of pale malm, red and black bricks, a combination which recurred throughout the walling of the church except in the chancel, which was stone-lined. The clustered columns carrying the roofs, the chancel arch and the ribs were variously of Bath, Mansfield, Serpentine and Devon marble. There were patterned Minton tiles on the floors of the baptistery (a modest excrescence in the north-west corner) and chancel, while the east wall was diapered in tiles and 'rather resembles what is popularly known as Tunbridge ware', felt one early visitor. (fn. 182) The nave roof is of a braced Queenpost type, while the chancel is vaulted, with groining of wood. The aisles and transepts also have open roofs, those under the double gables at the ends of the aisles being separated by a single slim stone column. An eccentric feature throughout the interior is the sharp pitch of many of Peacock's Gothic arches, as in the clerestory and in the screens of open columns interposed between the chancel and transepts.
Despite all this individuality, when William Pepperell viewed St. Stephen's in 1871 he was struck by its 'agreeable harmony' and 'quiet general tone… There is a peaceful influence produced by the quiet colouring and grey columns and excellent proportions of the church … There is nothing glaring, nothing particular to arrest or attract the eye, yet every part is worthy of inspection, and the parts taken together produce one of the best and most exquisitely charming interiors with which we are acquainted in the neighbourhood.' (fn. 183)
The first incumbent of St. Stephen's, J. A. Aston, was an Evangelical. He left in 1871 and was replaced by J. P. Waldo. Under Waldo and his successor, G. Sutton Flack, the church began to assume a 'higher' tone, until by 1900 it was firmly Anglo-Catholic in character. These changes affected the interior. To Peacock's displeasure, Aston had erected galleries as early as 1868, one at the west end and another for children in the south transept; these were to remain until 1894–5. (fn. 184) In Waldo's time the church began to acquire embellishment. The east windows had been stained (by O'Connor) in time for the consecration, and Peacock had put in an angular font and a large stone pulpit with columns of marble, but there was no proper reredos. (fn. 185) This want was supplied in 1876 when the builders T. H. Adamson and Sons installed a carved reredos of alabaster and marble. (fn. 186) Stained glass also started to arrive in quantity from about this time, notably perhaps in the west windows of the nave, filled in 1881 with 'Munich' glass of good quality by Mayer and Company. (fn. 187)
The impetus to build Peacock's tower seems to have faded quite early; a weaker, alternative design was made by E. C. Robins in 1871 at the start of Waldo's incumbency, but this was not built either. (fn. 188) Instead, a more practical addition was made in 1887. The church having proved deficient in vestry space, H. R. Gough (architect of St. Cuthbert's, Philbeach Gardens) was employed to remedy the fault. His extensions, faced in Yorkshire parpoints with dressings of Corsham stone, were erected by Chamberlen Brothers of Hammersmith at a cost of about £1,400. (fn. 189) At the north-east corner Gough placed a big, octagonal top-lit vestry; this was linked by a lean-to passage behind the main east wall to an apsidal morning chapel, formerly known as the Lady Chapel, later as the Holy Souls Chapel. N. H. J. Westlake of the firm of Lavers, Barraud and Westlake decorated this chapel. In 1889 he installed stained glass here, and in 1894–5 coloured the little apse with ornamental painting and stencilling and set an iron screen (by Jones and Willis) within the arch between church and chapel. Westlake added to the decoration in 1910, but his work has now been painted over, so that the only remaining objects by him in the chapel are the glass and a pretty carved aumbry. The chapel has now been entirely cut off from the church. (fn. 190)
Westlake's firm also stained most of the aisle windows of the church, and in 1899 he decorated the baptistery area in the north-west corner. Possibly the firm was responsible also for some decorative painting on the east wall of the sanctuary, still extant but hidden by curtains. (fn. 191)
In 1900 a new era began with the appointment to St. Stephen's of the Reverend Lord Victor Seymour. Seymour's refined, aristocratic eye found the interior unseemly, and a programme of rapid change was soon set in motion. G. F. Bodley was the architect brought in, and in 1902 he delivered a report as unfeeling towards Peacock's building as could be imagined. It began: 'The church was built at a time when Gothic architecture had been little practised and was an almost unknown art. Though its dimensions are spacious the proportions and the details are very unhappy… in colour and in the details the fabric is sadly incongruous. The stained glass is bad, and, except in the aisle windows of the nave which are better, though feeble, in no way commends itself… The chancel is unfortunately short and there is a great lack of dignity about the sanctuary … In these days of greater knowledge of church architecture it would seem to be very desirable to try and make all the improvements that are possible.' Specifically, Bodley suggested rebuilding the east end eight feet further out to a new design, colourwashing the whole interior, painting the roofs in red, white and gold, and installing a chancel screen and new reredos ('the existing reredos is extremely poor and ill designed'). (fn. 192)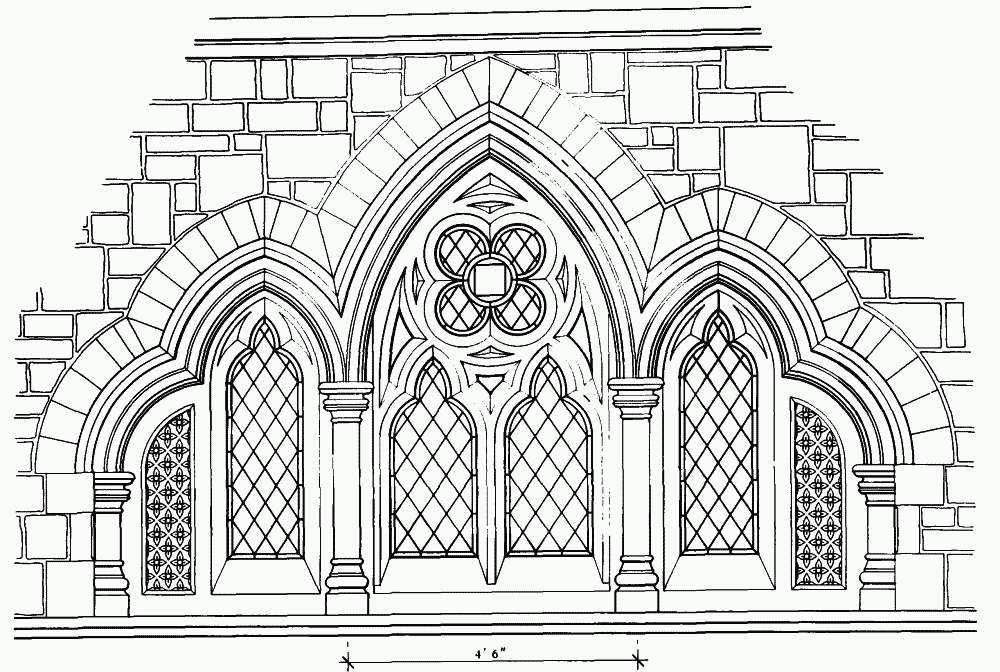 These ambitious plans had to be reduced, and the east wall remained. But in 1903 Bodley was able to reconstruct the sanctuary, with a new marble floor, altar, lamps, cross and, most dramatically, a towering carved and gilt reredos which obliterated Peacock's central lancet and broke into the rose window above (Plate 144c). The wooden figures for the reredos were by Bridgeman of Lichfield and the decorative painting by W. O. and C. Powell, who also embellished the sanctuary walls and roof. Other fittings and the hangings of 'red Mabuse velveteen' round the altar were by Watts and Company. (fn. 193)
These works were succeeded by others. In 1905–6 a new organ was installed in the north transept, with an organ loft overhanging the choir designed by Bodley and carried out by Rattee and Kett. In 1907 Bodley died, and his assistant Walter Tapper succeeded him as architect to St. Stephen's. He prepared designs for a chancel screen, a rood and choir stalls, to be added as funds allowed. The rood, with figures again by Bridgeman and painting by the Powells, was quickly erected in 1908, but the screen did not follow. Instead, Bodley's black-and-white paving was extended into the choir, new stalls replaced Peacock's old ones, and sedilia were formed in a blank arch in 1910. Under Tapper's guidance also, the lower part of the north transept beneath the organ was transformed in 1913 into St. Stephen's Chapel, with a screen towards the aisle and handsome painted decoration on the walls and ceiling. (fn. 194)
In 1918 Tapper designed a substantial stone-vaulted memorial chapel to be added on the north side of the church abutting on Southwell Gardens and to be called the Guild of All Souls Chapel. (fn. 195) This was not built, nor were further changes of note made during Lord Victor Seymour's time. After his retirement in 1929, a financial crisis typical of South Kensington's churches ensued, since the new vicar had no private income and Seymour had abolished pew-rents. The Ecclesiastical Commissioners were persuaded to help with a small grant in aid on the grounds that the parish's prosperity had greatly diminished. (fn. 196)
The 1930s saw some considerable alterations at St. Stephen's. In the south transept, a gallery was again installed to house the choir, with an overhanging front corresponding to that of the organ loft across the chancel. Beneath it, a small Lady Chapel was made with an altar and reredos in Renaissance style incorporating some old features, and a hanging wooden half-screen designed by Sir Charles Nicholson (1936) towards the south aisle. At this time, entry into Gough's south-east chapel was cut off from the church. At the west end, as a memorial to Seymour, Peacock's font was moved into a central position and encased in a tall wooden canopy; round it, an area of seating was arranged using Tapper's recent choir stalls and rail, which were duly removed from the chancel. Probably also in this period the original stone pulpit gave way to one of wood, set well down the nave. (fn. 197)
Subsequent changes have tended to diminish further the former liveliness of the church's architecture. Today the walls are entirely colour-washed, while at the east end high curtains flank Bodley's reredos, blotting out all three lancets behind. The last important restoration was undertaken by Laurence King in 1962, in association with the decorators Campbell, Smith and Company. In this year John Hayward replaced O'Connor's war-damaged east rose window with new glass deemed more suitable. (fn. 198)