Pages 77-98
Survey of London: Volume 42, Kensington Square To Earl's Court. Originally published by London County Council, London, 1986.
This free content was digitised by double rekeying and sponsored by English Heritage. All rights reserved.
CHAPTER IV - Kensington High Street, South Side: Kensington Court to Wright's Lane
This chapter begins by examining the early development of the original nucleus of Kensington High Street's south side. This is followed by an account of later building in the stretch between Kensington Court and Wright's Lane. For the history of past and present buildings along the High Street frontage between Wright's Lane and Earl's Court Road, the reader is referred to Chapter V, and for buildings from Earl's Court Road westward to the boundary with Hammersmith, to Chapter XVII. The north side of Kensington High Street is treated in volume xxxvii of the Survey of London.
Early History of the High Street Frontage
The environs of St. Mary Abbots Church, where Kensington High Street and Kensington Church Street meet, constitute the ancient heartland of the parish. Round the church, settlement is said to go back to Saxon times. Land-holdings hereabouts have for many centuries been small and intricate, especially on the south side of the High Street, making the remoter history of the area hard to unravel. This chapter offers only an abbreviated history of building development here before 1865, since apart from a few battered survivals along the frontage between Kensington Court and Young Street, little of earlier date now survives.
Mid-eighteenth-century maps of this district demonstrate that on neither side of the High Street did 'the town' then stretch far east or west of the junction with Kensington Church Street (Plate 1). If anything, the south side had been the more developed, with houses extending westwards from Kensington House and Colby House (the site of Kensington Court) as far as the present Adam and Eve Mews. Then and for many years after, the name of High Street applied strictly to the stretch of road between Colby House and Wright's Lane, in other words to the frontage discussed in this chapter; both east and west of this section, the highway was known until 1894 as Kensington Road. Already in the 1740s this frontage was taken up with almost continuous building. By the time of Starling's map of 1822 (Plate 2a), some seventy structures can be counted between Colby House and the Adam and Eve Tavern. They were jammed in most densely between Colby House and King (now Derry) Street, while behind the frontage had appeared numerous courts and alleys—apt breeding grounds for future slums (fig. 28).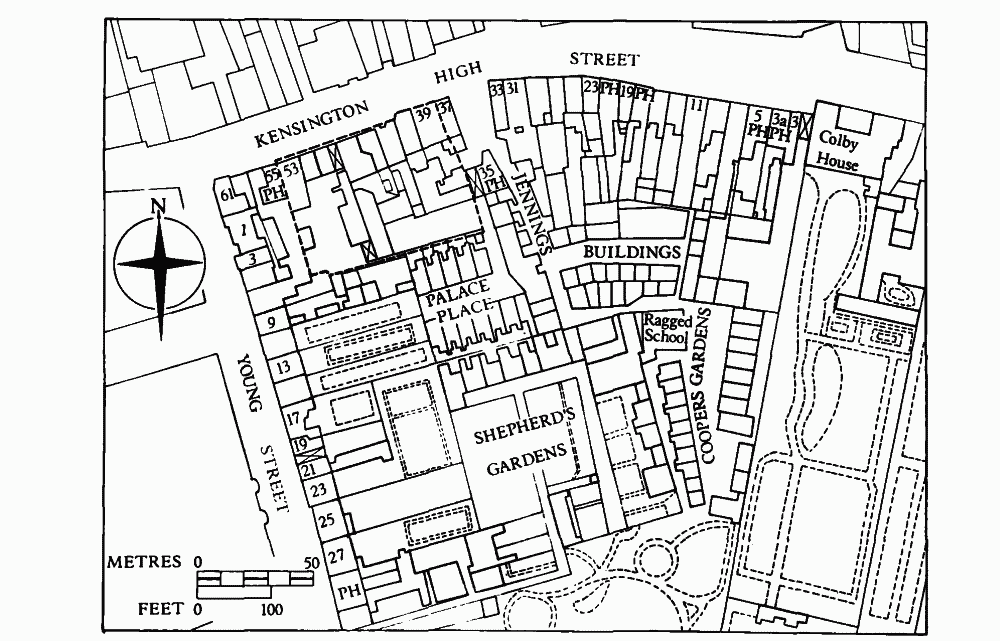 This portion of the south side, between Colby House and King Street, had been the longest inhabited, but when it was first built upon cannot certainly be said. Mediaeval deeds do however survive for a half-acre site now covered approximately by Nos. 39–53 (odd) Kensington High Street, properties owned since 1587 by Brasenose College, Oxford. The first of these, from the earlier fourteenth century, states that much of this site (then granted by Richard Wargreave to Adam the Cook of Wanstede and his wife Alicia) was bounded by a tenement of Benedict 'the Vykere' on the west, a messuage of Philip Halsec on the east, a meadow of Robert de Vere, Earl of Oxford, on the south, and the 'Royal Street' from 'Brayneford' to London on the north. Probably at least one dwelling already occupied this ground; two had certainly been built by 1430, and by 1542 at the latest a large inn, known at first as the Lion and then the Red Lion, was situated here. (fn. 1) The use is significant. Kensington, like other villages along main roads out of London, long attracted hostelries and drinking houses for travellers; Pepys, for one, confides to his diaries of the 1660s the record of several expeditions to Kensington and bibulous evenings in one or more taverns there (one with a grotto, but all unnamed). (fn. 2) In 1628 the Red Lion enjoyed the possession of a barn and stables, and abutted west on another tavern, the Bell; (fn. 3) and in about 1663 it was listed in the hearth tax returns as having more hearths than any other of the twenty-three properties listed on the south side of the road here. (fn. 4) Though the Red Lion itself fell out of use and its forecourt was built over in the mid eighteenth century, it was still remembered by Faulkner in 1820 as 'the principal inn in the town … much used by travellers on the Western road'. (fn. 5) Despite its demise, licensed houses long flourished along the south side of the High Street, particularly between Colby House and Young Street. Daw's map of 1848 marks six in this short stretch and another three further west. Only with the growth of fashionable shopping hereabouts does the number of pubs decline.
The following is a list of pubs on the south side of Kensington High Street with their approximate dates, compiled from rate books, licensed victuallers' returns, deeds and other sources. It is undoubtedly not exhaustive. They are listed as far as possible in order from east to west, and with modern numbering given to their sites.
The King and Queen. At No. 1A, c. 1695–1700. Later revived at No. 21 (see below).
The Goat. At No. 3A. (which was occupied by a 'coffeeman' in 1697) from c. 1700 to the present; much rebuilt in 1880.
The Three Tuns. At No. 5 from at least 1760. Refronted and reopened as the Old Three Tuns, 1891, closed 1913. Possibly the Harp was on this site, c. 1730.
The Green Man. At No. 17 from at least 1697. Renamed the Marquis of Granby by 1771, continued until 1873.
The Thistle and Crown (sometimes the Crown and Thistle). At No. 21 from at least 1721 until c. 1762, when it became the King and Queen and continued until 1892.
The New Tavern. In New Tavern Yard (site of No. 35 Kensington High Street) from about 1732. Eventually the Coach and Horses, which was here till 1875.
The Red Lion. On site of Nos. 39–53 (odd) before 1542 until c. 1750, but no licence recorded in 1722 or after.
The Duke of Cumberland's Head (later the Duke's Head). On site of No. 41, c. 1750–85.
The Globe and Rocket. At No. 55, from at least 1722 onwards. Later, from at least 1760 until 1893, the King of Prussia.
The Bull Head. Possibly on west side of Young Street, c. 1732.
The Bell. 1. A pub of this name was the copyhold property immediately west of the Red Lion between at least 1628 and 1654.
2. In c. 1700–10 the Bell was the name of the large inn which became the Wheatsheaf at the corner of High Street and King (now Derry) Street (see below).
3. In 1713 the Bell was on the west side of Young Street. Renamed the Fowler by 1739, and then the Cock and Beehive by 1760.
The Five Bells (later the Six Bells, finally the Eight Bells). Between Young Street and King (now Derry) Street from at least 1704 until shortly after 1820.
The Griffin. Between Young Street and King (now Derry) Street, abutting east on the Six Bells, c. 1733.
The Castle. Between Young Street and King (now Derry) Street c. 1840–8, then unofficially the Britannia Brewery Tap until c. 1868.
The Wheatsheaf. Succeeded the Bell at the corner of High Street and King (now Derry) Street, 1710–1867.
The Three Compasses. Two doors west of the Wheatsheaf on the Derry and Toms site, c. 1785–1826. Afterwards the Duke of Sussex c. 1830–68, and rebuilt under that name at No. 103 in the High Street improvements. Closed 1886.
The Red Horse. On the Derry and Toms site c. 1756.
The Buffalo's Head. On the Derry and Toms site c. 1735–51; by 1754 the Horse and Groom. No longer a pub in 1779, but both names persist on other sites for some years.
The Duke of Abercorn. At No. 121 (Derry and Toms site) from 1869. Renamed the Town Hall Tavern in 1888, closed in 1912.
The Adam and Eve. On the site of Nos. 163–171 (odd) from before 1722. Altered 1822–3, rebuilt at No. 163 in 1882, licence surrendered 1972.
The Star and Garter. At east corner of Kensington High Street and Earl's Court Road from at least 1732. Rebuilt in 1860, continued (at No. 253) to 1910.
Between 1685 and 1737, coincident with the creation of Kensington Square and the presence of the court at Kensington Palace, the sporadic houses along the frontage mushroomed into virtually continuous development as far west as the Adam and Eve. Most of this seems to have occurred in two spurts. The first took place between about 1690 and 1705, when much small-scale building and infilling took place between Colby House and King Street, while Scarsdale House and The Terrace (pages 100–3) appeared just east and west of Wright's Lane. The second bout of building came in 1729–37, when the frontage west of King Street up to and including the site of the modern entrance to High Street Kensington Station was filled up.
The earlier of these two phases is fragmentarily recorded. Immediately west of Colby House much building took place in the 1690s. A lawyer, William Underwood, owned the freehold of the High Street frontage between Colby House and the Red Lion at the time of this development, as well as portions of the are behind now occupied by Kensington Court. (fn. 6) It had belonged in 1628 to Samuel Turbervile, (fn. 3) while hereabouts in the 1660s the powerful second Duke of Buckingham (then resident at Beaufort House, Chelsea) had his laundry. (fn. 4) During the 1690s, a row of small houses sprang up along the highway between the present Nos. 3 and 21 inclusive. These cramped plots have some historic interest because they survive (Plate 31a, 31c), as also residually do a few of the original houses which stood upon them. Clustering close to the old main gateway to Kensington Palace, they doubtless attracted servants and hangers-on from the court as well as passing trade. Small shops and hostelries predominated here from the first. Their builders by and large are obscure, but Ferdinando Unsworth, a bricklayer, was involved with several, while the house which preceded the present No. 7 was insured in 1704 by Thomas Beckington, a local joiner. (fn. 7) Today only Nos. 3A (The Goat), 17, 19 and 21 still retain the scale and any vertiges of their early origin. The Goat, built in about 1695, was occupied by a 'coffeeman' in 1607 but had gained its present name and function by 1702, (fn. 8) though much rebuilt, it is today the only pub to remain on the south side of the High Street. A more remarkable survivor architecturally is No. 19, an unusually complete little house of about 1695, with the upper-floor rooms and roof hardly changed since their construction (Plate 31c, fig. 29).
Between this row of houses and the Red Lion and on the back land behind them, early development seems to have been more desultory. Until about 1704 the Underwood family lived here in a house probably set back from the road. (fn. 9) From about 1695 to 1719 another private house of quality with its own stabling Stood close by, approximately on the site of the present No. 35 Kensington High Street. It was inhabited between 1698 and 1700 by Sir Henry Ashhurst, in 1703–4 by Bartholomew Beale (probably the portraitist and physician of that name) and in 1706 by the self-styled eleventh Earl of Buckingham, before becoming the New Tavern (later the Coach and Horses). (fn. 9) The presence of these larger houses meant that the frontage between the present Nos. 23 and 37 was less fully developed, though there were some dwellings here, old or new. On the Red Lion site (Nos. 39–53), one or two houses had appeared on the forecourt by 1705 at the latest on the instance of William Munden, then sub-lessee of the inn and an active force in building development hereabouts. (fn. 10) The neighbouring sites (Nos. 55–61) as far as the corner with Young Street were represented by a copyhold plot, formerly that of The Bell, in which Munden also had an interest. Here also houses were probably built in the 1690s, though no detailed knowledge of them remains. (fn. 11)
Between Young Street and King (now Derry) Street, the history of early development and ownership is opaque. But a photograph of the High Street frontage between Young Street and King Street taken in about 1865 shows three good brick houses dating from around 1700 (Plate 32a). Property transactions also testify to activity at about this time. Six or more houses all leased in 1692 for fifty-one-years and connected with Stephen Seagood, citizen and carpenter of London, stood in this same stretch. (fn. 12)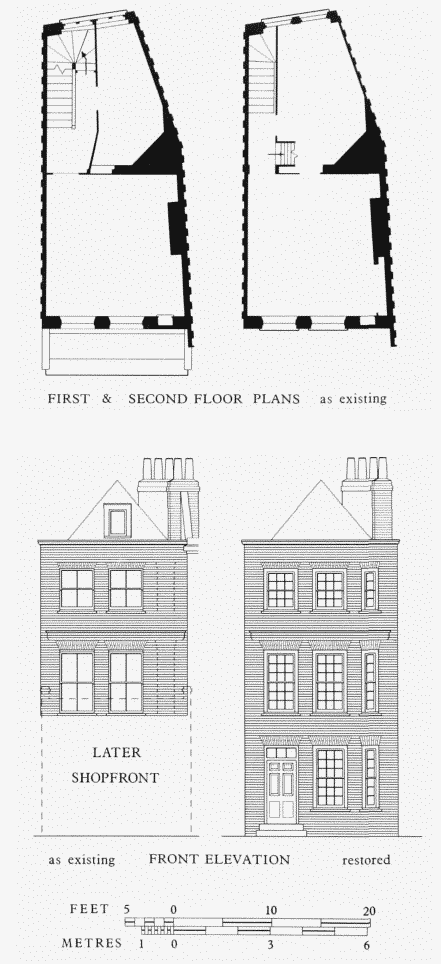 West of King (now Derry) Street on the modern Derry and Toms site, coherent development came a little later. King Street itself was not laid out until well after the development of Kensington Square, though there may always have been a path here. At the head of the street lay an important tavern of uncertain age, known as The Bell until about 1710 but thereafter as the Wheatsheaf. The tavern and its brewhouse itself were freehold, but there were leasehold outbuildings behind. (fn. 13) West of the Wheatsheaf, the High Street frontage up to the site of the present station was part of a two-acre freehold owned in 1708 by Thomas Hanwell, citizen and grocer of London. In 1720 there were five 'messuages' here, with a barn and an orchard. (fn. 14) Houses began to be added from 1729, when Isaac Lock, joiner, took a lease of two or three brick houses immediately west of the Wheatsheaf. In 1734 the freehold passed to Wiseman Clagett, a solicitor, under whose control the rest of the frontage was filled up with houses in about 1735–7, mainly by Lock and other building tradesmen. (fn. 15) Once development was complete, Clagett sold the property, then described as occupied by twenty messuages and ten gardens, for £1,405 to John Walsh, the wealthy music-publisher and instrument-maker who already owned adjoining property (see page 30). (fn. 16) Along with Walsh's other local free holds, the estate was sold in parcels in 1779, (fn. 17) and no great change occurred here until most of the houses were pulled down for the building of the railway in 1865–8 and the High Street improvements of 1868–71. The majority were used as shops or other tradesmen's premises for the term of their existence.
Jennings Buildings and other Courts
The second half of the eighteenth century saw the completion of continuous building along the High Street frontage between Colby House and King Street, and the growth of dense, grubby courts behind. On the future Barkers site at least one court, Hall's Court, named after Edmund Hall, a bricklayer, had been created shortly after 1707 on a small freehold belonging successively to Anna Maria Browne, Harris Thurloe Brace and the Alexander family, property owners on a larger scale elsewhere in Kensington. In the 1770s this was expanded by infilling and addition to become Market Court and Gardeners Buildings. (fn. 18) Duckmanton's Yard nearby was another court of uncertain date, on one of the many small, incoherent landholdings into which the Barkers site was then divided. A well-known photograph (Plate 32b) shows a corner of Gardeners Buildings in about 1865, shortly before the demolition of all these properties. Despite the ramshackle state which this reveals, these courts were not especially troublesome.
East of Young Street, however, the courts were to create major social problems. Between Nos. 39 and 53 the fore-court of the Red Lion had been fully built upon and the ancient inn removed by 1760, leaving a common yard behind. (fn. 19) In 1802 Brasenose College's London surveyor, Samuel Page, thought it 'well situate for building a court of small Houses', (fn. 20) but nothing was done. East of this, the Underwoods' freehold between the present Nos. 23 and 37 with much land behind had been sold in 1704 to Sir Hele Hooke, at whose death in 1712 it passed for nearly a century to the Grove family of Ferne, Wiltshire. (fn. 21) Between about 1773 and 1785 William Jennings, a local harness-maker and saddler, developed or redeveloped this land. Along the frontage he built a run of six houses, later Nos. 23–33 (odd), of which three, Nos. 23 and 25 (1780–2) and 31 (c. 1773) survive in mauled form (Plate 31b, 31c, 31d). Behind were an initial pair of courts, Old or Jennings Court and New Court, consisting together of some thirty cottages. (fn. 22) The main entry to Jennings Buildings was from New Tavern Yard, now represented by the passage into Kensington Court. By degrees these courts were augmented by others, Coopers Gardens, Palace Place and Russell Place (latterly Shephard's or Shepherd's Gardens), thus creating a high-walled enclave behind the High Street and the east side of Kensington Square (Plate 2a, fig. 28).
Most of Jennings Buildings was bought by Stephen Bird, a successful Kensington builder, in 1841–2. (fn. 23) The area earned local notoriety after a cholera outbreak in January 1849 caused several deaths here. (fn. 24) Enquiry by the Metropolitan Commission of Sewers elicited that it was on the line of a 'worse than useless' sewer, formerly open but later arched over in places. 'The very filthy character of the crowded inhabitants in these houses', advised assistant surveyor Edward Gotto, 'and the obvious impossibility of subjecting them to any order and regulation, renders this neighbourhood peculiarly adapted to the introduction of a plan of necessaries as nearly as possible self-acting.'. (fn. 25) Little was done, however, and the festering state of Jennings Buildings continued to agitate respectable Kensingtonians. In 1851 almost half of its population of 1,048 was Irish-born, refugees perhaps from the potato famine. Nearly half the heads of 'households' were building labourers; some conceivably worked on erecting the Great Exhibition nearby. (fn. 26) Five years later things were no better: 'a separate family inhabits each room; there is no privy accommodation; there is no water in, nor drain from the houses; there is no convenience within the buildings, all must be sought for without'. (fn. 27) Standpipes recently installed had been hammered down, and mortality was high. For moral edification, the church in about 1855 opened a 'ragged school' in Coopers Gardens, but nothing effective was done to cleanse the slum until 1873, when the dynamic Baron Grant purchased Jennings Buildings and the other courts here from the neglectful Bird family. Grant expeditiously ejected the occupants by offering them £2 per room plus all the firewood they could carry. (fn. 28) This done, the courts were cleared, their denizens dispersed, and Grant's 'folly' of Kensington House rose upon the site (pages 62–7).
Later History of Nos. 1A–61 (odd) Kensington High Street
It remains to summarize the piecemeal additions and replacements which have occurred in the stretch of the High Street from No. 1A westwards to Young Street since 1880. The demolition of Jennings Buildings, the creation of Baron Grant's Kensington House and garden, their precipitate replacement with Kensington Court, and the High Street's rise to status as a smart shopping district, all changed the circumstances of these small houses. Rebuildings began to proliferate, coming to a climax between 1891 and 1896 when eight separate sites were reconstructed. An early instance was No. 3, which has a handsome Queen Anne front of rubbed red brick bearing the date 1881 and the initials of its then owner, one George Hunt (Plate 30a). (fn. 29) The ground floor of this building became entwined with the London and County Bank when the latter was raised next door to it at No. 1 in 1884–5 (Page 76). To its west, the Goat (No. 3A) was also refronted and much altered in 1880, (fn. 30) but neither No. 3 nor No. 3A was wholly rebuilt at this juncture.
Proceeding westwards, the next rebuildings of merit were No. 13 Kensington High Street, a small but typically decent job of 1906 by Frank Chesterton with narrow facings of Daneshill brick (Plate 31a); (fn. 31) and No. 27, built as White's Music Warehouse to designs by Banister Fletcher and Sons in 1896–7, with pretty tile panels (now half-dobliterated) representing the muses in the recesses of the upper storeys (Plate 31d). (fn. 32)
In 1909–10 much of the Brasenose College property was rebuilt to designs by Robert H. Kerr acting for James Rossdale, a commercial lessee. The dull retardataire block of shops designed by Kerr for the High Street front (Nos. 39–47) is redeemed by his Brasenose House atNo. 35 (facing the passage to Kensington Court), a comfortable 'Wrennaissance' building of brick with plentiful brown stone dressings. (fn. 33) Much later, in the 1960s, Brasenose went into partnership with City Centre Properties to develop their estate here, which by then comprised Nos. 35–53 (odd) Kensington High Street and much of the east side of Young Street. But the venture did not proceed, and the college finally sold much of this long-held property to Land Securities Investment Trust in 1969. (fn. 34)
Last but not least must come Nos. 55–61 (odd) Kensington High Street at the corner of Young Street, and astonishing, much-mutilated pile of shops and offices built as a speculation in 1893–4. No architect's name has come to light for this shockingly striped and ornamented edifice. As built it had a round-arched arcade towards the High Street, bumptiously large shop windows here and on the floor above, an off-corner tower and some skittish passages of terracotta decoration (Plate 30b). The first lessee was the Gas, Light and Coke Company, but the premises were not built for them. The National Provincial Bank took much of the 'bounce' out of the ground floor in 1927. (fn. 35)
Appended is a list of existing buildings between Nos. 1 and 61 Kensington High Street, with brief details of their original architects and builders, where known. Sources are only given if the information does not also appear elsewhere.
Nos. 1 and 1A (former London and County Bank). Alfred Williams, architect, T. Rider and Son, builder, 1884–5.
No. 3. Building of c. 1695, refronted and heightened in 1880–1, George Hunt, builder.
No. 3A (The Goat). Building of c. 1695 much rebuilt in 1880, Isaacs and Florence, architects, Stipson and Company, builders.
No. 5. Rebuilt in 1983, Grinling and Crisp, architects (site of The Old Three Tuns, previously refronted in 1891). (fn. 36)
No. 7. Scharien and Company, builders, 1895. (fn. 37)
No. 9. Holland and Hannen, builders, 1893. (fn. 38)
No. 11. John Barker and Company, builders, 1891. (fn. 39)
No. 13. Frank Chesterton, architect, Holloway Brothers, builders, 1906.
No. 15. James Carmichael, builder, 1909. (fn. 40)
No. 17. Built c. 1695, perhaps by Ferdinando Unsworth, bricklayer. (fn. 41) Many later additions. Formerly the Green Man, then the Marquis of Granby.
No. 19. Built c. 1695. (fn. 9) Ground-floor shop of c. 1913, otherwise well preserved.
No. 21. Built c. 1695. Refronted, and later much recast internally in 1975. (fn. 42)
Nos. 23. and 25. Leased to William Jennings, saddler, 1782; No. 25 much altered.
No. 27. Banister Fletcher and Sons, architects, A. H. Bird, builder, 1896–7.
No. 29. Thomas and Frank Verity, architects, McCormick and Sons, builders, 1891. (fn. 43)
No. 31. Leased to William Jennings, saddler, 1780, but probably built c. 1773.
No. 33. Built for the London and North Western Railway Estate Office, 1896. (fn. 44)
No. 35. (Brasenose House, in passage to Kensington Court). R. H. Kerr, architect, Ford and Walton, builders, 1910.
No. 37. Originally of c. 1700, but seemingly rebuilt since and now much altered. (fn. 45)
Nos. 39–47. R. H. Kerr, architect, Ford and Walton, builders, 1909–10.
Nos. 49–53 (Kensington Market, with Nos. 5–7 Young Street). Vestigially old, united and much altered for Story and Company, decorators, c. 1899–1900. Damaged by fire in 1947 and recast in 1968–9 by Goodman and Mann, surveyors, for Lynpad Investment Company Limited. (fn. 46)
Nos. 55–61. Leslie and Company, builders, 1893–4, altered in 1927 and later.
The Kensington Candle Manufactory
Before the advent of the retailing boom from 1865 onwards, most trading and manufacturing activity around Kensington High Street was on a small and local scale. An exception must be made of the Catholic candle-making business owned successively by the Wheble, Kendall, Tucker and Smith families from about 1765 until 1908. Its founder was James Wheble (1729–1801), scion of a prominent recusant family in Winchester. By 1766 at the latest Wheble was based in Kensington, and within a few years occupied miscellaneous properties on the present Barkers site, both in the High Street and on the west side of Young Street, where a warehouse was rated in his name from 1772 onwards. (fn. 47) In 1779 at the sale of Samuel Walsh's freeholds, Wheble bought Nos. 34, 36 and 37 Kensington Square along with several houses in the section of the High Street west of King (now Derry) Street. He lived at No. 36 until his death, but it was in the area between the ample garden of No. 34 and the High Street houses (the site of the present yard behind the Derry and Toms building) that the concern especially grew. (fn. 48)
So successful was Wheble's enterprise that when he died in 1801 he was said to be worth upwards of £200,000— a figure roughly confirmed by his will. (fn. 49) His 'very pious and respectable widow' retired to Wolverhampton as the companion of Bishop Milner, while his son James established a dynasty of Catholic county gentlemen at Woodley Lodge (later Bulmershe Court), Berkshire. (fn. 50) The Kensington business continued prosperously in the hands of John Kendall, one of Wheble's executors, and William Doe. Writing in 1820, Faulkner stated that it was carried on 'with undiminished reputation' and asserted that 'the Kensington candles are well known in all parts of England'. (fn. 51) In that year Kendall (who in 1813 had been one of the two founders of St. Mary's Catholic Chapel in Holland Street) died at No. 28 Kensington Square. (fn. 52) William Doe having predeceased him, the business was taken over by Francis Tucker (1772–1849), a tallow-chandler already established in South Molton Street off Oxford Street. (fn. 53) Henceforward until the firm finally disappeared in 1974, it was known as Francis Tucker and Company. Tucker was one of the developers of Scarsdale Terrace in 1823–5 (pages 102–3); under his direction, the firm expanded further behind the frontage between King (now Derry) Street and Wright's Lane, with its address and principal office at a shop facing the High Street. A neatly drawn view heading the firm's writing paper in 1858 shows a sizeable complex of pitched sheds and storerooms, with two tall, tapering chimneys belching forth the black, greasy smoke inseparable from the noxious business of candle-and soap-making (Plate 35c). (fn. 54) As a result of the rebuildings and redistribution of sites caused by the advent of the railway and the High Street improvements, Tucker's works were consolidated after 1869 into a long triangular plot sandwiched between the railway on the west and Burden Mews on the east, with an entrance from the High Street next to the pub at No. 121. (fn. 55) Most of the old sheds here and at least one of the chimneys survived until Derry and Toms was rebuilt in 1929–31 (fig. 31).
At the time of the reorganization of the 1860s, the business was owned by Thomas Mosdell Smith, who died in 1873. His son Henry Joseph Smith incorporated the company in 1886, but from this period the business—despite its reputation as the foremost supplier of candles to English Catholic churches—was in decline, at least on its hemmed-in Kensington site. A new factory was established at Putney in about 1900, but in 1908 the firm went into voluntary liquidation. (fn. 56) Its name and stock passed to Price's Patent Candle Company, under whose ownership Francis Tucker and Company long continued to make church candles successively at Putney, Cricklewood and Battersea. (fn. 57) The Kensington sites were sold to Derry and Toms and to the Crown (page 92).
Cobbett's Nursery
During the 1820s, on a site now occupied by High Street Kensington Station, the great plemicist and radical William Cobbett lived, ran a seed farm and nursery garden, and wrote many of his best-known political works.
After a Prolonged visit to the United States in 1817–19, Cobbett returned to England, started a short-lived evening paper, abortively fought an election, and was soon in financial straits. (fn. 58) He therefore gave up his small country estate and took up lodgings with his family at Brompton in 1821, while looking out for something larger. This he found through his friend Major Philip Codd: a generous rectangle of undeveloped ground behind Kensington High Street, to the east of the garden of Scarsdale House. (fn. 59) Formerly part of Francis Barry's lands (page 99), it had been owned since 1808 by James Gunter. (fn. 60) Cobbett described the ground a trifle hyperbolically to his son as 'walled in from all roads, distinct from all houses, nice garden, four acres of rich land for cows and pigs, surrounded by Nursery Gardens'. (fn. 61) Retrospectively he spoke of 'a nursery ground which had been, for the greater part, a rough and sour meadow'. (fn. 62)
The Cobbetts moved during April 1821 into a cottage at the north end of the site, approached down a drive from the High Street and with Scarsdale House Boarding School close by on one side and Tucker's works on the other. Here he settled and rapidly developed his seed farm, specializing in imported American stock such as rutabaga, locust trees (pseudo-acacia) and maize. In The Progress of a Plough-Boy to a Seat in Parliament Cobbett claimed that 'more than a million of seedling forest trees, and shrubs, and about three thousand young apple trees' could be found here in some 450 beds, as well as 'five fine cows … a pigeon-house to hold a hundred pair' of which his son Dick was 'the grand pigeon-master. Pigs in stye, and a most abundant and fruitful garden.'. (fn. 63) Equally vital was an outbuilding in which Cobbett, initially at least, carried on the printing of his Political Register. (fn. 64) (fn. n1)
Cobbett prospered and was content at Kensington as never before, and visitors came from far and wide to visit the establishment. In 1827 he bought a larger farm at Barnes, which henceforward became the main focus of his propagandizing efforts for improved agricultural methods, though he continued to live at Kensington. He finally gave up the site in about 1831, when his election to Parliament and the acquisition of a further farm in Surrey made it impossible to continue the business at Kensington. (fn. 66) Not long afterwards the cottage, on which he had hung the huge grid-iron forged in 1819 by his supporters to symbolize his opposition to Peel's Bank Bill, was taken into Francis Tucker's works. The cottage and nursery site disappeared with the advent of the railway in 1865–8, but the gridiron survived and was transferred to Tucker's Cricklewood factory, where it could still be seen in the 1930s. (fn. 67) Its whereabouts now seems lost to history.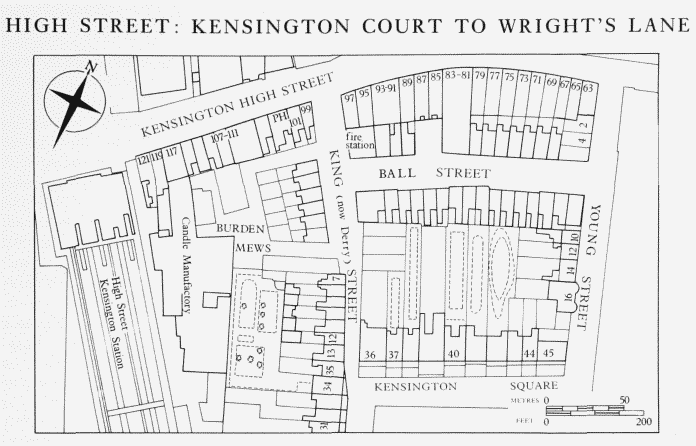 The Kensington Improvement Scheme of 1868–71
'Although Kensington High Street is on the line of highway of probably the most important, as it is certainly the most fashionable, main road to and from the Metropolis, and the centre of the Court Suburb, it will be fresh in the recollection of the Inhabitants and frequenters, how exceedingly narrow, not to say dangerous, the roadway at the point near the then old Church remained for years; and perhaps no greater improvement, nor one more conducive to the convenience of the public and the benefit of a district, has hitherto been effected by the Metropolitan Board, than the widening of this great arterial Western throughfare. A noble roadway now takes the place of the inadequate and cramped approach to Town, that until lately was the source of continual obstruction at this spot.' (fn. 68) Thus in 1873 the auctioneers of the fifty-five new shops created by the Metropolitan Board of Works' road-widening and slum-clearance scheme of 1868–71 enthused over the project's short-term effects. In the longer term, this improvement coupled with the arrival of the railway in 1866 was to turn Kensington High Street into a prosperous, commercial shopping-centre second only in rank to the West End.
In the years leading up to these works, traffic jams regularly blocked the High Street. Leigh Hunt, wishing to travel into the city from Phillimore Terrace one August afternoon in 1851, complained: 'what with waiting for an omnibus, and its stoppages when I got in, I found myself at a quarter to four O'clock, just arrived at Knights bridge, when I ought to have been at Temple Bar'. (fn. 69) The state of the footpaths also left much to be desired, and in the courts behind the south side property was deteriorating. As so often, nothing was done until a practical decision became necessary. In 1861 three houses at the west corner of Kensington High Street and Young Street burned down. The Kensington Vestry there upon commissioned a plan for a new line here which would remove the bulge in the High Street from Young Street on the east to a point some 100 feet beyond King (now Derry) Street on the west. No binding decisions were taken, but it proved possible to set back the rebuilt premises at Young Street a full sixty feet. (fn. 70)
In 1864, with the prospect of the railway and therefore of increased traffic suddenly upon them (page 85), the Kensington Vestry set up a Streets Improvement Committee, chaired by Edward Ball, to carry through the rest of the project. This committee memorialized the Metropolitan Board of Works, asking them to take on the task since 'High-street, Kensington, has now become the main Western line of thoroughfare into London', where 'often-times, fatal accidents occur, and serious blocks to the traffic nearly hourly take place'. (fn. 71)
Convinced, the Board asked its architect, George Vulliamy, for a complete scheme of clearance and improvement. Presenting his plan in August 1865, Vulliamy urged quick action because of the increased congestion and danger which would occur once the railway was open, and the likely increase in property values. (fn. 72) The Board therefore promptly obtained the Kensington Improvement Act, which became law in June 1866. This act endorsed Vulliamy's plan with few changes. The whole street frontage between the future Nos. 63 and 111 (odd) Kensington High Street was to be set back as proposed in 1861 (fig. 30). A new street (Ball Street) was projected between Young Street and King (now Derry) Street, which was to be realigned and widened while new stabling (Burden Mews) was to be built off its west side. The Board could offer long leases on the cleared lands, but in keeping with the sentiment of the times about municipal ownership, the freeholds and ground rents had to be sold within ten years. Eight weeks' notice was to be given if more than fifteen houses occupied by the 'labouring classes' were bought at one time, but no provision was made for rehousing those displaced. (fn. 73)
Between 1866 and 1868 the Board gradually bought up the ninety-one different lots from the many different freeholders, leaseholders, and yearly and weekly tenants. The final cost of acquisition amounted to £162,820. Most of the settlements were small, but one freeholder, H. B. Alexander, received £14,000 for three houses in the High Street and many small tenements in Market Court and Gardeners Buildings behind. (fn. 74) Demolitions took place in 1868–9 (Plate 33b), and between May and October 1869 the contractors Nowell and Robson laid out the new roadways, sewers and vaults. (fn. 75) The sixty-three new building plots were advertised for sale in November, building agreements were signed during 1870 and almost the whole rebuilding took place in 1870–1. (fn. 76) In November 1871 the south side of the High Street from Colby House to Wright's Lane was renumbered, the new plots becoming Nos. 63–111 (odd) from east to west.
Under their agreements, developers contracted in return for eighty-year leases to rebuild plots to their own plans, but with compatible story-heights. Along Kensington High Street, Vulliamy and the Board of Works imposed a soulless Italianate elevation, with plate-glass shop windows on the ground storey, white brickwork with stone or 'compo' dressings above and a crested roof (Plate 34b). Even here there was no absolute uniformity. For Joseph Toms' Jeweller's shop (Nos. 95 and 97 Kensington High Street, at the east corner with King Street), his architect John Cox excogitated a 'richly embellished Elevation, with a lofty and prominent Mansard Roof'. (fn. 68) West of King Street, the variations allowed were wider, while in Ball Street, King Street itself and Burden Mews the lessees were not much restricted. The sites were distributed among a small band of predominantly local undertakers. Both sides of Ball Street together with the plots in Young Street, King Street and Burden Mews became the almost exclusive province of the Kensington builder Thomas Hussey. (fn. 77) Along the High Street there was greater competition. James Broadbridge, a local surveyor, took several sites and developed them in collaboration with Josiah Houle, an architect much involved here. William Boutcher, another surveyor, took eight; and various High Street tradesmen were represented, notably the new firm of Derry and Toms (page 89). (fn. 78)
The High Street premises were all used as shops with the exception of No. 103, just west of King (now Derry) Street, where the Duke of Sussex public house was rebuilt in 1869–70 to Houle's designs practically on its old site, with an 'enriched Architectural Elevation' and 'attractive Plate Glass Front with Three Entrances'. (fn. 79) The pub soon found itself in competition with the equally new Duke of Abercorn at No. 121 and closed in 1886. Most of the shops were at first in single units, but in a few cases they were joined together from the start.
The rear premises in Ball Street were never as successful as the High Street frontage. Not anticipating the retailing boom which was to ensue, Vulliamy planned Ball Street separately, and few of the High Street shopkeepers initially took back premises here as well. Both sides of Ball Street were therefore first occupied by small independent craftsmen and tradesmen: organ-builder, bookbinder, ornamental writer, bookseller, bootmaker, gasfitter, baker and stationer are among those with premises here in 1873. (fn. 68) But as the big High Street shops expanded, they took over houses here until Ball Street was ultimately reduced to little more than a delivery yard for Barkers. It was finally closed and built over after 1927 (page 97).
One plot, at the corner of Ball Street and King Street, was reserved by the Board of Works for a new fire station. This building (Plate 34c), with accommodation for three married men, three single men, one driver, three horses and three engines, was raised in 1870–1 to the posthumous designs of the Metropolitan Fire Brigade's architect within the Board of Works, Edward Cresy; the builder was Henry Whittick, whose contract was for £1,580. (fn. 80) Its sturdy and wholesome plain brick elevations, enlivened with dressings and bands of red brickwork and a cornice incorporating Minton tiles, constituted a reproach to the worn-out commercial Italianate on show all around. In 1906–7, after a larger fire station had been built behind the other side of the High Street in Old Court Place, Barkers took over the site and rebuilt it (Page 88).
In July 1873 the Board of Works, as required by the Act of 1866, sold most of the freeholds and ground rents of the Kensington Improvement Scheme. The acutioneers invited bidders to note the 'continually Incrfeasing Value of prospective Reversion. It is this feature that makes them [the plots] unequalled as provisions for children, and the very best Investment for Trust-money.' The sale realized £53,025; among individual sites, Derry and Toms' premises at Nos. 107–111 (odd) Kensington High Street fetched £6,200 and Joseph Toms and Company's at Nos. 95–97 made £5,000. (fn. 81) The largest single purchaser was the Crown. Acting through an intermediary, the Office of Woods and Forests bought twenty lots, mainly west of King (now Derry) Street, and thus embarked on a long-term interest in property on the south side of Kensington High Street (pages 92, 103). (fn. 82)
All those buildings of the Kensington Improvement Scheme which had escaped previous demolition were taken down during the reconstruction of Barkers and of Derry and Toms between 1927 and 1958.
High Street Kensington Station
The history of the underground railway's layout and construction through Kensington is given in Chapter XX. But an account of High Street Kensington Station appears here because it became so closely bound up with the development of building and retailing here abouts. The inauguration of this station was the single event which did most to transform the High Street from a prosperous suburban centre into one of London's most alluring shopping streets.
Kensingtonians had been anticipating the railway since 1864, when the Metropolitan Railway's and Metropolitan District Railway's Bills came before Parliament (page 327) The Kensington Vestry (on which commercial interests were strong) welcomed a station in central Kensington and soon concluded that the proposed station site between King (now Derry) Street and Wright's Lane was 'admirably chosen'. (fn. 83)
After the necessary period of acquiring the sites, work here began in the summer of 1865. (fn. 84) In March 1867 the station was being roofed in Originally called plain Kensington Station, it conformed to the pattern of others along the line designed by the companies' engineer, John Fowler. It had a single-storey Italianate exterior in white brick at street level (Plate 35a), whence stairs led down to a shed roofed in with a broad elliptical span of some ninety feet, carried on large wrought-iron arches and partly glazed. The two Metropolitan tracks were grouped together on the east, and led out northwards under the High Street towards, Notting Hill Gate. On the west, the two District tracks were separated by a platform and ended in buffers under the upper portion of the building. The Metropolitan service from Paddington to Gloucester Road started in October 1868, but the District line to Earl's Court was not built till 1869 and a regular service began only in 1871. (fn. 85) A little later, this western side was linked to the Midland Railway Coal Yard, constructed south and west of the station in 1877–8 (page 108).
A parcel of excess land was left in possession of the companies on the High Street frontage just east of the station. This site, No. 121 Kensington High Street, was filled in 1868–9 with a tall, self-confident Italianate pub, known at first as the Duke of Abercorn (Plate 35e). Because of the presence of a refreshment room in the station itself, it failed initially to acquire a licence but in due course it prospered. In 1888 there were major alterations under H. I. Newton, architect, and the name changed to the Town Hall Tavern, no doubt in deference to customers from across the street. (fn. 86) The pub survived until 1912, when it was gobbled up by the expansion of Derry and Toms (page 89); the building itself remained until about 1929 (Plate 35b).
At about the turn of the century, the Metropolitan Railway decided to reconstruct High Street Kensington Station. Local draperies were then in the full spate of expansion, and it seemed sensible to use the valuable frontage space more effectively. George Sherrin, afterwards architect also for reshaping South Kensington and Gloucester Road Stations, was called in. His scheme of 1903–4 proposed taking down the roof and substituting on the southern ends of the platforms simple independent wooden roofs on iron columns. At the northern end, the platforms were covered over with girders supporting an enlarged superstructure. This building, carried out in 1906–8, consists of a shallow four-storey building of thin red bricks and stone dressings. In the centre is a troplit arcade flanked by shop windows and leading to an octagonal space which has side entrances off into stores; originally this contained the booking hall. Though the front of the building is uncomfortably asymmetrical and its windows are jammed together, Sherrin's crisp details, neat internal arcading and spacious octagon have some elegance.
The offices and shops here were not planned by him. The section east of the arcade was taken by Derry and Toms (Plate 35b) and the section to its west by Pontings (page 92). In subsequent years, Pontings encroached further over the railway space with sundry additions. Since the demise of these stores, some rearrangements have been made, but the character of the arcade with its shops remains. (fn. 87)
The space immediately south of Sherrin's octagon was rebuilt by London Transport in 1937–8 to create an enlarged booking hall. (fn. 88)
Shopping in Kensington High Street
Whether or not the presence of the court between 1690 and 1737 shed lustre upon Kensington's shopkeepers, for many years after its departure there was nothing elevated about the High Street traders. Most of them served only the immediate locality. Travellers along the increasingly busy turnpike road stopped at the hostelries and doubtless bought sustenance from the many food shops, but probably little else. As the suburbs began to encroach, the middle classes seem at first to have looked to their local shopping centre for household provisions and not much more. As late as 1851, the commonest trade on the High Street's south side was 'grocer and cheesemonger', with victualler, baker, butcher and greengrocer not far behind. (fn. 89)
However there were already some pointers to the future. Eight shops between Colby House and Wright's Lane were occupied in 1851 by tailors, drapers and milliners, while in a ninth could be found Joseph Toms, 'jeweller and dealer in fancy goods'. One tailor and draper between Young Street and King Street occupied a double shop; another close to Colby House was described as a couturier and claimed to employ twenty-four hands. (fn. 89) The profitable upgrading of this frontage from food to fashion continued over the next few years, despite the questionable property behind. When the Metropolitan Railway bought land for the station in 1865, among those most doggedly opposed to displacement were two lady milliners. They asked for £2,650 in compensation for their short tenancy, stock and goodwill; they estimated their profits at £600 and their stock at £580, and claimed a recent great increase in the property's value. (fn. 90)
Yet the real eruption of drapers, milliners and associated trades upon the face of the High Street proceeded directly from the Kensington Improvement Scheme of 1868–71 and the opening of the railway in 1868. Henceforward their emporia enjoyed up-to-date premises, accessible not just to the increasing number of conspicuous consumers within walking distance; they could be reached by anyone prepared to endure a modest excursion by train for the sake of fashion, yet intolerant of the dirt, nuisance and hubbub of a trip to the West End. The same thing happened at the same time in Westbourne Grove, but the better siting of Kensington High Street made it the more enduring centre of retailing prosperity. By 1881 it was claimed as 'now one of the most fashionable and popular promenades in London … The shopkeepers vie with one another in tempting the fair passengers who make it their promenade between four and six p.m. during the London season. But it is from half-past eleven till one that most of the shopping is really done by ladies and carriage-folk generally. Regent-street, Oxford-street, and Bond-street may prove more expensive, but can hardly be found more choice, as may be seen any day between May and August by a visit at the right houses of the High-street of Kensington.' (fn. 91) A dissentient note was struck by the poet and social rebel Edward Carpenter. Writing in 1900, Carpenter contrasted the 'outcasts of humanity' sitting in the gutter of Kensington High Street and trying to sell penny toys, with the mass of fur-wrapped, respectable shoppers, 'the great mass—what weariness, O God! what leaden-eyed weariness and mere repletion, as they lounge into the shops or scrutinise the objects in the windows!— what stolid and stony indifference as they glance at the things in the gutter!' (fn. 92)
Three firms, Barkers, Derry and Toms, and Pontings rapidly outgrew their modest beginnings and turned by degrees into department stores. They are discussed in detail below. But prosperity, repute and growth were not confined to these establishments. Seaman, Little and Company, drapers, provides an example. S. E. Seaman and Company had a draper's shop between Young Street and King Street from 1861. After the Kensington improvements the firm became Seaman, Little and Company and expanded to two shops (Nos. 81 and 83) close to their old site, with back premises in Ball Street. (fn. 93) In 1871 James Little, aged thirty, was in charge of the business and lived on the spot with his family, nineteen shop assistants or apprentices, three porters and four servants; the assistants, mostly but not overwhelmingly female, were all unmarried and between the ages of fifteen and thirty-three. (fn. 94) Later on, there were 150 living-in assistants, with dressmaking workrooms at the top of the buildings and a staff dining-room in the basement. A sketch of the interior of Seaman, Little in its heyday (Plate 36a) depicts the toplit first-floor saloon, advertised as 'the finest showroom in the metropolis devoted to its purpose'. Counters and tall mahogany cupboards line the walls, there are more counters and light wells for the floor below in the centre, and the floor is carpeted. A few occasional bentwood chairs are set out for customers, but few goods are shown as on display. (fn. 95) The firm took in No. 79 Kensington High Street in about 1892 but succumbed soon afterwards to Barkers' insatiable appetite for more space. (fn. 96)
Young resident owners were likewise presiding over a host of younger live-in assistants at other High Street shops in 1871, notably Barkers, Derry and Toms, John Wickham's drapery (No. 89) and Jubal Webb's cheese shop (No. 73). (fn. 94) As the firms prospered and pressure for space increased, the owners tended to move out, while the assistants (many of whom were not Londoners) continued to be housed and restricted—but increasingly in nearby annexes. Sydney Ponting, for instance, sheltered five female assistants in his new house, No. 1 Cheniston Gardens, in 1881. (fn. 97)
Further east, Madame Kate Ker-Lane came under the eye of the factory inspectorate in 1905 for cramming in needlewomen and machinists at her dress-making establishment, No. 3 Kensington High Street. There were then forty-three employees on these narrow-fronted premises during the day, all women: eleven on the top floor, sixteen on the third, twelve on the second, one (doubtless the couturier herself) on the first, two at ground level and one in the basement. 'This is a very dangerous case, there is hardly any light on the stairs and in some places no handrails,' commented the inspector. (fn. 98)
In due course Barkers and Derry and Toms took over houses in Kensington Square, both for warehousing and for lodging their assistants. The general practice of housing shop assistants declined after the war of 1914–18. But Barkers continued thereafter to own and use houses in the square, which was to feature largely in the company's plans for expansion—a cause of much local resentment (see pages 9–11).
The peak of the High Street's fortunes came in the 1920s. By then John Barker and Company had established a near-monopoly of fashionable shopping here through their three great outlets, Barkers, Derry and Toms, and Pontings, challenged only by W. H. Hunt and Company further west at Nos. 197–207 (1889–1923) and Pettits at Nos. 191–195 (1890–1978). (fn. 99) Advertising and special trains enticed shoppers in from a wide circumference. 'From about mid-day till closing time every train and omnibus disgorges its load—mostly women and children,' grumbled a ratepayer in 1923. 'Along a great part of the frontage the footway will only carry four or five people abreast. The crowd of sightseers overflows into the road at imminent risk of destruction. It fills the arcade leading to High Street Station. The street is virtually impassible for ordinary foot passengers. To get to a train during the business hours of the day it is necessary to wait in one of two long queues before the booking office, and after-wards get through a football scrum on the platform.' (fn. 100)
This great congregation of shoppers in the 1920s created the confidence and ultimately paid for the Barkers and Derry and Toms buildings erected between 1927 and 1958, which still dominate the central section of the High Street today. Since 1945, however, although Kensington High Street keeps its prosperity and pride as a centre for retailing, the tide has ebbed for its great department stores. Pontings as well as Derry and Toms have closed, and at the time of writing Barkers has diminished its retailing space and has adopted the practice of granting franchises of portions of the store.
The Department Stores of Kensington High Street
John Barker and Company is today the sole survivor of the three great department stores which have irreversibly altered the southern face of Kensington High Street over the past hundred years. Both the others were in due course taken over by Barkers, Pontings in 1907 and Derry and Toms in 1920. After these dates, therefore, their commercial history is united with that of Barkers. In this account, histories of the individual companies precede separate treatment of the two large surviving buildings in Kensington High Street, the present Barkers store and the former Derry and Toms building.
The Growth of John Barker and Company up to 1924
Sir John Barker (1840–1914) was a brewer's son from Loose near Maidstone in Kent. He was apprenticed to the drapery trade and then came up to London in the late 1850s. Graduating in due course to the go-ahead concern of William Whiteley in Westbourne Grove, he became a departmental manager there. He left in 1870, it is said because Whiteley refused him a partnership. Instead he took a lease of Nos. 91 and 93 Kensington High Street, between Young Street and King (now Derry) Street, two of the shops then newly built under the Kensington Improvement Scheme (pages 83–5). Here in October 1870 he opened a small draper's business. Such capital as he needed came from James Whitehead, 'a wealthy Bradford merchant in the City'. Like some others, Barker claimed credit and novelty for selling goods direct from the maker, without a wholesaler. But siting, timing, pricing and management were the likelier keys to his success. (fn. 101)
Barker quickly expanded into neighbouring premises in High Street and Ball Street behind, adding departments piecemeal. As early as 1871 he had opened a men's tailoring department at No. 87; (fn. 102) in the census of that year his young brother Francis Barker is found in this shop along with fourteen other male resident assistants, while Barker himself (though absent on the night of the census) appears to have been living at Nos. 91–93 with his family and servants, eight female assistants, three milliners, two saleswomen and a porter. (fn. 103) He acquired premises for bookselling, stationery and fancy goods (1872), household wares, ironmongery, groceries, provisions and wines and spirits (1880), and drugs, dispensing, house furnishing, and carpets (1886–8). So quickly thereafter did he expand into new departments that by 1895 he had failed to commandeer only two shops (Nos. 73 and 85) in the block between King Street and Young Street, and by 1902 only No. 85 stood out against him. In only a few cases, however, was he as yet able to buy the freeholds. (fn. 104)
Much building work, mostly internal, was engendered by the firm's early growth. Between 1873 and 1881 Josiah Houle seems to have been acting as Barker's architect, (fn. 105) but in 1885–7 he employed Alexander Peebles to make major changes at either end of the block—at Nos. 95–97 at the corner with King Street, and at Nos. 63–65 and Nos. 2–4 Ball Street next to Young Street, where the carpet department and food halls were installed in an imposing new building with a high mansard roof (Plate 34a). (fn. 106)
The firm's organization first changed in 1888, when a company was formally established to run the new druggist's department, with Barker and Whitehead as equal partners. (fn. 107) Then in 1894, after a disagreement, Barker bought Whitehead out of the whole business with the help of capital from the Gilbey family (Barker's daughter Ann Sarah having married Tresham Gilbey). The firm now became a limited company with a capital formation of £250,000; Barker himself was paid £160,000 for his interest. (fn. 108) In this year also Barkers acquired the premises of their rivals Seaman, Little and Company and diversified into new areas. (fn. 109) A building department had existed since about 1890 and this, for instance, now expanded strongly.
With the setting-up of the limited company starts a series of minute books which, in the early years, show John Barker frequently at odds with his less forceful and auto-cratic co-directors. They also chart how the store now outgrew the block which it dominated until it posed a threat to neighbouring amenities. With annual profits of over £100,000 and rising, Barkers was looking round for property to accommodate its assistants and ancillary activities. Already from 1892 the company was in possession of Nos. 2 and 3 Kensington Square, to which were soon added No. 4 and (for a brief period) No. 6. (fn. 110) In 1893 a Ball Street tradesman vacated his shop on the grounds that it had 'become a lay-by for tradesmen's carts and railway vans', (fn. 111) a complaint frequently echoed as this thorough-fare came to be monopolized by Barkers' delivery traffic, which spilled out into Young Street and even Kensington Square. In 1897 new buildings were raised in Ball Street to house Barkers' office staff. (fn. 112) From the turn of the century the company began buying extra land further afield. And at Cromwell Crescent, where since about 1895 the firm had occupied a large depot, warehouses and depositories were expanded and some flats (Warwick Mansions) were built (pages 280–1).
The major thrust of Edwardian expansion was on the north side of the High Street. This began in 1899 with the purchase of sizeable premises and stock at Nos. 481/2 and 52–56 (even) Kensington High Street, which were adapted for the building, decorating, lighting, ironmongery and carpet departments. (fn. 113) Rebuilding here soon became necessary, as road-widening was in the offing. The company decided, as Harrods had recently done, to have shopping space below and flats above. During preparation of the scheme their architect, Philip E. Pilditch, consulted Sir Richard Burbidge of Harrods and visited Paris to study flats. The new building, which became Nos. 42–60 (even) Kensington High Street, was carried out at cost of about £120,000 in 1902–5. (fn. 114) It was given up by Barkers after 1960.
John Barker became an M.P. in 1906 and a knight in 1908. Meanwhile his company prospered unremittingly. In 1906–7 it came a step nearer to acquiring the whole block between Young Street and King (now Derry) Street, when the old fire station at the corner of King Street and Ball Street was vacated; here Pilditch's firm built an extension. (fn. 115) Next Pontings, a major rival, foundered while in the throes of expansion (page 92). Barkers bought the business for £84,000 in April 1907 and for the next five years the Pontings sites were the main focus of attention. (fn. 116) Then came the jolt of a fatal fire, on the night of 3 November 1912. It gutted the whole east end of the main block next to Young Street together with the food halls, built as recently as 1885–7 (Plate 34d). Five waitresses, among twenty people sleeping on the fifth floor, died when they jumped prematurely. Howard Chatfeild Clarke, appearing at the inquest as an independent witness, pronounced the building 'not in accordance with modern ideas of construction'. Barkers' directors were further embarrassed because they had previously disregarded the fire brigade's advice to install sprinklers when modernizing and uniting some of the shops. (fn. 117)
The damaged block was entirely and quite grandly rebuilt in 1913–14, with giant attached orders in the 'Self-ridges manner' then rapidly acquiring the status of orthodoxy for department stores (Plate 3). The job was carried out by the Barkers building department to plans nominally produced by their manager, H. L. Cabuche, who between 1910 and 1927 presided over all the architectural work of the company. Surviving large-scale drawings for the fronts towards Young Street and the High Street, however, suggest that the design was really produced by a better-known architect, Robert Atkinson. Cabuche spoke of this design as 'the commencement of what will ultimately be extensive premises, which we are in hopes will unite with the southern side property in Ball Street and continue along Kensington High Street'. (fn. 118) The rebuilding of these premises in 1913–14, in other words, was the earliest step in the long reconstruction of the whole 'main block' premises—a reconstruction in the event not completed until 1958.
The acquisition of Derry and Toms in 1920 for £663,084 heralded a new phase in Barkers' expansion. Profits more than doubled from £133,272 in 1919 to £294,367 in 1920, and went on rising handsomely thereafter. All the while, the company was trying to buy up property and businesses, not always successfully; in 1919 they offered £49,000 for Hunt's drapery at Nos. 197–207 (odd) Kensington High Street, but were refused. (fn. 119) In 1923 they owned or controlled most of the west side of Young Street and several houses in Kensington Square, where workshops and other additions had been made behind Nos. 2–6. (fn. 120) Subways and a bridge linked the main block with the south side of Ball Street, and there was a subway also to Nos. 42–60 across the High Street, where the flats were being rapidly brought into business use (as had happened at Harrods). The big reconstruction of the main premises adumbrated in 1913 had been postponed in 1920, 'owing to the condition now prevailing with respect to the large increase in the cost of building'. (fn. 121) Instead, the company made do with painting or stuccoing the whole of the unfashionable grey-brick High Street fronts of Barkers, Derry and Toms, and Pontings, and with installing impressive new shop windows, notably at Derry and Toms (Plates 3, 35b). (fn. 122)
On a larger scale, negotiations were now afoot to build another huge block on the north side of the High Street, at Nos. 26–40 (even), the 'Crown site'. Here Barkers had had temporary buildings on Crown land since the fire of 1912. In 1919 they agreed to take a long lease of the site, and Cabuche prepared plans at various stages between 1920 and 1922. Eventually Sir Reginald Blomfield was chosen (no doubt by the Crown, on the basis of his experience in rebuilding the Regent Street Quadrant) to dress up Cabuche's plans in classic guise. Enveloped in the solemnity of Portland stone, the 'Crown site' or 'Ladymere' store building proceeded in 1924. (fn. 123)
Derry and Toms up to 1920
Derry and Toms had older antecedents than the other great Kensington department stores. The Toms family had kept shop hereabouts since 1828. From then until 1842 James Toms, grocer, had a shop on the south side of Kensington High Street just east of Young Street. Probably this James Toms was the father or brother of the more important Joseph Toms (born in about 1809) who from about 1836 kept an increasingly prosperous 'toy and fancy repository' on the site of the present High Street Kensington Station frontage. In its latter years, until the site was needed in 1865 for the construction of the railway, this shop was run by Joseph Toms junior (b. 1838), his father having perhaps died. Meanwhile in the early 1850s Joseph Toms junior's older sister Christiana had married Charles Derry, a draper, and in 1860 Derry established himself in a nearby shop at the corner of Wright's Lane and the High Street, where he remained until 1869. Derry is described in the census for 1861 as a wholesale draper, but he was certainly a retailer as well with, for instance, a speciality in baby linen. (fn. 124)
The displacement of the Toms shop by the railway and the subsequent upheavals of the Kensington Improvement Scheme caused the Derry and Toms families to reorganize their businesses, which no doubt were already linked. Joseph Toms junior transferred his premises first in about 1865 to a shop a little east of Young Street and then in 1870 to grand new premises specially designed for him by John Cox, architect, at Nos. 95 and 97 Kensington High Street. The nature of his business also changed slightly, from 'fancy goods' to jewellery (perhaps with an emphasis on constume jewellery) and watchmaking. Up to its disappearance in about 1885, Joseph Toms and Company was always distinct from Derry and Toms, but there is reason to suppose that close links were maintained. (fn. 125)
Meanwhile in about 1869 Charles Derry took into formal partnership Joseph junior's younger brother Charles Toms, who had been working under him for several years. Together the partners took a big set of plots in the Kensington Improvement Scheme west of King (now Derry) Street, the future Nos. 107–111 (odd) Kensington High Street, with access at the rear from Burden Mews. This was the core of their new drapery establishment, though their shops at the corner of Wright's Lane were not given up for a few years. The census of 1871 shows Charles Toms, then aged twenty-five, domiciled above the new emporium here with his wife (also listed as a draper), seventeen assistants (six female, eleven male), two porters, three servants, but as yet no children. (fn. 126)
Like Barkers, the firm enjoyed a rapid development in trade and expansion in premises. In the years up to 1893, first No. 105, then No. 103, then Nos. 99–101, No. 115 and finally No. 113 were swallowed up, with the usual sundry additions and alterations to fronts. At Nos. 99–101 on the corner with King Street, a beefy fourth storey was added in 1892 to designs by Josiah Houle (Plate 34b); this was probably the site of the Moorish restaurant reached by an open lift with seats, and perhaps also of the 'small zoo' later remembered by some shoppers. (fn. 127)
West of No. 115, Derry and Toms' growth seemed briefly blocked when in 1893 a tailoring concern called the Tudor House Association acquired Nos. 117 and 119 and built a hearty, stripey block of shops with bay-windowed flats above to designs by J. Wallis Chapman (Plate 35b). (fn. 128) But the enterprise soon collapsed, so that Derry and Toms were able to take over these premises as well. Another vacancy further consolidated their hold on the back lands here, when in 1900 Francis Tucker and Company left their old-established candleworks. This allowed the firm to gain control of the whole block between King (now Derry) Street and the railway, with the exception of the pub at No. 121 Kensington High Street, and to extend their premises for warehousing, finishing and packing behind the west side of Kensington Square. In the square itself, they were able at about the same time to acquire long leases of Nos. 25–29. Over the next few years Nos. 25–27 were turned into accommodation for assistants, remaining in this use until the First World War. In about 1900 some two hundred assistants of Derry and Toms were living in; according to the firm they had access to 'a fine library and other advantages, the result of special study made by the proprietors for their little army of busy and efficient employees'. (fn. 129)
In about 1900 F. E. Williams became the firm's architect and initiated a rebuilding campaign which brought Derry and Toms into contention with its rivals as a commodious department store. His first contribution was on the old Tuckers site, behind Nos. 117–119. Here in 1901 he contrived an elegant showroom, fifty-four feet square and sixty feet high, richly decorated in fibrous plaster, surrounded by an elliptical gallery with a fancy balustrade, and surmounted by a glazed dome. (fn. 130)
When the frontage to High Street Kensington Station was rebuilt in 1906–8 with shopping space east and west of an arcade (page 92), Derry and Toms expanded yet again and took over the eastern half of the new building. In 1912 they secured the use of most of No. 121, the Town Hall Tavern, and in 1914 Williams's firm (F. E. Williams and Cox) rebuilt the tiny site intervening between this and the station building, No. 121B, with a pleasing little mannerist tower (Plate 35b). (fn. 131)
The firm thus now had the whole frontage between King Street and the station arcade, and the reigning Derry began talking of a complete rebuilding. For this, agreement was needed with the Crown, who had owned increasing portions of the freehold here since 1873 and had monitored Derry and Toms' gradual development. But unlike Barkers, the firm had now reached its acme. In 1915 they were suing for reduced rent because of the slump caused by war, and after a year of peace the directors threw in their lot with Barkers in January 1920 (page 88). This was a merger rather than a take-over, but though the Derry and Toms name survived and some directors joined the Barkers board, the Barkers style dominated henceforward. As evidence of reform, new shop-fronts were quickly installed along the whole length of the High Street frontage under H. L. Cabuche's direction, while the upper por tions of the façades were painted over or stuccoed to give an impression of cleanliness and new vigour (Plate 35b). (fn. 132) These however were temporary expedients, in anticipation of the rebuilding which Barkers began planning for the store from 1924 onwards. An account of this new building appears separately below.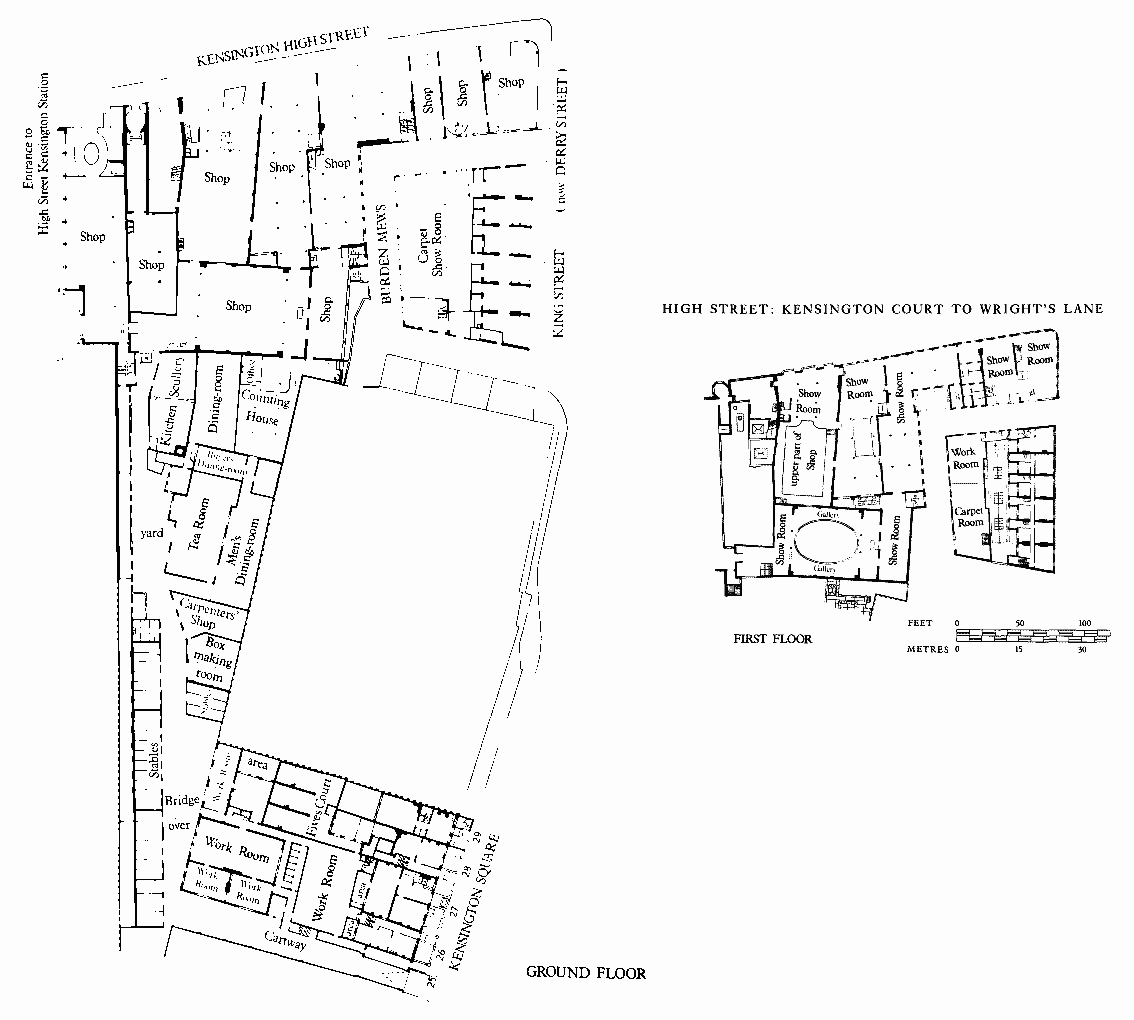 Pontings
The first of the four brothers Ponting to desert his home town of Gloucester and make his mark in the expanding metropolitan drapery trade was Thomas, who opened a shop in Archer Street, off Westbourne Grove, in about 1863. William, Sydney and later John Ponting probably learned the business in Archer Street and then at No. 123 Westbourne Grove, Thomas H. Ponting and Company's address from 1868. (fn. 133)
Ponting Brothers, milliners, was set up as an independent concern in 1873 by the younger brothers at No. 125 Kensington High Street, between the railway station and Wright's Lane. It was described retrospectively as 'a small Berlin wool shop'. (fn. 134) Profiting from their position, the partners were able in due course to raise their shop into 'the largest retail fancy goods and silk business in London'. (fn. 135) They began the process by taking in No. 127 (1876) and Nos. 123 and 123A (1890). The next step was to acquire Scarsdale House, the venerable but forlorn mansion immediately behind their premises (page 102). The Pontings succeeded in this in 1893. For the time being, it was used 'for domestic purposes', presumably for housing assistants. (fn. 134)
The critical phase of Pontings' independent development came between 1898 and 1906. In the former year the business was turned into a limited company. The largest shareholder was William Ponting, then resident at Ealing, followed by John Jones Ponting of Putney, who had joined the firm a little later than the other brothers. The new company embarked on a policy of rapid growth, but almost immediately William Ponting died and the family's direction of the enterprise disappeared. The expansion was directed initially by Henry Charles Richards, M.P., the company chairman, and a new manager from Whiteleys, a Mr. Forbes. (fn. 136)
In 1899–1901, therefore, Pontings replaced their makeshift premises facing the High Street with a wholly new store building designed by Arthur Sykes (Plate 35a, 35d). It was built in two stages and cost £14,000 or more. Its old-fashioned but capacious Italianate structure included a large basement, four full storeys above ground and an extra two in the steep mansard. Towards the High Street, the shop fronts projected beyond the main building line. As planned in 1899, the basement was for delivery, dispatch and accounts as well as for 'heavy goods', turnery, carpets, ironmongery and glass; the ground floor housed 'fancy goods'; while the first floor, arranged in long parallel showrooms, was for millinery, capes, constumes and mantles, with workrooms and a tea room behind. Above these 120 assistants were accommodated, with communal kitchens, dining-rooms and even a billiard-room, thus relieving pressure on the five outside houses where shop assistants were already living. The new block was annexed to Scarsdale House, which was apparently for the time being reduced to a skeleton rather than destroyed outright. (fn. 137)
Also at this time or soon afterwards, Pontings built a series of four utilitarian blocks or 'divisions' in the remaining Scarsdale House garden, along the east side of Wright's Lane. Flats had been proposed here in March 1899, but by September of that year Pontings controlled this site also and the architects E. N. Clifton, Son and Hope had drawn up plans for the firm. These buildings seem to have taken some time to complete; they were used at first mainly for depositories and offices. (fn. 138)
Following this spate of building, Pontings was obliged to take out several mortgages. The company's problems came to a head when High Street Kensington Station was rebuilt in 1906–8. Under this scheme, described on page 85, shopping space was created on either side of a central arcade, and Pontings rashly took the whole western side. Construction here was proceeding to the plans of their architect A. W. Cleaver, when the company went into liquidation in December 1906. Barkers bought the business at a bargain price, £84,000, in April 1907. (fn. 139) Hence-forward Pontings' history was overshadowed by that of its larger eastern neighbour. After brief delay, the new extension was completed. The front portion consisted of shops on the ground floor with stock rooms and workrooms above, but in the rear two-storey section was a large first-floor showroom 'on somewhat similar plan to the Magasin au Printemps, Paris', (fn. 140) lit by a large roof-light incorporating some ornamental coloured glass. There were display windows next to the arcade as well as the High Street, while from the octagonal station booking hall shoppers could enter a 'division' of the store in Wright's Lane.
John Barker and Company did not neglect Pontings in their early years of ownership. The store continued to have its own distinctive image and maintained its special reputation for art needlework, while the buildings were frequently being upgraded and modestly enlarged. In 1911–12 the remaining shell of Scarsdale House seems to have disappeared and the Wright's Lane sequence was finished under H. L. Cabuche, Barkers' director of building. (fn. 141) After the war and the acquisition of Derry and Toms, the aggrandized company brought forward a development plan for Pontings in 1920–1, with a projected outlay of £65,000. The first task was to acquire freeholds; duly, Nos. 125 and 127 Kensington High Street, the Scarsdale House site, Scarsdale Terrace and much of the back land were all bought in 1921–2 for a total of £78,000. The High Street fronts were painted, new shop windows were installed and a large clock was fixed surmounted by Pontings' motto, 'The House For Value'. The Wright's Lane buildings were variously augmented in the 1920s by Cabuche, notably with an American-style cafeteria run by the Zeeta Company, a subsidiary of Barkers. (fn. 142)
A more elegant addition occurred in 1934–6, when Scarsdale Terrace was demolished in favour of a long new four-storey loading dock with mail-order premises above. This building was designed by Barkers' company architect Bernard George in a smooth, brickish modern Dutch manner with expressionist undertones. Sold by Barkers in 1953 and converted to designs by Louis Erdi, it is known today as College House, Nos. 29–31 Wright's Lane. (fn. 143)
The rationalization of Kensington High Street's stores undertaken in the 1960s by the House of Fraser, from 1957 Barkers' parent company, claimed Pontings as its first victim. The store closed in 1970, (fn. 144) and the recent history of its sites is given on page 98.
The Rebuilding of Barkers and of Derry and Toms
Not long after John Barker and Company took over Derry and Toms in 1920, plans were laid to rebuild both stores, so solving once and for all their long-standing problems over space. The prime mover in this enterprise for more than thirty years was Trevor Bowen, long the company's managing director.
The complexity of the situation was great. The company (for whom Sir William Wells of Chestertons acted as surveyor) fretted against any brake upon expansion. The London County Council was willing to sanction these rebuildings in exchange for a further widening of Kensington High Street, still congested despite the improvements of 1868–71. Kensington Borough Council (advised by Sir Aston Webb) also desired road-widening but had to be convinced of the need to close Ball Street, which Barkers now monopolized and wished to build over. The residents of Kensington Square, sorely tried by the 'Barkerization' of their amenities and increasingly well organized, resisted any further encroachment in their direction. Finally, there were the interests of the freeholders. In their main block, Barkers owned only Nos. 63–71 and No. 89 (where the last independent shop was finally dislodged in 1913). The west side of King (now Derry) Street, the south side of Ball Street and three houses on the north side of Kensington Square (Nos. 36, 38 and 39) were also theirs. The owner of all the rest was the Crown. Since 1873 the Office of Woods and Forests had been buying freeholds piecemeal on the south side of the High Street, and it now owned Nos. 73–87, 91–97, 99–119 and (beyond Wright's Lane) 129–161, besides other Derry and Toms properties south of the frontage and Nos. 25–29 (consec.) Kensington Square. It was apparent that an exchange of properties between Barkers and the Crown (which was represented throughout by the Woods and Forests' architect, John Murray) would have to accompany any rebuilding. (fn. 145)
At a meeting in July 1923 Murray suggested a formula whereby Barkers would become the freeholders of the whole block between Young Street and King Street, while the Crown would have the freehold of Derry and Toms and all property to its south including the west side of King Street, and would safeguard Kensington Square. The parties agreed to this in principle. After much bargaining, in which Barkers and the residents of Kensington Square were at frequent loggerheads, an agreement was signed in November 1927. (fn. 146)
By this time, the first phase of the rebuilding was ready to begin in Ball Street. Under the agreement, Ball Street was to be closed and built over in 1927–9. Derry and Toms was to be rebuilt next, in 1929–31, followed by its rear premises in 1933–5; in the final phase, Barkers would be reconstructed in 1935–9. The early schedules in this timetable were observed, but delays caused by depression and war put back the completion of the whole until 1958.
The manner in which the final architectural design for the two stores evolved is obscure but interesting. As has been seen (page 88), the first design for rebuilding Barkers as a whole, initiated in 1913–14, seems to have been 'ghosted' for H. L. Cabuche, the company's surveyor and manager of its building department, by Robert Atkinson. In 1921 Atkinson was again called in to help Cabuche create a first roof garden on top of Barkers (plate 36c) at Nos. 63–71 Kensington High Street (he had just attracted fame for his Regent Cinema in Brighton, which also included a tea room and roof garden). (fn. 147) He was not again employed, but in 1923 an ex-student of Atkinson's from the Architectural Association joined the Barkers building department as an assistant. This was Bernard George (d. 1964), the eventual main architect both of Derry and Toms and of Barkers. A designer of ability and intelligence, George was to spend his whole career in the service of John Barker and Company; his one known building outside Kensington, the Zeeta Cake Company's shop in Putney High Street, was also for a subsidiary of Barkers. (fn. 148)
Early in 1927 George was able to tell the Board that the first stage of the reconstruction, the Ball Street block, though nominally Cabuche's was in fact 'his own creation'. Cabuche was then ill but still officially in charge. Soon afterwards his position was changed to that of 'consulting architect' to Barkers; he resigned in 1928 and was briefly succeeded by Septimus Warwick. Soon after this George officially became chief architect, a position he retained until 1962. (fn. 149) He it was who devised the whole spirit and style of Derry and Toms and of Barkers—notably the 'Streamlined', faintly French classicism which sets the tone for so much of Kensington High Street today.
Others were also involved. Most strikingly, from October 1929 the Board Minutes reveal the confidential involvement of a Chicago architect, C. A. Wheeler. (fn. 150) This decision stemmed from the long-standing admiration which Barkers' two chief directors, Sydney Skinner and Trevor Bowen, had for the planning and administration of American department stores. The superiority of American store planning had been known to English retailers ever since D. H. Burnham and Company had provided the plan of Selfridges in 1908. Bowen in particular had been impressed by American stores on a visit of 1919, while at the time of the acquisition of Derry and Toms, Skinner consciously compared the size of Barkers to Marshall Field's store in Chicago. (fn. 151) At the time of the planning of the 'Ladymere' store in 1922, the directors had entertained the idea of employing either Graham, Anderson, Probst and White (the successors to Burnham) or Starrett and Van Vleck, architects of Saks' Fifth Avenue store in New York. So the ground was well laid. In September and October 1929, Skinner, Bowen and possibly also George paid a prolonged visit to the United States. As a result, Wheeler was appointed consulting architect for the layout and equipment of the new Derry and Toms building, at the rate of $18,750, or £750 for each floor for which plans were submitted. Wheeler visited London in December, and in May 1930 Bowen and another director, R. B. Gray, returned to Chicago to discuss his plans, which were finally approved in July. Later, Wheeler was again employed to provide layout and equipment plans for the new main block of Barkers. By an agreement of October 1933, C. A. Wheeler Inc. was to furnish preliminary plans of store arrangements, with detailed drawings to follow and a specification to cover all contemplated equipment from the basement to the fourth floor. On this occasion the basic fee was $26,750, to which $3,750 was to be added or subtracted for any floor. (fn. 149)
These arrangements show that the floor and equipment layouts in both stores were Wheeler's. Some of the equipment itself, at least in Derry and Toms, was also American. These contributions were concealed in all publicity, doubtless because the Barkers directors were unwilling at a time of high unemployment to admit their dependence on foreign expertise. The elevations, on the other hand, unambiguously came from Bernard George, to whom also fell the thankless duty of adapting plans to the building regulations and carrying on the necessary 'long and patient argument with the planning authorities'. (fn. 152)
Derry and Toms' Building
Derry and Toms was the earlier of the two great store buildings in Kensington High Street to be designed for Barkers by their in-house architect, Bernard George, with floor layouts made by C. A. Wheeler of Chicago according to the arrangement explained above. Its construction in 1929–31 brought to the High Street an architectural sophistication and scale previously absent. As if to emphasize its smartness and novelty, the famous roof garden was added atop the building in 1936–8.
At the time of the unification of Derry and Toms with Barkers in 1920, a commitment to rebuilding already existed. Derry and Toms had poor service facilities, having long had to make do with the old-fashioned stabling of Burden Mews and portions of the old candle works for delivery, packaging, and finishing of articles (fig. 31). With Pontings also in Barkers' ownership, one idea in contemplation during 1922–3 was for an arcade behind the back of the buildings all the way from King (now Derry) Street to Wright's Lane, but this was dropped. By 1924 Cahuche had prepared a general scheme for reconstruction of the store. This featured in the complicated negotiations for general rebuilding on all their sites carried on by Barkers in 1925–7 with the Crown and the local authorities (page 92). The outcome of these, in November 1927, was to give the Crown the freehold of the whole of the main Derry and Toms site, which was to be the first portion rebuilt. (fn. 153)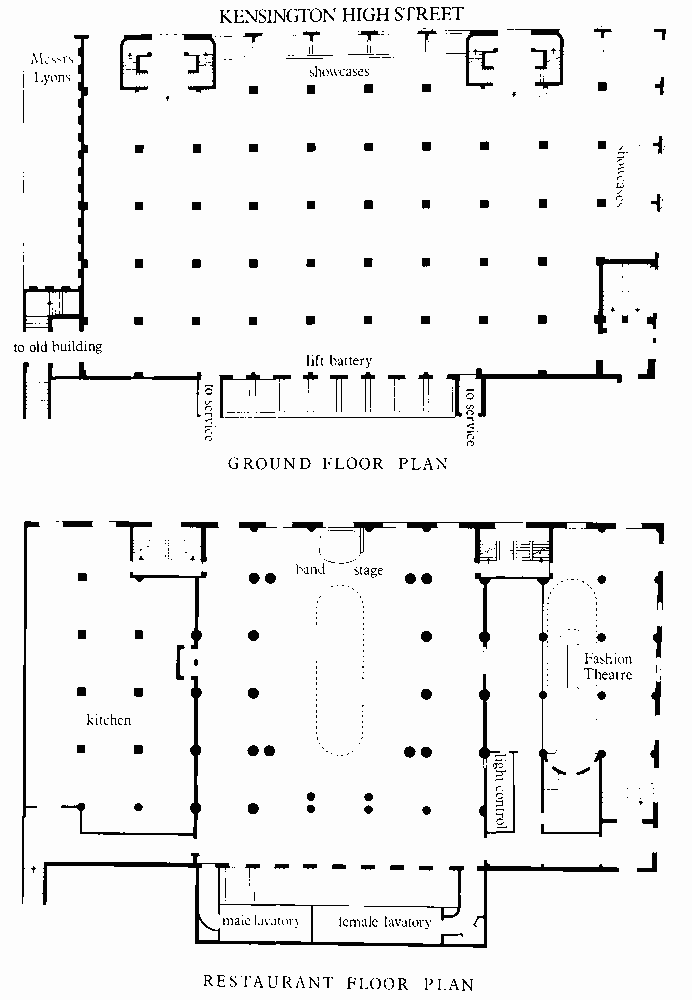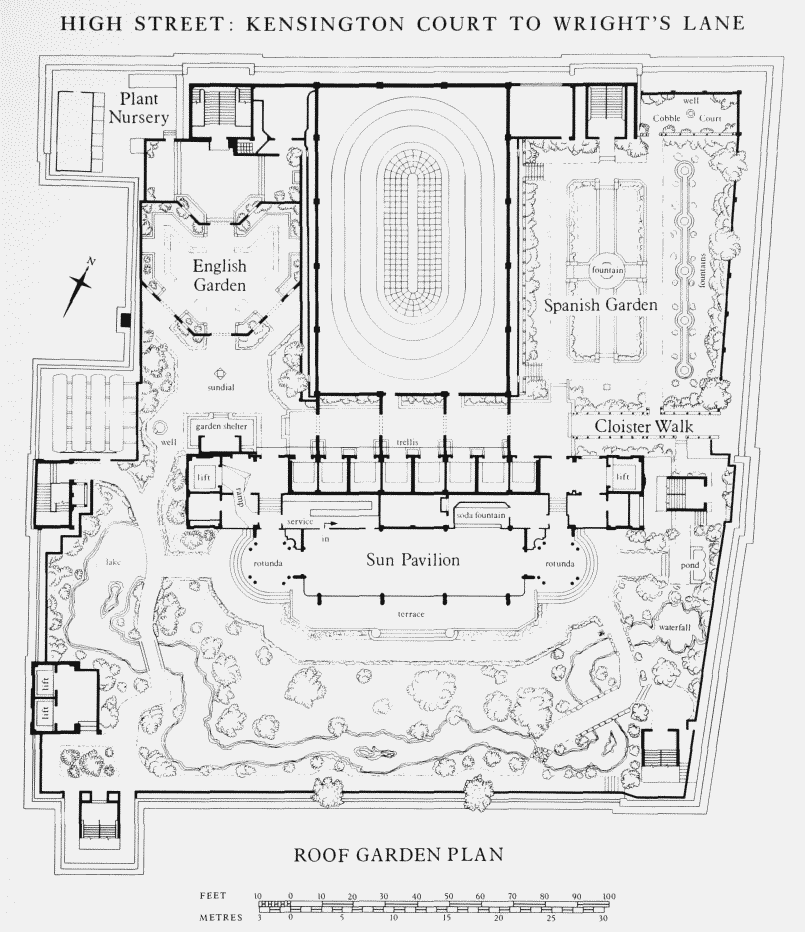 Bernard George began preparing his rebuilding scheme for Derry and Toms shortly after this agreement of November 1927 was made, having then just been put in charge of Barkers' architectural department (page 93). Work began first at the back of the site, where Burden Mews was closed and its buildings all demolished. Here was built a loading dock for the reception of goods. This formed the rear of the new store. It was erected in 1929–30 and followed immediately by the front and wings (1930–1). (fn. 154)
Derry and Toms was one of the first London stores to be planned on the American 'horizontal' system, whereby each floor was made as open as possible; safety against fire was ensured by keeping the floors wholly separate, without well holes or central staircases. Probably C. A. Wheeler, the Chicago architect called in by the company in October 1929 to prepare detailed plans for floor layouts, played a part in this. But by then George had doubtless already evolved the concept of an open steel-framed store, worked out to a 22-foor grid. At any rate, between themselves and the building authorities the architects worked out a plan which placed the staircases (intended generally for emergencies only) in self-contained shells, two along the front, one in Derry Street, and one in the south-west corner (fig. 32). A battery of eight lifts in onyx and black marble surrounds, sited against the back wall of the retailing space, gave regular access to the upper floors (Plate 37d); there were no escalators. There were six floors of shopping including the basement (where an Americanstyle 'Inexpensive Fashion Department' or 'bargain basement' suggested by Wheeler was omitted by directorial fiat (fn. 155) ). The sub-division of departments on some floors was more apparent than real, commented the Architect and Building News: 'there are no doors cutting off these sections and the separation is only sufficient to permit a change in decoration'. Admiration of the planning was lavished particularly on the top (fifth) floor. Here a restaurant ('The Rainbow Room') lit from a long elliptical skylight supplemented by concealed neon lighting of different colours, adjoined a fashion theatre with an equally cool, elegant layout (Plate 37a). The suave restraint of the interior, with its concealed lighting (not an electric bulb in sight), furniture, blue and gold carpets, balustrades, lifts and other fittings, brought Derry and Toms renown as a classic of the short-lived phase of English Art Deco. Concisely, in Frederick Towndrow's words, it had 'spirit and sparkle'. (fn. 156)
The exterior of the store is heavier, not to say more ponderous, in manner (Plate 38a, 38b). It attempts thoughtfully to reconcile American planning principle with the Beaux-Arts manner of elevational design. To break up the monotony of the front, the staircase compartments project gently and canopies cover the entrances beneath them, while the crowning parapet is raised in the centre for the sake of dignity and finality. The elevation is divided traditionally into base, column and frieze. The base has polished Hopton Wood stone surrounds to the windows on a brief plinth of dark granite. Through the middle floors, the order is overtly expressed by means of broad fluted pilasters (in a stripped Ionic with Egyptian overtones) alternating with tiers of windows. The frieze stage represents the grand fifth floor. Here the voids are filled not with windows but with elegant metal grilles with figures representing signs of the zodiac, while the spaces above the piers are devoted to 'metopes' with relief panels in stone depicting productive labour; these combine with the grilles to make a delightful if too-distant frieze (Plate 37b, 37c). The grilles, together with the bronze panels over the lifts and some others on the stairs and over windows (Plate 39a), were designed by Walter Gilbert and carried out by J. Starkie Gardner Limited, while the bas-reliefs were the work of C. H. Mabey. The general contracting for the store was in the hands of Barkers' own building department. Among the subcontractors at least two were American: the Lamson Company of Syracuse supplied pneumatic tubes, and W. S. Tyler and Company made the lift cars and entrances. (fn. 157)
Five years after the store's completion, the famous Derry and Toms roof garden was created at the particular behest, it seems, of Trevor Bowen of Barkers. Such conceits, usually in conjunction with tea rooms or restaurants, had been popular in English stores since the Edwardian years. Selfridges had been the pioneer, while Barkers had had a makeshift example since 1921. The Derry and Toms garden was planned to outdo all such others, and the building had been constructed to allow for its future creation (Plate 38a). A thick bitumastic base was laid on the roof. Above this came a layer of loose brick and rubble with a fan-shaped system of drains leading to a single main drain. On top is a thin two-and-a-half-inch layer of soil, watered regularly from artesian wells beneath the building. As the soil is thin, the trees planted had at first to be supported until their roots spread. The garden as first conceived was divided into three: an 'English Woodland Garden' with flower beds; a 'Tudor Court', incorporating arches salvaged from an unidentified stately home; and a 'Spanish Garden' with Moorish pergolas and a Court of Fountains. The landscaping and planting were devised by Ralph Handcock but the authorship of the sundry follies seems unknown. Bernard George exercised overall supervision and no doubt designed the healthy, modernistic 'sun pavilion' which formerly stood in the centre (Plate 36d, fig. 32). The completed garden, which cost some £25,000, was opened in May 1938 by the Earl of Athlone. (fn. 158)
During and after Barkers' own rebuilding, Derry and Toms carried on as one of three basically independent stores in Kensington High Street owned and managed by the company. But after the House of Fraser purchased John Barker and Company, its value came under increasing scrutiny. Pontings having been sold in 1970, Derry and Toms' turn quickly followed. Following an arrangement made in November 1971, the store closed in January 1973 and Barkers' interest in the site passed to British Land and Dorothy Perkins for about four million pounds. (fn. 159)
There followed a brief revival of glory. Biba, the smart Kensington boutique-style business started some nine years before by Barbara Hulanicki with a speciality in reviving inter-war fashions, ambitiously took over the store, relying on the finances of its parent company, Dorothy Perkins. In a furious five-month campaign supervised by a management consultant, Peter Trotter, the interior of Derry and Toms was transformed by Markwell Associates (a design firm specializing in theatre and television work), with colour schemes and other contributions from Tim Whitmore and Steve Thomas. Escalators were installed, many whimsical features introduced and, most radically, the concept of window displays was abandoned in favour of raised areas of seating directly behind the windows. Subdued lighting and velvet tones were pervasive. Altogether some fourteen million pounds were spent, but the investment proved rash. Having opened in September 1973, Biba foundered two years later and a soberer conversion ensued. (fn. 160) Today, Marks and Spencer and the British Home Stores share the ground floor, with other businesses above. The roof garden survives under lease to Rama Superstores, though the sun pavilion has given way to a modern restaurant.
At the back of the yard behind the Derry and Toms store is a building now known as No. 1 Derry Street. This was built in about 1935–8 by John Barker and Company for sundry purposes, including a bakery, to designs by their architect Bernard George, but was entirely reconstructed for office use in 1978. (fn. 161)
Barkers' Building
As has been explained above, the present Barkers department store formed part of a broader scheme of redevelopment evolved by the company in the 1920s. It was built in stages between 1927 and 1958, to elevations by the company's architect, Bernard George, with contributions from others.
The first portion of the present site to be rebuilt was at the rear. Here, on what was then the south side of Ball Street, a long brick building of four main storeys, with higher projecting pavilions (now creeper-covered) at the ends next to Young Street and Derry Street, was raised in 1927–9. Towards the houses of Kensington Square it showed a subdued neo-Georgian façade, while the Ball Street elevation was more industrial in appearance, with some Germanic brick patterning. The building housed administrative offices with some retailing departments, notably household wares. Though H. L. Cabuche was nominally the architect, his assistant and successor Bernard George made the design. Some demolition and excavation took place in 1925, but building did not occur until 1927–9. It was built in two stages, the eastern half preceding the western one. Ball Street was then closed to the public and a prefabricated 'covered way' was erected along its length (1929–30). (fn. 162)
In 1928 George submitted to the authorities preliminary drawings for rebuilding the main Barkers block which, under the agreement of 1927, was not to proceed until 1935. These envisaged joining the main building to the Ball Street Block at both ends, next to Young Street and Derry Street. The new building was generally to be a floor higher than the Ball Street block, with a parapet at eighty-six feet towards Kensington High Street; it was split into two main divisions corresponding to phases of construction, and into various subdivisions or 'cells' for fire protection. At this stage the fire brigade insisted on four 'tower staircases' at the corners of the block. With this emendation and a reduction in the number of lifts grouped together, the scheme received outline consent. (fn. 162)
During the reconstruction of Derry and Toms in 1929–31, plans for Barkers were temporarily in abeyance. In the autumn of 1933, however, matters were set in motion. A fresh agreement was signed with the architect C. A. Wheeler of Chicago, who had produced layout and equipment plans for Derry and Toms, to do the same for Barkers (see page 93), and George produced a revised scheme. The present elevations, sleeker and sharper than those of Derry and Toms, were probably evolved by George only in 1933–5. At this stage he secured the omission of tower staircases in Young Street and Derry Street, and raised and remodelled the two remaining stairs towards Kensington High Street so as to give them their distinctive swept, modernistic profiles (Plate 38c). 'My Directors have experienced considerable difficulty in getting the public to use staircases of this type', he explained, '… and they are strongly of the opinion that there should be as little apparent obstruction as possible. They are therefore anxious to avoid any closing in effect upon the staircases.' As a result, the staircases were raised to over 150 feet, while the setting-back of storeys behind the main parapet brought the general overall height to over a hundred feet. (fn. 163)
The rebuilding of Barkers finally proceeded in three stages rather than the two originally envisaged. Construction was undertaken by the company's own building staff. At the Derry Street end, work took place in 1936–7. Shortly after this, the central portion was set in train. It was nearing completion at the outbreak of war, but was not entirely finished until after 1945. There was then a long pause caused by restraints on building. Construction was finally resumed in 1955 and completed in 1958. Bernard George remained at the helm throughout operations under the direction of Trevor Bowen, but the planning of later stages was naturally varied to meet post-war requirements. (fn. 164)
In final appearance, Barkers contrasts instructively with Derry and Toms, showing the rapid changes in British taste which occurred in the early 1930s, not least in the architecture of shopping (Plate 38c). The façades of both stores are organized around the principle, familiar in London since Selfridges, of steel-framed construction covered by stone piers alternating with broad tiers of bronze-faced windows. George clearly took pains in proportioning and detailing these elevations. At Derry and Toms the arrangement is still simply symmetrical, French and classical, with the adornment of much relief sculpture. The Barkers site is longer and has a gently curving front towards Kensington High Street (the frontage here was set back more than thirty feet from the previous building line of the Kensington Improvement Scheme). George's treatment therefore recognized that the main elevation would be more naturally and usually seen from an angle. Three cornices, set back in stages, and a continuous canopy at first-floor level emphasize the curve of the street line. The architect took particular care with the canopy, a feature absent from Derry and Toms ('I am anxious to avoid the usual box-like projection' (fn. 165) ). Against these horizontal lines are set the two projecting tower staircases. In shape and idiom, these go beyond the stripped Art Deco classicism which still controls the organization and proportion of the rest of the elevation. Their profile, with slim setbacks of stone enclosing a tall lantern of glass within a bronze grid, shows George alert to the European expressionist styles which briefly ruled architectural fashion in the years after the Paris Exhibition of 1924. By recessing the tiers of windows and thinning down and splaying the piers, he further reinforced the verticality of the design and set up a play of forces at odds with the dignified, static conception of Derry and Toms. The detailing was also carefully considered. The gilt metalwork to the window frames and along the top of the canopy (this has now been removed) shows the influence of contemporary Scandinavian design. As at Derry and Toms, George used a modicum of relief and incised carving to add interest to the stonework, but at Barkers these panels are sensibly kept down below the canopy at eye level, except on the flat lower surfaces of the staircase towers. Quaint cast reliefs of items to be purchased within, from cricket pads to washing pails, enliven the strips on the windows which mask floor divisions (Plate 39b, 39c, 39d, 39e).
The planning of Barkers, by contrast, is not of special interest. It follows the open layout established in Derry and Toms and other London stores of the early 1930s, with the notable exception that the two escape staircases next to the High Street are 'expressed' in the architecture, as explained above. The height of the ground-floor shopping space is unusually generous. At the time of writing, all areas above the first floor have been taken out of use and are scheduled for redevelopment.
John Barker and Company since 1957
Just before the Barkers store was finally completed, the House of Fraser took over John Barker and Company and its associated enterprises in 1957. Faced with a decline in the volume of business, the new owners soon embarked on a rationalization of their holdings here. First Barker's stores on the north side of the High Street ceased trading, then Pontings (1970) and then Derry and Toms (1973) were closed and in due course the companies' interests in these sites were mostly disposed of. An account of Derry and Toms' building after this store's closure is given above, but it remains to add a few sentences about the subsequent history of the sites formerly occupied by Pontings.
After Pontings closed, its main building briefly became a shabby market known as the Kensington Super Store. But in due course most of the Pontings sites were redeveloped by the English Property Corporation. Fruits of their labours include Pemberton House on the main Pontings site at the corner of Wright's Lane (1976–8) and Kensley House in Wright's Lane (1982–4), both office blocks designed by the GMW Partnership; and William Cobbett House, a taller block of luxury flats at the rear reached from Scarsdale Place (1982–4), for which the architects were Goodwin and Tatum of Streatham. (fn. 166) An 'unusual and exciting' feature of this last building was a squash club on the ground and first floors.
Today the shrunken Barkers is the sole survivor of the company's former days of glory — a reflection of how the growth of private motoring and suburban shopping malls have altered the pattern of inner-city retailing. At the time of going to press (1985), the necessary permissions have been given for major alterations to the interior of the Barkers building to the design of the Fitzroy Robinson Partnership. This is the culmination of a process started in 1981, when the House of Fraser sought to reduce the amount of directly owned retailing space within the building. The scheme envisages separating the ground floor of the western part of the store from the eastern half. This western end will become a small independent shopping mall, while from entrances in Young Street and Derry Street escalators will lead up to offices arranged in the currently fashionable manner around an atrium. The exterior of the building will be little altered. (fn. 167)