Pages 116-124
Survey of London: Volume 45, Knightsbridge. Originally published by London County Council, London, 2000.
This free content was digitised by double rekeying and sponsored by English Heritage. All rights reserved.
Other Streets
Montpelier Terrace
The name Montpelier Terrace was originally used for the north side of the square and for shop premises on the south side of the street – on the sites of the present No. 47 Montpelier Square and No. 8 Montpelier Terrace. The latter is the site of the original No. 1 Montpelier Terrace, a property long gone, which seems to have been built on to the rear of No. 1 Montpelier Row in about 1833. (fn. 6) Nos 2–7 Montpelier Terrace, on the north side, were originally a row of six similar houses built in the early 1850s: of these, only Nos 5, 6 and 7 survive. Nos 26 and 27 Montpelier Square were once known as Nos 8 and 9 Montpelier Terrace. The present Nos 8–10, on the other side of the street, are recent buildings.
The development of the north side of Montpelier Terrace was originally undertaken by Joseph Liddiatt, builder, of Nottingham Terrace, Regent's Park, who in 1851–2 erected Nos 2–7 and was the lessee of four of these houses. Gloucestershire-born Liddiatt, then in his early thirties, is probably identifiable with a plasterer of that name living in Montpelier Row in 1841. (fn. 7) The other lessees were William Parker of Eaton Mews South, coachman, and George Park, gentleman, of Islington – neither bought for their own occupation. (fn. 8)
With their small scale, stucco ornamentation and rococo balcony-ironwork, the six houses must have formed a particularly pretty row (Plate 60a). Although of a convenient size for small households with perhaps one servant, the houses soon seem to have acquired an inferior social status to those in the square, and for some years there was a high turnover of tenants. Early occupants did, however, include a couple of 'esquires' and a Captain; No. 3, briefly, housed a preparatory school. By the later 1850s no residents (except for T. W. M. Marriott at the then No. 8) appeared in the Post Office Directory, and from 1861 to 1887 Montpelier Terrace was not listed. Heads of households recorded in the 1861 census included a baker, a telegraph clerk, a private soldier, a plasterer, and a dressmaker. The occupants of No. 5 may have been more genteel – an independent widow and her offspring, respectively a clerk and a governess, with one maidservant and a lodger – but the composition of other households hardly suggests conventional respectability. At No. 6, for instance, the single household comprised a 23-year-old unmarried woman of no occupation, and her six-year-old daughter. There is a local tradition that the houses were once occupied by mistresses of officers from Knightsbridge Barracks (though this is often said of houses generally in the vicinity).
By the 1880s most houses in the terrace were lodginghouses. No. 7 was for several years the headquarters of the Middlesex Yeomanry (Duke of Cambridge's Hussars). (fn. 9) Doubtless a sign of social aspiration, No. 7 was unofficially redesignated No. 25A Montpelier Square in 1899. (fn. 10)
Nos 2 and 3 were held for some years until 1913 by Lord Howard of Glossop, the occupier of No. 19 Rutland Gate, perhaps for staff accommodation, and in 1916 the whole row was acquired by the new owner of that house, the Earl of Ancaster. (fn. 11) Nos 2–4 appear to have been rebuilt in 1919, probably as a garage. (fn. 12) At the remaining houses, residents between the wars included the actor and man-about-town Ernest Thesiger at No. 6. Thesiger, an accomplished artist and embroiderer, is said to have done much of his interior decorating, working his own carpets and painting a sky on his wife's bedroom ceiling. (fn. 13)
Garages with living accommodation above were built on the site of Nos 2–4 about 1933, in connection with the new Eresby House flats (see page 153); the slightly prissy façade, by T. P. Bennett and Son (Plate 62d), superseded a bolder design rejected by the LCC. (fn. 14) Numbered 3 and 4, they are now private residences.
At the rear of Nos 6–7 is a high screen wall built in 1914, a relic of the alterations made at No. 19 Rutland Gate for the ill-fated Dr Pearson (see page 149). (fn. 15)
The south side of Montpelier Terrace comprises three houses (Nos 8, 9 and 10), between No. 25 Montpelier Square and No. 1 Montpelier Walk. Both No. 8 and No. 1 Montpelier Walk are by the architect Charles Bernard Brown, who, about 1964, acquired No. 25 Montpelier Square, to which No. 1 Montpelier Walk had long formed an annexe. No. 1 was rebuilt in 1965 as a bijou house of quite distinguished design. The doll's house-like north façade is scaled down and given false windows to create the illusion of an additional storey (Plate 62a, 62b). In the same spirit, the basement dining-room was given a fanciful view in the form of a trompe-Poeil garden painted on the area wall. Plate 63a shows the drawing-room in the newly completed house. For his own occupation, Brown built No. 8 Montpelier Terrace (incorporating part of the rear extension to No. 25 Montpelier Square). In the late 1970s he clad the exterior with pvc weatherboarding, a material he had used a few years earlier to face Nos 62 and 64 Cheval Place. (fn. 16)
A single house and garage, No. 9 Montpelier Terrace, was converted from the back extension to No. 25 Montpelier Square in about 1974. The architects were Michael Twigg, Brown & Partners (a firm unconnected with Charles Bernard Brown). It has since been made into two dwellings, Nos 9 and 10. (fn. 17)
Montpelier Street
Montpelier Street today consists of the former Rawstorne Street (fn. 1) and its northern continuation to Montpelier Square. That part on the former Montpelier estate comprises Nos 13–27 on the west side, and Nos 20–44 on the east. Rawstorne Street was merged with Montpelier Street in 1862 and the old name abolished. (fn. 18)
The southern part of the street has always been a mixture of shops and commercial premises; northwards the houses become larger and blend into the residential milieu of the square. The houses are of the most ordinary description, with plain brick fronts stuccoed on the ground floor (a few now fully rendered or painted over). Several have alterations characteristic of pre-Second World War gentrification, such as wooden canopies over the front doors and widened ground-floor windows. The ironwork of the firstfloor window-guards is mostly of the same design as that on the balconies of the south and west sides, and part of the north side, of Montpelier Square: a simple pattern of fleurs-de-lis and rosettes. A somewhat more florid design is used on the balconies at Nos 40–44.
The earliest house, No. 27, was erected by William Darby in 1826, on lease from the new freeholder, William Bromley. Nos 23 and 25 were built the following year by Henry Cullingham, carpenter. (fn. 19)
The trio at Nos 13–17 was built by 1831. No. 21 and the Talbot Tavern or Hotel (now the Tea Clipper) at No. 19, had followed by about 1839. (fn. 20) They are similar in style, with rounded corners and prominent cement cornices (Plate 61c).
Nos 28 and 30 date from 1827–8, No. 30 being leased in early 1828 to William Sparks, carpenter, of Sloane Street; No. 28 was leased back by T. W. Marriott from a mortgagee at the end of the year. (fn. 21) The rest of the houses on the east side, Nos 20–26 and 32 44, date from the late 1830s and were probably all or largely the work of John Gooch the elder and his son, also John. The younger Gooch, who went on to build up most of the remaining vacant plots in Montpelier Square, later took leases of some of them and a workshop behind in Montpelier Mews; the Gooches lived at No. 38 Montpelier Street. The other lessees included William Parker, who also took Nos 1, 2 and 3 in the mews. The original appearance of Nos 20–38 was presumably similar to the houses on the other side of the street; the northernmost three, Nos 40–44, are somewhat grander, befitting their place on the fringe of the square. (fn. 22)
Former residents of the street include the artist Joseph Austin Benwell, a specialist in pictures of India, who was living at No. 44 in 1871, and the painter William Henry Haines, who died at No. 44 in 1884. Another artist, Frederick S. Thomas, was living at No. 32 in 1841. The Arts and Crafts architect James MacLaren lived at No. 40 with his brother Thomas, later also an architect, in the early 1880s. Dyneley Hussey, the music-critic, lived at No. 22 in the 1920s.
Montpelier Mews
Montpelier Mews was developed over several years from c.1837, although James Sams, dairyman, had taken a lease of a presumably new yard and stabling there – the site of the present Nos 9 and 10 – from T. W. Marriott in 1830. Nos 1, 2 and 3 (Plate 78c) were erected in 1839–40. The eastern side, built up with stabling, workshops and a cottage, is now occupied by the former Harrods depot in Trevor Square; the south side, not part of the Montpelier estate, was formerly occupied by stabling and flats called Montpelier Buildings, and has been rebuilt in recent years. (fn. 23)
Sterling Street
At first called Harriet Street, and then Alfred Street, Sterling Street was renamed in 1890 after Edward Sterling of The Times, who lived in South Place.
The earliest house is No. 8, begun in 1825–6 by William Darby. He took a 99-year lease from William Bromley (who had recently bought the freehold) in January 1827. Darby then raised a loan from John Collins, a Fetter Lane butcher, committing himself to finishing the building and paying an annuity out of the anticipated rack-rent, but before the work was completed Darby was bankrupt. The house was assigned to Edward Aldred of Fulham, a timber merchant, and sold to its first occupier, Hannah Rayner Woodward, a widow previously of Rutland Terrace, in 1829. (fn. 24) Like Darby's houses in the square it is stucco-fronted, and it has similar balcony ironwork.
Nos 9 and 10, built for T. W. M. Marriott in 1852–3, (fn. 25) are similar in style to the larger contemporary houses on the north side of Montpelier Square.
On the west side of the street, No. 6 and the former No. 7 (now 17A Montpelier Square) were leased, still incomplete, in late 1831 to George Symons, carpenter. Things must have gone wrong, however, for the houses do not seem to have been rated and occupied until 1837–9, and Marriott was able to grant a 60-year lease of No. 7 in 1848. (fn. 26)
The other houses on the west side, Nos 1–5, were built in 1845–6 (though No. 5 was still incomplete in 1849). The first lessees were William Balch, tailor, James Beazley, gentleman, and George Bird, paper-hanger. (fn. 27)
Quaintly dissimilar now (Plate 60b), all these houses may originally have been fairly uniform. The fronts of Nos 2–4, with their plain stucco cornices and sunk panels (a feature of the earlier No. 6), can probably be taken as showing the original design. No. 7 is distinguished by a tented iron veranda of indeterminate Victorian date incorporating the original balcony railing (Plates 60b, 61a). Most of the houses have narrow overdoor lights; No. 6 has a decorative 'fan' incorporating a lantern. No. 3 has a larger opening, with a cobweb-pattern fanlight. (fn. 28)
The houses were generally in working-class occupation throughout the nineteenth century, as lodging-houses or tenements. James Campbell, a Cornish-born portrait and landscape painter, lived at No. 3 from the 1860s to the 1880s. In 1891 residents were typically dressmakers, clerks, and shop assistants, and No. 9 subsequently became a hostel for shopworkers at Woollands the drapers. (fn. 29)
An early hint of gentrification is given by the LCC's order in 1899 against the 'improper description' of No. 7 by its socially aspiring occupant as No. 17A Montpelier Square. Though earlier a working-class lodging-house, by 1891 No. 7 had risen socially, and was occupied by three young sisters and their two servants, who called it (perhaps in reference to the balcony) 'The Wigwam'. By 1909 No. 7 was occupied by the Hon. Mrs Hamilton Tollemache, and it was in the next few years that the street generally began to attract people of obviously high social position, and the shop assistants and self-employed workpeople – such as the dressmaker and the lace-cleaner listed in the directories – departed. As in other streets near by, the small houses particularly appealed to women and army officers. (fn. 30)
No. 5, for instance, was bought in 1929 by a widow, Mrs May Shephard, then living in Hill Street, and remodelled (by G. Smith, architect and surveyor) as a residence suitable for a lady. The house was partly re-planned and extended with a dining-room built over the garden. On the front, the balcony was removed and the first-floor windows were made into bays (fig. 39; Plate 60b). The house was occupied for many years from the mid-1930s by the Misses Arup, who practised there as high-class masseuses. (fn. 31)
In some contrast to the alterations at No. 5 was the remodelling of No. 3, carried out in 1938 by Serge Chermayeff for John Mathias, a documentary film-maker, and his wife. Here there was a characteristically Modernist emphasis on bathrooms, which were placed, together with storage space for clothes and linen, in a new closet-wing (fig. 39). This addition was built of solid white-brick walls, with metal-casement windows, and a flat roof of asphalted timber construction. The long, narrow proportions of the wing were presumably designed to make the most of the garden and the west-facing living-room and study in the main part of the house. Other features included a generous provision of built-in wardrobes and other fitted furniture, a sliding door between the bedrooms, wall-mounted lights, and central heating. (fn. 32) The house has been altered and extended since, and none of the fixtures and fittings designed by Chermayeff remain.
In the early 1920s, No. 10 Sterling Street was the home of the writer Radclyffe Hall and Lady Una Troubridge (who had herself been brought up at No. 23 Montpelier Square). They had earlier lived in Trevor Square. The house was extensively renovated for them, but in the end it proved too small. (fn. 33)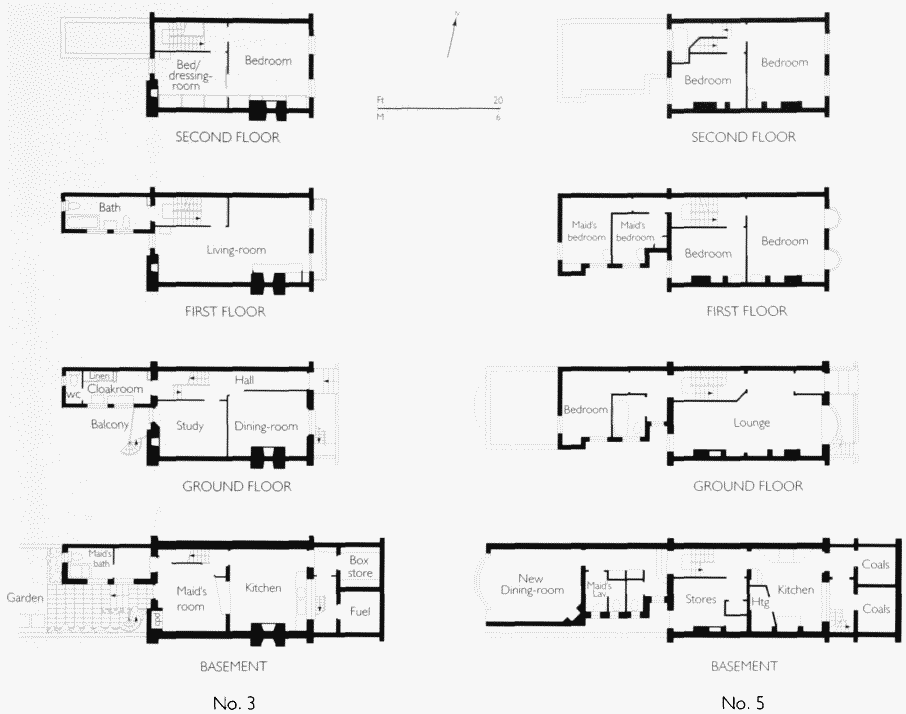 A Blue Plaque at No. 1 commemorates the First World War cartoonist Captain Bruce Bairnsfather, of 'better' ole' fame, who lived and worked there in 1919–21.
Montpelier Walk
Montpelier Row, as it was called until 1939, was built up in the late 1820s. The earliest house was probably No. 1, erected c.1826 but since rebuilt (see above under Montpelier Terrace). Nos 1–4 appear to have been the work of John Souter, who also put up some of the first houses in Montpelier Square. Neither Souter nor any nominee of his seems to have taken up leases of any of his houses, but he was party to subsequent conveyances of the properties. The new owners included Alexander Anderson, who had bought a large part of the square, and a syndicate of building-materials suppliers who may have had some part in the development: Thomas Hill of Swan Wharf, Chelsea, timber merchant; George Bird of Hammersmith, brickmaker; William Freeman of Millbank, stone merchant, and George Bazley White of Nine Elms, cement manufacturer. (fn. 34)
Most of the other houses were let to various building tradesmen, including T.W. Marriott's brickmaker brother Edward Evans Marriott. (fn. 35) (fn. 2) Between Montpelier Terrace and Montpelier Place the building line was set back, allowing tiny front gardens but little space for back yards.
Early Victorian occupants of the Row included artisans, labourers, servants, sailors, soldiers, musicians, dressmakers, and laundresses; a similar pattern held throughout the rest of the reign. Several houses were let as apartments by the 1860s if not earlier. Inhabitants were overwhelmingly English, the few foreigners being mostly lodgers. They included (in 1871) a French actress, a Stockholm-born family of milliners and a couple of Italians – a tailor and a print-seller; and (in 1881) two German bakers and a French chef. (fn. 36)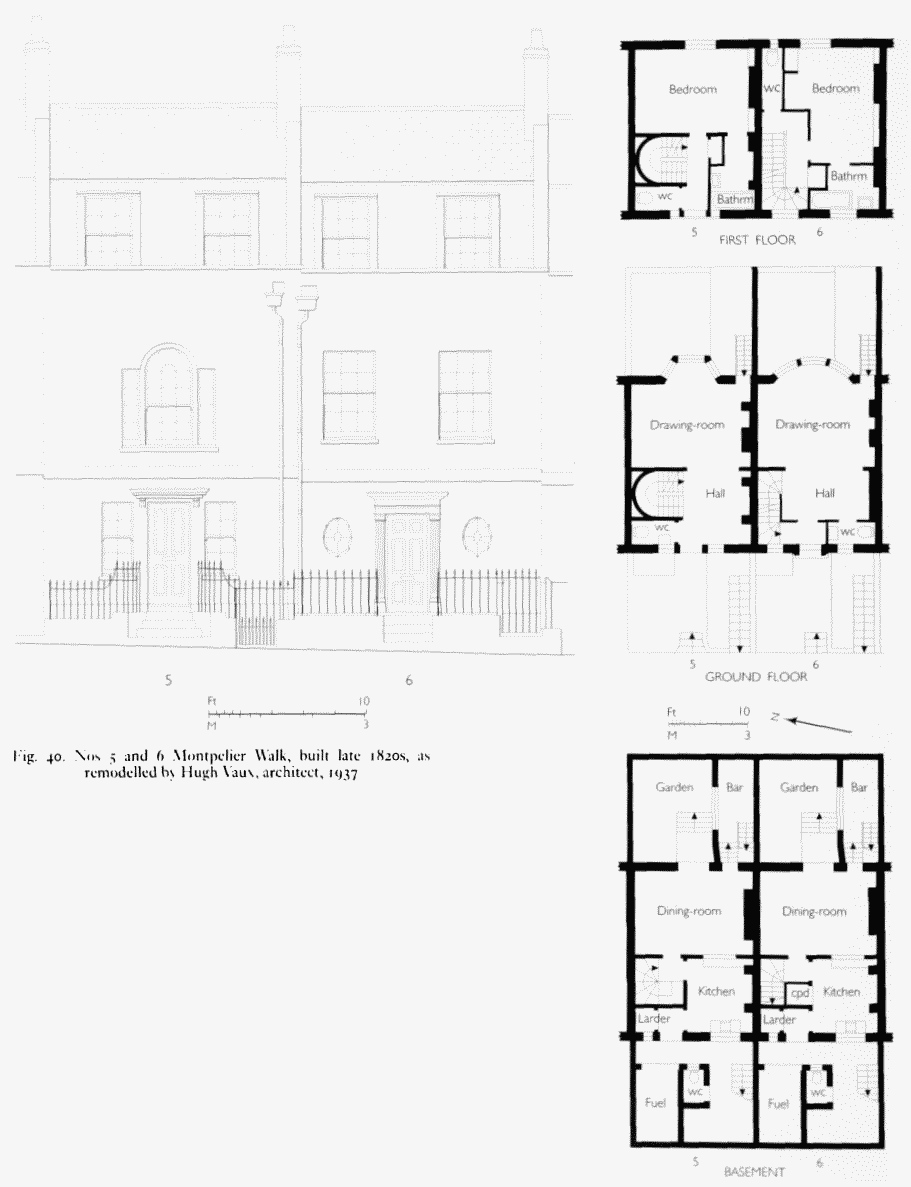 No. 9 was used as one of the first Metropolitan Police stations, in 1829–31. (fn. 37)
The houses were transformed in the late 1920s and '30s from nondescript working-class dwellings to desirable residences. Two attractive modernizations were those carried out at Nos 5 and 6 in 1937 by Hugh Vaux, architect, for Mrs Sefton-Cohen, wife of an Assistant Director of Public Prosecutions (fig. 40). Both houses were recast internally, partly rebuilt, and given an additional floor in a mansard, comprising bedrooms and an extra bathroom. The fronts were made distinctive by ornamental windows – Venetian at No. 5, oval with cobweb glazing-bars at No. 6. The Sefton-Cohens' own residence, No. 4, was modernized in 1938–9, the house being extended backwards and upwards but with the old side-passage plan retained. (fn. 38) No. 6 was the home in the late 1940s of the choreographer John Cranko. (fn. 39)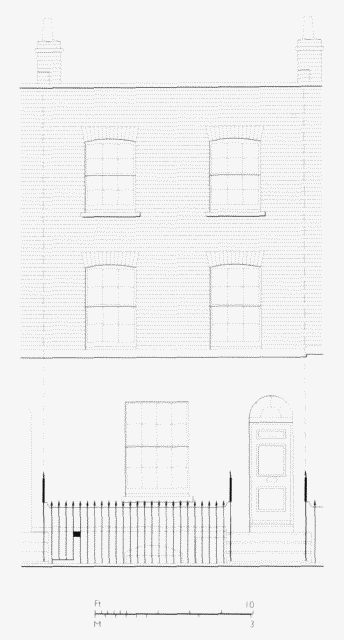 A typical modernization was that of No. 17, done for Lady Cecil Douglas in 1928–30 by the surveyors Fleetwood, Eversden & King. Here again a mansard was added, this time with the parapet dropped, but the basic pattern of openings at the front was retained. At No. 19, in 1927, the facade was carried up in the original style to accommodate an additional storey; the architect was William Doddington. (fn. 40)
No. 22 was modernized and enlarged in 1927 by Baillie Scott & Beresford for Lieut.-Commander S. Alun Maurice-Jones; the new accommodation included a top-lit studio. (fn. 41)
Nos 23–24 were rebuilt in 1929 for The Freehold Syndicate Ltd of Pall Mall as flats with garaging, in a staid neoGeorgian style. No. 23, which had a cartway entrance to sheds at the rear, was originally the premises of William Emmins, builder, and prior to rebuilding was occupied by the builders Hammond & Barr. That firm carried out a modernization of No. 26, which they owned, in 1925. Instead of knocking into one the front and back groundfloor rooms, they threw together the front room and passage, adding an outside porch; this arrangement has since been altered. (fn. 42)
The remaining houses to the south on this side of Montpelier Walk were also remodelled in the late 1920s and '30s. Similar remodellings are seen on the other side of the road south of Rutland Street; No. 35, for instance, was extensively rebuilt in 1927 to designs by C. H. Roberts, with a bay-windowed front and lozenge-shaped windows looking on to Fairholt Street. (fn. 43)
No. 38, built as a public house, the Montpelier, in 1826–7, was turned into a private residence, Montpelier House, in 1927. The conversion was designed by Eric Taylor, of Church Stretton, Shropshire, for his wife. The old pub, which had been enlarged to include the first house in Rutland Terrace (now part of Rutland Street) and much remodelled, was given an imposing entrance (with a wooden classical-style surround) on the street corner. The building has been extensively altered since. (fn. 44)
Montpelier Place and Alfred Cottages
Montpelier Place was begun in 1828–9 and largely completed during the next few years. The builders and most of the first lessees were carpenters and bricklayers, there being no obvious leading developer. (fn. 45) (fn. 3)
Although many of the houses have been altered and prettified, the original plain character of the south side of the street is still apparent: two-bay terrace-houses of three storeys with basements, the fronts stuccoed up to the firstfloor sills (fig. 41. Plate 61b).
Throughout the nineteenth century, Montpelier Place was occupied by a mixture of skilled and unskilled workmen, married soldiers, domestic servants, laundresses and dressmakers. Annie Chapman, who eventually became a victim of Jack the Ripper, was living at No. 29 at the time of her marriage in 1869; her mother was still living there many years later. (fn. 46) There were several small businessmen, including by 1910 a printer, a bootmaker, a decorator and a bath-chair proprietor. (fn. 47)
No. 14 was used as one of the first Metropolitan Police stations, though only for two or three years. The engineer John Lum Stothert, of the crane-makers Stothert & Pitt, was lodging at the house in 1851. (fn. 48)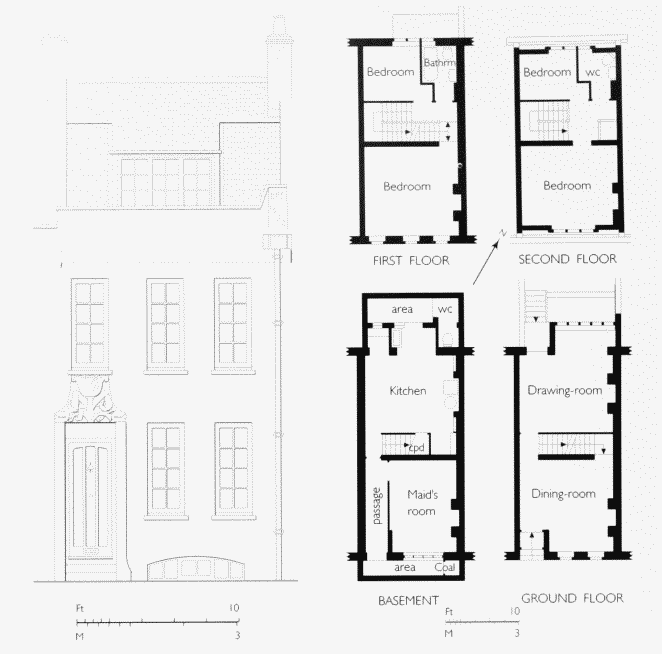 No. 1 was much altered and extended in 1927, the corner site allowing the original side-passage plan to be dispensed with (A. V. J. Kirkham, architect); a mansard floor has since been added. Nos 2 and 3 may have been remodelled at about the same time, although a scheme for their complete rebuilding seems to have been abandoned. (fn. 49)
Nos 4 and 5 were altered in 1931 to designs by Stanley C. Ramsey, making for a single handsome villa with a mansard roof (since removed) and stucco dressings. (fn. 50)
On the north side of the street, No. 22 ('The Yellow House') was formerly Nos 21 and 22. They were knocked into one in 1922–3 for Miss Ethel Snagge (later responsible for some redevelopment in Fairholt Street) and further altered in 1930 by George Val Myer, the architect and portrait painter, who lived there in the 1930s. (fn. 51)
The Nelson beerhouse at No. 24 was rebuilt c. 1938–9 for Mann Crossman & Paulin, to designs by Stewart & Hendry: (fn. 52) is now a private residence.
No. 25. now much reconstructed and extended, was a cowkeeper's house until the mid-1860s and later a bootmaker's. (fn. 53) Nos 26 and 28 were modernized and given an additional floor in 1927, to designs by C. H. Roberts, making four-bedroom family houses of them. (fn. 54) No. 30, formerly a general shop, was rebuilt in 1927–8 to designs by William Doddington, with modish green pantiles (Plate 62c). A rebuilding scheme by Baillie Scott & Beresford had come to naught a few years earlier, apparently over the LCC's refusal to let the building line on Montpelier Walk be brought forward. (fn. 55)
Alfred Cottages (originally Alfred Mews), in a court on the north side of Montpelier Place, were built for T. W. M. Marriott in 1852. (fn. 56) The two surviving cottages, subsequently Nos 19 and 20 Montpelier Place (and since 1980 a single house) were described c.1910 as one-up one-downs, with a w.c. upstairs and a sink downstairs. There was a communal wash-house in the yard. (fn. 57) As one-family buildings they were no doubt preferable to many houses in multi-occupancy: censuses show that families tended to stay there for very many years. Victorian householders included coachmen, labourers, a police constable and a Swiss basket-maker. (fn. 58)
Three of the cottages, and three houses in Montpelier Place, were demolished about 1903 for the building of the German Christuskirche, described below.
Rutland Street
The northern arm of Rutland Street, originally Rutland Terrace ('Michael Street' on Ruff's map of 1835), was incorporated with the southern arm in 1874, when the whole street was renumbered. (fn. 59) No. 30 (formerly No. 1 Rutland Terrace) now forms part of No. 38 Montpelier Walk. The cottages on the west side were built by William Farlar, the developer of Brompton Square, who acquired the ground in 1830. (fn. 4)
On the eastern side of the street, built up from 1826 to c. 1830, the chief builder seems to have been Henry Adams, a bricklayer formerly of Pimlico and later of Rutland Terrace, who in 1851 was employing eight men. (fn. 60)
Variously enlarged with extra floors and back additions, many of the houses have the bay windows, jalousies and front-door canopies typical of inter-war modernizations. No. 24, for instance, was much rebuilt in 1929 (by Christopher Wright, architect). No. 18 was altered and enlarged in 1932 (following a similar but abortive scheme of a few years earlier by Baillie Scott & Beresford), the improved accommodation including a garage: Percy E. Bacon of Tooting Common was the architect. (fn. 61)
Of post-war work the most obvious is at No. 8, where the early 1950s plain brick facades are linked by a (presumably original) rounded-off corner. The architect of the new building (and alterations to No. 10 to provide maisonettes, a flat and shop premises) was Michael Brashier. Before the Second World War No. 8 was a dairy, and earlier had been a general shop. (fn. 62)
Fairholt Street
Fairholt Street, originally Middle Street, was renamed in 1937 after the artist and writer F. W. Fairholt, who lived in Montpelier Square. The earliest houses, on the north side, were built in 1827–8 by William Henry Edmonds, carpenter, of Symonds Street, Chelsea. They were small basement cottages, with (originally) one room on each of three floors. The south side was built up ten years or so later with houses of basement, ground and two upper floors, the builders there being William Emmins of Montpelier Row and the younger John Gooch. (fn. 63)
Before the First World War, Middle Street was unhealthily crowded, with a high rate of deaths from tuberculosis, pneumonia, and alcoholism. High rents forced tenants to take lodgers or sub-let. The cottages on the north side were particularly squalid, their low-ceilinged basement rooms lit only by part-glazed doors giving on to miniscule areas. (fn. 64)
By about 1925 all the private houses in the street had been acquired by Ethel Fanny Snagge of Sloane Street, a judge's daughter. On the north side, the two westernmost cottages – No. 5 and a former fried-fish shop at No. 5A (also known as No. 6A) – were rebuilt as one house in 1925–6 to the designs of Baillie Scott & Beresford. Of four windows' width, the front is faced in re-used stocks, with gauged window-heads and a mansard hung with pantiles. (fn. 65)
The overall style was continued (in a taller, more condensed form and with plain tiles instead of pantiles) at Nos 3 and 4, which followed in 1927–8. The plans for No. 3 at least, however, were prepared not by Baillie Scott & Beresford but by a firm of surveyors, Stanley Hicks & Son of High Holborn. Different builders were involved too. Perhaps intended as Miss Snagge's own residence (she died before the works were completed), No. 3 has her initials on a date-stone over the rainwater head, and a stone pediment over the doorway, with a stylized tulip carved in low relief (fig. 42). Both houses were planned with central staircases; No. 4 has a small three-sided bay at the rear instead of the larger projection at No. 3. (fn. 66)
Miss Snagge's death in 1928 seems to have halted the intended rebuilding of Nos 1 and 2 under Stanley Hicks's direction. In 1933 they were replaced by a single house, No. 1, built, and probably designed, by W. J. Mitchell & Son Ltd of Dulwich Village. The new house, quite different in style, was intended as a family residence incorporating a maid's room and nurseries. (fn. 67)
On the south side the houses were improved in 1931, by T. M. England & Company, when jalousies were fixed at the windows. No. 11, the Prince of Wales beershop, had been amalgamated with No. 10 by the 1860s; the enlarged premises were rebuilt for Watney Combe Reid in 1908. The interior was remodelled and the front altered in the late 1940s by Watneys' architect Charles John Bailey; the pub is now called The Swag and Tails. (fn. 68)
Cheval Place (Nos 16–46)
The name Cheval Place applied originally just to the narrow western arm of the street, entered through the archway at what became No. 188 Brompton Road. The main part, successively called Chapel Row and Chapel Place, was incorporated with Cheval Place in 1910.
On the north side, the terrace west of Montpelier Walk (Nos 24–46) was part of the original Montpelier estate development, the earliest leases of houses there running from Christmas 1824. Building was more or less completed by 1830. (fn. 69) (fn. 5) Commercial as much as residential, Cheval Place was gentrified later than the streets to the north. A few houses were extended and improved in the mid1930s, but many of the mansard floors in the street were only constructed in the 1960s or later. (fn. 70) The very plain houses, mostly without basements, open straight on to the pavement and are today gaily painted in a variety of colours.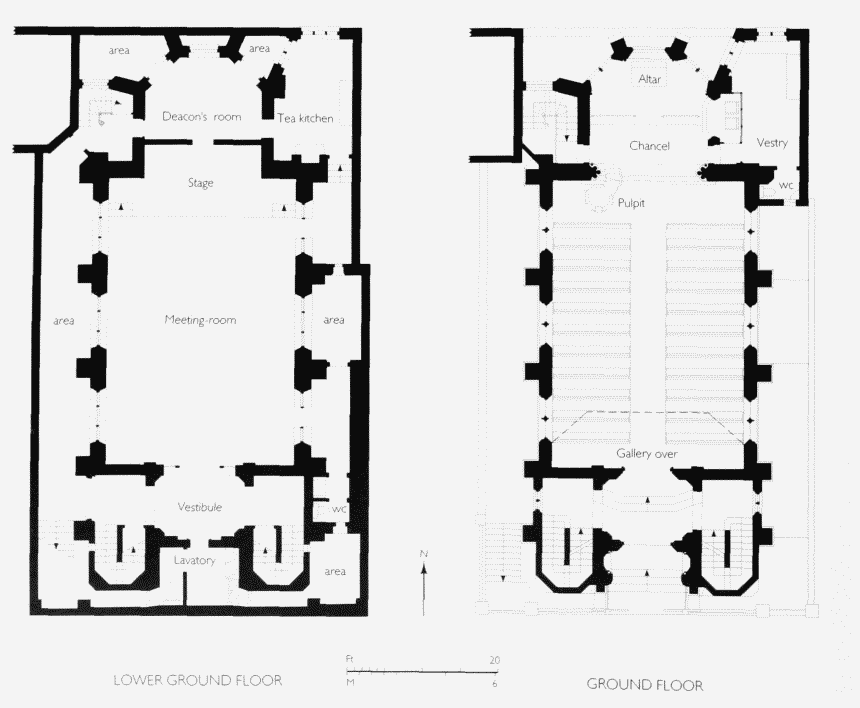 Cheval House at Nos 16–22 was erected in 1907–8 as a warehouse for Harrods, replacing several old cottages. It was converted to a shop and flats in 1967 by Little, McClure & Knight, architects, providing three floors of one- and two-bedroom apartments and a grander penthouse flat. The basement was fitted up as the Shezan Restaurant in 1969 (Sten Eric Dahlstrom, architect). (fn. 71)