Pages 95-97
Survey of London: Volume 45, Knightsbridge. Originally published by London County Council, London, 2000.
This free content was digitised by double rekeying and sponsored by English Heritage. All rights reserved.
Powis House and the Trevor Estate
Trevor Square and Trevor Street were laid out on the site of Powis House, a late-seventeenth-century mansion belonging to the Trevor family of Brynkinalt in Denbighshire, but named after an eighteenth-century occupant, the 1st Earl of Powis. Standing a little way back from the Kensington road, Powis House was probably built in the late 1680s. The first ratepayer, in 1690, was the 2nd Earl of Peterborough, the Royalist and Catholic convert (who spent most of 1690 in the Tower). His successor there in 1691 was William of Orange's right-hand man, William Bentinck, 1st Earl of Portland. By 1700 the house was in the occupation of another prominent Whig, Lord Haversham. The residence there of Sir John Trevor (1637/8–1717), the politically corrupt Master of the Rolls, began about 1704. (fn. 2) Sir John also had a house in Clement's Lane in the City, where he died, as well as his Welsh seat.
The architect W. W. Pocock (whose father oversaw the development of the Trevor estate) described Powis House as 'widespread rather than lofty', built of plain brick, with a central doorway and wings on either side containing offices. His description, based on a drawing he had once seen, tallies more or less with the rear view of the house depicted on Rhodes's map of 1766 (Plate 2a). Though plain externally, it was evidently well fitted up inside, for Pocock recalled his father showing him some marble chimneypieces which he had had made from the 'handrails' of the main staircase. (fn. 3)
Powis House occupied part of what had once been the estate of Sir William Blake, who at his death in 1630 owned extensive property in and around Kensington and Chelsea. For some years, Sir John Trevor appears to have rented the place from a descendant of Blake, Anna Maria Browne, but he later obtained the freehold – probably about 1715, when he acquired some adjacent property (including the future site of Smith & Baber's floorcloth factory) from Anna Maria and her second husband John Thurloe Brace. (fn. 4)
Prudentia Trevor, Sir John's spinster daughter, kept the house after her father's death, living there and in Golden Square. She also obtained more property near by, including about an acre of partly built-up ground east of Powis House and separated from it by a narrow strip of ground not belonging to her. (fn. 5) At the time of her death in 1739, therefore, she owned two nearly conterminous freeholds in Knightsbridge; together they amounted to over six acres (see fig. 21 on page 78). The development of the smaller, eastern, portion of the estate (now covered by part of Mercury House) is described in Chapter IV.
Prudentia Trevor bequeathed the Knightsbridge property to her brother Arthur, who died in 1758 leaving it to his nephew Arthur Hill (later Viscount Dungannon), who took the additional name of Trevor. (fn. 6) He died in 1771, and it was his grandson Arthur Hill-Trevor, 2nd Viscount Dungannon (1763–1837), who initiated the development of the ground. Following the death of his son, the 3rd Viscount, in 1862, the estate was inherited by Lord Arthur Hill, who took the additional name of Trevor by royal licence and was made Baron Trevor of Brynkinalt in 1880. (fn. 7) His son, the 2nd Baron, was the last member of the Hill-Trevor family to hold the land, which was sold in 1909 to the Knightsbridge iron-buildings manufacturer and property developer, James Charlton Humphreys.
Following Arthur Trevor's death, Powis House was let to a succession of tenants, among them George II's mistress, the Countess of Yarmouth, who lived there for a while after the king's death before returning to her native Germany. The 1st Earl of Powis, a former Comptroller and Treasurer of the Household, after whom the house was named, resided there for several years from the late 1760s.
In the 1780s and '90s, Powis House was occupied by Thomas Harris, the proprietor and manager of Covent Garden Theatre, who, in collaboration with R. B. Sheridan and others, planned in the early 1780s to build a theatre or opera house near by, on the Lowndes estate, east of Sloane Street. Henry Holland was to have been the architect, but the scheme was ultimately abandoned. (fn. 8) Harris reportedly lost a collection of manuscript plays when in 1794 the fire which destroyed the floorcloth factory next door to Powis House spread to his outbuildings. (fn. 9)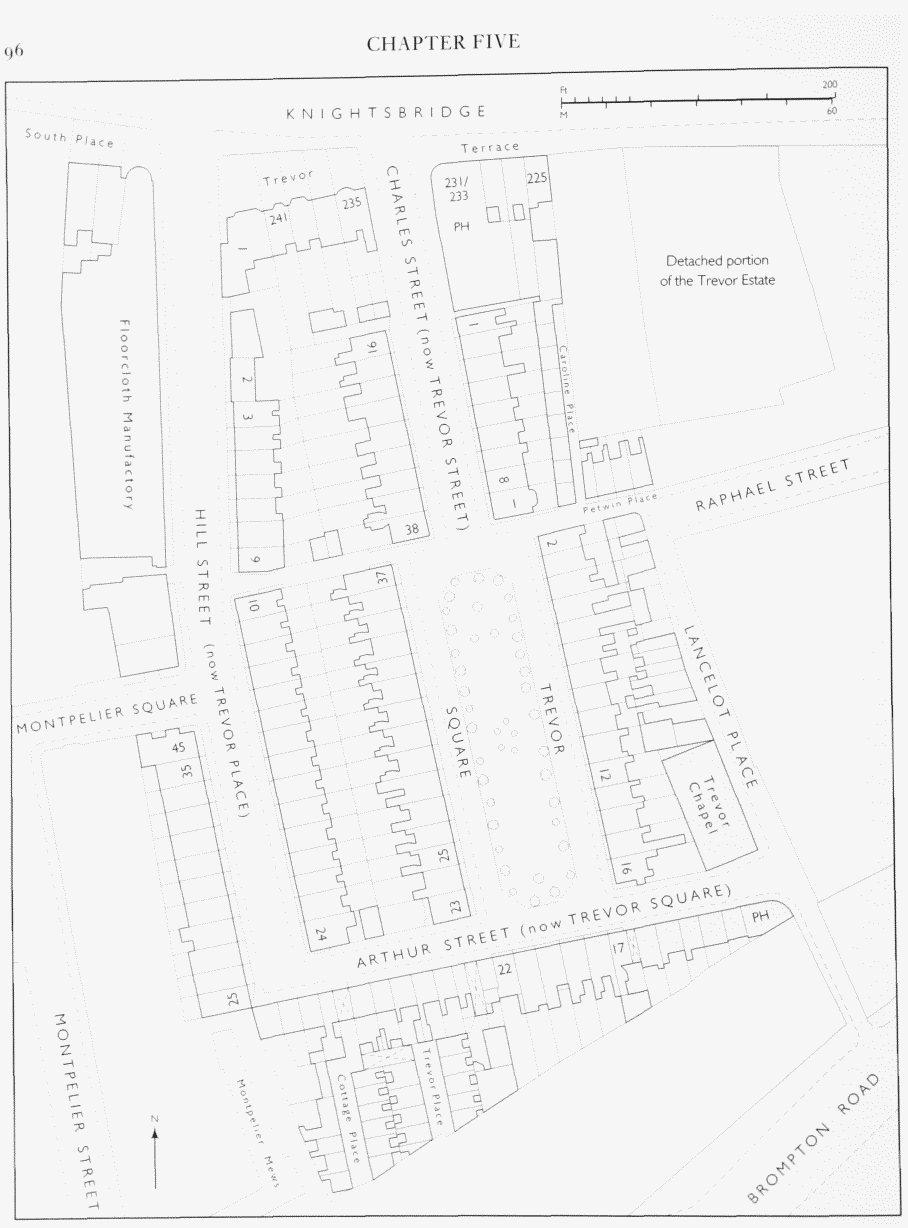 By this time, however, the building of the Life Guards barracks immediately opposite Powis House had spoiled both the view of Hyde Park and much of the sylvan charm of the locality. Within a few years, it was decided to pull down the old mansion. The last occupant, who lived there from 1801 until 1810, was a John Bruce, possibly the historian and keeper of the State Paper Office. (fn. 10) (fn. 1)
Adjoining Powis House on the east (being perhaps part of the original building, or built on the site of a service wing) was a house once occupied by a celebrated dentist, John March, who died there in 1802. Born in Sweden, March served as a French army officer before taking up his profession. As dentist to the nobility, he was said to have taken higher fees than had ever been charged before, but he also gave free treatment to artists and others of lesser means. (fn. 12)