Pages 154-156
Survey of London: Volume 5, St Giles-in-The-Fields, Pt II. Originally published by London County Council, London, 1914.
This free content was digitised by double rekeying and sponsored by English Heritage. All rights reserved.
LXX.—NOS. 6 and 6a, BEDFORD SQUARE. (fn. 1)
Ground landlord and lessees.
Ground landlord, The Crown; lessees, William Harris, Esq. (No. 6), Walter F. Trow, Esq. (No. 6A).
General description and date of structure.
This house was not in existence on 20th November, 1777, as the lease of No. 7, Bedford Square, granted on that date, (fn. 2) mentions as the southern boundary "ground contracted to be built upon." It first appears in the parish ratebooks in 1781.
The house is centrally placed on the east side, and is the largest in the square (Plate 69). It is now in two occupations, each being given a separate entrance. The hall has been divided and a few of the earlier openings closed, but otherwise the premises are, on the whole, as originally erected.
An important feature is the hall containing a staircase to the first floor, constructed of stone, with a balustrade of wrought iron formed with pairs of simple bars alternating with an ornamental baluster. There is an enriched cornice and ceiling below the first floor landing and this level is marked on the wall of the hall by a beautiful band of ornament (illustrated on the next page). The side walls above this level are enriched with plaster mouldings. The end walls are semi-circular in plan. The ceiling at the second floor level is an exceptionally good example of design in plaster (Plate 70), composed of two decorated and fluted semi-domes over the end walls, supporting pendentives which carry a circular cornice, from which springs a domical lantern. The front room on the ground floor has a white marble inlay chimneypiece. The front room on the first floor to the south has a much damaged painted ceiling, and a fine marble chimneypiece (Plate71) with Ionic columns and sculptured panel in the frieze.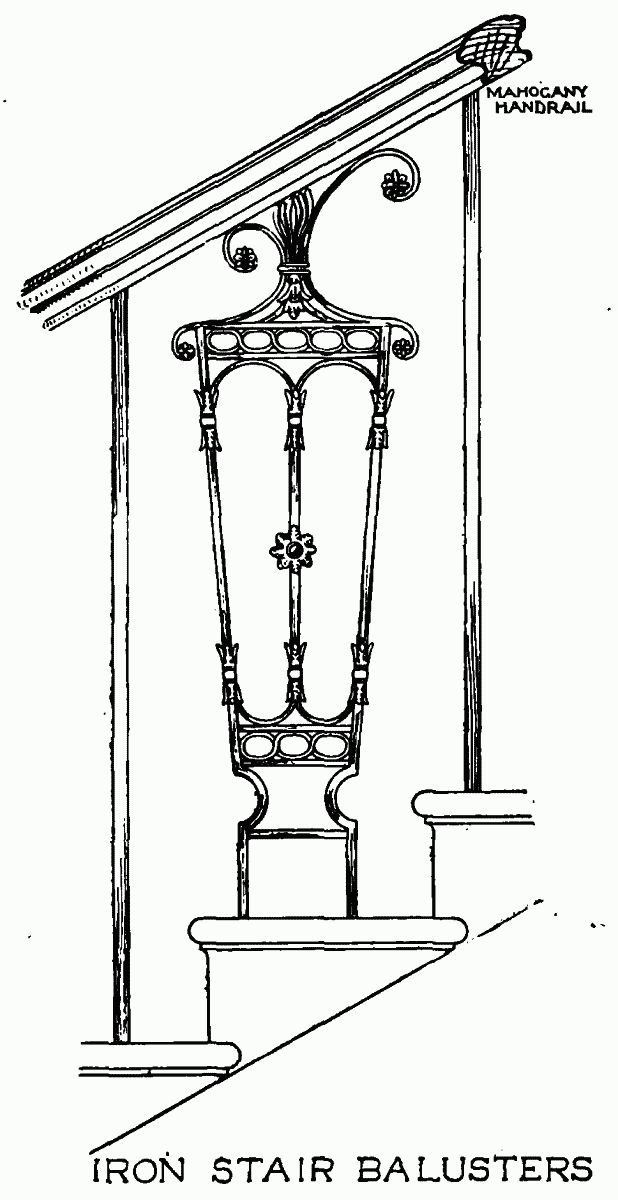 The long room to the front on the same floor in No. 6A has a segmental ceiling similar to that in No. 10 (Plate 74), but is not decorated. There are two ornamental plaques in the frieze of the end walls, and the eastern back room on the second floor contains a white marble chimneypiece with sculptured figure and festoons.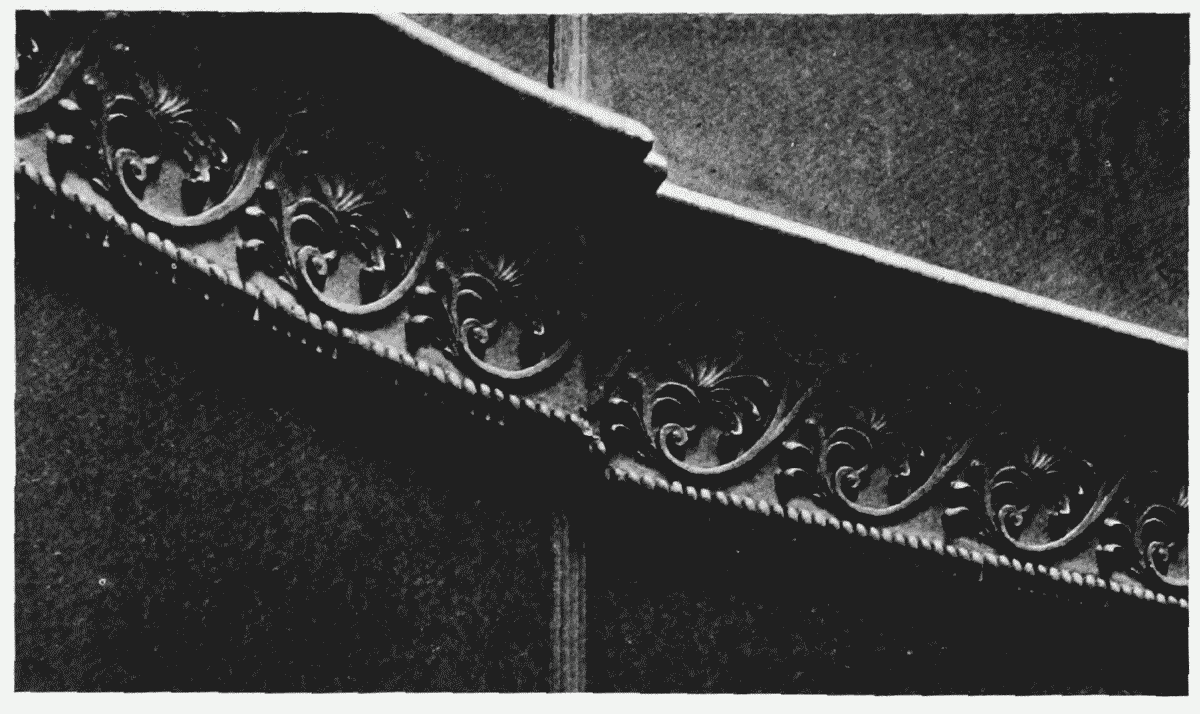 Condition of repair.
The premises are in good repair.
Biographical notes.
The ratebooks show that the first occupant of the house was Lord Loughborough, whose residence here began in 1781 and lasted until 1798. Particulars of the life of Alexander Wedderburn, Baron Loughborough, afterwards Earl of Rosslyn, have already been given in the previous volume dealing with the Parish of St. Giles-in-the-Fields. (fn. 3)
In 1798 Loughborough was succeeded in the occupation of the house by Lord Eldon.
John Scott, first Earl of Eldon, was born at Newcastle-upon-Tyne in 1751. The son of a coal-factor, he was at first intended for that business, but through the influence of his brother William (afterwards Lord Stowell), he went to Oxford in 1766, with a view to taking orders. After his marriage in 1772, he gave up the church and turned to the law. He became a student at Middle Temple in January, 1773, and was called to the Bar in 1776. In 1783 he became King's counsel and was returned to Parliament as member for the close borough of Weobley, Herefordshire. In Parliament he gave general support to Pitt and in 1788 was appointed solicitor-general, and was knighted. He succeeded in 1793 to the attorney-generalship, in which he conducted the vigorous prosecutions against British sympathisers with French Republicanism, and became for the time the best hated man in England. In 1799 he became Lord Chief Justice of the Court of Common Pleas, and on the formation of Addington's ministry in 1801, he was appointed Lord Chancellor. Lord Eldon continued in office as Chancellor under Pitt (1804–1806), and on the formation of the Portland administration in 1807, resumed the Great Seal, which he retained for twenty years. His influence in the Cabinet was supreme, and he was, in all but name, prime minister of England. His one aim in politics was to keep in office and maintain things as he found them. In 1821, Lord Eldon was created Viscount Encombe and Earl of Eldon. He died in London on 13th January, 1838.
In the Council's collection are:—
(fn. 4) Ground and first floor plans (measured drawing).
Staircase in No. 6 (photograph).
(fn. 4) Stair balusters (measured drawing).
Ornamental ceiling of landing and lantern light over staircase (photograph).
(fn. 4) Lantern over staircase (photograph).
Panel on wall of staircase (photograph).
(fn. 4) Detail of plaster decoration of staircase (photograph).
Marble chimneypiece in front room on ground floor (photograph).
General view of rear room on ground floor (photograph).
(fn. 4) Marble chimneypiece in front room on first floor (photograph).
Marble chimneypiece in rear room on second floor (photograph).
General view of front room on first floor (No. 6A) (photograph).
No. 8, Bedford Square—
Inner doorway and fanlight (photograph).
Lantern over staircase (photograph).