Pages 16-32
Survey of London: Volume 6, Hammersmith. Originally published by London County Council, London, 1915.
This free content was digitised by double rekeying and sponsored by English Heritage. All rights reserved.
II.—THE PARISH CHURCH OF ST. PAUL (fn. 1)
It is believed that until the 17th century the mother church of Fulham was the only place of worship in the whole of that large parish, including the Hamlet of Hammersmith. The distance of the latter from Fulham Church "made the erecting of a Chappel long Desir'd, and talk'd of, before it could be effected," but about 1624, so Bowack tells us, (fn. 2) the question began to be seriously considered. A sum of about £250 (fn. 3) was raised by voluntary subscription, and the necessary land having been granted by the then Bishop of London, Laud; a start was made with the building about 1628. The chapel was completed in 1631, and on 7th June in that year it was consecrated by the Bishop, who decreed that it should be called the Chapel of St. Paul. The brick and sand for the building are stated by Faulkner to have been presented by Sir Nicholas Crisp, whose total contribution amounted to the value of £700. An annual subscription of £28 13s. 4d. for the minister was promised by the inhabitants of Hammersmith. It is of interest to note that they were bound to repair one day in the year to the mother church of Fulham, viz. on Easter Day, in order to receive the Holy Communion, and on that day their chapel was closed.
The following is a list of the perpetual curates up to the end of the 18th century, according to Hennessy: (fn. 4)
Date of Appointment.
John Dent, A.M.
1631, July 13.
(fn. 5) Isaac Knight
1647.
Matthew Fowler, D.D.
1661.
John Wade, A.M.
1662, Dec. 2.
John Jones
1664–5, Jan. 14.
John Ellis
1671, July 31.
John Wade
1671.
Michael Hutchinson, D.D.
1717.
Fifield Allen
1740.
Thomas Mayne
1751.
Thomas Sampson
1757.
John Smith, D.D.
1783, Feb. 6.
Thos. Stephen Atwood, M.A.
1788.
By an Act of Parliament (fn. 6) passed in 1834 the Hamlet of Hammersmith was made a separate parish for ecclesiastical purposes, and the perpetual curacy of the Church of St. Paul was converted into a vicarage. The first stone of the nave of the present church was laid in 1882.
Bowack's description (fn. 7) of the old church contains the following: "The whole building is of Brick, very spatious and regular, and at the East (fn. 8) (sic) End is a large square Tower of the same, with a ring of Six Bells. The inside is very well Finish'd, being beautified with several devices in painting. The Cieling also is very neatly painted, and in several Compartments and Ovals were finely depicted the Arms of England, also Roses, Thistles, Flowerde-luces, &c. . . . The Glass of the Chancel Window was also finely painted with Moses, Aaron, &c., also the Arms of the most considerable Benefactors. . . . In several of the other Windows likewise there are the Benefactors' Coats of Arms." Faulkner, among further items of information, adds (fn. 9) that the length of the church "from east to west is eighty feet, and its breadth, from the north to the south transept, is forty-eight feet. The interior comprises a nave, chancel, and aisles, separated by four octagonal stone pillars, cased with wood, which support the galleries."
Photographs of the old church exist, and the building is further illustrated by various drawings in the Coates Collection, among which are two large pencil drawings of the exterior and interior respectively, also an interesting sketch of the south side of the church by J. C. Nattes, c. 1812, beside tinted drawings of some of the monuments. It is very curious that beyond the classical treatment of the east end, which bore the date 1630, there is scarcely any indication of the style of the period in the external views of the building. It would seem indeed that there was a conscious attempt to follow the mediæval model, and the grouping of nave, aisles and chancel, transepts and west tower, beside the use of buttresses and windows of a Gothic or Tudor form, bear evidence to a desire to preserve a traditional type, parallels to which exist in other parts of the country where churches were erected in the seventeenth century. The transept projection was, however, only equal to the aisle, so that the building could be treated regularly within. The tower was 58 feet high, (fn. 10) divided into four stages, and had a projecting octagonal stair. It was supported by heavy angle buttresses, and was crowned by a clock-turret and cupola. The east end of the chancel was treated with brick pilasters and pediment, the latter of considerably lower pitch than the steep gable. The chancel windows were plain circularheaded lights, and the eastern limb of the church, if we except the clockturret, is the only part which exhibits the usual contemporary classical detail.
Internally the church seems to have been fitted with some elaboration. A reredos carved after the manner of Grinling Gibbons occupied the wall behind the altar. Lysons gives the following coats-of-arms in the windows: The chancel (north): the royal arms and those of the Earl of Mulgrave and the Earl of Bedford; (south) those of Laud, Bishop of London, the City of London, and Crisp impaling Hayes. In the windows of the north aisle were the arms of Cave and Prescot, and in those of the south aisle the arms of Lord Zouch, and Crisp impaling Prescot.
The chief monuments in the old church are given in the following list, compiled from Lysons and Faulkner. Those preserved in the present building are marked by an asterisk and are more fully described below:
Chancel (south wall). Sir Timothy (d. 1718) and Elizabeth (d. 1700–1) Lannoy, with the arms of Lannoy.
* Richard Alexander (d. 1794), Bridget his wife (d. 1770), Rachel their daughter (d. 1832), and the last-named's husband, Ferdinando Anderdon (d. 1834). Arms of both families.
Edmond Lord Sheffield, Earl of Mulgrave, Baron of Butterwick, K.G. (d. 1646). Arms, Sheffield impaling Irvine, and the Garter.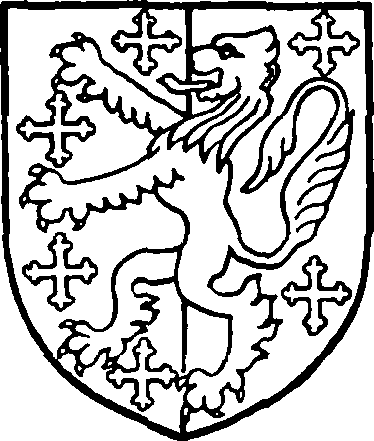 Michael Hutchinson, Curate of Hammersmith Chapel (d. 1740), also his wife Mary (d. 1718), daughter of Sir Timothy Lannoy. Arms, Hutchinson impaling Lannoy.
* Elizabeth, wife of Anthony Askew, M.D., and daughter of Robert Holford (d. 1773).
Chancel (north wall). Mary, wife of John Greene and daughter of Edward Trussell (d. 1657). Arms, Green (obliterated) impaling Trussell.
James Smith, Alderman of London (d. 1667), and Sarah his wife (d. 1680). Arms of Smith.
* Sir Edward Nevill (d. 1705) and Lady Frances, his wife (d. 1714). Arms of Nevill. (His wife's arms defaced.)
Francis Wolley (d. 1659). Arms of Wolley.
Chancel (floor). Martin Dalison (d. 1658).
Sir Ralph Box, Kt. (d. 1693).
* Marquis de Heucourt (d. 1703). A double shield of arms.
Peter Brushall (d. 1769). Faulkner gives this in the nave.
Nave. William Brochett (d. 1788).
* A monument enclosing the heart of Sir Nicholas Crisp (d. 1665) and having a bust of Charles I. Arms of Crisp.
On the floor, Timothy Walker (d. 1788).
North aisle. * Tablet to eight members of the Impey family.
* Sir Elijah Impey (d. 1809) and his wife Mary (d. 1818). Arms, Impey impaling Reade.
(floor). Thomas Bowden, apothecary (d. 1761), and five other members of the same family.
William Gouge (d. 1738) and his wife Sarah (d. 1759).
William Roffey (d. 1785) and his daughter, Sarah Cowley (d. 1767).
South aisle. * James Scott (d. 1793).
* Stephen Wright (d. 1797).
* James Smith (d. 1798).
* Thomas Clarke (d. 1786) and Sarah his wife (d. 1792).
* Thomas Worlidge, painter (d. 1766).
(floor). Rebecca, wife of Thomas Best (d. 1792).
The oak pulpit from the old church is now in use in the mission church of St. Mark, Hammersmith. It is hexagonal in plan and dates from the latter part of the 17th century. The cornice and base are heavily moulded, and the sides have panels inlaid with oak, each having a different pattern, enclosed by a somewhat unusual bolection moulding, with shaped horns at the upper angles. The original tapering soffit and post which supported the pulpit have disappeared.
The present pulpit, the gift in 1900 of Prebendary A. J. Ingram, Rector of St. Margaret's, Lothbury, came originally from the demolished Church of All Hallows, Thames Street, which was built by Wren in 1683. It is a beautiful example of work in the style of Grinling Gibbons. Hexagonal in plan, it has the six sides complete, including the door. The moulded cornice is not enriched, but one member of the base is carved. The angles, from cornice to base, have some fine foliage in high relief with two cherubs' heads above each. The panels are elliptical, enclosed by a wreath or enriched band, and are inlaid with patterns in oak. Beneath the base is a mass of flower and foliage deeply undercut, and the whole is supported by a column with a composite capital having six angle volutes. On one side of the pulpit is a quadrant landing, with carved balusters and string enriched with a band of ornament. The stair is modern, but some of the old balusters have been used. The sounding-board, an exceptionally fine one, belonging to the pulpit is still at St. Margaret's, Lothbury. It is a great pity that they have been separated. (See note on p. 32.)
The font is of the circular baluster type, the bowl and shaft of which are slightly fluted. It is a simple but pleasing design in marble, dating from the end of the 17th century, but it has recently been enclosed and partly hidden by an elaborate ring of columns, etc., supporting a lofty font cover.
In the chancel are two oak chairs with carved backs of late 17thcentury design. Each chair has the following inscription: "The gift of the Revd. F. T. Atwood M.A. Perpetual Curate 1828."
There is a peal of eight bells, five of which are old, one other having been recast. Three bear the inscription:
EX DONO NICOLAI CRISPI ARMIGERI DEO ECCLESIÆ 1639
and also Sir Nicholas Crisp's arms. (He was not knighted until 1640.) A fourth is inscribed:
THE TOWN BELL 1639
and another simply the year 1657. On the sixth it is stated that it was formerly the gift of Sir Nicholas Crisp in 1639 but that it was recast by Mears in 1870. (This is apparently the bell which Faulkner says was recast by Richard Colton in 1747.) The remaining two are by Mears, having been presented by subscription in 1813; on one is the title "Princess of Wales," and on the other "Field-Marshall the Marquis of Wellington."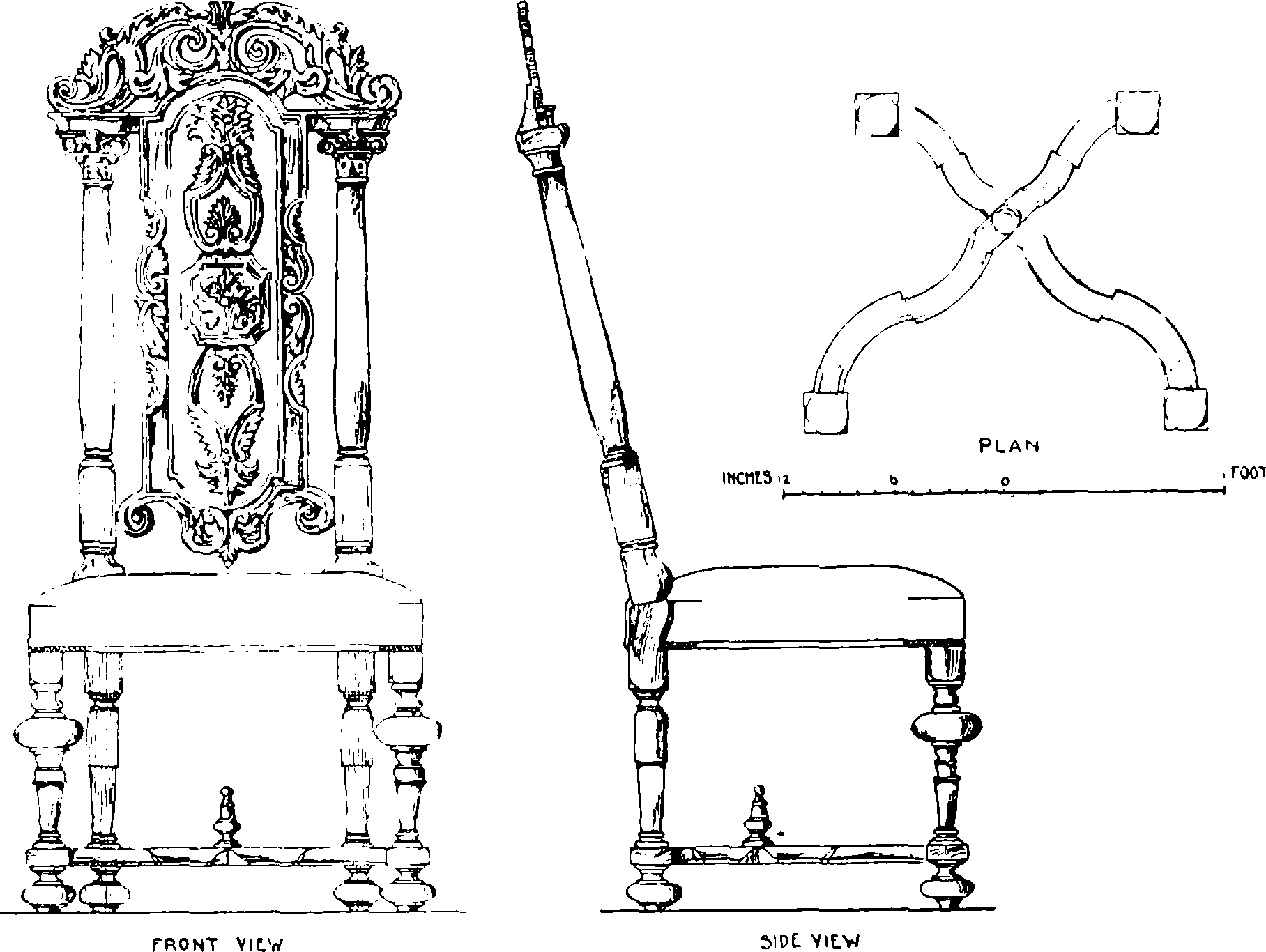 The church plate includes the following silver pieces, which appear to have been at one time gilt:
Two flagons 13 inches in height (10¼ inches without the covers), with the London hall-mark of 1708–9.
Two chalices, 7¾ inches high and 4¾ inches in diameter, and corresponding patens, 6 inches in diameter, each bearing the donor's coat-ofarms (azure, a lion or on a chief argent a molet between two roundels gules) and the following inscription: Theis cupps and Plates was guiven by James Smith Esq. to the Chappell of Hammersmith in the yeare of our Lord 1657. They bear the London hall-marks of 1656–7.
Above the doorways in the N. and S. porches respectively are two stone tablets, one carved with the arms of Crisp (impaling Prescot) with helm and mantling, the other those of the City of London with supporters. Both achievements are coloured. Faulkner refers (fn. 11) to them as under the West Gallery in the Old Church.
The following are the monuments, preserved from the old church, which date back to the period preceding the 19th century, taken in the order in which they have been fixed in the nave of the present building.
North wall (commencing at the east end).
A simple marble tablet to James Scott, the inscription being placed on a white elliptical panel enclosed by green spandrels. On a semicircular piece of green marble with a white border, beneath the tablet, is a shield with the arms of Scott: Per pale indented argent and sable, a saltire countercoloured; an annulet for difference. The inscription reads: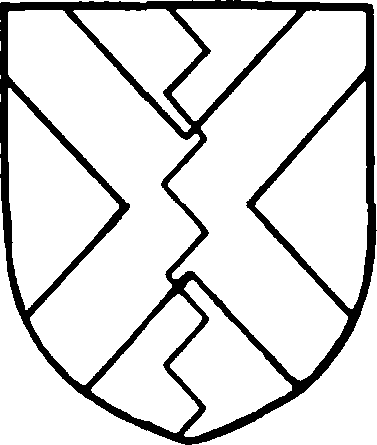 This monument
is erected to the memory of
JAMES SCOTT Esqr
whose life was beautified with those
amiable and estimable qualities
which benefit society & form the benevolent friend.
A sudden visitation of the Almighty
took him from among us
leaving many to mourn for him
on the 29th day of Novr 1793
in the 64th year of his age.
A tablet to Stephen Wright, the upper part of which reads:
Sacred
to the memory of
stephen wright esq,r,
late of this hamlet
who died July the 18th 1797
aged 57 years.
A small tablet to Richard Alexander, the father-in-law of Ferdinando Anderdon of Rivercourt (see p. 74), who is also commemorated. The latter part of the inscription is omitted here as it relates to the 19th century.
sacred to the memory of
RICHARD ALEXANDER Esquire
Late of this hamlet
who departed this life 14th January 1794
aged 74 years
and BRIDGET his wife
who died 14th February 1770
aged 32 years.
In the pediment are two small shields with the following arms: (a) Quarterly, I & 4 Sable three shackbolts argent (Anderdon), 2 & 3 Sable a star of six points or between two flaunches ermine. On an escutcheon of pretence azure a cheveron between three talbots' heads erased argent (Alexander). (b) Alexander impaling azure a cheveron between three storks argent: crest; a lion's head erased argent.
An oblong tablet of fluted white marble with a black marble frame and elliptical panel to James Smith (d. 1798).
to the memory
of
James smith esqr formerly of
rotherdam but late of this hamlet who died
25th decr 1798 in the 75th year of his age
A white marble slab, divided into two tablets, the one to Sir Elijah Impey (fn. 12) (d. 1809) and the other to his wife Dame Mary Impey (d. 1818), surmounted by a double urn and bearing these arms: Gules on a cheveron between three leopards' heads or three cinquefoils gules (Impey), impaling gules a saltire between four garbs or (Reade).
In an architectural marble frame, with pediment, side pilasters, etc., a wall monument to other members of the Impey family enumerated below. On a well-modelled shield in the pediment are the arms of Impey impaling quarterly 1 & 4 argent three crowns gules, 2 & 3 azure three cinquefoils argent for Fraser. The full inscription reads:
Underneath lyes interr'd the body of
JAMES IMPEY, M.A.
of Christ's Church College, Oxford
son of ELIJAH IMPEY Esqr of this
hamlet
He dyed the 19th Novr 1750 Aged 30
Also ELIJAH IMPEY Esqr
who died the 27th of April 1756
Aged 73
MICHAEL IMPEY Esqr of Richmond
died the 17th of March 1765 Aged 84
ANN Wife of MICHAEL IMPEY Esqr
died the 9th of Febry 1773 Aged 50
MARTHA Widow of ELIJAH IMPEY Esqr
died the 15th of Octbr 1776 Aged 84
Mrs JANE SARAH IMPEY
died 27th Decr 1791 Aged 54
MICHAEL IMPEY Esqr
died June 24th 1794 Aged 77 years
ELIJAH MATTHEW IMPEY Esqr
died the 24th of May 1865
Aged 28
West wall.
An oblong marble tablet surmounted by an urn with drapery depending on each side, to Elizabeth Askew.
Sacred to the Memory of
ELIZABETH
the Wife of Anthony Askew M.D
and Daughter of Robert Holford Esqr
Master in Chancery
She exchanged this Life for a better
on the 2nd Day of August 1773
in the 39th Year of her Age
South wall (commencing at the west end).
A wall tablet of excellent design in white marble, with side columns, and entablature to Sir Edward Nevill and Lady Frances, (fn. 13) his wife. On a fine shield above the monument, standing between two urns are the arms, only those of Nevill being visible, viz. gules a saltire argent, a molet for difference. On a draperied panel in the centre is the inscription, which is somewhat indistinct: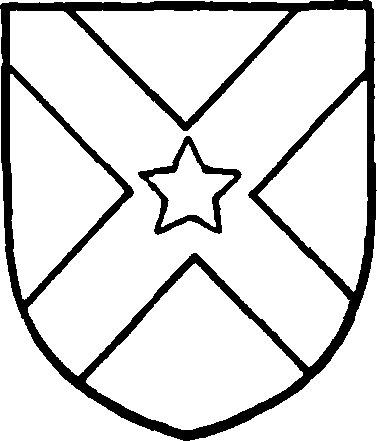 This
Monument
was Erected by the Lady
NEVILL to the Memory of her
Beloved Husband Sir EDWARD
NEVILL Knt Second Justice of
her Majies Court of Comon Pleas
who died the 7th of Augst 1705
and in the 77th Year of
his Age
In the Same Grave with her Husband
at her own request lies Buried . .
. . Dame FRANCES NEVILL who
died the 12th of October 1714 in
the 73d Year of her Age
Sir Edward Nevill lived in a house in Upper Mall, on the site of which the present lead mills stand. It was formerly (1684–1695) the home of the celebrated inventor and mathematician, Sir Samuel Morland, Bt. In this connection we may note that George Morland, the painter, was married at Hammersmith Church in 1786.
A tablet very charmingly treated in white and green marble with an elliptical panel and festoons commemorates Thomas and Sarah Clarke who owned Nos. 21 and 22 Lower Mall (see p. 46).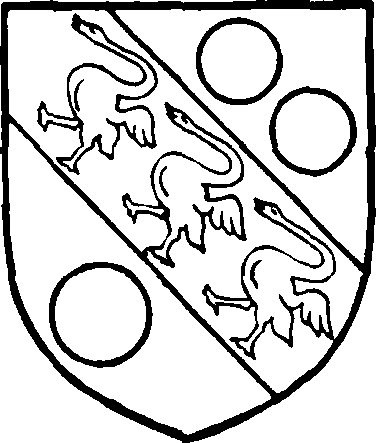 Near this Place
are interred the Remains
of THOMAS CLARKE Esqre
and SARAH his Wife
He died the 12th of April 1786
aged 70 years
She died the 25th of July 1792
aged 80 years
On a shield below the inscription are the following arms: argent on a bend gules between three pellets three swans argent, impaling argent (probably ermine), on a bend cottised sable three griffon's heads erased or.
A tablet to George Bird (died 1774) and William Bird (died 1776) of Brook Green.
At the end of the wall, near the south-east door, is a small stone tablet to Thomas Worlidge inscribed:
Here lies
the Body of
THOMAS WORLIDGE
Painter
who died the 23d September, 1766
Aged 66 years
He who had Art so near to Nature brought,
As ev'n to give to Shadows, life & thought,
Had yet, Alas ! no art or power to save,
His own corporal substance from the grave,
Yet tho' his mortal part inactive lies,
Still WORLIDGE lives—for Genius never dies.
Against the south face of the pier which stands between the chancel arch and that of the lady chapel, is fixed the most interesting monument preserved in the church. Erected by Sir Nicholas Crisp during his lifetime in memory of Charles I., it is worthy of a better position in the church, and it is intended to remove it to the west end as soon as practicable. The monument consists of black and white marble, and is surmounted by a cornice and broken pediment supporting a bronze bust of Charles I.; (fn. 14) below this is an oval panel with the dedicatory inscription. In front of the lower part of the monument is a pedestal of black marble carrying an urn or vase, in which, in accordance with his wish, Sir Nicholas Crisp's heart was interred at his death. Upon the pedestal is a further inscription in gold lettering and a shield bearing the arms: argent on a cheveron sable five horse-shoes or, in a quarter argent a hand gules, and in chief an escutcheon bearing sable a cheveron between three owls argent for Prescot. The monument is supported on a corbel, carved with cherub's head and on two console brackets.
The following is the inscription beneath the bronze bust:
This effigies was
erected by the Speciall appointment
of Sr Nicholas Crispe Knight & Baronet
as a gratefull commemoration of that
Glorious Martyr King Charles
the first of blessed
Memory
and on the pedestal:
Within this Urn is entomb'd the
heart of Sr Nicholas Crispe Knight
and Baronet a Loyall Sharer in the
Suffrings of his Late & present
Maiesty. Hee first setled the trade
of Gould from Guyny & there
built the Castell of Cormantine
Died the 26 February
1665 Aged 67
yeares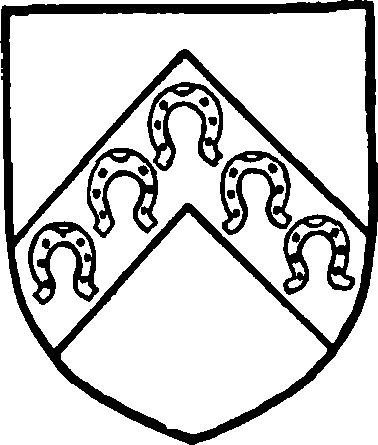 The following is a short account of his life:
Sir Nicholas Crisp (or Crispe), the son of Ellis Crisp, a wealthy London merchant, was born about 1599. From 1625 he was actively engaged in the African trade, and with five others obtained in 1632 a monopoly of the trade with Guinea. The Long Parliament in 1641 expelled him from the House for his share in certain of the patents connected with this trade, and he was in addition heavily fined for his action in collecting the duties on merchandise, on the security of which he had advanced money to the King, without a parliamentary grant. Naturally enough, the outbreak of the Civil War found him a perfervid adherent of the King. In many ways he rendered the royal cause signal assistance, and particularly in the equipment of a fleet, which proved of the utmost service in maintaining the King's communications with the Continent and in the procuring of supplies. The consequent hostility of the Parliament inflicted on him severe pecuniary losses. Interest and loyalty therefore combined in inducing him to support the Restoration by all the means in his power. He signed the declaration of the London Royalists in support of Monk, and was one of the commissioners sent by the city to wait on Charles II. at Breda. Change of fortune did not immediately follow the Restoration, but in the course of three years he obtained the partial repayment of debts due to him from the State, and the remainder was made up by the grant of lucrative offices. He was knighted in 1640 and received a baronetcy in 1665. Towards the end of his life he spent much time at Hammersmith, where he had built for himself a magnificent mansion. (fn. 15) He died in February 1666. His body was interred in the Church of St. Mildred, Bread Street, but his heart was sent to Hammersmith Chapel, where for many years it was the custom to take it out on the anniversary of its entombment and refresh it with wine. His remains were removed from St. Mildred's to Hammersmith Churchyard in 1898, where they now lie buried. He encouraged new methods, particularly the art of brickmaking as since practised.
The tomb of Sir Nicholas Crisp, formerly at St. Mildred's Church, Bread Street, can be seen outside the church, and the original floor slab which now stands at the head of the tomb against the north wall of the chancel has a coat-of-arms, similar in detail to that on the memorial within the church, and bears the following inscription:
HERE LYETH Y[E] BODY OF S[R]
NICHOLAS CRISP K[TT] & BARRONETT
ONE OF Y[E] FARMERS OF HIS
MAGYSTIES CUSTOMES WHO
DEPARTED THIS LIFE Y[E] 27 OF
FEBRUARY 1665
AGED 67 YEARS
An inscription on the modern tomb states that "after resting for 233 years in the Church of St. Mildred, Bread Street, the remains of Sir Nicholas Crispe Knight and Baronet were removed to this spot on the 18th June 1898."
It will be noticed that several of the monuments mentioned by Lysons and enumerated on a preceding page are not now to be seen in the present church. Some have disappeared, but a certain number are buried beneath the vestry floor and only await the necessary funds for their reconstruction and replacement. Among them are believed to be the monuments to the Earl of Mulgrave (1646) and Alderman James Smith (1667), the latter the donor of some of the church plate.
In the churchyard close to Sir Nicholas Crisp's tomb, and against the north wall of the chancel, is a floor slab in memory of the Marquis of Heucourt, which Faulkner mentions as near the pulpit in the old church. It bears two coats-of-arms beneath a coronet with hounds as their supporters, and the following inscription, which has been recently re-cut: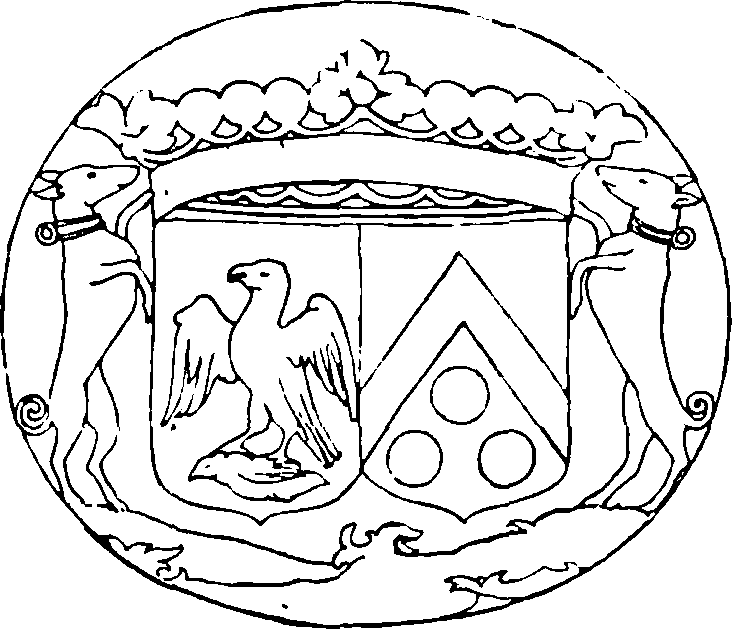 D. O. M. S.
Nobilissimo Illustrissimoq: Viro
LUDOVICO DE SAINT DELIS
MARCHIONI DE HEUCOURT
Natione Gallo
Fide Sincera
Pietate Eximia
Probitate Singulari
Conspicuo
Morum amoenitate amabili
Relictis quas amplas habebat. Opibus
Religionis Causa in Angliœ profugo
ELIZABETHA
F. Nobilissima Le Comite de NONANT
Familia Oriunda
Uxor moerens
H.M.P.C.
Vixit Annos LXVII
Obijt die Decembris XVII
A.D. MDCCIII
A third slab against the same wall has no claim in respect of age to be included in this survey, but it has a curious inscription with a certain historical interest. It consists of a long dissertation on the death of two workmen, Richard Honey and George Francis, who were killed on 14th August, 1821, while attending the funeral of Caroline of Brunswick.
In the churchyard are a number of monuments dating from before the nineteenth century.
The following are particulars of such as can be identified, the name, age and date alone being given. Where the lettering has perished the inscriptions have been completed from other sources, such as Lysons and Faulkner, and from an old MS. list in the possession of Mr. Samuel Martin, to whose kindness in collating our record with his own we are much indebted. Everything included in these pages which is now illegible is enclosed in square brackets. Unless particularly described, each monument is a headstone, and the stones are taken in the order in which they are found, starting from the east and proceeding north, west and south. There are a number of inscriptions which could not be deciphered.
1. Elizabeth, daughter of Edward and Ann Nurse. 4 March, 1792. [Aged 2 years 6 months.]
Jane. 27 November, 1796. Aged 10 months.
Mary. 5 January, 1797. Aged 2 years [4] months.
Elizabeth. 29 October, 1798. Aged 2 months.
2. Table tomb: S. side:
Barbara, wife of George Banks of Salisbury and mother of Mr. Banks of this Hamlet. 22 June, 1767. Aged 63.
E. end:
George Banks, nephew and successor of Mr. Banks. 27 January, 1781. Aged 29.
N. side:
Mr. George Banks, Mason, late of this Hamlet. 11 October, 1779. Aged 59.
3. Table tomb: N. side:
Isaac Depuy, Esq., of Layton, Co. Essex, late of the Island of St. Christopher. 6 October, 1771. Aged 34.
W. end:
Jane Akers, wife of James Akers of the Island of St. Christopher and sister of the above. 25 February, 1789. Aged 65.
E. end:
A coat of arms: a bridge of masonry (?) in chief a sun between two molets, impaling three garbs. Crest: a lion rampant.
4. William, son of William and Mary Shaddock. [27] March, 177[4. Aged 2 years 6 months.]
5. Robert Burgess, Tallow Chandler. 8 May, 1799. Aged 45. (And others of the 19th century.)
6. William Ling (?).
7. Tall altar tomb with urn:
Jane, late wife of Lawrence Laforest. 21 April, 1797. Aged 71.
Lawrence Laforest. 28 September, 1803. Aged 73. (And others of later date.)
8. John Highlord Bland, late of St. James's Street, sword cutler and belt maker to the King, Prince of Wales, ye Army, etc. 3 August, 1791. Aged 59.
(And others of the 19th century.)
9. John West. 4 February, 1767. Aged 51.
Mrs. Elizabeth West. 18 May, 1774. Aged 62.
John West, son of the above. 20 February, 1774. Aged 30. (And others of the 19th century.)
10. Master Roger [Ewens] native of Bengall. 13 January, 17[85]. [Aged 13.]
11. Leger stone:
John Foot. 2 March, 1756.
(And others of the 19th century.)
12. Mary, wife of Richard Kinton. 29 November, 1789. Aged 43.
13. John Baker. [11] February, 1795. [Aged 63.]
14. Leger stone:
Francis Degen. 30 September, 1783. Aged 64.
Mrs. Katherine Foljambe. 30 November, 1789. Aged 67.
Arms: two swords saltirewise; crest: two crossed swords.
15. William Ch. . . . 22 April, 1767 (?).
16. John McGill. 23 May, 1793. Aged 53 (?).
And Elizabeth his widow.
17. Joseph H . . arson. February, 1779. Aged [52].
Susanna his wife. [15 January, 1781. Aged 59].
18. Ann, wife of John Grange. 7 January, 17[65]. Aged 28.
19. George Walker. 3 January, 1786. Aged 59.
Also Mrs. Maria Lasbery relict.
20. Shaped Headstone carved with consoles and cherub's head:
Sarah, daughter of John and Hannah Hurst. 27 Sept., 1765. Aged 7 months.
John, son of the same. 27 April, 1778. Aged 17.
Mrs. Elizabeth Emms. [27 Sept., 1800. Aged 78.]
21. Rozana, wife of Thomas Saunders, Painter. 1796. Aged 39.
22. Martha, wife of Thomas Gam[mion]. [7] February, 1760. 29th year.
23. Mrs. Esther Thrift. 7 November, 1791. Aged [70].
24. Elizabeth Gordon. 25 February, 176[1]. Aged 61.
Robert Gordon. 25 March, 1765. Aged 66.
Mary Atcheson, sister of Elizabeth Gordon. 10 June, 1766. Aged [58].
25. Francis, son of Thomas and Mary Sturdy. 22 Sept., 1755. Aged 6 years 11 months.
26. The following inscription is given in full:
P.M.S.
Johannis Freyre
Qui Limæ natus
Americæ meridionalis civitatis
Jam Liberæ
Legatus a suis missus
Cortes Hispanicos adiit
Postea
Tumultu urgente civili
Hispania relicta
[Refugium]
[In Britannia quæsivit]
27. Thomas Rowley. 1781. Aged 63.
28. Table tomb: N. side:
John Thornhill, Esq., son of John Thornhill, Esq., of Thornhill in Dorsetshire. 10 January, 1779. Aged 55. S. side:
John Thornhill, Esq., son of Sir James Thornhill, Kt., of Thornhill, in Dorsetshire. 23 Sept., 1757. Aged 57.
29. Mrs. Ann Kidson. 20 March, 1792. Aged 67.
John Hammett. 9 Jan., 1794. Aged [42].
Ann Maria, his widow. 12 June, 1796. Aged 39.
30. Edward Speer. 16 May, 1758. Aged 60.
Elizabeth, his wife. 1 February, 1792. Aged 96.
Edward Speer, son of the above. 29 January, 1820. Aged 81.
31. Rachael, wife of John Rhodes. 28 July, 1773. Aged 70.
John Rhodes. December, 1787. Aged 62.
Elizabeth Jane Rhodes. 17 October, 1789. Aged 3.
Sarah, wife of the above John Rhodes. 15 March, [1800. Aged 50].
32. Patrick Hevy. 14 November, 1778. Aged 78.
Elizabeth, wife of the above. 27 December, 1779. Aged 90.
33. Ann, wife of Henry Peter Stacy. 13 July, 1799. Aged 39.
34. John, son of Joseph and Elizabeth Taylor. 31 August, 1755. Aged [2 years and 8 months].
35. Leger stone:
Edward Trevor, son of Roger Trevor of Bodyniol, County of Montgomery. 23 May, 1746. Aged 30.
Sarah, wife of Thomas Cowper, widow of above Edward Trevor. 29 November, 1763. Aged 46.
Thomas Cowper, Esq., 37 years Clerk of the Rules in the Court of King's Bench. 25 June, 1784. Aged 69.
36. Susannah . . . February 177 . . . Aged 88.
Mary Ann Osbern. 15 February, 1769.
James Osbern. September, 1776.
37. Hannah Hughes. 26 April, 1793. Aged 50. John Hughes. 24 November, 1801. Aged 63.
38. Susan, wife of Matthew Beach. 10 February, 1756. Aged 41.
39. Mrs. Elizabeth Lamb. 1788.
40. Mrs. Sarah Chapman, wife of William Chapman. 28 November, 1769. Aged 61.
William, son of the above. 30 October, 1751. Aged 7.
William Chapman. [16 Sept., 1789. Aged 76.]
41. Jane, wife of Richard Chapman. March, 1781. Aged 51.
42. Leger stone:
William Bird, bricklayer. 17 Feb., 1788. Aged 42.
Elizabeth Bird, widow of the above. 21 August, 1815. Aged 71.
Richard Henry Bird, son of the above. 17 August, 1787. Aged 3 months.
Thomas, son of the above. 30 September, 1790. Aged 7.
43. Catharine Reignolds, widow of Robert Reignolds. 7 June, 1791. Aged 50.
Mrs. Mary Bell, wife of Francis Bell, daughter of Catharine Reignolds. 21 October, 179—. Aged 25.
44. Headstone with carved top and cherub's head, between palm branches:
Robert Reignolds. 2 November, 1773. Aged 42.
Catharine, daughter of the above. 16 December —
45. Robert Moor, late of the parish of St. Clement Danes. 16 August, 1774. Aged 72.
Esther, his widow. 9 February, 1752. Aged 62.
46. Henry Dodd. 23 April, 1752. Aged 4 years 6 months.
John Dodd, his father. 23 October, 1761. Aged 47.
John, son of John Dodd. 10 August, 1763. Aged [15].
47. Ann Richardson Smith. 18 April, 1768. Aged 28.
48. Mrs. Mary Rose, wife of William Rose. 1 September, 1798. Aged 63.
49. Mrs. Ann Southby. 22 September, 1771. Aged 41.
Henry Southby. 27 December, 1792. Aged 55.
50. Ann Giffard. [18 April, 1759. Aged 38.]
51. [John] Elrington. 15 September, 17[24]. [Aged 44.]
[John, son of the above. 20 May, 1723. Aged 2 years 4 months.]
52. Headstone with top carved with skull and crossbones:
Mary Waters, wife of George Waters. [23] December, 1720. Aged 67.
Bibliographical references.
Lysons, The Environs of London (2nd edn.), Vol. II.
Faulkner, The History and Antiquities of the Parish of Hammersmith.
Woodburn, Ecclesiastical Topography. A Collection of One Hundred Views of Churches in the Environs of London (1811).
Isabella Burt, Historical Notices of Chelsea, Kensington, Fulham, and Hammersmith (1871).
Philip Norman, Notes on the Later History of the Steelyard in London. (fn. 16) (Archæologia, LXI. pp.411-414.)
Old prints, drawings, etc.
1809. View from the north (engraving) in Woodburn's One Hundred Views of Churches in the Environs of London.
View from north reproduced in Isabella Burt's Historical Notices, etc.
The Coates Collection contains—
Two large pencil drawings, one of the exter or and another of the interior of the church.
(fn. 17) A drawing inscribed. The church, Hammersmith, from Mr. Hurst's door.
(fn. 17) Lithograph of the church (north side) by Wilkinson, 1824.
Drawings of various monuments, including Sir Nicholas Crisp, James Scott, family of Impey, etc.
Photographs of the old church are in the vestry of the present building, and also at the public library, Ravenscourt Park.
In the Council's ms. collection are:
(fn. 17) The pulpit (photograph).
(fn. 17) Sir Nicholas Crisp's monument (photograph).
(fn. 17) Sir Edward Nevill's monument (photograph).
(fn. 17) Chairs in Chancel (measured drawing).
(fn. 17) Arms on Marquis of Heucourt's tomb (drawing).