Pages 14-28
Survey of London: Volume 7, Chelsea, Part III: the Old Church. Originally published by London County Council, London, 1921.
This free content was digitised by double rekeying and sponsored by English Heritage. All rights reserved.
III.—MONUMENTS WITHIN THE CHURCH (fn. 1)
Chancel. East Wall.
1. EDWARD HOLL, 1823.
A square inscription tablet of white marble with black surround.
2. LUCY SMITH, 1781, and ANNE WILTON, 1781.
This tablet is by Joseph Wilton, sculptor (1722–1803), stated by Faulkner (fn. 2) to be the father of these ladies. The inscription slab of white marble has a cornice and two pendants with guttæ, and supports two draped funeral urns of different design in white marble, set against a pyramidal background of grey marble. The inscription reads:
To the Memory of two affectionate Sisters whose Remains are deposited in the Vault of this Chancel.
The virtues which in their short Lives were shewn:
Have equal'd been by few; surpass'd by none.
On the urns are panels, elliptical and rectangular respectively, and inscribed:
LUCY SMITH
died
22nd Augst 1781
aged
33 Years
ANNE WILTON
died
March 10th 1781
aged 23 Years
Beneath the inscription panel is: J. Wilton fecit.
3. MARY RUSH, 1854.
An elliptical tablet of white marble with black surround.
4. THOMAS HURD, 1823: FREDERICA HURD, 1824.
A tablet of white marble with cornice and pedimental head on a ground of black marble.
5. CATHERINE RUSH, 1846.
An elliptical inscription tablet of white marble on a rectangular background of black marble.
6. MARTHA DENYER, 1795: JOHN DENYER, 1806.
An inscribed rectangular slab of white marble with a grey marble surround, having a white moulded cornice. The inscription runs:
Sacred to the memory of John and Martha Denyer
The best of Parents, and the best of Friends
Who resigned this mortal life in a well grounded hope
of a Joyful Resurrection to Eternal Life
through Faith in the alone merits
of our Lord and Saviour Jesus Christ
They lived together in great connubial Happiness
Forty two years and died
Martha on the 18th Day of January. 1795 Aged 64 Years
and John on the 6th Day of January. 1806 Aged 76 Years
Their Remains are interred in Millman Chapel
in the South Aisle of this their Parish Church.
With a grateful Remembrance of their many Kindnesses
This Tablet is Erected by their only Child and Daughter.
Chancel. North Wall.
7. MOUNTAGUE RUSH, 1808.
8. ELIZA CHAMBERS, 1818.
9. HENRY RUSH, 1812.
10. HONOUR RUSH, 1814: GEORGE RUSH, 1814.
11. ELOISE RUSH, 1823: JOHN RUSH, 1828: HENRY RUSH, 1839.
12. REVD JOHN RUSH, LL.B., 1855.
With the exception of No. 11, which is rectangular, these are all elliptical slabs of white marble. The Rev. John Rush was the first incumbent of the old church, after the new parish church was built. He acted as curate to the Hon. G. V Wellesley, Rector of Chelsea.
13. THOMAS HUNGERFORD, 1581.
This tablet of alabaster and marble bears the kneeling effigies of (left) Thomas Hungerford and two sons (the head of the first son is missing), and (right) his wife Ursula, daughter of William Lord Sandes, and their daughter, all attired in the costume of the period. Two semi-circular arches, one over each group, are separated by a Corinthian column which, with two similar columns at the sides, supports a horizontal entablature with a dentil course in the cornice. The entablature (with the exception of the top member of the cornice) breaks forward over the columns, and a similar treatment occurs on the plinth which bears two inscribed panels between the pedestals to the columns. The whole is supported on an unbroken horizontal moulding, and is crowned by a medallion and two shields of arms, enclosed in frames of ornamental strapwork.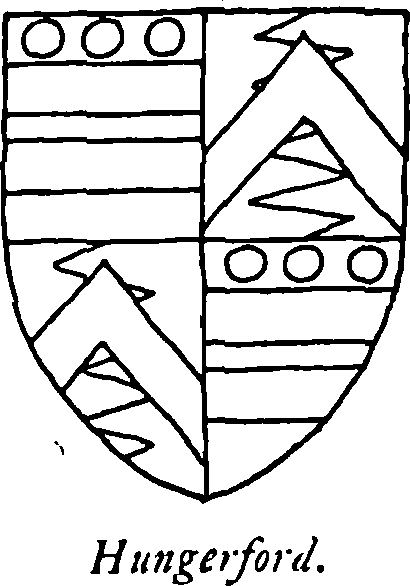 The frieze of the entablature is inscribed as follows:
O LORDE IN THE HAVE I TRVSTED LETT ME NEVER BE CONFOVNDED.
And in the panels are the following lines:
Here lieth the bodies of Thomas Hvngerford
of chilsey in the covnty of midd esqvier
the second sonne of Robert Hvngerford
Thelder of cadname in the covnty of wilth
Esqvier which hath served king henry the
VIII in the rometh of a Gentilmā Pencioner and
was with his matie at the wining of bologne
and king Edward the vi at Mvsselbrovghe
Feild besides qvene Mary and qvene
Elizabeth in their affaires being of
Thadge of lxx Yeres who had to wife
Vrsvla maidenhead the Davghter
of the lady sands anno domne 1581.
The central medallion bears: Quarterly I & 4, sable, 2 bars argent, in chief 3 plates (Heytesbury); 2 & 3, Party palewise indented gules and vert, a cheveron or (Hungerford). Above is a badge of a garb between 2 sickles. The left-hand shield bears: Quarterly 1 & 4, Heytesbury quartering Hungerford with a crescent for difference; 2, gules, 3 garbs argent banded gules, a chief or (Peverell); 3, quarterly; 1 & 4, ermine, a lion gules crowned or within an engrailed border sable bezanty (Plantagenet, Earl of Cornwall); 2 & 3, or, a saltire engrailed sable (Botetourt).
The shield on the right hand bears: Quarterly 1 & 4, Heytesbury quartering Hungerford; 2 & 3, Peverell.
Thomas Hungerford appears to have possessed, and probably resided in, Arch House, Chelsea, which is described in Chelsea, Part II. (fn. 3) He married Ursula, daughter of William Lord Sandes, the lord of the manor, and widow of James Barnard, whose sister Winifred married Richard Jervoise. He held properties in Chelsea in right of his wife. (fn. 4)
14. RICHARD WILSON, D.D., 1879.
A small rectangular slab of white marble with small medallion portrait.
15. MARIA BUCKBY, 1733.
A large tablet in white marble; the inscribed stone is flanked by fluted pilasters with capitals of the Composite order and plain antœ. The pilasters support sections of entablature and a cleft pediment of which the two side portions are curved and end in plain volutes, while in the centre is a detached portion of the usual triangular form, surmounted by a cartouche with a lozenge-shaped shield of arms. A carved lamp stands on each side. A plain ledge, brackets, and a panelled apron complete the lower part of the memorial.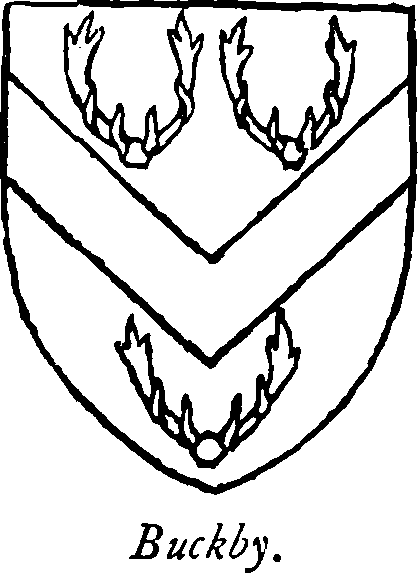 The arms are: sable, a cheveron between 3 bucks' attires or. The inscription runs:
H.S.E.
MARIA BUCKBY
Gulielmi Buckby Servientis ad Legem Filia,
Virgo omni Officiorum genere,
Omnibus Animi Dotibus,
Instructa;
Singulis memorare,
Tam cumulatæ Virtutis Diminutio foret.
Deo Pietas, Homini Caritas
Inclaruit,
Animi Firmitatem Dolorum perpessio,
Spem cœlitu's demissam Mortis Contemptio
Comprobavit.
Omnes callebat Artes quœ Fœminam decebant,
Sibi honorificas, Suis perjucundas,
Obijt A.D. 1733.
ANNA SKINNER e' Sorore Filia,
Cui tantam Virtutem propius contemplari licuit,
Diuturnœ Consentudinis memor,
Et ne neglectœ jacerent tam dulces Exuviœ
Hoc Monumentum Posuit
juxta Quod Ipsa moriens
Anno Xti MDCCLVI sepeliri
Voluit.
Ann Skinner resided in No. 24 Cheyne Row (Carlyle's House) from 1725 to 1736, (fn. 5) and is mentioned in the will of Robert Woodcock as being in possession of his house in Church Lane in 1710.
16. EDMUND LORD BRAY, 1539.
This stone altar tomb, though stated by Lysons to be on the north side of the chancel, was not in its present position, where it has been placed under a modern recess in the north wall. It retains its original moulded coping slab, which no doubt bore a brass effigy. The side of the tomb which is now visible has two lozenge-shaped panels with shields and tracery, and remains of a similar panel at the east end. A portion of the original inscription is preserved in John Weever's Ancient Funeral Monuments (1631):
"Of your charitie pray for the soul of Edmund Bray, Knight, Lord Bray, cosin and heire to Sir Reignold Bray, knight of the garter. . . ." He states (p. 523) that "His brother Reignold Bray Esquire lieth buried by him, but their monuments are so defaced that I can find no further remembrance, neither of their lives, nor of their death."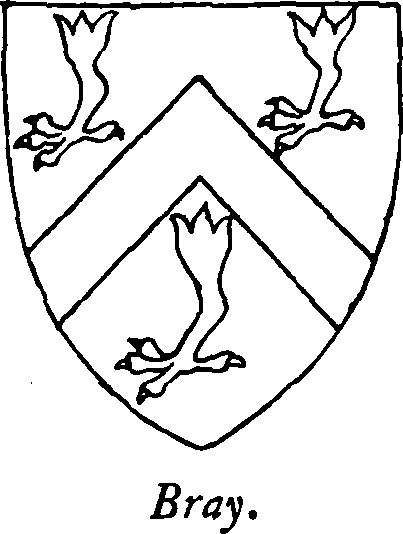 Sir Reginald Bray, who acquired the manor of Chelsea in 1485, was a distinguished man of affairs in the reign of Henry VII. He has credit for the important part he took in arranging the marriage between the Earl of Richmond, afterwards Henry VII, and the Princess Elizabeth, and his services as statesman were only rivalled by his activities as architect if his reputed connection with the designs for St. George's Chapel, Windsor, and Henry VII's Chapel, Westminster, has any foundation in fact. In 1496 he made his nephew, Edmund Bray, his heir, and died in 1503. We do not know whether he was buried at Chelsea, but his brother John, the father of Edmund, was interred in the old church, as we learn from the will of his son, who directs "my bodie to be buried at Chelsey besides the Sepulture of John Bray Esquier." John, second Lord Bray, who died in 1557, was also buried at Chelsea, and a full account of his funeral procession from Blackfriars is given in a manuscript preserved at the Heralds' College (MS. I. XV., fo. 279). In it he is stated to have been "buryed at Chelseye in the myddest of the highe chauncell there, with his father and grandfather undre one highe tombe there." The tomb and banners are shown in a drawing in the Lansdowne MSS., of which a copy is in the Council's collection.
A modern inscription was placed over this tomb in 1902 by Reginald More Bray, K.C., now a judge. The relationship of the members of the family, and the succession of the manor may be set forth thus:

17. ADAM LITTLETON, D.D., 1694.
A plain rectangular tablet of white marble, on two small brackets, and crowned with moulded cornice and cleft pediment enclosing a little funeral urn with flames. The inscription is the following:
Hic prope sïtum est Corpus
Doctissimi Viri, et de literis optime
Meriti, ADAMI LITTLETON
S:T:P: Capellani REGIJ: Canonici
WESTMONASTERIENSIS: &
Hujus Ecclesiæ (per spatium
XXIIII Annorum) Rectoris,
Omnibus hujus PAROCHIÆ
Incolis unicè Chari: è stirpe
Antiquâ, & Venerabili Oriundi.
Obijt ultimo die Iunij 1694.
Anno ætatis suæ 67.
Dr. Littleton was rector of Chelsea from 1669–70 to 1694. His Latin Dictionary, which has made his name well known, was published in 1673. In 1680 he published a volume of sixty-one sermons, which he dedicated to the inhabitants of the parish. Copies of these two works have recently been presented to the church by Mr. Randall Davies. He delivered the funeral sermon at the burial of Lady Jane Cheyne on 1 November, 1669, and turned Lord Cheyne's inscriptions for her tomb into Latin. It was during his rectorship that the nave and tower of the Church were pulled down and rebuilt.
18. MARIA HYDE, 1831.
A rectilinear tablet with shaped angles of white marble on a grey marble background.
19. THOMAS (1827) AND CATHERINE LONG, 1822.
A rectilinear tablet of white marble, with horizontal moulded capping and two small brackets, on a background of black marble.
20. EDWARD STANLEY, 1751.
A simple tablet with shaped outline, the edge moulded with a plain bead, inscribed as follows:
In Memory
of
EDWARD STANLEY Esqr.
of DALEGARTH in the County
of CUMBERLAND
who Died the 23d of Iuly 1751.
Aged 61.
21. ANN STAFFORD, 1722. HUGH STAFFORD, 1729.
A square inscription tablet of white marble, with projecting bead on edge and a semi-circular head carved with branches of palm, inscribed as follows:
Near this Place lies the Body of
Mrs ANN STAFFORD daughter of
HUGH STAFFORD Esq of Pynes in
the county of Devon who departed
this life July the 30th 1722. Aged 18
years.
As also the Body of HUGH
STAFFORD Gentleman only son
of the afore-said HUGH STAFFORD
Esqr who departed this life April
the 29th 1729. Aged 23 years.
22. ANNA BRIDGE, 1807.
Shaped tablet, in form of the end of a sarcophagus, on background of grey marble with a cross, and having a white marble panel inscribed in Latin.
23. RICHARD JERVOISE, 1563.
This monument stands between the Chancel and the Lawrence Chapel, and supports part of the wall and roof of the Church. It is probable, as already stated, that the tomb originally stood free, and that it was brought into service in this way when the arch to the Lawrence Chapel was rebuilt in 1784. It is of freestone, now painted, and consists of a deep semi-circular arch, with moulded archivolt, standing on two piers which form the responds of the arch, pilasters being introduced on the face of the piers above the springing, and the whole being crowned by a horizontal entablature which breaks forwards over the pilasters. The north and south elevations are similar, the entablature consisting of a plain moulded cornice, a very deep fluted frieze and moulded architrave. In the centre of the frieze is an escutcheon with a shield of arms and a crest on either side. Two other shields are in the sunk spandrels over the arch. The pilasters have strapwork ornament at the frieze level, below which is a conventional palm leaf beneath a large flower and festoon of drapery. The responds have moulded cornice and base, and two panels, each ornamented with convex flutes or rolls. The flutes on the frieze and the panels to the piers below the springing are repeated at the ends of the monument, but in the place of the arch is a semi-circular headed niche with a shell pattern carved above vertical fluting. The soffit of the arch has a continuous band of strapwork in high relief, the upper panels of each pier beneath the springing being occupied by an achievement of arms on the east face of the west pier, and by an inscribed panel of alabaster let into the other. The inscription is as follows:
virtvtis præmivm lavs
Richardi, lector, gervoisi fvnera cernis,
vna hic parte svi, corpore nempe iacet.
Ivrisconsvltvs, ivs mortis non fvgit atræ
ivs habet in ivvenes, ivs habet inq senes.
Omnes illa rapit, nvllo discrimine sævit:
serivs, avt citivs, mors trvcvlenta venit.
Illa fvrens ivvenis ivvenilia fila resolvit,
annis ah, ivvenis, mente erat iste senex.
Hvnc svper astra tvlit vitæ constantia, mortis
exitvs, et veræ religionis amor.
Illi vita fvit christvs, mors optima lvcrvm,
mortvvs ergo svis, vivit at ille deo.
obijt 6° die feb.
Ao Dñi 1563
Ao ætatis svæ, 27.

The arms on the centre shields are sable, a cheveron between 3 eaglets argent (Jervoise) impaling quarterly 1 & 4, sable, within a border gules, a cheveron between 3 spear-heads or, a molet for difference on the cheveron; 2 & 3, azure, 3 beacons burning or. The arms of Jervoise and of the first quartering on the impaled coat are given on separate shields, and the Jervoise arms also appear in the achievement beneath the arch. The crest, which appears also twice on the frieze on both sides of the monument, is a tiger's head sable, tusked and maned or.
It seems evident that the monument is incomplete, and that it was originally intended to have an altar tomb beneath the arch. (fn. 6) Indeed, there are two extant drawings showing an altar tomb, one in the collection of Sir Edward Coates, Bt. (Plate 42), and the other on a pedigree of the Jervoise family at the College of Arms. Part of the plinth on which the tomb stood was discovered a few years back and restored to its original position.
The inscription on the monument is to Richard, the third son of Richard Jervoise, who resided in the old Manor House (afterwards Lawrence House (fn. 7) ) after Henry VIII had purchased it from Lord Sandes.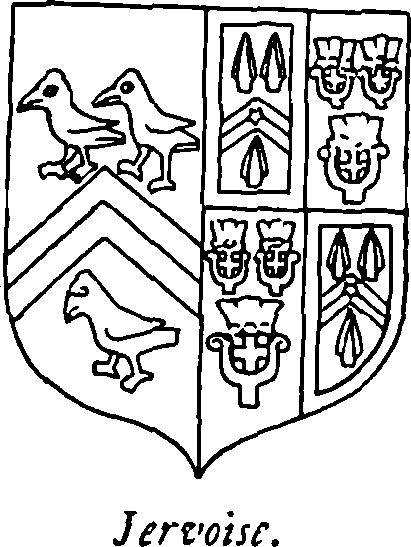 Thomas Faulkner says that the monument "was probably erected to Richard Gervoice, Sheriff of London, who died in 1557," (fn. 8) but we have no record of the date of his death, and Faulkner appears to have given this year, owing to the fact that it was the date of the grant of the old Manor House to John Caryll, the Patent describing the house as "now or late in the occupation of Richard Jarvoys." The elder Richard married Winifred Stathum (née Barnard), whose brother James was the first husband of Ursula Sandes. We have already seen that this Ursula was daughter of Lord Sandes and ultimately married Thomas Hungerford. The Jervoise family history is given with much interesting detail in a paper by Mr. F. H. T. Jervoise in The Ancestor, Vol. III.
24. BALDWIN HAMEY, M.D., 1676.
A slab of black polished marble, with shaped head and base and moulded edge, bears an inscription as below, also a shield of arms in the upper portion and a medallion with crest in the lower.
M. S
IN ipso Ecclesiæ Adyto
Sub lato marmore Iuxta deponitur
BALDUINUS HAMEY. M.D.
Academiæ Lugdunensis Batavorum
Oxoniensis Anglorum
Collegiique Medicorum Londiniensis
Deliciæ Decus et Desiderium
Eruditorum olim Asylum
Facultatis Lumen
Vera Encyclopædia
Ex animo
Phil-Evangelicus Medicus
Anglus.
RADULPHUS PALMER
Ar. è Soc: Med. Templi
Pronepos piè posuit.
Obiit Ano ætats 76
Restauratæ salutis MDCLXXVI.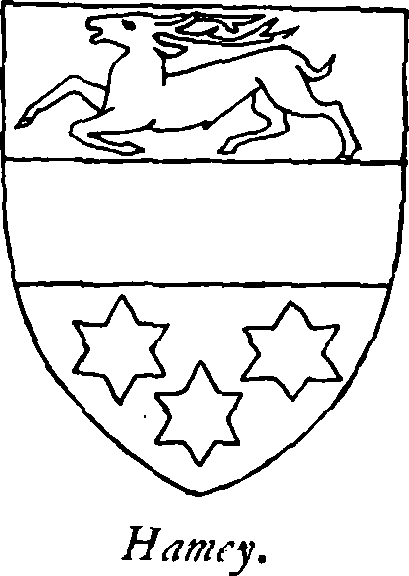 Arms: Gules, a fess or between a roebuck or in chief, and three molets of six points argent in base. Motto: SITIENDO: Crest: a demihart.
The stone in the floor of the Chancel covering his grave is inscribed as follows:
The retvrn of baldwin hamey
dr of physick on the 14th day of May
being whitsvnday in the year of ovr
lord 1676 in the 76 year of his age
psalm 146 verse 4.
"His breath coeth forth and man
Retvrneth to his earth."
Dr. Hamey, son of Baldwin Hamey, M.D., whose monument is in the Church of Allhallows Barking, lived at Little Chelsea, having moved there probably after the loss of his library in the great fire of London. He was a great benefactor to the Royal College of Physicians, where there is still some oak panelling adorned with his arms. The College possesses his bust, and a portrait by Snelling, while another portrait (a copy of a painting by Vandyck) is now in the Bodleian Picture Gallery.
25. RALPH PALMER, 1715: ALICE PALMER, 1708.
This is a smaller but similar tablet to that of Dr. Hamey, placed just beneath his and ingeniously contrived, both by the arrangement of two medallions of arms and the curving lines of the inscription, to appear a pendant of the upper tablet.
The inscription runs:
To the Memory of Ralph Palmer of Little Chelsea Esqr and Alice his wife. He was a near Relation to Dr Hamey and after his example A kind Benefactor to this Church. He died Feb 1st 1715 aged 80 Years she the 14th Sept 1708 Aged 75 and were here Interr'd.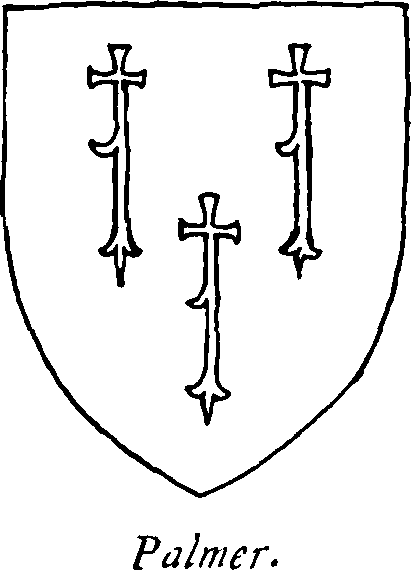 Arms: (a) Quarterly 1 & 4, argent, 3 palmers' staves sable (Palmer); 2, argent, a fess gules between a demi-lion gules in chief, and 3 molets of six points azure in base (Oyles). 3 Hamey, as above.
(b) Gules, a cheveron argent between three boars' heads erased argent.
Ralph Palmer was the son of another Ralph Palmer, whose mother was Dr. Hamey's only sister, and who left a MS. memoir of the doctor, which is preserved at the Royal College of Physicians. Many interesting details concerning the Palmer family have been recorded by Mr. Randall Davies from the Verney papers at Claydon House. (fn. 9)
A small brass plate beneath this tablet records that Dr. Hamey's monument was restored in 1880 by the Royal College of Physicians "in grateful remembrance of their munificent benefactor."
Chancel. South Wall.
26. JANE RUSH, 1815.
Inscription tablet of white marble flanked by small columns of black marble, with moulded cornice and base and a semi-circular head.
27. ELIZABETH (MAYERNE) DE CAUMONT, MARCHIONESS DE CUGNAC, 1653.
The lower part only of this monument remains—the inscription slab of black marble flanked by two plain panels, and the moulded ledge, below which is a winged cherub's head and scrollwork, all in white marble. It bears the following inscription:
D. O. M. S.
Elizabethæ eqvitis Theodori
de Mayerne, Baronis Albonæ
filiæ, Petri de Cavmont Mar-
chionis de Cvgnac (Patre Hen-
rico de Cavmont Marchione de
Castelnavt & Avo Iacobo nonpar
de Cavmont dvce de la Force Primo
Franciæ Marescallo Regiorvm
exercitvvm longvm imperatore
fortissimo, fortvnatissimo invic-
tissimo, nati) vxori dvlcissimæ
lectissimæ charissimæ xvito
post nvptias mense acerbo ereptæ
fato, conivnx in amoris inconcvssi,
& irrvptæ fidei monimentvm
Mœrens posvit
obiit x° Ivlii mdcliii in pago chelsey
ivxta Londinvm
Vixit annos xx menses vi dies iii
Resvrget.
[SYN THEO]
Bowack (fn. 10) states that the monument bore "the arms of the Mareschal de la Force and Sir Theo. Mayerne quarter'd together," but these have disappeared.
Sir Theodore Mayerne lived for many years at what was afterwards Lindsey House. (fn. 11)
28. JOHN BEECH, 1836: SARAH BEECH, 1839.
A white marble tablet with cornice, on a black background with pedimental head and shaped outline below.
29. SIR THOMAS MORE, 1532.
This now consists of a very low altar tomb with moulded cover-stone and base, under a four-centred moulded arch, supporting a canopy with its soffit panelled with tracery. Octagonal buttresses, banded with a moulding half-way up the shaft, occur on each side and terminate in shields at the level of the moulded cornice. A third shield is in the centre of the cornice, and above it is Sir Thomas More's crest—a Moor's head. The spandrels of the arch are carved with fruit and leaf, and each bears a further shield. The cornice has a continuous line of cresting carved with foliage. The whole of the back of the recess from the springing of the arch down to the base of the arch mouldings is occupied by a large marble slab which bears the inscription composed by More, and originally cut in his own lifetime. Above the marble is the date 1532. It is probable that no part of the original tomb remains other than the inscription slab, the lettering of which has been recut, and even this is doubtful, since Aubrey states in his Lives of Eminent Men (fn. 12) that More's monument "being worn by time, about 1644, Sir John Lawrence of Chelsey erected to his memory a handsome inscription of marble." The whole monument was "restored," that is to say remade, by Mr. J. Faulkner, statuary of Chelsea, in 1833, as recorded on a small brass plate fixed to the plinth. An account of the restoration appears in the Gentleman's Magazine for December, 1833.
The inscription at the present time is as follows:
Thomas Morvs vrbe Londinensi familia non celebri sed honesta natvs in literis vtcvnq | versatvs; qvvm et cavsas aliqvot annos jvvenis egisset in foro et in vrbe sva pro shirevo ivs | dixisset: ab Invictissimo rege Henrico octavo (cvi vni Regvm omnivm gloria privs inavdita | contigit vt fidei defensor qvalem et gladio se et calamo vere præstitit. merito vocaretvr) | adscitvs in avlam est, delectvsq: in consilivm et creatvs eqves, Proqvæstor primv, post cancellarivs | Lancastriæ tandem Angliæ miro principis favore factvs est Sed interim in pvblico regni | senatv lectvs est orator popvli, præterea Legatvs Regis nonnvmqva fvit, alias alibi, postremo | vero Cameraci comes et collega ivnctvs principe legationis, cvthberto tvnstallo tvm | londinensi, mox Dvnelmensi Episcopo, qvo viro vix habet orbis hodie qvicqvam ervditivs, prvdentivs, | melivs. Ibi inter svmmos orbis Christiani Monarchas rvrsvs refecta foedera, redditamq; mvndo | div desideratam pacem et lætissimvs vidit et legatvs interfvit "qvam svperi pacem firment faxintq perennem" In hoc officiorvm vel honorvm cvrsv, qvvm ita versaretvr vt neq: princeps optimvs operam | ejvs improbaret neq: nobilibvs esset invisvs, nec inivcvndvs popvlo, fvribvs avtem et | homicidis molestvs. Pater ejvs tandem Iohannes Morvs eqvæs et in evm jvdicvm ordinem | a principe cooptatvs qvi regivs confessvs vocatvr; homo civilis, svavis, innocens, mitis, misericors, | aeqvvs et integer, annis qvidem gravis, sed corpore plvsqvam pro ætate vivido. postqvam | eo prodvctam sibi vitam vidit, vt filivm viderit angliæ cancellarivm, satis in terra jam | se moratvm ratvs, libens emigravit in coelvm at filivs, defvncto patre, cvi qvamdiu | svperarat comparatvs et ivvenis vocari consveverat, et ipse qvoq: sibi videbatvr, | amissvm iam patrem reqvirens et æditos ex se liberos qvatvor ac nepotes vndecim | respiciens apvd animvm svvm caepit persenescere. avxit hvnc affectvm animi svbsecvta | statim velvt adpetentis seni signvm, pectoris valitvdo deterior. itaq: mortalivm | harvm rervm satvr, qvam rem a pvero Pene semper optaverat, vt vltimos aliqvot vitæ | svæ annos obtineret liberos, qvibvs hvjvs vitæ negotiis pavlatim se sedvcens fvtvræ possit | immortalitatem meditari, eam rem tandem (si cæptis annvat devs) Indvlgentissimi Principis | incomparabili beneficio, resignatis honoribvs, impetravit: Atq: hoc sepvlchrvm sibi, qvod | mortis evm nvmqvam cessantis adrepere qvotidie commonefaceret, translatis hvc prioris | vxoris ossibvs extrvendvm cvravit. Qvod ne svperstes frvstra sibi fecerit, Neve | ingrventem trepidvs mortem, horreat, sed desiderio christi libens oppetat, mortemq: | vt sibi non omnino mortem, sed ianvam vitæ fælicioris inveniat precibvs evm piis | lector optime spirantem præcor, defvnctvmq: proseqvere.
Chara Thomæ jacet hic Ioanna Vxorcula Mori
Qui tumulum Aliciæ hunc destino: quiq: mihi
Vna mihi dedit hoc coniuncta virentibvs annis
Me vocet vt puer et trina puella patrem.
Altera priuignis (quæ gloria rara Novercae est)
Tam pia quam gnatis vix fuit vlla svis,
Altera sic mecum vixit, sic altera viuit
Charior insertum est haec sit an illa fuit.
O! simul, o! Iuncti poteramus viuere nos tres
Quam bene, si fatum, religioq: sinant.
At societ tumulus, societ nos, obsecro cœlum
Sic Mors, non potuit quod dare vita, dabit.
The blank space in the inscription marks the position of the words "Hereticisque" in More's original draft, and Mr. Randall Davies sees in their omission a humorous concession to Erasmus, who erased the words when More sent the inscription to him for his approval. This may be so if they were omitted on the original stone, but against this view it must be remarked that they are quoted by Weever, who, although he says the inscription is "now hardly to be read," gives a version including these words.
Arms: On the centre shield are: Quarterly 1 & 4, argent, a cheveron engrailed between 3 moor-cocks sable, crests and legs gules (More); 2 & 3, argent, on a cheveron between 3 unicorns' heads erased sable 3 besants, impaling ermine, a fess checky or and azure (Arden—More's second wife).
The shield to the left bears More (quarterly as above) impaling argent a fess between three galloping colts sable (Colt—More's first wife). The shields in the spandrels bear More and Colt respectively.
The monument, as stated in the inscription, was raised by Sir Thomas More to his first wife, Jane, with the intention that he and his second wife should lie beneath the same tomb. It is stated by Weever that Sir Thomas More's body, which after his execution was buried in the Tower, was disinterred and brought to Chelsea. Mr. Randall Davies (fn. 13) has carefully examined the evidence and is of opinion that the removal of the body did not take place, and that the head of Sir Thomas More, which was exposed on London Bridge, was placed by his daughter Margaret in the Roper vault at Canterbury.
30. JANE TYNDALE, 1842.
31. CHARLES MILLER, 1817.
The above are two white marble inscription tablets surmounted by a moulded cornice and funeral urn on a background of black marble with pediment-shaped head.
Charles Miller was a son of Philip Miller, the curator of the Chelsea Physic Garden and author of the Gardeners' Dictionary. He was buried with his father in the churchyard.
32. ELIZABETH STEWART, 1717.
THOMAS STEWART, 1722.
THOMASIN DAMARR, 1758.
This is a finely designed tablet in white marble and consists of an inscribed slab flanked by two fluted pilasters with foliated capitals and moulded bases. The slab projects on each side beyond the pilasters, and is finished by carved consoles. The capitals occupy the height of the frieze in the horizontal entablature above, and support the cornice over which is a segmental pediment. A funeral urn and two lamps, all with flames, are placed on the pediment, and in front of the tympanum is an achievement of arms. The pilasters stand on a horizontal scalloped shelf over a carved apron composed of two console brackets, a scallop shell and a winged cherub.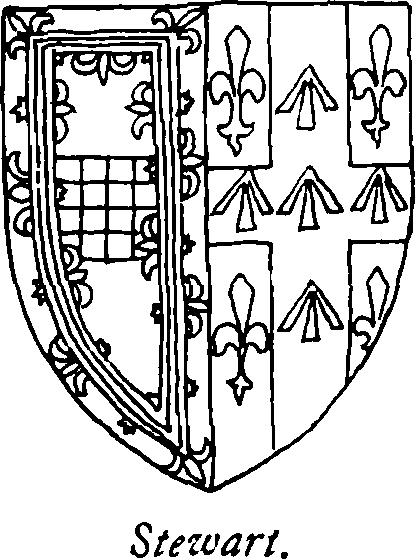 The inscription reads:
Here lyes the Body of
ELIZABETH STEWART
Wife of Thomas Stewart of Barbados
Mercht
who departed this life the 19th
Day of February 1717
Aged 55 years.
Here also lyes the Body of the said
THOMAS STEWART
who departed this life the 2d
Day of November 1722
Aged 56.
Also THOMASIN DAMARR
Daughter of the above
ELIZABETH STEWART
died April 30th 1758
Aged 70.
Arms: Or, a fess checky argent and azure within a double tressure counter-flowered gules (Stewart), impaling sable, on a cross between 4 fleursde-lis argent 5 pheons azure. Motto: nobilis ira.
Thomas Stewart was a benefactor to the church, and he lived at No. 32 Cheyne Row, where Thomasin Damarr lived after him. (See Survey of London, Vol. IV, Chelsea, Pt. II, p. 67.)