Pages 313-316
Survey of London: Volumes 29 and 30, St James Westminster, Part 1. Originally published by London County Council, London, 1960.
This free content was digitised by double rekeying and sponsored by English Heritage. All rights reserved.
CHAPTER XV
Bury Street
This street has been said (fn. 2) to derive its name from William Berry, who at the time of his death in 1735 was described as 'a half pay Officer, and Landlord of most of Berry Street St. James's. He was above 100 years old, and had been an Officer in the Service of King Charles the First.' (fn. 3) Berry's name does not appear in the Earl of St. Albans's rent-roll for 1676, (fn. 4) nor in any deed relating to Bury Street enrolled in the Middlesex Land Registry before 1735, nor, so far as is known, in any of the ratebooks for the street. His will, in which he described himself as of the parish of St. James, Westminster, was witnessed by Jonathan Hensby of the same parish, joiner, but it does not mention property in the area. (fn. 5)
It appears more likely that the name of the street was derived from Bury St. Edmunds. Rushbrooke, the country seat of the Jermyn family, was near that town, and from 1643 until his advancement to an earldom in 1660, St. Albans was Baron Jermyn of St. Edmundsbury.
All of the ground on both sides of Bury Street formed part of the land leased in 1661 by Henrietta Maria's trustees to the Earl of St. Albans's trustees for thirty years; subsequent grants extended this term to 1740. On 1 July 1671 the Earl's trustees granted twenty sub-leases of plots fronting Bury Street for terms of forty-four or forty-five years. In 1672 and 1673 they granted a further ten sub-leases. (fn. 4) The street first appears by name (as 'Berry Street') in the ratebooks of St. Martin's in 1673, when eleven names are recorded; in 1676 thirty-eight names are listed. (fn. 6) Ogilby and Morgan's map (Plate 2) shows that building along both sides of the street had been completed by 1681–2.
In 1720 Strype described Bury Street as 'a handsome open Street' and mentioned two courts opening out of it—Painter's Court (later Dolphin Court) on the west, and Guy of Warwick's Court (probably named after an inn of that name) (fn. 7) on the east. (fn. 8) An advertisement in the Daily Courant of 10 May 1723 describes the amenities of one of the houses in the street at that time: 'To be Sold, A House in Berry-street, of two Rooms and a large Closet on a Floor, with a Wash-house, Woodhouse, and other Conveniences out of Doors, in a handsome Garden encompassed with several others, which makes it both airy, healthy and pleasant; nor is it less valuable for the Commodiousness of the Situation, being near St. James's Church, Chapel, Park, Palace, Coffee and Chocolate Houses.'
In a letter dated 23 February 1755 Horace Walpole describes a fire in Bury Street. 'I am at present confined with a cold, which I caught by going to a fire in the middle of the night, and in the middle of the snow, two days ago. About five in the morning Harry waked me with a candle in his hand, and cried, "Pray, your honour, don't be frightened!"—"No, Harry, I am not: but what is it that I am not to be frightened at ?"—"There is a great fire here in St. James's Street."—I rose, and indeed thought all St. James's Street was on fire, but it proved in Bury Street. However, you know I can't resist going to a fire; for it is certainly the only horrid sight that is fine. I slipped on my slippers, and an embroidered suit that hung on the chair, and ran to Bury Street, and stepped into a pipe that was broken up for water.—It would have made a picture—the horror of the flames, the snow, the day breaking with difficulty through so foul a night, and my figure, party per pale, mud and gold. . . . There were two houses burnt, and a poor maid; an officer jumped out of window, and is much hurt, and two young beauties were conveyed out the same way in their shifts.' (fn. 9)
The freehold of the whole of Bury Street still belongs to the Crown, and all the existing buildings have been erected during the course of the last hundred years. Photographs in the Crown Estate Office show that the earlier buildings consisted for the most part of late seventeenth- or early eighteenth-century terrace-houses, mostly singlefronted and generally four storeys high (figs. 55, 56).
Bury Street has had a number of distinguished lodgers. In September 1710 Dean Swift recorded in the Journal to Stella that 'I lodge in Bury Street, where I removed a week ago. I have the first floor, a dining-room and bed-chamber, at eight shillings a week; plaguey deep, but I spend nothing for eating, never go to a tavern, and very seldom in a coach; yet after all it will be expensive.' He was there again early in 1713, (fn. 10) and in April 1726, when he lodged 'next door to the Royal Chair'. (fn. 11)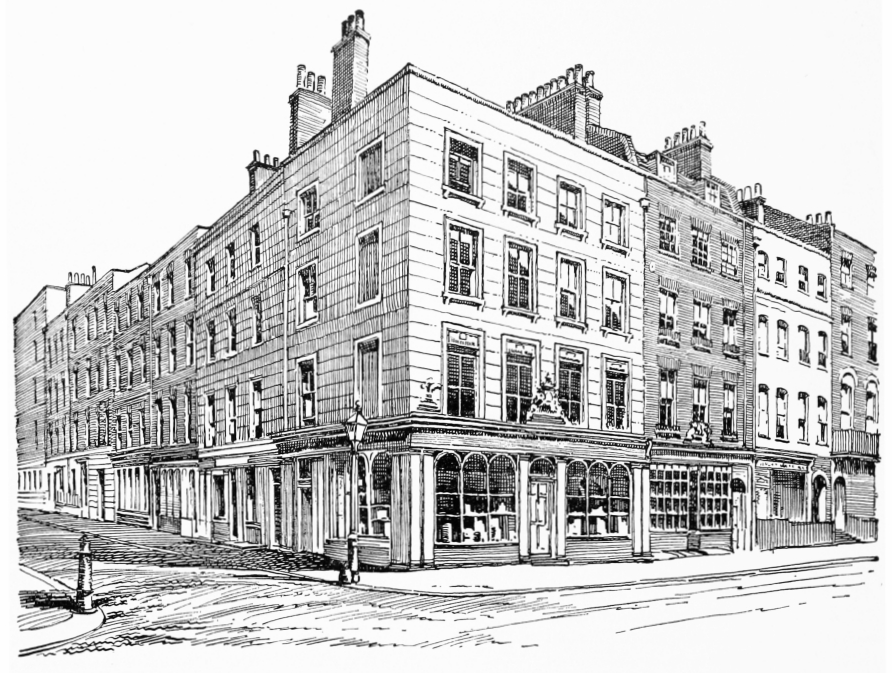 In October 1707 (Sir) Richard Steele took a house in Bury Street which he continued to occupy until 1711 or 1712. (fn. 12) A number of letters which he wrote to his wife there bear such inscriptions as 'To Mrs. Steele at Her House, 3rd door right hand, turning out of Germin Street' or 'at her House, the last House but Two on the left hand, Berry Street, St. James's', (fn. 13) which show that the house was on the west side of the street, probably on the site of the present No. 21 or No. 22.
In the 1750's and 60's George Brummell's grandfather, William Brummell, kept a lodginghouse at the east corner of Bury Street and Jermyn Street, (fn. 14) and one of his lodgers there was Charles Jenkinson, later first Earl of Liverpool. (fn. 15)
Tom Moore, the poet, records that he had rooms on the second floor of No. 28 Bury Street 'off and on for ten or twelve years', and that he wrote his Odes and Epistles from America there. Letters of his written from this house (which was formerly No. 27) cover the period 1805–11, and in one of them dated December 1810 he described his return to the house after an absence of two years: 'I came into my rooms, as if I had left them but last week; my flannel-gown airing at the fire; my books lying about the tables; and the very same little girl staring in at me from the opposite windows.' (fn. 16) (fn. 1) In 1826 Moore was lodging at No. 19 Bury Street; (fn. 17) three years later Daniel O'Connell stayed at the same house for a few weeks. (fn. 18)
In 1817 George Crabbe lodged at No. 37 Bury Street. (fn. 19) Thomas Creevey also lodged in Bury Street in 1832–4. (fn. 20)
A list of distinguished residents in Bury Street is contained in the Appendix.
Nos. 13–14 Bury Street and Nos. 12–16 (even) Ryder Street: Charity Commission
In 1896 James Ramsay, then the proprietor of Pearce's Hotel at the corner of Bury Street and Ryder Street, agreed with the Office of Woods and Forests for a building lease of the site of his hotel (which he wished to enlarge) and of the adjoining premises in both streets. Ramsay's architect was G. D. Martin of Pall Mall East, whose first three designs were rejected by the Office of Woods.
In May 1897 Ramsay agreed to sub-let the site to his builder, William G. Hornsey of West Ham, who took over direct responsibility for the building. A fourth plan was then submitted by Martin and approved in the following July. The original project had been for a private hotel, but this was now abandoned in favour of a much larger firstclass hotel and restaurant. Hornsey was to receive a sub-lease upon the completion of the work.
The building appears to have been begun in the latter part of 1897 and completed in carcase by October of the following year; it was opened in 1899 as the Marlborough Hotel. The new hotel had a short life. By 1902 William Hornsey was bankrupt, and in the following year the Commissioners of Works took over his building as offices for the Charity Commissioners, who had formerly been housed in Gwydyr House, Whitehall. (fn. 21) They still occupy the building.
Early Renaissance with a French bias is perhaps the most appropriate stylistic label for this extraordinary building, the perverse ugliness of which must give rise to speculation about the three rejected, and presumably more objectionable designs.
Built of red brick with plain bands and elaborate dressings of stone, now blackened, the exterior is divided into three stages—an arcaded ground storey, next a stage embracing two storeys, and then a smaller arcaded attic behind a balustrade resting on a bracketed cornice. The entrance, which is splayed across the corner, has a porch of widely spaced Doric columns supporting a steep triangular pediment. This porch projects from a round tower, with three windows in each storey, that rises with a belvedere stage above the main cornice line and is finished with a truncated cone roof. The flanking fronts are each divided by faceted ribs to form a wide bay next to the corner tower, with an oriel in the upper stage, and this is followed by a succession of narrow bays, each one window wide. The most elaborate detailing occurs in the ground storey, where the splayed reveals of the window arches are carved with an outsize egg-and-dart moulding, and florid ornament fills the spandrels. By contrast, the second and third storeys are relatively plain, with large mullioned-and-transomed windows, the individual lights generally having semi-elliptical heads. Elaboration returns in the fourth storey, or attic, where the recessed face of each bay contains a pair of round-arched windows with enriched spandrels.
Nos. 31–35 (consec.) Bury Street and Nos. 19, 21 and 21A Ryder Street
No. 21a Ryder Street was formerly No. 23 Ryder Street
The site of the present Nos. 31–35 Bury Street and Nos. 19–21a Ryder Street was cleared in the late autumn of 1900 to make way for a new building designed by Robert J. Worley of Lincoln's Inn Fields. Building work began in the autumn of 1901 and was completed in the latter part of 1902. The ground floor was designed as shops, the first floor as showrooms or offices, and the upper floors as residential chambers. Both the main façades were carried out in the same distinctive combination of terra-cotta and brick which Worley had used previously at Nos. 66–67 St. James's Street (see page 473). In 1906 Worley enlarged the first-floor accommodation by enclosing most of the space formerly occupied by an open balcony. (fn. 22)
In this building Worley has turned from the 'Elizabethan' style of Nos. 66–67 St. James's Street to one that is rather more classical, though without sacrificing the characteristic dressings of orange terra-cotta or the ungainly bow windows which protrude from the upper storeys. Prominent modillion cornices at second- and fourth-floor levels separate the four storeys into two equal stages, the lower one having wide display windows in the ground storey and a gallery above, the upper having mullioned-and-transomed bow windows divided in each storey by a couple of small, irregular, transomed windows. The lower stage is entirely of terra-cotta and has panelled pilasters with arabesque ornament between the windows in the ground storey. In the second storey are Ionic columns, similarly placed and linked by a balustrade. The outer bays, and the central bay in the long Bury Street front, are narrower, with pilasters instead of columns in the second storey, and fluted pilasters with a round arch between them, the balustrade breaking out to form a small balcony in front. There is a crowning balustrade over the top cornice, and behind it a row of dormer windows.