Pages 342-366
Survey of London: Volumes 31 and 32, St James Westminster, Part 2. Originally published by London County Council, London, 1963.
This free content was digitised by double rekeying and sponsored by English Heritage. All rights reserved.
CHAPTER XXI
Sackville Street: Stone Conduit Close
The site of Sackville Street, Albany and Burlington House was formerly known as Stone Conduit Close, and until its surrender to the Crown in 1536 it belonged to the Abbot and Convent of Abingdon. It is marked on the plan of 1585 (Plate 1) with a letter A, and contained 8 acres 3 roods 18½ perches. (fn. 1) The conduit head from which it derived its name is also depicted, standing about half-way along the south side of the field. The close was bounded on its west side by Penniless Bank and on its east by Swallow Close (see fig. 2), from which it was separated by a bank and a ditch. (fn. 5) In 1590 Thomas Poultney acquired the lease of Stone Conduit Close (and other lands) from James Harden, the Crown lessee. Shortly after the Restoration his descendant, Sir William Pulteney, was persuaded to surrender most of his land on the north side of what is now Piccadilly and to share it with the Earl of Berkeley, the Earl of Clarendon and Sir John Denham, in order that these grandees might build themselves large houses, conveniently near the Court of St. James.
About April 1664 Pulteney contracted with Edward Hyde, first Earl of Clarendon, to assign to him, for £450, part of Penniless Bank and two acres of Stone Conduit Close, amounting in all to eight acres. He presumably made a similar agreement with the Earl of Berkeley regarding another part of Penniless Bank and part of Stone Bridge Close or Field further west. In July 1664 all three closes were surrendered to the King, (fn. 6) who on 23 August granted them in fee to the Earl of Clarendon and his son, Henry, Viscount Cornbury. (fn. 7) Clarendon and Cornbury kept the eight acres for which they had paid £450, and on the following day they granted eight acres of the rest to Lord Berkeley, (fn. 8) seven acres of Stone Bridge Close to Sir William Pulteney, (fn. 9) and the remaining seven acres of Stone Conduit Close to Sir William jointly with Sir John Denham. (fn. 10) A brick wall was then erected to separate Pulteney's and Denham's part of the close from Clarendon's, (fn. 11) and on the formation of the parish of St. James in 1685 the line of this wall became part of the parish boundary; thereafter Clarendon's part of Stone Conduit Close remained in St. Martin's, with Penniless Bank and Stone Bridge Close, until the formation of the parish of St. George.
The deed which mentions the brick wall records the curious manner in which Pulteney and Denham agreed to divide their seven acres of Stone Conduit Close. The land which they held jointly was almost square, measuring about 560 feet on either side, and they agreed that each should have a strip 100 feet wide and that the remainder should be shared in common. (fn. 11) About a month later, on 1 October 1664, a royal warrant was granted to Pulteney and Denham to erect buildings on their land on condition 'that there be not builded thereupon above ten houses or Twelve at the most, and not any of those to Cost less then one thousand pounds the building'. (fn. 12)
Pulteney and Denham eventually divided the close in half with a brick wall, each taking three and a half acres of land. In 1667 Denham sold his ground, which comprised the sites of Burlington Arcade and Burlington House, to Richard, Earl of Burlington. (fn. 13) Pulteney divided his half into four pieces. In 1668 he sold the westernmost part, consisting of a strip 100 feet wide now occupied by Albany, to his friend and trustee, Sir Thomas Clarges, for an annuity of £22. (fn. 14) The other three pieces, comprising the site now occupied by Sackville Street and the houses on either side of it, were let by Pulteney to Richard Bull, Edward Bew and Robert Chipp respectively. All the leases expired around 1730, when the existing buildings were demolished for the formation of the modern Sackville Street.
Richard Bull's Ground: Piccadilly
In 1668 Sir William Pulteney leased a piece of his ground between Glasshouse (now Vigo) Street and Piccadilly to Richard Bull of St. Martin's in the Fields, gentleman, for sixty-two years. This land is now occupied by the houses on the western side of the present Sackville Street but was at that time still unbuilt. (fn. 15)
Bull was among the offenders mentioned in the petition which Lord Burlington addressed to the King in September 1671 (see page 8); he was then said to be erecting, and preparing to erect more 'small and meane Habitations and Cottages', which the Privy Council ordered him to demolish by 1 November. (fn. 16) Burlington's petition and other later references to Bull's building activities probably refer to Stone Conduit Close, although he also had a leasehold interest in another piece of Pulteney's land further east. (fn. 17) In 1672 he was twice reported to the Privy Council by Sir Christopher Wren, the Surveyor General, for continuing to erect stables and mean buildings on new foundations 'contrary to his Majesty's Proclamation [of April 1671] and his owne Ingagement, not only to the Surveyor but to persons of Honour his Neighbours who suffer and complayne of the Nusance'. (fn. 18) Ultimately Wren was ordered to imprison Bull's workmen 'if he doe goe on with the said buildings'. (fn. 19)
Ogilby and Morgan's map of 1681–2 (Plate 3a) shows, on the land let to Bull, a large house fronting Piccadilly, marked as Lady Stanhope's, and at the rear fronting Glasshouse Street a group of stables known as Bull's Yard. (fn. 20) The large house was taken by a succession of noble tenants: Horatio, first Viscount Townshend, (fn. 21) 1672–5; Lady Stanhope, 1676–86; the second Earl of Newburgh, 1687; the Countess of Denbigh, 1689–95; Lord Spencer, later third Earl of Sunderland, 1696–1702; the Countess of Sunderland, 1704 to at least 1707; the Marchioness of Wharton, 1716; and James, the third Earl of Berkeley, 1717–29, (fn. 22) who purchased Bull's lease in 1717. The assignment to Lord Berkeley included, among the appurtenances mentioned, a court-yard, a porter's lodge, a garden, a summer-house and a coach-house with stables. (fn. 23) In 1723 the property was described as 'another very noble House, [like Lord Sunderland's adjoining] also separate from Piccadilly … by a Wall, with green-grown trees before the Gate, a Port Cocher, and good Court-yard within'. The house was then occupied by 'Germans belonging to the King's Family'. (fn. 24)
The lease which had been granted to Richard Bull expired in 1730 and the house was demolished in that year to make way for Sackville Street. (fn. 25)
Robert Chipp's Ground: Chipp Street
Sir William Pulteney's land on the east side of Richard Bull's was let in two pieces. The northernmost, and smaller piece, was leased by Sir William in 1668 to Edward Bew of St. Martin's, merchant, (fn. 26) who perhaps erected the house with a large garden fronting Glasshouse Street shown on Ogilby and Morgan's map (Plate 3a). The larger piece, which had a frontage to Piccadilly, was let in 1670 to Robert Chipp or Chipps, a vintner. (fn. 27) There was at least one house already standing on this site, facing Piccadilly. Chipp built one other house, also facing Piccadilly, which was occupied by Sir William Petty, and he also laid out Chipp (later Sackville) Street.
The first house was occupied by Mrs. Marston (fn. 25), presumably the widow of Mr. Maston or Matthias Marston. (fn. 28) Under Chipp's ownership it became known as the 'Escuriell Taverne'. Whether it had been an inn in Marston's time or had been converted into one by Chipp is not certain. Chipp added three new rooms, furnished it with household wares and wines, had an inn sign painted for £5 10s., and installed his son Allen to manage the business. Allen Chipp had been 'bred in the trade of a Vintner … and … educated in the way of keeping a publike house of entartainment'. The choice of the name 'Escuriell' is explained by his being 'newly retourned out of Spaine where he had beene Attendant upon the late Earl of Sandwich, his Majestyes late Embassador there'. On the day before Allen's marriage in 1672 Robert Chipp settled a lease of the Escuriell on his son and prospective daughter-inlaw. Subsequently there was litigation between Robert and Allen Chipp, in which the latter ranged with his wife's family against his father. (fn. 29) The outcome of the case is not known, but Allen Chipp's name does not appear in the ratebooks after 1673. The Escuriell was demolished in 1730.
The Escuriell was probably the house shown on Ogilby and Morgan's map of 1681–2 (Plate 3a) on the east side of Ship Yard. The house shown on the west side was probably built about 1673, (fn. 30) when it was leased by Robert Chipp to Sir William Petty, the political economist. (fn. 31) Evelyn recorded that the house was 'gloriously furnished … nor was it his [Petty's] value (or) inclination to splendid furnitur and the curiositie of the age: but his Elegant Lady, who could indure nothing meane, and that was not magnificent'. (fn. 32) Sir William lived in this house until his death in 1687; (fn. 33) his wife, who was created Baroness Shelburne for life in recognition of Sir William's services in Ireland, survived him and died in 1708. (fn. 34) Lady Shelburne let the house for certain periods, to Henry Periman or Portman, 1693–6; the Earl of Abingdon, 1702; and the Dutch envoy, 1704–6. Lord Bruce appears as the ratepayer in 1716–26 and the Hon. James Brudenell in 1727–9. (fn. 25) The house was demolished in 1730 to make way for the present Sackville Street.
Between the Escuriell Tavern and Sir William Petty's house Robert Chipp laid out the street which is shown on Ogilby and Morgan's map as Ship Yard. On 5 December 1671 Christopher Wren certified that he had examined the ground and Chipp's design for its development and thought that it was allowable under the original building licence granted to Denham and Pulteney (see page 342). Brewing and other offensive trades were forbidden and Chipp was warned to build only 'regularly with Brick, and Sufficient Scantlings of Wall and Timber'. (fn. 35)
Josias Thompson, carpenter, took a building lease from Chipp (fn. 21) and so may have John Cock, the plumber who worked on St. James's Church, for in 1692 he let a house in the street from which three females were taken into custody for having 'A considerable Quantity of Clippings of the lawfull and Current Coine of this Realme'. (fn. 36)
The earliest reference to the street appears to be in 1675 in Ogilby's Britannia: 'you have Portugal Street on the left … whence by Swallow Street and Chip Street successively on the Right … you pass by S. Thomas Clarges's, and Burlington House on the Right'. (fn. 37) On Ogilby and Morgan's map the street turns at a right angle into Swallow Street, two-thirds of the way between Portugal Street (Piccadilly) and Glasshouse Street.
There is a reference to 'Chipps alias Sackville' Street in 1691 in the records of the Commissioners of Sewers, (fn. 38) but the second name was current much earlier, (fn. 39) and apparently dates from 1675, when a Captain Edward Sackville became the tenant of a house on the west side of the street. Edward Sackville was the younger brother of the fifth Earl of Dorset and in June 1675 he took a twenty-one-year lease of the house from Josias Thompson. (fn. 21) Sackville was Thompson's first tenant and details of his upholstery furnishings are found in a bill from Pat Barrett dated June 1675. (fn. 40) For the dining-room Barrett provided a suit of hangings of 'French yallow Parrogon … Printed with Roman Statuaries and other Ornament' and 'Shashes … excellently well painted'. Another set of hangings, perhaps for the bedroom, were in 'Persian Taffettie, Printed with Roman Statuaries' with 'Sattin Pillers and Borders'; the bed itself was 'Lined with Sattin Flowered', and clothed with a quilt, head-piece and tester of satin and was 'Painted with Imagery in Gold'. Fringes, bell buttons and a set of gold cups and claws completed the bed furnishings. Sackville lived for only three years in the street to which he gave his name, for he died in 1678.
There were never more than about twenty houses in the first Sackville Street, (fn. 39) which was described in 1720 as 'a pretty handsome open Place' with 'a Prospect into the Gardens', presumably of the great houses westward. (fn. 41)
On the expiry of the three leases granted by Sir William Pulteney to Richard Bull, Edward Bew and Robert Chipp, William Pulteney, later Earl of Bath, the then owner of the property, decided to demolish the existing street and to rebuild it. The site was cleared in 1730.
Sackville Street
The new street was laid out on the lines of the former leasehold divisions, the ground on the west side corresponding with Richard Bull's land, the roadway and ground on the east side corresponding with Bew's and Chipp's. The west side adjoined the spacious garden of Sunderland House, with the larger garden of Burlington House lying immediately beyond. The east side, however, abutted against the backs of the small buildings in Swallow Street. This siting allowed for deep and wide plots for fine houses on the west side (except at the south end where the ground adjoined the side elevation and offices of Sunderland House), and smaller plots for standard houses on the east. There were originally twenty-one plots on the east side, eighteen on the west (one being a corner site), seven fronting Piccadilly and three (one of which was attached to No. 28 Sackville Street) fronting Glasshouse Street (see fig. 59). The seven plots fronting Piccadilly and the two eastern most fronting Glasshouse Street were leased in 1742, some ten years later than those facing Sackville Street. The ratebooks show, however, that the houses there were erected at the same time as those on the other plots.

On 1 May 1730 William Pulteney signed articles of agreement with Thomas Phillips of St. George's, carpenter, and John Mist of St. Anne's, paviour. (fn. 42) The terms of this agreement are not known, but most of the building leases subsequently granted by Pulteney to individual craftsmen for the erection of houses in Sackville Street were granted at the direction of Phillips and Mist, and it is therefore probable that they acted as principal contractors and supervised the joint work of the individual building tradesmen. After their deaths in 1736 (fn. 43) and 1737 respectively (fn. 44) the later leases of the houses facing Piccadilly and Glasshouse Street were granted at the direction of Phillips's widow, Elizabeth, and of Mist's executors, who were his brother-in-law George Devall and his friend Thomas Rea.
Between 24 December 1730 and 8 June 1732 Pulteney granted thirty-eight building leases. On 31 July 1734 he granted one more, and on 20 March 1741/2 another nine, these last being for the seven plots facing Piccadilly and for the two easternmost plots in Glasshouse Street. All the leases were to expire at midsummer 1791, and nearly all of them were granted to individual tradesmen, the largest number (thirteen) being taken by Benjamin Timbrell, carpenter, of St. George's, Hanover Square. Timbrell's status is not clear, but as he was a party to several leases granted to other craftsmen, it is possible that he was in these instances employed directly by Pulteney and not by Phillips and Mist. All the leases are tabulated below.
The fines or premiums paid to Pulteney at the granting of the leases (excluding those of the two plots in Glasshouse Street and seven in Piccadilly, which were granted in 1742 without fines) amounted to £2534; the annual rent payable amounted to very nearly £500. (fn. 45) Most of the new houses were ready for occupation by 1733. (fn. 25) Only Nos. 29 and 36 seem to have been finished expressly for the persons who later occupied them. (fn. 46)
Sackville Street must have been very attractive when first built, its width of about 42 feet being generously proportioned to the houses, mostly of three storeys, with fairly uniform fronts of simple design, built of good stock brick with stone dressings sufficient to avoid an appearance of monotony. Something of this charm survived until the end of 1961 in the northern half of the street, although many of the houses had been altered and most had been heightened by an added attic storey (Plate 128).
The street is now in course of complete rebuilding to a uniform design commissioned by the ground landlord, the Sutton estate, from George J. Skipper. The elevational drawings of his original scheme were prepared in the late 1920's. With each side of the street resembling a Palladian mansion between wide-flung wings, this design was obviously ill-suited for its purpose, that of providing façades for modern shop and office buildings. Consequently a revised scheme was prepared, of which a perspective drawing was published in July 1931, showing the Piccadilly end and the east side as far as the central feature. (fn. 47) At either end of the street, each side was to terminate with a pavilion feature of three bays, with an arcaded ground storey and the upper three storeys recessed behind an Ionic pseudoportico, finished with a pediment rising against a high attic. A similar feature in the centre of each side was to be flanked by wings of a single bay, with the upper-storey windows framed by a high arch. Each intervening frontage was to consist of two simply designed house-fronts, separated by a segmental bow-fronted feature. The end pavilions, the central feature, and the bowed fronts, were to be wholly of stone, and the intervening housefronts of red brick with stone dressings. It was first intended that the central part of the west side should be recessed to provide space for fountains and flower beds, but this idea has been abandoned. It remains to add that the south end of the street was built in fairly close conformity with the design of 1931, but in the later stages of rebuilding changes have been made, by omitting piers and columns from the ground storey, by adding high attics and roofs where building regulations have allowed this, and by redesigning the central features.
Though perhaps not in the first rank of fashion, the larger houses in Sackville Street, particularly those on the west side, attracted throughout the eighteenth century the minor nobility, the dowager, the member of Parliament, the senior army officer and the prosperous medical man. But the present commercial character of the street is not of recent origin. Even at the time of building there were three shops (two apothecaries' and a cheesemonger's), one tavern and a coffee house. By the beginning of the nineteenth century the tailoring trade, which is so prominent in the street today, had already established itself. Out of thirty-two tradesmen and professional men listed in Sackville Street in the Post Office directory for 1830 about 40 per cent (thirteen) were tailors; the next largest group consisted of four solicitors. This proportion has not changed considerably to-day (1962), for although many of the houses have been divided and there are fewer private occupants, about 34 per cent of the one hundred and fifteen listed tradesmen and professional men are tailors.
Shaftesbury Avenue LEASES GRANTED BY WILLIAM PULTENEY
Note: The rebuilding of the south end and north-east corner has obscured the original house-plots. The numbering in this table corresponds with the numbers used before this rebuilding and follows Horwood's map with two exceptions. These are due to the rebuilding of No. 23 as two houses (Nos. 23 and 24) and the subsequent renumbering of the Sunderland Arms as No. 25A.
No.
Date of lease
M.L.R. (fn. 2) reference
Term of years
Rent
Frontage
Lessee
Designation
Address
Associated builders or architects
First occupant
Period of residence
£
s.
d.
EAST SIDE
1 and 2 3
see below under 21 March 1731/2
Piccadilly, 'E' 1732/1/80
60 from Midsummer 1731
5
5
0
14'
George Devall
plumber
St. Andrew's, Holborn
John Mist of St. Anne's, paviour, and Thomas Phillips of St. George's, Hanover Square, carpenter, parties to lease
Josiah Higden, apothecary
1733–79 or 1780
4 (on site of present Nos. 2–5)
do.
1732/1/81
do.
7
17
6
21'
do.
do.
do.
do.
Francis Manning of St. George's, Hanover Square, esquire, assignee 1732 (fn. 48)
1733–41
5 (on site of present Nos. 2–5)
8 June 1732
1735/4/278
do.
do.
do.
Richard Cobbet(t)
glazier
St. James's
do.
Anne Boswell
1733–42
6
do.
1732/3/337
do.
7
19
0
21' 2"
Philip Speed
locksmith
do.
do.
Sarah Meggot
1733–6
7
do.
1732/3/339
do.
10
6
3
27' 6"
Benjamin Timbrell
carpenter
St. George's, Hanover Square
do.
Hon. Abigael Heron of Lincs., widow, assignee 1733 (fn. 49)
1734
8
do.
1732/3/338
do.
13
18
4
32' 3"
do.
do.
do.
do. and Henry Flitcroft of Whitehall, mortgagee 1751 (fn. 50)
Alexander Hume, M.P.
1733–48 or 1749
9
21 March 1731/2
1732/1/82
do.
7
10
0
20'
George Devall
plumber
St. Andrew's, Holborn
Mist and Phillips as above
Lady Mary Duke
1733–42
10
do.
1732/1/83
do.
do.
do.
Dennis Clough
bricklayer
St. James's
do.
Admiral Charles Stewart (Steward) of Kent, assignee 1732 (fn. 51)
1733–40
11
31 July 1734
1734/3/123
57 from Midsummer 1734
7
12
6
20' 3"
William Blakesley
bricklayer
St. James's
Mist and Phillips as above
John Crookshanks, ? naval captain
1733–4
12
8 June 1732
1732/3/340
60 from Midsummer 1731
7
13
2
20' 5"
do.
do.
do.
do.
Lord Falkland, 7th Viscount
1733–4
13
do.
1732/3/341
do.
7
19
2
21' 2"
William Hale
mason
St. George's, Hanover Square
do.
Lady Stafford
1734–8
14
do.
1732/3/342
do.
7
11
8
20' 2"
Robert Umpleby
do.
do.
do.
Lucy Rice
1733–45
15
do.
1732/3/343
do.
7
16
6
20' 9"
William Godfrey
do. (fn. 52)
do.
do.
Anne Read
1733–47
16
8 (June ?) 1732
1732/3/344
do.
8
2
6
21' 8"
Joseph Buckoke
carpenter
St. James's
do. and John Snook of St. James's, bricklayer, mortgagee 1732 (fn. 53)
Esther Salisbury
1733–43
17
14 February 1731/2
1731/4/408
60 from Midsummer 1731
7
10
0
20'
Thomas Coggin (Coggan)
apothecary
St. James's
Mist and Phillips as above
Thomas Coggan
1733–?52
18
do.
1731/3/487
do.
do.
do.
William Hale
mason
St. George's, Hanover Square
do. and Francis Commins of St. George's, mason, mortgagee 1732 (fn. 54)
Elizabeth Hitch
1733–51
19
do.
1731/4/409
do.
do.
do.
John Snook
bricklayer or carpenter (fn. 55)
St. James's
Mist and Phillips as above
Capt. Standley
1733–4
20
do.
1731/3/486
do.
do.
do.
Joseph Stallwood
bricklayer
St. Giles in the Fields
do. and Francis Commins of St. George's, mason, mortgagee 1732 (fn. 56)
Francis Allen
1733–55
21
21 March 1731/2
1732/1/163
do.
7
2
6
19'
William Mantle
plasterer
St. George's, Hanover Square
Mist and Phillips as above
Ignatius Smith
1733–43
22
14 February 1731/2
1731/3/485
do.
7
17
6
21'
Benjamin Timbrell
carpenter
do.
do.
Zachary Chambers, Chief Clerk in the Exchequer
1733–44 or 1745
23 (later Nos. 23 and 24)
11 September 1731
1731/4/8
do.
9
0
0
37'
do.
do.
do.
do.
Thomas Hamstone, licensed victualler
1733–42
25A The Sunderland Arms
20 March 1741/2
1742/1/267
49½ from Christmas 1741
8
0
0
40' 6" (18' 6" to Glasshouse Street)
George Devall and Thomas Rea as extrs. of John Mist
Henry Clark, licensed victualler
1732–5
WEST SIDE
25
24 May 1731
1731/2/25
61 from Midsummer 1730
6
3
6
19'
William Meredith
cheesemonger
St. James's
Benjamin Timbrell, party to lease; William Mantle of St. George's, plasterer, mortgagee 1731 (fn. 57)
William Meredith
1732–65
26
do.
1731/2/24
do.
9
7
6
23'
Joseph Smallwood (Stallwood)
bricklayer
St. Giles in the Fields
Benjamin Timbrell of St. George's, carpenter, party to lease
Rachel Etherick
1733–61
27
19 March 1730/1
1730/5/397
do.
15
12
0
35'
Benjamin Timbrell
carpenter
St. George's, Hanover Square
Jane Taylor of St. Anne's, widow (fn. 58)
1733–58
28
do.
1730/5/396
do.
33
0
0
45'
do.
do.
do.
John, Lord Lymington, later 1st Earl of Portsmouth
1733–7
29
24 December 1730
do.
15
3
0
31'
William East
William East, barrister
1733–7
30
11 September 1731
1731/4/7
60 from Midsummer 1731
19
13
6
41'
Benjamin Timbrell
carpenter
St. George's, Hanover Square
Mist and Phillips as above
6th Earl of Abercorn
1733–4
31
11 September 1731
1731/4/6
60 from Midsummer 1731
16
19
0
36' 2"
Benjamin Timbrell
carpenter
St. George's, Hanover Square
Mist and Phillips as above
Thomas Winford, M.P.
1733–52
32
do.
1731/4/5
do.
15
19
0
34'
do.
do.
do.
do.
General Wetham
1733–41
33
do.
1731/4/4
do.
10
9
0
22'
George Pearce (Pearse)
plumber
St. Martin's in the Fields
do.
Thomas Lowder (Lowther) of St. Martin's, gentleman, assignee 1732 (fn. 59)
1733–6
34
do.
1731/4/3
do.
12
5
0
26'
Benjamin Timbrell
carpenter
St. George's, Hanover Square
do.
Lady Cardigan; or Hon. Oliver Lambart of St. James's, assignee 1732 (fn. 60)
1733–4, 1738–45; 1733, 1735–7
35
8 June 1731
1731/1/100
do.
12
3
0
27'
John Scroop (Scrope)
esquire
St. Margaret's
do.
John Scrope, judge and M. P.
1733–52
36
22 June 1732
do.
14
17
0
33'
Edmund Turnor
Henry Flitcroft, party to lease (fn. 61)
Edmund Turnor
1733–97
37
23 August 1731
1731/3/240
do.
11
17
0
24'
Benjamin Timbrell
carpenter
St. George's, Hanover Square
Mist and Phillips as above
Lady Mary Forrester
1733–7
38
9 July 1731
1731/3/237
do.
10
7
0
22'
Thomas Green(e)
upholder
St. James's
do.
Thomas Greene
1733–47
39
do.
1731/3/241
do.
9
17
6
21'
William Hale
mason
St. George's, Hanover Square
do.
Lady Charlotte Scott
1733–45
40
23 August 1731
1731/3/239
do.
10
2
6
22'
Benjamin Timbrell
carpenter
do.
do.
Lady Downing
1733–4
41
do.
1731/3/242
do.
9
4
0
19' 4"
Thomas Royce (Royse)
mason
do.
do.
Lady Erwin or John Towsey
1733 1733–54
42
do.
1731/3/238
do.
7
10
0
17'
Benjamin Timbrell
carpenter
do.
do.
Thomas Browne
1733–48
PICCADILLY
A
20 March 1741/2
1742/1/272
49½ from Christmas 1741
12
0
0
22' 6"
John Wright
merchant
St. James's
John Mist's executors and Thomas Phillips's widow, parties to lease
John Wright, wine merchant (fn. 62)
1732–58
B
do.
1742/1/271
do.
10
14
0
18' 9"
Elizabeth Phillips
widow
St. George's, Hanover Square
John Mist's executors, party to lease
Isabella Carsburne
1732–8
C
do.
1742/1/270
do.
11
0
0
19' 5"
do.
do.
do.
do.
Elizabeth Meggott
1732–42
D
do.
1742/1/269
do.
12
0
0
18' 6" (70' to Sackville Street)
do.
do.
do.
do.
Benjamin Field
1732–6
E
do.
1742/1/266
do.
10
0
0
18' 6" (61' to Sackville Street)
George Devall and Thomas Rea as executors of John Mist
plumber brewer
St. Andrew's, Holborn and Knightsbridge
Elizabeth Phillips, party to lease
Maurice Butler, licensed victualler (fn. 63)
1733–41
F
do.
1742/1/265
do.
do.
18' 6"
do.
do.
do.
do.
Thomas Conner
1733
G
do.
1742/2/164
do.
do.
20'
do.
do.
do.
do.
George Devall
1732–55
GLASSHOUSE STREET (NOW VIGO STREET)
Stables
20 March 1741/2
1742/1/268
do.
6
2
0
37' 6"
do.
do.
do.
do.
INHABITANTS OF NOTE (fn. 64)
This list does not include the first inhabitants, who are listed in the table above.
4. Colonel Masterton, 1768–76.
6. Lady Margaret Herbert, 1737–46; Colonel Beauclerk, 1766–7; Baron de Wenzel, 1785–93; Charles Kemble, 1818–20, ? the actor.
7. Henry Fane, brother of the eighth Earl of Westmorland, M.P., 1735–77 (see also No. 8); his son, John Fane, M.P., 1778–97.
8. Lady Hereford, 1749–56; Henry Fane, 1757–62 or 1763 (see also No. 7); General Robert Monckton, 1765–8; the Rev. Dr. Jubb, 1769–80, ? George Jubb, D.D.; Sir John Nelthorpe, 1783– 1796; Edmund Wigley, M.P., 1802–13.
9. Colonel Handyside, 1743; the Hon. Thomas Leslie (Capt. Leslie), Equerry to the Prince of Wales, brother to the tenth Earl of Rothes, 1752– 1772; Sir Gilbert Blane, physician, 1822–34 (see also Nos. 12, 21, 33).
10. Lord Southwell, second Baron Southwell, 1745– 1747; Admiral Charles Steward or Stewart, 1733–40, 1748–65.
11. Messrs. Barnes and Amyard (Claudius Amyard, principal and sergeant surgeon to the King), 1748–51; Molyneux Shuldham, first Baron Shuldham, 1782–91; Dr. Samuel Glasse, theologian, 1803–11.
12. Dr. Wilmot, 1740–3, ? Sir Edward Wilmot, physician to members of the royal family; Colonel, later General, Studholme Hodgson, 1751–66; Admiral Edward Broderick, 1766–76; Lady Roper, 1776–85; Dr. (Gilbert) Blane, 1786–91 (see also Nos. 9, 21, 33).
13. Sir Robert Goddere, 1762–72; Sir Robert Wilmot, 1772–5; Baron Kutzleben, 1780–3.
14. Dr. Richard Warren, physician to the Prince of Wales, 1759–66 (see also No. 32).
16. Lady Hilton, 1758–63; John Parker, M.P., 1764–9 (see also No. 29).
18. Dr. John Snow, commemorated by a London County Council memorial plaque as the 'physician and specialist anaesthetist who discovered that cholera is water-borne', 1853–8.
21. Elizabeth Heathcote, daughter of Sir William, 1753–63; Dr. (Gilbert) Blane, 1783–5 (see also Nos. 9, 12, 33).
22. Admiral (later Sir) Charles Knowles, 1756–64; Colonel St. John, 1764–7; (Sir) Benjamin Collins Brodie, surgeon (pupil of Sir Everard Home, see No. 30), 1810–19.
24. Frederick John Sang, decorative artist, 1867–72; F. Sang, architect, 1873–81.
25. John Thomas Wimperis, architect and churchwarden, 1859–1904.
27. Sir John William Gardiner, 1783–91; Robert R. Banks and Charles Barry, junior, architects, 1855–64.
28. Eighth Earl of Winchilsea, 1738–55; Sir Matthew Lamb, first baronet, M.P., 1756–68; Sir Peniston Lamb, first Baron Melbourne, 1769–74; Sir John Sebright, sixth baronet, lieutenant-general, 1775–85; Walter Boyd, financier, M.P., 1796–9; Dowager Duchess of Rutland, widow of the fourth Duke, 1799–1831.
29. John Calcraft, the elder, politician, 1764–70; John Parker, M.P., first Baron Boringdon, 1770– 1788 (see also No. 16); Henry Barry, eighth Earl of Barrymore, 1810–13.
30. Elizabeth, Countess Dowager of Abercorn, 1735– 1754; Lord Stamford, fourth Earl, 1754–62; Lord Grey, fifth Earl of Stamford, 1766–78; the Hon. Mrs. Anne Damer, sculptress, 1790–4 (but see page 371); Sir Everard Home, surgeon and first baronet, 1798–1830.
31. General Humphrey Bland, Governor of Edinburgh, 1752–63; Mrs. Bland, his widow, 1763– 1788; Elizabeth Bland, 1789–1808.
32. Major, later Colonel, Forth, 1742–59; Dr. Warren, 1766–88; Dr. John Warren, 1789–90; Dr. Richard Warren, physician to Prince of Wales, 1791–6 (see also No. 14); Board of Agriculture, 1798–1822, and Arthur Young, agricultural economist, resident secretary, 1798–1820. Many charitable and learned societies had their headquarters here between 1824 and 1912.
33. Sir Henry Gough, 1737–9; Sir John Gough, 1740; Lady Campbell Hamilton, 1741–9; Mrs. Campbell Hamilton, 1753–70; Lady Abdy, 1775–91; Dr. (Gilbert) Blane, 1791–1802 (see also Nos. 9, 12, 21).
34. Lady Cardigan, 1738–45; Thomas Hay, Viscount Dupplin, later ninth Earl of Kinnoull, 1747–53; John Calcraft, the younger, politician, 1804–9.
35. Francis Fane, M.P. (nephew of John Scrope, judge and M.P., who lived here, 1733–52), 1753–7; Thomas Fane, eighth Earl of Westmorland, 1758–71; John Fane, ninth Earl of Westmorland, 1771–4; Countess of Westmorland, 1775–8; Lieutenant-Colonel John Woodford, who married the Countess of Westmorland, 1778; John Fane, tenth Earl of Westmorland, 1779–84.
37. Captain Charles Vanbrugh, brother of Sir John, 1738–40; Mrs. Vanbrugh, his widow, 1741–2; Edward Vanbrugh, 1743–5, 1749–56.
38. Colonel Perry, 1749, 1752–5; Colonel (later General) William Taylor, 1770–87; Jacob Kirkman, composer, 1789; Herbert Jenner, 1804, 1806–8, ? Sir Herbert Jenner-Fust, Dean of the Arches.
39. Colonel Perry, 1749–51; Charles or Colonel Beauclerk, 1774–5; Thomas Hutchinson, Governor of Massachusetts Bay, 1778–80; Richard Lambart, seventh Earl of Cavan, 1783–94 (see also No. 40).
40. Oliver Lambart, 1735–7; the Hon. Mrs. Frances Lambart, 1738–50; Colonel Richard Lambart, later sixth Earl of Cavan, 1751–74; his son Richard, seventh Earl, 1774–9; William Prout, physician and chemist, 1830–50.
41. Joseph Parkinson, architect, 1826–49.
East side
Nos. 1–8 (consec.) Sackville Street
Demolished
Nos. 1 to 8, at the south end of the east side, were demolished in the 1930's without records being taken. It is recalled, however, that No. 7 had its ground storey arranged with two rooms, back and front, to the north of a large entrance hall and a stair compartment. Beyond this last was a wing containing a fair-sized room and a closet. The hall was lined with ovolo-moulded panelling above a panelled dado, and the projecting chimney-breast contained a semi-domed niche. The stair compartment was almost square and rose through the four storeys, being lit through a glazed dome. The handsome staircase was of wood, with carved brackets to the cut strings, and a moulded mahogany handrail supported by column newels and turned balusters. It rose in three flights between each landing gallery, finishing at the second-floor level. The principal rooms were lined with ovolo-moulded panelling.
Nos. 9–15 (consec.) Sackville Street
Demolished 1961–2
These seven houses were basically similar, all containing a basement and four storeys, the attic probably being a reconstruction of a roof garret (Plate 128b, figs. 60–2). The fronts were fairly uniform and the houses generally appear to have been designed or built in pairs, sharing a first-floor stringcourse and a main cornice, returned at each end. The influence of Henry Flitcroft could be seen in the design of the original doorcases, and in the general restraint of the detailing and composition. In every house the ground storey had been altered, shop-windows had been formed at Nos. 11 and 13, and in all cases the original brick work had been faced with stucco, channel-jointed in the manner of stone courses. Nos. 10, 11, 12, 13 and 14 had retained the doorcases typical of Flitcroft, with a moulded architrave flanked by plain jambs, and a cornice-hood resting on scrollconsoles. The round-arched doorways of Nos. 9 and 14 were probably formed when the ground storeys were stuccoed. The upper face of each house was of plain brickwork above the first-floor bandcourse or pedestal, as at No. 10. The two tiers of three evenly spaced windows were generally furnished with modern undivided sashes recessed in plain openings, with stone sills and flat arches of gauged brickwork. Presumably, the fronts were originally finished with a plain brick parapet above the frieze-band and main cornice. The height of the attic storey, and the proportions of its windows, seem to confirm that this was in every case an alteration to the original mansard garret. The front of No. 10 differed from the rest in that the ground-and first-floor windows had segmental-arched heads and inner margins of brickwork to the openings, while the second-floor windows had shallow aprons and gauged flat arches worked into the projecting frieze below the main cornice. These peculiarities must have resulted from a partial refacing of the front.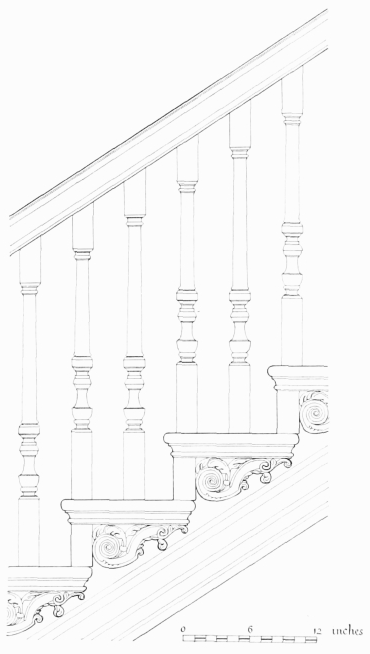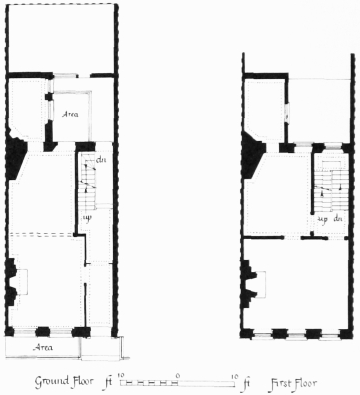 Internally, these houses were generally similar to No. 16, described in some detail below. The quality of the panelling varied from house to house, and some staircases had more elaborate turnings than others. It is worth noting that the first-floor front room of No. 12 had a charming Rococo ceiling, surrounded by a highly enriched modillion cornice (Plate 146b), but generally the decoration was limited to the woodwork.
No. 16 Sackville Street
No. 16 has been selected for description and illustration as a typical house on the east side (figs. 63–4). It has a good interior, sufficiently free from alteration to allow its present state to be checked against an inventory made in 1789. (fn. 65) Fronting 21 feet 8 inches, the body of the house is about 30 feet in depth, with a much altered back wing extending against the south boundary line. The building lessee was a carpenter, Joseph Buckoke, and this is in every way a typical carpenter's house.
The plan has the conventional arrangement of a front room, two windows wide, to the south of an entrance passage which opens directly into the stair compartment, containing a dog-legged staircase rising from basement to attic. South of the staircase is a back room with one window and a door opening to the wing, originally containing a room and a closet. This arrangement is repeated in the basement, and on the first and second floors, where the front room extends the full width of the house and has three windows. The rooms listed in the inventory of 1789 were described as a kitchen, larder, vaults and a wash-house in the basement, two parlours and a housekeeper's room on the ground floor, a dining-room, dressingroom and a third room on the first floor, with bedrooms above.
The entrance passage is lined with raised-andfielded panelling set in ovolo-moulded framing, with a narrow skirting, a moulded chair-rail and a box-cornice. The junction with the stair compartment is marked by Doric pilasters with fluted shafts. The dog-legged staircase is of wood and up to the half-landing above the first-floor level it is furnished with a moulded mahogany handrail, noted in the inventory. This handrail begins with a curtail and rests on Doric column newels and balusters turned as slender Doric columns on urn-shaped bases, rising two to each tread from cut strings ornamented with well carved brackets of Rococo design. The upper flights are more simply finished with moulded deal handrails resting on attenuated baluster turnings, rising from closed strings.
The three ground-floor rooms retain much of their original raised-and-fielded panelling, similar to that in the entrance passage, and in the 'fore parlour' is the original chimneypiece, mentioned in the inventory, a typical early eighteenth-century example consisting of a wide flat architrave in figured white marble, the inside angles rounded and the face bordered with simple mouldings. The surrounding wood moulding, an ovolo carved with egg-and-dart, is also mentioned. This fireplace contains a fine late eighteenth-century hob grate of duck's nest pattern. The chimneypiece in the back parlour is now concealed, but is said to resemble that in the front room.
The first-floor rooms are completely lined with raised-and-fielded panelling in ovolo-moulded framing, with a narrow skirting, and a moulded chair-rail, but the original box-cornice has been replaced by an enriched plaster cornice of late eighteenth-century character. This was presumably part of a fashionable refurbishing of these rooms, for the inventory states that they were 'wainscotted chair high and hung with paper', probably on canvas stretched over the panelling. The two six-panelled doors in the front room have architraves with enriched mouldings (mentioned in the inventory). In the back room is an original chimneypiece of marble with an egg-and-dart ovolo frame of wood, and in the front room a similar moulding has been re-used in conjunction with a frieze and cornice-shelf of 'Adam' character, probably modern. The wing room has been greatly altered and there is now no trace of the 'fireplace with Dutch tiles' noted in the inventory. The second-floor plan repeats that of the first-floor, and the rooms there are lined with simple rebated panelling, the cornice being an original one of wood, small in girth. The attic storey has been largely modernized, but between the front room and the staircase landing is an old partition formed of tall boards feathered and housed into posts.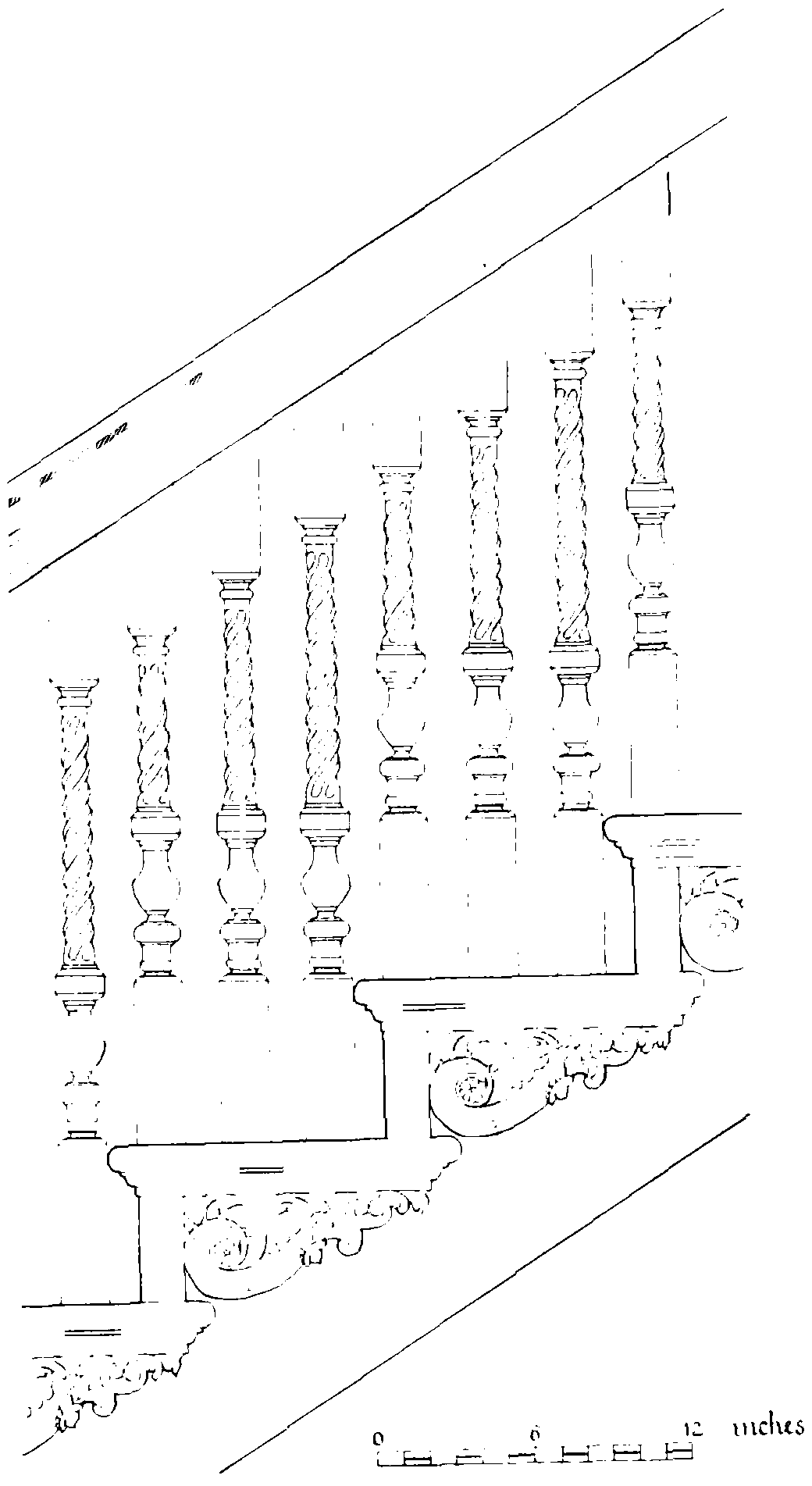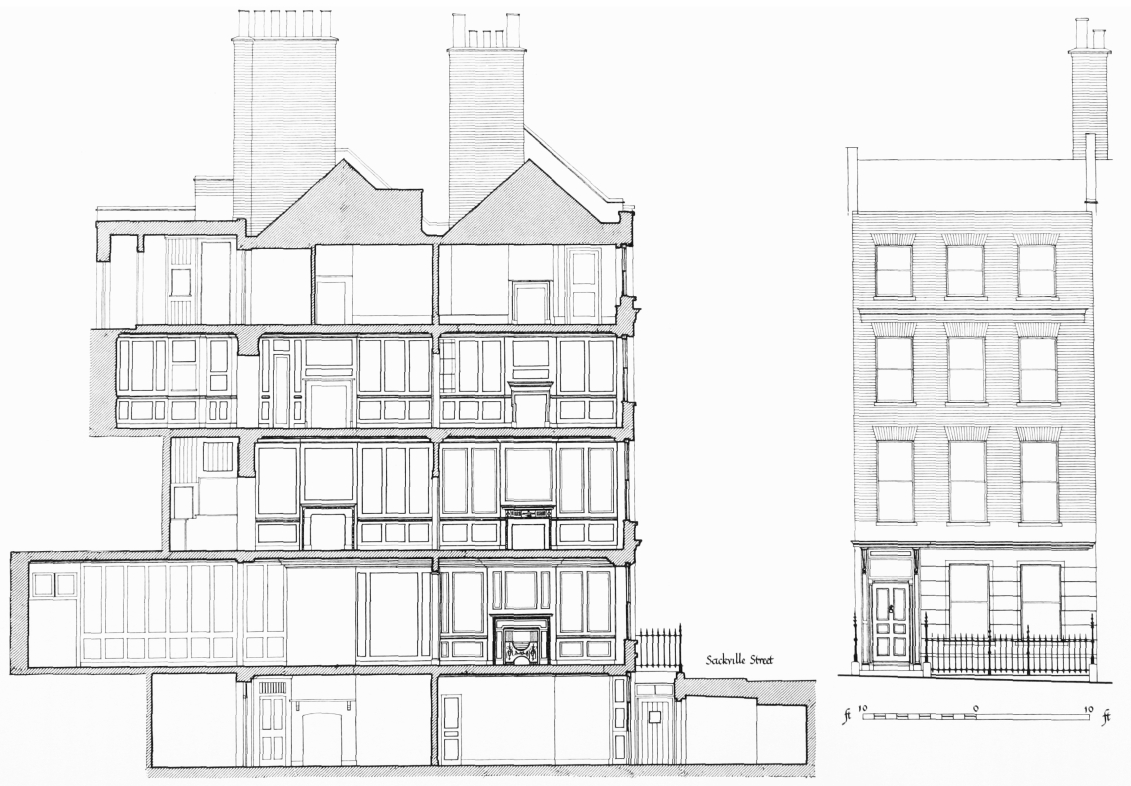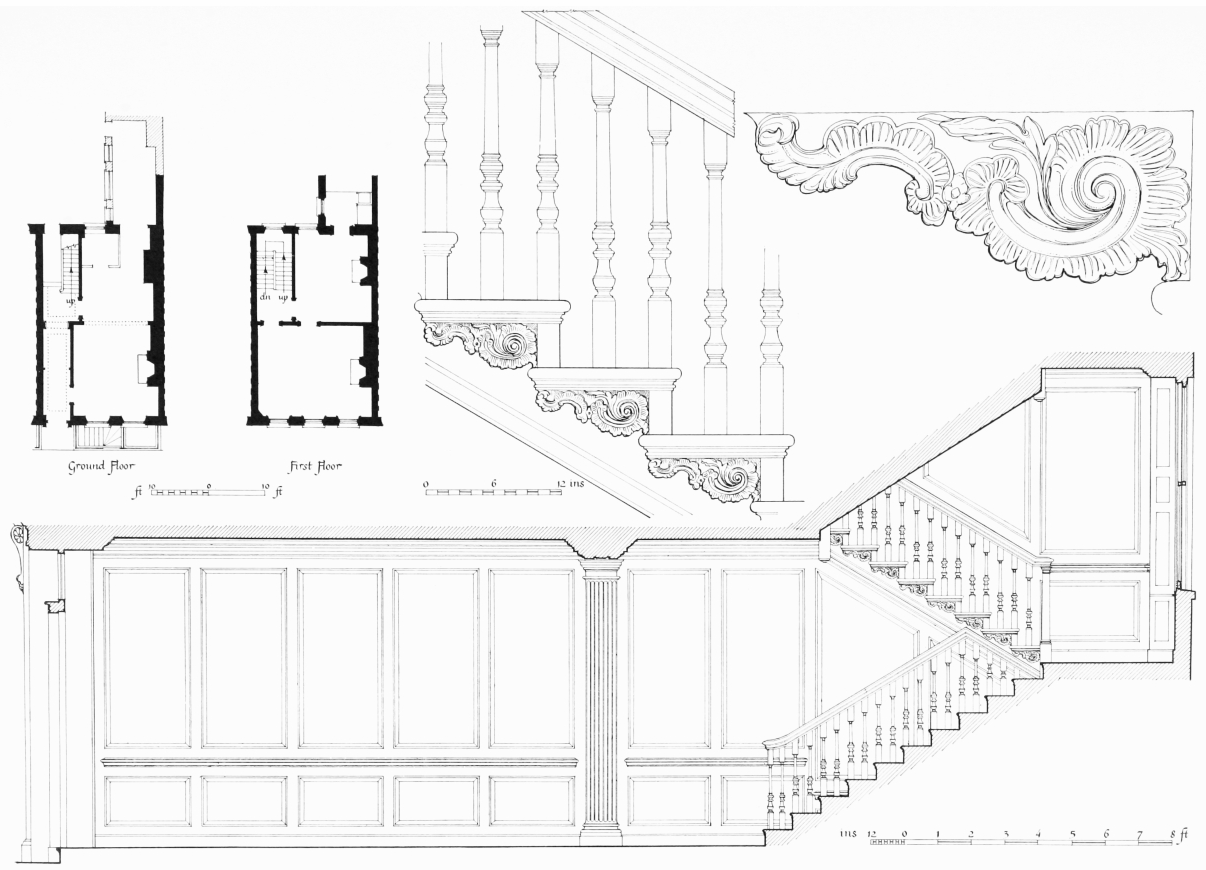 Nos. 17–20 (consec.) Sackville Street
These four houses are similar in many respects to No. 16, but the paired fronts of Nos. 18 and 19 are finished with a secondary cornice above the attic storey, and have a steep-faced garret storey hung with slates.
No. 21 Sackville Street
This house, slightly narrower than those on either side, has two windows in each upper storey, all of them framed with heavy architraves of painted stucco. At the end of 1753 Elizabeth Heathcote, the daughter of Sir William Heathcote who had the staircase of No. 36 Sackville Street copied for his house in St. James's Square, took a lease of No. 21. The schedule of fixtures mentioned 'A fine painted Ceiling and a rich carved Chimney piece' in the dining-room. (fn. 66) No trace of these items survives; the interior of the house has been considerably altered.
Nos. 22–24 (consec.) Sackville Street
Demolished 1960
No. 23 (later Nos. 23 and 24) was in all probability a coffee house throughout its existence from 1733 to 1793. The first occupant was Thomas Hamstone, (fn. 25) a licensed victualler. (fn. 63) George Chapman, coffeeman, (fn. 67) was the tenant in 1747–66 and during the time of his successor, John Prince, the premises were used in 1783–4 by 'The Club'. (fn. 68) In 1793–4 the house was replaced by two, numbered 23 and 24, (fn. 25) which together with No. 22 were demolished in 1960.
All three houses had been refronted and partially rebuilt. The front of No. 22 had a stuccofaced ground storey, channelled to form wide courses, with a large show-room window to the north of the round-arched doorway. The brick upper face was three storeys high, each having three evenly spaced windows framed with stucco architraves, those of the first floor being finished with friezes and cornices. The paired fronts of Nos. 23 and 24 were severely plain. The ground storey was faced with plain stucco, each house having two windows to the side of the paired doorways which were round-arched. The upper face was three storeys high, each containing two windows with Victorian sashes set in plain openings having flat arches of gauged brickwork. No. 23 alone had a mansard garret storey.
No. 25A Sackville Street: The Sunderland Arms Public House
Demolished 1960–1
The original house on this site was first occupied by Henry Clark, a licensed victualler, (fn. 69) and presumably owed its name to its proximity to Sunderland House. It appears to have continued as a tavern or public house, being rebuilt about 1774 and again in 1875, when The Builder drew attention to the new building's 'quiet and unobtrusive design'. (fn. 70) The British Almanac likewise approved the 'quiet and good design, which does credit to the taste and ingenuity of the architect, Mr. J. T. Wimperis, who has turned the narrow space at his disposal to good account'. (fn. 71)
The climate of opinion changes and there will be few to-day to endorse the views of these nineteenth-century critics of the architectural merit of the Sunderland Arms, an assertive building of five storeys designed in a fierce Victorian Gothic style. The principal front to Sackville Street was four windows wide, the corner was bowed, and the return front to Vigo Street was one window wide. The elaborately framed doors and windows of the ground storey were set between plain piers of polished granite. The upper face was of brickwork with some stone dressings, all uniformly painted in later years. Each storey was defined by a stringcourse or cornice, those at the second- and fourth-floor levels being highly ornamented, the latter having gargoyles at the ends of each front. The first-floor windows had curiously shaped stone lintels below flat two-centred relieving arches of brick, the lunettes being filled with moulded brick diaper work. The second- and third-floor windows had segmental arches and wide recessed margins, while the fourth-floor windows were set alternately with blind recesses in a continuous arcade. The windows in the corner bow were large, each being divided into three lights, wide between narrow, by stone mullions. This corner feature was finished above the third storey with a tall conical spirelet, rising against a low gable.
West side
Nos. 25–27 (consec.) Sackville Street
The Sunderland Arms was well matched by the northernmost building on the west side of Sackville Street, No. 25. It had been occupied, and possibly built, by J. T. Wimperis, (fn. 72) and is a grim design of an eclectic Renaissance character executed in grey brick with dressings of moulded brick and stone. This building is followed by a series of houses, Nos. 26 to 36, generally dating from the 1730's, but varied in size, scale and character. Although much altered, all retain some features of interest.
No. 26 has a front of four storeys, three windows wide, the ground storey being faced with plain stucco. The upper face is of brick and the windows are framed with moulded architraves of stucco, those of the first floor being finished with plain friezes and cornices. A cast-iron balcony railing, slightly Gothic in design, extends in front of the first-floor windows, and there is an architrave and cornice, probably of cement, below the attic storey. Little of note remains inside the house; there are fluted Doric pilasters to mark the junction of the front passage with the stair compartment, and the staircase balustrade is composed of simply turned balusters rising from cut strings ornamented with carved brackets. The front room has a bowed back wall, presumably an early nineteenth-century alteration.
No. 27 is a wide-fronted house of the early 1730's, considerably altered at various times. The front is four storeys high (the attic being an addition) and four windows wide with the left pair more closely spaced than the right. The plain stucco-faced ground storey contained until recently a pair of 'Flitcroft' doorways to the left of the two architrave-framed windows. The right-hand doorway survives, without its frieze and cornicehood, and is probably the original entrance. The left-hand doorway, perhaps an altered window lighting the main stair hall, has been replaced by a small shop-front. The upper face is of brick, but moulded architraves of stucco have been added to all the windows, those of the first floor being eared and finished with friezes and cornices. The plain frieze-band and cornice below the attic storey probably mark the finish of the original front. The main staircase, occupying a square compartment of two storeys in the southern half of the front, has been replaced by an entrance passage and a shop with a room above, and nothing of note survives in the ground-floor rooms. All floors are served by the original service staircase, of dog-legged pattern and simple design. The north front room on the first floor has a wooden box-cornice of generous girth, and the fittings and wall coverings may conceal original panelling. The back room is almost square, with an angle fireplace, and it retains a modillion cornice of plaster surrounding a finely modelled ceiling, perhaps by the unknown plasterer who worked at No. 36. The design comprises a central octagon enclosing a Baroque frame of scrolls, foliage and masks, the interior filled with a diaper pattern in low relief. Plain mouldings form an outer ring of panels, plain spandrels, and small oblongs containing portrait medallions and scrolled ornaments. The closet leading out of this room is lined with ovolo-moulded panelling finished with a box-cornice. Much of the original panelling, plain in unmoulded framing, remains in the secondfloor rooms, and two good chimneypieces survive, one with a carved 'chinoiserie' frieze.
No. 28 Sackville Street
James Paine, the architect, was employed here at some time between 1769 and 1774 by Sir Peniston Lamb, the first Lord Melbourne. The occasion was perhaps the latter's marriage with Elizabeth Milbanke in 1769, when he succeeded his father, Sir Matthew, as occupant of the house. (fn. 73) In his published designs Paine only illustrates a chimneypiece in statuary marble for the house in Sackville Street, but possibly he did other work here. (fn. 74) He was also employed by Lord Melbourne at Melbourne House, Piccadilly. (fn. 75)
No. 28 is the largest house in the street, having a frontage of 45 feet. The front is as simple as the rest, but bigger in scale. A large shop-front has been inserted in the southern half of the ground storey, and there is a smaller one on the left of the doorway in the northern half, where the wide bandcourse still marks the first-floor level. The upper face is of brick, with five plain windows widely spaced in each storey. The original friezeband and cornice of stone survive above the second storey, and the added attic is finished with a simple entablature, probably of cement. In the steep mansard roof are five pedimented dormers. Successive alterations have obscured the original plan, but it seems reasonably clear that the front door opened directly to the main staircase compartment, its upper stage now a first-floor room. The house is now served by the secondary staircase, one of generous proportions, ascending in three flights round an open well; it is of wooden construction, with a moulded handrail resting on turned balusters of a simple pattern, rising from closed strings having a moulded and pulvinated face. By far the finest original feature of the house is the decorative work in the north front room on the first floor, formerly the upper stage of the main stair compartment. Above the handsome panelled dado, its skirting moulding and cornicecapping enriched with carving, the plain walls rise to a simple cornice and a plain cove of plaster. The ceiling is richly decorated with finely modelled plasterwork of Baroque character, probably by an Italian hand. A heavy boss of leaves, surrounded by low relief arabesques, is centred in an oval panel formed by a bold moulding of laurelgarland. This oval is in turn framed by lighter mouldings forming an oblong with incurved corners. The space between this and the outer oblong frame is filled with ornament, convoluting scrolls that meet in each corner against a female mask with a scalloped head-dress, and on each of the longer sides is a scrolled cartouche. This decoration would appear to date from the 1730's, and there is nothing in the house that could be assigned to James Paine except, perhaps, a fine chimneypiece in the ground-floor show-room. Executed in white and coloured marbles, the general form is classical and the carved decoration has a Rococo flavour. There is, however, no trace of the terminal chimneypiece included in Paine's published designs.
No. 29 Sackville Street
The lease of this house, the earliest to be granted, was to William East on 24 December 1730. (fn. 45) The house was probably finished in 1732 (fn. 25) and was one of the two in the street to be built under the direct surveillance of the owneroccupier.
William East was a barrister who held office in the Duchy Court of Lancaster (fn. 76) and married a daughter of the Chief Prothonotary of Common Pleas. He built Hall Place at Hurley in Berkshire as a country residence at about the same time as the house in Sackville Street, between 1728 and 1735, but it is not known who designed the house or worked there. (fn. 34) East died in 1737, leaving to his wife the contents of both houses, except his plate, books and pictures of which she had the use till their son William came of age. (fn. 77) Madam East continued to be rated for the house in Sackville Street until 1761; it appears to have been sold or let by her son in 1764. (fn. 25)
John Parker, later first Baron Boringdon, moved here from No. 16 in 1770 (fn. 25) and employed Robert Adam to execute a scheme of decoration for the front drawing-room. Only the ceiling design for this one room has survived among Adam's drawings but he may well have done more work here. (fn. 78) He was already working at Parker's country house at Saltram in Devonshire and continued to do so after this date. (fn. 79)
The house has a frontage of thirty-one feet, and was planned on a generous scale with the conventional arrangement of a front and a back room to the south of the entrance passage and staircase; a small room with a closet led out of the back room (fig. 65). The same plan, executed with similar details, occurs at Nos. 34 and 35, the paired houses lower down the street. At No. 29 the ground storey has been greatly altered and the entrance passage has been decreased in width. The paving, of Portland squares with black diamonds, is original, and so is the wall lining of large panels in cyma-moulded framing above a plain dado. The box-cornice, however, has been replaced by a 'Grecian' cornice of plaster work featuring a bold egg-and-dart moulding, and a deep elliptically headed archway, detailed in the same style, forms the entrance to the stair compartment. These 'Grecian' features would seem to date from the early nineteenth century. On the inside of the arch are the two fluted Ionic pilasters that originally marked the junction of passage and staircase. They carry an appropriate entablature, its dentilled cornice being returned on each wall, below the first-floor landing of the staircase. The door to the back room on the ground floor has a boldly projecting doorcase, consisting of an eared architrave with a pulvino-frieze and a dentilled cornice. The staircase, which was badly damaged by fire but has been finely restored, is a noble example of the type generally used by Vanbrugh and Hawksmoor. It ascends and returns in parallel flights with a narrow well between them. The strings are concealed by the return faces of the risers, each overlapping the last and finishing with a bracket profile with which the moulded soffit conforms. The deep moulded handrail rests on very stout balusters of square section, turned as Doric columns resting on spirally fluted urns (fig. 66). The newels, paired at each landing and turned as fluted columns with finely carved Corinthian capitals, are matched by pilasters on the panelled dado of the staircase.

Apart from the stair, the most important feature in this house is the ceiling of the first-floor front room, designed in 1770 by Robert Adam for John Parker (Plate 146a). Comparing the existing ceiling, much damaged by the fire, with the Adam drawing in Sir John Soane's Museum, it seems that most of the filigree work and all of the painted ornament has gone, but the basic design survives. Adam's favourite radial patterning is adopted, starting from a central circular moulding originally framing a painted medallion. From this central circle radiate eight chains of husks, joining the angles of a large octagon which is framed by a square, its angles filled with fan ornaments. On the north and south sides of the large square are two narrow panels filled with ornament, completing the oblong of the ceiling.
Nos. 30–35 (consec.) Sackville Street
The fronts of these houses are illustrated on Plate 128a. No. 30 is a large house of the 1730's, much altered, with a front of three storeys, five windows wide. The ground storey was refashioned, probably in the late nineteenth century, to provide a shop-front and two doorways which are arranged in equal bays between rusticated Doric pilasters. These support an entablature, its frieze being ornamented with paterae between widely spaced triglyphs. The upper face is of brick, but the windows, originally plain, have been dressed with stucco architraves, those of the first floor having friezes and cornices, with triangular pediments above the middle three. The original cornice of stone survives, but the brick parapet has been faced with stucco. The entrance doorway, in the second bay from the right, opens to the front hall, now divided by a glazed partition. This hall is lined for about two-thirds of its height with ovolo-moulded panelling, finished with a cornice capping. The doorway to the front room is modern, but it is framed by an original architrave with enriched mouldings. The staircase is modern but it probably occupies the original compartment. The south front room on the first floor is lined with ovolo-moulded panelling and the doors have enriched moulded architraves. A plain plaster frieze finishes the walls and the ceiling is framed by a highly enriched modillion cornice of plaster.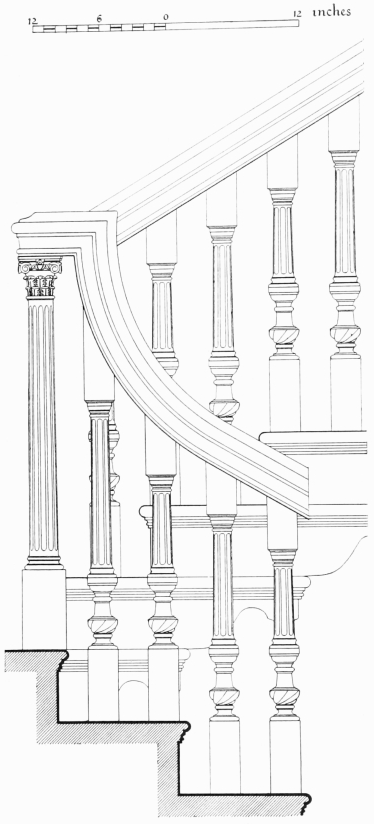 No. 31, apart from the added porch, retains a little-altered front of the 1730's, three storeys high and five windows wide. The coarsely detailed porch and heavy balustrade to the area are probably of late nineteenth-century date, but the ground storey still has its simple brick face finished with a plain bandcourse. The windows, like those in the upper storeys, are set in plain openings with stone sills and flat arches of gauged brickwork. The two south windows on the second floor have been lengthened. The main cornice is of stone and above it is a brick parapet, partly concealing the four dormers in the mansard roof. The principal stair occupies a two-storeyed compartment to the south of the front room; the staircase is original and has well carved brackets to the strings, but the balustrade appears to date from the early nineteenth century. Although the interior, generally, has been considerably altered, some excellent panelling and well carved architraves survive to indicate the quality of the original finishings.
No. 32 is also a house of the 1730's, much altered inside during the late eighteenth century and in recent years. The front, large in scale but conforming to the general pattern of the street, is four storeys high, the attic being an addition, and four windows wide. The ground storey is largely taken up by a wide shop-front, to the right of which is the charmingly detailed doorway, a late eighteenth-century insertion set in a plain round-arched opening in the brick face. The door is framed by a moulded architrave and flanked by narrow side-lights between Doric half-pilasters. Over the door is a radially divided fanlight, surrounded by a fan-shaped tympanum, its surface modelled with a ring of panels each containing a patera. The upper part of the front is, as usual, very plain, and the cornice is stopped at each end with a corbel, presumably added when the original garret was replaced by the present attic storey.
The Wyatt-like treatment of the doorway extends to the front hall, which is the most noteworthy feature of the interior. It is an oblong in plan, and each long side wall is slightly recessed between half-pilasters supporting a wide segmental arch, according with the high segmental arch framing the doorway, and the corresponding arch which opens to the staircase. The capping of the pilasters is continued above the front door and across each side wall, where the segmental tympanum is decorated with a small circular medallion of a classical figure subject. The walls are finished with a delicate cornice featuring a band of fluting interspersed with ram-heads. There are decorative features in the same style in some of the first-floor rooms, now much altered and sub-divided. The doorcases with enriched architraves, friezes and cornices, the delicately modelled cornices to the walls, the ceiling panel moulds and the oval fan motifs, are similar to those shown in the aquatint of 1809 of the 'Society of Agriculture's Meeting Room' in this house (Plate 39a).
No. 33 is smaller in scale than its neighbours, the plot being only 22 feet wide. The front conforms to type, being four storeys high and three windows wide; the ground storey is now filled with a modern shop-front, and the attic storey above the frieze-band and cornice is presumably an addition. Although the interior has been considerably altered, some of the original ovolomoulded panelling survives, but there are no noteworthy features.
Nos. 34 and 35 appear to have been built as a pair, their fronts being uniform in storey height and window spacing. The original brick face has been stuccoed over and the windows have been dressed with architraves, those of the first floor having friezes and cornices. The entrance to No. 34 is not differentiated from the ground-storey windows, but at No. 35 the doorway is framed with a bold segmental-arched architrave, the door being recessed between Ionic columns supporting a transom below a large fanlight.
The interior of No. 34 has been greatly altered at various times. The entrance passage has a modillion cornice of plaster, and wood pilasters with fluted shafts and enriched Doric capitals mark the junction with the staircase compartment. The upper flights of the staircase are modern, but the lower part still has its original balusters, turned as slender Doric columns on urn bases, and the finely carved brackets to the strings. In the first-floor front room is a good ceiling of late eighteenth-century character, where a plain moulding defines a large oval panel within which is a smaller oval, fringed with a festooned garland and broken by four small circles, perhaps intended to contain painted medallions. The inner oval is divided into sectors by husk-chains radiating from a central fan ornament. Each angle of the ceiling is adorned with a motif of branching scrolls and foliage sprays, and a cornice of free-standing acanthus leaves forms the border.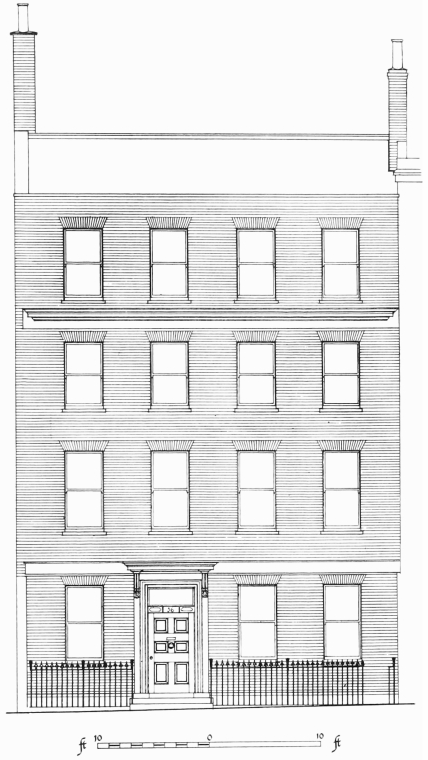 No. 35 has also suffered internally from alteration, and latterly from depredation and neglect. The wide outer hall and entrance passage have a strong affinity with the entrance passage of No. 29, the passage being lined with the same type of panelling, finished here with a dentilled cornice of wood, and having similar fluted Ionic pilasters to mark the junction with the stair compartment. The staircase railing has been replaced by a cheap modern one, but the original carved brackets still ornament the strings, and the panelled dado survives. The compartment is of generous proportions and each half-landing is lit by a large round-arched window. On the first-floor landing are three doors, one a blind respond in the party wall, all being framed with enriched architraves. The top stage of the compartment is finished with a rich modillioned cornice of plaster. The first-floor rooms have been sub-divided; in the back room is a dado of raised-and-fielded panels and a wood chimneypiece of late eighteenth-century character, with attenuated fluted consoles supporting a cornice-shelf. Casing is said to conceal a similar chimneypiece in the front room, where the doors and windows are finished with enriched architraves, and the walls have a cornice featuring a bold egg-and-dart moulding. The second-floor rooms are lined with ovolo-moulded panelling, finished with box-cornices.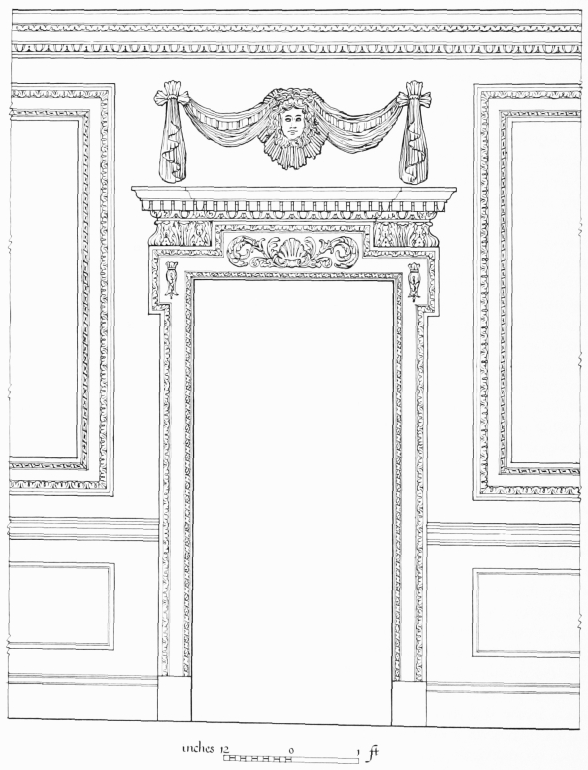 No. 36 Sackville Street
The building lease of this house was granted on 22 June 1732 to Edmund Turnor, (fn. 45) a wealthy gentleman of Panton in Lincolnshire, whose name first appears in the ratebooks in 1733. He was a descendant of the Sir Edmund Turnor of Lincolnshire who had owned No. 2 Cleveland Square in the southern part of the parish, (fn. 80) and the father of Edmund Turnor, the antiquary. (fn. 81) He employed Henry Flitcroft, who was a party to the lease, as his architect. (fn. 82)
The fine plasterwork on the staircase compartment was copied at No. 10 St. James's Square, which was built for Sir William Heathcote by Benjamin Timbrell under Flitcroft's supervision. The agreement between Timbrell and Sir William for No. 10 specified that the plasterwork on the staircase there should be executed 'in such and the same manner as Mr. Turners in Sackville Street which was built by the said Henry Flitcroft'. (fn. 83) The plasterwork at No. 10 was executed by an Italian craftsman.
No. 36, despite considerable internal change, remains one of the most interesting and important in Sackville Street, if only because Flitcroft is known to have been concerned in its design. The plot is 33 feet wide and the front (fig. 67) is four storeys high (the attic being an addition) and four windows wide, with the doorway in the second opening from the left. The simply designed front is free from serious alterations apart from the added attic storey, with its over-scaled windows. There is a noticeable affinity between this front and that of the Timbrell-Flitcroft group at Nos. 9 and 10 St. James's Square. Here again, the plain brickwork is relieved only by the bandcourse at first-floor level, by the main cornice, and by the classical doorcase, all of stone. This doorcase, typical of Flitcroft, has a moulded architrave flanked by narrow jambs, and a cornice-hood resting on scrolled consoles.
A transverse wall divides the interior, with two rooms to the north, and to the south a front hall with a passage leading past the service stair to the principal stair at the back, beyond which is a closet wing. The interior has been altered at various times, but some fine decorative features remain. Best of all is the front room on the ground floor, which is lined with very good panelling, comprising a plain dado and large wall panels with richly carved mouldings. The window architraves are enriched, and the main cornice is carved with egg-and-dart and a foliated moulding. The centrally placed door is framed with an enriched architrave, eared and mitred across the head to admit a carving of acanthus-scrolls flanking a scallop-shell. This break in the architrave interrupts the ogee frieze of acanthus leaves, and supports a forward break in the cornice, which has an egg-and-dart ovolo below a dentilled corona. The space above the doorcase is adorned with an Aurora mask flanked by drapery festoons and pendants (fig. 68).
A similar ornamental motif, presumably placed over the door between the front and back rooms, has been repositioned in the back room. This change was doubtless made when the front room was deepened at the expense of the back room.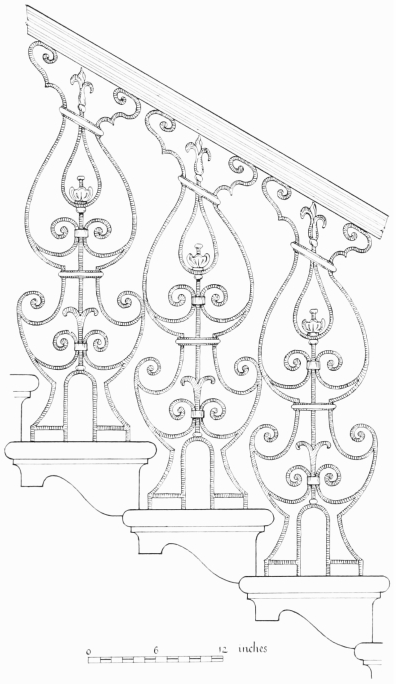 The principal staircase rises round the west, south and east sides of the two-storeyed compartment, finishing with a landing across the north side which is extended on the west to give access to the wing room. The stairs are of stone, the bracket-profiled steps being cantilevered from the walls, and the balustrade is a fine one of wrought iron, closely resembling that in No. 46 Berkeley Square, a house with many details suggestive of Flitcroft (fig. 69). There is, however, no trace of the stuccoist's rich decorations which served as the model for those ornamenting the staircase at No. 10 St. James's Square. The first-floor rooms are, in general, simply decorated with plain panelling in cyma-moulded framing.