Pages 208-210
Survey of London: Volumes 33 and 34, St Anne Soho. Originally published by London County Council, London, 1966.
This free content was digitised by double rekeying and sponsored by English Heritage. All rights reserved.
CHAPTER IX
The Pitt Estate in Dean Street
This chapter describes an area consisting of Nos. 36–41 (consec.) on the east side of Dean Street and Nos. 67–84 (consec.), together with Meard Street and Richmond Buildings, on the west side (fig. 51). The rest of Dean Street and the general history of the street are discussed in Chapter V (and see fig. 2 on page 28).
The area described in this chapter was first built up as part of the development of the existing line of Dean Street in the late 1680's, under the aegis of Nicholas Barbon, who held a forty-six-year leasehold interest ultimately derived from the Crown. It was almost entirely rebuilt, under a longer leasehold interest, in the years 1731–5, and the earliest surviving houses date from that period. A ninety-nine-year Crown lease had been acquired, in 1697, by Thomas Pitt of Old Sarum, Wiltshire, M.P., Governor of Fort St. George, Madras (and owner of the Pitt diamond), as a reversionary interest from 1734. (fn. 2) By c. 1730–1, however, the acquisition of existing interests allowed the Pitt family to initiate a general rebuilding.
Before the formation of Dean Street the area described in this chapter had been part of Cooke's Croft and Billson's Close or Croft (see page 30 and Plate 8b). In 1677 these, as part of a larger area of twenty and a half acres, had been acquired on lease by the builder Richard Frith, for terms expiring in January 1733/4. (fn. 3) Frith proceeded to lay out the line of Dean Street, passing through Cooke's Croft and Billson's Close. These had, however, already been leased for agricultural use, and Frith's plans for the development of the street were hindered by these existing rights. This was the more so since these rights were acquired by his rival in building development, Nicholas Barbon. (fn. 4) In 1679 Frith's rights in Cooke's Croft and Billson's Close had passed to his former financial backer, William Pym, (fn. 5) and on 24 March 1682/3 the area which subsequently formed the Pitt estate was separated as a distinct property when Pym leased it, as two plots on either side of the street, to George Bradbury, esquire, for forty-six years to Lady Day 1729. The rent was £14 per annum. Bradbury, a lawyer and subsequently a judge of some note, was acting in trust for Barbon, and covenanted 'to build thereon substantially'. Bradbury assigned his interest to an Arnold Browne, esquire, (fn. 6) and in the years c. 1686–8 Barbon and Browne were leasing sites here for building. Two of their lessees were William Maddox of St. Anne's, locksmith or blacksmith, and Charles Shelley of St. Martin in the Fields, goldsmith, who in turn evidently employed building tradesmen. (fn. 7) This first building-up of the area was probably complete by 1691. The first occupants included some people of title. (fn. 8) (fn. 1)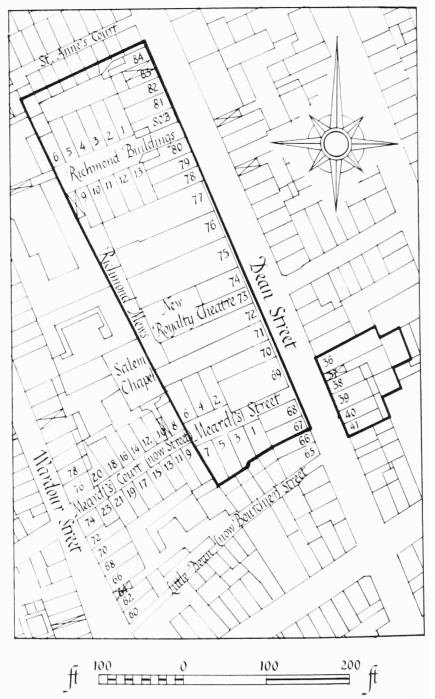 Already by the end of 1686 a mortgage interest in the property had been acquired by the Thomas Pitt already mentioned. In November of that year Browne mortgaged it to secure £4,000, of which £2,500 was advanced by a George White of London, merchant, and £1,500 by Pitt, who later acquired White's interest. On 9 January 1696/7 Pitt obtained from Browne for £1,779 15s. the assignment of his remaining interest in the property, terminating in 1729. (fn. 9)
On 5 May 1697 Pitt secured from the Crown, in payment of a fine of £600, a reversionary lease of the property for ninety-nine years from the expiry of the existing Crown lease to trustees for the Earl of St. Albans at Michaelmas 1734. The rent to be paid was 13s. 4d. (fn. 10) The ground rents of the house-sites at that time totalled £141 2s. 6d. (fn. 11)
Pitt died in April 1726, and by his will (fn. 12) his leasehold interests in Dean Street should have passed to five trustees and executors: they included his son-in-law, Charles Cholmondeley, M.P., of Vale Royal, Cheshire, but not the eldest son Robert Pitt, M.P., of Boconnoc, Cornwall, who contested the will (fn. 13) until his death in 1727. His claims were maintained by his eldest son (and Chatham's brother), Thomas, M.P. for Okehampton and Old Sarum, in whom the family's strain of hard rapacity seems to have been concentrated. (fn. 14) Some compromise was perhaps effected, and when in c. 1731 the redevelopment of the estate was taken in hand the leases and agreements were made by Charles Cholmondeley and by Thomas Pitt as a consenting party.
After the elder Thomas had acquired the reversionary Crown lease in 1697 he had been in possession of the interest originally Bradbury's until Lady Day 1729, and of his own interest from Michaelmas 1734. Thus an intervening fiveand-a-half-years interest remained to be acquired. William Pym's interest to 19 January 1733/4 was obtained from his son, John, by Cholmondeley and the younger Thomas Pitt in July 1730 (with the unexplained exception of three house-sites, Nos. 71–73 Dean Street). (fn. 15) The residue of the subsisting Crown lease, to Michaelmas 1734, had remained in St. Albans's trustees or their heirs as late as 1721. (fn. 12) It is not known when it was acquired, but it was in time for redevelopment to be initiated early in 1731.
The records of the building leases granted thenceforward contain no reference to the houses previously existing on the sites. All the leases were for terms expiring at Midsummer 1833, a quarter of a year before the expiry of the head lease from the Crown.
Details are given in the table on pages 248–55. From this it may be seen that the earliest transaction of which there is record is the building agreement concluded on 21 April 1731 with Thomas Richmond of St. Anne's, carpenter. (fn. 16) This is known only in reference to a small marginal site. Richmond was, however, a party to the granting of some leases to other builders, by virtue of articles previously concluded with him, and it may therefore be that the articles of April 1731 related to the whole or a substantial part of the development.
As may be seen, the lessees involved at this time included four carpenters, a mason, and a bricklayer's widow (doubtless by right of an agreement concluded with her husband). Not much is known of these building tradesmen. The most important were probably Richmond, and John Meard, also a carpenter although described in the leases as esquire. What is known of them is mentioned under Richmond Buildings (page 246) and Meard Street (page 239) respectively. Another carpenter, John Sanger, had been associated with Richmond in St. James's in 1729 when he was living in St. George's, Hanover Square. (fn. 17) He built houses in Soho Square and Carlisle Street in 1735–7 (see page 148), and in 1739–42 lived near the north-east corner of Dean Street and Carlisle Street. (fn. 18) He was bankrupt by 1744. (fn. 19)
No overall uniformity was given to the development. The pattern of differing treatment does not seem to correspond significantly to the distribution of the lessees' plots. Some features of some of the houses built by Richmond and Meard may, however, show their individual influences (see pages 222, 239).
Until 1736 (or later in Meard Street) some of the houses were assessed in the ratebooks merely to 'ten.', possibly indicating that they were let on short tenancies until a permanent occupant could be found. Only four of the first occupants named in the ratebooks are known to have taken an assignment of the building tradesman's lease, at Nos. 70 and 75 Dean Street and Nos. 1 and 10 Richmond Buildings. (fn. 20)
The two lateral openings on the west side of the street, Richmond Buildings and Meard Street, were made approximately on the site of two seventeenth-century courts, Cockpit Court and Dean's Court respectively. Richmond Buildings was an entity, but the construction of Meard Street on the Pitt estate concerned only the eastern part of the street now bearing that name. The western part had been built a little earlier on the Pulteney estate. A single builder was, however, lessee for the whole, and the rebuilding of the entire street is therefore described in this chapter.
The three sites excluded from John Pym's assignment of 1730 would have come into the Pitt family's ownership in 1734. It is not known why the three houses were not rebuilt until 1756. By then, Thomas Pitt was an expatriate debtor. (fn. 14)
The thirty-nine houses and one stable-yard built in the 1730's yielded £408 18s. per annum in ground rents, and the three later houses a further £42 10s. By 1735 the estate was mortgaged as security for £6,000. (fn. 21) In 1761, shortly before Thomas Pitt's death, an Order in Chancery required the estate to be sold, and this was done in June 1765, when it was assigned by representatives of the Pitt family and of their mortgagee, to Sir Thomas Wilson, knight, of West Wickham, Kent, for £8,500. (fn. 22)
In 1812 Thomas Coutts, the banker, and others, representing Wilson's estate, petitioned the Crown for a new lease. (fn. 23) The Office of Woods, Forests and Land Revenues seems not to have made the consequent survey and valuation until 1821, when it estimated that after repair the sites would yield £3,090 per annum. (fn. 24) In 1822 a new reversionary lease was offered to the petitioners at £1,957 per annum, either for twenty-nine years with a fine of £8,663, or for fifty years with a fine of £10,445; each lease would have required £8,860 to be spent on repairs. (fn. 25) These terms were refused. (fn. 24)
Subsequently the Crown authorities decided to dispose of the freehold. As part of the rearrangement of the intermingled properties of the Crown and the Sutton estate, Nos. 67–68 Dean Street and Nos. 1–7 (odd) Meard Street were conveyed to Sir Richard Sutton in February 1830, in exchange for property to the west of St. James's Street. (fn. 26) In December of the same year Nos. 69–74 (consec.) Dean Street and Nos. 2–6 (even) Meard Street were granted to Peter Thompson of Frith Street, gentleman, in exchange for a sum of money and premises required for the West Strand improvement scheme. (fn. 27)
The remaining twenty-seven sites, estimated to yield above £2,000 per annum, were sold by auction in June 1833. (fn. 28) The auctioneers' valuation of £24,530 (fn. 29) was exceeded, by bids totalling £27,830 from seventeen purchasers. (fn. 30)