Pages 55-56
Survey of London: Volumes 33 and 34, St Anne Soho. Originally published by London County Council, London, 1966.
This free content was digitised by double rekeying and sponsored by English Heritage. All rights reserved.
No. 2 Soho Square
This was one of the houses whose ground rent was sold by Richard Frith and William Pym in September 1679 to the executors of Joseph Girle (fn. 2) (see page 31). The completion of the half-finished building was the work of Philip Harman, citizen and draper, one of Girle's sons-in-law and executors, upon whom the administration of Girle's complicated personal estate devolved. He had the house plastered and partly wainscoted and the doors, windows, bolts and locks put in. The kitchen was fitted up with dressers, shelves, two iron ranges, two coppers and two leaden cisterns (second hand) with brass cocks and washers. The New River water was laid on to the house, the garden was put in order and 'Pallysadoe Pales' erected along the street front, while behind the house, a coach-house and stables were built in Dean Street. (fn. 3) (fn. 1)
When finished the house stood empty for some time and in order to attract tenants Harman was forced to go to the expense of furnishing it. Even so, his tenants seldom remained long and the house was often empty. The first known tenant was Thomas Frankland who was living here in 1691. (fn. 4) Other inhabitants included Colonel Byarly, 1696; Lady Jolly, 1697 and possibly later; and Sir Gilbert Pickering, third baronet, 1718–1726. (fn. 5)
The house was rebuilt in 1735 by John Sanger of St. James's, carpenter, who was then also rebuilding the two houses adjoining to the south, Nos. 1 and 38. In August 1734 Sanger was granted a sixty-five-year lease of the site by Elizabeth, Duchess of Portland, (fn. 6) and in January 1736/7 he assigned it to Arthur Champernowne of Dartington, Devonshire, esquire, (fn. 7) who occupied it until 1742. In 1744 Sir John Phillips was living here, evidently as Champernowne's tenant; he was possibly the sixth baronet, of Picton Castle, Pembrokeshire, a Tory M.P. and Jacobite. Champernowne was back in 1747, and the house was retained, though never again occupied, by the Champernowne family until at least 1781. From 1748 to 1771 it was let furnished to the London envoy of the Venetian Republic at a rent of £160 per annum; (fn. 8) the Venetian envoy had previously lived at No. 31 and subsequently moved to No. 12. Later occupants include Lieutenant-General Henry Trelawny, 1781–1800; John Harrison Curtis, aurist, 1818–46, and William Harvey, aurist, 1847–75. (fn. 5)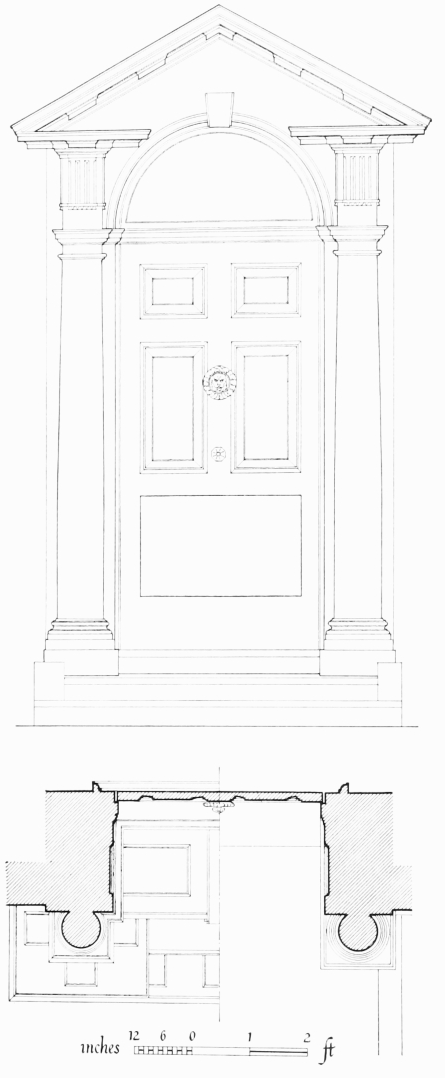 The house which Sanger erected still stands, and its original character is perceptible despite considerable alteration (Plate 93d). The plain front, of yellow stock brick with square-headed openings, is three windows wide and four storeys high, the top one being an addition. A sill-band, at first-floor level, has been cut through and there is a shop window on the ground floor where, however, a pedimented wooden doorcase survives with engaged Doric columns flanking a round-arched opening. Both the front itself and certainly the doorcase (fig. 8) appear to date from rather later in the eighteenth century but the general lines agree with Sanger's third house, the surviving No. 38 Soho Square, and also formerly, it seems, with the now demolished No. 1.
The plan provides a front room beside the entrance hall, a top-lit staircase in the centre and a large room across the rear with a projecting closet beyond. On the first floor are two large rooms with the staircase between them; a number of rooms are now partitioned. The original joinery of the house was of a high standard and, although no decorated ceilings survive, there are still enriched plaster cornices in three of the four main rooms. The first-floor rear room is the most altered of these but the other three retain their wide and narrow wooden panelling with carved mouldings and ovolo door architraves. No original chimneypieces survive but a pair of carved flanking scrolls have been left in the rear room on the ground floor and on each side of them are large semi-circular niches with finely carved shell-heads (Plates 98b, 128d). The entrance hall and second-floor rooms are well finished in a plainer manner, the former having a pair of corniced doorcases. The staircase is formed round an open well with rectangular ends to the steps, two turned balusters per tread, plain column-newels and a heavy swept handrail ending in a big curtail. The staircase has been renewed above first-floor level.