Pages 83-88
Survey of London: Volumes 33 and 34, St Anne Soho. Originally published by London County Council, London, 1966.
This free content was digitised by double rekeying and sponsored by English Heritage. All rights reserved.
No. 26 Soho Square
In 1689 William Marchant of London, merchant, was described as the 'Head landlord' of this house, (fn. 1) but a deed of 1728 states that the house had been 'built heretofor by one Ric Hawkins'. (fn. 2) Nothing is known of Hawkins, but in 1680 Marchant had granted a twenty-oneyear lease of No. 22, and (as has already been suggested) he may have been one of Richard Frith's mortgagees.
The first known occupant of No. 26, in c. 1685, was Horatio, first Viscount Townshend, who paid Marchant a rent of £165, evidently for a furnished letting. After Townshend's death in 1687 the house was leased to William More of St. Anne's, esquire, who in 1689 subleased it to William Duncombe of Battlesden, Bedfordshire, esquire.
Duncombe paid a rent of £200 per annum, £165 to William Marchant, the 'Head landlord', and £35 to William More for the use of the furniture and household goods. These included a quantity of bedding and kitchen utensils, many items of cane furniture, also green and gold printed hangings, a 'Suite of Twelvefoot Tapistry hangings', a cabinet of 'Princes Wood', a 'Flowered Velvet bed lined with a Gold coloured Florence Sarcenett,' four black Japan armchairs 'with blew Covers', 'a large looking glass table and Stand inlaid with Leather Covers [and] lined with Bayes'. Amongst the rooms mentioned in the inventory of the house was the cedar room, and, of the total value of £384 placed on the furniture, £151 was accounted for by the furnishings of the first-floor drawing-room, including 'Fower peices of Tapistry containing 181 Ells'. The pictures in the house were valued at £50. These comprised 'The late King and Queene to ye Knees, Two Peacocks with other Fowle, Psyche, Two Dutch peices of Monsr Rovigny to the Knees, King Charles ye furst and King Charles ye 2d to ye wast, a China Cupp, a Magdalen, Anne a Bulloigne, Rosamond, Two Landskipps, Two Flowers, a Dutch Woman wth Fruite, a Great Picture with Fowles, a Great Picture with Flowers, Three Little Landskipps, a Little Dutch peice, a Moses and Serpent—And Guilt Frames to all the said Pictures'. (fn. 1)
William Paston, second Earl of Yarmouth, who had previously occupied No. 33, was living here in 1697 and possibly later. From 1703 to 1708 the ratepayer was Charles Berkeley, second Earl of Berkeley. It is possible that for some of these years the house was occupied by Gilbert Burnet, the historian and Bishop of Salisbury. In January 1702/3 Queen Anne took away from him the lodgings he had previously occupied in St. James's Palace (fn. 3) and in 1703 Burnet and the Earl of Berkeley (with whose family the former was distantly connected), (fn. 4) both appear in the sewer ratebooks for No. 26. (fn. 5) It is also known that Bishop Burnet was living in the square, though not necessarily in this house, in January 1708/9, when the diarist Ralph Thoresby recorded that he had 'Walked to Soho Square, to the Bishop of Salisbury's, who entertained me most agreeably with the sight of several valuable curiosities'. (fn. 6) In about 1709 Burnet is known to have taken up residence in Clerkenwell. (fn. 7)
Other inhabitants include Lord Wemm, ? David Wemyss, fourth Earl of Wemyss, one of the commissioners for concluding the Treaty of Union and later one of the Scottish representative peers, 1709–10; Charles Townshend, second Viscount Townshend, 1711; Lady Child, widow of Sir Josias Child(e), first baronet, 1712–25; George Bagnall, 1727–54, and Lady Arthur, 1755–6. (fn. 8) During Bagnall's occupation, George Vertue saw in the house a large collection of paintings, including works by Rubens, Van Dyck and Teniers. (fn. 9)
In November 1757 the lease of the house, which had recently been extended to 1854, was bought for eight hundred guineas by Sir William Robinson of Newby Hall, Yorkshire, baronet. In February 1758 Robinson also purchased the lease of the adjoining No. 25 (fn. 10) and in the following month obtained from the second Duke of Portland an eighty-five-year extension of this second lease, paying a fine of £120. (fn. 11) Demolition of both houses began in January 1758, (fn. 12) and after the sites had been cleared Robinson was able to transfer a strip of ground two feet three inches wide from the site of No. 25 to that of No. 26, (fn. 13) where he intended to erect a 'Great House' for his own occupation. A smaller house was to be built on the reduced site of No. 25 and then sold.
Robinson employed Thomas Dade of Compton Street to purchase the building materials, engage the workmen, supervise the construction of the two new houses and settle the bills. (fn. 14) Dade can probably be identified with the carpenter and surveyor of that name who was appointed district surveyor of the parishes of St. George in the East and St. Botolph Aldgate in 1774. (fn. 15) No professional architect was employed and Dade seems to have worked from preliminary sketches or rough plans made by his employer. This relationship is well illustrated by their surviving correspondence. In August 1758, when the carcase of the house must have been erected, Dade wrote to Sir William asking 'if you could bring any sort of a sketch with you whereby I might have some idea of the thing you want, I might perhaps settle it here'. (fn. 16)
In January 1758 the lead was stripped from the roofs of the original Nos. 25 and 26, and the construction of the two new houses, on the rearranged site plan, began in the following April. By August the roof was on both houses but building work was held up by a shortage of labour, for, as Dade complained to his employer, 'the harvest takes up all the labourers that there is scarce any to be got'. Work on the interior was more protracted but both houses were complete by the end of 1759. The stables and back offices were probably finished in the following year. (fn. 17)
The following tradesmen were engaged by Dade to work on the new Nos. 25 and 26: Henry Wallis, bricklayer (his bill was for £630); Jos. Carr, mason (£758); Robert Johnson, smith (£325); Alexander Abbot, slater; Thomas Wood, glazier; John Whitehead, plasterer (£470); Laurence Hosty, painter (£138); Lancelot Burton, plumber (£209—probably the 'Lancelot Burton of Newcastle Street, Strand' who worked on Queensberry House, Burlington Gardens, in the 1780's); Thomas Speer, carver (£248); Sunderland and Houseman, ironmongers; Thomas Scott, brickmaker (£346) and George Smith, sawyer. (fn. 18)
It is clear from the individual bills that the internal decorations were elaborate and costly. The plasterer's bills of John Whitehead refer to the shell and flower ornaments, the 'Ionick modillion cornice, fully enriched', the frames 'Inrich'd with Gotheroons', the festoons and baskets of fruit and flowers, the runs of bay leaves and berries, 'The Heads of Ceres and Bachuss' and '2 Eagles Expanded'. The carver's bills of Thomas Speer contain such items as a seventeen-foot 'Run of Eggs in Sophite', and a forty-three-foot run of 'Cove Bedmould with Raffled Leaves and Husks and Twisted Beeds [at] £3. 15–3'. There is little differentiation in the accounts between the two houses, but it is likely that the smaller house (No. 25) was less elaborately fitted up. It is also difficult to discover the actual cost of the two new houses from the existing bills and accounts sent in by Dade to Sir William Robinson, although one abstract of bills amounted to £2,732. The building tradesmen were not all paid until the summer of 1761. (fn. 18)
The new No. 26 Soho Square was furnished by Thomas Chippendale, late in 1759, at a cost of £469 9s. 1½d. This sum included £14 for '12 neat mahogany open back chairs', another £14 for '8 mahogany french elbow-chairs' and other sums for plate-glasses, picture frames, wallpaper, and a bedstead. Chippendale was paid an additional £30 for veneering the doors of the new house in mahogany. (fn. 12) (fn. c1)
Sir William Robinson moved into No. 26 in 1761 and occupied it until July 1764 when it was assigned to Sir George (later first Baron) Pigot, a retired nabob. (fn. 19) In 1767 the latter also acquired the adjoining No. 25 which was presumably then incorporated with No. 26 as one dwelling. Lord Pigot occupied the two houses until 1775, when he returned to India as Governor of Madras and died two years later after having been imprisoned by his own Council. Both houses were retained by his brother, Admiral Hugh Pigot, until 1778 and were then vacant for some nine years. Two short tenancies followed, the latter that of FieldMarshal Henry Seymour Conway from 1793 until his death at his country house in 1795. By this date it was becoming increasingly difficult to attract people of fashion to the square and in 1799 the double house reverted to two separate dwellings. (fn. 8)
The character of No. 26, as it now stands, tends to confirm the evidence of the surviving building documents that no architect was employed. The house is large and appears to have once been richly finished but there is a certain unresolved character about the whole design, which was particularly apparent in the combined elevations of this and the demolished No. 25 (Plates 70a, 94b). Both houses were of three main storeys and the front was faced with yellow stock brick, the ground storey being rusticated and irregularly arcaded, presumably in Portland stone. A plain band marked the first floor and the front was finished with a moulded cornice and simple brick parapet screening a dormer storey in the roof. No. 25 was similar to No. 26, which has a pair of windows to the second storey and a single Venetian window at first-floor level. This is set under a large semi-circular relieving arch and has a blind balustrade with dies supporting an Ionic order of columns and pilasters. The original brickwork of the tympanum of this window is now plastered over. The ground storey to this house has been largely altered, but it may originally have consisted of two equal openings, presumably with semi-elliptical arches, the more northerly being a window and the more southerly an entrance. No. 25, at the time of its demolition, had a narrow round-headed entrance to the north and a wider semi-elliptically arched window beside it. It is uncertain if this arrangement was original: it was unrelated to the elevation above, as is the suggested form of the ground floor of No. 26, but the representation of the two houses by Tallis is patently incorrect.
The narrow frontage of No. 26 is deceptive as the site extends southwards behind No. 1 Greek Street (fig. 14). In front on the ground floor are, or were, a small room to the north, now totally altered, and an entrance hall of similar size, separated by an Ionic colonnade from a much larger top-lit staircase compartment to the south. At the back of this is a secondary stair and, beyond again, the smaller of two rear rooms, the other being behind the frontage to the square. On the first floor, the front room includes the area of the hall below and the main staircase ends with a cantilevered landing. Despite very considerable alteration and misuse, the main parts of the house generally retain richly modelled plaster cornices, a considerable quantity of carved joinery and a number of Chippendale's mahogany veneered doors. The wide stone staircase, with its Ionic colonnade and high compartment and the remarkably good wrought-iron balustrade, is now the finest and least altered feature (Plate 127c, fig. 14). No original chimneypieces are to be seen on the principal floors, though several survive, enclosed by boarding.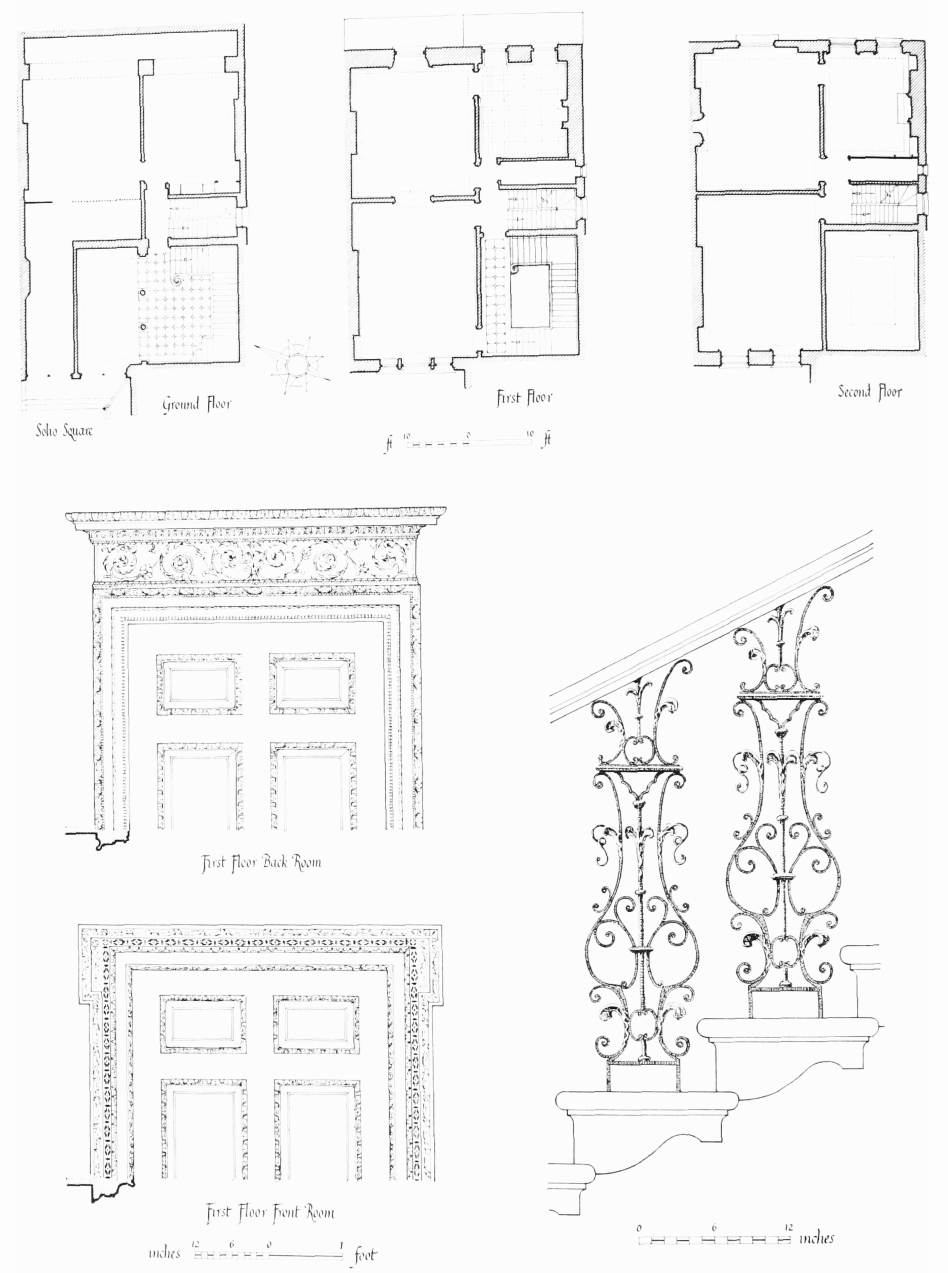 The entrance hall has a bold modillion cornice and is stone-paved like the stair compartment. A nineteenth-century tiled panel of Persian character, set in the rear wall, advertises 'Medmenham Pottery Tiles', about which nothing is known. The Ionic colonnade before the staircase is of wood and consists of two columns in antis with a full entablature. The walls of the stair compartment are now relatively plain, but a band of scroll decoration, at first-floor level, is carried across the face of the landing and there is a simple band decorated with lion-masks at the level of the second floor. The ceiling is coved above a cornice with paired brackets, and a band of guilloche ornament surrounds a large rectangular roof light. The secondary staircase is of simple doglegged construction in wood with close strings, plain turned balusters and column-newels. On the ground floor the main rear room, like the one in front, has been gutted but the smaller rear room, though altered, retains a very rich cornice, some carved joinery and a pair of corniced doorcases framing a recessed wing bookcase with a broken pediment over the centre and a large ogee arch above (fig. 15). It would be tempting to think that this was the work of Chippendale, but there is no reference to it in the surviving bills. This room is much divided and the chimneypiece is boxed in. The first-floor front room is also partitioned and altered. However, it retains its carved door architraves and window joinery, a boxed-in chimneypiece of which nothing is known, and its original doors. These appear to be not only veneered but also framed in mahogany. Double doors lead to the larger rear room, where an enriched dentil cornice survives; the doors are again of mahogany, and two of the three doorcases are corniced and richly carved. The other joinery also has carved mouldings but the window in this room is altered and the chimneypiece boxed in. The smaller rear room was fitted with simple but carefully designed oak panelling in the early years of this century. Panelling of a similar nature was inserted into the front room on the second floor, where the original fittings are of a plain but substantial nature with some enrichment to the moulded plaster cornices. The smaller rear room retains a good original chimneypiece of carved wood with marble slips, a lugged architrave, a tablet and a frieze carved with an urn and arabesque ornament and a slightly enriched cornice-shelf which appears to have lost its bed-moulding.