Pages 10-14
Thoroton's History of Nottinghamshire: Volume 1, Republished With Large Additions By John Throsby. Originally published by J Throsby, Nottingham, 1790.
This free content was digitised by double rekeying. All rights reserved.
NORMANTON-UPON-SORE.
So called from some Owner in the Time of the Saxons probably; for Norman was then a Name frequently used, and ton, or tun, is the same with Town now. This Place before the coming of King William had very many Shares, and several Owners, which made him Parcel it out amongst his great Men, so that it is very difficult to give any exact or particular Account of the Tenancies, which, in all likelihood were joined to other more considerable Possessions, and so came to have little mention distinctly made of them, in any Records that I have seen. The Book of Doomsday shows that of Roger de Buslie's Fee, here was Soc to Stanford, as much as answered to the Tax, or Geld, for three Bovats. The (fn. 1) Land was one Carucat, the Soc then was waste; there was four Acres of Meadow, the Value was 4s. as in the Time of King Edward the Confessor.
Here was also of Hugh Earl of Chester's Fee, Soc to Sudton, two Bovats, and two Thirds, ad geldam. The Land was a Carucat, but Waste; there was three Acres of Meadow. In the Confessor's Time, this was valued at 5s. then at 3s.
Here was a Manor also of Earl Moriton's Fee, which Story, Lord also of Gotham and Sutton, had before the Conquest, for four Manors rated to the Geld, as ten Bovats. The Land whereof was sufficient for two Plows (or two Car). This Alden held of the Earl and there had one Car. (or Plow) two Sochm, two Vill. three Bordars, having two Caruc. (or Plows) there were fifteen Acres of Meadow. In the Confessor's Time this was 40s. Value, in the Conqueror's Time but 30s.
Of the Land of the Taynes, here was Manor which Osgod had before the Conquest, who paid for it to the Geld, as three Bovats and an Half. The Land of it was one Car. there were two Villans, and two Acres of Meadow. This, in the Confessor's Time was valued at 20s. then but at 6s. Another Manor in Normanton, of the Tayn Land, which Raven had, and paid to the Danegeld for it, at two Bovats.
In the second Year of King John's Reign, (fn. 2) Matthew de Elston released all his Claim and Right in the Advowson of the Church of Normanton, to Bertram, Prior of St. Cuthbert, of Durham; for which he was to have Reception in all the Benefits which were in that Church. (fn. 3) The Prior of Durham, 3. E. 3. claimed a Court of Leet for his Tenants in Normanton, Bonington, Kineston, Barton, Cortingstok, Remston, and Gotham.
Oddo, the Son of (fn. 4) John, for the Soul of his Son John; and Matthew, Son and Heir of Oddo, for the Soul of his Brother John, gave to God, and the Church of Lenton, and the Monks there serving God, the whole Land which Herbert, the Father of John held; the same sixteen Acres which lay at the West End of the Town, on both Sides the Way, which Ogga and Junger, which paid 4s. per Annum. (fn. 5) Tho. de Arches, by Fine, rereleased to the Prior of Lenton, all his Claim in sixteen Acres of Land in Normanton, 32 H. 3. for which the Prior gave him 100s.
In the Time of E. 1. Robert de Strelley gave eleven Bovats of Land in Normanton, (fn. 6) Sampson de Strelley his Son: To his Deed hangs a fair Seal of his Arms, Paly of six.
Roger de St. Andrew, and his Partners are certified, (fn. 7) 25 E. 1. to have held a Knight's Fee in Gotham, Normanton, and Sutton, of the Honor of Leicester.
(fn. 8) Robert de Vaus, and Amfelicia his Wife, by Fine, 18 E. 3. pass the Manor of Normanton-upon-Sore, to Sir Gervass de Clifton, Knight, and his Heirs for ever, paying sixteen Pounds per Annum, during the Life of Amfelicia only, who particularly, in that Fine, released the third Part of the Manor, her Dower distinct from the other two Parts.
Here was a Manor which was de La Poole's anciently, and came to the Crown by the Attainder of (fn. 9) Edmund de La Poole, 2 H. 8. by his Letters Patent, dated, May 1, in the 36th Year of his Reign, granted License to Edward Elrington, and Humphrey Metcalf, Esquires, to give a Mess. in Normanton-on-Sore, to Richard Willughby, Gent. and his Heirs.
Richard Willoughby, late of Nottingham, (fn. 10) who held one Mess. in Normanton-onSore, and certain Lands there, late belonging to the Monastry of Durham, died April 16, 37 H. 8. leaving Thomas Willoughby his Son and Heir, and seventeen Years of Age, Mar. 15, then last past.
William Willoughby claimed against (fn. 11) Henry Strelley, Gent. one Cottage, one Toft, one Garden, sixty Acres of Land, ten of Meadow, ten of Pasture, four of Wood, with the Appurtenances in Normanton-on-Sore, 2 and 3, Ph. and Mariæ.
John Rotherham, and (fn. 12) William Marwood, Gent. elaimed against William Willoughby, Gent. divers Lands and Tenements in Normanton-upon-Sore, who called to warranty George Eyre, Gent. 19 Eliz.
And in another Recovery, which William Willoughby suffered, (fn. 13) 20 Eliz. of the Manor of Normanton-on-Sore, he called the said George Eyre, Gent. who further called Thomas Eyre, Gent.
This whole Township is now Mr. Daniel Earl's, saving five yard Land, which Mr. Richard Fillingham inherits from his Ancestors: He is now chief Constable; and there are five more Freeholders, but too small to mention.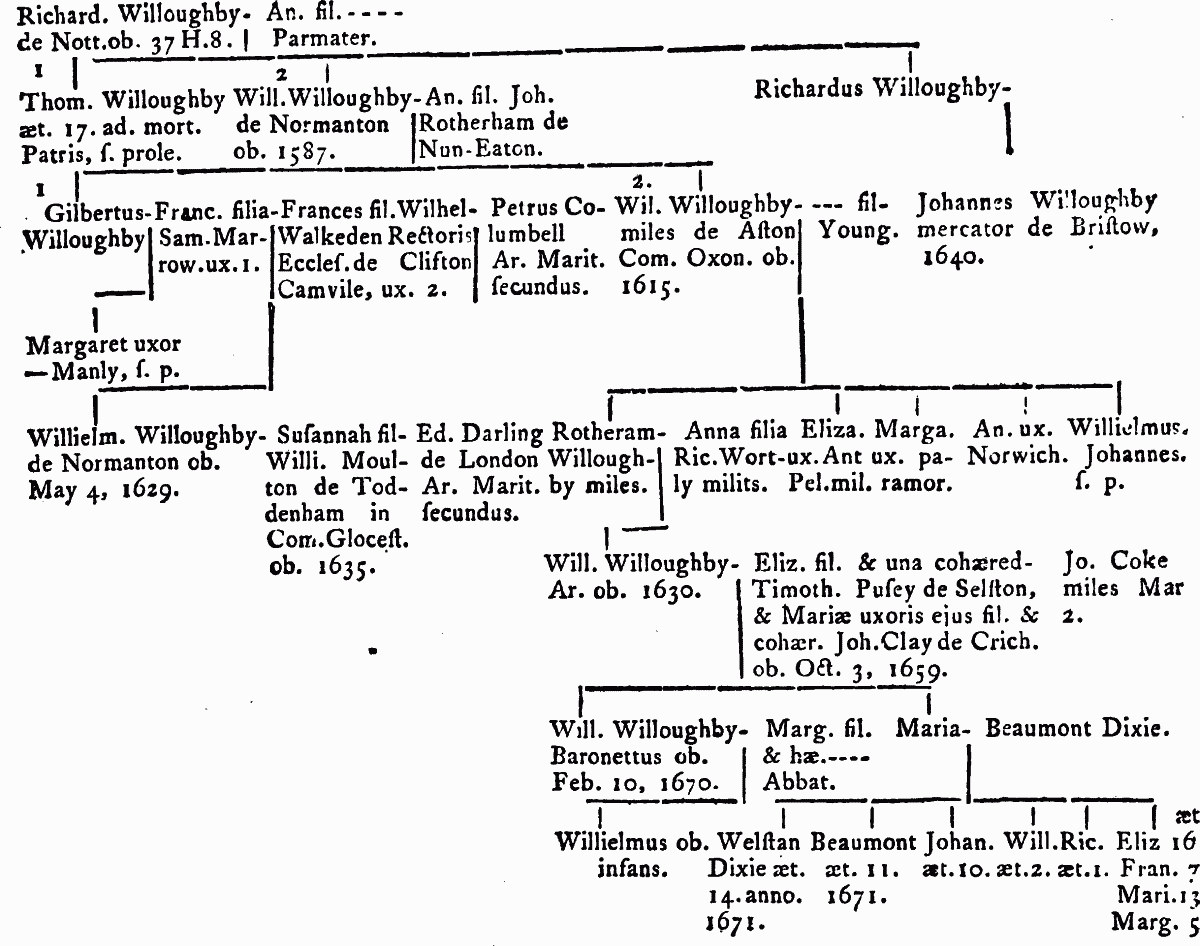 The first (fn. 14) William Willoughby was buried in this Chancel, Nov. 28, 1587, and hath a fair blue Stone over him, but nothing written on it. He gave out of some Lands which he bought in Nottingham and Lenton, 8l. 6s. 8d. to be yearly paid to five Towns in Course, Normanton, Great-Barlow, Nun-Eaton, Nottingham, and Wolvey.
There are two Monuments with these Inscriptions in Marble,---Memoriæ Sacrum. Here lieth the Body of Frances, the Daughter of William Walkeden, first married to Gilbert Willoughby, Esquire, by whom she had Issue two Sons, and one Daughter; after married to Peter Columbell, Esquire, and by him had Issue six Sons, and three Daughters: She died Aug. 12, Anno Dom. 1606. Posuit Willielmus Willoughby, Armiger.
Memoriæ Sacrum. Near to this Place lieth the Body of William Willoughby, Son of Gilbert Willoughby, Esq. and Lord of this Town by Inheritance: And close by this Wall lieth Susannah his Wife, Daughter to William Moulton, of Toddenham, in the County of Glocester, Esquire. They were married at 17 Years of Age, and lived together 20 Years, and had no Issue; which William died the fourth of May, 1629. Secondly, she married Edward Darling, of London, Esquire, and now Lord of this Manor by Purchase, who lived together until the first of June, 1635. And she died at Battersey, in Surrey, and left no Issue, which Edward Darling caused this Monument to be erected at his own Charge, in Remembrance of them both, May the first, 1636.
The Rectory was £12. when the Prior of Durham was Patron; now it is in the King's Books 7l. 11s. 0d. ob. and Mr. Daniel Earl, Patron. (fn. 15)
Passing from Stanford to
[Throsby] Normanton-upon-Soar,
We found the land in high cultivation. This Village lies within the compass of a mile, on the left of Stanford. In the meadows below you have some delightful views of this pleasant village: Mr. Boultbee has been exceedingly happy in his choice of one, which he painted for the Rev. Mr. Holmes, the Rector: The parsonage house he has catcht in contact with the church, (a pleasing union) which stand on an eminence; and the river, which here happily serpentines, he has taken in a beautiful point of view. The look-out from Mr. Holmes' house towards Loughborough, and the foresthills, are here as rich, in picturesque scenes as those at Stanford-Hall. Shenstone sung while I was viewing the surrounding beauties.
"How sweetly smil'd the Hill, the Vale, And all the Landscape round! The River gliding down the Dale, The Hill with Beeches crown'd!"
The lordship contains about 1100 acres of, in general, good land. Mr. James Richards and Mr. Thomas Buckley, who reside at Normanton, are the principal proprietors. Mr. Buckley is a capital ram-breeder, and his great exertions, in the improvement of the breed of sheep, have been spoken of in language that is honorable.
The village contains about 40 dwellings; in it are some good farm-houses. The Rector's dwelling has internal elegance and convenience to recommend it to notice.--If I had liberty, I could say something of the pleasing deportment of its possessor.
The church has one aisle: it is visible it once had more. It has also a large chancel, 4 bells, and a capacious font. One that has been used, in those times, when it was the practice to dip infants at their baptisms. The monuments remain which were here in Thoroton's time. Since that time, remembrances of the dead have been placed for the Rev. Mr. Nicholas Richards, rector, who died in 1735, aged 34. John Richards, Esq. who died in 1719, aged 63. Joseph Crompton, rector, who died in 1729. And a large tablet to the memory of a late rector's wife, who died in 1768. She might deserve a good character; but the flattering inscription, intending to display her virtues, &c. is the most fulsome stuff I ever beheld: When all the goodness and perfections of the CREATOR are ascribed to his creature's, how offensive must it be to him who gave us being? Do the catholics offend us with their images of saints, their crucifixes, and their beautiful scriptural paintings in their places of worship? And should we suffer in our protestant churches, disgraceful inscriptions of mortals, whose characters are given, as it should seem, to vie with that of the ALMIGHTY?--- Within and without, this church bears evident marks of antiquity.
The earliest Register begins in 1560---Baptised the first 5 years 26, Buried 19.---The last 5 years, Baptised 24, Buried 15; decreased, Baptisms 2, and Burials 4.---Patrons of the Living, Mr. Richards and Mr. Buckley; Incumbent, the Rev. Mr. Holmes. In Bacon, 7l. 11s. 0½d. Tenths 15s. 1¼d. Archiepisc. pro Syn. 4s. Archidiac. pro prox, 6s. 8d. Pens. an. fol. pri. Durham, 13s. 4d. Val. in Mans. cum 2 Virg. ter. gleb. per ann. 1l. decim. garb. &c. Jo. Jorey presented in 1697. Richard and James Richards in 1719. James and John Richards in 1729. John and Thomas Richards in 1731. James Harryman, Gent. p. h. v. 1777.