Pages 123-132
Thoroton's History of Nottinghamshire: Volume 1, Republished With Large Additions By John Throsby. Originally published by J Throsby, Nottingham, 1790.
This free content was digitised by double rekeying. All rights reserved.
RODINTONE.
Flawforth
The principal Manor in this Town in the Conqueror's Survey is mentioned to be the Land of Earl Alan of Richmond, which before the Norman Invasion Leviet had, rated to the Tax as twelve Bovats. The Land was four Carucats. (fn. 1) There Earl Alan had in Demesne one Car. six Sochm. seven Vill. having three Car. (or Ploughs.) There was fifty-five Acres of Meadow valued then at 30s. but in the Confessor's Time at 60s. Another Manor was of the Fee of Gislebert de Gand, which before the Con- quest Vls had, taxed at half a Car. The Land one Car. There was at the Time of the Survey in Demesne one Car. four Sochm. five Vill. two Bord. having three Car. There was also thirty-three Acres of Meadow, then valued at 8s. but in the Confessor's Time at 20s. Here was of Roger de Buslie's Fee Soc to Plumptree, rated to the Geld at ten Bov. 2-3. The Land two Car. There was eighteen Sochm. having three Car. and thirty-three Acres of Meadow. Here was also some of Robert Malet's Fee Soc to Bradmere, taxed usually as one Bov. 1-3. The Land being two Bov. Some of this Town had Soc in Bradmere. Robert de Paveilli gave two Parts of the Tythe of his Demesne to the Monks of Lenton, his Brothers Hugh and Stephen consenting. (fn. 2) Robert de Vetriponte, 1. Joh. (fn. 3) accounted to the King for the Farm of Hocton, Suleby, and Pery, which had been the Lands of Robert de Paveley, and the same Year, viz. 1. Johannis, Galf. de Paveilli gave Account of fourscore Pounds, and a hundred Shillings for the Fine of his Land. Galfr. de Paveilli, 4 Joh. (fn. 4) fined for four Knights Fees in Northamptonshire. (fn. 5) The same Galsr. 5 Joh. gave Account of 1 m. for an Assize of Mort de Ancester, which was summoned between him and Agnes, the Wife of Will. de Rutington. concerning 3 Bov. of Land in Rutington, Rob. Pavilli died seized of the Manors of Pery and Suleby, and Part of the Manor of Hocton in Northamptonshire, about 35 H. 3. (fn. 6) and certain Lands in Rudington and Wetlegh in this County, which are said to be held of Edm. Lascy, (fn. 7) so that 'tis probable this was of the Fee of Gaunt. Robert de Pavilli, his Son was then twenty-three Years of Age. I find Richard de Pavelli, Knight. 26 E. 1. (fn. 8) resident at Ruddington. William Peverell enfeoffed Robert de Pavelli, and his Heirs in Piry and Hoghton in Northamptonshire, and in Risle and Wingfeild in Darbyshire, (fn. 9) which King Edward the Third confirmed in the first Year of his Reign to Laurence Pavely, who was Heir of Robert (some Copies have it Raph) Pavely of this Manor of Rudington. (fn. 9) This Laurence was Father of Sir Robert Pavely, Knight, 23 E. 3. Roger and John; which Sir Robert was Father of Laurence Pavely, the last I have noted here. (fn. 10)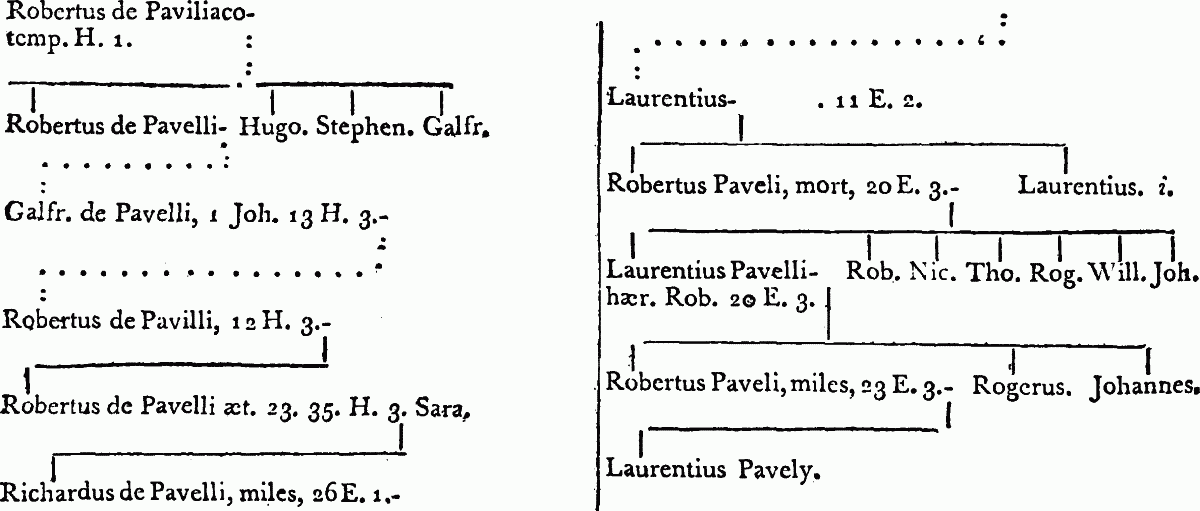 About the latter End of E. 3. and in the Reign of R. 2. I find Hugh de Annesley a considerable Man here; which Family, it seems, succeeded the Paveleys in this Place, and continued the Name of Hugh very much. Hugh Annesley, Senior, 16 H. 8. (fn. 11) died seized of Pavelys Manor, and Bugges Manor (which was but a Mess. so called) in Rudington, and two Mess. in Bradmere, and of a Manor in Hucknall Torcard, his Son and Heir Hugh Annesley, Esquire, being then above fifty Years of Age, who died 30 H. 8. and left his Son Gervase 28. Another Gervase Annesley sold it to the Earl of Kingston, who purchased also that belonging to Plumtre, and all or most of the rest considerable, and the R. H. the Marquis of Dorchester is now Owner.
Hornius (who might possibly be Predecessor of a Family named of this Place) (fn. 12) gave all the Tythe of his Demesne here to the Monastery of Lenton, offering his gift with his Knife upon the Altar, Margery his Wife, and William his Son, and Duran, the Deacon of Flaufore praising the Act, and being Witnesses.
Richard de Roll. confirmed the Gift of Michael, Son of Richard de Rutington of four Bovats of Land, (fn. 13) which were Fulco's, the Brother of the said Richard, which William his Son held after him, to the Monastery of Lenton, and that they might be more secure, William de Roll. his Son and Heir, and Ralph his Brother did quit their Claim in his Presence to the said Monastery.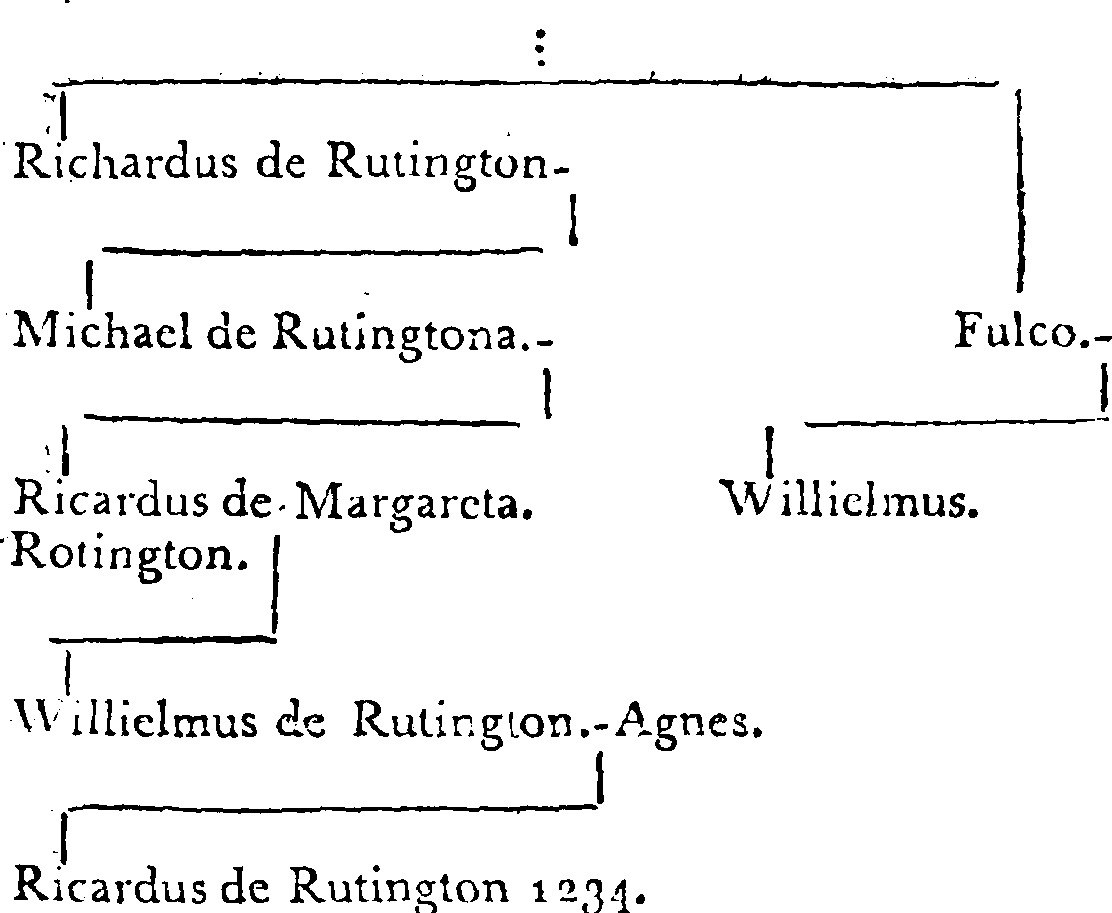 William, Son of Richard de Rotington, (fn. 14) confirmed the Gift of Galfr. de Malquinci, his Uncle of four Acres, to the said Priory. And Richard, Son of this William, confirmed the Gifts of Richard his Grandfather, Son of Michael de Rutinton, and likewise gave his Meadow called Godwinesholm, which lay near Clifton Water Mill, in the Year 1234, being at Lenton Fair, to that Monastery.
This last Richard de Rutinton, 12 H. 3. (fn. 15) claimed against Robert Pavilli ten Bovats of Land in Burton, and four Bov. and an half here, as Heir to Galfr. de Malquinci, who died without Issue in the Time of R. 1. for which there was a Duel waged and sought, and the Man of Robert Pavilli was vanquished in the Field.
The Sheriff of Nott. 14 H. 3. (fn. 16) was commanded that the Imparlance (loquela) which was in this County, between Richard de Rudington, and Robert de Pavillis concerning that, that the said Robert should do suit to the Court of the said Richard at Rudington, should he respited while the said Robert was in the King's Service beyond the Seas; the King at that Time made his Voyage into Britany.
John, Son of Sigerus de Clifton, remised to Richard called Martell of Rodington Lands, (fn. 17) sometime the Bishop of Dunblanes; the Witnesses were Sir John de Leke, Sir Galfr. de Stapleford, Knights, Richard de Pavelli of Rodington, Henry Poutrell of Thurmeton, &c. in the Time of E. 1. 'Tis like the Bishop was of this Family, and that Rodingtons were afterwards called Martells.
Anker de Freschevill, 45 H. 3. (fn. 18) was found Heir of Ralph his Father, Lord of Boney, who held half a Knight's Fee in Rotinton of John de Musters of the Honor of Richmond. William, Son of Thomas de Plumtre, 15 E. 1. (fn. 19) could not deny but that he was to acquit Richard de Bingham (whose Name was Bugge, as in Leek, and other Places may be noted) against all Persons whatsoever of the Service which Henry de Lascy, Earl of Lincolne, exacted of him for one Mess. one Bovat, and four Selions of Land in Rutington, and the Advowson of the Church, which Sir Richard de Bingham, Knight, 46 E. 3. (fn. 20) by Fine passed to Sir John de Nevill, Knight, with two Bovats, and William Bonde his Native with his Sequell.
In the same 15 E. 1. (fn. 21) Paulinus. Son of William, Son of Thomas de Plumptre, claimed against Thomas, Son of William de Plumptre, a yearly Rent of ten Marks Sterling in Plumptre, one Virgat of Land, with the Appurtenances in the same Town, two Bovats of Land and an half, and seven Carucats of Land, with the Appurtenances in Rutington, which William de Plumptre gave to Thomas, Son of the said William, and to the Heirs of his Body; and which after the Death of the said, and of William his Son, ought to descend to the said Paulinus, Son of the said William, as Cousin and Heir of the said Thomas, to whom the said William de Plumptre gave the said yearly Rent of ten Marks, out of his Lands, Meadows, and Pastures, in the Territory of Plumptre; and the said Virgat of Land, with the Augmentation of three Acres of his Demesne in the same Town, and these two Bovats and half, and seven Carucats in Rotington; by which Gift the said Thomas was seized in his Demesne, as of Fee and Right in the Time of Peace, in the Time of King John, Grandfather of the King then dead. But Thomas, the Son of William, pleaded that the said William only gave the said Thomas, and Avicia his Wife, the Premises for their Lives, and afterwards to remain to the right Heir Males of the said William, whereupon the said Paulinus was cast.
Ruddingtons Manor came to Richard called Martell, for he lived there in the Time of E. 1. (fn. 22) and Hugh Martell of Chilwell, 3 E. 3. claimed View of Frankpledge, and all Things belonging to it, of all his Tenants in Rudington. He afterwards, viz. 16 E 3. (fn. 23) did or was about to found a Chantry in the Chapel of St. Andrew, in the Church of St. Peter of Flawfore, to which he gave, or intended to give two Mess. and three Virgats in Rotington, and one Bovat and an half, and half a Mess. in Clifton. But it seems to have been perfected, 37 H. 6. (fn. 24) by William Babington, Esquire, Son of Sir William Babington, Knight, and of Margery his Wife, (whom I judge to have been the Daughter and Heir of Robert Martell) for three Chaplains officiating, two in this Chapel of St. Andrew, in Flaforth Church, and one in the Chapel, within the Manor of Chilwell, who were to pray for the good State of King H. 6. Margaret his Queen, Edward Prince of Wales, &c. of William Babington the Founder, and Eliza beth his Wife, and for the Souls of Sir William Babington, Knight, and Margery his Wife, &c. And also for the Souls of Mr. Robert Prebend, sometime Bishop of Dunblane, of Richard Martell, Hugh Martell, and Robert Martell, and for the Souls of them to whom the said Mr. Robert and Sir William are held bound in the Sight of God. This was to be called Babington's Chantry, it had 21 Marks yearly Rent out of twenty-eight Bovats of Land and eighteen Acres, and one Rood of Meadows in Chilwell, twelve Bovats of Land and Meadow in Clifton and Clapton, sixteen Bovats of Land, and four Acres of Meadow in Bramcote, and forty Acres of Land, and sixteen of Meadow in Lenton, for the Warden, and the said three Chaplains, and their Successors for ever, which Lands were of the yearly Value of 25l.
At the Assizes at Nottingham, 10 H. 4. (fn. 25) the Prior of Newstede, recovered a Mess. and one Bovat of Land in Rodington, which had been held of the Priory since the Time of H. 3. by the Service of 5s. and Fealty, because John Hutt, the late Tenant, died without Heirs.
The Rectory was appropriated to the College of Durham in Oxford, lately dissolved and was rated at the yearly Value of 26l. 13s 4d.
There was also in the Town a House and certain Tythes of Corn and Hay, appropriated to the Priory of Lenton, rated at the yearly Value of 3l. 15s. all which is now the Inheritance of the Right Honorable the Earl of Devonshire.
The Vicarage was 8l. Value when the Prior of Durham was Patron. (fn. 25) (fn. 26) (fn. 27) (fn. 28) It is now 6l. 13s. 4d. in the King's Books, and the Countess of Devonshire Patroness.
There is a Church-like Chapel in the Town, but the Parish Church stands in the Field, and is called Flawforth Church, betwixt the Towns of Edwalton, Plumptre, Kegworth, Boney, and Bradmere, whereof some Parts of the three last are belonging to the Parish. It was Parcel of the Possessions of St. John's of Jerusalem, and the Tythes being thereunto appropriate, are sold as divers Portions in the several Townships.
In the Church is a South Quire, called Dumlaws Quire, corrupted, I suppose, from Dunblane, (the Bishop whereof, I guess built it) in the Middle of which, upon one Stone, are cut the Figures of a Man and a Woman, which seem very ancient, with this Inscription about the Sides,
[HIC IACET IN TUMULO MATILDIS CUM GALEFRDO... POM... ARE BARTUN Q.. TENUERE
Galf. de Malquinci, and Matildis his Wife held West Burton in Bassetlaw Wapentake. He died in the Time of R. 1. as before is noted.
Upon another very hard Stone is a Picture of a Woman, it seems, with a strange old Cap, and about the Sides in great Brass Letters,
[WOSRE PASSEG PAR ICI PRIEB PU.. L.. ME MARGERI NE DEV LE PACE MARCI AMEN]
If this be for Margery the Wife of Hornius, 'tis very old. I do not think it to be Margery, the Wife of Sir William Babington. There is a Grave-stone for William Babington, with his Arms at each Corner, by his Head, ten Roundels, and a File of three Labels.
On another Grave Stone,
Hic jacet Sidonia Al soror Mari Babington que obiit vi. die Maii. Anno Domini M. CCCC. XL. VIII.
Close by the Wall, one cross-leg'd, his Gown or Surcoat reaching below his Knees.
In the Chancel, a Priest and a Chalice by his Head: and about it,
Hic jacet Dominus Willielmus Jokin vicarious de Rodington, qui obiit xxv. die mensis Novembris Anno Domini Millesimo, D. XV. cajus animæ propitietur Deus, Amen.
And upon one in the Church,
Orate pro anima Margaretæ nuper uxor. Henrici Vinir, qui obiit apud Rodyngton xv. Octob. Anno Domini M. CCCC. XXX. IX. Cujus animæ propitietur Deus Amen.
And divers others without Inscriptions.
In an old Hall Window at Rodington. Paly of Arg. and Azure a bend Gules, Annesley; impaling Azure a Chevron between 3. Mullets, Or.
[Throsby] Ruddington
STANDS within five miles of Nottingham, somewhat on an elevation near the turnpike road from Loughborough. The Lordship contains 2900 acres of land, inclosed in 1768. The principal proprietor is Sir Thomas Parkyns, Bart. who is Lord of the Manor. The great tythes are in the hands of the Devonshire Family.
The Village consists of upwards of 130 dwelling houses, a school, and a Quaker's meeting, Charles Skrymsher Boothby, Esq. has a hunting seat, in this place. Mr. Breedon, also, who is honored with the third place, in Mr. Marshall's arrangement of capital ram breeders, of the Dishley blood, in the midland counties, resides here. Mr. Breedon, and Mr. Buckley, of Normanton on Soar, who are also particularly noticed by Mr. Marshall, were the first breeders who were emboldened to give Mr. Bakewell one hundred guineas for a third portion of the services of a ram for one season.
Mr. Marshall advances, that Nottinghamshire takes the lead in the improvement of sheep, in the midland district; perhaps it may be owing, in some measure, to Mr. Breedon letting his shearling rams go to easy rides of twenty or thirty ewes each; which is a kind of nursery for his rams at that age, and it extends and improves more hastily the much esteemed Dishley breed. In this neighbourhood it is not unfrequent to hear of lamb hogs, a year old, sell for 30s. or a guinea and a half each. It is the opinion of a friend of mine, who has made use of Mr. Breedon's rams these last six years, that no breed at present, will pay more money for the food they eat in a given time, or get fat in a less. My friend who is not an ordinary grazier, or observer of things, asserts that the opinions of many are erroneous respecting the wool of this breed of sheep, by saying, that, in that article, they are deficient, he asserts, with some confidence, that, "They produce more wool by the acre, than any other breed of sheep."
James Clift, a weaver of this place, by dint of application to the intricate study of the mathematics, has, on may occasions, shewn himself a man of understanding by his answers in the magazines to mathematical questions.
The school in this place was founded by Mr. James Peacock, citizen of London; his will bears date 1641. It is for the use of the children of Ruddington only. The master has a house to live in, and his salary amounts to about 30l. per annum. The same gentleman left to the poor of this place, weekly, one dozen and a half of wheaten bread, to those who attended divine service on the sabbath. By the good management of the trust however, who are house-dwellers in this village, it now amounts to four dozen and a half weekly.
A curious circumstance happened here about ten years since. The vicar sent a curate to officiate in the parish whose character (I cannot say how deservedly) stood not fair. On the feast Sunday, in consequence (I can safely say not lawfully) the parishioners engaged another clergyman to perform divine service. The chapel was full of people, which is usual on the feast Sunday. At the same juncture of time, both clergymen began the service, the vicar's curate in the desk, and the other in the nave of the church. An indecent altercation soon took place, during which time the churchwardens servants pulled the curate out of the desk; then the other clergyman continued and ended the service in the usual way. After most of the congregation had left the chapel the curate re-entered the desk peaceably, and began the service where he had been interrupted, which he continued to the end.
This chapel or church has a nave, side aisle, and a low spire with 6 deep toned bells. It was repaired in 1718. And the burial ground consecrated about 15 years ago. The first person buried therein was the late Mr William Breedon, eldest brother of Mr. J. Breedon of this place. The most proper use of the materials of Flawford Church was made in fencing this burial ground.
Flawford church, to which this was a chapel of ease formerly, was dedicated to St. Peter, and stood within a mile eastwardly of Ruddington; but now is totally destroyed. La an old memorandum book, shewn me by the clerk of Ruddington, which was kept by an old schoolmaster, is this entry. "Saturday June 12th, 1773, Flawford Church was demolished by colliers." The bishop it seems had given leave to have it taken down it being in a very ruinous state, and not a dwelling of the village remaining. In consequence some colliers were engaged to undermine it and throw it down, which was effected with ease, for after the first day's labor in undermining the walls it fell in the succeeding night. The following paragraph appeared in the Nottingham paper about the time of its destruction.
"The venerable church of Flawford, situated in the middle of Ruddington field, and supposed to have been built by the Saxons in the first ages of Christianity, for the joint use of the several towns then surrounding it, being in very bad repair, and in danger of falling, an order has been obtained from the Archbishop's court at York, for taking it down; and workmen have for some time been employed in destroying the church, with its remarkable monuments of antiquity; and for several evenings together, the cottagers of the village have amused themselves, to the number of 30 or 40 at a time, with drawing waggons loaded with stone, containing near three tons, from the spot where the fabric stood, to a brook near two miles distant, which separates the parishes of Ruddington and Gotham, for the purpose of building a bridge, which will be very useful in wet seasons. Divine service, and all other rites of the church, are now to be celebrated at the chapel in Ruddington."
About 3 years before this time, 18 or 20 feet of the spire fell, which in some measure hastened its final dissolution, and what is remarkable, a little before that time a fox was discovered in the steeple with a little of cubs.
In the village of Ruddington I saw some of its materials, which were appropriated to mend the roads, make pig-styes, and mend horse-blocks. Grave-stones lie there in farmyards, and some serve as bridges over sink-holes in the streets.
Dunblain chapel was a cemetery to Flawford church, and was built by the following odd circumstance, (says oral tradition) a swine-herd's boy of a happy countenance was placed near the church to tend pigs; a gentleman coming by questioned him respecting his parents and situation of life, who at length, by fair promises, persuaded the boy to go away with him, brought him up and made him his heir at his death. Many years afterwards he came back in the habits of a gentleman, and found his parents dead, and buried on the outside of the church. He, in consequence, ordered a tomb to be placed over their graves, with both their figures upon it, with a cur dog at their feet and walled it in, which was ever afterwards called Dunblain's chapel, the name of the boy's parents. See Thoroton's account of this chapel, or quire, as he calls it, above.
I have an unpublished MS. in my possession written in the year 1721, by a gentleman who visited some parts of Nottingham and Derbyshires which says. "Flawford church in ruins consists of a body N. and S. isle and chancel tiled at the W. end, a spire steeple--'Tis the parish church of Ruddington where there is a chapel with a spire steeple. In the S. isle these inscriptions, viz. on an oblong stone the portrait of a woman; cut round her this Insctiption WOS. RE Passes: par. ici price --- Margeri -- deu Le face. Amen."
"On a square stone next the former, "Hic jacet Sidonia soror Mari Babington quæ obüt -- die Maij Anno Dom. MCCCCXLVIII."
"On an oblong stone the figures of a man and woman in relief, round the verge in Saxon Lr. "Hic jacet in Tumulo Matildis cum Galefrido --- por urse Robertus 9. Garverge."
"Trad: of his being a Swineherd that built the Isle."
"On another square stone hic jacet."-----
"The windows are all either stoped up or taken away, the out side still standing. They bury here---the church stands a mile from Ruddington. Cawseys are dug up in the fields."
"In the body a large square stone with a crosse upon it and round it in Goth. ---Orate pro--anima Johannis Chamberlien qui ob. tertis die Novebuis An. Domino. MCCCCCVII.---propitietur deus. Another more W. Willm. Chamberlen, MCCC CVI. cujus anime --- rest not legible."
"On the like nearer the S. Isle, Orate pro anima henrici Ma -- qui ob. -----MCCCCXXXII."
On an altar monument of marble adjoining to S. wall of the chancel. Epitaph round the verge, with this date MCCCCCXL. the name not legible."
The last person interred in Flawford church-yard, and that probably ever will be, was John Wilkinson, aged 80, about 4 years since.
The church before its demolition is represented plate 6. I. T. Mr. Carver of Kirby, in Leicestershire, sketched it from memory. He was born at Ruddington, and has a taste for antiquarian researches. The painted glass, represented in the plate annexed, is now in a cottage window at Ruddington, and it is supposed that it was taken from Flawford church windows. Every one must see that it is figurative of the Holy Trinity. The three figures, in the same plate, are happy likenesses of the beautiful pieces of sculpture found underneath the floor of the chancel of Flawford church; they do Mr. Wigley, Engraver, in Nottingham, who copied them, infinite credit.
The chancel of this church belonged to the Devonshire family, and was not destroyed with the church. In the year 1779, as the workmen were taking up the chancel floor, they discovered the figures and took them from their hiding place with care. They were doubtless hidden at or about the time of the reformation, by some pious catholic to prevent their destruction by the fanatics of the day, in hopes that some favorable occurrence might bring about the ancient forms of worship.
The middle fig. is doubtless a fine representation of a Bishop. Fig. 1. is, as doubtless, intended for the Virgin Mary and the child Jesus. But fig. 3. reputed to be St. Peter might be intended to represent, as well, the founder or foundress of the church; the face to me is feminine, and the child praying at its feet is an emblem of devotional innocence. The two subjoining accounts of this discovery, &c. are taken from the Nottingham Journal; the first Feb. 27, 1779, and the other March 13th, in the same year.
"Last week as workmen were digging up the foundation of Flawford church, in thus neighbourhood, which was lately taken down, they found three images of alabaster, under the chancel, about two feet in length; one is supposed to represent the Virgin Mary suckling a child: there are no rays encircled, but a coronet over it; the second a Bishop, with a mitre on his head, and a crosier in his hand; the other is supposed to be the esfigy of a Saxon prince. This church was dedicated to St. Peter, and we are informed that William Babington, Lord of the Manor of Ruddington, founded a chantry in this church, in the chapel of St. Andrew, and three chaplains to pray for the estate of King Henry the Sixth, and his Queen, and Prince Edward, himself, wife, and for the fouls of all them that he was held bound to in the Sight of God. In this Church there has been many ancient monuments no doubt, of great note formerly;----some considerable ones were remaining both in the chancel and south aisle, part whereof seem to imply, that the persons to whom they belonged have been either actually engaged in the Holy Wars, or had some vows upon them to go to it, their effigies lying cross-legged."
"The account given in this paper of the 17th ult. of the images found under the altar piece at Flawford church in this neighbourhood, being some what deficient, we presume the following further particulars will not prove unacceptable to the lovers of antiquity: The figures are made of alabaster, and the first found was a little defaced by the workmen; is supposed to be a striking representation of the Virgin Mary, with a crown on her head, and the child Jesus on her right arm, clothed in robes of various colours, sculptured with great art, and strikes the beholder with wonder and admiration: The child hath its hands on her right breast, which is bare, and the hair of her head, (as also that of the child) is richly ornamented with gold; her shoes are sharp toed; and she measures in height about 2 feet 4 inches. The next image is a representation of St. Peter, habited in robes of variegated colours, with two keys hanging on his right hand; and holding in his left, the model of a church in the shape of a cross; a triple crown on his head; and at his feet a small figure in a supplicating posture; a label has gone forth from his mouth, but the head and label are broke off; and measures 2 feet 8 inches in height. The other figure plainly indicates the representation of a Bishop, the crosier in his left hand, and mitre on his head, do confirm this supposition; his right hand is erect; there is a ring on his second finger; and this beautiful statue measures 3 feet 2 inches in height."
"It is very probable that this figure may represent St. Paulinus, St. John of Beverley, or some one or other of the Archiepiscopal See of York, as it was found under the wall where the altar stood; and it may reasonably be supposed, that some zealous priest, at the time of the suppression of monasteries in 1536, in King Henry the Eighth's reign, concealed these beautiful images from the mobs, who at that time infested this country.
"The following stanzas from Mr. Gray's Elegy, are very applicable to this (now ruined) church:"
"Perhaps in this neglected Spot is laid, Some Heart once pregnant with celestial Fire; Hands that the Rod of Empire might have sway'd, Or wak'd to Extasy the living Lyre.
Some Village Hampden, that with dauntless Breast, The little Tyrant of his Fields withstood; Some mute inglorious Milton here may rest, Some Cromwell guiltless of his Country's Blood."
By the favor of Mr. Breedon of Ruddington, who lives under the Devonshire family, I have the figures in my possession. A more proper place might be perhaps in Ruddington church; but rooted prejudices, I fear, would not be favorable to their preservation there. Catholic relics the vulgar have been long taught to look upon as diabolical; consequently they might be in danger of being defaced by some ruthless arms of strength, at war with every religious fect but his own; or else, surely, they might long remain in this religious sanctuary, as inoffensive to the established religion as the rock from whence they were hewn.
Bacon says Flawford was a chapel to Ruddington. Kings book, 6l. 13s. 4d. clear yearly value, 14l. 3s. 4d. (now it is 50l. per Ann.) Syn. 8s. prox. 7s. 6d. val fine mans: in dec. &c. The king presented in 1753. Duke of Devonshire in 1781.
Register begins in 1636. Bap: the five earliest years 93. Bur. 100. The last five years Bap: 144. Buried 95.