Pages 292-300
Thoroton's History of Nottinghamshire: Volume 1, Republished With Large Additions By John Throsby. Originally published by J Throsby, Nottingham, 1790.
This free content was digitised by double rekeying. All rights reserved.
East-Bridgford-on-the-Hill.
In Brugeford, before the Normans came, here Odincar had the principal Manor, which was then rated to the public Taxation at four Carucats. The Land was then accounted six Car. There afterwards Roger de Busli, who had the whole Township, had in Demesne three Car. twenty Sochm. on ten Bovats of this Land, fifteen Villains, three Bordars, having eleven Plows or Car. (fn. 1) There was a Priest and a Church, and twelve Acres of Meadow. In the Confessor's Time the Value was 3l. in the Conqueror's 5l. Here were three Manors which Turstan, Roschett, and Luston had, before the Conquest, rated to the Dane Geld at six Car. The Land one Car. There were three Acres of Meadow: but after the Conquest the Land was not tilled. The Value then was 3s. before, in the Confessor's Time, it was 8s.
Roger de Busli, in the Year of our Lord 1088, gave to the Priory which he founded at Blith, two Parts of the Tythe of the Hall in Brugeford, both of the Lands and small Tythes.
(fn. 2) In a great Book in the Duchy-Office, mention is made of Ranulph Earl of Chester's giving Ludeham and Brideford, to Henry de Lacy, in Fee; but the next owners I find were the Family of Biset.
(fn. 3) William Carpentar, by the consent of Henry Biset, his Son, and of Manasser Biset, his own Brother, and of Ernulphus Biset, his Nephew, gave his Mill on Doverbek, called Clive-Milne, to the Priory of Thurgarton, for the Souls of William Biset his Father, and Howisa his Mother, and Susanna his Wife, and Henry Biset, and Ausoldus his Brothers, and Henry his Nephew, and all his Ancestors, so that the said Mill should be towards the building of the new Church; and when that should be finished, to be expended amongst the Friars, reserving to himself and his Heirs, the multure of the Corn of his Demesne, when he would grind there. With this he gave himself Living if he pleased; or if he died in England, there to be buried. (fn. 4) Henry Biset, Son of William Carpentar, confirmed his Father's Gift of that Mill, with a Bovat of Land in Ludham, and a Toft, lying by the said Clive-Milne, and likewise gave to the Priory, the Passage of Briggeford, with a Toft belonging to it, (which is now known by the Name of Botemans Leyes, and still belongs to the Ferry) with William the Miller, for the Souls of his said Father, and of his Mother, and of Albreda his Wife, reserving to himself and his Heirs, and his Servants, the free Fishing.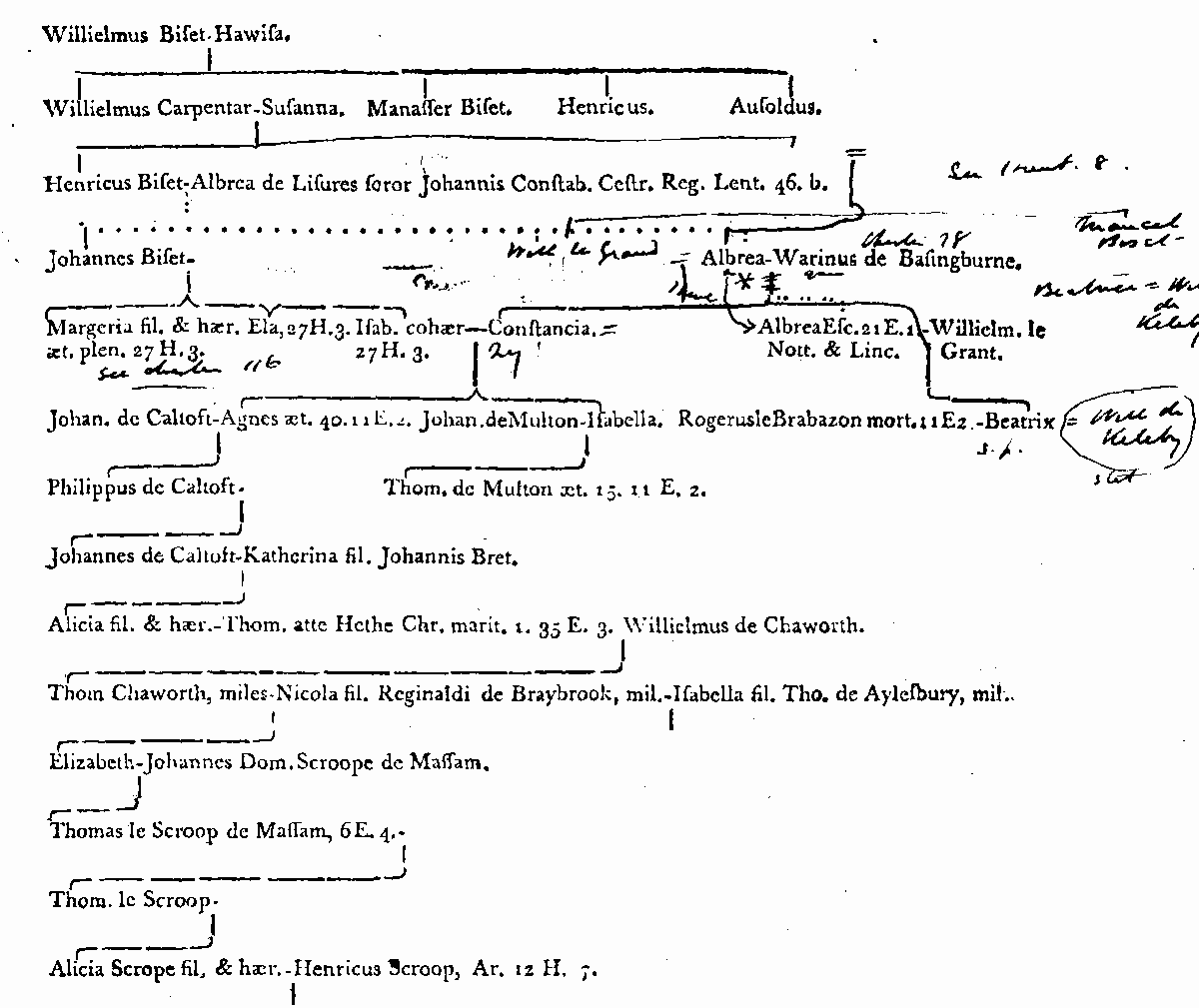 (fn. 5) The Abbat of Roucestre, 27 H 3. claimed against Albreda de Basingburne eight Carucats, and two Bovats of Land, with the Appurtenances in Briggeford, whereof every Carucat contained eight Bovats of Land measured, whereof Thurstan, his Predecessor, Abbat of Roucestre, in the Time of King Henry the Second, was seized in right of his said Church. Albreda came and answered, that neither she, nor her Ancestors, ever defended this Manor but by four Carucats, as in Tallages, Aids, Customs, and Services, and called to warrant Margery, Ela, and Isabella, the Daughters and Heirs of John Biset. Margery was then of full Age, Ela, and Isabella, under Age, and in the Custody of John de Plesseto: they were then summoned in the County of Southampton.
(fn. 6) Warinus de Basingburne paid two Marks for one Knight's Fee here in the Time of Henry the Third. (fn. 7) Albreda de Basingburne, held a Knight's Fee here, by reason of the Custody of the Land and Heir of John Biset, granted by the King. (fn. 8) Albreda had Issue Constancia, and she Isabel and Agnes: Isabell was Mother of Thomas de Multon, of Kirketon, and Agnes of Philip de Caltoft, between whom, 9 E. 3. the Land was divided. The said Thomas and Philip, 3 E. 3. claimed Court-Leet, Tumbrel, and Pillory here, and Philip a Market on Tuesday, and two Fairs granted, 1 E. 3. to the said Philip de Caltoft.
(fn. 9) Roger le Brabazon held the Manor of Est-Briggeford, one Moiety of the Inheritance of Beatrix his Wife, to them and the Heirs of their Bodies; the other Moiety for Term of his Life, of the Grant of John de Caltoft, and Agnes his Wife; and John de Multon, and Isabell his Wife, as the Inheritance of them the said Agnes and Isabell Roger and Beatrix died without Heirs of their Bodies, and so the Reversion of their Moiety, 11 E. 2. came to the said Agnes, Wife of John de Caltoft, then aged forty Years, as Cousin and Heir of Beatrix; and to Thomas de Multon, Son of the said Isabell, the other Heir: which Thomas was then above fifteen Years old.
(fn. 10) It appears that John Caltoft, (Son of Philip) 25 E. 3. infeoffed Sir John de Loudham, Knight, Richard Pensax, and others in his Moiety of this Manor, which descended to Alice his Daughter and Heir, who, it seems, was first married to Sir Thomas Hethe, and after to Sir William Chaworth.
Multon's Moiety was become Deyncourt's, in the Time of Edward the Third. (fn. 11) The Jury, 27 E. 3. found it not to the King's Loss, if he granted Leave for William Deyncurt to give a Mess. and three hundred Acres of Land, with the Appurtenances in this Place, to three Chaplains to celebrate in this Church of EastBruggeford.
(fn. 12) The King, 35 E. 3. granted to Thomas atte Hethe, and Alice his Wife, who held one Moiety of this Manor, and to Robert Deyncurt, who held the other, that they should have a Market here on Tuesdays, and two Fairs yearly, to them and their Heirs.
(fn. 13) In 49 E. 3. Alice, who had been formerly the Wife of Sir Thomas de Heth, Knight, made William Carbonell Rector of the Church of Alyngton, her Attorney, to deliver Seism to Sir John de Loudham, Chivaler, the younger, John de Welby, and to John de Staumford, Rector of the Church of East-Bridgeford, of her Manors of Est-Brigeforth, Thoresby, Alyngton, and Toynton. The Circumscription of her Seal is, Sigellum D. Alicæ de Hethe; and on the Shield is a Bend between two Cotises Dancè, impailing an Escutcheon, within an Orle of Cinquefoils, viz. Hethe impailing Caltoft.
Thomas Deyncourt, of Upminstre, in Essex, 36 H. 6. demised to Thomas Southwick, (fn. 14) and Henry Normanvile, Esquire, his Manors of Alington, alias West-Alington, (which was also Biset's Land) in the County of Linc. Est-Briggeford, and the Advowson of that Church in Nott. Walley-Hall, in Darbishire; Kettlethorp-in-Keeton, in Rutl. and one Mess. called the Hall, in Kyrton, and all his Lands and Tenements in Alger-Kirk, Soterton, Bykirke, Wygtoft, and Boston, and a certain Rent annually of ten Marks, out of the Demesne of Tuxford. Howbeit it appears, 20 H. 6. (fn. 15) that Robert Deyncourt died seized of the Moiety of this Manor, and ten Marks yearly Rent in Tuxford.— Ales, the Wife of William Lord Lovell, and Margaret of Raph Lord Crumwell, being then by the Jury found his Cousins and Heirs.
(fn. 16) Raph Boteler, Lord of Sudely, Knight, and Ales his Wife, Daughter and Heir of William Deyncourt, Knight, 8 E. 4. remitted all their Right and Claim to William Bishop of Winchester, in the Moiety of the Manor of East-Briggeford, and Advowson of the Church, and in ten Marks Rent in Tuxford, &c. And there was a Fine levied 20 E. 4. (fn. 17) between the said William Bishop of Winchester, and Sir Thomas Billing. Knight, Quer. and John Deyncourt, and Joane his Wife, and Robert Deyncourt their Son and Heir, Deforc. whereby this Moiety of the Manor and Advowson were settled on the said Bishop and his Heirs, who gave it to Magdalen College in Oxford, which he founded, whereto it still belongs.
The other half, which was Sir John Caltoft's before-mentioned, and with his said Daughter and Heir Alice, went to the Family of Chaworth, (as in Wiverton is also shown) was it seems settled on Thomas Chaworth her Son and Heir, and Nicola, Daughter of Sir Reginald Braybrooke, his first Wife, and the Heirs of their Bodies.
By an Inquisition taken at Nott. 24 Jan. 12 H. 7. (fn. 18) after the Death of William Claxton, Esquire, who died the Wednesday next before Whit-Sunday, 11 H. 7. leaving Raph his Son and Heir twenty-six Years of Age and upwards. It appears the Jury found that Elizabeth Scroop, Widow, late Wife of John Scroop, (of Massam) Knight, and Daughter and Heir of Nicola, sometimes Wife of Thomas Chaworth, Knight, seised of the Manor and Advowson of the Church of East-Briggeford, 29 Apr. 38 H. 6. gave them to the said William Claxton, Esq. then her Servant, and to Elianor his Wife Daughter of the said Elisabeth, for Term of their Lives; after whose Decease, at the time of the Inquisition, they were the Inheritance of Henry Scroope, Esquire, and Elizabeth his Wife, Daughter of Thomas, Son of Thomas, Son of the said Elizabeth Scroop, who, 6 E. 4. (fn. 19) left her Son the said Thomas Scroop, of Massam, thirty Years of age.
This remains the Inheritance of Simon Scroop, Esquire, who hath been and is still a good Landlord to his Tenants here.
(fn. 20) I find John Babington resident at Briggeford, in the Time of Richard the Second, and Henry the Fourth. Sir John Babington, Knight, died seized of a Manor here, 20th of March, 16 H. 7. (fn. 21) and Etheldena his Sister, then Widow of John Delves, entered as Heir, and died 20th of April, 19 H. 7. leaving her Daughter Elena, the Wife of Sir Robert Sheffeild, her Heir, who had a Son also called Sir Robert Sheffeild, who died Nov. 15, 24 H. 8. leaving his Son Edmund, then nine Years of Age, eleven Months, and twenty-five Days: he was Lord Sheffeild, and died Aug. 1. 4 E. 6. his Son and Heir John Lord Sheffeild, being then above twelve Years old.
The Lord Sheffeild sold this to John Hacker, who left four Sons, Francis, his eldest, succeeded him here; John was of Trowell; Richard of Flintham; and Rowland had a Lease from Magdalen College, of their principal Farm in this Town, which he left to his only Child—the Wife of Roger Waldron, whose Son Roger died lately in it, and hath left Roger his Son, scarcely of Age yet; who hath also Lands in Scalford and Goteby, in Leicestershire.
Francis Hacker, eldest Son of Francis and his Heir of this Land, was a Colonel for the Parliament and Attaint; so that his younger Brother Rowland, by the Favor of his Royal Highness the Duke of York, who sold him his Brother the said Francis his Estate, is the present Owner. He was a Colonel in the Service of the King, in whose Service he had a younger Brother called Thomas Hacker, slain in his Company about Colston-Basset, where their Father old Francis had an Estate also, which he purchased of Mr. Golding, and had built an House, as in that Place is already noted.
To this House in Bridgeford did Dr. Gilbert Sheldon, then Warden of All-Sculs College in Oxford, now Lord Archbishop of Canterbury, retire with old Mrs. Okeover, shortly after the Parliament's Commissioners had put him out of his Place in that University, and continued here three or four Years, well pleased with the River and Fields, and honored by the Neighbourhood, to all which he was ever very extraordinarily kind, and from myself, amongst the rest, deserves a better Acknowlegement.
(fn. 22) The Church of Briggeford was one of those accounted as Part of the Chapelry of Blith, in the Charter of King John, made in the second Year of his Reign, to Walter Archbishop of Roan, and his Successors, and the Canons of that Church, where King Henry the Second, his Father, and his Brother King Henry the younger, were buried. This he did at the Request of Queen Elianor his Mother, which King Richard the First, his Brother, had done before, and himself also, when he was Earl Morton.
The Inquisition taken at Blith. 16 E. 3. before Nicholas de Langeford, the King's Eschaetor, finds that the Archbishop and Canons of Roan, had the Church of Briggeford in their Hands, as annexed to the Chapelry of Blith, till King Edward the First granted it by the Name of the free Chapel of Tikhill, to one Mr. John Clarell, who was thereupon inducted into the Church of Briggeford, as appropriate and annexed to the said Chapelry, and so held it all his Life. After whose Death, the same King Edward the First, gave the said Chapelry to Mr. Boniface de Saluciis, his Kinsman, who was accordingly inducted into this Church, as belonging to the said Chapelry, and possessed it quietly twenty four Years: but after the Death of King Edward the First, in the Time of King Edward the Second, William de Grenefeild, the Archbishop of York, began to seek all Occasions he could, to trouble the said Boniface, and procured one Thomas de N. to be presented to the Church of Briggeford, by Roger Brabazon, then the King's Justice, telling him it was of his Patronage in right of Beatrix his Wife; which Thomas was admitted and continued Parson, and Sir John de Caltoft, and Sir Thomas de Multon, Knights, afterwards claimed the Advowson, which hath ever since been used by their Successors alternately; Multons passing through the Deyncourts to William Bishop of Winchester, and so to Magdalen College in Oxford; and Caltofts descending to the Family of Chaworth, as before is shown, remains with the Heir Male of that House, though the Land be the Inheritance of the said Simon Scroop, from an Heir General. Patricius Viscount Chaworth, of Armagh, who had this Turn from Sir Richard Chaworth, Vicar-General of the Archbishop of Cant. his great Uncle, now lately, viz. Nov. 12, 1672, deceased, presented Mr. Henry Smith, the present Incumbent.
(fn. 23) Next beyond the Parsonage from the Church, is a small Place heretofore called Sir John Markham's Manor, given by one Mr. Jacson, Parson of this Church, to his Kinsman Michael Jacson, who married Francis, the Daughter of —Poole, of Syreston, and by her left four Sons, William, his eldest, Roger, Parson of Langeford, in Darbishire, George a Citizen of London, and John, of Burton-Jorz.
William had one only Child, called also William, a modest Man, but of great worth, who died Parson of Screveton, Feb. 27, 1661, leaving but few equals for Prudence, Piety, and Learning, in this Country. He married Dorothy, my Father's Sister, by whom he left a Son of his own Name, William, (now one of the Coroners of this County) to succeed him in this small Freehold, together with a Lease from the said College, and some Lands in Carcolston, and three other Sons, Michael, Roger, and John, and a Daughter named Elizabeth, now married to her Cousin Richard White, in London.
The Rectory of East-Bridgeford was 241. 'Tis now 191. 8s. 6d. 0b. in the King's Books, and the Lord Viscount Chaworth, and the College of St. Mary Magdalen in Oxford, Patrons by Turns.
In the East Window of the Chancel are some painted in their Coat Armours, one Azure, a Fesse Or, between three Bezants; Mr. Kniveton calls them Libard's Heads, quartering with Arg. on a Bend Gules, three Pair of Wings of the first, which he also calls three Chevrons; to this the Crest is, a Man's Head Gules, with a Wreath about the Temples, Arg.
Another is Azure, two Chevrons Or, Chaworth.
Another is Deyncourt, with a File of three Labels, Arg. charged with six Billets Gules.
In the South Window encompassed with Johannes Allestre, Prior de Thurgarton, twice, Sable three Keyes Arg. the Arms of Thurgarton Priory.
In the Church north Aisle a stone Tomb, with one in mail, cross-legged, upon which was, Arg. an Orle of Cinquefoils, about a small Escutcheon Sable, Caltost.
In the Window the same, wherewith impales Ar. two Chevrons Or, Chaworth and Caltoft; and the same for Chaworth (as it is ever here) quarters with Gules a Fesse Dance between ten Billets Or, Brett: and both impale Caltoft, in an upper Window, Chaworth quartering Caltoft.
In the south Aisle, an Alabaster Tomb north and south, one in Mail, his Belt between two Cotises Dancè; on the Sides, Barry of six Or, and Gules, a Canton, or quarter, Ermine, Gousell.
Azure a Fesse Dancè and Billetè, Or, Deyncourt.
Three Roses, amongst Crosse Croslets, Darcy. At the Feet, Gules, a Bend Or, between two Cotises Dancè Arg. impales with Arg. an Escutcheon Sable, and both of them encompassed with an Orle of Cinque, or six Foils, like a Bordure.
In the Window over it, is one with a shaven, or bald Crown, his upper Garment is, Arg. powdered with six Foiles Sable; and by him, Gules a Bend Or, between two Cotises Dancè Arg. this I suppose to be for Sir Thomas Hethe.
There is an old Alabaster Tomb flat, in the north Wall of the Church, and on it,
Hic Jacet Johannes Babington . . . . . . ob . . . . . . 1409.
And over it, on a Stone engraven, Ten Roundels and a File of three Labels. In the Window was, Arg. ten Torteauxes, and a File of five Labels Az. impaling with Arg. a Lion ramp. Gules bordered about with Roundels, Or.
[Throsby] East-Bridgeford
I Have noticed on passing over the Roman Route, from Newark to High-Cross. See page 148.
The lordship contains 2500 acres—is an exceedingly productive soil—half of it is in the hands of Magdalen College, Oxford. About a century ago there were only three proprietors of this land: Magdalen College, Mr. Hacker, whose family, as Thoroton observes, obtained it of Lord Sheffield by purchase; and a Simon Scroope, Esq. who disposed of his portion of the land, and a joint share of the manor, with the College, which is now in the hands of Mr. Henry Blagg, of this village. Mr. Scroop's estate is now in the hands of several freeholders, the principal of whom are Mr. Heathcote, Mr. Caunt, Thomas Smith, Esq. Nottingham, (fn. 24) Mr. Kirke, and Mrs. Newdigate. (fn. 25)
The village is not very large. The church was, till lately, larger, but it is now reduced according to the present whim of the day (when a reparation takes place) and the old tombs, as customary, tumbled into the church-yard, or knocked in pieces.
Without this church lie three fine pieces of sculpture, weather beaten under the eaves of the church roof; insulted by parish-officers, pelted at by boys, and disregarded by priests; whose originals, it cannot be doubted, were some of those worthy lords of manors by which the churches were enriched, and the poor fed bountifully without a compulsatory law. Alas! how little noticed are the remembrances of those pious men. Their uplifted hands, in devotional exercise, shield them not from the vilest insult! from the most consummate neglect! See two of them copied from Thoroton facing this page. A third that now lies also without the church, is a cross-legged figure, noticed by Thoroton, but not engraved. They are all now strangely mutilated. The church has a square tower with six bells.
In the chancel is a neat monument to the memory of Cæcilia Prialx, relict of the Rev. Peter Prialx, D. D. she died in 1751, aged 86. It also remembers their son, B. D. aged 80, who was rector 41 years: he died in 1783.
A monument in the north aisle remembers John Hacker, Esq. and Margaret his wife: he died in the year 1620. They are figured thereon in black, praying, below which are six children in the same attitude. (fn. 26)
Patronage was, till lately, one-half in Magdalen college, and the other in the family of Chaworth, whom I find had no other interest in East-Bridgeford. The present incumbent is the Rev. Mr. Broughton, of Shropshire, a man of good fortune, who has a pretty estate at Lowdham, in this county. His father bought the turn of this living nearly thirty years since, of Mr. Chaworth, who was killed in a duel with Lord Byron. It has been said that 800l. was the purchase; however it did not become vacant till about twenty years after. The church is dedicated to St. Mary. King's book 19l. 8s. 6½d. Yearly tenths 1l. 18l. 10¼d. Archiepisc. pro Syn. 4s. Archidiac. pro Prox. 7s. 6d. Val. in mans. gleb. dec. &c. Patrick Chaworth, Esq. presented in 1707: Magdalen College, Oxford, in 1742: Peter Broughton, Esq. in 1783.