Pages 359-361
Thoroton's History of Nottinghamshire: Volume 1, Republished With Large Additions By John Throsby. Originally published by J Throsby, Nottingham, 1790.
This free content was digitised by double rekeying. All rights reserved.
BALDERTON.
Besides the Berew, here was in the Town of Balderton, which was not reckoned together with Newark, (fn. 1) in the Conqueror's great Survey, Soc of the Manor as much as was rated to the Dane-geld at six Bovats and an Half. The Land three Carucats. There twenty-six Sochm. three Bord. had nine Car.
(fn. 2) Robert (de Kayneto) Bishop of Lincolne, founded the Priory of St. Katherin's, in the Suburbs of that City, to which he gave, amongst other Things, three Bovats of Lands in Baldertune, with the Dwelling Houses, which King Henry the Second confirmed; in whose Reign, viz. 21 H. 2. (fn. 3) it appears William de Dive, had Interest here, for his Land of Balderton, then ought two Marks for Defect.
Here was a Manor in Balderton, to which several Lands in Barneby, Codington, Farnedon, Stoke, Elston, and Sireston, and other places did belong, whereof John de Dyve, of Kingerby, in Lincolneshire, (fn. 4) Son of Sir William de Dive, and Ermetrida de Amundevill, the Heir of that Family, by whom that Place, and many other descended to him, died seised about 21 E. 1. (fn. 5) held of the Bishop of Lincolne, leaving Joan, then the Wife of Raph de Trehampton, (formerly of William Deisney) and Elizabeth, Wife of Sir John D'Aubeney, his Sisters and Heirs; which Elizabeth the Year following, viz. 22 E. 1. (fn. 6) left Sir Hugh de Bussey, Knight, her Son by Sir Lambert de Bussey her former Husband, her Heir, then aged about thirty Years. Sir Hugh de Bussey left the Manor of Balderton, (fn. 7) and many other Lands about 34 E. 1. to his Son and Heir John de Bussey, then being twenty-four Years of Age.
To this worthy Family, whose principal Seat was at Hougham, in Lincolneshire, did this Manor remain, till the Heir Female of it carried it to Meeres; and that in Queen Elizabeth's Time, Francis Meeres the Heir and Issue of that Match, sold it to Gyles Foster, whose Heir sold it to James Leeke, Gent, whose Son and Heir Francis Leek succeeded, and left only a Daughter who was married to George Lascells, of Elston.
The Rectories of Balderton and Farenton was anciently appropriated to the Church of Lincolne, and do make one good Prebend there, called Balderton Prebend. (fn. 8), (fn. 9)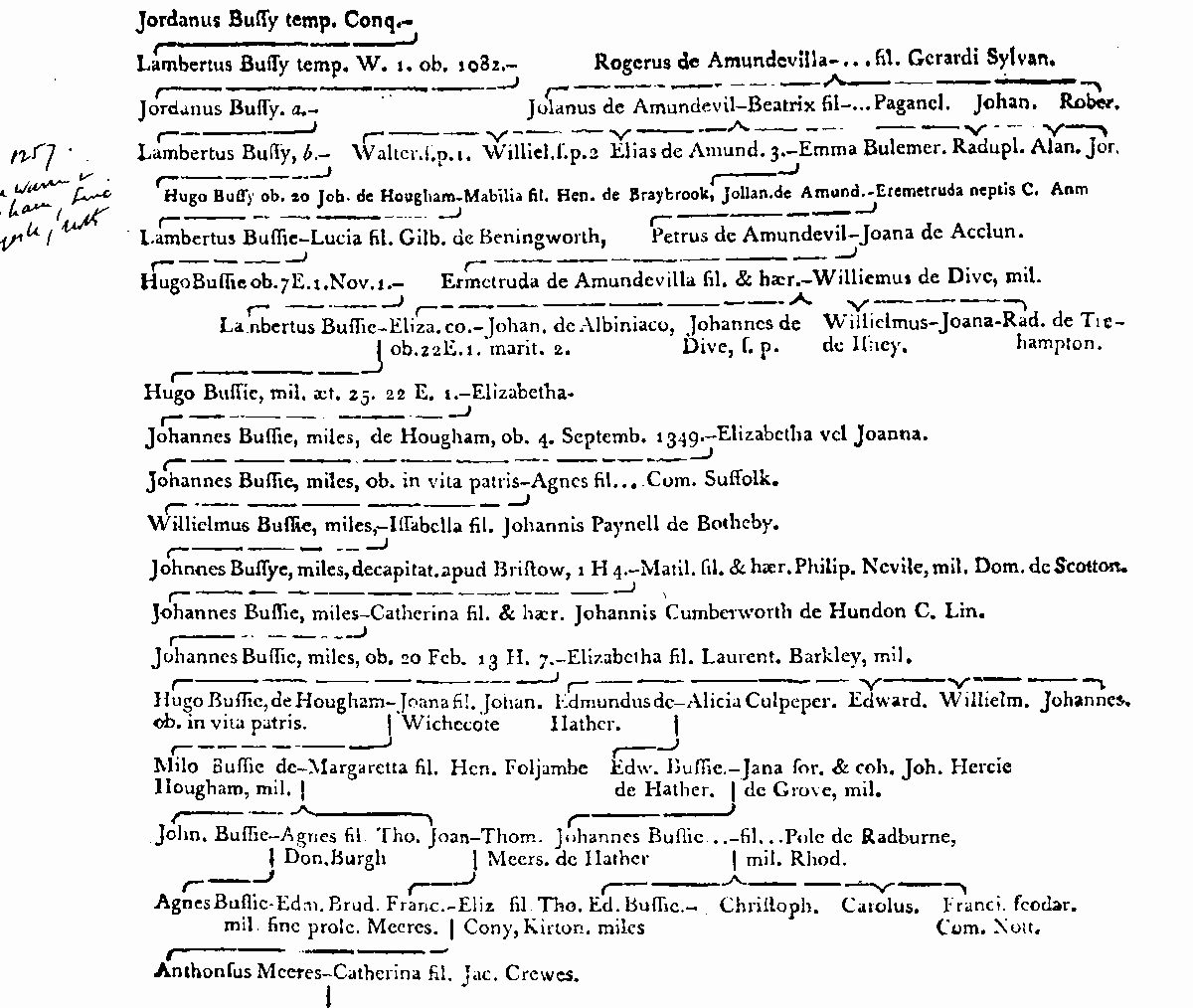 [Throsby] Balderton
THIS lordship is divided: the Duke of Newcastle I believe has the royalty, and is a proprietor. Other owners there are. Mr. M. Harvey enjoys the most considerable portion, who is lessee to the Rector for three lives. It contains 2000 acres of but indifferent land, enclosed about 24 years since.
The village consists of 100 dwellings; but no Meeting-house therein. The chapel which is dedicated to St. Giles, has a nave and two side aisles, with a spire and 4 bells.
Here is a good Saxon arch in the north porch. Rev. Wm. Broadhurst, Vicar died in 1763. Daniel Gash, Esq. died in 1765, aged 73; William Ellis, Esq. died in 1767, aged 61.—Under an inscription for Ann Leek, who died in 1660, are these lines,
"To deathe a tyrant, or when virgin's dye, To it a crosse, increase and multiply. The tyrant fails, the better parte survives. And still God's kingdom by depriving threives. Death hath not slain, or soyled a soul but sent, In virgin coyne to pay Dame Nature's rent, Before the day so swift is heavenly race, The next to th' Martires is the virgin's place."
The great north road, passeth through this village.