Pages 73-76
Thoroton's History of Nottinghamshire: Volume 1, Republished With Large Additions By John Throsby. Originally published by J Throsby, Nottingham, 1790.
This free content was digitised by double rekeying. All rights reserved.
THORP,
(A Village) Buzzard, Bochart. It was a Berne of Broughton, which Earl Algar had before the Conquest, and answered the Tax as ten Bovats. The Land was sufficient for ten Oxen; (fn. 1) in the Confessor's Time it was valued at 40s. the Conqueror had it in his own Hand, and then it was a waste Berne; there was twelve Acres of Meadow valued at 2s.
Here was another Share of Roger de Busli's Fee belonging to Wisoe, which Odincar, Lord of Willeby, had before rated to the Geld as seven Bovats. There were six Acres of Meadow then valued at 2s.
Of the Tain-Land in Willebi, viz. two Bovats and a Half, ad geldam, was Soc to Earl Algar's Part of this Thorp, in which were two Sochm. with three Carucats, or Plowes, and three Acres of Meadow belonging to Gatham.
This Part, it seems, Serlo Blundus held, (fn. 2) and gave two Parts of the Tythe of this Demesne here to the Priory of Lenton, at the Foundation thereof in the Time of Henry the First, as many other of William Peverel's Dependents did of theirs in other Places. Here was likewise a Mill shortly after given by Robert Bluet, (fn. 3) and confirmed by Warnerius de Insula to the said Priory, for his own Soul's Health and his Brothers, to wit, Hugh the Prior, and Radulph. Thomas Dispenser, (fn. 4) 13 Joh. with the Daughter and Heir of Hugh de Insula, had three Knights' Fees in Northauntescir of the Honor of Pipirell, of Nott. in in Hibernby, in Northaunt. two in Luhestorp; in Leicestershire, three Parts; and in Thorp, in Nott. a fourth Part. This Part afterwards came to the Normanvills. Raph de Normanvill (fn. 5) paid 12s. for a fourth and seventeenth Part of a Knight's Fee of the Honor of Peverell, in Thorp, in the Time of H. 3.
That of Roger de Buslie's Fee was held by the Lovetots of Wirksop and Wisow; Alice, the Daughter of Matilda de Lovetot, held the fourth Part of a Knight's Fee of her Mother, and she of Alice, Countess of Ew.
The King's Part, Albani Earl of Arundell had, under whom John Bochart held the third Part of a Knight's Fee, (fn. 6) about the beginning of Henry the Third, from whom it was called Thorpe Bossarte.
Hugh de Albini, Brother and Heir of William de Albini, late Earl of Arundell, made Fine with the King (fn. 7) 18 H. 3. for two Thousand five Hundred Marks to have Seizin, and the King's Term till he should come of Age, of all the Lands and Castles, &c. which were the said Earls his Brothers, and of the Lands which came to him by Inheritance from R. Earl of Chester and Lincoln, his Uncle, &c. Whereupon the several Sheriffs had then the King's Precept to give him Seizin accordingly, and amongst the Rest, the Sheriff of Nott. Derb. besides many other Fees in the County of Darby, of this third Part of a Knight's Fee in Thorpe Bochard.
Robert de Derley, (fn. 8) 4E. 1. is found to have held a Messuage, and Garden in Darley, in the County of Derby, of Henry de Derley and others, and the Manor of Netherbaddon, in the same County, of the King in Capite, and the Manor of Wisowe, in this County, of Thomas de Lovetost, paying Homage and 10l. per Annum, and the Manor of Thorpe, of Rand. Moryn, paying Homage and 1d. a Year for all his Services, and that his Son and Heir Robert was then fifteen Years old. In the same Year, Oct. 26, (fn. 9) the King assigned Cecily, the Wife of the said Robert de Derly, one Mess. and 7l. 5s. of Land and Rent in Thorpe for her Dowry, and the next Year after, (fn. 10) viz. 5 E. 1. commanded Thomas de Normanvill his Steward, concerning it again. Rob. de Derley, and Margaret his Wife, 33 E. 1. released all their Right in the Advowson of the Church of Thorpe Bozard to John de Segrave and his Heirs, and the Year after, viz. (fn. 11) 34 E. 1. levied a Fine of one Mess. one Bovat of Land, and the said Advowson of Thorpe to the said John de Segrave. The said Robert de Derley, and Margaret his Wife, 6 E. 2. levied a Fine, (fn. 12) by which they settled six Mess. and eleven Bovats of Land, with the Appurtenances in Thorpe Bussard, upon John their Son, and Joan Daughter of Simon Pouger, of Wylestrop, and the Heirs of the Body of the said John; to which Fine Nicholas de Widmerpole, and Thomas his Son, set to their Claim.
John de Segrave, Senior, (fn. 13) 19 E. 2. was found to have held one Mess. and one Bovat of Land in Thorpe Bossard, of the Lords of Barowe, as Parcel of the Manor of Thorpe Bossard, which Robert de Derley then held of those Lords, and that John de Segrave, Son and Heir of Stephen de Segrave, Son of that John was his Cousin and Heir, and then above nine Years old; he held the Advowsons of the Churches of Thorpe and Bonington, and divers Manors in Darbishire, Bretby, and Roscelaston, and Lands in Repindon and Tikenhal, which the said John, and Christian his Wife, then living, had of the Gift of Edmund Earl of Arundell, &c. Elizabeth Daughter and Heir of the last John de Segrave carried it to the Family of Mowbray, Dukes of Norfolk, from whom it descended to the Lord Barkeley, who in Queen Elizabeth's Time sold it to Mr. Armstrong.
Henry Temple, of Thorp, in the Clotts, (fn. 14) by his Deed dated on the Feast of St. George, 38 E. 3. granted to Raph Basset, Knight, and Hugh Annesley 20l. per Annum, during his own Life out of his Lands and Tenements in Thorpe, with a Clause of Difference. Maud Temple, Widow, 51 E. 3. granted to Robert Armstrong, (fn. 15) and Margaret his Wife, the Moicty of the Manor of Thorpe, to find her Meat, Drink, and Clothes during her Life.
Thomas Columbell, and Margaret his Wife, gave one Mess. and six Virgats of Land acre to John Columbell, and Thomas Warin, (Parson of this Place) 14 H. 4. and John Armstrong, Son and Heir of the said Margaret, confirmed it for Thomas Columbell's Life.
Nicolas de Thorp, 9 R. 2. (fn. 16) was found by the Jury to have held the Moiety of the Manor of Thorpe, together with Robert Armstrong, and Margaret his Wife, who held the other Half in Right of the said Margaret, of the King in Capite, by the Service of making Suit to the Wapentake of Rishcliff from three Weeks to three Weeks; and finding two Frank-Pledges at the great Turn of Rishcliff, and Thomas, Son and Heir of the said Nicolas, was then twelve Years old.
The Family of Armstrong flourished here, and by Degrees became possessed of the whole Township, and some neighbouring Manors, as is already noted.
The King's Commissioners, 9 H. 8. (fn. 17) sitting at Nott. on Monday, the Eve of the Nativity of the blessed Mary, found that Gabriel Armstrong, Gent. had been, and then was seized of eighty, and of ten Acres of Arable Land, apt for the sowing of Grain in Thorpe in le Clotts, and so seized, did the fourteenth of March, 6 H. 7. the said Acres inclose with Hedges and Ditches, and so inclosed convert to Pasture. Inclosing the Lordship (as it doth in all Places where the Soil is any Thing good in this County for certain) hath so ruined and depopulated the Town, that in my Time, there was not a House lest inhabited of this notable Lordship, (except some Part of the Hall, Mr. Armstrong's House) but a Shepherd only kept Ale to sell in the Church, which is still presentative, and to it all the Tythes belong, paying 20s. per Annum, the Pension to Lenton.
The Rectory of Thorpe, was 10l. Value, and Mr. Barkeley, Patron, (fn. 18) now in the King's Books it is 12l. 9s. 4d. ob. and Gabriel Armstrong is Patron.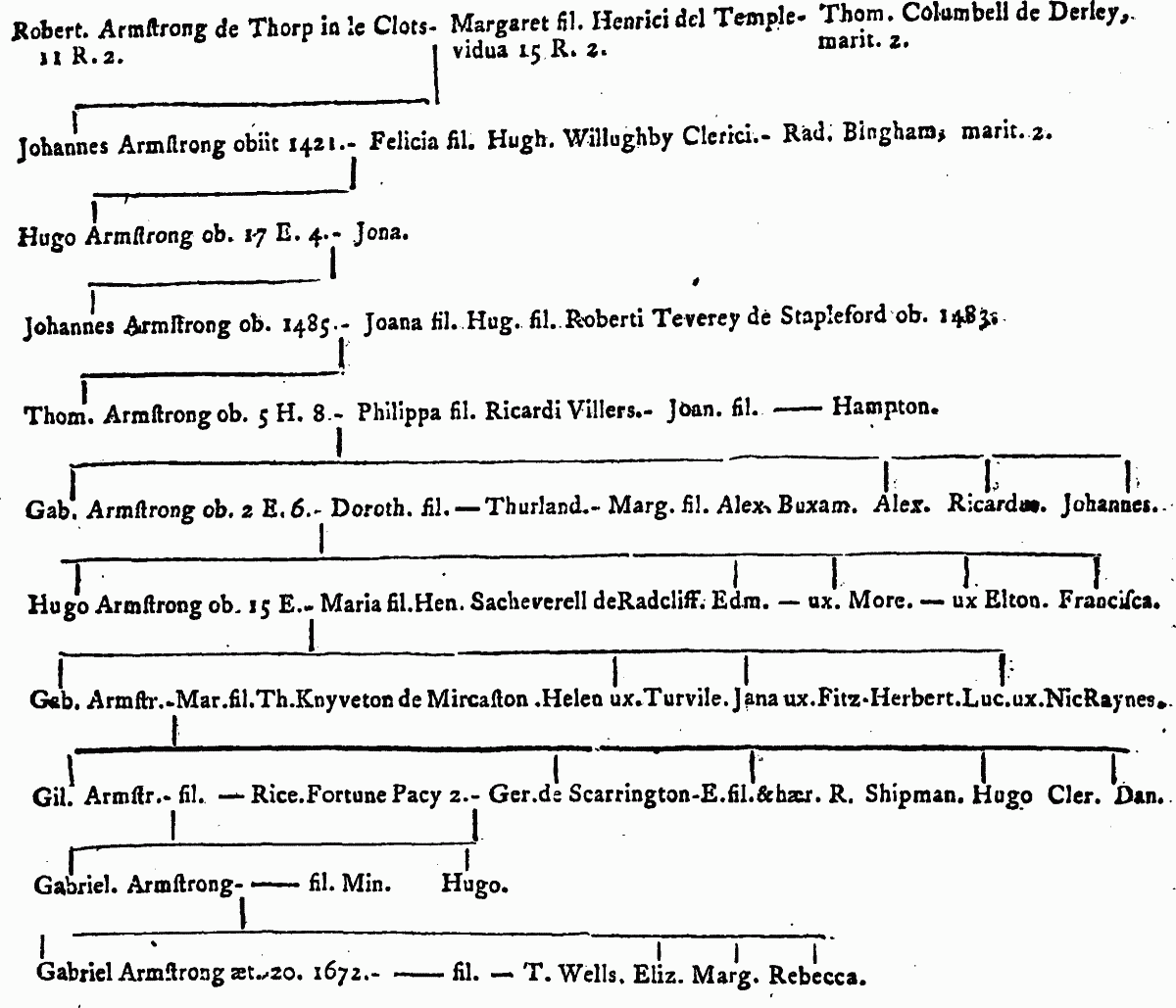 [Throsby] Thorpe
LIBERTY contains about 800 acres, old inclosure. Sir Thomas Parkyns, Bart. Mr. Davis, of Loughborough, and Mr. Mason, Surgeon, of Leicester, own each portions of it.
Here are only 2 houses and the remains of a church (see plate 6). The church was in use about 60 years since; but now it is about to meet its complete annihilation.
Patron, Sir Thomas Parkyns, Bart. who allows the Rev. Mr. Allen somewhere about 10l. per ann. as Incumbent. Archiepisc. pro. Syn 4s. Archidiac pro. prox. 6s. 8d.— — Armstrong presented in 1673. Richard Fownes and Margaret Armstrong, in 1699. Sir Thomas Parkyns, Bart. in 1748.