Pages 190-197
Thoroton's History of Nottinghamshire: Volume 2, Republished With Large Additions By John Throsby. Originally published by J Throsby, Nottingham, 1790.
This free content was digitised by double rekeying. All rights reserved.
STAPLEFORD.
In Stapleford before the Norman Invasion, were four Mannors, which Ulcicilt, Staplewin, Godwin, and Gladwin had; and were rated for them to the Danegeld, (the tax of that time) at two car. and six bov. The land of them being then returned to be suf ficient for three Plows, or three Car. (fn. 1) There afterwards William Pevrel, of whom Robert (I suppose de Heriz) held it, had in demesne three Car. six Vill. and two Servants, with six Car. or Plows. There was then a Priest, and a Church, and 58 Acres of Meadow: In the Confessours time the value was 60s. in the Conquerours 40s.
(fn. 2) Gaufr. de Heriz held it at the foundation of Lenton Priory, in the time of King Henry the first, by William Pevrel, who gave two parts of the tythe of his demesne here to that Monastery, as in the rest of Lands. (fn. 3) King Stephen confirmed that which Gaufr. de Heriz by the consent of his mother, gave to that Church. The Sheriff, 25 H. 2. (fn. 4) gave account of 79s. 8d. of Stapleford the Land of Robert de Herlz.
(fn. 5) Galfr. de Heriz, Lord of Stapleford, had descending of him Robert, who died without issue, and Agnes who died without issue, Avicia Mabilia who died without issue, and Alice, of whom Galfrid. Robert, Hugh, Richard, and Hugh Heriz.
(fn. 6) Richard de Cazmera married Avicia Lady of Stapleford, who gave that Church to Newstede Priory.
(fn. 7) Phillip de Stradley, 2 Joh' gave the King ten marks and a Palfrey, for having the daughter of Avicia de Stapilford to wife with her inheritance.
Galfr. de Ecclestone, 26 May, 8 H. 3. (fn. 8) made fine of 10l. for seizing of the Land which Avicia, who had been wife of Richard de Camera, held of the King in Capite, which corcerned him as his inheritance in Stapleford. This man I take to be the son of her sister Alice, and sometimes called Heriz, and sometimes Stapleford.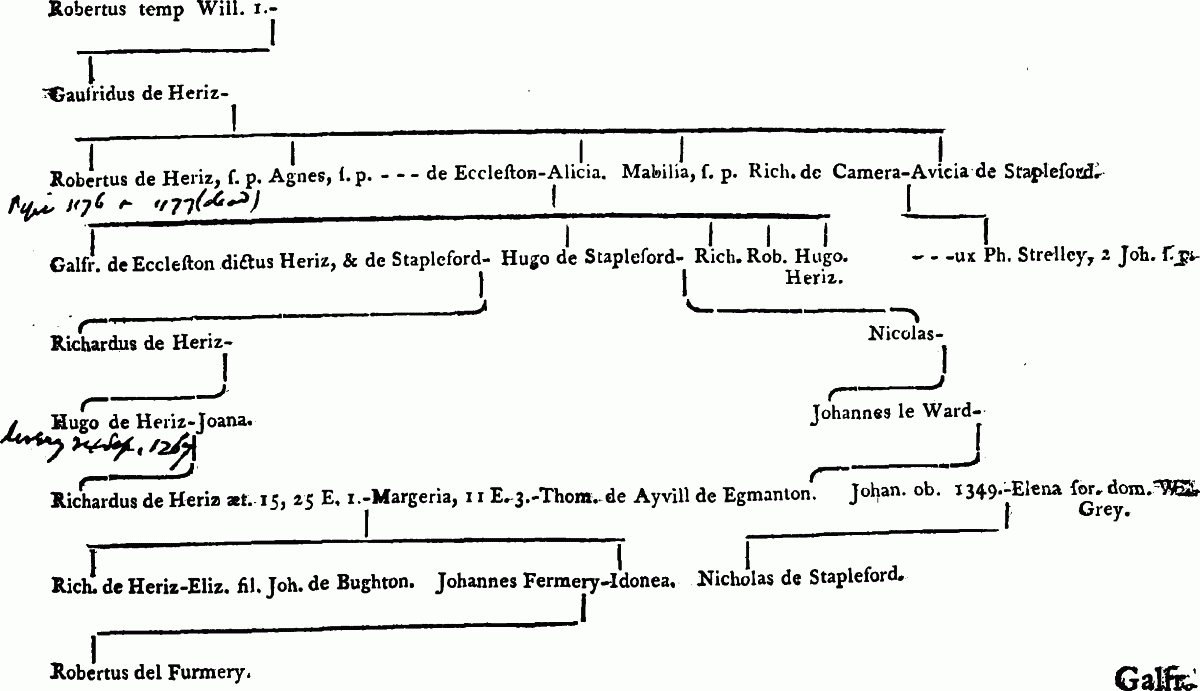 (fn. 9) Galfr. de Heriz, and Hugh de Stapleford, were brothers; but Galf. held the capital Mess. with the demesne of Stapleford, and Hugh held that part which John de Stapleford, called le Ward, and his heirs held, but they both joined and gave two bovars, in alms to the Priory of Newstede: And Richard the son and heir of the said Galfrid gave four. Nicolas son and heir of Hugh gave two. Which Nicolas was father of John le Ward, who son and heir John married Elena, sister of Sir William Grey, of Sandiacre: and both of them died in the pestilence, in the year 1349, and left Nicholas their son under age, whom the same Sir William had in custody.
The other Hugh, brother of Galfr. de Heriz, called also de Stapleford, I take to have been the Clergyman, or at least Lawyer, (for so Clericus did then also import) who was under or deputy Sheriff, for Riginald Grey, 51 H. 3. (fn. 10) and afterwards himself Sheriff in 54 H. 3. and in 55 H. 3. for Walter Grey, Arch bishop of York, as may be seen in the Pipe Rolls of that time.
(fn. 11) Richard de Stapleford, son of that Galfr. de Heriz, had a son and heir called Hugh de Heriz, omitted in the book of Newstede, who yet, 2 E. 1. (fn. 12) claimed the Advowson of the Church of Stapleford, whereof his Ancestor was seized in the time of King John, against the Prior of that place. And afterwards passed it by Fine levyed at Nott. the day after St. Martin, 8 E. 1. (fn. 13) to John the Prior, and the Church of St. Mary at Newstead, as that which Eustachius the Prior his Predecessour had of the gift of Avicia de Heriz, cousin of the said Hugh; and by the confirmation of Galfi. de Eccleston, grandfather of the said Hugh, whose heir he also was.
(fn. 14) This Hugh de Heriz (of whom Galfr. de Stapleford, knight, held thirty-six bovats in Stapleford and Thurmeton, and John, son of John de Stapleford, twenty-six bovats, &c. in this town) left Richard de Heriz, his son and heir fifteen years old, 25 E. 1. Richard de Heriz left a son also of his own name, his heir under age, whom the said book of Newstede mentions to be granted to Sir John de Mounteney, knight, by the King, and that Sir John sold his Wardship and Marriage to one John de Bugton of Wellum, who married him under age to his daughter Elizabeth, in the time of the Eyre, 3 E. 2.
(fn. 15) Richard de Heriz, and Elizabeth his wife, by a Fine levied at York the day after St. John Baptist, 11 E. 3. passed two parts of this Mannor, and the third part which Margery, the wife of Thomas Dayvill of Egmanton, had then in Dower, after her decease, to Richard de Bughton, and his heirs, paying them 40l. per annum, during their lives.
(fn. 16) The Book of Newstede saith, this Richard de Bughton was an Ecclesiastical person, and that the said Richard de Heriz gave this Mannor to Richard, the brother of his wife, who first died, and then his said wife, in the aforesaid Pestilence, and that after their deaths he the said Richard de Heriz enfoeffed William de Wakebrigge, and others, to give to the Priory of Newstede, to make and found Chantries; but having a sister called Idonea, the wife of John del Furmery, who had both sons and daughters, he was by her, and other friends, within three days after persuaded to revoke that, and settle it on Robert del Furmery her son, who was to have married Cecily, the sister of Elizabeth, before named, but he did not; so dying without issue, it remained to the said Idonea, and her heirs, who gave only two bovats to Newstede.
(fn. 17) By an Inquisition taken at Nott. the Saturday next after the Feast of St. Michael, before Thomas Mapurley, and his fellow Commissioners, 7 H. 6. it appears that the Knights Fee, which Richard de Heriz formerly held in Stapleford, was then in five parts, whereof the Prior of Newstede had one, Thomas Columbell one, Nicholas Stapleford one, Robert Matley another, and William Johnson another.
Robert Matley had a daughter and heir called Margaret, the wife of John Davenport, esquire, whom the Jury, 32 H. 6. found to be but seventeen years of age; and that Elena Vernon, mother of Richard Vernon, and sometimes wife of Robert Matley, and after of William Heresse, had in Dower here the third part of half the Water Mill, and two mess. fix bovats, and the third part of 5s. rent, &c. This part I guess now to be my cousin Hollingworths, who hath the Water Mill, and considerable Lands in this town.
Columbells part is sold to Edward Manley.
The Lands which belonged to the Priory of Newstede, I suppose, most of them were John Brodbents, to whom William Cambden Clarenceaux, 45 Eliz. 1601, (fn. 18) granted for his arms Party per pale, Ermine and Azure, a Fesse Wavy, Gules, the Crest a Pheon; his daughter and heir Mary Broadbent was married to Gervas Jackson, by whom she had George Jackson the chief Constable, the present owner.
In the year 1612, (fn. 19) I find the owners to be John Brodbent, who had ten oxgangs, William Greyseley four oxgangs, George Clarke four, Thomas Mere two, Peter Cclumbell, gent. four oxgangs, Francis Hollingworth fourteen oxgangs, and Gervas Teverey, gent. forty oxgangs. He purchased the Lord Sheffeilds lands in this town, whereof mention is made in Chillwell, and inherited a good share in this Lordship, besides some at Thrumpton and Sandiacre, which was most anciently the Staplefords, and descended to the Teveryes, formerly resident at Long Eaton in the County of Derby, in which they had Lands in several other places; but since the match with Staplefords heir, which the Genealogy inserted (drawn out of Mr. Pigots evidences, for the most part) manifesteth, they have made this place their chief habitation, which the said Gervas Teverey, esquire, together with his Lands at Estwayt, Eyton, Sandiacre, Little Thrumpton, (the other Thrumpton he sold to Mr. Pigot) and divers others in these parts, settled on Teverey Palmes his grandson, second son of his eldest daughter Mary, the wife of Sir Brian, son of Sir Guy Palmes, knight, but he died a batchelor, and his elder brother Francis succeeded, who married the lady of Mary Fane, daughter of Mildmay Earl of Westmorland (since married to John Earl of Exeter) whom he left without issue, so that this estate descended to William Palmes the next brother, who having married Mary, a co-heir of the Lord Evers his estate, and liking Yorkshire better, hath disposed of this old house to Arthur Waren, son of Arthur, named in Touton, with the demesne, as he did before the farms to Mr.—Burrowes, the soapboyler of Darby, who purchased them about a year since, or more, as I have heard.
(fn. 20) In the year of our Lord 1259, the Prior and Covent of Lenton, passed both their great and small tythes which they had in the parish of Stapleford, by reason of the demesne ands which were William Peverells in that place, to the Prior and Covent of Newstede n Shirewood, for five marks per annum rent: but if they of Newstede should lose or be excluded from the possession of the Church of Stapleford, the bargain was to be void.— To which were witnesses Sir Richard de Sutton, Canon of Southwell, John his brother, Rector of Lerington, Mr. William Bishop, Rector of St. Nicolas Church in Nottingham, and others. (fn. 21)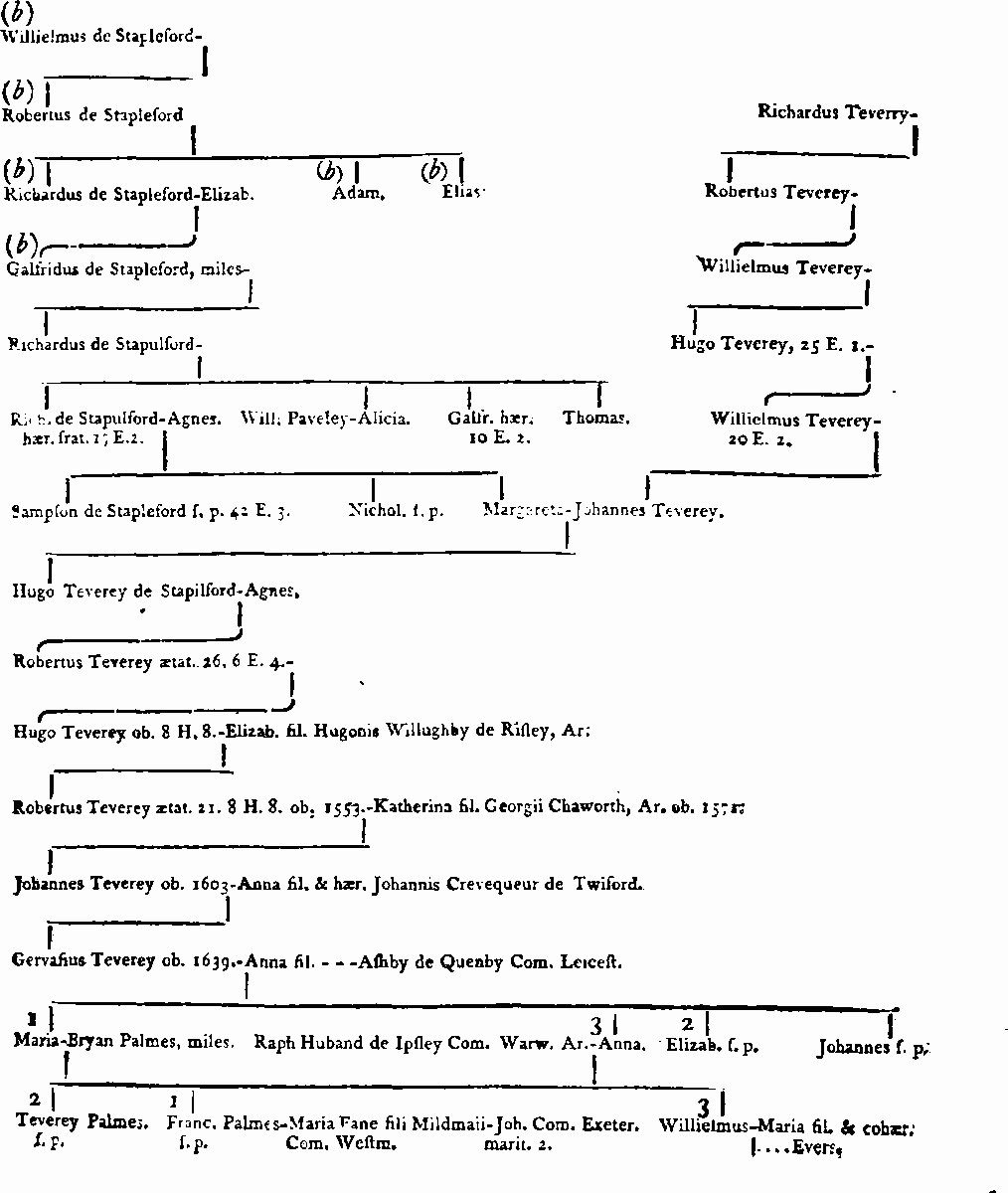 Upon a Gravestone in the chancel.—Hic jacet Dominus Johannes Abbot, capellanus stius Ecclesiæ xlviii. annos; qui obiit vii. die Novemb Anno Dom. M.CCCCXXXVIII.
In a high Window in the Church, and twice on Surcotes.—Arg. on two Bars, Azures, three Cinquefoyls Or. And the same impaling Arg. a Bendlet, Gules.
In a Window of the Chancel, Gules on a Bend Azure between two Wolves heads erased Arg. three Libards heads Or.
A Bordure, Gobony of the second and third, underneath, Thomas Gunthorp, Prior of Newstede.
Three Lions passant gardant Arg. upon large Bars sable, divided with Barrulets, Gules. The chief is broken away, and intended for the Priory of Newstede.
Arg. on a Bend sable, three Birds, or Choughs, Or.
In the North Ile Window of the Church, quarterly, 1. Or on two Bars Gules, three Waterbougets Arg. Willoughby.—2. Sable, a Lion Rampant amongst Cinquefoiles Arg. Clifton.—3. On the upper half Arg. on two Bars Azure, three Cinquefoils Or, and on the lower half Arg. on a Bend Gules, three Hedgehogs Or.—4. Willughby again impaling Gules, on a bend Arg. three Scallops sable.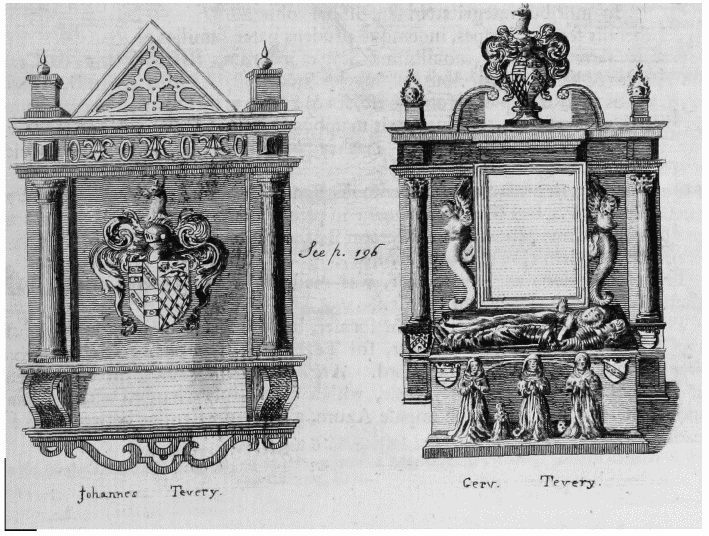 Hic jacet Johannes Tevery, filius et hæres Roberti Tevery, et Katherinæ Chaworth, Amicorum amator, pauperum amicus, Comis, assabilis, benevolus, munificus, librorum studiosus, rem familiarem adaugens: Uxorem habuit Annam Crevequer, filiam et hæredem Johannis Crevequer de Twyford: ex qua tres liberi die quo mortem obibat (alias anteacto tempore defunctis) spiritum ducebant; Gervasius, Anna, et Katherina; hac prole edita milessimo quingentessimo octogessimoq; anno advento, decimo septimo die Martii, e terris demigravit uxor sospite solvoq; viro; tum ille cum sexaginta sex annos ætatis explevisset, milessium, sexcentessimum tertiumque annum salutis attigisset, morbo et morte non senio consicitur decimo quarto die Martii, vitæ vinculis dissolvitur.
Upon John Teverey's Monument are his Arms, with mantle, and Helme, and Crest, viz.
Arg. on two Bars, Azure, three Cinquefoiles Or, quarterly, Arg. on a Bend Gules, three Hedgehogs Or, all which impale Or, Fretty sable, and on a chief Gules a Lion passant, gardant of the first. The Crest is a Wolfe's head erased Arg. muzled Azure.
Upon a very fair Tomb for Gerv. Tevery: (see above.)
Sifte Lege Moræ pretium erit scire, quis hoc situs est, Qui sibi virtutis incrementum, Posteris ad familiæ ornamentum, Patriæ ad boni publici emolumentum fæliciter natus eft: qui tribunalis in provincia sua moderator adeo prudens, ut apud summos juris oraculum: tantus æqui & justiciæ patronus suit, ut apud infimos pauperum tutelare numen audierit.
Qui in amicitiis sidem, In sodalitiis humanitatem, In moribus integritatem sanctissime coluit: Liberalis semper hospes, indemque prudens pater familias: Gervasius Tevery, Armig. nobilissima Staplefordorum, Paschallorum, & Creveceurorum, proles & hæres: majoribus, ut in vita (qua postridie idus Augusti, Anno Domini 1639, ætatis vero 65, pie defunctus est) ita & in morte succedens, inter avorum umbras hic placide conquiescit. Cujus sacris manibus & debitre memoriæ, hoc tantis virtutibus impar monumentum, multas inter Lachrymas posuit et dicavit Anna, vidua ejus mœstissima:
Quæ ex veteri prosapia Ashbyorum de Quenhy in agro Leicestrensi oriunda, ei peperit unicum siliolum & tres filias, Johannem in primo ætatis germine, Elizabetham in ipse flore satis immature præreptam; Mariam Briano Palmes, Armig. enuptam, et Annam, utramque hæredem ejus et superstitem.
This Inscription, as I remember, was made by his ingenious friend, Huntington Plumptre of Nott. Doctor of Physick.
The Crest on this Tomb is as the former, but the Arms are Azure, a Lion Rampant Arg. within a Bordure engrailed Or, for Teverey. Quartering Arg. on two Bars Az. three Cinquefoiles Or, for Stapleford. Arg. on a Bend Gules, three Hedgehogs, Or, for Paschall. And Arg. Fretty sable, with a chief Gules charged with a Lion of England, for Creveceur: all which impale Azure, a Chevron Ermine between three Libard's heads Or, Ashby of Quenby.
On a Gravestone.—Hic jacet Robertus Tevery, conjugio junctus Katherinæ Chaworth, quæ cum tres liberos ei edidisset, Johannem, Georgium, et Dorotheam, circa festum Pentecosti, Anno salutis 1553, a marito morte correpto deseritur, superstatque eum usque ad annum salutis 1571. Quo tempore fatis concessit terrasque relinquit.
[Throsby] Stapleford.
Lordship is divided property. It was enclosed about 20 years since. The Manor is Sir John Borlace Warren's, I am inform'd, who is a proprietor of the land. Other resident land-owners are Mr. John Jackson, Mrs. Chambers, and Mr. J. Hall. Miss Stokes and Mr. Hall, of Nottingham, and Mrs. Chambers of Derby have considerable property also here.
The Village is very populous. In the street, near the church, stands an old Cross, with a curiously wrought shaft. Here is a meeting house for Mr. Westley's people.
The chapel has a spire with three bells, five there has been. It has a nave and two side aisles, and is dedicated to St. Helen. A neat tablet remembers Mary Warren, who died in 1783, fourth and youngest daughter of Borlace Warren, Esq. of this place; and also of Frances his second daughter, who died in 1784. This church or chapel appears, as all should do, decent and respectable; it was beautified, as it is called, in 1785. The monuments remain as in Thoroton's time. The certified value is 6l. 3s. 10d. Pri. of Newstead prop. The King patron. Incumbent Rev. Joseph Smith, Cur.
Stapleford-hall,
Has been lately rebuilt by Sir John Borlace Warren, Bart.; when I visited it, it was in an unfinished state. It is at present adorned with no field beauties of attraction; but the young plantations, around, are pleasing indications of what it may be.—It is, perhaps, to be lamented that life is too short to fee, in reality, in some instances, (and in none more than that of plantations of ornament, to the dwellings of the opulent) what the mind faintly views in idea. We are often snatched by death from the stripling beauties which we have, as it were, created; or by infirmities and age, live not to enjoy them when they are more matured. Such is the uncertainty that awaits human efforts. In the way of improvement, lately, Sir John, has had but little leisure: He is fighting the battles of his country at Sea; and crippling the enemy, in a way highly honourable to his name. His active and great services want no studied penegeric; they will be recorded in the page of national history, among the achivements of British heroes, when his stately dwelling shall be crumbled into dust. (fn. 22)