Pages 218-222
Thoroton's History of Nottinghamshire: Volume 2, Republished With Large Additions By John Throsby. Originally published by J Throsby, Nottingham, 1790.
This free content was digitised by double rekeying. All rights reserved.
Strelley, Stradleg, and Straley.
In Straley were three Mannors, two whereof was of William Peverells fee, but the third was of the Land of the Taynes, and had been Vichels, who paid for it to the Geld as three bovats. The Land of it being so much. In the Conquerours time Vlsi and Godwin held it of the King, and had there four vill. one bord. In the Confessours time this was 4s value, then but 3s. (fn. 1) One of the other Mannors before the Normans came was Godrics, and paid to the Dane-tax as six bovats. The Land of it being for six Oxen. Afterwards, in King Williams time, Godwin the Priest had one car. three vill. two bord. having two car. this kept the old value 10s. The other Mannor was Bruns before the Conquest, which was then rated to the Geld at three bovats. This Ambrose held of William Peverell, being valued at 12d. though in King Edward the Confessours time it was 3s.
The next owner that I have met with any certain knowledge of, was Walter de Stradlegh, who married Isilia the widow of Wm. de Moiz, in or near the time of King Henry the first (as in Chillewell is said) by whom he had a son called Samson de Stradleg, who, (fn. 2) 22 H. 2, gave account for ten marks of his amercements in the Forest. In King Richard the firsts time this Samson suffered much, as most of our Nottinghamshire Gentry did, for being in rebellion with Earl John. William Briewer, the Sheriff, 6 R. 1, (fn. 3) accounting for half a year, reckons for 46s. 3d. of the Land of Samson de Stradley, then seised by the King, as other of his enemies lands and goods at that time were. This Samson gave account, 7 R. 1, (fn. 4) of four marks for having his land again; but it seems, 10 R. 1, that it cost him thirty marks to have seisin of his fathers land, because he was with Earl John, who, (as it appeareth) esteemed him well when he was King. (fn. 5) In the fifth year of his reign he sent his precept, dated at Tikehull the nineteenth of Feb. to William Briewerr, to deliver to this Samson de Stradleg the Mannor of Horseley in Darbyshire for his sustentation, while he had the Castle of Horestan (the feat of the Burons not very long before.)
(fn. 6) His son Walter de Stradleg. 9 Joh. was reckoned to owe a Falcon for having seisin of the Land which was his fathers at the time of his death. This Walter and Hugo de Capella married the heirs of Robert de Sumervill of Oxton: (fn. 7) Philip (brother I suppose of Walter) de Strelley, had the custody of the heir of this Walter from Galfr. de Mandeville, to whom King John gave it. Cecilia, wife of Walter, had the third part for Dower: his Land out of which she had it, was then valued at 100s. per annum.— Philip de Stradleg seems to have had some good interest in Geoffrey Fitz-Peter Earl of Essex, because, 7 Joh. (fn. 8) he was his pledge for the fine, viz. ten Marks, one Palfrey, and one Falcon, which the said Philip gave the King for having the post-humous daughter of Richard Fitz-Roger to wife, with her Land belonging to her; besides I perceive that G. Fitz-Peter made the fine of twenty Marks, and one good Palfrey, for having the custody of the Land and heir of Walter de Stradleye, which, in 4 H. 3, (fn. 9) Hugh Fitz-Roger the Seneschal or Steward of Philip de Stradly was then making up the arrears of.
(fn. 10) The 20 July, 13 H. 3, Robert, son of Walter de Stradley, did homage and had seisin of his Lands. Robert de Strelley was taken at Kenilworth, as the Kings enemy; and the King, 50 H. 3, (fn. 11) granted his heir to William de Mortein. A fine was levied, 9 E. 1, between Alexander de Hotham, Quer. and Robert, son of Walter de Stradley, and Hawisia his wife, Deforc. of the Mannor of Esk, which seems to be then settled on the heirs of Hawisia. The Robert died about 12 E. 1, (fn. 12) leaving then his son and heir Robert above thirty years old, who married Elizabeth, the daughter and heir of William Vavasour (fn. 13) of Shipley in Darbishire, by whom he had Bilborough, the next Lordship to Strelley. Samson de Strelley, another of his sons, married Lucia, the daughter and heir of Sewall le Fone, and Amicia his wife, one of the daughters and co-heirs of Hugo de Capella, before named; from this Samson descended the Strelleys of Woodborow, in that place to be noted more particularly.
Robert de Stradley, 30 E. 1, (fn. 14) left Robert his son and heir aged twenty-three years at the Feast of St. Matthew.
There was a protection, 4 E. 2, (fn. 15) for Robert de Vmfravile Earl of Angus, Nicholas de Segrave, Robert de Strelley, and John, son of William Howard, who had taken a journey into Scotland, with Peter Gavestone Earl of Cornewall.
Sir Samson de Strelley, Knight, was son and heir of this Robert, and married Elizab. daughter of Sir John Hercy. Samson de Strelley, (fn. 16) 30 E. 3, 1356, had licence, that he and the rest of the Parishioners of that Village, might hear Sermons for the space of a year in the Chappel scituate within his Mannor of the said Village, because the Parishchurch was not then fully built. About 13 R. 2, (fn. 17) he left Sir Nicholas de Strelley his heir, who by his wife Elizabeth, the daughter of Sir Edmund Pierpont, had one son called John de Strelley, who married Joane, daughter and heir of John Hunte of Lindeby; but his eldest son was Sir Robere de Strelley, whom he left his heir; and by his will ordered his own body to be burried in the Church of All-Saints at Strelley, 1430, 9 H. 6, which Sir Robert married Agnes, the daughter of — Harcourt, and Joan, the daughter of Sir Richard Stanhope, and died about 16 H. 6, (fn. 18) and was succeeded by Sir Robert de Strelley his son and heir, who married Isabella the daughter of — Kempe, and died 12th of March, 3 H. 7, leaving John Strelley, Esq. his son and heir forty years old, 4 H. 7, (fn. 19) when the Inquisition was taken. This John married Saunchia, the daughter of Robert Willughby, Esquire, and by her had a son of his own name, who dying without issue, his four daughters became his heirs. Isabella, the eldest, was first married to Clement Low, by whom she had a daughter and heir, wife of William Sacheverell, second son of Sir Henry Sacheverell of Morley in the County of Darby, Knight, and afterwards to Richard Payney, Esquire; the second was Margaret, wife of John Poutrell, Esquire; the third was Elizabeth, wife of Sir William Ayscough; and the fourth was Anne, first married to Richard Stanhope, Esquire; and afterwards was third wife of Sir John Markham, Knight.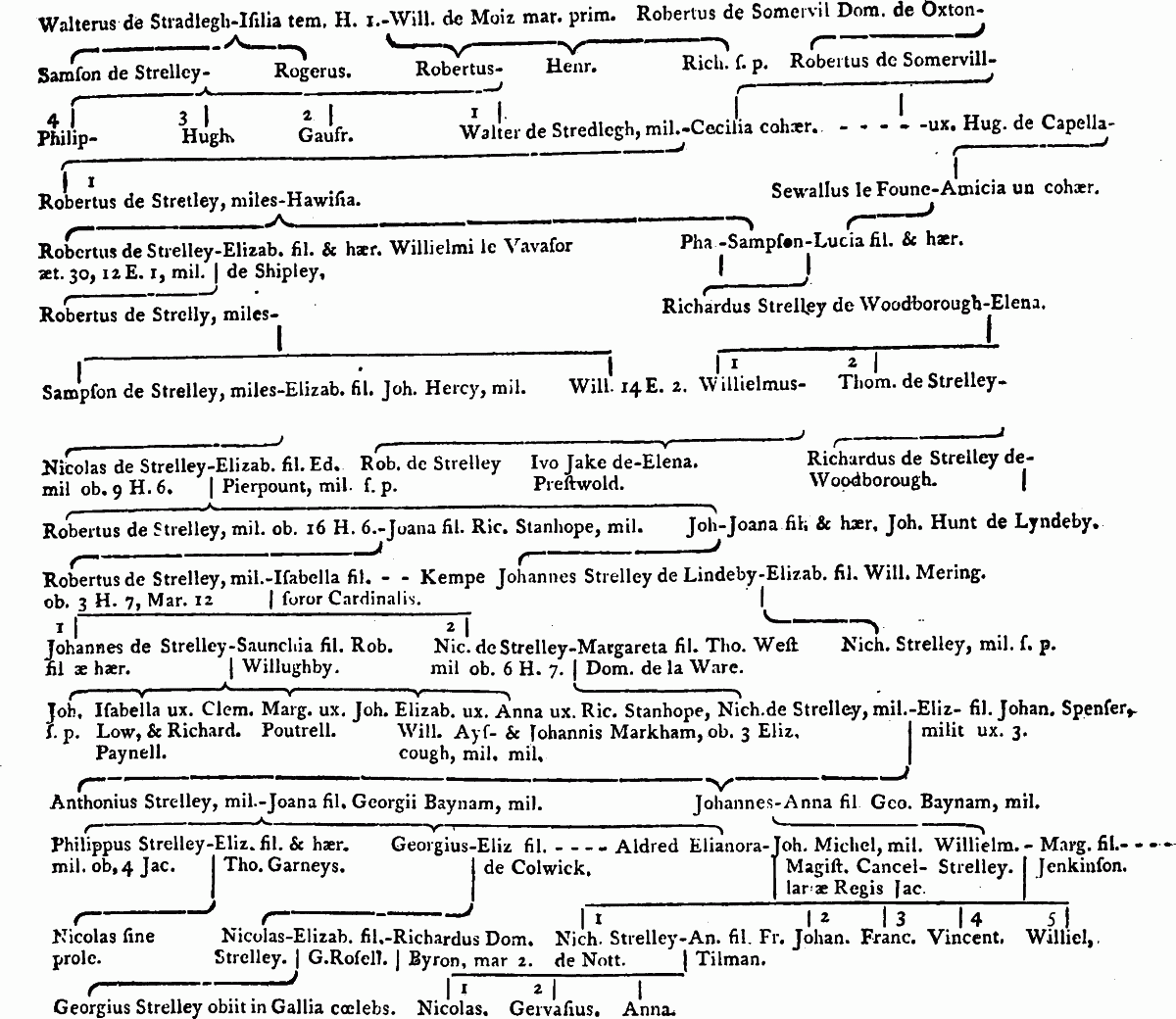 By the instrument of division, bearing date 10 Octob. 27 H. 8, (fn. 20) it appears that Thomas Ayscough divided the Lands of John Stirley into four parts whereof Sir John Markham, and Thomas Poutrell chose the two first, viz, first, all the Lands in Wheteley, Saundeby, Northleuerton, Southleuerton, Sturton, Litilburgh, Burton, Radcliff, Codgrave, Shipley, Gedding, Langley, Stapilfurth, Cortlingstock, Nottingham, and Harby, for one part; and for the other (which Poutrell had) all in Chillewell, Trowell, Adingbrugh, Bramcote, Calverton, Estwayt, a house in Trowell, a house in Cossal Marsh, and Colston Basset. The next was chosen by Isabell Paynell, widow, William Sacheverell, and Mary his wife, which was all in Bilburgh, Hemsell, Cossall, Kymberley, Tomlynholme, Cnrleton, and Marshall Hall; and Thomas Ascugh, had for the fourth part all in Oxton and Plunger.
But Sir Robert Strelley, father of this John, had another son called Sir Nicolas Strelley, whose posterity inherited this Mannor. This Sir Nicolas married the daughter of Thomas Lord de la Ware, and died at Lenton the last of April, 1591, (fn. 21) 6 H. 7, and was buried in the Church of St. Andrew at Baynards Castle, leaving Margaret his wife behind him, and Nicolas his son, and Agnes and Cecily his daughters. He appointed half his goods to be imployed for his Children in Merchandize, and made his nephew Sir Walter Hungerford, Supervisor of his Will, which was proved 12 June, that same year, viz. 1491, Sir Nicolas his son married (to his third wife, as I take it) the daughter of Sir John Spenser, and died at Strelley, August 25, 3 Eliz. (fn. 22) seised of this Mannor and Bilburgh, and the Advowsons of both the Churches, and Lands in Bullwell, Cossall, Wattenhow, Farnesfeild, and Basford, as by an Inquisition taken at Nott. the year following appeareth, Sir Anthony Strelley his son and heir being then thirtytwo years of age; who married Joane, daughter of Sir George Baynham, by whom he had Sir Philip Strelley, who married Elizabeth, the daughter and heir of Thomas Garneys, Esquire, and died 29 Sept. 4 Jac. He has a son called Nicolas, who married a daughter of Sir Percivall Willoughbies, but had no issue. This Mannor hath been the inheritance of Lawyers, most of my time, and for some space before. It is now possessed by the posterity of Elianor, sister of Sir Philip Strelley, who was married to Sir John Michell, one of the Masters of Chancery in King James his time, who notwithstanding all his law and power could never get it in his own time from Nicolas Strelley, natural (and perhaps legitimate) son of George, brother of the said Sir Philip, which Nicolas married Elizabeth, daughter of George Rosell, of Radcliff, Esquire, by whom he had a son called George, whom he left young, yet he kept it till he died in France not of full age; his mother being married to Richard now Lord Byron.
After the death of this last George Strelley, Nicholas, son of William, son of John, brother of Sir Anthony Strelley, (which John married also a daughter of Sir George Baynham, named Anne, sister of Sir Anthonies Lady) was some while in possession of this Lordship; which said Nicholas Strelley lives now in Nottingham, upon some ingenious Manufactures in Glass, which he spins and orders very commendably.
The Coals, the chief profits of Strelley, are not so plentiful now as formerly.
William de Strelley, son of Galfr. de Strelley, by a Fine, 14 E. 2, (fn. 23) settled one mess. ten bov. and an half, and one rood of Land, with the appurtenances in Strelley, Cossale, and Bilburgh, on Sir Robert Strelley, Knight, for life; and afterwards on William, son of Sir Robert, for life; remainder to Sir Robert and his heirs.
The Rectory of Stirley was 8l. 'Tis now 6l. 4s. 9d. ob, in the Kings Books, and the last Patron that I have seen, was Nicholas Strelley, Esquire, as his ancestors the Strelleys had ever been in all my observations.
[Throsby] Strelly
Lordship is in the hands of T. Webb Edge, Esq. It is enclosed. The village is small.
This Church is dedicated to All-Saints, it is a neat place, particularly in the chancelpart. It has a handlsome tower, I think with one bell. Here is some painting on glass highly preserved, and an old font. The seats are curiously wrought: a head from one is shewn, plate, page 225, facing Broxtow, figure 8: the font is, fig. 9, and a piece of glass-painting, figure 7. Two old monuments, or rather tombs stand in the chancel, one in the middle and the other on the north side. The former is without an inscription. The date of the latter 1500.
Here is a large monument to the memory of Ralph Edge, born in 1689, and died in 1766. It informs us that it was erected by his grateful grandson who now enjoys the estate. Here are two fine brass figures given, 4 and 5, the former is Sir Robert Strelly I imagine. See Thoroton above. (fn. 24)
Patron, Thomas Webb Edge, Esq. Incumbent, Rev. Barlow Evetts, R. K. B. 6l. 4s. 8d. Clear yearly value 17l. 10s. in Bacon. Archiepisc. pro Syn. 12s. Archidiac pro Prox. 6s. 8d. Val. per ann. in mans. ib. 12s. &c. John Thonne, presented in 1689. Richard Edge, 1722, Thomas Shepherd, Esq. 1728, Thomas Edge, Esq. 1783.
Strelly-Hall
The seat of Thomas Webb Edge, Esq. stands about four miles west of Nottingham.— When I took the drawing, which face this account, the seat was not finished, the pleasure-grounds about it seemed then to be planning on a scale of some magnitude. Nature has done much for this situation. In a few years it promises to meet the eye, aided with some bold and pleasing scenery.
On the rising ground where I made the drawing, you have an extensive and delightful prospect. it abounds in diversity of ground and objects: of the former, hills succeed vallies interspersed with wood-land in pleasing succession; as to the objects, which present themselves over this vast extent of country, chance, in scattering them, has been profusely bountiful.