Pages 246-248
Thoroton's History of Nottinghamshire: Volume 2, Republished With Large Additions By John Throsby. Originally published by J Throsby, Nottingham, 1790.
This free content was digitised by double rekeying. All rights reserved.
WATNOW, WATENOT, CHAWORTH, and CANTELUP.
Watenot was all of William Peverells Fee, of which here was Soc to Natebale, as much as was rated to the Geld at two bovats. Grunchel had a Mannor here before the Conquest, which then paid to the Dane-geld as one car. (fn. 1) The Land being found to be so much. There William Peverel had three car. in demesne, pasture wood five qu. long, two broad. Another Mannor Siuvart had, which paid for two bov. to the publick Tax, and had Soc in Watenot. Grim had of this Soc one bov. for the Geld had Soc in Bulwell; Almar had also of this Soc which paid the Geld for two bov. The Land one car. There was in demesne one car. one sochm. two vill. two bord. having one car. pasture wood five qu. long, four broad. This kept the old value 40s. Gozelinus and Grunchel held it when the Conquerours Survey was taken.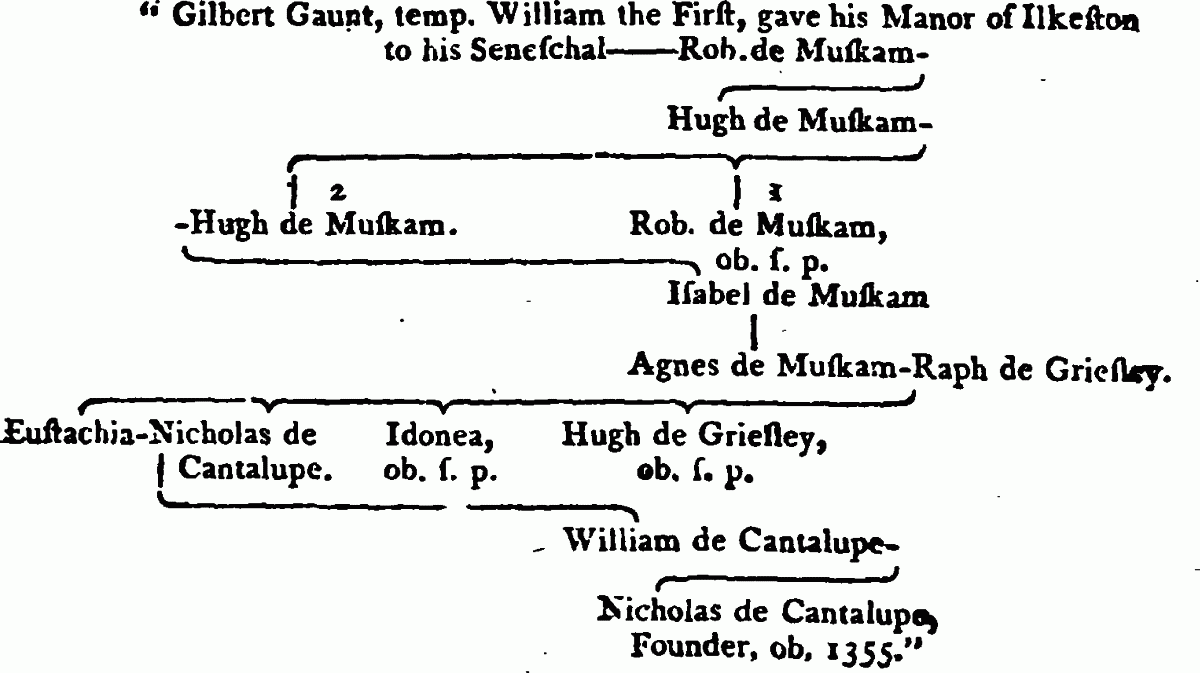 Gocelinus is mentioned in Lenton amongst William Peverels Men, who gave two parts of the Tythes of their demesnes to that Priory at the foundation.
(fn. 2) In 13 Joh. Robert, son of William de Alsreton, was certified to hold three Knights Fees in these two Counties of Nott. and Derb. of the escheat of Peverell, viz. in Moniasse and Roudesle one Fee, in Calvour half one, in Watenho half one, in Woodburgh half one, and in Hadsop and Bramcote half a Knights Fee: this descended by inheritance to the family of Chaworth; as it seems another part of this Township did from the Lords of Greyseley to that of Cantelupe, which made the common distinction, which is yet in use, of Watnow Chawoth, and Watnow Cauntcliff, the latter of which, all or most of it, became the possession of Bevall Priory, by the gift of the Founder, as in that place may be discerned, and some likewise that Monastery got afterwards in the former.
(fn. 3) Raph, son of Hugh de Redinges (sometimes, as I take it, called Hugh de Watenhou) gave to the Priory of Lenton a bovat of Land in Watenhow, (fn. 4) which Toly held, and afterwards Galfr. Stoyle, which, during his life, he held himself, paying the Monastery 16d. a year, but after his death the Priory might dispose of it as their other Lands; and he granted common to their Tenant, as the rest of the men of Watenhow had in all places; he gave it to the Monks to make an Anniversay for his father, and left a bitter curse for his heirs, if any of them should attempt to go against or hinder his gift. The Monks demised it to Robert, son of Roger de Watenhow for his life; and after that, when Sir Simon de Hadon was Sheriff, in the time of Henry the third, to Sir Robert de Lathom, during his life, for a noble yearly; and afterwards in 5 E. 1, to Robert, son of Robert de Watenhowe, for the same Rent, during his life.
This half Fee which Thomas Chaworth had, lay half of it in Ridinges in Derbishire.— (fn. 5) Hugh de Watenhow paid for half a Knights Fee here, one mark in the beginning of Henry the third, (fn. 6) and Robert be Watenhow afterwards held it. (fn. 7)

(fn. 8) But in Nom. Vill. 9 E. 2, Robert de Kinmarley is certified to be Lord.
(fn. 9) William Fox, and Margaret his wife, 8 E. 1, acknowledged one mess. and sixteen acres of Land in Watenhowe, and Brokebresting to be the right of Robert de Strelley.
A Fine was levied at Nott. the Munday next after the Feast of St. Martin, 3 E. 3, between William de Mekisburgh of Nottingham, Quer. and John de Hacunthorpe of Watnowe Chauworthe, and Agnes his wife, Defore. who acknowledged the Mannor of Watnowe Chauworke (the inheritance of the said Agnes) whereof Joan, who had been the wife of Stephen de Kinmarle, then held two parts in Dower, to be the right of the said William.
(fn. 10) When the Aid, 22 E. 3, of forty shillings for every Kinghts Fee, to make the Kings eldest son a Knight, was gathered, Will. de Amyas was found to hold the fourth part of a Knights Fee in Watenowe, which Robert de Kynmerley held in former time.— John Wollaton of Nottingham, (k) cousin and heir of William Amyas, late of Nott. remised 20 H. 6, to John Viscount Beaumont, and others, all his right in the Mannor of Watnowe Chaworth, late William Wollatons his brothers. William Wollaton pardoned the Prior and Covent of Bevall, (fn. 11) for acquiring of Robert Vicar of Greseley, without his licences, one mess. and one bovat in Watnow Chaworth, sometime Hugh Cressyes, and eight acres of Land, which was Richard Selstons in the same Town held of him, and five tofts, and fifteen acres of Land in Brokebresting, sometimes John de Pynkstons, and others, which were held of him and John Skiffelyn of Broxtow, which he and John his son also confirmed to the Priory.
(fn. 12) Richard Bingham of Watnow Chaworth, married Anne, one of the four sisters and heirs of Sir Nicholas Strelley of Lindeby, and by her had Anne, the wife of Rase Purefey of Drayton, and Margaret the wife of Raph Rolleston, lineal Ancestor of Lancelote Rolleston, the present owner as I suppose.
(fn. 13) This Richard de Bingham, and Anne his wife; 7 H. 8, suffered a Recovery of the moyety of the Mannor of Ryddinges, and of this Mannor, and Shelton, as in that place is noted. (fn. 14) And 3 H, 8, also of Ryddinges, which it seems went along with this Mannor.
[Throsby] Watnow, &c.
a small hamlet in Greysely parish. Here is a free school the gift of the Rolleston family.