Pages 259-260
Thoroton's History of Nottinghamshire: Volume 2, Republished With Large Additions By John Throsby. Originally published by J Throsby, Nottingham, 1790.
This free content was digitised by double rekeying. All rights reserved.
Brinsley, or Brunnesley.
Before the Conquest Brun had in Brunnesley a Mannor which paid to the Geld or Tax for four bov. The Land was half a car. (fn. 1) There Ailric, after the Normans came, held under William Peverell, whose Fee it was, one car. and one vill. having one car. and two acres of meadow, pasture wood six qu. long, three and an half broad. In the Consessours time it was valued at 6s. 8d. in the Conquerours at 4s.
This was held by a Family who had their name from the place very anciently: the first which I can certainly fix any time to was Roger de Brunnesley, who was dead, (fn. 2) 12 H. 3, (fn. 3) and left his son Gilbert de Brunnesley, then in the custody of Ran. Brito, which Gilbert held this Mannor, and part of Trowell, (fn. 4) 26 H. 3, as in that place is noted. Some Lands he held of the Serjeancy of Peverell, by finding that Horse of 5s. price, (fn. 5) with Sack and Broch, and halter of an halfpenny, for forty days, at his own cost, in the Army for Wales; he died about 7 E. 1, (fn. 6) and left Roger de Brunnesley his son and heir thirty years old, who about 5 E. 3, (fn. 7) left his son and heir Galfr. de Brunesley above fifty years of age, who held by the fame Tenure, as did also Robert, son and heir of Galfr. de Brunesley, who made fine to the King of 50s. (fn. 8) 21 E. 3, whose son and heir John de Brynesley did the like, (fn. 9) 16 R. 2.
Robert Broune, and Joane his wife, daughter and heir of John, son of Robert de Bronesley, and Elizabeth late his wife, (fn. 10) 4 H. 6, made fine as before for this Mannor of Brunnesley. Howbeit in the Records I find that, (fn. 11) 1 H. 4, Robert, son of Robert, son of John de Brunesley, was out-lawed in this County, and that John Brynnesley held when he died about 3 H. 5, (fn. 12) the Mannors of Brynnesleyand Trowell, &c. and that William Brynnesly was then found his son and heir; and John de Brynesley about 13 E. 4, (fn. 13) left JohnBrynnesley his son, heir of these Mannors, then aged twenty-five years.
And this Mannor certainly enough continued to the Brinnesleys (Brounes posterity possibly being so called after their mother, as Poutrells of Thrumptonwere:) for Gervas Brinnesley, Esquire, who sold it, was son of Francis, and Beautrix his second wife, daughter of George Nevill of Rognell or Grove, which Francis was son of Robert Brendesley, and Elizabeth his wife, daughter of Rauf Pole of Wakebrige; which Roberts father was John, son of John Brendesley of Brendesley, as it appears in the Visitation of Robert Glover, Somerset Herald, who visited for William Flower, Norry, in this county, in the year 1569, at which time the said Gervas Brinsley is said to be but two years old. That Norry granted to the Brinsleys to bear for their Arms, Party per pale Or, and fable, a Chevron between three Escallops Counter-changed, but the ancient Coat yet remaining in the Church of Trowell, is Or and sable quartered with a Chevron itself, also quarterly between three Escallops Counter-changed. This Gervase sold the Tenements to Gilbert Millington, Esquire, since better known by the Chair of the Committee for plundered Ministers, and the the Kings death. The demesne and capital mess. to Patric Cocke, and others. It is parcel of Greyseley Parish.
Some of the grand Serjeancy was Grettons, and descended to John Middleton of Wannesley.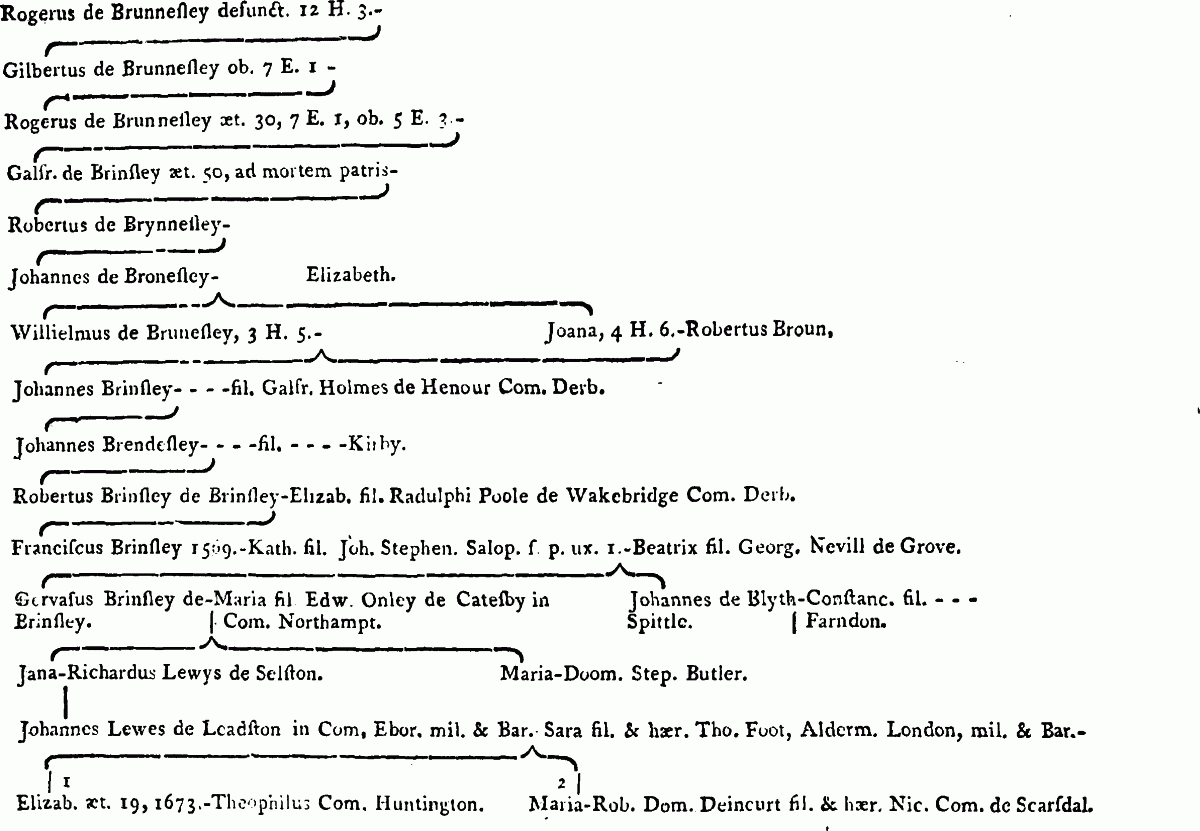 [Throsby] Brinsley
a hamlet. The property here is owned chiefly by the Duke of Newcastle. On this estate are two collieries.