Pages 302-308
Thoroton's History of Nottinghamshire: Volume 2, Republished With Large Additions By John Throsby. Originally published by J Throsby, Nottingham, 1790.
This free content was digitised by double rekeying. All rights reserved.
TEVERSALT, TERSALL.
This in the Conquerours Survey is certified to be of the Fee of Raph Fitz-Hubert, and before that to have been the Free-hold of Leuric, who had in Tevreshalt a Man nor which answered the Dane geld or Tax for six bovats of Land. (fn. 1) The Land was then returned to be one car. and an half. There Raph had one car. and one sochm. on one bov. of Land, and nine vill. having three car. and an half, there was one mill 16d. and eight acres of meadow, and small wood one leu. long, and one broad. In the Confessours time this was 60s. value, in the Conquerours but 30s. and then Godesrid held it; his posterity I suppose had the name of Barret.
(fn. 2) Raph Barret, 5 Steph. gave account of xiil. ixs. iiiid. of the old Farm of the Land of Odo Fitz-Raph.
(fn. 3) Galfr. Barret, 12 H. 2, held two Knights Fees of the Barony of Hubert FitzRaph, whereof his Ancestor was enfeoffed before the death of King Henry the first.— Galfr. Barret, 22 H. 2, (fn. 4) gave account as many others at that time did, of x marks of the amercements of the Forest.
(fn. 5) Raph Barret, 3 Joh. by Fine passed four bovats of Land, with the appurtenances in Teveresholt to William Barret.
(fn. 6) The Abbat of Beauchief, 53 H. 3, offered himself against Raph Barry in a Plea, that he should permit him to have Common of Pasture in Tevershall, which belonged to his Free-hold in Stanle, of which Galfr. Barre, father of the said Raph, whose heir he then was, unjustly disseised Roger, sometime Abbat of Beauchief, his Predecessour, &c.
(fn. 7) The Seal of Sir Galsr. Barre, with his name circumscribed in the year 1244, was Barry of eight or ten, with a File of five Labells; and so were the Seals of Raph his son, and William Barre, Knight, his grandchild
Galfr. Barry for the health of his own soul, and of Alice his wife, gave to the Canons of Felley, the Homages, Rents, and Services of Nicolas le Crouer, and Adam le Glay, and their heirs, from the Lands (fn. 8) which they held of him in Whyteberugh, and all the Land which Robert, son of Henry de Bosco, held of him there, for which one Canon of that House was to celebrate every day at the Altar of St. Edmund Arch-bishop of Canterbury in the Church of Felley, for the souls of the said Galfr. and Alice, and for the souls of their Parents, Brothers, Sisters, Sons, Daughters, Ancestors and Successours for ever; and if the Service was not performed, the Lands and Premises were to return to his heirs: the witnesses were the Prior of Newstede, Reginald de Annesley, Nicolas Spigonell, Jocelin de Steynesby, Ranulph le Poer, Mr. William Barry, Roger le Poer, Raph Breton of Annesley Woodhouse, Walter Faueley, and others. (fn. 9) Raph Barry, son and heir of Sir Galfr. Barry, confirmed and added to his fathers gifts, and so did William Barry, son of Raph Barry of Tiversalt, and gave to the said Canons of Felley all that place called Dobbe Pyngyll, which lay in breadth between the Land which Galfr. Barri his grandfather gave to the said Canons, with his body, and between the [divisam] Boundary or Mere which Raph, the said Williams father, made for Roger de Somervill, and which in length extended itself from the hedge of Hokenale unto the Marle-pit of Wheteberogh, excepting one [itinere] way, in which men may carry of that Marle [Marlera] without the impediment of the said Canons or their Successors. William Barry also confirmed all the Lands which Galfr. (fn. 10) his father, and Raph his brother, gave to the said Canons, and by the concession of his heirs, gave as an augmentation, pasture for one hundred sheep in (fn. 11) the pasture of Tiversalt, and of Dunshill, and of Stanley, for the soul of Sibyll his wife, &c. William Barre, Knight, the Friday after the Conversion of St. Paul 1294, (fn. 12) at Tiversalt release to these Canons all the Service of the [Clausturæ] fence of his Park of Tiversalt, due to him for the Lands and Tenements which sometime were Roger and Richard Bryd's of Tiversalt, excepting that which belonged to the Croft of Roger Bryd, and for which distress should not be made upon what they held besides it. (fn. 13) Sir William Barry claimed a Free Park in Teversale, from ancient time, and by the confirmation of King Henry the third, (fn. 14) William Barre of Tiveresholt, gave to God and St. Mary, and St. Thomas the Martyr, &c. of Beauchief, one bov. of Land in Demesne, to be alwaies had and possessed with two Tofts, and Crosts, &c. in Stanley, and pasture for three hundred Sheep, whereof two hundred Ewes with their issue every year, till the feast of St. Botolph, and pasture for twenty Cows and a Bull, and eight Mares, and the whole offspring of both untill they were three years old, and pasture for sixteen Oxen, &c. as his men of the Sok Tiversholt had. The Witnesses were Richard, abbat of Wellebek, Robert, son of William de Alferton, Ranulph his brother, John de Eincuria, Robert Briton of Walleton, Roger de Sidenhale, William de Meinil, Roger de Eincurth, Raph, son of Richard de Bramton, Simon son of Hugh, Richard, son of William de Glapwell, Robert de Briminton, Hugh de Linacre, and others.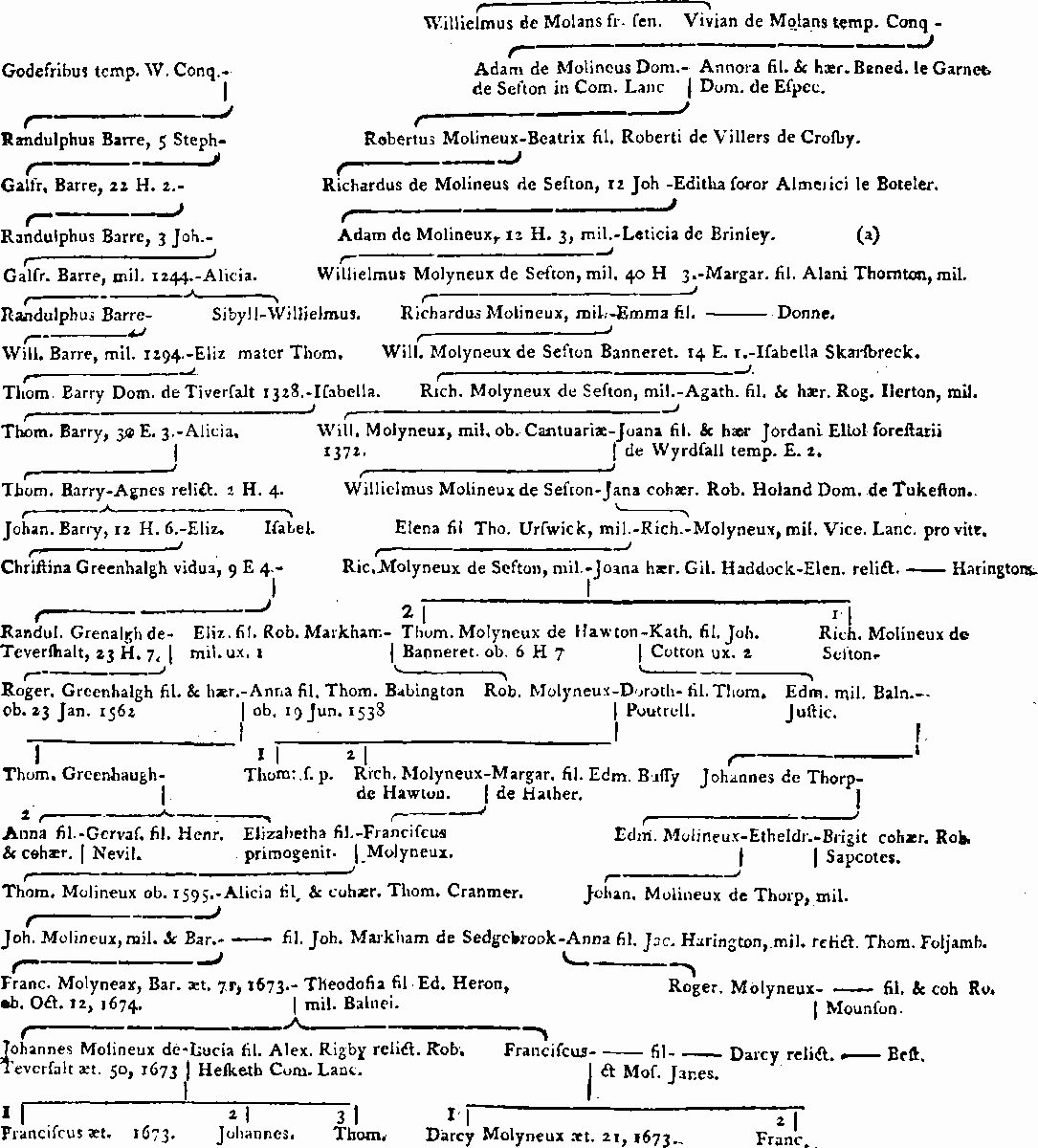 (fn. 15) William Barry of Tyversholt, confirmed to the house of Beauchief pasture for four hundred sheep, and other gifts of his Ancestors, &c. the Witnesses were John de Heriz, Roger le Bret, William, his brothers, John Deynkurt, Roger le Briton, &c.
(fn. 16) Sir William Barry, son of Sir Ralph Barry of Tiversand, gave to John Touke, and Nicola his wife, all that Land which Raph de Hereford, sometime held of Sir Galfr. Barry in the Territory of Doovedale in the Fee of Tiversand: The Witnesses Sir William de Chawyrthe, Robert de Sutton, James de Sutton, Walter Touke, William de Steynesby, Knights, Roger le Sauvage, Roger de Somervile, &c.
(fn. 16) Robert de Newbold, 21 E. 1, recovered Common of Pasture in forty Acres of Wood, and waste in Tyvresholte against William Barry of the same Town.
(fn. 17) By a Fine at York, 31 E. 1, William Barry conveyed the Mannor of Teveresholt to Mr. William de Pykeringe.
(fn. 18) Adam de Pikerings Rector of the Church of Wynesburgs, 14 E. 2, settled the Mannor of Tyversalt on Thomas Barry, and Isabell his Wife, and the heirs of their bodies excepting the third part. which Elizabeth, Mother of the said Thomas, held in Dower, &c. The Witnesses were Robert de Pirepount, John de Annesly, Knights, Robert de Dogmarseld, Robert de Rodemortweyt, &c. (fn. 19) Robert de Pykering Dean of St. Peters of Yorke, brother and heir of Mr. William de Pykering, 1328, released and confirmed to Thomas Barry Lord of Tyversolt, and Isabell his Wife, and the heirs of their bodies, certain Lands there.
(fn. 20) Thomas Barry, 16 E. 2, was found to hold the Mannor of Tevresalt of John de Stoteville, by the Service of a Knights Fee.
(fn. 21) In the year 1337, Thomas Barre Lord of Tyvershollee, passed the Mannor to Thomas, son of the said Thomas, and to Alice his Wife.
(fn. 22) Thomas Barry, 22 E. 3, paid 40s. towards the Aid for making the King's eldest son a Knight, or Knights Fee, which William de Pickering held sometime before in Teversale.
(fn. 23) The said Thomas Barry, and Alice his wife, 30 E. 3, had this Mannor.
(fn. 24) John de Gayteford, Senior, and Hugh de Cressy of Dulecotes, 2 H. 4, settled the Mannor of Tiversalt, which they had of the gift of Thomas Barre, on him the said Thomas for life; then to Agnes, who had been wife of Thomas Barre, son of the said Thomas for her life; then to John son of Thomas Barre the younger, and the heirs of his body; remainder to Isabell, daughter of Thomas Barre the younger, and the heirs of hers; remainder to the right heirs of Thomas Barre the elder: The Witnesses were John Wastnays Lord of Hedon, Robert de Barley Lord of Barley, John de Bevercotes Lord of Bevercotes, John de Greuley, then Coroner, William Selyok, &c.
(fn. 25) Peter de la Pole, Esquire, 12 H. 6, passed all the Lands and Tenements which he had in Tyversalt to John Barre, Esquire, and Elizabeth his Wife.
Christina Grenehalgh, 9 E. 4, in her pure Widowhood demised to John Fletcher four Acres of Land laying in the Field of the Hill upon Cokeclyffe. &c.
(fn. 26) John Williamson, son and heir of William Williamsom, late of Norton Cokeney, 13 E. 4, released to John Barry Lord of Teresholt, Gentleman, one Mess. in Dunsell nighTeresholt, called Pykering feld, sometime Thomas Hardwyks of Hoddeshok Hall.
(fn. 27) Ralph Grenalgh of Teversalt, Gentleman, 23 H. 7, passed to Thomas Fitz-Herbert Doctor of the Decrees or Decretalls, John Fitzherbert of Norbury, Fsquire, Raph Babington, Clark, Roland Babington, Roger Eyre of Holme, Esq. Thomas Leek, Senior, Kaph Frechwell, and Anker Frechwell Gent. his Mannors of Tevershalt, and Sutton in Ashfeild, and other things in Claworth, and Beyknigham, and Wormyll in Darbyshire, &c. for the marriage of Roger Grenealgh his son and heir apparent, according to an Indenture between Thomas Babington of Detbik, Esquire, and Anne Leche widow on one part, and him the said Raph Grenalgh on the other, dated May 6, 23 H. 7: The Witnesses to this were William Babington, Raph Grenalgh the younger, Thomas Grenalgh, Thomas Leek of Greyeves Lane.
(fn. 28) Roger Grenhalge of Tevershall, Esquire, 2 Decemb. 1562, 5 Eliz. made his Will, wherein he appointed his body to be buried in the South He of that Church near unto the Altar there, and gave 60l. to be bestowed in alms-deeds, and other expences the day of his burial about his Funeral, and 40l. in deeds of Charity the Months day after; he gave to that Church of Tevershall 20l. and for mending the High-waies of Teversall 40l. and after Legacies to diverse Poor, &c. to all his friends that were at his burial each a black gown, and every Yeoman within his House a black coat; to his Cousin Francis Molineux, and his Cousin Anne Nevill all his plate, &c. Francis Molineux, and Thomas Loods, Clark, he made his Executors; and gave 50l. to purchase Lands for the Free School of Maunsfeld, if there be one, else for his heirs. He gave Teversalt, with Woodhouse, Whetharrow, Dunshill, Newbould, Stanley, and Stanley Grange, to Francis Molinuex, and Elizabeth his Wife, and the heirs of the body of Elizabeth; remainder to Gervas Nevell (son of Henry) and to Anne, his wife, and the heirs of the body of Anne; remainder to Richard Barry of Farnesfeld, and the heirs of his body; remainder to John Barry, and the heirs of his body; remainder to the right heirs of Roger Grenhalghe; the other Lands he gave to Gerv. Nevell, and the said Anne his Wife, with like remainders. Sir Gerv. Cliston he made overseer of his Will with a Legacy of twenty Angels. This Roger Grenehaugh mentioned in (fn. 29) Sutton in Ashfeild, died seized of that Mannor and this, and Rowthorne in Darbyshire, three Mess. in Tebeshelf, and one in Hethe, and some other Lands in both Counties, Thomas his son and heir being dead before him,; Elizabeth the elder daughter of the said Thomas, then aged twenty three years, and wife of Francis Molineux, and Anne the younger, then aged twenty one, and wife of Gervase Nevill, were the heirs of their Grandfather, the said Roger Grenehalgh, Espuire.
From this Elizabeth it is descended to Sir Francis Molineux, Baronet, as in Hawton is shown, who made it his principal Residence till of late that he left it to his son John, who married Lucie, the daughter of Alexander Rigby, and Widow of Robert Hesketh of Lancashire, by whom he hath three sons, Francis, John and Thomas, and diverse daughters now dwelling at this place; Sir Francis having made Kneeton a fit habitation for himself, where he continued my Neighbour.
(fn. 30) It appears in 21 E. 1, that to the Prior of Felleys interest here, Roger Brid added one Mess. and one bovat, and Richard Bryde one bovat, and Thomas de Clay, &c. of Tiversold, as before may be better observed.
Roger Grenehalghe, 7 Jun. 28 H. 8. had licence to alienate one Mess. in Witharrow in this Parish, and several closes therein, and Bothweth Grange in Selston, late belonging to the Priory of Felley, to George Grenehall, Gent. his son, and his heirs Males.
(fn. 31) William Bolles, Esquire, 2 E. 6, had licence to alienate Stanley Grange in the Parish of Tevershall, sometimes belonging to the Monastery of Beauchieff in Darbyshire, to Roger Grenehalghe, and his heirs, who 2 Jan. 4 Eliz. (fn. 32) had licence to alienate both Stanley Grange, then in the holding of Richard Sherbrooke; and the other Mess. and Lands and Closes which belonged to Felley, and had been lately held by Thomas Spencer, or Thomas Greenhalgh, to Francis Molineux, Esquire, and Elizabeth his wife, and the heirs of the body of the said Elizabeth lawfully begotten.
(fn. 33) Robert de Willughby, and John de Haxecourt, Lords of Plesley in Darbyshire, 10 E. 2, who held also one Carucat of Land in the Sok of Maunsfeild, held the Advowson of the Church of Tevyrsall, of which, with the Mannor of Plesley, there was a recovery suffered, 9 H. 7, (fn. 34) by Humphrey Peshale, Esquire, and Margaret his Wife, who called to warrant William Asteley Esquire (whose Ancestor I suppose married the heir of — Harcourt.)
(fn. 35) The Rectory of Tevershold was 7l. when Mr. Hastley, and Mr. Leeke were Patrons. 'Tis now 9l. 19s. 9d. ob. in the Kings Books, and Sir Francis Molyneux Patron.
In Teversalt Church South Ile East Window is:—Paly of fix Arg. and Azure on a Bend Gules, three Scallops Or.
Underneath are two raised Alabaster plain Tombs both close together, and on the more southerly Tomb is:—Orate pro animabus Rogeri Greenehalghe, Armigeri, & Annæ, uxoris suæ, unius siliarum Thomæ Babington de Dethick; quæ quidem Anna obiit xix die Junii Anno Domini 1538, Quorum animabus propitietur Deus, Amen.
And on the other:—Orate pro anima Rogeri Grenehalghe, Armigeri, Domini quondam istius villæ; qui quidem Rogerus obiit vicesimo tertio die mensis Januarii, Anno Domini 1562. Cujus animæ propitietur Deus, Amen.
Memor esto quoniam mors non tardat, quid superbis terra & cinis.
On the top is also his pourtraiture scored and filled with lead: and on the side three Hunters horns stringed upon a Bend engrailed, quartering Barry, all which impales Babington.
Over the entrance into the Mansion House in Stone-work is Barry, (which it seems at the building he used for his Paternal Coat) impaling Babington.
[Throsby] Teversall.
Two fossils were found in a coal-pit near Teversall, now in the possession of Mr. Rooke, they are esteemed curious. I do not find that fossilists have yet given a name to this species. See the Plate in the additions to Nettleworth, which succeed Mansfield Woodhouse, No. 1, weighs 1 lb. 4 oz. No. 2, 1 lb. 9 oz.
Teversall has been long in the hands of the family of Molineux, were they sometime since resided. The village stands on the western borders of the county, within about three miles of Mansfield, near which is a delpth of coal. The Church, whence Thoroton has drawn a collection of epitaphs, possess now nothing ancient more than he has noticed.
The Church is dedicated to St. Catherine.
Patron in 1779, Thomas Bury, Esq. and his wife, and Diana Molyneux, Spinster.— Incumbent, Charles Plumbtree, Rec. K. B. 9l. 19s. 2d. Yearly tenths 19s. 11d.— Archiepisc. pro Syn. 3s. Archid. pro Prox. 6s. 8d. Val. in mans. cum gleb. ibid. per ann. 1l. in dec. Rog. Grenhill Arm. 2l. in dec. in Stanley 1l. in dec. in Trinsell 15s. in dec. &c. Sir Francis Molyneux, Bart. presented in 1716, Sir Charles Molyneux, 1753.