Pages 129-131
Thoroton's History of Nottinghamshire: Volume 3, Republished With Large Additions By John Throsby. Originally published by J Throsby, Nottingham, 1796.
This free content was digitised by double rekeying. All rights reserved.
MAPLEBECK. MALEBEC.
The great survey made in the time of king William the first, showes that part of Maplebeck was of the soc of Maunsfeld the kings own land, viz. as much as paid the tax for two bov. the land four bov. (fn. 1) There three sochm had one car. But the greater part of Mapleberge was soc to Chenesale and Cheversale (now Kneesall and Kersall) which answered the geld for fourteen bov. The land being four car. There had Guslebert de Gand (whose fee it was then become) one car. and nine sochm. on ten bov. ½ of this land, and five bordars, having four car. and thirty acres of meadow, pasture wood one leu. long, and three qu. broad.
(fn. 2) This was held anciently by the Burdons. John Burdon was a witness to the charter of Anneissa, the daughter of William the constable of Chester, wife of Eustace Fitz-John, and great grandmother of Roger the constable of Chester.
(fn. 3) John Burdon (probably son of the former) by the concession and confirmation of John his heir, gave to the monks of Ruchford for the health (or safety) of his soul, his wifes and childrens, and for his lord Roger the constable, and for the souls of his lords John the constable, and Richard his father, and for the souls of his own father and mother, and all his parents, and ancestors, one bovat of land in the territory of Mapilbeck as intire and free as himself had it, with all the appurtenances, and namely, pasture for one hundred sheep, five cows, and one bull, and eight oxen, and ten swine, and one horse, and one masage, scituate on the west part of the town for building the houses, in which are contained fourteen selions, and several other farts, one having sixteen selions, another six, besides shrubs belonging to it: when he gave it, the monks received him, his heir John, and his own wife, into their fraternity, and to sepulture, and his body to be buried under their roof. For the better security of this alms he was to procure the confirmation of the constable of Chester, and did put to the seal of the chapter of Southwell, together with his own seal to this chartel.
(fn. 4) Roger the constable of Chester did accordingly confirm it, to whose charter were witnesses, Richard Chester his brother, John Burdun the younger, Hugh Dispenser, Thomas his brother, William de Lungvillers, and others.
William Burdun, and Roger his brother, were witnesses to John Burdons deed, and I suppose his sons. William Burdun, 7 R. 1. (fn. 5) complained of Hugh de Red merstweit that he drew Agnes the wife of him the said William into pleading in the court Christian, contrary to the kings prohibition, he came and acknowledged it, and was amerced three marks, and forbidden to draw her into plea.
(fn. 6) John Burdon (son of this John the Benefactor to Rufford as I guess) married Alice, daughter of William de Bucton, who gave lands in that town to Blyth monastery, and brought a good augmentation to his family (as in that place will be noted) and by her had a son named also John Burdon, who in the year 1224, confirmed his mothers gift to that monastery; and likewise his sister Basilia's, and her daughter Amabilia's, the wife of Hingram Bluet, as did also John Burdon his son; (fn. 7) he also made agreement with the abbat of Rufford, concerning his fathers and grandfathers gifts to Rufford, and augmented them, and at the intreaty of William the abbat his kinsman he gave him and the covent, Robert, son of Gaufr. the carpenter, with all his chattels, for which the said abbat gave him half a mark of silver, and a quarter of wheat: The witnesses to this were Robert de Muscam, Hugh and Robert his sons, &c. (fn. 8)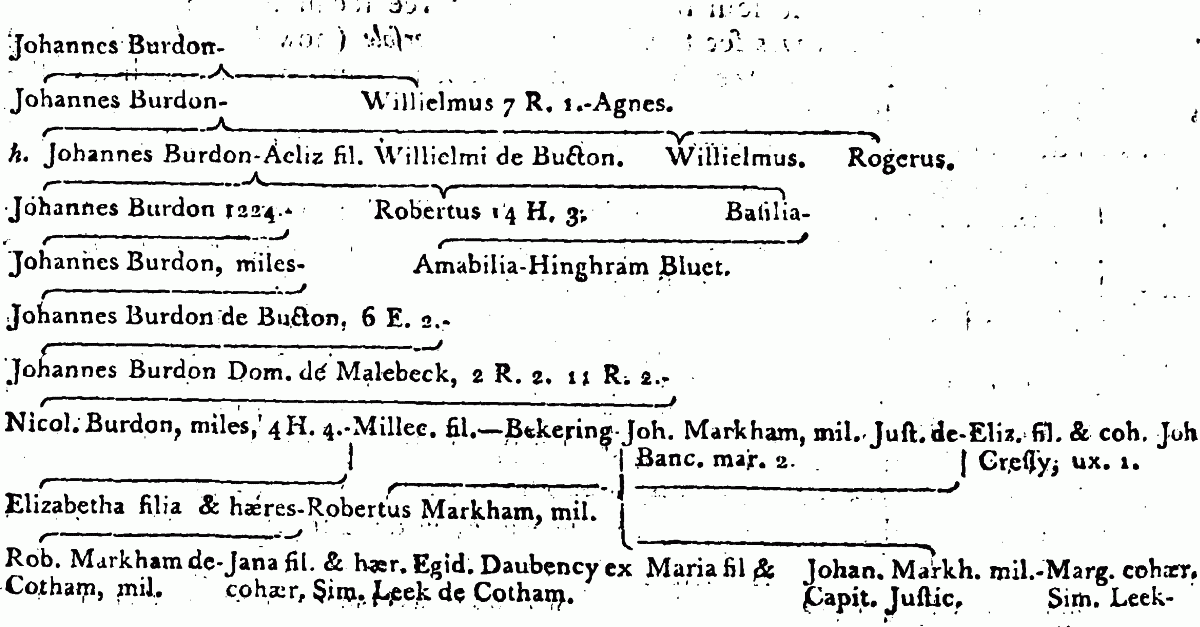 (fn. 9) John Burdon likewise confirmed to those monks the gift which Hugh de Muscham made in the territory of Mapelbek, viz. a wood called Miclehage, which the said Hugh held of the fee of Gilbert earl of Lincolne, paying only 4d. for it yearly to the men of Mapelbek.
(fn. 10) William Burdon was long prior of Blyth, he was there 1273, and 1300.
(fn. 11) John Burdon, son and heir of sir John Burdon, knight, was resident at Bucton, 6 E. 2. and in 2 R. 2. John Burdon was lord of Mapelbek. (fn. 12)
(fn. 13) Nicolas Burdon. 4 H. 4. did service in the battel of Shrowsbury, where he was slain, his wifes name was Milicent. Sir Nicolas Burdon, knight, married Mil lesent, the daughter of — Bekering, by whom he had a daughter and heir Elizabeth, married to sir Robert Markham, knight, son of John Markham the judge, (fn. 14) and Elizabeth, the daughter of sir John Cressy his former wife, which sir John Markham afterwards married the said Millecent, widow of sir Nicolas Burdon, and by her had sir John Markham the chief justice, who married sir Robert Markham his nephew both by his brother and sister, to his wifes niece Joane, the daughter of sir Giles D'aubeney, and heir to her mother Mary his wife, one of the daughters and co-heirs of Simon Leek of Cothum, esquire, as in that place is shown.
(fn. 15) By a fine, 23 H. 6. the manors of Mapulbek and Bughton, and the moyety of the manor of Caunton, were settled on sir Robert Markham, knight, and Elizabeth his wife, and the heirs of their bodies; remainder to the right heirs of Elizabeth.— With the family of Markham of Cotham this manor continued, till sir Robert Markham, knight, the destroyer of that family, sold it to the earl of Clare, with whose posterity it remains.
There was a very fair house at this town built by some of the Markhams, which, as the tradition is, cost near as much as the whole lordship was sold for, which in the year 1666, the present earl pulled down and sold the materials, whereof amongst others I bought some small part, which I used in rebuilding my own house at Carcolston.
(fn. 16) Robert Filiol of Mapelbek gave to Rufford, with his body, certain small parcels there, which Thomas the husband of Serith his daughter confirmed.
There was a fine at York, 28 E. 1. (fn. 17) between Durand de Wydemerpol, quer. and Alan de Threngston, and Elena his wife, imped, of 10s. rent, with the appurt. in Mapulbek, the right of Durand, for which he gave them 10l. sterling.
The manor or grange here parcel of the possession of the abbey of Rufford, was granted with that monastery, 29 H. 8. to the earl of Shrowsbury.
[Throsby] Maplebeck
Lordship passed by marriage from the owners, in Thoroton's time, into the Newcastle family. Here are a few freeholders beside. About these parts is some usefull and, clayey, but not good grass or turnip land. The roads, in the winter season, are intollerable: they are a counter part of the woulds in Rushcliff hundred, and some parts of the north clay.
The village is small, as also is the chapel, which has a tower with three bells.— Mrs. Burnell had the patronage. Propr. Knights Templars, 18l. certified value.