Pages 355-357
Thoroton's History of Nottinghamshire: Volume 3, Republished With Large Additions By John Throsby. Originally published by J Throsby, Nottingham, 1796.
This free content was digitised by double rekeying. All rights reserved.
BEVERCOTES.
I Find not this place in Doomsday book, howbeit 'tis certain it was of the see of Tikhill, for William de Bevercotes held a knights fee (fn. 1) here of Alice countess of Ewe, as of that honour, and paid two marks for it in the former part of the reign of H. 3.
(fn. 2) In the year 1224, William de Bevercotes confirmed to the monks of Blyth all the tenements and gifts which Roger de Bevercotes, and Robert his son (often written Bevereus) his ancestors gave, except the foreign service of one bovat of land, which Robert del Eschaler held in Bevercotes, and of one bovat which Raph Rap held in Elkeslay, except the suit of his mill of the same men.
(fn. 3) Roger de Bevercote, 11 H. 2, ought relief for one knights see of the honour of Tichehella. (fn. 4) Robert de Beverell, 9 R. 1, is certified to owe 20s. for having his land, viz. 12s. land which was taken into the kings hands for earl John. Robert de Beverell, 5 Joh. (fn. 5) ought 10l. for his fine and relief of one knights see which he held of the honour of Tikehull. Joane who had been wife of Robert de Bevercote, 11 Joh. (fn. 6) gave account of xx m. and one palfrey for having such seisin of the land, with the appurtenances, which the said Robert sold to her before he took her to wife.
(fn. 7) Simon, son of Fulc, 11 Joh. gave account of 30 m. for having the land which was Robert Beverells in Bevercote, and Milneton, and Marcham, which ought to descend to him from the said Robert, as he said.
(fn. 8) Helewisa, who had been wife of William, son of Robert, 11 Joh. gave account of c. & xx m. and iiii palfreys that so she might have peace of Peter Burgess, to whom the king had commanded her to marry.
(fn. 9) William de Bevercote, 35 E. 1, was chancellour of Scotland. King Edward the second in the beginning of his reign, sent to Robert Clifford his warden, William de Bevercote his chancellour, and Mr. John de Weston his chamberlain of Scotland, certain petitions exhibited by divers men of that country to him in parliament at Westminster, to the intent that the men might be before them the said Robert, William, and John at Berwick upon Tweed within a month of Easter, and be recompenced out of the kings money and victuals in those parts, according to their several deserts and the kings honour.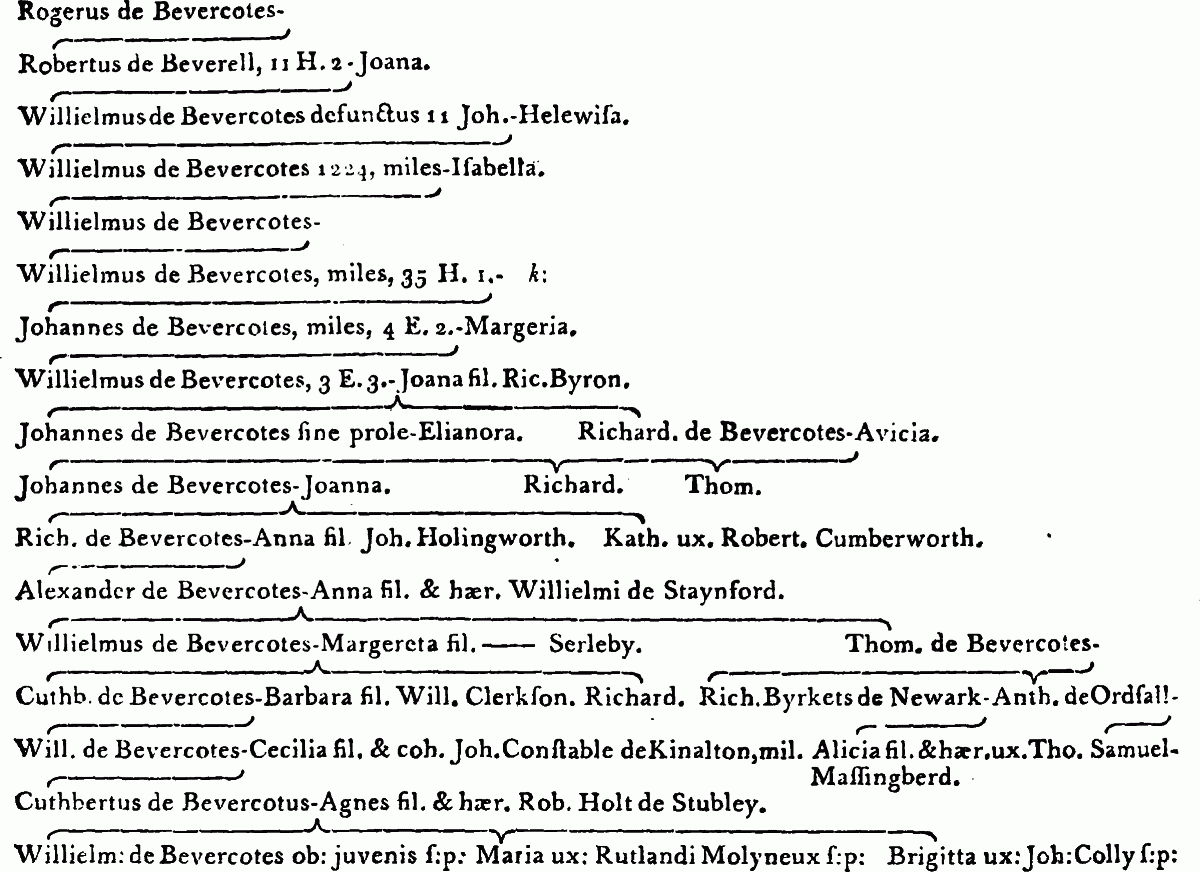 (fn. 11) In the review of the account of Walter de Goushull, and Reginald de Aslacton, collectors of scutages, 28 E. 1, and afterwards, it is said that sir William de Bevercotes held the manors of Bevercotes, Markeham, Milneton, and Elkesley, for one knights fee; and that in 4 E. 2, sir John de Bevercotes held the said manor, and so did when the view was taken, and that the said Walter de Goushull, who was collector for the scutages of Scotland, Nott. and Derb. 28, 31, and 34 E. 1, received, 31 E. 1, of John Bevercotes 40s. for one knights fee in Bevercotes of the honour of Tykhull. William de Beverescote, 3 E. 3, (fn. 12) claimed to have free warren in all his demesne lands of his manor of Beverescote.
(fn. 13) There was a fine, 26 H. 6, between William Staynsor, quer. and Richard Bevercotes, esq. def. of the manor of Bevercotes, with the appurtenances, and of five mess. one mill, one hundred sixty and eighteen acres of land, eighteen acres of meadow, and 14s. 5d. rent, with the appurtenances in Milton, Houghton, Elkesley, Little Markham, Great Markham, and Walisby, whereby they were settled on the said Richard for life; remainder to Alexander Bevercotes, and Anne his wife, and the heirs which he should beget on the body of the said Anne; remainder to the right heirs of the said Richard. William Wilbram, and Joane his wife, held the premises (except the manor and one mess. and 14s. 2d. rent in Milton and Houghton) during the life of Joane.
(fn. 14) There was an inquisition taken, 9 Jan. 3 E. 6, after the death of Cuthbert Bevercotes, who died the sixteenth of Octob. then last past, and held the honour of Bevercotes of the honour of Tykhill; Cuthbert Bevercotes, junior, was his cousin and next heir, nine years old the fourteenth of May then also last past:
There was a fine, 8 Joh. betwixt Raph Fitz-Simon, the dean and chapter of Rothomag, and William de Bevercotes, touching the advowson of the chapel of Bevercotes.
The last heir male Cuthbert Bevercotes died without issue male, and having a daughter called Mary, he married her to Rutland Molyneux, younger son to John Molyneux, esquire, son and heir to sir Edmund Molyneux, one of the judges of the common pleas, and in marriage conveighed to them this Bevercotes, and his other lands. Rutland Molyneux sold Bevercotes to the earl of Clare lately deceased, and it is the inheritance of the earl of Clare that now is (his grandson.
[Throsby] Bevercotes.
Here is no church, and but about five or six houses. The church fell down near the middle of the last century, and was never after rebuilt. The duke of Newcastle is principal proprietor.