Pages 36-40
Thoroton's History of Nottinghamshire: Volume 3, Republished With Large Additions By John Throsby. Originally published by J Throsby, Nottingham, 1796.
This free content was digitised by double rekeying. All rights reserved.
EPERSTON. EPRESTON.
In Epreston and Udeburgh, Ulvric and Elsi had into their hall (or manor) before the Norman invasion, six car. of land rated to the geld at three car. four bov. (fn. 1) —
There afterwards Raph de Limesin (whose fee it was) had in demesne three car. and fourteen sochm. on six bovats, and a ferding (or fourth part of a bovat) of this land, and twelve vill. one bord. having six car. There was a church and a priest, and four mills 77s. and three acres of meadow, pasture wood two leu long, nine qu. broad. In king Edward the Confessours time this was 5l. value, in king Williams when doomsday book was made 7l.
In Epreston and Udeburgh, Ulviet had a manor before the conquest taxed to the Danegeld at ½ a car. The land of it being twelve bov. There afterwards Roger de Busli (whose fee it became) had one car. and two sochm. on two bov. of this land and three vill. having one car and ½. There was a mill 5s. 4d. and three acres of meadow. In the Confessours time this was valued at five, in the Conquerours at one mark of silver. (fn. 2) It appears that some of Roger de Buslies fee in this place, was held in the time of Henry third, by Thurstan le Dispenser, and John de Orreby, being the third part of a knights fee, of the countess of Ewe or Augi, then lady of Tikhill.
But the greatest part of this town was the fee of Raph de Limosin, who was founder of the priory of Hertford, (fn. 3) or else a very near successour of his of that name, who gave the tythes of Hugh Sampson (who held of him here) in Apurston, and Thorp in Newark Wapentac, of the said Raphs fee also, to that manastery, as in Woodborough is already noted. (fn. 4) This Raph had to wife Hadwisa, by whom he had Alan de Limesi, the father of Gerard, who by Amicia his wife, had John de Limesi, who married Alice, the daughter of Robert de Harecurt, and begat on her Hugh de Limesi; but he dying without issue, as his uncles Gerard and Alan did, this barony was divided between Hugh de Odingselles, a Fleming, who married Basilia, one of the daughters of the said Gerard de Limesi, grandfather of the last Hugh de Limesi, and David de Lindesei, a Scot, who married Alianora, another of the daughters of the said Gerard.
(fn. 5) Gerard de Odingsells (son of Basilia, and the said Hugh de Odingselles) had a knights fee here in Eperston, which William Sampson held of him in the time of H. 3.
Hugh de Odingeselles (son of Gerard) 16 E. 1. (fn. 6) impleaded Walter le Ken, and fifteen, others for throwing down his ditch bank at Eperston, who pleaded, that they had common in the lands inclosed; and upon the same occasion, 17 E. 1. (fn. 7) for throwing in four hundred perches of his ditch about his wood in Eperston, John de Heriz, and John le Provost pleaded that there was common of pasture belonging to their freeholds in Gonaldeston. (fn. 8)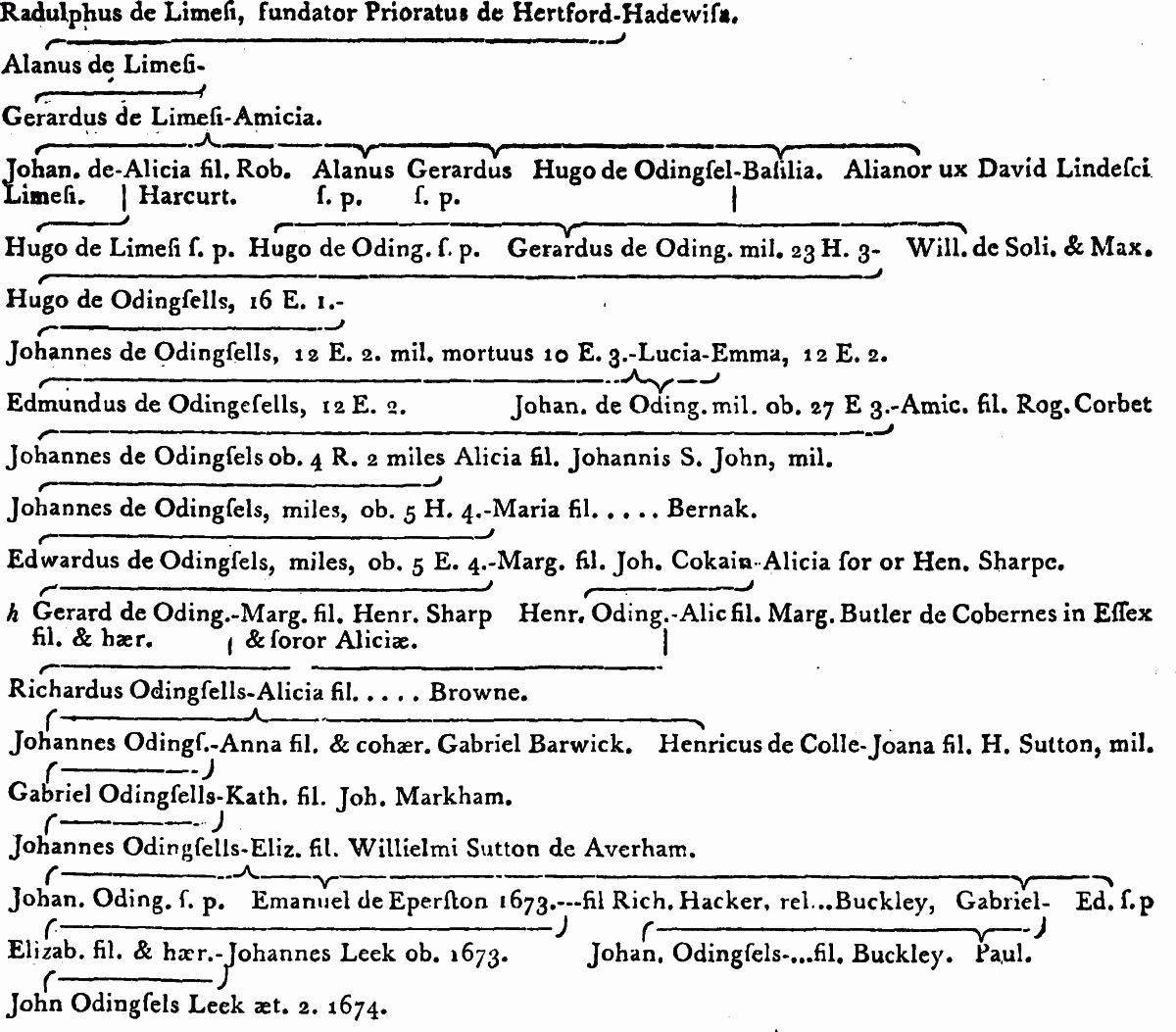 The manor of Eperston, 12 E. 2. (fn. 9) by a fine was settled on John de Odingsels, and Emme his wife, for their lives; afterwards on Edmund, son of the said John, and the heirs of his body; remainder to the right heirs of John. This John was succeded by three of the same name, the first of which died 27 E. 3. his wife was Amicia the daughter of Roger Corbet; the second died the 3 or 4 R: 2: and the third 5 H: 4: who was father of sir Edward de Odingsells, whose son and heir Gerard de Odingsells, 11 E. 4. (fn. 10) held the manor of Long-Jehinton in Warwickshire, and the moyety of the manor of Epurston. It seems this sir Edward (to his latter wife) and his son Gerard married two sisters, the daughters of Henry Sharpe. from which latter marriage that branch of this family still remaining here are descended.
But the posterity of Hugh Sampson, before named, held the fargreatest share, for Thomas Sampson in the former part of Henry the third, (fn. 11) is certified to have paid seven marks for three knights fees and an half in Eperston and Woodborough, of the fee of Limesi; and at another time William Sampson is said to hold in Eperston and Woodborough for one knights fee of the barony of Odingsells of the old feoffment, viz. whereof his ancestor was enfeoffed before the death of king Henry the first, in whose time the first Hugh Sampson lived; the second Hugh (whose father I suppose was William) gave account of ten marks, 22 H. 2. (fn. 12) of the amercements of the forest.
(fn. 13) William Sampson gave to God and the church of St. Peter at Thurgarton, and the brethren there serving God, all his land of Cressewell wholly, whatsoever was contained between his wood and the wood of the canons, by the consent of Hugh his son and heir, and his other sons. This gift he made for the love of God, and St. James the A postle (in honour of whom the said canons then founded an altar in their church at Thurgarton) for the performance of a vow which he had formerly made, for the souls of his father and mother, his own and all his: The witnesses were Hugh his heir, Walter de Wodeburgh, Mr. Anselm the canon, Matthew the clark, Peter the provost, Stephen the esquire.
(fn. 14) Hugh Sampson and William his son were witnesses to Robert de Krioll's gift to that monastery.
(fn. 15) William Sampson, knight, son of sir William Sampson of Eperston, gave and confirmed to the said canons of Thurgarton, a place of land of his wood of Eperston containing two acres by the perch of twenty foot, lying on the west side of the croft of the said canons, which is called Cressewell.
William Sampson, 24 E. 1. (fn. 16) had free warren at Epereston.
John Sampson, son of sir William Sampson, knight, 5 E. 2. (fn. 17) remised to Paganus de Tybetot, and Agnes his wife, and the heirs and assigns of the said Paganus, all his right and claim in the manor of Eperston, &c. except the lands and tenements which Simon de Cruce held in Wodeburgh; the advowson of the church he also remised with the rest: The witnesses were sir Rob. de Clifford, sir Ed. de Eynecurt, Sir Bawdewyn de Maners, sir William de Bereford, sir Thomas de Monteney, sir William de Eynecurt, sir George de Thorp, in the feast of the exaltation of the cross at London, 5 E. 2. (fn. 18) On his seal this John Sampson hath a Fesse, and one Mullett of six points in the dexter corner of the Scutcheon, within the circumscription of his name, (fn. 19) as William Sampson his father had a Crosse Moline only. Ever since this manor hath gone with Langar, as it yet doth.
(fn. 20) The manor of the other see Robert Arre it seems gave sir Robert de Jorce, and Isoldo his wife, and the heirs of their bodies, whose son Robert Jorz of Birton (as there also is already noted) by fine, 18 E. 2. (fn. 21) settled lands in Bulcote, Ester-Leek, and Eperston, and lands and rents in Birton-Jorz, Stoke Bardulf, and Gedling, on him self and Isabell his wife, and the heirs males of his body; with remainder to his daughters Margaret, Isolda, and Alianora, and the heirs of their bodies respectively; remainder to the right heirs of Robert.
(fn. 22) Nicolas de Worteley, and Isabell de Jorce his wife, by their deed dated at Ebreston the Sunday after the feast of St. Cedde the bishop and confessour, 17 E. 3. passed their manor of Ebreston, with all their natives, and all lands, tenements, and other appurtenances there, to John de Chetewinde, knight, and John the son of Robert de Jorce, knight, and Maud, wife of the said John, son of Robert, and the heirs of the bodies of the said John and Maud: The witnesses were sir Thomas le Wasteneys, sir Hardulph le Wasteneys, and sir Thomas de Longevyllers, knights, Raph de Burton, John de Burstall, Richard Ingram, William de Jorce, and others.
By a fine, 18 E. 3. (fn. 23) and afterward, 29 E. 3. (fn. 24) between John de Chetewind Chr. and John Jorce, and Maud his wife, Quer. and Nicolas de Worteley, and Isabell his wife, deforc. the manor of Epriston was settled for the use of John Jorz, and Maud his wife, and the heirs of their bodies.
(fn. 25) John Dunham, William Bliton, and Humfry Low, 4 Aug. 6 H. 7. conveyed their manor of Ebreston, with the appurtenances, to Robert Hawburgh, and Matilda his wife, for their lives; and after the death of the longer liver of them, to John Walker, and Margaret Gardner, and the heirs between them lawfully begotten; remainder to the right heirs of Robert. But this manor descended to John Walker the present owner, according to the scheme placed in Burton Jorce, which was drawn out of his evidences, Apr. 28, 1675.
(fn. 26) In 3 and 4 Ph: and Mar: sir John Chaworth of Werton, knight, and Harold Rosell of Radcliff upon Trent, esquire, and John Rosell his son and heir, agreed to divide Rosell Wood in Epurston parish of Stephen Hage, which was in common between them, sir John having one half by purchase, and Harold the other by descent from his ancestors: Sir John to inclose that next Epurston, and Harold to have that next Halton closes, being indifferently divided by Henry Bykerstaff, and John Saunsom, yeomen. Sampsons woods in the forest are now called Saunsom woods. The present lord Chaworth sold his Rosell Wood to John Dunkling, who hath built a pretty little brick house there, and makes it his residence.
(fn. 27) In 1612, John Walker, gent. was a freeholder or owner here, and his posterity still continue to dwell here, as Ed. Hopkinson, and Ed. Wetherall, were also at that time.
(fn. 28) The Rectory of Eperston was 14l. and the lord Scroope patron. 'Tis now 13l. 1s. 8d. value in the kings books, and John Scroope, esquire, the last patron.
In Eperston Chancell East Window,
Quarterly Gules, and Or a Mullett Arg. in the first, Vere. Azure three Hedgehogs Arg. Heriz. Arg. a Crosse Moline sable, Sampson. Azure a Saltier between four Martlets Arg. Azure a Bend Or, Scroop.
In the South East Window,
Arg, a Bend Azure Crusuly Or, Lowdham.
In the South West Window,
Paly of six Arg. and Gules on a Chief Azure, a Fesse Dance Or, Hathersege.
North East Window,
Barry of six Arg. and Az. Grey of Codnor.
In the Church South Ile East Window,
Arg. a Fessee, and a Mullet in the dexter point Gules, Oding sells.
In the Steeple Window,
Paly of six Arg. and Az. Strelley.
In the South West Window of the South Ile of the Church,
Arg. a Saltier engrailed Gules, Tibtot.
[Throsby] Eperstone
Land is owned by earl How, who has an extensive wood estate here, in what is called the park. This lordship is enclosed.
The village consists of about 60 dwellings, one of which was inhabited, some time, by the earl's grandmother. Many of the houses here have been lately much bettered, in appearance, by the munificence of this great sea commander.
The church is dedicated to Holy Cross, has a spire with three bells, and is tile roofed. In the church yard I found an old stone figure, grown over with nettles and grass, much mutilated; what remains is represented plate page 30, fig. 4.
In Mr. Merry's account of a discovery of Roman coins found here, he says:— "The medals found in 1776 at Epperstone 10 miles from Nottingham, were all copper and nearly the size of our farthings. There were about a 1000 of them at first, but some were dispersed before they were brought to me. I have put down the year each Emperor began to reign with the number of medals of each that I saw." By whose account it appears that he saw 784 of several Emperors who reigned between the years of Christ 250 and 290, excepting some that were not legible.
Patron, Earl How. Incumbent, James Bingham Rec. King's book 13l. 1s. 8d Archiepisc. pro Syn. 6s. Archidiac pro prox. 6s. 8d. Val. in mans. cum. gleb. ibid. per ann 1l. 4s. 0d. dec. &c. Eliz. Litherland widow 1701. Scroop Lord How, 1705. Lord How 1749, 1770.