Pages 8-13
Thoroton's History of Nottinghamshire: Volume 3, Republished With Large Additions By John Throsby. Originally published by J Throsby, Nottingham, 1796.
This free content was digitised by double rekeying. All rights reserved.
STOKE BARDOLF. AND CARLTON, &c.
In Stoches, and Chelling, Tochi (who was also Lord of Shelford and Lerington, and many other places in this county before the Norman Invasion) was rated to the geld at three carucats, and two bovats, and two parts of a bovat for this mannor. The land whereof was then accounted four carucats. There Goisfrid de Alselin, (fn. 1) (who succeeded the said Tochi in all those places) after the conquest had in demesne two car. fifteen villains, six servants, twenty-one bordars, having eight car. or plows. There was then also a priest and a church, and a piscary (or fishing) and two mills 20s. thirty acres of medow, pasture wood three qu. long, and three qu. broad. This was valued in Edward the Confessors time at 110s. and when doomsday book was made, at 6l. This mannor had Soc in Carentune, Ghelling, and Colwicc, as much as paid the geld tax for fifteen bov. The land four car. There thirty sochm. had ten car. ½ and twenty acres of medow, small wood three qu. long, one broad.
The barony of this Goisfrid de Alselin or Hanselin, was very considerable in these counties of Nott. and Derb. and also in Lincolnshire: howbeit it seems it was very early divided, viz. before the fifth year of King Stephen, as in Shelford doth partly appear. Ralph Hanselin had twenty-five knights fees, and Robert de Cauz (or Caltz) fifteen, as the red book in the exchequer manifesteth.
Of the posterity of Cauz notice may be taken in Lerington, which was the head of his barony, though they enjoyed a share here also, which descended from Cauz to Birkin, and so to Everingham, and so to Constable, and was sold by — Fletcher to Gilbert earl of Shrowsbury, and was lately the inheritance of the earl of Kingston, by the name of Everingham fee, and remains yet to his son the marquess of Dorchester, as I take it.
(fn. 2) Ralph Hanselin had a son of his own name, who had a daughter and heir called Rosa, married to Thomas Bardul, who, 18 H. 2. gave account of 25l. of the scutage of the knights of the fee of Ralph Hanselin; his son and heir was Dodo, or Doun Bardulf.
(fn. 3) 11 Joh. Beatrix, the daughter of William de Warreuna, gave account of three thousand five hundred marks for having the lands and tenements, which were her fathers, and which ought to defend to her by inheritance, and for having her reasonable dower which concerned her out of the tenements which were Doun Bardulfs her late husband, and that she should not be distrained to marry her self, and that the debts which her father ought the King, might be raised out of the chattels which were common to her said father, and Milisent his wife, the day that he died.
(fn. 4) Hubert de Burgo, 2 H. 3. would have it inrolled, that William, the son of Doun Bard. granted him the manor of Porteslad, with the advowsons of the churches, and other things belonging to the said manor. Hubert de Burgo, 3 H. 3 (fn. 5) was guardian of the heir of the said Doun Bardolf, who it seems was William Bardolf, who died about 4 E. 1. seized of the moyety of Shelford, held of the king by half a barony (fn. 6) He had a mess at Stoke, which is a member of Shelford, and one carucat in demesne, and the free-holders of Stoke, and the members, viz. Shelford, Gedeling, and Karleton, and some in Nottingham paid yearly 49s. 4d. and suit of court; here was a battell (or bote) which carried men over Trent, which yielded a mark yearly, William Bardolf was then found his heir, who about 18 E. 1. (fn. 7) left Hugh Bardolf his heir, who, 32 E. 1. (fn. 8) left his son Thomas, aged twenty-two years his heir; and Thomas Bardolf, 3 E. 3. (fn. 9) left his son John but seventeen years old.
There are some genealogies of this family, which make Thomas, the son of Hugh, to die without issue, and his brother William Bardolf, to be father of this Thomas, but this agrees well with the time and age of the parties, and I have not seen sufficient authority to make the other certain.
(fn. 10) The king, 11 E. 3. granted to John Bardolf, and Elizabeth his wife, daughter and heir of Roger Damory, the manor of Ilketheshall and Clopton in Suff. in exchange for the manors of Keuington, and Faukeshall in Surrey.
Agnes, the wife of Thomas Bardolf, had this manor in dower, and left it to her son John, 31 E. 3. (fn. 11) who about 45 E. 3. (fn. 12) left it with Wyrmegey, and other great manors which made up twenty-nine knights fees belonging to his court of Shelford, to his son William Bardolf of Wirmegey Chr. who, 9 R. 2. (fn. 13) did the like to his son Thomas lord Bardolf, then but seventeen years old, or little more; which Thomas was the last Lord Bardolf of the male line, and attaint in the time of Henry the fourth, in whose reign, about 9 H. 4, he died leaving two daughters, Anne, first married to Sir William Clifford, and after to sir Reignald Cobham; but his other daughter Joane, who married Sir William Phelips, was Lady Bardolf; (fn. 14) and then after her death, William Beaumont, son of Elizabeth, her daughter, wife of John viscount Beaumont, was found her heir.
William viscount Beaumont died without issue, and his sister Jane married to John Lord Lovell was his heir, who had Francis viscount Lovell, slain in the battel of Stoke in this county, against the king, 16 June 2 H. 7. by whose attainder, (or it seems before) this manor came to the crown; he had two sisters, Jane the elder married to sir Brian Stapleton, and Frideswid to sir Edward Norreys, by whom she had Henry Norreys, to whom and to his heirs males, 10 H. 8. (fn. 15) the king granted this manor of Stoke Berdolf, with Gedling, Crophill Bishop,, Newton, and Carleton, late William viscount Beaumonts.
(fn. 16) King Edward the fourth, 15 E. 4. granted to Galiard de Durford lord of Duras, and his heirs males, the manor of Shelford, Stoke Bardelf, and Gedling, in this county, and others in Derbishire.
Henry Norreys being attaint about 12 May, 28 H. 8. it came again to the crown, and was after granted to the Lady Anne Stanhope, great grandmother to the first earl of Chesterfeild, whose posterity enjoys it, with Shelford, to this day.
Here were many held shares of these lands, as may be gathered from what is already formerly set down: (fn. 17) Hugh de la Basage (or Bastre) held in Carleton, Gedeling, and Stoke, half a knights fee of the old feoffment of William Bardolf. And Reginald Ursell, and Hugh de Tytheby, held in Gedeling, Carleton, and Stoke, another half knights fee of the old feoffment of Robert de Everingham.
(fn. 18) Robert, son of Hugh de Titheby, gave an acre in Carleton to Thurgarton priory, for the health of his soul, and I solda his wife; to which church Hugh, son of Alred of Carleton, gave also a toft and croft, which were Auki's, and a bovat of land in Carleton, which William and Robert his sons severally confirmed.
(fn. 19) The jury, 15 E. 1. found that Reginald de Haslicton held in Carleton, and Colwick, of Robert de Everingham, the sixth part of a knights fee, valued then at five marks, the heirs of Richard Ursell in Carleton as much valued at 52s. Henry de Whatton in Stokes and Carleton an eighth part of a knights fee valued at 44s. William, son of Richard de Birton, in Birton a sixth part, valued at 66s. 8d Mr Thomas Beck, in Gedling a sixth part, Galfr. le Botiler in Stokes as much, Alexander de Le in Gedling a tenth part, and William Mascy as much there also.
(fn. 20) The Jury, 5 E. 1. found that two tofts, and two bovats of land in Stoke, and four tofts and one bovat in Gedling, were frank almaigne of the rectors of Gedling, and not lay fee of Galfr. de Botiler, who called Adam de Everingham to warrant, which Adam was then amerced.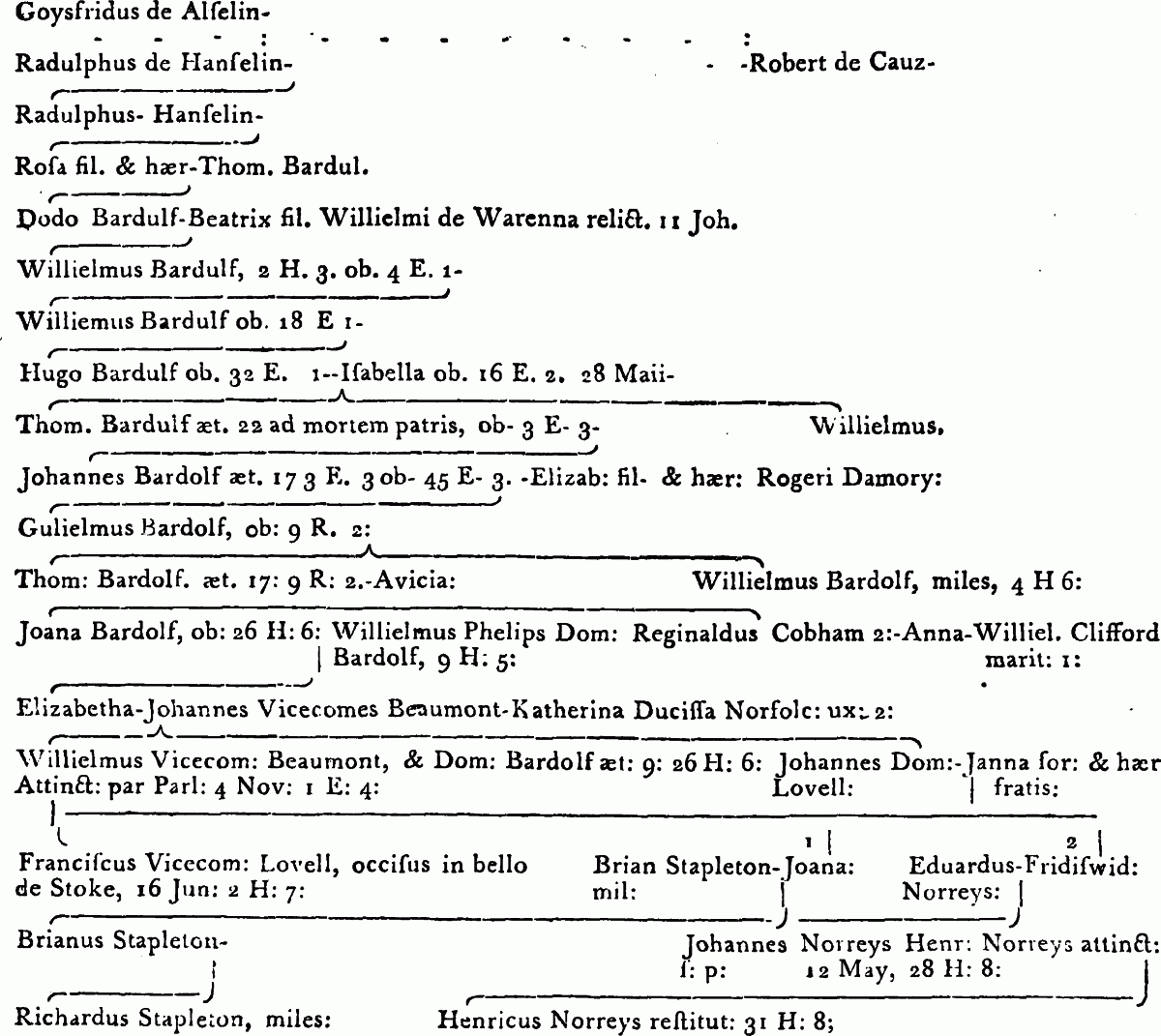 Alexander de Whatton of Karleton, 12 E. 1. (fn. 21) recovered against Henry, son of Richard de Watton, and six others, four mess. four bovats of land, and two parts of a bovat, except one acre, and twenty acres of land, and 5s. rent in Karleton and Colwyk. They had great suits afterwards about this land, and 19 E. 1. (fn. 22) pleaded bastardy and errour.
(fn. 23) At the assizes at Nott. 23 E. 1. Cecily, the daughter of Roger Millott, recovered her sesin of one mess. and one bov. of land in Carleton near Nott. and William, son of Roger Milott, was amerced.
(fn. 24) A fine at Westm. the day after St. John Baptist, 8 E. 2. between Richard, son of William de Basage, and Maud de Kirkeby, Querents, and William le Moigne the younger, Deforcient, of one mess. and twelve acres of land in Carleton by Nott. settled them on the said Richard and Maud for life; and after on Richard, son of Maud, and the heirs of his body; remainder to William his brother, and the heirs of his; remainder to the right heirs of Richard, son of William.
(fn. 25) Another on the same day of the Term, 12 E. 2. between Robert Jorce the elder, and Idonia his wife, Quer. and Roger le Botiller, and Amicia his wife, and John their son, Deforc. of sixteen acres of land in Gedling, and Stoke Bardolf, settled them on the said Robert and Idonia, and the heirs of their bodies; remainder to William, son of Robert, and the heirs male of his body; remainder to the right heirs of Robert.
(fn. 26) The Jury, 29 E. 3. found that Philip de Somervill held, the day that he died, 10l. rent per annum in Shelford, Stoke Bardolf, Gedling, Birton Forz, and Neuton, of Adam de Everingham of Larton by the service of a pair of white gloves; and that Johane, the daughter of the said Philip, whom Rese ap Griffith Chr. had to wife: and Maud the daughter of John de Stafford, and cousin of the said Philip, whom Edmund, son of John de Vernon, had to wife, were heirs of the said Philip. Rese left a son, 30 E. 3 (fn. 27) his heir called also Rese.
(fn. 28) Here were divers, 13 R. 2. who held of William Bardolf of Wirmegey, John de Loudham a sixteenth part of a knights fee in Newton and Shelford, John lord Grey, of Codnar as much in Birton Force, William de Russeby, Hugh de Annesley, Roger de Duffeild, and Thomas de Whatton, half a fee in Carleton, Gedling, Colwyk, and Stoke, John Burton and his Parceners a sixth part in Newton, John de Eabington a sixteenth part of a knights fee in Newton. The prior of Shelford, and his parceners a twelfth part in Shelford, Roger de Stanbridge a sixteenth part there, William de Wymondeswold a thirteenth part in Gedling and Stoke, William Clark, and William de Kirketon a twentieth part in Carleton and Gedling, John de Birton Chr. and Hugh de Annesley a twentieth part in Carleton. This William Bardolf in his life time had the advowson of the priory of Shelford, which was then valued at twenty marks per annum, and the moyety of the advowson of the church of Gedeling at ten marks.
(fn. 29) The Jury, 15 R. 2. returned it not to the kings loss, to grant John de Landfort, vicar of the moyety of the church of Gedling, and John Ward of Shelford, licence to give three mess. twenty two acres of land, eight acres and an half of medow, and 26s. 8d. rent, with the appurtenances in Shelford and Stoke Bardolf to the prior and convent of Shelford.
Henry Plesyngton, knight, and Isabel his wife, 27 H. 6. (fn. 30) claimed against Alice Leek one mess. two carucats of land, thirty acres of medow, and 43s. rent, with the appurtenances in Gedling and Stoke Bardolf. Edmund Molyneux, esq. 30 H. 8. (fn. 31) suffered a recovery of three mess. two cottag. one hundred acres of land, three hundred of medow, three hundred of pasture, &c. and 4l. rent, &c. in Stoke Bardolf, Shelford, Gedling, Burton Jorce, and Newton, and called to warrant George Gryffyth, knight.
[Throsby] Carelton,
Lordship is large, inclosed, and in the hands of the earl of Chesterfield and Charles Medows Pierrepont, esq. The hamlet also is of considerable magnitude; the inhabitants are chiefly in the stocking manufactory.