Pages 84-120
An Essay Towards A Topographical History of the County of Norfolk: Volume 4, the History of the City and County of Norwich, Part II. Originally published by W Miller, London, 1806.
This free content was digitised by double rekeying. All rights reserved.
UPPER, or NORTH CONISFORD WARD.
(30) St. Michael's Church in Conisford,
Was a rectory, valued at 20s. but was not taxed. It was confirmed by the bull of Pope Lucius II. Ao. 1183, to St. Bennet's abbey at Holm; it paid 3d. synodals, and was conveyed from that abbey, for an annual rent of 16d. only, very early.
Rectors.
1301, John de Paggegrave. Paul de Paggegrave.
1317, Simon de Salthuse. Sir John de Thorp, Knt. who purchased it of Paul de Paggegrave.
1326, Rob. Sparhauk of Wimondham. Robt. Thorp.
1349, Tho. atte Kirk of Blofield. Lapse.
1351, Henry Oliver of Plumstede. William de Midleton, who sold it to the Austin-friars about 1360, who obliged themselves and successours to pay the yearly synodals, and 1d. per annum to the high-altar of the cathedral, towards making a procession on the octaves of the Trinity; and having obtained proper licenses, they got the parish perpetually united to St. Peter per Montergate, pulled down the church, and laid the site of it, with the churchyard, into their cloister, which was then begun.
Almost opposite to this church, on the west side of the street, was
(31) Thorp's-Place, to which the advowson was long appendant, it being owned by the Pagraves, Thorps, and Midletons: to the north side of which, joined the
(32) Messuage of Thomas Codd, after that of Joan Codd, and now of St. Giles's hospital.
The religious concerned here were, the Prior of Norwich, the Prioress of Carrowe, and the Abbot of Langley.
The whole part of this parish on the east side of the street, was got into the possession of the
Austin-friars, or Augustinian eremites or hermits, who were one of the four principal orders of friars, though the last of them as to time: they first entered England in 1252, and instead of a wide wilderness, settled in Broad-street, London; and being begging friars, soon dispersed themselves into the principal cities in England; and accordingly they came hither in the beginning of Edward the First's time, and settled in a messuage belonging to Roger Miniot, who for that reason is called their founder; in 1290, Barth. de Acre, merchant, gave to God, St. Mary, and St. Augustine, and the brethren of that order, in pure alms, his messuage on the south side of the messuage or dwelling-place of the said brethren; in 1293, they had met with such success, that what by gifts, and what by purchase, they obtained license from King Edward I. to take in mortmain, the several lands and houses of Barth. de Acre, Emma David, Hugh Feringseth and Julian, his wife, Reginald de Antingham, and Roger de Morley, all which they demolished to enlarge their site. As this was their first charter of foundation, this King is said by some to be their founder, because his soul was particularly prayed for, according to their covenant in the aforesaid license.
In 1313, John de Langele, rector of Bodham, gave to Langley abbey, a messuage by the site of these friars, and in 1326, that convent conveyed it to the friars, who pulled it down.
In 1319, Peter de Basingham and Catherine his wife, released, for 9 marks in hand paid, 11s. yearly rent, which the friars were obliged to pay them, out of several houses that they had pulled down; and this year they obtained from King Edward II. a charter of confirmation of all their possessions and foundation.
In 1347, a license was granted by King Edward III. in pursuance of a license obtained from the prior and convent of Norwich, to enable them to enclose a common lane by their site; and to receive certain houses from the prior and convent, adjoining there, on condition that the prior and convent of friars heremites of the order of St. Austin for ever paid 3s. 8d. yearly rent to the prior of Norwich for such demolished houses; and in 1351, and 1354, like licenses passed: so that now having got the whole of St. Michael's parish on that side of the way, except the church and churchyard, they formed a design of making a noble convent; and accordingly (having got that parish church as aforesaid) about 1360, they demolished their old site, and built in its place a noble cloister and conventual church, of 150 feet long, and 50 wide, with an adjoining cloister on its south side, upon the spot where St. Michael's church stood; and having finished the whole about 1368, they enclosed it with a high wall; and in 1429, obtained a charter of confirmation of their foundation and revenues, with license to enclose another common lane into their site, by which they made their convent quite perfect and commodious; which continued so till the Dissolution, when it was taken into Henry the Eighth's hands, who died possessed of it, leaving it to his son and successour Edward VI. who in 1547, by letters patent dated at Burnediche, August 17, with the consent of Edward Duke of Somerset and all his council, granted, among other things, in exchange, to Sir Tho. Hennage, Knt. and Catherine his wife, and William Lord Willoughbie, all the site and precinct of the Austin-friars in Norwich, and all that piece of ground as it is included with high stone walls, now called Cunsford-place, with all the orchards, gardens, and two acres of land thereto adjoining, and fishing thereto belonging, now in the tenure and occupation of Sir John Godsalve, Knt. to be held of the King as of his honour of Bollingbroke in Lincolnshire, by fealty only, in free soccage, without any payment whatever; and the same year they sold it to Sir John Godsalve.
In 1594, it was owned by the Blundeviles; in 1604, John de Blundevile sold it to Sir Will. Paston, who conveyed it to Sir Tho. Knevet, Knt. of Ashwellthorp, who died seized of it, as trustee to the Pastons; it is said to have been conveyed to the Duke of Norfolk; who made a garden of it; from whom, though it hath been some time sold, yet it still retains the name of, My Lord's Gardens.
In 1419, the grand east chancel window of this church was glazed by Sir Thomas Erpingham, Knt. and the following arms and inscription fixed in it, as an old parchment roll in my own possession informs me, viz.
In the first pane,
Sir John Hovel, who bears sab. a cross or; he it was that granted his arms to the
Uffords, on condition they should always bear the cross ingrailed for difference.
Sir Rob. Ufford Earl (of Suffolk), with the rest of his family that were knights, all of the same name, and with their proper differences, viz. 1. a label of 3 arg. 2. a de-lis arg. 3. a crown arg. 4. a crescent arg. 5. an annulet arg. 6. a baston arg. 7. a baston erm. 8. a baston gul. and arg. goboné.
In the second pane,
Sir John de Huntingfeld, Edw. Montague. Hammund de Felton, James or Jacob de Audele. Tho. Morewes (or Morieux). Will. Elmham. Rob. Knollys. Walter de Norwich. Rob. Benhale. Nic. Dagworth.
In the third pane.
Sir Oliver de Ingham. Richard Walkfare. Peter Rosscelyn. John Aspale. Ric. Fitz.-Symond. Rob. de Causton. Aimer de Welyngton. Hugh de Wesenham. Ralf de Skeyton. Walter de Walcote.
In the fourth pane.
Sir John de Burgh. John de Tilney. Nic. Bozun. Barth. de Antingham. Edw. Gerbrigge. John Ulston. Edmund de Hethersete. Walt. Mewys. Thomas Fastolff. Barth. de Naunton.
In the fifth pane.
Sir Anselm Marchale (or Marshal). Roger de Thorp. Donald Sturmyn. Roger de Welsham. Hugh Peverel. Richard Ilney. Edm. Vemerse. William Talmache. William Smalebergh. Thomas Gissing.
In the sixth pane.
Sir Thomas Thornham. John Peche. Robert Bernak. Robert Wachesham. Robert Hempnale (or Hemenhale). Robert Baxynte. John Curson. John Reppys (or Reppes). Thomas Narford. Tho. Hertford.
In the seventh pane.
Sir Robert de Salle. Edmund Seyntomerys [de Sco. Omero.] Edmund de Baconesthorp, John de Caston. Peter Straunge. John Bacon. Barth. Bakon. John Colby. John Lacy. Baldwin Botour [or Bourtetort.]
In the eighth pane.
Sir Robert Mortimer. Roger de Bekham. Richard Belhous. John Withe. Edmund de Reynham. Edmund Bret. John Verdon. Hugh Trussebut. Rob. Banyard. Will. de Barsham. Tho. Erpyngham. Thomas Felton knights. (fn. 1)
At the bottom of the window was this inscription:
Mounseiur Thomas Ecpyngham Ehibalere ad faith faire ceste Fenestre, atMonnur deDieu l toutz Senates, Gemembrauncede tout, Ics Seigneurs, Barones, Bannercttes, t Ehiualeres, que sont mortz sans Issu maie, en les Dountes De Dorff. t Suff. yuist le Coronacion de noble Edwardele tierce. qe Fenestre fuist fait In: deDieu. Mo eeee riro..
In English thus,
Sir Thomas Erpingham, Knt. made this window in honour of God and all the saints, in remembrance of all the Lords, Barons, Bannerets, and Knights, that have died without issue male in the counties of Norfolk and Suffolk, since the coronation of the noble King Edward the IIId. which window was made in the year of our Lord 1419. (fn. 2)
Since which time, the following knights and esquires, who had every one 100l. per annum dying without heirs male, had their arms put up.
Robert son of Thomas Lord Morley, Tho. Erpyngham, Simon Felbrigge, Edm. Thorp, John Wildeshire (or Wiltshire), Thomas Geney, John Genny (or Jenny.) Edmund Barri, Tho. Gerbrigge, John Rothenhale, William Bowet, - - - - Swyllington, Ralph Bigot, John Shardelowe, Richard Carbonell, William Phelip Lord Bardolf, George Sekford, Thomas Ilketelhale, John de Maudeby (or Mawtby,) Thomas Hengrave, - - - - Dovvedale (or Dovedale,) John Winter, Thomas Cravene, - - - Howard, Oliver Bardolf. (fn. 3)
I find the following persons buried in the church of the Austinfriars.
1375, Thomas, son of Thomas de Hemenhale, Knt.
1378, Thomas de Hemenhale, Knt.
1379, Sir William Morley, Knt; (fn. 4) Cecily his wife was buried by him. Sir Robert Brokedish, rector of Marlingford, and Sir Edm. Hemgrave, Knt.
1381, Stephen Horne, rector of St. Peter Southgate.
1383, Amabill Maloysel, formerly wife of John de Holveston, by whom she was buried.
1386, Henry Martin of East-Carleton, chaplain.
1400, Joan, wife of Robert Boys, daughter of Wichingham.
1401, Lady Alice Hemgrave of Mutford, daughter of John L'Isle, buried by her husband, Sir Edmund Hemgrave.
Sir Robert, son of Thomas Lord Morley, died before his father, and had his father's arms, with a label of three points, on his sepulchre. (fn. 5) Anne his wife was afterwards buried by him. Thomas Lord Morley, who died at Calice, and was buried there, was afterwards brought hither. John Morley, Esq. was also buried here.
1416, Margaret Howard.
1417, Sir Tho. Gyney, Knt.
1454, Sir John Gyney, Knt. and Alice his wife.
1418, Lady Cecily Gerbridge of St. Michael Coslany, widow, she gave 10 marks for a pilgrim to go to Rome, and pray for her there; and five marks to Brother Sampson Collen, a friar-austin, to sing for her soul a year.
1422, Joan, widow of Jeffry Fraunsham, Esq.; she gave the convent 100 marks. Her son, Master Thomas Sharington, was then a friar here.
1433, Rich. Gybbes of Norwich.
1435, John Peverel of Great Melton, Esq. and Eliz. his wife.
1439, Nic. Burgh, citizen.
1439, John Holm, by the monument of Margaret his wife.
1445, Will. Mangesson of Norwich.
Tho. Wetherby, Esq. alderman, by his will dated at Carrow in 1444, and proved the next year, ordered to be buried in the Austinfriars church, leaving Walter Wetherby his brother, John Jenny his son, and Margaret his wife, executors, and Ralph Lord Cromwell supervisor; Alice his daughter was a nun at Carrow.
1457, Margaret Wetherby, his widow, of Intwood, was buried by him, and gave 100 marks to build a new library, on condition that on every class and in every window, her own and husband's name should be inscribed, to preserve their memories.
1448, Sir Thomas Kerdeston, Knt.; he gave 300 marks to find three brethren of their own, and not stipendiaries, to celebrate service for his soul, and the souls of Elizabeth, and Phillipa, daughter of Sir John Trussell, Knt. his wife, and a silver cross and two silver dishes, with this round them,
Orate pro animabus Thome Kerdeston Militis, I Phillipe vroris sue, Filie Johis Trussel Militis.
Sir John Hovel, Knt. Sir Rob. Ufford, Knt. Elizabeth, daughter of Sir T. Robsart. Elizabeth, wife of Will. Garneys or Garnish, Esq. and a son of Sir Ralph Bigot, were also interred here.
1453, Dame Katherine Ferrers, wife of Sir John Radcliff.
1456, Margery, daughter of Sir Robert Clifton of Bukenhamcastle, Knt. first wife of Sir Edw. Hastyngs, Knt. and after of Sir John Windham of Crownthorp, Knt. was buried here.
John Bacon, Esq. son of Sir Roger Bacun of Baconesthorp, Knt. buried in 1471, by Maud his wife, who was buried in 1456. John, their son and heir, was buried by them in 1462, and Margaret his wife afterwards; this family were great benefactors to the convent.
1461, Tho. Foleard, rector of Heigham.
1463, Elizabeth, formerly wife of Sir Ralph Bigot. (fn. 6)
1465, Margery, late wife of Walter Vere, citizen, buried by the tomb of John Fowler, her father.
1472, Edmund Wichingham of Wooderising, Esq.; and in 1475, Alice his widow was buried by him.
1475, John Windham, senior, Esq.; he gave 20l. to the convent.
1477, Thomas Soterley, Esq. and Elizabeth his wife; and Thomas Thurton by the tomb of Sibill his wife.
1480, John Bulward of Brakendale, before the image of our Lady of Pity in the north isle.
1485, Rob. Skelton. 1492, Edw. Southwell, chaplain. 1496, John Brygham.
1501, Margaret Holland.
1502, Tho. Smytheline, before the holy-rood in the body of the church.
1516, Tho. Berney of Norwich, Gent. and Katherine his wife.
1528, Sir William Neel, rector of Castor St. Edmund by Norwich.
1532, Will. Buckenham, buried before the image of St. Catherine, and gave the convent five marks, and 6s. 8d. to Sir John Blumvyle, priest.
1535, Ric. Crispin, buried by Soterley's grave.
1536, Katherine Heyward, widow, gave a legacy to be prayed for in the book Quia Fidem (fn. 7) for ever.
Besides these persons already mentioned, I find, that in 1428, William Sedman, citizen, and in 1429, Sir Richard Carbonel, Knt. were benefactors; as was Sir John Fastolff, Knt. whose arms were in the north window of the choir, against the high-altar. In 1468, Elizabeth, widow of Will. Tendryng, Esq. a sister of this convent, gave them a legacy. In 1452, Roger Blickling, Esq. according to indenture between him and the Austin-friars, was to have Placebo and Dirige, and all services performed for him as a brother of this house, and the souls of Simon Blickling, Roger Blickling, and Anne his wife, and the said Robert, and Margaret his wife, were annually to be prayed for.
The church was dedicated to St. Mary the Virgin, and St. Augustine; and had three gilds held in it; viz. the gild of St. Augustine, held by the shoemakers, called the shoemakers gild, the gild of the Holy Cross, and that of St. Margaret. I find the images of St. Laurence, St. Margaret, St. Christopher, St. Erasmus, our Lady of Pity, St. Augustine, &c. mentioned to be in this church, together with the rood altar, &c. but that which brought most profit to the convent, was the chapel of our Lady in this church, called Scala Celi, to which people were continually coming in pilgrimage, and offering at the altar there; most folks desired to have masses sung for them here, or to be buried in the cloister of Scala Celi, that they might be partakers of the many pardons and indulgences granted by the Popes to this place; this being the only chapel (except that of the same name at Westminster, and that of our Lady in St. Buttolph's church at Boston) that I find to have the same privileges and indulgences as the chapel of Scala Celi at Rome; which were so great, as made all the three places aforesaid so much frequented; it being easier to pay their devotions here, than go so long a journey; all which indulgences and pardons may be seen in Fox's Acts and Monuments, fo. 1075.
These friars, to do them justice, were always reckoned a society of learned men, good disputants, and eloquent preachers, and were truly industrious in propagating literature; the most remarkable men of this convent were priors thereof, as
Benedictus Icenus, or Bennet of Norfolk, of whom many writers have left us an admirable character, all agreeing that he was a godly, wise, learned, and eloquent man, deserving to be ranked among the prime divines of his days, for his singular grace in preaching, and his ability in persuading, he was so beloved of Bishop Bek, that he made him his suffragan, and got him consecrated titular Bishop of Sardis; (see Pt. I. p. 505;) his life may be seen, and the books he published, in Bale's Centuries, at p. 42, or in Pitts, at p. 440, from whom Weever, fo. 804, took his account of him; he continued prior till 1340, when he died and was buried here.
Richard Cheffer, a Norfolk man born, was educated from his youth in this convent, whence he went and studied at Cambridge, and became a famous divine, and celebrated preacher, and returning hither, published divers books; an account of which occurs in Pitts, p. 480; he flourished in Edward the Third's time, and died about 1354.
1367, Brother Richer de Lammesse was prior.
1390, Brother Roger Twiford, commonly called Good luck, S.T.P. a famous preacher, remarkable for his piety and industry in learning; he lived to be old, and published some books, as may be seen in Pitts's account of him, at p. 549.
1420, Brother John de Sloley, S. T. P. was educated here, and was admitted to his decree at Cambridge, where he had regularly studied; and for his piety and exemplary life, was not only elected prior here, but was also provincial of his whole order; which grand office he went through honourably; he published many things, and living to a very old age, died June 4, 1477, and was buried in the church here. See Pitts, fo. 666.
In his time flourished Brother John Pulham, Brother John Holkham, Master Thomas de Gerston or Gerveston, S. T. P. Brother Ric. de Brandon, &c. all friars, remarkable for their learning and knowledge.
1478, Brother John Tonney or Tony, born in Norfolk, was educated in this convent from a child, went to Cambridge, and became doctor in divinity; so remarkable for his learning, and skill in the Greek tongue, and in all parts of rhetorick, philosophy, divinity, and poetry, that he was not only elected prior of his own convent, but provincial of his whole order; many of his works were printed by Ric. Pynson, the King's printer at London, where he died about 1490. A large account of him and his works occurs in Pitts, p. 676; and in Bale, 210.
John de Langham, born at Langham by Blakeney, was educated in this convent, studied at Cambridge, where he made great improvement in philosophy and divinity, in which sciences he wrote several treatises, which were preserved in this convent till the Dissolution. Pitts, p. 877, gives us some account of him, but does not inform me in what I much wanted, namely the time of his death.
In 1501, and 1523, Dr. Hugh Lovemere was prior.
Master Stokes, D. D. of Cambridge, was the last prior here.
And these are all the priors that I have met with, but am sensible there were many more; whose names occur not, they being chosen by the majority of their own convent, and being exempt from the Bishop's jurisdiction, and immediately subject to the Pope, we meet with nothing of them in the registers of the see.
More north, on the west side of the street, stands the church of
(33) St. Peter Per Mountergate,
So called from a gate anciently placed by the churchyard, at the foot of the mount or hill: this was originally a rectory belonging to the patronage of Roger Bigot, by whom it was given to the monastery of monks in Norwich, and at their request was appropriated to the infirmary there, whose custos received the profits, and served it by a stipendiary chaplain, who had a dwelling in the churchyard, which was originally a rectory-house; it always paid 12d. synodals to the Bishop, but was not valued or taxed; Dean Prideaux says, It is endowed with 10l. per annum, and the voluntary annual contributions amounted to 10l. more.
The present building is a handsome fabrick, and was erected in 1486, as appears from the many benefactions to it in the wills of that time, among which, Nicholas Ovy, Gent. gave 20l.
At the east end of the chancel, is a chapel of St. Mary, which is covered with lead, and used as a vestry; on the outside of the wall, directly against the altar within, was an effigies of St. Mary, and under it two statues of the founders, with a brass plate and inscription, which being lost, we know not who they were: the covering which belonged to the altar of this chapel, now covers a table set in its place, and hath this round it.
Aequiem etiam dona eis Domine, etLur percpetua Luceateis, requiescant in pace. Amen.
The tower is a fine square building, having a clock and five bells in it; the nave, south porch, and chancel, are leaded, the following arms are carved in stone over the steeple door, which show, that those families to whom they belong were principal benefactors to its building, viz.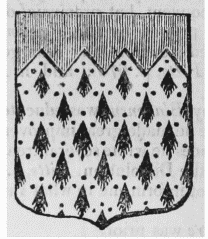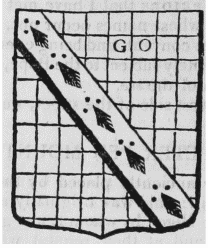 There are also the arms of
Clifton of Lancashire, sab. on a bend arg. three mullets gul. impaling Brome.
Albany impaling Clifton; and a shield of three urchins or hedge-hogs.
The following persons are buried in the nave.
1499, Rob. Cooke, alderman, who gave 10l. to glaze a south window 13s. 4d. to Sir Will. Nele, parish chaplain, to pray for him, 2 tunicles of red velvet, with aubys, "amys, parures, gyrdles, and stoles, according to the best red chesypyll in the church." and if the parish leaded the church in 18 years time, he gave them a foddyr of lead; and to the use of [the image of] St. Nicholas the Bishop, in the church, his scarlet gown, and cloth for a robe. He ordered the grave of Dr. Holkham (a famous Austin-friar) to be paved with marble stones a foot square. His stone is robbed of its inscription.
And from stones still remaining, I find the following persons of the same family are here interred, viz.
1657, Samuel Cooke, æt. 17. 1675, Samuel Cooke aged 80. 1678, Frances Dr. of Thomas and Anne Cooke æt. 24. 1682, Mary Daughter of Robert Cooke and Hannah his Wife. 1687, Anne Wife of Thomas Cooke æt. 54, then thorough Divine Grace, she exchanged this Life for a Better. 1690, John Cooke late of London Merchant, son of Robert Cooke Alderman of Norwich and Hannah his Wife, 9 May, æt. 30. 1697, Sam. eldest Son of Rob. Cooke Esq; Alderman of Norwich, & Anne his Wife, æt. 45. 1703, Thomas Cooke Esq; 16 April, æt. 75. 1710, Robert Cooke Esq; Mayor in 1693, 18 March æt. 80.
There is a stone, having lost its brasses, lying in the middle of the alley about eight feet from the font, under which lies buried the famous Codde, who was mayor in Ket's rebellion; on it is the following inscription cut, to preserve the memory of that worthy citizen:
M. S.
Hic jacet, et per annos CXV Jacuit, quod mortale fuit, Sed non quod reliquum fuit, Viri istius Boni & Benefici THOME CODD quondam Senioris, et Rebellanti Ketto Opportuni, Fidelis, et strenui, Civitatis hujus Norwici Majoris.
Nè ignorarent Posteri, cui Hæc Parochia, imo Civitas Norw: Tantum debent, notum esse Piè voluit, omnium qui bene Fecerunt, Gratissimus Cultor, J. J.
On another stone by the former,
Here lyeth Johan Codd Wedome late the Wiff of Thomas Codd Citizen and Alderman of Norwich, who deceased the b of March 1566:
Here are also stones for,
George Son of George and Mary Biggs, 1693.
Corpus terra tegit, spiritus altè petit.
Mr. John Dawney, 1657; he purchased this Stone for his Uncle, Mr. Thomas Turner, & his own family, so lo long as they remain.
Jane Wife of John Kindgwood, and John Kindgwood 1678, æt. 80. and Hannah and John their Children. Ben. Barker 1715, æt. 69. Susanna Copeman Relict of the said Ben. 1726, æt. 72. George Callo 1691. George his Son 1690. James Barwicke Gent. 1631. Ric. Shipden Goldsmith 1638, æt. 52. Rob. Miet 1644. Ric. & Robert Miet 1681. John Collings 1695, æt. 55. Anne his Wife 1707, æt. 75. Eliz. Wife of Rob. Collings 1724, æt. 59. Rob. Collings 1727, æt. 53. George Durrant 1686. æt. 51. John Son of John Mace 1693. Anne Wife of Alderman John Norman 4 June, 1713, æt. 59. Mr. John Norman senior, 18 Dec. 1704, æt. 73. Nat. Browning 1683, æt. 27. Rebecca Mace & Children 1661.
Persons interred here, whose stones are spoiled,
1466, Agnes Prowet, buried by John her husband, who gave a pricket or candlestick to place on the herse, as well for the poor as rich.
1467, Thomas Goldbeter, buried by Kat. his wife, he was a glazier, but gentleman of coat armour; his will was first proved before the Dean of Norwich and Taverham, but the Bishop voided it, he having the sole probate of all gentlemen's wills that bear arms.
1503, John at Mere, notary. 1504, Tho. Sweyn, senior alderman, he gave 20l. to the city poor, and 10 marks to this church.
1510, Andrew Pawe, by Catherine his wife, and had a space left for Margaret his wife; he gave 10l. to the church.
1515, John Swayne, alderman; he gave 20 marks for the beautifying the church.
1504, John Gyllyng was buried in the porch, which he ordered to be "honestly paved at his coste."
In this porch are stones for,
Isaac Reeve, Gent. 1738, æt. 82. Deb. Wife of Will. Tricket 1726, æt. 60. William Tricket 1736, æt. 77.
1492, Edmund Southwell, chaplain, who was buried in the Austinfriars church, was a good benefactor here.
The following persons are interred in the chancel:
1510, Alice Bylaugh, widow, who gave an altar cloth here and another to St. Vaste's church. This chancel was repaired and new roofed by the prior and convent 11th Henry VII.
Robert son of Owen Godfrey of Hendringham, Esq. 1646. Margaret, wife of John Southalls, Gent. 1707, æt. 75. Elizabeth their daughter 1679. Mary Miller 1737, æt. 21.
Brereton, arg. two bars sab. impaling a stag's head in a bordure ingrailed; a crescent for difference.
William Brereton, 1682, æt. 1 year 15 days.
Crest and arms of Richardson impaling on a saltier ingrailed, five de-lises.
Johannes Richardson in Agro Dunelmensi oriundus hujus Ecclesiæ Curatus, per annos 33, obijt Jul 20, A°. Ætatis lxvi°. salutis MDCCXXI°.
Grace Dr. of John and Alice Richardson, 1694.
Berney's arms with a crescent. John Berney Gentleman, March 2, 1620.
Charles Son of Sir Thomas Skinner of London 1690. Mrs. Brigit Saunders, Daughter of Richard Godfrey Esq; Counsallear at Law, 10 April, 1649. Valentine Saunders Esq; 1680, Anne Daughter of Owen Godfrey Esq; 1648. John Barrow 1707. These in the altar rails.
Berney's arms, and this on a brass plate.
Here lyeth the the Bodye of Richard Berney Esquier, who departed this Life the 26 Day of June, A°. Dom. 1615.
At the south-east corner of the chancel, is a noble monument in form of a bed, on the top of which stands a representation of Time, being an old man with his wings expanded, holding a sithe, having an hour glass under him; and on the front are the crest and arms of Berney and Hobart impaled, supported by two bears sab. crest, on a wreath erm. and az. a plume of feathers az. and gul.
Berney per pale az. and gul. a cross ingrailed erm. a crescent for difference, quartering,
Arg. on a cross sab. five crescents or, impaling Hobart, on the star is a crescent sab. for difference.
There are also the emblematical figures of Faith, represented by a woman, holding a roll of the Law in one hand, and the book of the Gospel in the other; Hope with an anchor and cable; and Charity giving suck to a child, another standing by her for that purpose; the whole being adorned with cherubs heads, &c.
Under the canopy is an altar tomb, on which are two cumbent effigies of a man and woman, with pillows under their heads, and ruffs about their necks; at his feet is a bear couchant, at her's, an ox in the same posture, they being the several animals used by their families as supporters; on the side of the tomb are two cherubs, one leans on a scull, and holds an extinguished torch, the other on an hour-glass, and holds a spade, and this inscription is fixed in the wall,
Hic jacent Richardus Berney nuper de Langley Armiger, qui diem clausit extremum vicesimo septimo die Junij An°. Dom: Milesimo sexcentesimo decimo quinto, et Elizabetha Uxor dicti Richardi, quæ fuit filia Jacobi Hobart nuper de HalesHall in Loddon Armigeri, quæ obijt decimo sexto die Aprilis An°. Dni. 1622. In quorum Memoriam, Edwardus Hobart Generosus, unus Fratrum, et Executor ultimæ voluntatis dictæ Elizabethœ, hoc posuit Monumentum, Mense Julij, An°. Redemptionis nostræ 1623.
The windows of this chancel are adorned with the images of the following saints, viz. St. Catherine, St. Margaret, St. Barbara, St. Edward, St. John, St. Wulstan, St. Theobald, the emblems of the four Evangelists, &c.
Arg. frette de France on a canton gul. a rose or.
Orate pro bano Statu Roberti Leuys Capellani Johanne Sorois eius, et pro animabus B. K. Alderman: Andree Name et Henrici Johnson Burgensium.
On the screens is St. Michael and the dragon, and a cross moline on a shield. Round the chancel are 24 stalls, which belonged to the several chantry and soul priests, which lived in the
(34) College, at the north-east corner of the churchyard; this house was first given to the
Fratres de Pica, or pied friars, so called from their outward garment, which was black and white like a magpie; and after they quitted it, which was when they were obliged to join one of the four principal orders, it came to the hospital of Bek in Billing ford in Norfolk, the master of which, made it his city house, and entertained such chantry or soul priests, or secular chaplains as served in this church, or any where else, where they paid for their commons, and lived together in a collegiate manner, each having his stall here; which by the number, appear to have been 24 complete, and no more; but it having no endowment, and being solely dependent on the will of the master, whose house it was, there is no mention of it in the publick evidences of the see, though they lived together in that manner to the Dissolution. It seems they were dedicated to the Holy Trinity, the emblem of which is on the master's stall, and a shield of Spencer's arms in a bordure adorned with crowns.
On the other stalls are divers emblems, as a woman playing on a harp, a monk thrusting a sword through a unicorn's head: which is on the woman's lap; two cockatrices, and three monks, one holding three arrows, another a staff, his bag at his girdle, and cowl at his back, and the third holds a sword. Two monkeys in monks habits playing upon bagpies. A monk thrusting out his belly and blowing a trumpet, his hinder part is a lion. Two hares eating a bunch of grapes. A fox in a monk's habit holding a pilgrim's staff, enticing the fowls to him, and then seizing them. A monk with his beads, holding a cart-saddle issuing from a wilk-shell, between two sea-monsters. A merman with a bason in one hand, and a comb in the other. Two dolphins and a mermaid, giving suck to a mer-boy. Hercules and his club, holding a lion in a chain. A lion seizing on a dragon. An eagle fighting an armed monk, and seizing his shield, three dragons. Two old heads, between them a castle; a watchman on the top holds a spear in one hand and a shield, on which a castle; in the other, he looks at a lion entering below, but as he enters is caught by the fall of the portcullis upon him. All these are emblematical reflections of the secular collegians, on the regular monks.
On another stall, is a priest kneeling, and saying the maria; on each side is a book on a desk, and The. C.D. D.L. S.A. S.R. L.M..
A table of benefactions hangs in the nave by the north door.
"Thomas Codd, Esq. gave 10l. per annum to the curate, to the poor 10s. per annum, and four nobles for knights meat."
This worthy magistrate, by his last will, gave to the mayor, sheriffs, and commonalty of Norwich, after the decease of Joan his wife, his paled close in Conisford, which he bought of Thomas King; conditionally, that the surveyors or receivers of St. Giles's hospital, commonly called God's-house, shall receive the profits of the said close, and yearly distribute and pay 26s. 8d. to the alderman of the ward of North-Conisford, and the church-wardens here for the time being, towards the discharge of the Queen's task (or tax) within the said ward, whenever it shall happen to be granted; and the citizens meat (fn. 8) for the time of any parliament, as heretofore hath been paid, which money, as soon as yearly received, shall be laid up in a box in the church, and there kept till it be wanted to discharge such task or citizens meat; and the two keys are to be kept, one by the alderman of the ward, and the other by the church-wardens.
He gave also to the city for the relief of the poor in the said hospital, his meadows, edifices, gardens, and orchards, which he bought of Thomas King, and his gardens and tenements in St. Benedict's parish, and a leased tenement which he held of the dean and chapter of Norwich in this parish, conditionally, that they keep it in good repair, and pay the dean and chapter's farm, and keep an obit yearly in St. Peter's per Montergate church for ever; with a dirge (or dirige) the night before every obit day, and mass and requiem to be sung the day following, when they were to pray for his soul, his wife's, father's, and mother's, for the soul of Sir Rob. Codd, (fn. 9) (his brother,) late master of the said hospital; of John Holly and Elizabeth his wife; his father and mother-in-law; of John Awelton and Elizabeth his wife, and all his friends and benefactors.
And also on condition further, that the curate of the church of St. Peter per Montergate for the time being, shall pray for all the souls aforesaid, every Sunday in the year in his bead-roll, and at the said yearly obit; and every Sunday for so doing, and every obit day, the said curate is to receive and be paid out of the premises 4s.
And at the obit 26s. 4d. is to be paid as follows: to 4 priests 6d. each, and four clerks 3d. each; besides the parish priest, who is to have 8d.; 12 beads-men to be there and have 2d. each; the parish clerk for ringing the bells and setting the herse, 3s. 4d.; and for lights about it, 1s.; and for 10 poor people standing about it 6s. 8d.; the other 10s. residue of the 26s. 8d. to be distributed at the obit to the poor of North Conisford ward.
He gave also 20l. to the city treasury, and a lease of Hofton laths, in Hofton, held of the Bishop of Norwich, which the city sold for 30l.
The heads of his will, which is dated Oct. 12, 1558, are annually read at this parish church at his commemoration sermon, which is preached before the court of mayoralty every Sunday before St. Thomas.
His effigies may still be seen in a north window in the nave, in which also are remains of the effigies of St. Francis (which shows as if he was a brother of the adjoining monastery of Franciscan friars) and St. Edmund naked, with his hands tied, his crown on, and his body full of arrows, and under him this broken inscription,
istius Cibitatis Maioris et Aldermani eius et pro quibus tenentur.
The tenements, &c. given to the hospital by Alderman Codd, are now let at 32l. 10s. out of which the treasurer yearly pays 10l. to the curate, 1l. 6s. 8d. towards the task and knights meat, and 2l. 4s. 8d. is generally allowed towards the charge of the commemoration sermon, and payments made at it.
Mr. Peter Peterson, goldsmith, gave the city his four tenements and enclosure in St. Vedast and St. Peter per Montergate, on condition that 5s. be yearly given to the minister for herbage; and the church-wardens every Lammas-day are to lay coals into the lower vestry, to be delivered by them and the overseers to the poorest people in the parish, a bushel each, on St. Thomas's day; no alderman is to be concerned in occupying the premises, but the inhabitants are to nominate four parishioners, and he that will give most shall occupy it. In 1667, the premises were let at 14l. per annum by the city, and the chamberlain paid 9l. 15s. of it for coals, and the parson 20s.
Eliz. Barney, widow, late wife of Richard Barney, Esq. gave the corner house against the Rose, the rent yearly to be given in bread to the poor.
Mr. John Seaman gave the poor 5l. per annum to be paid out of his house and ground in St. Faith's-lane, on St. John the Evangelist's day.
Mr. Edward Warnes, late rector of Lammas with HautboisParva in Norfolk gave the poor his estates in Worstead, Scottow, Hautbois-Parva and Magna, to be given in coals, clothes, and money, to the sick, orphans, and widows, especially of clergymen, as appears by his will:
"I Edward Warnes, the unworthy servant of the Lord, rector of Lammas with Hawtbois-Parva, together with Hawtebois-Magna, being about to appear before the tremendous judgement seat of Jesus Christ, make this my last will, &c. The last day of Febr. 1694.
Whatever is in my possession, that belongs to another, I will shall be restored, and if it should happen, that it cannot be done, by reason of death or any other cause, I strictly command that my executors, get it valued by honest men, at the true value (as in that case ought to be done) and take care to distribute the whole of that value to the poor. Moreover I command my executors, to make full satisfaction to all persons whatever, in the whole world, if by chance I should have injured any one, by word, or deed, on condition such injury be regularly proved, (according to the provision of Pope Calixt I.) De Inimicis non admittendo, (fn. 10) &c.
After the death of Christian my wife "I give and bequeath all and singular my houses, lands, and tenements in Flegge Hundred in the county of Norfolk, with their appurtenances, to remain to the Bailiffs, Burgesses and Commonalty of Great Yarmouth, and their successors, to the use of the poor there, for ever, so that they pay yearly on the 1st day of May, in the south porch of the church of Great Yarmouth aforesaid, to Anne Markant, sister of the aforesaid Christian, or her assigns 10l. yearly, during the term of her life, and all the remaining rents, and annual profits, shall be for ever distributed to the poor, man by man, especially to the Sick, Orphans, and Widows, and before all others, to Clergymen's Widows, and this to be done yearly, in Easter and Christmass weeks, in the presence of the Minister of the church of Great Yarmouth aforesaid, for the time being, or of any one deputed under his hand, and six of the burgesses there.
"And I will, that a copy of this Legacy in Latin (fn. 11) and English fairly wrote on parchments, be made and delivered by my executors, within 3 months after my death, to the Bailiffs and Commonalty of Great Yarmouth aforesaid, to be for ever kept in a publick chest there. And I will that the copy of the aforesaid legacy, shall be publickly read in English by the Minister aforesaid, in time of divine service, or immediately after, in the aforesaid church, every year, after the death of the aforesaid Christian, in the aforesaid weeks, together with the under written clause, belonging to this clause, in case there should be any default made, as to the disposition of this legacy, in manner and form as is aforesaid; to which Minister I give 20s. yearly, out of the said rents and profits to perform this faithfully.
"Nevertheless, if there be any default, in performing the premises, or if at any time the aforesaid Bailiffs, Aldermen, Burgesses, and Commonalty, shall make any lease of the aforesaid premises, or otherwise alien them to any one, or dispose of the same lease or alienation, or a longer term than seven years, then the aforesaid premises, after the death of the aforesaid Christian, and after default made is aforesaid, or lease, or disposition, as above mentioned, shall remain to the Mayor, Sheriffs, and Commonalty of the city of Norwich, and their successors for ever, so that they pay in manner and form aforesaid, the rents and profits of the aforesaid premises, to the poor of the city of Norwich, in manner and form as above written."
'And this above written clause, is that, which I have herein above ordered to be read. And after the death of the aforesaid Christian, give and bequeath all and singular my houses, lands, and tenements in Worstead, Scottowe, Hawtebois-Parva, Hawtebois-Magna, (fn. 12) and in each of them, and in the adjacent villages (except those otherwise disposed of, or to be disposed of in this present will,) to remain to the Mayor, Sheriffs, Citizens, and Commonalty of the city of Norwich, and their successors for ever, to the use of the poor, as is under written, in manner and form following, viz. that the houses be kept tight, viz. they shall keep in sufficient repair, all and singular the houses of the last mentioned premises, with all the ornaments and appurtenances whatsoever, belonging to the capital house there, and shall not suffer any waste to be made in the grown up trees, or young trees; and all and singular the rents and profits of the same premises, or the true value of them, (except all out-goings in and about the premises) they shall pay yearly to the Alderman for the time being, of the Ward of North Conisford, in the city aforesaid, to be paid to the poor of that Ward, in the presence of five, or more, of the chief parishioners of St. Peter per Montergate, every year, in coals, cloathing, and the remainder in money; especially to the Sick, Orphans, and Widows, and to the Widows of Clergymen before all others; and the aforesaid Alderman, in the presence of the aforesaid five, or the more or less of them, is to give an account in writing of every particular, under his hand, to the Mayor, and court of Mayoralty of Norwich, as well of the receipts, as disbursements of the aforesaid rents and profits, distributed to the poor as aforesaid; this legacy is to be given to the poor, over and above their weekly collection.
Nevertheless, if there be any default in performing the premises, or if at any time the aforesaid Mayor, Sheriffs, Citizens, and Commonalty aforesaid, shall make any lease of the aforesaid premises, or otherwise alien them to any one, or dispose of the same lease or alienation, for a longer term than 7 years, then the aforesaid premises, after the death of the aforesaid Christian and after default made as aforesaid, or lease or disposition above mentioned, shall remain to the Bailiffs, Burgesses, and Commonalty of Great Yarmouth, and their successors for ever.
And a copy of this legacy, given to the aforesaid city, fairly written on parchment, in Latin and English, shall be made and delivered by my executors, within 3 months after my decease, to the chief parishioners of St. Peter's aforesaid, to be preserved in the publick chest there for ever.
And the copy of this legacy, I will, shall be publickly read in English, by the Pastor or Minister of the church of St. Peter aforesaid, in time of divine service, or immediately after; every year, after the death of the aforesaid Christian; to which minister I give out of the aforesaid rents, bequeathed to the city aforesaid, twenty shillings yearly, to do it faithfully."
In the vestry hangs up a map of the estate called Little Hautboishall, lying in Hautbois-Parva, Magna, and Frettenham. The total being 146 acres and one rood of land.
He gave many legacies to other towns, died 27 Dec. 1700, and is interred in Thrigby chancel, on the south side, under a black marble thus inscribed:
Hic situs est Edvardvs Wa nes, haud ità pridem Ecclesiarum Lammas, et Haathois Rector, vir probus, et Doctus, qui moriens, Magnas opes alendis pauperibus supremo suo Testamento legavit, obijt 27° die Decembr. MDCC. ætatisque suæ octogesimo septimo. (fn. 13)
Mr. Edward Monday, bricklayer, gave 20s. per annum out of his estate at Catton to bind out a lad from this parish, once in five years.
Mr. Robert Mallet gave his estate in Worstead of about 8l. per annum to the poor.
Thomas Cooke, Esq. gave the overseers 10l. for a common stock, for the use of the poor.
This table was erected in 1704.
In 1704, I find six boys bound apprentices from this parish, by Justice Wisse's gift.
1724, the church-wardens paid 1s. 2d. per annum to the city, for their tenement sometime of John Underwood.
1375, Sir Simon Swan was parish priest. 1564, John Balden.
In 1613, George Bishop of Meath in Ireland, and Dean of Norwich, with the chapter there, demised this parsonage, with all the profits whatsoever, for 21 years, to George Saunder, clerk, if he so long lived, and continued petty canon of the cathedral, and served the cure, paying the dean and chapter 6s. per annum, repairing the chancel, and paying all other outgoing charges for the parsonage.
1627, John Sowter.
1662, Joshua Meen, licensed curate.
It is a perpetual curacy, and
The Rev. Dr. John Clark, dean of Salisbury, is the present [1744] curate.
This parish includes in it the united parishes of St. John the Evangelist in Conisford, St. Vedast, corruptly called St. Faith's, part of the parish of St. Mary in the Marsh, and St. Albert over the monasterygates; and part of it was in the bailifwick or jurisdiction of the castle.
The religious concerned here, were the Prioress of Carrow, the Prior of Cokesford, the Prior of Norwich, and the Dean of the chapel in the Fields.
In 1724, Mr. Thomas Woolfall paid a rent of 6d. a year to the city, for his tenement called the Holy Lamb, anciently Jesus Inn.
(35) In 1267, Will. nephew of William de Wells, for ten marks, granted to God, and his church of the Holy Trinity at Norwich, and to Nicholas, prior there, and his successours for ever, for his own and ancestors souls, all his tenement abutting north on this churchyard, paying to Hildebrond's hospital 30d. per annum. In 1626, it was held by the Berneys, and seems to have been in that family some time, it being called Berneys-Inn.
On the south side of this, was the city house of the Heydon family; Sir Christopher Heydon dwelt in it in 1671.
The corner house on the north side of Toft-lane, belonged in 1315, to Adam de Toft, from whom that lane took its name.
(36) The corner house on the west side of the street against Roselane, in 1370, belonged to Sir John Erpingham, Knt.
And the next to it on the west part, in 1371, to Sir John de Reppes, Knt. who had it of Alice, widow of his brother, Rob. de Reppes.
The parish of
(37) St. John the Evangelist in Southgate,
Or Conisford, was a rectory valued at 26s. 8d. and was appropriated to the priory of Norwich; and about the year 1300, was annexed to the parish of St. Peter per Montergate; it was then purchased by the gray friars to augment their site, when the whole was pulled down, except a small part left for an anchorage, in which they placed an anker, to whom part of the churchyard was assigned for a garden, and all the ornaments which belonged to it were removed to St. Peter's per Montergate. The whole of it being got into the site of the Gray Friars; it stood at the north corner of the Rose-lane.
(38) Cooke's Hospital
Was founded and endowed by Robert and Thomas Cooke, Esqrs. two brothers, both aldermen for Berstreet ward, and mayors of the city; for the habitations of ten poor women, either maids or widows, of 60 years of age or upwards, such as have inhabited in the city of Norwich for 10 years before their nomination, "been of good report, and behaved soberly and honestly."
By indenture dated May 3, 1677, between Robert Cooke aforesaid, and the Corporation, the said Robert "being sensible of God's goodness towards him, in blessing his endeavours in his vocation in the said city, and also of the obligation upon him, as a man and a Christian, to promote the honour and welfare of the city, and to contribute towards the necessities of the poor thereof, did freely and voluntarily grant to the corporation an annuity of 10l. payable every first day of Dec. out of all that great peice of ground lately of the said mayor, sheriffs, &c. parcel of the grey friers, (fn. 14) inclosed with stone walls on the west, south, and north parts, and with a fence of pale on the east: and out of one little peice of ground inclosed round with stone walls, with all the houses, edifices, buildings, shuds, and ladings there-upon built, with all the said walls and fence of pale, and the moiety of a well or pump and a little entry or lane leading to the same well on the west part of the same little peice of ground, as the same premises were late in the farm of Samuel Cooke late of Norwich worstead weaver, in the parish of St. George of Tombland, all which the city demised to Samuel Cooke, and now are in the use of Robert Cooke aforesaid; and also out of all the messuages, tenements, yards, gardens, grounds, and hereditaments, which the said Robert Cooke at any time heretofore had, and purchased to him and his heirs of the city," with power of entry for non-payment, but no writ or action to charge the persons of the said Robert or his heirs; the said annuity to be paid into the Hamper, and by the mayor, or such other person as the corporation shall appoint, to be paid to such poor people, as the mayor and aldermen shall think fit, (unless the said Rob. Cooke in his lifetime should direct otherwise.)
Thomas Cooke, Esq. by will dated Jan. 16, 1701, devised as followeth, "Whereas I have erected and built in the aforesaid parish (meaning St. Peter's per Montergate) several tenements or almeshouses having a peice of ground thereunto belonging, which are altogether inclosed, situate and being at the lower end of my orchard to and for the perpetual habitations of ten poor old women, as well widows as maids, (which like number be there now) which same almes-houses and grounds, I do hereby give and devise for ever, to and for the sole use of ten poor people as aforesaid, severally to dwell in, and as often as it happen that any of them dye and depart this life, then he, or they that shall afterward be owner or owners of my said orchard, shall have the priviledge to place there, others in their steads."
Further, my mind is, that whosoever shall have, possess, and enjoy those houses and ground which I purchased of Mrs. Whale and her daughters, the same shall for ever stand chargeable, not only to maintaine and keep up the said almes-houses or ten roomthes and grounds in good repaires, but also to pay between Midsummer and Michaelmas unto the ten poor folkes there, and to each of them two shillings, or in liew thereof two secks of coals, yet nevertheless my will is, in case my brother (Robert Cooke) or any other person, shall after my decease make a good and sufficient provision, by any other wayes and meanes, for the constant keeping up and repairing of the almes-houses and groundes, and for the said yearly payment of two shillings or two secks of coales apiece for ever, to the poor inhabitants there: then my mind is, that such person or persons after my decease, so owning the same estate which I bought of the said Mrs. Whale and her children, shall be discharged, and his and their estate aforesaid, shall be absolutely exonerated from that incumberance aforementioned."
Dec. 16, 1703, an indenture between Robert Cooke, Esq. and the corporation, sets forth, that the said Robert Cooke and Thomas, his deceased brother, or one of them, had built several rooms in the parish of St. Peter per Montergate, for the constant habitation of such poor women, as by the wills of Thomas and Robert Cooke should be appointed, reciting the first indenture, and that the said Robert did intend to settle a maintenance for poor women inhabiting there; and the said Robert according to the power reserved to himself in the first indenture, did direct the said annuity of 10l. to be paid towards the maintenance of such ten poor women as should inhabit in the said rooms, the same to be applied as he should think fit, during his life; and after his decease, in such manner as he should direct and appoint by his last will, or otherwise.
Sept. 13, 1704, Thomas Cooke, Gent. at the request of Robert Cooke, Esq. his father, who is also party to the deed, reciting the aforesaid will, settled on the mayor, sheriffs, citizens, and commonalty in trust, a rent charge of 21l. per annum, (besides the rent charge of 10l. per annum already settled on them in trust, by Robert Cooke aforesaid,) clear of all taxes whatever, issuing and going out of "all those messuages, tenements, houses, edifices, buildings, yards, gardens, orchards, grounds, and hereditaments, scituate lying and being in the parish of St Peter per Mountergate, or else where, in Norwich aforesaid, between the King's high way or common lane, called St. Faith's Lane on the part of the south, and the grounds late of the mayor, sheriffs, citizens, and commonalty of the city of Norwich, now in the use, and possession of the said Robert Cooke in part, and the house and grounds late of the mayor, sheriffs, citizens, and commonalty, late in the use, possession, or occupation of Rich. Swallow deceased, in part, on the part of the north, and abutting upon the King's highway towards the west; and the ground of the dean and chapter of Norwich, (late St. Vedast's churchyard,) now or late in the occupation of Francis Herne Gent. towards the east, with their and every of their rights, members, and appurtenances whatsoever."
And also out of all other the messuages, tenements, houses, edifices, yards, gardens, orchards, grounds, and hereditaments whatsoever, scituate, lying, and being in the parish of St. Peter per Mountergate, or elsewhere in Norwich aforesaid, and now or late in several uses or occupations of Thomas Colling, Dorothy Gilbart, Edward Adlorme, Anne Savery, Thomas Fenn, Robert Fella, Roger Barrowe, Nathaniel Aylmer, Daniel Dey, and John Norman, as tenants to the said Thomas Cooke, or some or one of them.
And also, out of all the messuages, lands, tenements, and hereditaments, of him the said Thomas Cooke party to these presents, scituate, lying, and being in the parish of St. Peter per Mountergate aforesaid, which the said Tho. Cooke deceased purchased, of Mrs. Whale and her daughters, or any or either of them, or which were the messuages, houses, and lands of the said Mrs. Whale and her daughters, or any or either of them."
The whole for non-payment to be entered upon, but the persons of the owners of the estates not to be charged with any action concerning the rent charge.
The endowment now being thirty one pounds a year, it was settled to pay 6l. 10s. each quarter day, that is to say, 13s. a quarter to each poor woman. And the other 5l. to be annually laid out in repairing the houses of the hospital, if they require it, and if there be any overplus (after 10s. per annum deducted for payment of the city chamberlain, for his pains "and trouble, if he looks after the repairs, and pays the respective quarteridge to the poor women) it shall be applied to or towards the cloathing the oldest or most indigent of such poor women inhabiting in the same roomes.
And the owner and owners for the time being, of the messuages, houses, orchards, and lands, late of the said Mrs. Whale and her daughters, purchased by the said Thomas Cooke deceased, shall from time to time and at all times, as such poor women dye, put in other and others in room of such soe dying, under the terms and regulations aforesaid."
The management of the said hospital is now [1744] in the said Thomas Cooke, Esq. who, as owner of the orchard, nominates the poor people, and pays them accordingly.
To the east side of this hospital joins the
(39) Churchyard of St. Vedast, commonly called St. Faith: this St. Vedast was Bishop of Arras, and had the 6th of February kept holy to his honour; his legend saith, that he died in the 600th year after Christ. The church was founded before the time of the Confessor: the sixth part of the advowson belonged to Edstan, who held it of him. (See p. 11.) It was afterwards in divers hands; Clement, son of Jeffery St. Vedast, gave to God and the almoner of Norwich priory, his sixth part of the advowson, and a rent of 2s. a year, as long as he continued a layman; and Jeffery, son of Gilbert the wax-chandeler, when he was made monk here, gave a third part of the advowson; and Roger Algar released all his right and all the actions that he had with the monks concerning his right in part of the advowson, on condition they constantly prayed for the souls of Master Richard de Draiton, and Alexander his son, and for his own soul, and made him a brother of their convent; which having got the whole advowson, John of Oxford, about 1190, appropriated it to the almoner of the cathedral, who was to serve the cure by a stipendiary chaplain; it was then valued at 10s. paid 3d. synodals, but was not taxed. In Richard the Second's time the almoner paid the curate 40s. per annum, 6s. 8d. for a gown, and 13s. 4d. for his robes, and bare all the outgoing expenses of repairing the chancel, &c. at which time, the high-altar, the principal image of St. Vedast by it, and the picture at the altar, were repaired. In 1318, was a cause determined by the dean of Norwich city, in whose jurisdiction this parish was, between Jeffery, son of William Garnish, and the prior, by which William was obliged to pay as his ancestors always had done, a silver farthing's worth of bread every Sunday to the poor of the parish, for liberty of the thoroughfare that he had to his house through the churchyard; Master Ric. de Berney being proctor for the prior and convent. In 1512, John King, reder, was buried in the churchyard, and gave 20s. towards building St. Vaste's new porch; but at the Dissolution, the prior took the opportunity of delivering it in, as a place liable to be dissolved, and accordingly, in 1540, they pulled down the church, and the next year sold the bells to Mr. Codde, and totally demolished it; and the parish being anciently united to St. Mary in the Marsh, it continued with it till 1562, and was then consolidated to St. Peter per Montergate, with which it now remains. (See p. 52.) And from that time the churchyard hath been leased out by the dean and chapter, as it now [1744] is, to the Rev. Mr. Stephen Norris.
In 1568, Will. Bussy was buried in the church, and ordered Robert Cooke, citizen, his executor, to distribute a legacy to divers religious houses.
In 1287, Ralph the priest was curate here. 1428, Sir Richard Blake. 1429, Sir William Cambridge. 1491, Brother William Castleacre, monk. 1564, John Balden was curate of St. Peter per Montergate when this was consolidated to it.
The religious concerned here were the Prior of Walsingham, whose temporals were taxed at 3s.; the Abbot of Coumbes at 26s. 8d.; the Abbot of Sibeton 1s.; the Prior of Norwich 11s. 6d.; the Prioress of Carrow 6s. 2d.; the Abbot of Windham, and the master of the charnel, who had a messuage here, formerly of Alexander de Derham.
In 1675, the recorders and stewards meadows were laid to the hospital revenues by the court, who, instead thereof, pay 10l. per annum out of the city revenues, to the recorder, and 9l. per annum to the steward out of the same; these meadows are now turned into gardens called Spring-Gardens.
In this parish is Skipwith's-Place, so called from William Skipwith, Esq. its owner, in the time of Henry VI. and Edward IV. it was some time the city house of the Duke of Exeter, of Sir William Elmham, Knt. Sir John Carbonel, Knt. after that of the family of the Morleys, and then of the Lord Bardolf; it now [1744] belongs to St. Giles's hospital, and in 1687, was let to William Johnson at 6l. per annum, for 61 years to come.
On the north side of this, by Rushmere or Rustlin-Stathe, Sir Thomas Roscelyne, Knt. in Edward the Second's time, built a house, which he left to the Lady Margery de Chaumpayne, his sister.
The tenement that abutted on the east end of the churchyard, was settled in 1309, by Etheldred, relict of Hugh de Morley, to find a lamp burning before the high altar in St. Vedast's church, from the synod held after Michaelmas, to that after Easter.
In this parish is the island in the river called the Swan-Bank, and several bitmays or pieces of land gained out of the river, which pay small rents to the city; and the fee of the prior of Norwich extended over this whole parish, to Lovell's stathe, which is at its extremity, and took its name from Roger Luvell, its owner in 1249.
(40) The Gray-Friars,
Franciscan, or Friars-Minors, had their original from St. Francis of Assisium or Assise, a city of the dutchy of Spoleto in Italy, so named from mount Assi, near which it is placed. This seraphical father, as he is commonly called, was born of wealthy parents in the year 1182, was educated as a merchant about 22 years, and then he abandoned the world, renounced all title to his father's inheritance, cast off his shoes, threw away his money, and contenting himself with one despicable coat, and a mantle or cloak; after the manner of the poor shepherds in Italy, he girded himself with a knotted cord or rope, prescribed a rule, not only containing the three vows of obedience, chastity, and poverty, which were essential to all religious orders, but divers laws for his disciples to follow; as to live without propriety of house, place, or thing, as pilgrims and strangers in this world, to be obedient to their superiours in all things, that are not against their own conscience, or contrary to his rules; and accordingly he would have them called minors, not only for their perfect denial of their temporal interest, but from that humility and lowliness of mind, which by his prescript they ought to have.
They are termed Mendicants also, because pretending evangelical perfection, they professed willing poverty, and subsisted chiefly upon alms, which they used to beg as all friars did, from door to door; so that all the four orders were denominated begging friars.
They were called Gray-friars from their habit, which was a loose gray garment down to their heels, and a cowl or hood, and a cord or rope about their loins, instead of a girdle.
Having got many followers, he established the rules of his order in 1209, and became himself the first minister-general of it, by approbation of Pope Innocent III. by whom it was approved in the Lateran council in 1215, and was confirmed by special bull of Honorius III. in 1224, and by many others afterwards.
St. Francis held his first general chapter or congregation of his order, in 1217, and then sent out many of his friars into different nations to preach, both by word and example, with great success; for in 1219, he called a second general chapter, at a little church near Assize, which was given him by the Benedictine monks, and was the first church and convent of the order; and then he saw 5000 of his friars assembled in the fields, such an increase was there already of his order.
Upon this, he resolved to extend his mission throughout the whole world, as well Pagan as Christian, hoping to bring the one to the faith of Christ, and the other to the primitive piety of the first professors of that faith; and with this view, among other places, he ordered nine of his friars for England, at that time miserably harassed and oppressed with a tedious civil war, between the King and his Barons; four of these were clerks, and five lay-brothers, and over them he appointed brother Agnellus de Pisa, the first minister provincial of his order in England; these nine were transported from France to Dover by the monks of Fescamp in Normandy; among them were three Englishmen, viz. Brother Rich. de Ingworth, Richard of Devonshire, and William Esseby; and having first settled in Canterbury, and had more friars sent to them, they divided, and went to London, Oxford, and Cambridge, and in 1226, came to Norwich, being the very year that St. Francis, their seraphical father and founder, died; they settled between the churches of St. Vedast and St. Cuthbert in Conisford, in a house given them by John de Hastingford, who for that reason is esteemed their founder: here they subsisted some time, before they could think of erecting any considerable convent, but by degrees getting several small tenements that joined to their house, they then declared they would erect a large church and convent as soon as possible, which made many contribute to procure them room for so doing; and accordingly in 1284, they obtained license from King Edward I. to enclose a common lane into their site; and in 1288, had confirmation of their foundation, and liberty to purchase to enlarge their precinct: two other licenses also passed in the years 1290, and 1296, for that purpose; in 1299, Hugh de Rokelund and Etheldred his wife gave them all their land in St. Vedast's parish, lying on both sides of their convent, the site which was at first wholly in this parish, though afterwards it was enlarged by adding and demolishing many houses which belonged to St. Cuthbert's parish, and in 1330, Edmund their son and heir confirmed it.
Having obtained a general confirmation of all the benefactions towards their site in 1288, it appears that they had parts of it from John le Grocer, Adam de Stonehouse, Rich. de Fornsete, the prior of St. Faith, the prior of Norwich, Mabel de la Canwet, Tho. de Stanfeld, the abbot of Holm, Alexander de la Sateryn, Thomas de Windham, Rog. le Merishal, Godfry Pikard, Giles the painter, William and Robert Justise, Roger de Morley, John de Wilton, Goda de Lodne, Will. de Colney, and William Virley, who were all benefactors.
Upon this, they immediately set about building a grand church, the length of its nave contained 150 feet, from the west window to the folding doors at the tower or steeple; and 50 feet from thence to the folding doors entering the choir, being the interspace of the belfry or steeple; the breadth of the nave and isles was about 80 feet, the length of the choir about 150, and the breadth 50; the cloister on the south side was a square of the length of the nave; all which building was finished in a few years, such was the piety of those times. This church they dedicated to St. Francis, to whom their other small oratory had been dedicated, which they now pulled down.
In 1345, they enlarged their site further, for King Edward III. licensed the Bishop to receive and assign to the prior of Norwich, in recompense for land conveyed by them with the King's license, to the Friars-minors, one messuage of Adam de Stoke, another of Thomas Stanfield; a third of Robert de Sprowston, chaplain, and 4s. a year rent of Adam de Saham.
In 1372, Tho. Ladde, citizen, was buried in the conventual church of Langley, and gave a legacy to these friars, for the soul of Goda his wife, and John and Emma his father and mother.
In 1391, Clement Hereward gave them 5l. and half the money arising from the sale of a house in St. Michael's parish.
In 1429, Sir Richard Carbonel, Knt. was a benefactor, giving them two altar cloths of gold tissue, a great Bible, &c.
Roger Virley licensed them to carry and recarry their goods through a creke of his, to their site, which was confirmed by Eliz. Elmham, widow of Sir John Ingaldesthorp, Knt. in 1404, and by Tho. Skipwith, Esq. in 1464, with license for the warden to fish in that creke, to the stone-bridge.
There used to be great resort to this convent, many arbitrations, as that in 1492, mentioned in Pt. I. p. 178, &c. being held in the chapter-house here, which was a grand room about 130 feet long, on the east side of the cloister.
In 1537, the Lord Surrey lodged here; and soon after, the convent was dissolved, and on the 12th of March, 1539, King Henry VIII. by authority of parliament, and his letters patent, in consideration for the good, true, and faithful service, that his well-beloved cousin, Thomas Duke of Norfolk, Earl-Marshal of England, had done and still continued to do him, granted to the said Duke and his heirs, "all the site of the late priory of the brothers minors in Norwich, lately dissolved, and all their church, steeple, bells, churchyard, fisheries, orchards, yards, and buildings, whatsoever, as well within, as without the said site, to be held in free burgage by fealty only." By which it appears, that they had kept up to their institution, having no other revenues but their site and other conveniences adjoining to it.
In this noble family it continued till 1544, when it was seized by the King, who on the 6th of Nov. in that year, granted many messuages, houses, and lands, within the site of the Gray-friars, to Paul Gresham and Francis Baldero, Gent. and their heirs, all which were afterwards parcelled out, and are now the inheritance of divers persons; the part of the site not passed by this grant came again to the Norfolk family, when the attainder was reversed by Queen Mary, and so continued till 1559, and then the city purchased it of the Duke of Norfolk for 200l. and let it at the then reasonable rent of 26l. 5s. 8d. to Mr. Rich. Sotherton, in consideration of his obtaining it at such a price from the Duke. This lease the city bought again in 1564, and took down the buttresses at the great house there, and demolished much of it; and on the 27th of Febr. 1688, they sold part of the site to Alderman Robert Cooke, and his heirs, for ever, who owned much of it before, and his son, Thomas Cooke, Esq. is the present [1744] owner.
I find the following persons buried in this church:
1330, Robert Baniard. 1370, Sir John de Haddon.
1371, Walter le Pestour, Pistor, or Baker, rector of Shropham, buried in the churchyard by Master Dionise.
1372, William de Pulham. 1373, Sir John Reppes, Knt. by the grave of Sir John Bavent, Knt.; he gave Brother Ralf de Castre five marks for an annual, for the soul of Florence de Plumstede; to South Reppes altar 20s. and 26s. 8d. to St. Olive's, to pray for the soul of Henry de Calcote and his ancestors: William at Grene, vicar of Derham-Market, and Alice, relict of Sir Edmund de Redesham, Knt. were executors.
1374, Henry Wynke, chaplain; he left 40s. to William, rector of St. Edmund's Fishergate, to glaze the east chancel window of St. Edmund's church.
1385, Lady Petronell de Hardeshull. 1389, William, rector of Intwood; he gave legacies to Merkeshall and Kesewic altars, and glazed two windows in Intwood church, and one in the chancel. 1397, Hen. Oldbek of Great Wichingham, rector of Wramplingham.
1418, Brian Easterford, rector of Biskele. 1423, Tho. Ode. 1431, Margaret, wife of Sir Ric. Carbonel, Knt. buried in the chapel of St. St. Anne. 1433, Tho. Boys, Esq. 1437, Hen. de Walsingham. 1439, Thomas, son of Richard at the Gates. 1441, Will. Sedman, citizen; he gave them 10 marks to repair St. Mary's chapel. 1442, John Brakle of Norwich, lyster (or dier), was a great benefactor; Dr. Brakle, a famous friar here, was his son. 1445, Roger Totenay, and Rob. Lowdesdale, Esq.; he gave the manors of West-Tofts and Breydeston, to be sold, to fulfil the will of Sir John Carbonel, Knt. to be laid out in acts of piety, for the souls of Sir John and Sir Ric. Carbonel, Knts. deceased, and the ladies Margery and Margaret, their wives, who are all interred in the Friars-minors church. Master John Botwright, clerk, of Swaffham, and Brother John Brakle, professor of divinity, were supervisors of his will.
1455, Rob. Ryngman, rector of Bernham-Broom, Bishop of Gathy, and suffragan to the Bishop of Norwich, (fn. 15) was buried in the choir; and by him was Robert Popy, his predecessor, also buried the same year.
1459, Alice Preston, widow. 1461, Thomas Shyrlock, chaplain. 1470, Margaret Eton. 1474, Alice Brocher, widow, who gave them a legacy to repair their dormitory; and Will. Herbert of Swerdeston. 1481, Tho. Spark.
1483, John Dyghton, vyntener, buried in the north side of the church, before St. Thomas's image, and gave 20s. for breaking the ground, and to such friars as are priests, a pipe of red wine, to sing their masses with, and a stained cloth with the 9 worthies; to the warden 20d. to each friar that is master of arts, 12d.
1484, Cecily, widow of Tho. Shelton, Gent. of Norwich, buried by the tomb of her late husband in this church.
1485, Edmund Albon was buried in Pardon-cloister in the Grayfriars, at the north side of St. Vedast's church; this cloister was so called because of the indulgences granted to all such as should be buried there by the Pope, which this convent procured, to get some advantage thereby, in the same manner as their neighbours the Austin-friars did, by their Scala Celi: this year William Phillipes, alderman, was buried here, by Catherine his wife; and one Margaret Est, who was buried in the churchyard of St. Martin in the Baily; being a sister of this convent, ordered her letter of pardon and privilege to partake of their indulgences, to be carried home to the convent, as soon as she was buried.
1486, Margaret Fisher, widow, and Margaret Skipwith, widow, who was buried in the chapel of our Lady, contiguous to the choir, to ceil which, she gave 10l.; she was lady of Goulthorp-hall manor in Swerdeston. There was a gild held to the honour of our Lady in this chapel.
1490, Isabel Lyston, widow, buried by John Lyston, Esq. her husband.
1492, Rog. Aylmer, Esq. he gave 2l. 6s. 8d. to mend their books and vestments, to each of the four friars that carried him into the church, 20d. For a solemn mass yearly in the church for four years, 8l. Friar John Fisher to be his priest, and go to the church of Rome in pilgrimage, and sing mass for his soul at Scala Celi there, and to have 10 marks when he goes out, and 40s. when he comes home.
1494, Thomas Bryggs, Esq. buried before the high-altar in the south part of the church, and gave them 100 marks to sing daily for his own and ancestors souls. He gave 10l. to the cathedal, 5l. for a stone to be laid over him, and the same for a stone to be laid over Eleanor his mother in St. Peter's Mancroft in Norwich. (Regr. Woolman, p. 222.)
1496, John Springwell. 1499. Rich. Glaunvile.
1501, Jeffery Freeman of Norwich. 1502, Anastasia Ellis. 1504, Isabel Hoode, widow; she gave 6 silver spoons, &c. 1514, Edw. Walsham. 1515, Margery, widow of John Havyrs, buried by her husband. 1516, Oliver Dude. 1529, Rog. Appleyard, Esq.
There were two other gilds held here, viz. of St. John the Evangelist and St. Barbara.
The chapel on the south side of the church was dedicated to our Saviour; and the image of our Lady of Pity was on the north side of the nave.
I find many legacies given to the box of St. Francis's friars.
They had two anchorages, one where St. John's church stood, as is before observed, and another, which stood against Conisfordstreet, directly opposite to the street leading to the Red-Well; in 1618, it was called the
(41) Ankerites garden, and was let at 10s. In 1515, William Beisby, who was buried in the churchyard of St. George of Tombland, ordered this anker to sing five masses of the five wounds, by the privilege of Scala Celi granted to Boston pardon for him, on the day or day after his death.
I find the following
Guardians, Wardens, or Priors
Of this convent, the rest of their names being lost, when their noble library was ruined at their dissolution.
1260, Brother Thomas de Docking, so called from the town of that name in Norfolk, where he was born; being entered young here, he was sent by the convent to Oxford, to finish his studies; and after great pains taken in a sedulous application to the noble sciences, for many years, he was admitted doctor in divinity, with great applause; in which faculty he made such a progress, that he was made publick professor and regent, being reckoned among the first divines of that age, for he had then the character of being the very best of modern doctors; and to speak truth, his learned works proclaim his fame, many of which are extant in manuscript in Baliol college in Oxford. He left off publick teaching about 1260, and retiring hither to his own convent, became warden thereof in his old days, and died about 1270. Wood, Pitts, and Bale give us an account of him and his works.
About 1299, died Brother Peter Quesquel or Queswell, who was brought up at this convent, and died warden thereof; he was deeply learned in the civil and canon law, a great divine and famous writer. He recommended his name to posterity by several judicious and useful pieces of learning, which were kept in the library of the convent to its dissolution. The most remarkable work of his was, A Directory of the Law in the Courts of Conscience, and Judicial, which he divided into four distinct books, containing,
1. Of the most adorable Trinity, Catholick Faith, and 7 Sacraments.
2. Of administering and receiving the Sacraments.
3. Of the crimes which hinder the receiving of the Sacraments, and of the Penalties enjoined for the same.
4. The method of orderly directing the Things that relate to Right and Judgment.
Brother Richard of Poringland or Porland, was born at the village of that name near Norwich, and was educated in this convent. He was famous both for his holy life and great learning, being of a ready wit, solid judgment, and polite discourse; which talents, by diligent application and hard study, he so much improved, that he had deservedly the dignity, as well as the knowledge, of a doctor in divinity, being made professor of that faculty in this his convent, where his constant custom was to teach the young friars on working days, and to preach to the people on Sundays and holidays. He was author of many excellent books, most of which were kept in the library here till its fatal ruin; one of his treatises was Of the Passion of Christ.
Brother Roger de Merston, born in the village of that name in Norfolk, and brought up here, was admitted D. D. of Oxford, being the 16th regent professor among the Franciscans there; so eminent was his merit, that he was the 16th minister provincial of his order in England; he retreated hither in the decline of life; became warden after Porland's death, but continued so few years, for he died about 1303, and was buried in the conventual church here.
Brother Walter Catton, born at Catton by Norwich, was admitted here, and became a man of great fame, for his manifold learning and exemplary virtues; Leland says he was an excellent philosopher and divine, being also a great mathematician, he sharply reproved certain abuses in that science; condemned judiciary astrology, as an evil practice, hateful to God, and a mere device of the devil. In process of time, his reputation spread so far, that he was called to the papal court at Avignon, where the Pope made him his penitentiary, and took him for his confessor; he taught divinity publickly in his convent, the government of which he resigned when he went to Avignon, where he died in 1343.
Brother John de Wichingham, born at a town of that name in Norfolk, entered into the order of St. Francis very young, in this convent; where he first learned the languages, being sent to Cambridge, he studied there philosophy and divinity, with an extraordi nary success, answerable to his diligent application, and excellent natural genius: afterwards he betook himself to the sublime study of the Holy Scriptures, and preached frequently to the people with great fervour and zeal, teaching them to eschew vice and embrace virtue: he published many treatises, and died in 1362.
Brother Simon de Tunsted was born in Norwich, his father being originally of Tunsted in Norfolk: he entered himself in this convent after he had perfected himself in classick authors; he was a very great lover of piety and learning, took much pains in the pursuit of the liberal sciences, and became a finished master in philosophy; especially in the mathematicks and musick, and on these considerations gained a great name in the world. In natural philosophy nothing pleased him so much as the speculation of meteors, and the situation of celestial bodies; these studies raised his mind to more sublime contemplations, so that he seemed to dwell in the third heaven: he is highly commended as a most knowing man in all sciences, and some extol his great prudence and dexterity in managing affairs of importance; others praise him for his gravity and composure of mind, and set him off as a person of great worth and authority. Having seriously weighed all I have read of him, (says Pitts,) he seems to me to have been a man, not only of uncommon learning, but also, eminently perfect in all virtue, as appears from the great opinion his brethren had of him, who esteemed him the most worthy man among them, to be chosen by their unanimous votes, minister provincial of their numerous province of England, being the 29th in order in that office. He died at the nunnery of Brusyerd in Suffolk, Ao 1369.
Brother Jeff. de. Ling, born at Ling in Norfolk, educated in this convent, became a great antiquary and historian; a large volume of his, intituled Chronica, or Chronicles, from the time of Brute to his own days, was extant till the Dissolution; he died in 1390.
Brother Reginald de Langham, born at a town of that name in Norfolk, a learned man, doctor of divinity, and professor of that faculty at Cambridge; his wit was sharp, but his temper seems to have been somewhat litigious. He had the character of an excellent school-man, being very expert in all scholastick disputations, and accustomed to argue learnedly and smartly, to distinguish subtilely, to explicate clearly, and to conclude solidly. But I know not, (says Pitts,) whether it proceeded from the envy of others, which often attends the greatest wits, or from his own fault, that he had many learned adversaries of almost all religious orders, that wrote against him, to whom he returned the courtesy, by writing against them; he died in 1410.
1432, Brother Robert de Carleton, born at Carleton by Norwich, died warden, and was buried in the conventual church here.
Brother Robert de Finingham, born at a village of that name in Suffolk, was entered and educated here in all the liberal arts and sciences. He finished his philosophy with great success, and made such uncommon proficience in divinity, that he had scarce his fellow in that sacred faculty: but the learning in which he most of all excelled, was the canon law; in the study of which he took exceeding pains, and wrote many things in that and other faculties; but being envied for his success in it, he wrote against all his slanderers, a treatise Of the State and Dignity of the Order of St. Francis, showing after what manner these friars profess evangelical perfection; praying continually for themselves and others, preaching to the people, begging their food and clothing, and finally, having nothing, and yet possessing all things. He died in
1460, and was succeeded by Dr. Barnard.
1465, Br. Richard de Colby was warden. 1468, Br. William Rokewood. 1469, Br. John Mowte. 1470, Br. John Spark. 1485, Br. — Thornham. 1494, Br. Tho. Glanvyle. 1496, Dr. Shenkwyn.
1524, Doctor Call, warden herè, was also minister provincial of the order.
The English province of Friars-minors was divided into seven custodies: I. London. II. York. III. Cambridge. IV. Bristol. V. Oxford. VI. Newcastle. VII. Worcester; and this monastery was in the 3d custody, which contained the several convents of Cambridge, Norwich, Colchester, Bury, Dunwich, Walsingham, Yarmouth, Ipswich, and Lyn.
Many are the men of worth, and writers, that this convent produced, some of whose names are still deservedly preserved for their virtues and learning, as
Brother Henry de Brisingham, born at Brisingham in Norfolk, who was the 8th Franciscan professor regent at Oxford, and the 13th in Cambridge; a man of great renown; he was sent from this convent to Oxford, where by strenuous application to study, he not only attained the title, but the learning of a finished doctor in divinity, about 1261. He wrote a treatise intituled Summa de Sacramentis, and died about 1280.
1290. About this time died, Brother Thomas de Bungeia or Bungeye, who was born in the town of that name, which stood on an island by the river Waveney, anciently called Le Bon Eye, or the Good Island; and being educated among the Franciscans here, was sent to Oxford, and there was admitted doctor of divinity; and going to Paris, was there perfected in the same degree with great applause for his performances; after which, he became theological professor at Oxford, being completely qualified for that high employment. Besides the common notions of philosophy, he was also a great mathematician, so knowing in the hidden secrets of nature, and so well skilled in uncommon experiments, that he performed such wonders by his wit and art, as exceeded the understanding of the vulgar, and were not intelligible to some men of letters; and therefore the Doctor was traduced by some, as a person dealing in the black art, holding a correspondence with dæmons, and in a word, a conjurer, and one that had to do with the devil. But indeed, I am apt to believe (with Mr. Wood) that Friar Bungey was no stranger to the surprising experiments of his brother Friar Roger Bacon, and believe he had a sight of his writings, wherein greater insight was given into natural magick, or experimental philosophy, than ever was before, it being almost totally unknown in those days. But neither Bacon nor Bungeye were ever held by the learned part of the world, to be such conjurers as to be guilty of necromancy, or of holding a correspondence or communication with evil spirits; though the ignorant and unlearned populace have looked upon them as such. Their experiments exceeded not the lawful bounds of nature, as their writings demonstrate; however, they might surpass the reach of the undiscerning and illiterate vulgar. But the most wise men of his own and other orders never so much as suspected him to be guilty of any unwarrantable practices; otherwise they would not have chosen him for their superiour, or minister provincial of England, as they really did, in which office he succeeded John Bungeye, D. D. in Oxford, who seems to have been not only his titular, but natural brother. He was some time divinity professor at Cambridge, whence he retired in his old age, to the convent of his order at Northampton, and there died and was buried amongst his religious brethren; he wrote a book of Natural Magick, and other things.
1367, Walter Wiburn, Wiborn, or Wimburn, a friar here, was a man of good learning and poetical genius; he was author of a poem in hexameter on the Virgin Mary, another on the Godhead of Christ; a parcel of poems digested in one volume, and a history or treatise of the properties of the Holy Land.
1375, Br. Will. de Elingham. 1417, Br. Tho. Lavenham. 1418, Br. John Brakle, born in Norwich, entered young in this convent, became afterwards doctor of divinity, and a most famous preacher; he was an intimate friend and chaplain to Sir John Fastolff, whom he attended to his death, became a great friend to the Pastons, was tutor to Sir John Paston, and chaplain to Judge Paston; many of this man's letters in Latin, to the great men of that time, together with a sermon in English, and other things of his own handwriting, are in my own custody; he died and was buried in the church of his own convent.
1419, Brother Robert Colman, D. D. of the University of Oxford, of which he was chosen chancellor, with the general applause of that learned body. By this man's piety, mildness, integrity, and commendable example of all Christian virtues, N. Clopton, Knight, and Lord Chief Justice of England, was induced to contemn all worldly vanity, and in his old age became a friar of this order. He wrote several treatises, some of which still remain.
1434, Br. John Feld. 1444, Br. John Pulham. 1460, Br. John Wariant. 1474, Br. John de Mulberton. 1485, Friar Edm. Brygate. 1486, Br. Nich. Lucas. 1492, Br. John Fisher. 1494, Br. John Underwood, titular Bishop of Calcedon, and suffragan to Bishop Nix, a rigid Papist, on which account, he was set aside at the Reformation. (See Pt. I. p. 546.) 1497, Dr. Roger Framingham. Br. John Springwell. And in 1530, Br. John Alborn.
More north, on the same side of the street, stood the
(42) Church of St. Cuthbert,
Now totally demolished; the house in which Justice Clark dwells being built upon the churchyard, the west part of which joined to the street: it was a rectory valued at 6s. 8d. and in 1272, was united by Bishop Roger and the convent of monks who were patrons, to St. Mary in the Marsh, but the parishioners not consenting, it was dismembered again, and became a separate parish as formerly, and so continued till after 1492, and was then perpetually united to the church of St. Mary the Less at the monastery gates; it was demolished in 1530, and in 1535, the prior and convent leased out the churchyard to Thomas Godsalve, who totally cleared the ruins of the church, and built a house there. All that part of this parish on the east side of the street was in the fees of the Prior of Norwich and castle, and not of the city.
(43) The Suffragans tenements stand upon the castle-fee, and are in this parish; they were built by John Underwood, suffragan to Bishop Nix, and were given by him to the city, and are now a city lease; the house late Alderman Arnam's stands on their site.
This whole street was burnt down in the great fire, and the void grounds being purchased by Alderman Augustine Steward, Nic. Hare, and Leonard Spencer, Gent. in 1530, of Lancelot Wharton Prior of St. Faith's, the Prioress of Bungeye, and others, they conveyed them to the Suffragan, and he to them and others, for the use of the city,
The religious concerned here were, the Abbot of Waverley, afterwards of Langley, whose temporals were taxed at 6s. 8d.; the prebend of the chancellorship of the chapel in the Fields had a rent of 12d. out of a house here. The Prioress of Bungeye, and the Prior of St. Faith's; and about 1270, Walter le Mercer of Norwich settled a messuage in this parish in St. Vast's-lane, on the Abbot of St. Bennet at the Holm.
Towards the north-east of St. Cuthbert's churchyard, under the monastery walls, stood the
(44) Parochial chapel of St. Albert, an account of which, you may see at p. 53.
(45) St. Michael's Church or Chapel on Tombland,
Was one of the oldest churches (if not the very first) in this city; it stood near the midst of Tombland, which is so called from the tombs then in it, it being the largest burial-place in the city, and before the cathedral was built, was the principal church; it was founded by the Earls of the East-Angles, long before the Confessor's time, and was by them amply endowed; it was indeed not parochial, but always served as a chapel to their
(46) Palace, which stood against the south part of the chapel yard, and included the whole south end of Tombland, from the monastery gates to the castle-ditch; all which, was then in the fee of the castle, was afterwards called Raton-row, and was divided into four capital messuages; the first of which, next the monastery, was in St. Mary at the Marsh parish, and was called the Stone-house; and the other three were in Little St. Mary's; the middle one belonged to the prior and convent, and the other two in 1330, to Roger Papinjay, in whose family it continued till Roger Papinjay, his grandson, turned the corner house into an inn, and in allusion to his own name, made it the sign of the popinjay or great green parrot, from which time it hath been a publick-house to this day, it now being the Popinjay tavern.
This church and its revenues were settled by the Earls of the East Angles, on the see, and accordingly Bishop Stigand held it in the Confessor's time, for in Domesday Book, fo. 162, we read thus concerning it:
In the hundred and village of Taverham, St. Michael's church in Norwich had one carrucate of land, in the time of King Edward the Confessor, and Stigand (the Bishop) held it in right of that church, there were there always 4 villeins and 2 bordars, one plough tilth in the demean, and another in the tenants hands, and four socmen that had twelve acres of land; there were always 8 acres of meadow, and shack in the wood for 12 swine, and the rents were then annually worth 20s. (fn. 16)
At Stigand's deposition, it was seized from the bishoprick, and given to the earldom again, and so continued till the translation of the see from Thetford to Norwich; and then Bishop Herbert, when he founded the cathedral and priory here, procured of Roger Bigot Earl of the East-Angles, or Norfolk, the whole palace of the said Earl, and the church or chapel of St. Michael, and all the land in Taverham and elsewhere, which belonged to it; and quite demolished the palace, took down St. Michael's chapel, and laid open the whole churchyard for the advantage and beauty of his monastery, placing a stone-cross on the spot where the chapel stood, with the image of St. Michael on its top: (fn. 17) this was afterwards called St. Michael's Cross, and was the boundary between the liberties of the church and city. This same Bishop having procured the manor of Thorp, which then crossed the river, and included the whole cathedral Precinct, and the Hospital meadows to the Great Tower in them, founded a chapel on the summit of the hill at the edge of Thorp wood, which then reached to the brow of the hill, and dedicated it to St. Michael, in recompense for this chapel of that Archangel's, which he had destroyed; the cure of which he assigned to the adjacent priory of St. Leonard, which he also built.
(47) The Church of St. Mary the Less.
Commonly called Little St. Mary's, or St. Mary at the Monastery Gates, and now [1744] the French church, was a rectory valued at 6s. 8d. only, and so was never taxed; it was appropriated by the prior and convent, patrons thereof, to the keeper of the infirmary in the monastery, who served it by one of the monks; it paid synodals with St. Cuthbert's, with which, in 1542, it was consolidated to St. George of Tombland, as they now remain.
This church continued in use till the Dissolution, and in 1544, June 16, John Salisbury Dean of Norwich, and the chapter there, for 20l. granted a lease to the city for 500 years, at 4d. yearly rent, of the advowson of the rectory of the parish church of Little St. Mary in Norwich, with all the church, bells, lead, churchyard, grounds, walls, and buildings, thereto belonging, to be held of them without impeachment of waste; upon which, the desks in the choir, which the Dean had reserved, were purchased by the city, and the windows repaired, which shows as if they designed at first to have had it kept in use; but the case was soon altered, for the very same year, it was leased out in parcels by the city, as the following notes from the accounts show me: "36 H. VIII. received of Crane for a broken marbyll Ston that laye upon oon Preston's Grave, his Wyvys Husbond in the church, Yard of St. Mary Lytyll 12d. of Will. Waller for halff a yere ferme of St. Maryes Church ended at Myghelmes, graunted to him by lease for 20 Years 6s. 8d. of John Derne for half a Year ferm of the West End of the Church-Yard, as it is now newly inclosed with Ston Walls graunted by Lease, 3s. 4d. of John Jowel for a hole Yer ferm of all the South and East Parts of the said Church-Yard, with the Tenantry annexid, late purchaced of Arnold, 26s. 8d. (so that the whole Yearly rent was 46s. 8d.) of John Thurkyll for 7 old Fourmes that stood in St. Mary's Church 7s. of Tho. Farrour for the Font that stode in the same Church with a lytill Marbyll Stone that laye thereby 6s. 8d. of the Church-Wardens of St. George Tomlond for the Roodloft and the Desks of the Qwere 30s. of Tho. Barcham for the Altar and an old Tabernacle 3s. 4d."
In 1554, "the Lead of St. Mary Lyttel Church taken down May 10, being in the hool 52 C. 3 Quarters and 22l. and the said Church tyled. Two Loode of Lead carryed to Mr. Stywardes, which he had towards the Satisfaction of his Debt, for other Leade bestowed by him upon the Charnel House."
In 1564, when the lease expired, the city laid out above 43l. in fitting it up for a hall, for the strangers to search and sell their baize in, and let it and the hallage thereto belonging, at about 13l. per annum.
In 1623, it was made a hall for sale of yarn, and an officer appointed for ordering the business there, according to the orders of the King's privy council in that behalf. May 4, 1625, the King's proclamation was read to the Suffolk yarn and wool sellers; and June 15, the country yarn-men held their first market for yarn at this hall, and were prohibited selling elsewhere within the city. In 1628, a reasonable recompense was settled for hallage.
In 1631, the yarn-men objecting that this place was too small, refused coming; upon which, the following year, the yarn presses were removed from hence to a spacious place in the New-hall, and
In 1637, "the Walloon company having undertaken to repayre and make fit the church of Little St. Maryes to be used for God's worship by the said congregacion, and also to repair the yard on the north side," had a lease for 40 years, paying for the the ground on the north side 10s. per annum keeping the steeple, church, and walls of the yard in good repair; which lease hath been renewed, and now [1744] it is the church of the French congregation.
The steeple is square, but hath no bell in it; the church and chancel are tiled, and the south porch is leaded, there are houses built on the west, south, and east end of the churchyard, and the north part is a stone-cutter's yard. Over the entrance are two shields, one hath D, F. and a merchant's mark; and the other, a cross lozengé on a chief a lion passant, and 1636. They being the initial letters of the name, arms, and mark, of some principal of the congregation, that contributed to the fitting up the church.
There is a stone in the chancel thus inscribed,
M. S. Davidis Martineau Artis Chirurgicæ peritissimi, qui vitam suis percaram, quam plurimis proficientem, ah! præmaturé deposuit xxix Maij A. D. 1729. Æt. suæ 32.
Such persons buried here as I have met with are,
1453, Tho. Trewe, alias Park, Esq. buried in the chancel, and ordered a stone to be laid over him with his image and inscription.
1456, Ric. Bere, goldsmith, buried in the church, and gave a ship of silver for the use of the church.
1456, Mabel, wife of Rich. Apulton, buried in the chancel before the principal image of St. Mary there.
1460, Margery, widow of Tho. Park, Esq. aforesaid, buried by her husband.
1463, John Folkard, alderman, buried in the church.
1464, John Goose, shoemaker, buried in the churchyard, and gave to the "exaltynge of the crucifix on the rode lofte 6s. 8d."
1474, John Baly, who owned the Papyngeay, was buried in the church, and gave a silver cross with a Mary and a John of 10l. value, and a candlestick and silver bason of x. marks, and two laton candlesticks of 4 marks, and two wax tapers to put in them, weighing 5 pounds a taper, to burn about the herses in the church, and at Easter about the sepulchre.
1504, John Silke, notary, gave his antiphoner to the church, and 40d. to the curate.
1516, Joan, wife of Robert Belle, buried in the nave by her husband, gave a stipend for a curate to serve in the church two years, and sing for her and her husband, besides much linen to the altar, and "a towel of plein cloth for to howsel with, of iiii or v ellys by estimacon."
The religious concerned here were, the Prior of Pentney, who had a rent of 5s. per annum out of a house, settled by Robert son of Ralf, son of Wibert of Newton by Castleacre, on the church of St. Mary Magdalen, and the canons of Pentney, which the prior, recovered after a suit for it in 1397. The Prioress of Carrow had a rent settled in 1252, of 2s. a year out of a house here, which was after paid by the cellerer of Norwich. In 1269, the prior and convent, with the Bishop's consent, granted to Elfred de Bromholm, glover, and Benedict de Hapesburgh, cutler, a piece of the east part of this churchyard, of 34 feet long, and 13 broad, to be held to them and their heirs at 6d. a year, and 6d. to the repairs of the church; 6d. to the keeper of the Infirmary, and a pound of wax yearly to the almoner; this was purchased of William Arnold of Cromer, Gent. in 1542, by the city.
The tenement joining to the north side of this churchyard, is called the Star-Ground, and sometimes belonged to the aldermen and brethren of St. George's gild; the next house to it was the Lamb, and was sometimes used as a meeting-house for the company, till 1550, and then the fraternity of St. George granted "all the tenements and grounds called the Lambe, the Stere, the two acres of ground in the feylde without St. Gyles-gates, and the customs or ferme of Fybryg Stathes, to the house of the poor peopull called Goddes-house (or St. Giles's hospital) to be employed to the use of the poor peopull in the same, kept and maynteyned for ever." (fn. 18) And accordingly they belong to that hospital at this day [1744].