Pages 223-262
An Essay Towards A Topographical History of the County of Norfolk: Volume 5. Originally published by W Miller, London, 1806.
This free content was digitised by double rekeying. All rights reserved.
FORNCET
Includes at this time several ancient berwics or hamlets, (fn. 1) according to which, it is in some measure divided at this day; one part is called Kettleton End, anciently Kekeling's town or Kekelington;* this with Tuanatuna, (fn. 2) or Tanaton End, made up the parish of Forncet St. Peter, which though not known by that name, in the Confessor's time was only a berwic to Forncet, and had then only one church, now called Forncet St. Mary, to which St. Peter is, and always was, a chapel of ease; though it hath all the privileges of baptism, burial, and administration of the sacrament, as well as the mother-church. It was founded just before the Conqueror's time in Tuanatun berwic, probably by Oslac ‡ and his tenants, who then held this part; for Domesday says, it had 60 acres of the alms § of many.
Forncet, called sometimes to distinguish it from the several berewicks or ends, Mideltown, || or the middle part of the town, in the time of the Confessor belonged to Bishop Stigand, of whom Coleman held it; it had then only St. Mary's church and 15 acres of glebe belonging to it, but the appendant berewicks or manors held of it, made it a grand manor, for besides Kekelington, Tuanaton, Galgryme, (fn. 3) Sugat, (fn. 4) which now are all included in the bounds of the two parishes, it had lands or manors in the undernamed towns mentioned in Domesday, no less than 16 in number, held of it, which constituted the honour of Forncet, of which
Roger Bigod was lord at the Conquest, when the Forncet part was two miles long, and one broad, and paid 6d. ob. to the geld; and Tanaton was then 11 furlongs long and six furlongs and 10 perches broad, and paid 11d. ob. to the geld. Kekelington being included in the measure of Tanaton.
The whole without the freemen, was worth 4l. per annum at the first survey, and 5l. 10d. at the last, and the King and the Earl had the soc, or chief jurisdiction. The freemen at the first survey, (9) were worth 10l. per annum to the manor, and at the last, 22l. 2s. 9d.; a part of it was held of Coleman by Olf a Dane, in the Confessor's time, and Tanaton was then in two parts; Oslac held one, as also at the Conquest; and Hardeking the other, and reclaimed it as given him by the King; but yet Walter held it of Roger Bigot.
There was a part of it which belonged to Taseburgh (fn. 5) manor; (fn. 6) one freeman named Scula (fn. 7) that belonged to the King; and three parts, one of which laid in three several ends or divisions of the town, belonging to Alan Earl of Richmond's manor of Costeseye, viz. in Kekelington three freemen, &c. in Tuanaton two socmen, &c. and in Mideltun, one freeman and half the services of another; (fn. 8) and this was the state of the town at the Conqueror's survey, when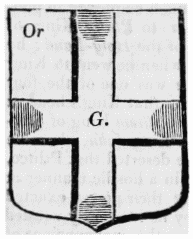 Roger Bigot was lord of it, by that Prince's gift, being one of those great men that attended him when he first came into England, and for his signal services, was well rewarded. This was that Roger who founded Thetford priory, to which he gave this advowson. (fn. 9) He left it to
William Bygod, his son and heir, steward of the household to King Hen. I who was drowned with the King's children as they came from Normandy; (fn. 10) and was succeeded by
Hugh Bigod his brother, steward also of the household to the same King; (fn. 11) but at his death, which happened to be in Normandy, this Hugh became the principal instrument, for advancing Stephen Earl of Boloign to the crown of England; for being steward as aforesaid, (an office in those times of the highest reputation,) he hasted to England, and in the presence of the Archbishop of Canterbury, averred upon oath, that King Henry upon his death-bed disinherited his daughter Maud the Empress, and appointed Stephen his heir; for which services (as some say) he was advanced by him to the earldom of the East-Angles, for in the 6th of King Stephen, he was so styled; and in the 12th year of King Henry II. he advanced him anew to the dignity and title of Earl of Norfolk, and to the office of steward, to hold it as amply as Roger his father did in the time of Henry I. notwithstanding all which honours and great favours, conferred on him, he took part with Robert Earl of Leicester, adhering to young King Henry in his rebellious insurrection; for which disloyal practices, he was forced to make his peace with a fine of 1000 marks, a prodigious sum in those days! and going soon after with the Earl of Flanders to the Holy Land, he died in 1177, and the King seized on his treasure; but it was afterwards restored, or at least great part of it, to
Roger Bigod his son and heir, who upon payment of 1000 marks more to King Richard I. in the first year of his reign, viz. 1189, was restored by special grant, both to the earldom and stewardship, and the whole inheritance of his father, to hold them as freely and honourably as his father and grandfather did; and was not only a favourite of the King's, but was entrusted by him, and much employed in publick affairs; for in 1190, he was ambassadour to Philip King of France, to solicit an aid towards the recovery of the Holy-Land; he attended William de Longcamp Bishop of Ely, when he went to King Richard, then made captive in Almaigne; he was one of the four knights which carried the canopy of state over that King's head at his second coronation. He was sent to require William King of Scotland to come to Lincoln and do his homage to King John, whom he attended into Poictou in 1213; but in 1215, he deserted that Prince, being one of those rebellious barons that met in a hostile manner at Stamford, and afterwards at Brackley, and by their power exacted from the King those strict covenants, whereby he insolently wrested the government out of his hands, and put it into the management of himself and his accomplices; for which violent proceedings, he and his twenty-four comrades, who had thus obtained the real government, were excommunicated by Pope Innocent III. He died in 1220, leaving
Hugh Bigot his son and heir, who married Maud, eldest daughter of Will. Marshal Earl of Pembrook and Marshal of England, who outlived him; in 1222, he was with the King's army in Wales, but dying in 1224, this manor and all his inheritance descended to
Roger Bigod their son and heir, who was knighted in 1232; and at a tournament between the southern and northern lords in 1236, was taken much notice of for his singular skill in those warlike exercises. Upon levying the aid to marry the King's eldest daughter, he paid 162l. 11s. for 125 knights fees of the old feofment, and 37 and an half of the new. In 1241, he was with the King in France, and behaved gallantly at the famous skirmish betwixt the French and English near Xantoigne. In 1245, he was one of those that were sent to the council of Lyons, to complain of the burthen the kingdom laid under from the see of Rome, and finding no redress, was one of those lords who subscribed a letter to the Pope, requiring a remedy from such future exactions, and unjust oppressions; and the same year obtained the office and honour of Marshal, in right of his mother, which that King thus conferred on him; the King gave the Marshal's rod or staff into Maud's hands, and she having delivered it to her son and heir Roger, the King accepted his homage for it, and ordered the Treasurer and Barons of the Exchequer, to let him enjoy all the privileges of that office, and admit his sufficient deputy (if occasion required) to sit in that court. In 1247, he seized the Earl of Ghisnes, on his arrival in England, and excused that fact to the King, by acquainting him, it was only a retaliation of former indignities; the said Earl having served him so, when he went ambassadour into France, having detained him prisoner till he had satisfied him for his passage through his lands. In 1252, he was present when the King confirmed the two charters called, The Great Charter or Magna Carta, and Carta de Foresta; and the next year he attended his Majesty into Gascoigne. In 1254, Robert de Ross, one of the Barons, being charged with some crime committed against the King, this Earl apologized for him, till the King gave him harsh language, and called him traitour; upon which, with a stern aspect, he told him, he lied, and that he never was, nor would be so; adding, If you do nothing but what the law warranteth, you can do no harm : Yes, quoth the King, I can thrash your corn and sell it, and so humble you: to which he replied, if you do it, I will send you the heads of the thrashers. But this breach was soon made up, for in 1259, he was sent ambassadour to the King of France. In 1263, he was one of those who undertook, that the King should submit to the determination of Lewis the French King, concerning the provisions of Oxford; and the King being made prisoner at the battle of Lewes, he was constituted by the Barons, governour of Orford castle in Suffolk. In 1269, he was found to hold this manor and advowson, (the Prior of Thetford having released all right in the latter) as head and chief parcel of the barony of Bygod, and dying soon after, he was buried at Thetford, leaving his honours and estate to his nephew,
Roger Bigod, son of his brother Hugh, who was under age when he inherited; for in 1272, John de Thorp, as guardian, had the custody of the manors of Forncet and Hanworth. In 1281, he was in the Welsh expedition. In 1288, he had a charter of free-warren to this manor. In 1293, he was licensed to embattle his castle or mansionhouse at Bungeye in Suffolk; and it is plain he did not degenerate from his ancestors, for he stood up for the people's liberty, being the chief of those lords, who openly opposed Edward I. in his arbitrary impositions upon lands and wool; and not only opposed the levy demanded by the King for his expedition into Flanders, but actually refused his personal attendance thither; and he and the Earl of Hereford, with others, inhibited the payment of the assessment, and incited the Londoners so, that he obtained a confirmation of the two great charters, and the Articuli super Chartas, which explain them, together with a pardon for all offences; thus all discontents being settled, in 1299 he went in the expedition into Scotland, and having no issue, he constituted King Edward his heir, delivering to him his Marshal's rod, on condition it should be returned to his children if he had any, he to have 1000l. down, and 1000l. per annum during life. Historians aver all this to be done out of fear, because the Earl of Hereford, his old friend and ally, being dead, he thought the King would now make him suffer for conspiring against him. But soon after, he had a re-grant of the earldom, marshalship, and constableship of Norwich castle, and all his estate in tail special, to himself for life, and to his heirs, if he had any, by Alice his second wife, with remainder to the King, who inherited the whole at his death in 1305; John Bigot, his brother and heir, inheriting only the manors of Stockton in Norfolk, and Seterington in Yorkshire, and a few more estates not contained in the settlement. The King being thus possessed, enjoyed it till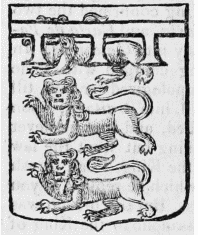 Thomas de Brotherton, his fifth son, had the earldom of Norfolk, and marshalship of England, and great part of the estate of the Bygods, and among others, this manor and advowson, granted to him and his heirs by Edward II. his half brother, in 1312, he was constable of Norwich castle. (fn. 12) In 1315, was returned lord of the honour of Forncet, and of the manors of Forncet, Ditchingham, Ersham, Framlingham-Earl. Halvergate, Southfield, SouthWalsham, Hanworth, &c. with the half hundred of Earsham. In 1326, having behaved well in the Scotch wars, he had a grant of confirmation of the honours, lands. and estates of the Bygods. In 1332, he was a third time in the Scotch wars, and dying in 1338, was buried in the abbey at St. Edmund's Bury; he had two wives, but left no male issue; by his first wife Alice, (fn. 13) daughter of Sir Roger Hales of Harwich, Knt.; he had a son named Edward, who died before him, and two daughters, named Alice, (fn. 14) and
Margaret, who was first married to John Lord Segrave of Folkestone in Kent, who in her right was lord here; by him she had issue Eliz. and Anne, who was lady abbess at Berking; her 2d husband was Sir Walt. Manney, Knt. (fn. 15) by whom she had issue Thomas, who was in his youth, unfortunately drowned in a well at Deptford in Kent, and Margaret married to John Hastyngs Earl of Pembrook. This Sir Walter was lord and patron here in 1361 and 1368, but dying before his lady, she had the whole of the estate in her own right, and in 1397, was created Dutchess of Norfolk for life, by King Richard II. she died in 1399, and was buried at the Friars-Minors in London, and by inquisition taken at her death, it was found that her daughter and heiress,
Elizabeth, married to John Lord Mowbray, had issue John, created Earl of Notingham, who dying under age issueless, was succeeded by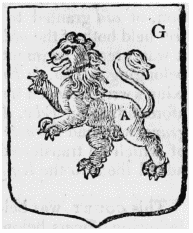 Thomas Mowbray, his brother, who was Duke of Norfolk, Earl of Nottingham, Baron Mowbray, Segrave, Braose, and Gower; Knight of the Garter, and as Coke upon Littleton saith, the first Earl-Marshal that styled himself Earl-Marshal of England; (fn. 16) his christian name was Thomas, in respect to Thomas Archbishop of Canterbury. He was so much in the King's favour, as to be created with his title of Earl of Notingham, to which honour he was advanced the very day his grandmother Margaret (the heiress of Brotherton) was created Dutchess; but as his greatness was founded in blood, so he soon after irrecoverably fell; for being accused by Henry of Bolinbroke, for words spoken indecently of the King, whom he said, notwithstanding his fair pretences and oaths, meant to oppress the Duke of Lancaster and others: that Prince, though he had so great a favour for him, for being active in the destruction of Richard Earl of Arundel, his father-in-law, (fn. 17) and Thomas of Wodstock Duke of Glocester, as to create him Duke of Norfolk, and give him his father-in-law's forfeited estate, yet he committed him prisoner to Windsor castle, and a challenge or camp-ordeal ensued between them, when the Duke came to the place appointed for the combat, wiith his horse caparisoned with crimson velvet, embroidered with silver lions and mulberry-trees: but the King then prohibited the combat, banished Henry called Earl of Hereford for 10 years, and the Duke for life; and this happened on the very day twelvemonth, that he had been accessory to the murder of the Duke of Gloucester; Germany, Bohemia, and Hungary were allotted for his exile; pursuant to which sentence he departed, but never returned, for as he came from Jerusalem, he died of the plague at Venice, in the year 1400, 1st Henry IV. seized of this manor, with the court called the Knyghten court, thereto belonging, and Elizabeth his widow inherited them, and afterwards remarried to Sir Gerard de Ufflete, Knt. who held them till her death in 1424.
The Knyghten Court
Belonging to this manor was the ancient court, to which all those great men, that held their several manors, lands, and tenements, of the Bygods honour, were obliged to do suit and service, and pay castle-ward for the guard of the Earl's castle at Norwich, every three weeks; and to do their homages, pay their reliefs and aids for the several knights fees they held of the honour, at every death, alienation, or aid granted to the Earl. It appears that there were many fees held both of the old and new feofment in the Bygods times; but it was greatly augmented in 1337, when the division of all the fees belonging to Tho. de Brotherton late Earl of Norfolk, was made by the King's writ, between his two daughters and heiresses, Alice married as aforesaid, to Sir Edw. de Montague, and Margaret to Sir John de Segrave, who had Forncet for his share, and above 50 knights fees, many of which he transferred from Rising castle, and other places, and added them to the Knighten Court here.
This court was held constantly every three weeks, and had the following officers belonging to it:
1. An auditor, whose business was once in a year to audit and pass the year's accounts, receive the money, and return it to the lord; he was generally a man of some principal family in the county, and had a handsome salary for life, it being held by patent. Sir Ric. Fulmerston, Knt. and several of the Kempes, &c. were auditors.
2. The feodary, an office of honour and great profit; his business was to take inquisitions at the death of each tenant, that held any fees or parts of fees, by knight's service, inroll all deeds of alienations of any fees or parts thereof.
3. The collector, whose office was to attend at the doing of all homages, and to receive all reliefs, (fn. 18) aids, (fn. 19) castle-guard (fn. 20) money, wards, (fn. 21) marriage money, (fn. 22) &c.
4. The serjeant, who was the feodary's officer, to serve all processes, make enquiries, serve all summonses, return the jurors, and certify the deaths.
5, The bailiff, who was to summon the under tenants, give notice of the courts, make seizures, return copies of the rolls, &c. to the evidence room.
The feodary book of this honour, was last of all renewed in 1609, when the noble Henry Earl of Northampton, Baron of Marnehill, lord guardian of the Cinque-Ports, Lord Keeper of the Privy Seal, Knight of the Garter, was lord. It had then above fifty fees held of it in the county of Norfolk only, as may be seen under the several towns and manors, to which I refer you.
At the death of Elizabeth Dutchess of Norfolk in 1424,
John Mowbray, her second son, and heir, by the death of his eldest brother, succeeded to the honour and manor: he was one of those valiant noblemen that served King Hen. V. and King Hen. VI. in their wars with France; in which, having behaved with the greatest courage and fidelity, he was by parliament restored to the title and dignity of Duke of Norfolk, (being before styled Earl-Marshal and Earl of Notingham only,) in 1424. In 1414, he was at the siege of Harfleu with King Henry V. where he gat the flux by eating too much fruit, and so was forced to return before the famous battle of Agincourt; in 1416, he was at the siege of Caen in Normandy, and continued in those parts till that King's death, and was soon after retained to serve Henry VI. in his wars, by whom he was made Knight of the Garter; he died Oct. 19, 1433, at his manor of Epleworth in the isle of Axeholme, and was buried in the charter-house of the Carthusians there; by Katherine (fn. 23) daughter of Ralph Nevile, first Earl of Westmorland, and of Joan his wife, daughter of John of Gaunt Duke of Lancaster; he had
John Lord Mowbray, Duke of Norfolk, Earl-Marshal and Notingham, Lord Segrave, Gower, &c. Knight of the Garter, and lord of this honour and manor, who in 1438 went ambassadour into Picardy, to make a peace between the Kings of England and France, and had then a grant of place and seat in parliament, next to the Duke of Exeter. In 1446 he went in pilgrimage to Rome, and in 1456, he had license to visit other holy places, in Ireland, Scotland, Brittanny, Piccardy, and Cologn; and to the blood of our Saviour at Windismark; as also to go a second time to Rome and Jerusalem, having vowed to do it for recovery of the King's health. In 1460, he was constituted by Edw. IV. justice itinerant of all the forests south of Trent, but died in 1461, and was buried in the abbey of Thetford, (fn. 24) as was Eleanor his wife, daughter of William Lord Bourchier, and sister of Henry Bourchier Earl of Essex; and was succeeded by his son,
John Lord Mowbray, who during his father's lifetime, was created Earl Warren and Surrey, by King Hen. VI. and by Edw. IV. was made Knight of the Garter; in 1473, that King retained him to serve in the French wars; he married Elizabeth, daughter of John Talbot, first Earl of Shrewsbury, and had issue only one daughter; he died in 1475, and was buried by his ancestors in Thetford priory church, and this manor was assigned to Eliz. Dutchess of Norfolk his widow, who presented here in 1496; but the honour of Forncet went to
Anne, their only daughter, who married Richard Plantaginet of Shrewsbury, Duke of York, second son to King Edward IV. who, because the title of Duke of Norfolk was by the creation limited to the heirs male of the Mowbrays, he obtained a patent from his father, creating him Duke of Norfolk, and Earl Warren; with annuities of 40l. a year, out of the revenues of the counties of Norfolk and Suffolk, and 20l per annum out of the profits of the counties of Surrey and Sussex, to be paid by the sheriff's of those counties. In right of his wife, he was Earl-Marshal, and had the baronies of Mowbray, Segrave, and Gower, together with the vast inheritance of her family. This Richard, (fn. 25) with his brother King Edw. V. was by the unnatural and cruel command of that monster Richard Duke of Gloucester, their uncle, afterwards King Rich. III. barbarously murdered in the tower of London, in 1483, and leaving no issue, the inheritance of this great house fell to two female heiresses, Isabel and Margaret, daughters of Thomas de Mowbray first Duke of Norfolk, the first of which married Sir James Berkley, and the other Sir Robert Howard, Knt. to whose family this honour, manor, and advowson, passed, and hath continued in it to this day.
I shall therefore conclude my account of the Bygods and Mowbrays, with the following extract taken from an old manuscript called the Book of Pleas, now remaining in the gild-hall of the city of Norwich, at fo. 1, viz.
"SERE Roger Bygott Erle of Norfolke, hadd a Sonne hyte Roger, and after him was Erle of Northfolke, and that second Roger, hadd a Sonne hite Roger, and was after hym Erle of Norfolke, and that last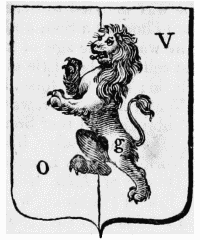 "Roger [Bygot] Erle of Norfolke in the Tyme of Kyng Edward the first, had non Heirs of his Body, and the seid Edward had iij Sonnes, whereof oon was Edward, which was sethen King Edw. the second with the long Shanks; the second Sonne was Thomas of Brothirton; the 3d. Sonne was Edmond, the which Edward the Fader, thought that his Son Edward schuld be his Heir, and Kyng after hyn, and so he was, and Thomas of Brodirton, and Edmond his other Sones, schuld no Lyfelod have, but he get to hem; and in that Tyme, the Erle. Sire Roger Bigott Erle of Norfolke, and his Wif, come to London to the Parliament, in gay and gret Aray, and with gret Peple that passid his Estate, and the Kyng and the Lordis of this Lond, in that Tyme hadden gret Envye thereof, and the Kyng cast a Wrath to the seid Sere Roger, and arested hym, and put hym in strong Hold, sayng he was a Traitor, to that Entent, for to do hym yelden up his Londes into the Kyngs Hond, that he schuld thereof don his Will; and the seid Ser Roger was in gret Distres, many Day and long, and at the last, to be in Ese and in Rest, he gaf up all his Londes into the Kynges Hond that he schald thereof don his Will; and thenne the Kyng havyng thereof seson, of his speciall Grace grauntid agen, all the seid Londes to the seid Sire Roger Bigott, and to his Wif, to holden Terme of their Lifes, and after their Disses to remeyndre to Thomas of Brodirton, the second Son of the seid Kyng Edward the first, and to the Heirs of his Body; the which Thomas Brodirton, after the Deth of the seid Sir Roger Bigott, and of his Wife, possessed thes Londs, and was Erle of Norfolke. And the Kyng gaf to Edmond his thirde son, the Erldom of Kent, with the Londes; and the seid Thomas Brodirton Erle of Norfolke, cam doun into Norfolke, and ther he wedded a Knygthis Doughter, fast be (fn. 26) Bungey, and thei hadden togedir ij Dowters, of the which, oon hight Margeret, and the toder hight [Alice, who had a Daughter] which was married to oon Ser Wil. Ufford Erle of Suffolk; the forseid Margaret and [Alice] Dowters of Thomas Brothirton Erle of Norf. after the Decesse of the seid Thomas, possessed and hadden all his Londes, and it wern partid between them to; and after the seid [Alice] Wif of (Edward) Montagew deid; and hire (Part) fell to here Dowter (Joan) Wif of Ufford Erle of Suthfolk; and after that, the seid Lady Ufford Countes of Suff. deied without Heirs, and all here Part thanne fell unto the forseid Margaret Dowter of the seid Thomas Brothirton, and sche was thenne Cuntese mad of Norff. and dwellid at the Castell of Framelingham, and sche was married to the Lorde Segrave, and the seid Lorde Segrave gaf to hire, whenn he schuld wedden here, all his Londis, to hir and to hire Heirs; and thei hadden togeder ij Dowters, wherof oon (Anne) was Abbesse of Berkyng, and (Elizabeth) the todir, was married to the Lord Mowbrey and Gower; and after that, the Lord Segrave deied, and thenn Dame Margaret his Wif, the Countes of Norff. was both Countes of Norff. and Lady Segrave, and after that, sche was married to Sere Water Maughney Knyght, and thei had togedir (Thomas) a Son, and (Anne) a Dowter, the which Son whenne he was of the age of x Yeres, he drauthe att Chestirforthe, and he schuld a ben Erle of Northfolke and Lord Segrave, if he had levid; and the forseid Dowter of the Countese of Norff. and of Sir Water Maughney, was maried to (John Hastings) the Erle of Penbroke, and ther Son dwellid with the seid Lady of Norff. and was Warde after his Fader's discesse, and the seid Countes of Norff. had his Londes til his full Age, and he wedded (Phillipa) the Dowter of (Edm. Mortimer, the 3d Earl of March) the which yong Erle of Penbroke, was slayne with Justyng with Sir John Sent-Jon att Plaishe, (in 1389) and thenn his Wif, was married to Sir John Holond, and thenne he deied, and sche was maried agen to Grene Cornewall; and whenne the yong Erle of Penbroke was ded, all the Part of the forseid Londes, that schuld alonged to hym, after the Decesse of the seid Countes of Norff. remeyndered agen with the todir Parte, to the Wif of the seid Lord Mowbrey and Gower, Dowter and Eire of the seid Countes, and of the Lord Segrave; the which Lord Mowbrey and Gower, and his Wif, hadden togedir ij Sonnys, that werne Thomas and John, the which Thomas the eldere Son, schuld be Eire to his Fader, of the Mowbray Londes and Gower, and Eire to his Moder, of the Erledom of Norff. and of the Lordschip of Segrave; and the forseid John was with the Deuke of Lancastre, and schuld non Heritage have, lyfyng his Brother and his Brother's Eire; and the seid Deuke of Lancastre, get hym of the King the Erldom of Notyngham, and xl Marcs be Yer therwith, and the Office of Marshall of Yngland, with certen Fee therwith, to hym and to his Heirs; and after that, he deied withouten eny Heirs of his Body, and thenne the Kyng gafe the seid Erledom of Notyngham, and the seid Office of Marshall of Yngland, to the forseid Thomas, son of Lord Mowbray and Gower, to him and to his Heirs of his Body; and thenne deied the seid Lord Mowbray and his Wif and thenne the seid Thomas was Erle of Notyngham, and Marschall of Ingland, and Lord Mowbray, and Lord Gower; and he weddid Elisabeth the Erles Dowter of (fn. 27) Arundell, and the Kyng lovyd hym well, and be cause that the Inheritaunce of the Erledome of Norff. and the Lordshipp of Segrave, shuld afall to hym after the Decesse of Dame Margaret Countes of Norff. and Lady Segrave, his Grauntdame, thenne levyng, the Kyng made hym Duke of Norff. and where he schuld a ben mad Erle of Northf. he was made Erle Marschall, thenne he was Duke of Norff. Erle Marschall, Erle of Notyngham, Marschall of Yngland, Lord Mowbray, Lord Segrave, and Lord Gower; and thenne he deied, levying the forseid Dame Margaret, Countes of Norff. and Lady Segrave, and so the Londes of the Duchie of Norff. and the Lordshipp of Segrave, were never in his Hond."
The honourable family of the HOWARDS,
[Notes indicated in () follow the section below. Ed.]
Being not only the first of this county, but of all England, next to the royal family (1), I shall treat of them at large in this place; this town being the chief of head of the honour; beginning as far back as I can trace them, from the many ancient pedigrees, rolls, evidences, printed accounts, and other memorials, that I have met with concerning them; chiefly following that pedigree which is in Caius college library in Cambridge; (2) the greatest part of it being proved by extracts out of authentick evidences and deeds, which are entered upon it.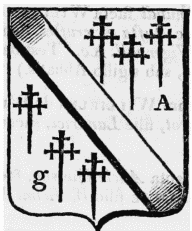 1. FVLCHO, or Fulk; he is exhibited on his knees in armour, with a plume of feathers for his crest, on the top of his helmet; the sash, on which the scabbard of his sword hangs, goes in the form of a bend, and is tied with a knot on his shoulder; he hath his drawn sword erected in his right hand; from the oval that he is drawn in, hangs his shield, made in the shape of a heart, and on it, gul. a bend between six cross-croslets filche arg, which arms have been constantly born by the Howards to this day.
2. GALFRID or Jeffery, son of Fulk, (3) succeeded who had two sons, Humfry the younger, and
3. ALAN Fitz Jeffery, the elder, whose son
4. WILLIAM took the sirname of Wiggenhall, from the town of that name in Freebridge hundred in Norfolk, where he was born, and had lands, confirmed to him by the Abbot and convent of St. Edmund's Bury in Suffolk. (4) He had three sons, Askill his second, and Wlfric his third son, (5) both continued the sirname of Wiggenhall, but
5. JOHN his eldest son, (6) took the sirname of Heyward, Hauuard, or Howard and was the first of this family, of that sirname; (7) which as I take it, he took from the office of heyward there; he married Lucy Germund, (8) by whom he had
6. WILLIAM HOWARD of Wigenhall, (9) with whom Sir Will. Dugdale begins the pedigree of this noble family. (10) This William being bred to the law, made so great proficiency therein, and raised such fortunes,(11) that he was knighted about the 6th year of Edw. I. and had his seat at Wigenhale, (12) where by various purchases, he acquired a considerable estate. It seems he had a brother named Thomas, who was called sometimes Thomas de Wigenhale, and sometimes Thomas Howard of Wigenhale; whose son Andrew also, did the same; for in a deed of exchange, made between him and this William, he is called Andrew (13) son of Thomas Howard; in the deed, which hath on its seal an eagle volant with a bird in its claws, the circumscription being Sigillum Andree de Wigenhale; and by this deed it is clear, that his mother Lucy survived her husband. (14) It seems as if he had also another brother, called Hugh Howard, who was instituted to the vicarage of Wigenhale St. German's, 7 Cal. May, 1304, being in deacon's orders only, when the Prior of Norwich presented him; which was void again in 1307; (15) but whether by Hugh's death, or promotion to other preferment, I do not find. This William was first appointed one of the judges in the Court of Common Pleas by King Edward I. about 1280; and on the 11th of Oct. 1296, (16) 25 E. 1. he was sworn chief justice of the King's Bench; was constantly summoned to parliament till 1 Edw. II. in which year he was sent into Scotland with Rob. de Wateville, on the King's affairs; (17) and on the 12th of Dec. 1307, had letters of protection from his Majesty, to answer no suits, and not to plead to any thing till his return; which patent was produced in the first, second, and third years of Edw. II. so that he did not return to settle till after that time By various deeds I find, that he purchassed estates in Walpole, Tilney, North-Wotton, and many towns in that neighbourhood. He had two wives; Alice, daughter of Sir Rob. Ufford, Knt. by whom he had no issue; (18) and Alice daughter of Sir Edmund Fitton of Wigenhale, Knt. by whom he had issue John and William; he is said to have died about 1308, (19) but where buried I dont find; the Peerage, Vol. I. p. 7, saith, he is pourtrayed in glass, in judge's robes, in a window in Long-Melford church in Suffolk, with two other judges, and this inscription under them:
Pray for the good State of William Haward, Chief Justis of Yngland, and for Pycot and John Haugh Justis of the Law. (20)
7. JOHN HOWARD, Knt. his eldest son, succeeded him, who in 1305, was gentleman of the bed-chamber to King Edward I. afterwards sheriff of Norfolk and Suffolk, (21) custos or governour of Norwich castle; went into the Scottish wars, and to Gascoigne, to serve the King there: his brother, William Howard, (22) purchased EastWalton manor, and many other estates in Norfolk; but dying without issue, he became his sole heir. He married Joan sister of Richard de Cornwall, (23) who survived him, (24) as appears from the inquisi tion taken at his death in 5 Edw. III. Ao. 1330, when he was lord of several manors in Wigenhale, East-Walton, Turrington, South-Wotton, &c.; and though it hath been said, that one Edmund Howard was brother to this Sir John, I cannot find any thing like it; but take it to be a mistake for that Edmund Howard, who was presented in 1309, by King Edw. II. to the rectory of Wetyng St. Mary, as at vol. ii. p. 172: now this Edmund, I take to have been son to William, (25) son of Andrew Howard before mentioned.
8. JOHN HOWARD, junior, Knt. son and heir of Sir John Howard, senior, Knt. and Joan Cornwall his wife, married Alice du Bois, daughter of Sir Robert de Bosco or Bois of Fersfield, Knt. by Christian daughter of Sir William Latimer, Knt. who in 1333, became sole heiress to Sir Robert du Bois her only brother, and inherited the large estate of that family, (see vol. i. p. 77, 8, 92, 104, 5,) where there is an account of this Sir John, who in 1335, was constituted by Edward III. admiral of the King's whole fleet, from the mouth of the Thames northward; and in 1344, he was sheriff of Norfolk, (see vol. ii. p. 89,) and in 1346, obtained a grant for a market every Friday, and a fair yearly, at his manor of Wigenhale, and had a new patent to constitute him admiral again; (26) he was esquire of the body to King Edw. III. behaved well in the siege of Calice in the first year of that King; he had issue,
9. Sir ROBERT HOWARD, Knt. who married Margaret, daughter, and at length one of the heirs, of Robert Lord Scales, Knt. Lord Newcels, being near of age when his mother died in 1371; (27) in 1378, he was committed to the Tower, for detaining Margery de Nerford, from Alice Lady Nevile, her grand-mother; (28) Sir Robert died July 3, 1388, (29) at Est-Winch, where he lies buried; his tomb may be seen in Weever, fo. 841, 2. His will is dated at Est-Winch; (30) by which he ordered his body to be buried in St. Mary's chapel, in the church of All-Saints there, and gave several sums to the high altar, and to the high altars in the churches of Wigenhale St. German, Terrington St. Clement, Fersfield St. Andrew, and Gerboldisham St. John Baptist; with legacies to the Carmelites and Austin-friars at Lyn. Margaret his wife, and Sir John Taddenham, Knt. were his executors. According to the settlement made by him in 1386, (31) Margaret his widow enjoyed the greatest part of the Boises estate, during her life; (32) and at her death she was buried by her husband, who died before his father, leaving issue,
10. Sir JOHN HOWARD, Knt. his eldest son and heir, who at his grand-father's death became heir to the whole estate, except the manors of Brokes in Suffolk, and Est-Walton in Norfolk; the former of which was settled by Sir Robert Howard, (33) on Edmund Howard, his second son; and the latter, on Robert Howard his third son; but both dying without issue, they reverted to Sir John, their elder brother, (34) who was retained to serve King Ric. II. for life, and had two wives; by Margaret, (35) his first wife, daughter and heiress of Sir John Plais of Weeting, Knt. (36) he had issue,
John Howard, junior, Knt. (37) who married Joan, (38) daughter and heiress of Sir Ric. Walton, Knt. and by her had Elizabeth Howard, their sole daughter and heiress, (39) who married John de Veer, 12th Earl of Oxford of the Vere family, for whom see vol. i. p. 81.
Margaret Plais, his first wife, died on 1391, (see vol. i. p. 79,) and he married again to Alice, daughter and heiress of Sir William Tendring, Knt. and Catherine Clopton his wife, who died in 1426, and was buried at Stoke Neyland in Suffolk, (40) by her father, Sir William Tendryng; and in 1437, when Sir John her husband died, (41) he was buried by her. (More of these persons may be seen in the first volume, p. 78,.)
He had issue by his last wife, two sons, (42) Henry his youngest, (43) whose only daughter Eliz. married to Henry Wentworth of Cobham, (44) and
Robert Howard, his eldest, lord of Forncet manor and honour, in his wife's right, who died in his father's lifetime, leaving issue by
Margaret, daughter and coheir to Thomas de Mowbray Duke of Norfolk, by Eliz. his wife, (45) daughter and coheir of Richard Earl of Arundel.
11, Sir JOHN HOWARD, Knt. who began very early to distinguish himself in the wars. In the latter part of the reign of Henry VI. he accompanied John Viscount Lisle to Blay with 22000 men, and soon after marched to the relief of Chatillon, with John Earl of Shrewsbury, where that valiant Earl was slain. In 1442, he was sent by King Henry VI. to appease the great riot at Norwich. (46) In 1460, the first of King Edward IV. he was sheriff of Norfolk and Suffolk, and consequently had the custody of Norwich castle, (47) then the King's prison; and was appointed one of the King's carvers, and in consideration of his great services, obtained a grant of several manors, which were then in the Crown, by the attainder of John Earl of Wiltshire. In the second of Edward IV. he had the joint command (with the Lords Falconberg and Clinton) of the King's fleet, and did considerable service against France; being also at that time Treasurer of the King's household. In 1467, he was sheriff of Oxfordshire and Berkshire. (48) In 1469, bearing the title of Lord Howard, (49) (by which title in 1471, he was summoned to parliament as a baron of the realm) he was made captain general of the King's forces at sea, for baffling the attempts of the Lancastrians, then making a powerful head under the stout Earl of Warwick. In 1470, was made deputy governour of Calais and the Marches, with the Lord Hastyngs; and having behaved with singular prudence and fidelity, he obtained a grant in tail special, of divers lands and manors. In 1473, he obtained of the King, (50) the wardship and marriage of John Bourgchier, Knt. Lord Berners, then a minor, whom he afterwards married to Catherine Howard, his only issue by his second wife. In 1477, he had a grant of the office of constable of the Tower of London; and the next year was again made captain general of the King's fleet against the Scots, and was also installed Knight of the Garter in Edward the Fourth's reign, to whom he adhered faithfully during the whole course of it; (51) as he did to King Richard III. after he had got the Crown, (though without having any evil hand in the barbarous actions which were exercised thereto,) so that to oblige him the more, he was upon June 28, in the first year of that King's reign, made Earl-Marshal of England, (52) and advanced to the dignity of Duke of Norfolk, (Thomas his son being then also created Earl of Surrey) and the day preceding the King's coronation, was constituted High Admiral of England for that day, also Lord Admiral of England, Ireland, and Acquitain for life; and at the same time obtained a special grant of divers manors and lordships,(53) and confirmation of his mother's inhe ritance, and among others, this manor, advowson, and honour; and of all the liberties, since, and now called the Duke of Norfolk's liberties, which were first granted to John Lord Mowbray and Eliz. Talbot his wife, an account of which may be seen at large in vol. i. p. 238, 9. But these great honours and vast possessions were not long enjoyed, for in 1485, being placed in the front of the army at Bosworth field, (54) he was there slain, with the King, Aug. 22, and being afterwards attainted, great part of his estate was seized by Henry VII. His body was brought back and interred in the abbey church at Thetford. Catherine, daughter to William Lord Molins, was his first wife, (55) by whom he had one son and four daughters, Anne, married to Sir Edmund Gorge, Knt. (56) Isabel, to Sir Robert Mortimer of Essex, Knt. (57) Jane to Sir John Timperley, (58) and Margaret to Sir JohnWindham, Knt. (59) By his second wife Margaret, daughter of Sir John Chetworth, Knt. (60) he had only Catherine, married to Sir John Bourgchier Lord Berners. (61)
12. THOMAS HOWARD, his son and heir, being esquire of the body to King Edward IV. was retained to serve him in his wars. In 15 Edward IV. 1474, he was sheriff of Norfolk and Suffolk, and in the first of King Richard III. 1483, was created Earl of Surrey; and though he took part with the slain King, being taken prisoner at Bosworth-field fighting in his own defence, yet did the conquering Prince, King Henry VII. receive him into his favour, and made choice of him for one of his Privy Council; and in 1488, restored him to his title of Earl of Surrey; and employed him to restrain the Scots incur sions, and the northern insurrections: about this time, he shared with Maurice, brother of William Marquis of Berkley, the lands which came to them by inheritance, by reason of his descent from the coheirs to Mowbray Duke of Norfolk. In 1499, he attended the King and Queen to Calais; and the next year, was advanced to the high office of Lord Treasurer of England, and so much was he in his master's favour that he constituted him one of his executors; and immediately after Henry the Eighth's accession, that Prince nominated him one of his privy council, renewed his patent of Lord Treasurer, and the year following made him Earl-Marshal of England for life. In 1512, being sent general of the English forces against the Scots, he slew James IV. King of Scotland, and routed their army at Flodden-Field; for which great service a special grant passed by the King's order, that he and the heirs male of his body, should for ever bear, as an honourable augmentation to his arms, on the bend of the Howard's arms, the upper half of a red lion (depicted as the arms of Scotland are) pierced through the mouth with an arrow. And in 1513, Feb. 1, the King advanced him to the dignity of Duke of Norfolk, which title, John his father (deriving his descent through the heirs female of Mowbray and Segrave, from Thomas of Brotherton, son to King Edward I.) did enjoy. At the same time, he had a new patent for the office of Lord Treasurer; and a grant of divers lordships and manors from the Crown, and confirmation of many others; among which, the honour and manor of Forncet, then valued at 44l. per annum, and its appendages of Swanton, Sugate, and Galgrime, were included; and in 1516, he issued his letters to Sir Nicholas Appleyard, Knt. chief steward of his honour, and to other the learned council of the law, who were constantly retained by him, and to John Crane, his high bailiff, to renew the extents, rentals, and evidences of the honour and manors belonging thereto, which was done very exactly. In 1521, he performed the office of Lord High Steward, at the trial of Edward Duke of Buckingham, and gave sentence of death upon him, but not without tears; and in 1522, obtained a grant to his son Thomas Earl of Surrey of part of the said Duke's lands; and resigning to him his office of Lord Treasurer of England, he retired with the King's leave, to his castle at Framlingham in Suffolk, where he kept an honourable house to his death, and being above 80 years of age, died there on the 1st of May, 1524; (62) and when he was carried out of that castle, towards his burial in the abbey church at Thetford, "he cude nat be asked one grote for his debte," as appears from an exact account of his life, which was fixed on a table by his monument, and is printed at large vol. ii. p. 120, &c. to which I refer you.
He married two wives; first, Elizabeth, daughter and sole heir to Sir Frederick Tilney, Knt. and widow of Humphry Bourchier, Knt. Lord Berners, by whom he had eight sons, of which Henry, (fn. 28) John, (fn. 29) Charles, (fn. 30) Henry, (fn. 31) and Richard, (fn. 32) all died young; the other three survived him.
1, Thomas, his eldest son, was created Earl of Surrey in his father's lifetime.
2, Sir Edw. Howard, Knight of the Garter, and Lord Admiral, was a man of as great account as any of his cotemporaries. In 1491, he was in an expedition then made into Flanders, in favour of the Emperor Maximilian. In 1509, he was made standard-bearer to Hen. VIII. who in 1512 constituted him Lord High Admiral of England, when he convoyed the Marquis of Dorset into Spain, to aid Ferdinand the Emperor against the French; and having scoured the seas, he landed in Britanny, did great execution in that country, and returned home laden with honour and spoils. This put the French to reinforce their navy, and that encouraged the King to do the same; upon which, to the honour of this Lord Admiral, he searched for the French, and met them coming out of Brest, and after a sharp encounter, obtained a signal victory. He was also sent after Sir Andrew Barton, the famous Scotch pirate, whom he fought and took. Afterwards the French could never dare to look out of Brest, so that resolving to attempt them in their harbour, he entered a galley, and boarding the admiral of the French gallies, the grapplings giving way, the gallies parted; and he was left in his enemies hands, where fighting courageously, in the heat of the action, he was born over board, and lost his life. (fn. 33) He married Alice, sister and heiress to Hen. Lovel Lord Morley, and widow of Sir William Parker, Knt.; she died Apr. 1513. His brother,
3, The Lord Edmund Howard, was at Flodden-Field, and with his elder brother, the Lord Thomas, led the vanguard of the army, and behaved very gallantly: he was then a knight, and marshal of the host. He married first, Joice daughter to Sir Richard Culpepper (fn. 34) of Holingborne in Kent, by whom he had three sons, Henry, (fn. 35) who died an infant; Sir George Howard, knighted in Scotland by Edward Duke of Somerset in 1546; and Sir Charles slain in France, all dying without issue; and five daughters; 1, Margaret, married to Sir Thomas Arundel, Knt. (fn. 36) grandfather to Thomas, the first Lord Arundel of Wardour. 2, Catherine Queen of England, fifth wife to King Henry VIII. (fn. 37) 3, Mary, married to Edmund Trafford, Esq. (fn. 38) 4, Joice, to John Stanney, Esq. (fn. 39) 5, Isabel, to — Bainton, Esq. (fn. 40) His second wife was Dorothy, daughter of Tho. Troys, Esq. (fn. 41) by whom he had no issue.
The said Duke by his first wife had also three daughters;
1, Eliz. married to Sir Thomas Bullen, (fn. 42) afterwards Viscount Rochford, Earl of Wiltshire and Ormond, by whom she was mother of Queen Anne Bullen, who had by Hen. VIII. her husband, Elizabeth Queen of England.
2, Muriel, who first married John Grey, (fn. 43) Viscount Lisle, by whom she had Eliz. wife of Henry Courtney, (fn. 44) and secondly, to Sir Thomas Knevet, Knt. (fn. 45) and had issue Sir Hen. Knevet.
The aforesaid Duke's second wife was Agnes, daughter of Hugh Tilney Esq. (fn. 46) sister and heiress to Sir Philip Tilney of Boston in Lincolnshire, Knt. and had issue by her,
1. William, afterwards created Baron Howard of Effingham, of whose descendants more will occur hereafter. (fn. 47)
2. Sir Thomas, who marrying the Lady Margaret Douglass, (fn. 48) daughter to Margaret Queen of Scots, niece to King Henry, was attainted of treason, on some suspicion of his aspiring to the crown, and died in the Tower of London.
3. Ric. who died Mar. 27, 1517, and was buried at Lambeth, with two other of his brothers who died infants, and four daughters.
1, Anne, the eldest, married to John Vere Earl of Oxford, (fn. 49) but left no issue by him.
2, Dorothy, to Edw. Stanley Earl of Derby. (fn. 50)
3, Eliz. to Hen Ratcliff of Sussex. (fn. 51)
4, Katherine, married first to Sir Rhese ap Thomas, (fn. 52) and after, to Hen. Daubeny Earl of Bridgewater. (fn. 53)
13. THOMAS Earl of Surrey, (fn. 54) eldest son to the last mentioned Duke, succeeded him in his honours; in his father's lifetime, he commanded a ship under his brother Edward, who was then lord admiral, when the famous pirate Sir Andrew Barton was taken in 1512. (fn. 55) He accompanied the Marquis of Dorset into Spain, in aid of King Ferdinand, against the French; and the said Marquis falling sick, he had the command of the English army. In 1513, upon the death of the Lord Edward his brother, being then Knight of the Garter, he was constituted lord admiral in his stead, and so scoured the seas, that not a French fisher-boat durst be seen; and landing in Whitsand bay, he ravaged the country thereabouts. Upon the invasion of James IV. in Scotland, he landed 5000 veterans, and joined his father the Earl of Surrey, then general of the English army, sending a message to that King to justify Sir Andrew Barton's death; at the battle of Floddonfield he behaved gallantly, when he commanded the vanguard with his younger brother Edmund, who being in great distress, was succoured by him and Sir Edw. Stanley; and in recompense of these signal services, he was soon after created Earl of Surrey, the same day that his father was made Duke of Norfolk, 5 Hen. VIII. and on a dispute in parliament concerning his place there, it was declared, that he should sit according to his creation, and not as a duke's eldest son. In 1520, being appointed lord deputy of Ireland, he suppressed the O-Neals and O-Carols, and governed so acceptably, that he gained the love of that country. Afterwards, having performed many signal services in France, he was constituted lord treasurer, and made general of the King's whole army, designed to march against the Scots, and all this in his father's lifetime; after whose death, he was again made general of the army, at that time raised to advance into Scotland, to set the young King free, whom the Duke of Albany kept then in custody at Sterling castle. He afterwards attended the King into France, and was sent chief ambassadour to the French King, to attend him to Nice, and commune with the Pope, as to his delaying King Henry's divorce. In 1536, he marched to the assistance of the Earl of Shrewsbury, when he suppressed the insurrection in Yorkshire, called the Pilgrimage of Grace, raised on account of the dissolution of the lesser monasteries, and was soon after made lieutenant-general of all the King's forces beyond the Trent. But after all these signal services, (so little gratitude reigns among the great,) by the insinuating persuasions of some of the nobility, (because on some occasion he had called them the new raised men, which they counted a dishonour to them,) the King was so far misled and incensed against him, that he not only sent him prisoner to the Tower, but gave order for seizing his goods, and gave notice to his ambassadours abroad, that he and his son had conspired to take upon them the government during his life; and after his death, to get the prince into his hands. All which jealousies (the King being in a decaying and weak condition) so far prevailed, that the Duke, and his son Henry Earl of Surrey, were both attainted in parliament; the Earl lost his head, (fn. 56) and the Duke had fared no better, had not the death of that inexorable prince hastened him to give an account of his own actions at that bar to which he had so lately sent the son, and designed to have hurried the father also: however, though his life was spared, yet his enemies so far prevailed over him in Edward the Sixth's reign, that though a pardon was given by proclamation to all persons for what crimes soever, yet was he with five others, excepted by name; as to the particulars laid to his charge, though the act of attainder itself be not on record, the act of repeal in the 1st of Queen Mary reciteth, that there was no special matter in the act of attainder, but only general words of treason and conspiracy, and that out of their care for the preservation of the King and the prince, they passed it. And this act of repeal further sets forth, That the only thing with which he stood charged, was for bearing of arms, which he and his ancestors had born both within and without the kingdom, in the King's presence, and in sight of his progenitors, which they might lawfully bear and give, as by good and substantial matter of record it did appear. It also addeth, That the King died after the date of the commission: likewise, that he only empowered them to give his consent, but did not give it himself; and that it did not appear by any record, that they gave it: moreover, that the King did not sign the commission with his own hand; his stamp being only set to it, and that not at the upper part, but to the nether part of it, contrary to the King's custom. At the attainder, all the manors and estates of the duke were seized, and among others, the manor and honour of Forncet, of which a curious survey was then made. He afterwards retreated to his palace at Kenninghall in Norfolk, where he died in 1554, (fn. 57) and was buried at Framlingham in Suffolk.
He had two wives; the first was Anne, 3d daughter to King Edward IV. by whom he had a son named Thomas, who died young on the 3d of Aug. 23d Hen. VII. and was buried at Lambhithe, though she lies buried at Framlingham in Suffolk. His second wife was Eliz. Stafford, eldest daughter to Edward Duke of Buckingham, by whom he had two sons, (fn. 58) Henry Earl of Surrey, (fn. 59) beheaded in his lifetime, and
Thomas, who married Elizabeth, one of the daughters and coheirs to John Lord Marney and Christian his wife, daughter and heir of Sir Roger Newburgh, Knt. He had livery of the lands of her inheritance, was restored in blood the 1st of Queen Mary, and in the 1st of Eliz. was advanced to the title of Viscount Howard of Bindon in Dorsetshire, and soon after summoned to parliament, and died in 1582, Febr. 14, leaving four sons, Henry, (fn. 60) who succeeded him in his honour, but dying without issue male, Thomas, his next brother, enjoyed the title of Viscount Howard of Bindon, and was installed Knight of the Garter 4 Jac. I. but died without issue.
14. THOMAS, the eldest son of Henry Earl of Surrey, on the death of his grandfather, became the fourth Duke of Norfolk of this family, being then upwards of 18 years of age; he was fully restored in blood, and the act of his grandfather's attainder made void 1st Mary. In the second year of that Queen, he commanded the forces against the Kentish men, and continued in esteem all her reign, and was installed Knight of the Garter 1 Eliz. and in the 3d year of that Queen, was constituted lieutenant-general for the northern parts of the realm. In 1565, he, with Robert Earl of Leicester, was solemnly invested with the habit and ensigns of the order of St. Michael, in the chapel of the Queen's palace at Westminster, by an embassy sent from the French King: but in the 11th of Queen Eliz. being suspected to be not only a favourer, but great admirer of Mary Queen of Scots, he was cast into prison, accused of designing to marry her, tried, condemned, and beheaded June 2, 1572, 15 Eliz. on Tower Hill, to the grief of many, for he was a good man, and much beloved by his country. (fn. 61) He married three wives; first, Mary, daughter and coheir to Henry Fitz-Alan Earl of Arundel; (fn. 62) by whom he had Philip Earl of Arundel, his son and heir; she died at Arundel House in the Strand, Aug. 25, 1557, and was buried in St. Clement's church near Temple Bar.
His second wife was Margaret, daughter and sole heiress to Thomas Lord Awdley (fn. 63) of Walden, Chancellor of England, widow of Henry Dudley, a younger son to John Duke of Northumberland, who was slain at St. Quintin's in Picardy Ao 1557, by whom he had Thomas, afterwards Lord Howard of Walden, and Duke of Suffolk, (of whose descent more hereafter;) 2dly, William Lord Howard of Naworth castle, born Dec. 19, 1563, and two daughters, Elizabeth, who died an infant, and is buried at Framlingham in Suffolk, and Margaret, born Aug. 1, 1562, afterwards married to Robert Sackvile Earl of Dorset. This dutchess died at Norwich in 1563, and is buried in the church of St. John Maddermarket, as at vol. iv. p. 289. His third wife was Elizabeth daughter of Sir Francis Leibourn, Knt. (fn. 64) widow of Thomas Lord Dacres of Gillesland, by whom he had no issue; she died in 1567, and was buried at Kenninghall, as in vol. i. p. 226.
15. PHILIP HOWARD, son and heir to the last mentioned Duke, was Earl of Surrey, Lord Howard, Mowbray, Segrave, and Bruse of Gower, and Earl-Marshal of England; also, in right of his mother, he assumed the title and honour of Earl of the earldom of Arundel, with the appurtenances thereof, it having anciently been adjudged in parliament, to be a local dignity, so that the possessors thereof should enjoy that title of honour; whereupon, he sat in parliament by the title of Philip Earl of Arundel, 23d Elizabeth, in which parliament he was restored in blood from the attainder of his father, Thomas Duke of Norfolk, beheaded Ao 1572. This noble peer being a most zealous papist, was much maligned, and being accused to Queen Elizabeth, by some of his potent adversaries, for holding correspondence with Cardinal Allen, Parsons the Jesuit, and others, she took a great dislike towards him; for which reason, after the strict laws made against the papists, he endeavoured to go beyond the seas without leave, but being discovered, was apprehended and committed to the Tower, Ao 1584, and his estates seized; and among others, this honour and manor of Forncet, of which the Queen took immediate possession, and demised part of it to William Pennant for 21 years, namely, all that part, which, after the attainder of Thomas late Duke of Norfolk had been granted to the Lady Mary, the then King's sister, and by her, had been leased to the said William. In 1586, he was fined 10,000 pounds in the Star Chamber for his misdemeanors, and attempt to go beyond the seas; and three years after, was arraigned and condemned by his peers in Westminster-hall, for divers practices in relation to his religion, and favouring of the Spaniards: nevertheless, by the Queen's grace, he obtained her pardon for his life, but continued prisoner in the Tower; and at length died in custody there, Nov. 19, 1595, being not full 40 years of age; having, during his imprisonment, lived in the severity of his religion, a most strict and austere life. He married Anne, daughter of Thomas, and sister and coheir to George Lord Dacres (fn. 65) of Gillesland, by whom he had his only son,
16. THOMAS Earl of Arundel, who was born during his father's imprisonment, and was restored in blood by James I. Ao 1602, in the parliament met at Westminster in the 1st year of his reign, and had livery of all estates from that Prince, and among others, of his honour and manor of Forncet. He was Earl of Arundel and Surrey, EarlMarshal, and premier Earl of all England, Knight of the most noble order of the Garter, and one of his Majesty's most honourable privy council, and lord steward of the household; and by King Charles I. was constituted chief justice of the forests north of Trent, and general of the army, in the first expedition to Scotland, Ao 1638. He sat as lord high steward of England in Westminster-hall, at the remarkable trial of Thomas Wentworth Earl of Strafford; shortly after which, foreseeing the civil wars then beginning in England, he willingly resigned his staff of lord steward of the household, resolving to travel: his lady also took the same resolution, and a fair and honourable opportunity presently offered; for the Queen-mother of France having been in England about two years, was at this time necessitated to return; and the care of conducting her to the sea-side, and waiting on her over, was committed to this Earl; who afterwards spent some time at Utrecht, but in the winter returned to England; and by reason of his special services and great merits, as also in respect of his lineal descent from Thomas de Brotherton Earl of Norfolk, (a younger son to King Edw. I.) was by letters patent dated June 6, 20 Car. I. advanced to the title of Earl of Norfolk: shortly after which, discerning the flames of war to encrease daily, his age and infirmities also rendering him unfit for any further employment, he obtained leave of the King to travel; whereupon, retiring to Padua in Italy, he died there, Sept. 14, 1646, in the 61st year of his age, and his corpse being brought over, was buried at Arundel in Sussex. He married the lady Alathea, one of the daughters and coheirs of Gilbert Talbot (fn. 66) Earl of Shrewsbury, by whom he had issue, 1, James Lord Mowbray and Lord Maltravers, who was one of the Knights of the Bath at the coronation of Car. I. and after making the tour of France and Italy, died in his return, at Gaunt in Flanders, unmarried. 2, Henry Lord Mowbray, who succeeded him. 3, Thomas. 4, Gilbert. 6, Charles, who all died infants in their father's lifetime. William, the fifth son, married Mary, sister and sole heir to Henry Lord Stafford, (fn. 67) and 16 Car. I. was created Baron of Stafford, and she at the same time Baroness of Stafford, from whom the present Earl of Stafford is descended. During this time, the manor and honour passed in the trustees of the family, along with Fersfield manor, as in vol. i. p. 89, 90.
This most noble Earl was the greatest favourer of arts, and promoter of sciences, that we have met with. He had an excellent knowledge in painting, sculpture, carving, building, and designing; his collections of designs exceeding that of any person then living; and his statues were equal in number, value, and antiquity, to those in the houses of most princes; to gain which, he had persons many years employed, both in Italy, Greece, and many parts of Europe, where rarities were to be had; all which, were by him placed in the garden, and certain rooms belonging to Arundel House in the Strand, and are accurately described in that tract of his, intituled Marmora Arundeliana; and will remain a lasting monument of his highly deserved fame to future ages; Henry Duke of Norfolk, his grandson, bestowing them on the University of Oxford, they were orderly placed in the walls, enclosing the stately Theatre, but are since removed to a room over the Bodleian Library.
His paintings likewise were numerous, and of the most excellent masters, having more of that exquisite painter Hans Holben than were in the world besides. He had the honour to be the first person of quality that set a value on them in our nation; being also the person that brought in uniformity in building, and was chief commissioner to see it performed in London; he was likewise sumptuous in his household stuff; full of state and magnificence in his entertainments, especially of strangers; at his table very free and pleasant. He was more learned in men and manners, than in books, yet understood the Latin tongue very well, and was master of the Italian: he was a great favourer and admirer of learned men, as appeared by his intimacy with Mr. Cambden, Mr. Seldon, Sir Robert Cotton, and Sir Henry Spelman, the lights of their age. He was a promoter of order and ceremony, and kept greater distance toward his Sovereign, than any person at court; often complaining, that the too great affability of the King, and the French garb of the court, would bring Majesty into contempt. In council he was grave and succinct, rather discharging his conscience and honour, than complying with particular interests; and so was never at the head of business or principal in favour. He was free from covetousness, and so much above a bribe of gratuity (for favours done) as no person ever durst tempt him with one. He was in his religion no bigot or Puritan, and professed more to affect moral virtues, than nice questions and foolish controversies: if he was defective in any thing, it was that he could not bring his mind to his fortune, which though very great, was far too little for the vastness of his noble designs, which were only for the glory and ornament of his country, and may well be excused. When he was constituted Earl-Marshal of England, he revived that honourable court, which had anciently been held by the Constable and Marshal jointly; wherein remedy was given for such abusive provocations as might occasion no little bloodshed by duels, or other mischievous ways of revenge; and some scruple being made as to the jurisdiction of Earl-Marshal alone, he the year after obtained other letters patent, bearing date Aug. 1, 20 Jac. I. 1621, whereby the King, after mature advice had with the lords of his council, did declare, that in the vacancy of the Constable of England, the EarlMarshal had the like jurisdiction in the court, as both Constable and Marshal jointly, ever exercised; commanding him to proceed accordingly; which he thereupon did, with much honour to himself and his authority, and to the great satisfaction of the nobility and gentry of the realm, in cases where they received such affronts and injuries; for which (by the rule of the common law) no redress could be had; until, by the votes of a predominant party, in that parliament (which destroyed monarchy and episcopacy, and brought all things into confusion) his jurisdiction in the court was questioned.
17. HENRY HOWARD Lord Mowbray and Maltravers, (as he was called in his father's lifetime, and as such, sat in parliament,) succeeded him in his honours. In 1626, he married the Lady Elizabeth Stewart, eldest daughter of Esme Stewart Lord of Aubigny, Earl of March, and afterwards Duke of Lenox; but it being without the King's consent, he and his lady were confined some time to Lambeth, with Archbishop Abbot; but after that, he was called up by writ to the house of peers, as Lord Mowbray and Maltravers. When the rebellion brake out in 1641, he faithfully adhered to the King, and served in his army till about the end of the year 1645, when he visited his father in Italy, and was with him when he died, and returned with his corpse into England. During the tyrannick government of his native country under Cromwell, he lived retired till his death, which happened Apr. 17, 1652, when he was buried at Arundel.
He had by his lady, nine sons, and three daughters, whereof Anne died young, Catherine was married to John Digby of Gothurst in Buckinghamshire, Esq. and Elizabeth to Alexander Macdonnel, grandson to the Earl of Antrim in Ireland; his sons were, Thomas, Henry, Philip, (fn. 68) Charles, Talbot, Edward, Francis, Bernard, and Esme.
18. THOMAS HOWARD succeeded him in his titles of Earl of Arundel, Surrey, and Norfolk; and after the restoration of Charles II. in the year 1661, at the humble petition of James Howard Earl of Suffolk, Thomas Howard Earl of Berkshire, William Howard Viscount Stafford, Charles Lord Howard of Charlton, Edward Lord Howard of Esrick, Charles Lord Howard of Naworth, all lineally descended from Thomas the last Duke of Norfolk, and above eighty others of the nobility, he was restored by act of parliament, to the title of Duke of Norfolk, to remain to him, and the heirs male of his body, (fn. 69) with all the privileges, precedences, and pre-eminences, thereunto belonging; by which he became the fifth Duke of Norfolk; but dying at Padua in Italy in 1678, unmarried, the title and estate descended to his next brother,
19. HENRY HOWARD, the sixth Duke of Norfolk, who on March 26, 1669, 21 Car. II. was created Lord Howard of CastleRising in the county of Norfolk, (fn. 70) and on the 29th of Dec. 1672, in consideration of the eminent services done by his noble father and grand-father, to King Charles I. and the crown of England, at home and abroad, as also for many personal services performed to King Charles II. in his exile, was created Earl of Norwich, which honour was limited to him and to the heirs male of his body; and also by the same patent, had the office and dignity, of Earl-Marshal of England granted, with all rights, powers, jurisdictions, precedencies, and authorities, thereto belonging, &c. to him, and the heirs male of his body; and for default of such issue, to the heirs male of the body of the Lord William Howard of Naworth in the county of Cumberland, youngest son of Thomas Duke of Norfolk, (who was beheaded 15 Eliz) and for default of such issue, to Charles Howard Earl of Notyngham, and the heirs male of his body. He was born July 12, 1628, and died at his house in Arundel-street, Jan. 11, 1683. He married to his first wife, the Lady Anne Somerset, (fn. 71) eldest daughter to Edward Marquis of Worcester, by Eliz. Dormer his first wife, and by her he had two sons and three daughters; and by his second wife, Jane, daughter of Robert Bickerton, Esq. (fn. 72) gentleman of the wine cellar to King Car. II. (a lady famed for her beauty and accomplishment) he had first, Lord George Howard, who married Arrabella, daughter and sole heiress to Sir Edmund Allen of Hatfield Peverel in the county of Essex, Bart. widow of Francis Thompson of Humbleton in the county of York, Esq. and died March 6, 1720, without issue. The second son was Lord James Howard, who died a bachelor, being drowned Aug. 1702, attempting to ride over Sutton-Wash in Lincolnshire The 3d son was Lord Frederick-Henry Howard, who married Catherine daughter to Sir Francis Blake of Oxfordshire, relict of Sir Richard Kennedy of Mount-Kennedy in Ireland, Bart and died March 16, 1726, his lady surviving, who died Jan. 23, 1731. Lady Catherine, and Lady Anne, both nuns in Flanders; and Lady Phillippa married to William Standish of Standish-hall in the county of Lancaster, Esq. and died in Jan. 1683.
The Duke's daughters by his first wife were, the Ladies AnneAlathea, Elizabeth, and Frances; whereof the latter was married to the Marquis Valparesa, a Spanish nobleman in Flanders; the second, to Alexander Gordon Marquis of Huntley in Scotland, who was created Duke of Gordon in that kingdom; and the eldest died in her infancy. His sons were, Henry and Thomas. (fn. 73)
20. HENRY HOWARD, 7th Duke of Norfolk, was born Jan. 11, 1654, and on Jan. 27, 1677, was summoned to parliament by writ, by the title of Lord Mowbray; and upon the death of Prince Rupert, was made constable of Windsor castle, warden of Windsor forest, and lord lieutenant and custos rotulorum, for the counties of Norfolk, Surrey, and Berks; and on May 6, 1685, 1 James II. being elected Knight of the most noble Order of the Garter, he was installed the 22d of July following. This Duke obtained a commission under the great seal, dated Aug. 13, 1687, 3 James II. whereby his Grace, as Earl Marshal of England, should revive and hold a court of chivalry &c. and setting out for France the 24th of March following, constituted his brother, the Lord Thomas Howard, his lieutenant in the court of chivalry, and Sir Thomas Exton and Sir Richard Raines, surrogates. His Grace returned from Flanders July 30, 1688; and on the landing of the Prince of Orange in England, being then in Norfolk, he immediately declared for him, (fn. 74) and brought over this, and some of the adjacent counties to his interest, for which service, he was soon after sworn of his privy council, and so continued to his death; afterwards, he was made constable and governour of his Majesty's royal castle at Windsor, lord warden of Windsor forest, lord lieutenant of the counties of Norfolk, Surrey, and Berks, and of the city of Norwich, and county of the same; as also custos rotulorum for the counties of Norfolk and Berks, and Fellow of the Royal Society. He died at his house in St. James's-square, April 2, 1701; having married the Lady Mary Mordaunt, daughter and sole heiress to Henry Earl of Peterburgh, from whom he procured a divorce in parliament for incontinency, which in the year 1700, passed both Houses; and having no children by her, he was enabled to marry again, but leaving no issue, his honour and estate descended to the eldest son of his brother Lord Thomas, viz.
21. THOMAS HOWARD, the 8th Duke of Norfolk, who was born Dec. 11, 1683, and in 1709, his Grace was married to Mary, sole daughter and heiress to Sir Nic. Sherbourn of Stony-Hurst in the county of Lancaster, Bart. but dying without issue, Dec. 23, 1732, (fn. 75) (Henry his next brother being dead without issue,) his honour and estate went to his third brother, the present lord of this honour and manors, viz.
22. The high, puissant, and most noble Prince, EDWARD HOWARD, the present Duke of Norfolk, Earl-Marshal, and Hereditary Earl-Marshal of England, Earl of Arundel, Surrey, Norfolk, and Norwich, Baron of Mowbray, Howard, Segrave, Brewse of Gower in Caermarthenshire, Fitz-Alan, Warren, Clun, Oswaldestre, Maltravers, Greystock, Furnival, Verdon, Lovetot, Strange (of Blackmere) and Howard of Castle-Rising; Premier Duke, Earl, and Baron of England, next the Blood Royal, and chief of the truly illustrious family of the Howards. (fn. 76)
He married, Ao 1727, Mary daughter to Edward Blount of Blagden near Torbay in the county of Devon, Esq. a younger son of Sir George Blount of Sodington in Worcestershire, Bart. but at present hath no issue, and Richard Howard, his next brother, being dead without issue,
The honourable Philip Howard, Esq. of Bukenham-house in Norfolk, his youngest brother, is his heir; who on the 7th of Jan. 1723, married Winifrede, daughter of Tho. Stoner of Watlington Park in the county of Oxford, Esq. by whom he hath a son named Thomas, born Febr. 3, 1727, and a daughter Winifrede. Since the death of this lady, he remarried to a sister to the present Dutchess of Norfolk, (fn. 77) by whom also he hath issue.
The arms, crest, supporters, and motto of his Grace the Duke of Norfolk, are,
Arms, gul. on a bend between six cross croslets fitchee arg. a shield or, therein a demi-lion rampant, (pierced through the mouth with an arrow,) within a double tressure counterflory of the first.
Crest, on a chapeau gul. turned up erm. a lion (or leopard) (fn. 78) passant guardant, (his tail extended,) gorged with a ducal coronet arg.
Supporters, on the dexter side a lion, and on the sinister a horse, both arg. the latter holding a slip of oak fructed proper. Motto,
sola virtvs invicta. (fn. 79)
[Ed. Notes to above section on the Howards]
(1) The Duke of Norfolk hath precedence of all other Dukes, not only by his creation, but likewise in respect of his office: for as EarlMarshal of England, he is to take place with the Lord Great Chamberlain, Lord Great Constable (but after them) and Lord High Admiral of England, Lord Steward, and Lord Chamberlain of the King's household, next after the Lord Privy Seal, above all other personages, being of the same estate and degree. Peerage of England, Vol. I. p. 51. Edit. Lond. 1715.
(2. The title of that pedigree is, Stemma et accurata Deductio, præclaræ Familiæ Howardorum usque ad annum 1605.
(3) Carta Godfridi filij Ordonis de Ridune facta Roberto filio Wlfrici de Norwico et heredibus suis, de toto prato suo vocato Rubro Prato in Ridune, (juxta Rising in Com. Norf.) testibus, Hugone de Milliers, Hervico Cappellano, Galfrido filio Fvlchonis, Alano filio Galfridi, Humfredo fratre ejus, &c. (sans date.)
(4) Carta Abbatis et Conventus Sancti Edmundi facta Willelmo filio Alani, de terrâ suâ apud Wigenhall, sc. tufta et crufta, quas Seman et uxor ejus Lewet, tenuerunt apud Wigenhall, &c. Testibus Roberto Priore Sci. Edmundi, &c. (sans date, sub sigillo Abbatis.)
(5) Relaxatio Askelli et Wlerici filiorum Willielmi de Wigenhall, de totis terris quæ fuerunt Lesswot, filie Landrici, sacerdotis, &c. (sans date.)
(6) Carta Ric. filij Willielmi de Reynham facta Alicie filie sue, &c. de quinque acris terre in Tilney, testibus Johanne filio Willielmi de Wigenhall.
(7) I am sensible of the the many originals this name is said, by different people, to be derived from, as hot-ward, the warden of an hall. (Spelman.) Hold-ward, the warden or keeper of any strong hold (Verstegan.) Of hoch, high. (Teuton.) and [ward], a warden, (Cambden,) or hold, favour, and word, worthy. Teut. (Kilian) or of hold, hospitality, and ward, (Skinner.) But all these, I believe, are little to our purpose, otherwise than the natural origin of it, the Heyward or Howard being the high or chief warden or keeper of any place or thing; and indeed I believe that this John was the heyward here.
(8) Lucia, filia Johannis Germund. Her arms in the pedigree are, quarterly G. and V. an escarbuncle or.
(9) Carta Johis. filij Willielmi de Hakebech facta Willo. filio Johis. Howard de Wigenhale, de septem acris terre in campis de Gildengore. &c. Testibus Johanne Fitton, Johanne Howard, Andrea fratre ejus, &c. (sans date.)
(10) The Peerage published at London in 1715, begins with this William; but the edition in 1741, with Harvey, Clarencieux's, account of the family (of which I shall take no notice, believing it to be of no authority, as to what is said of it) before this William.
(11) Carta Willi. filij Constantini de Clenchewarton, facta Willo fil. Johannis Howard de terrâ in Wigenhale abuttante ex parte australi, super tenementum Thome Howard, &c. Testibus, Thoma Howard, Johannc de Fitton, Willo. de Reynham, &c.
Memorandum, Quod die Sancti Georgij An° 1303, domus sive prioratus de Wymondham, tenebatur solvere Domini Willmo. How ard vi.l. xiij.s. iiij.d. E Registro Monasterij Sancti Albani, fo. 293.
(12) Carta Simonis proris de Bernewell de quâdam peciâ terre de Wigenhale, facta Willo. Howard, ad ampliendum messuagium suum. Sub sigillo Capituli 5 E. I. 1276.
Carta excambij inter Dominum Willum. Howard de Wigenhale, militem, et Alanum filium Thome Flowe, de diversis terris in Wigenhale, &c. Testibus Johe. Fitton, &c. (sans date.)
(13) In Edward the Second's time, I find that a Will. Howard was son of this Andrew, by Alice his wife; so that the Howards that remained in these parts many generations after the chief branch removed, descended from him.
(14) Carta excambij in Willum. Howard de Wigenhale, et Andream filium Thome Howard de uno messuagio tribus acris terre in Wigenhale. Habend. eidem Andree et heredibus suis in perpetuum, salva semper Lucie Germund, relicte Johannis Howard, rationabili dote sua de predicto messuagio, &c. Testibus Johanne Fitton, Johannc Germund, Galfrido de Kerville, &c.
(15) Liber Institut. in Regro. Epi. Norwic. No. I. Ao 1304.
(16) Madox. Hist. Excheq.fo. 606.
(17) Rot. Soccie 1, 2, 3 Edw. II. (18) Memorandum, quod Willus. Howard, miles, Justiciarius, in primis nuptijs desponsavit filiam Offord, antecessors Offord, postea Comitis Suffolcie, per quam non habuit exitum, post cujus mortem duxit in uxorem, Aliciam filiam Edmundi [the last edition of the Peerage calls him Edward] Fitton, militis, de quibus exivit Johanne Howard qui sumpsit sibi in uxorem, filiam - - - - per quam, habuit filium nomine Johannem, postea militem, qui in matrimonio fuit copulatus, filie et heredi de Bois in cujus jure, habuit maneria de Brokes, Fersfield, et Gerboldisham, et de ipsâ genuit filium nomine Robertum; qui Robertus, miles, nupsit filiam Domine Scales, que peperit filium vocatum Johannem E Fragmento Antiqui Scripti inter Evidencias Willi. Greene defuncti Ao 1600.
(19) In 1306, he was a witness to the composition between the church of Norwich and the citizens. See vol. iii. p. 73.
(20) His wives arms are, Ufford, S. a cross ingrailed or. Fitton az. three cinquefoils pierced arg. She outlived him, for in 1310, Alicia, que fuit uxor Willi. Howard, habuit literas de inquirend. de transgressionibus factis apud Southlen et Bilney in com. Norff. Prima pars Paten. 4 E. II. mem. 25 in dorso.
(21) Johannes Howard et Johanna uxor ejus. Fin. Norff Ao. 2 E. II. Membr. 2.
Johes. Howard Vicecomes Norff. et Suff. Rot. Pip. 12, 13, 14, 15 E. II. Rot. Claus. 15 E. II.
He sealed with a lion rampant circumscribed Stovt. Leo. Fortis. as on a seal to a deed of his, made in 1308, by the name of John, son and heir of William Howard, Knt. to Jeffery son of Stephen, son of Walter de Tilney, to whom he conveyed land in Tilney called Antioche, paying 20s. per annum to the said John Howard and Joan his wife. In 1316, he sealed with the Howards arms, circumscribed Sigill. Johannis. Howard. Carta Johannis Howard, militis, facta Alexo Neckton, capellano, de uno messuagio et quinquaginta acris prati, uno salso marisco et uno molendino ventritico, &c. in Wigenhale, que quidem quondam fuere, Rici filij Ade de Wigenhale, et que sibi descendebant jure hereditario, post mortem, Willi. fratris sui. Data apud Wigenhal in festo Sci. Laurentij Martris Ao. 10 E. fil. E. 1316.
(22) This Will. Howard was dead before 1316, for then Sir John Howard his brother was in possession of all his estates. Conventio inter Will. Howard et Alex. Butterwick, pro manerio de Estwalton, quod idem Will. perquisivit de eodem Alexandro per finem in Curia Regis Ao. 22 E. fil. H.
(23) Richardus de Cornubia, &c. Willo. de Rudham, attornato suo in com. Norf. salutem. Sciatis quod ego concessi Domino Johanni Howard, et Johanne uxori ejus, sorori mee, quod possint inhabitare et manere in manerijs que habeo, ex dono dicti Johannis in com. Norf. quandocunque eis placuerit. Inquis. capt. 5 E. III.
This was because Sir John Howard, senior, Knt. so called to distinguish him from his son, had infeoffed his brother-in-law, Ric. de Cornwall, in all his manors and estates in Norfolk, ever since 15 E. II. 1321, as by inquisition taken at Norwich 5 E. III. appears. Johannes Howard, miles, senior, feofavit Ricardum de Cornubiâ, in manerijs de Est-Winch, Est-Walton, Wigenhale, et Terrington, p. Cart. 15 E. II. que postea seisita fuere per dictum Regem, et idem Johannes diù in carcere detentus occasione cujusdam excessûs (et non pro aliâ causâ) pro eo, quod idem Johannes manucepit ad instantiam Hugonis le Despencers, militis, junioris, quandam inquisicionem transitur. coram Rege, de comit. Norfolcie, de quadam transgressione facta, cuidam servienti ad arma dicti Domini Regis in dicto comitatu, que quidem inquisicio transivit contra dictum servientem; tandem ad instantiam dicti Hugonis le Despenser liberatus fuit, sub spe habendi manerium dicti Johannis de Est-Winch; et super hoc, idem Johannes a prisonâ liberatus, precipiens cupiditatem dicti Hugonis le Despenser, ad evitandum exheredacionem suam dedit predictum manerium predicto Ricardo de Cornubiâ bonâ fide, et absque fraude vel collusione aliquâ, &c. Inquis. cap. Norwic. 5 E. III. post mort. Johis. Howard, &c. int. Rot. in Turri Lond. &c.
Cornwall's arms are, arg a lion rampant gul. in a bordure ingrailed S. bezantè. See vol. i. p. 106, 7.
(24) Relaxacio Margaretæ, que fuit uxor Petri Spaldyng, facta Johanne, que fuit uxor Johannis Howard, militis, de omnibus terris et tenementis, que predicta Johanna tenet in Terrington et Walpole ut de libero tenemento suo. Data apud Est-Winch. Die Veneris prox. ante festum Sci. Marci Evangeliste 14 E. III. 1339 By this it seems she lived at Est-Winch, to which place the eldest branch of the Howards removed from Wigenhall, and it is most likely that she and her husband were interred there. Ric. de Cornwall probably died without issue, for Est-Walton manor, and much, if not all of his estate, came to the Howards.
(25) Carta Willelmi filij Andree Howard de Wigenhale junioris, et Johannis filij Benedicti de Garbiesthorp, facta Wil. Howard, militi, seniori, de tenementis in Wigenhale, data est apud Wigenhale, die Sabbati prox. post festum decollacionis Sancti Johis. Bapt. 8 E. II. To it hangs a fair seal, circumscribed Sigill. Willelmi Howard, with Howard's arms, and the bend charged with three mullets. So that this deed proves, this branch to be settled at Wigenhale, and shows the difference they used in their shields, to distinguish themselves from the elder branch seated at Winch.
(26) Johannes Howard constituitur admirallus ab ore aque Thamesis versus partes boreales quamdiù Regi placuerit, &c. Teste Leon. filio nostro carissimo, dat. Redyng. 8 Martij. Prima pars Paten. 21 E. III. 1346.
Johannes Howard tenet manerium de Fersfield, pro uno feodo militis, de Comite Marescallo et idem de Rege, quod quondam fuit Roberti de Bosco (Hund. de Disce Feodr. Norff.) and it continues in the family to this day. Arms of Bois, erm. a cross sab.
Johannes Howard tenet 1 tenementum in Denton pro tercia parte unius feodi militis, et decima parte feodi de heredibus de Tateshall, et illi de Rege, quod quondam fuit Isolde de Bosco. Hund. de Eresham.
Relaxacio Willi. filij Galfridi Dix de Islington facta Johanni Howard, militi, et Alicie uxoris ejus, de quòdam annuali redditû pro 16 acris terre in campis de Tilney. Data 16 E. III.
(27) Alicia, que fuit uxor Johannis Howard, militis, obijt die Lune prox. ante festum Nativitatis Beate Marie Ao. xlvj Edri. III et Robertus Howard, filius et heres, est etatis viginti annorum et amplius. Esc. Ao. 48 Ed. III. so that the estate of the Boises, at his mother's death, came to him.
(28) Peerage, Vol. I. p. 40. Edit. Lond. 1715. Scales, gul. six escalops arg. 3, 2, 1.
(29) Robertus Howard, chevaler, obijt 3° die Julij 12 R. II. et Johannes Howard, filius et heres, est etatis xxiij annorum et amplius. Esch 12 R. II. No. 26.
(30) E Registro Harsyke, fo. 3, inter Archiv. Epi. Norwic. proved July 1389.
(31) Feofamentum Roberti Howard, militis, factum Johanni Lovell, Johanni Todenham, militibus, et alijs, de manerijs, terris, et tenementis suis in Wigenhale, Est-Winch, Fersfield, Gerboldesham, Uphall et Bokenham's in Gerboldesham, Terrington, Tilney, Walpole, West-Walton, Brisingham, Lopham, Kenninghall, Reidon, Wrotham, Spaldyng, South and North Clenchwarton, East Walton, South-Wotton, Upwell, Outwell, Islington, Sadelbow, and Sechithe in Norfolciâ, et manerio de Brokes in comitatu Suffolcie, &c. ad implendum ejus ultimam voluntatem et testimentum, sc. tam pro dote Margaretæ uxoris ejus, quam pro sustentacione filiorum, et maritagijs filiarum. It is dated at EstWinch, and hath his seal of arms fixed to it, circumscribed Sigill. Roberti Howard.
N. B. He had only the reversion of several of these manors.
(32) Carta Johs. Howard, mil. facta Margarete, que fuit uxor Roberti Howard, militis, Simoni de Felebrige, militi, et alijs de manerijs de South-Wotton et Reynham's in South-Clenchwarton cum pertinentijs, et cum omnibus terris et pertinentijs et tenementis que Robertus Howard, miles, perquisivit de Johanne de Wessingham, seu quocunque alio in villis predictis testibus Laurencio Trusbut, Edm. Kervile, Thoma Howard, &c. Data apud Est-Winch, 22 R. II. 1398. The seal to this deed hath Howard's arms quartered with Plais, and a man's head erased, with long hair, beard, and a hat on, for a crest.
(33) Sir Rob. Howard had also three daughters, Lady Alice Howard, a nun at Thelford, (vol. ii. p. 92,) Margaret, and Catherine, the former of which is said to have married Robert Lord Scales, whose daughter Catherine is made the wife of Sir Constantine Clifton, (Dug. Bar. Vol. II. 168,) but it appears, that Margaret herself was Clifton's wife; for after her death in 1432, the Escheat Roll of the next year hath this: Inquisicio capta 10 Apr. Ao 12 H. VI. Margareta que fuit uxor Constantini Clifton, militis, obijt 25 Mar. ult. preterit. et Johannes de Clifton, miles, filius et heres dicte Margarete, est etatis 35 annorum et amplius. Which will correct the mistakes in vol. i. p. 106, and 378, 9, as also the place of this Margaret in the pedigree, where she is made daughter of Sir John Howard, by Plais, his first wife; and to be married to Gilbert Talbot of Castle-Ricard, after Clifton's death, which probably was so; for I find, he held part of Bukenham castle. (See vol. i. p. 375.) Clifton, chequy O. G. a bend erm. Talbot, gul. a lion rampant in a bordure ingrailed or, over all, a bendlet az.
(34) See vol. i. p. 79, 81.
(35) Pateat universis quod ego Johes. Plais, miles, recipi die Confectionis presencium de Roberto Howard, milite, per manum Willi. Cooke, pro termino Pasche ultim. preterit. 50 marc. in parte solucionis 300 marc. in quibus idem Robertus michi tenetur solvend. in vita meâ, pro maritagio Margarete filie mee cum Johanne filio ejusdem Roberti, prout in quibusdam indenturis continetur. Dat Oclee in Essexia die Jovis in septimana Pasche 4 Ric. II. 1380.
(36) Johns. Plais, chevaleir, obijt 2do die Junij 12 R. II. 1388, et Margareta filia et heres, nupta Johanni Howard, chevaleir, est etatis xxiij annorum et amplius. Esch. 12 R. II. N. 44. Rot. Pip. (See vol. ii. p. 161, 2.)
Margareta, que fuit uxor Johannis Howard, militis, adhuc superstitis, obijt anno 15 R. II. et Johannes Howard, filius et heres dicte Margarete, est etatis sex annorum et amplius 1391. Plais, per pale or and gul. a lion passant arg. (See vol. i. p. 106, 7; vol. ii. p. 161, 9, 71.)
(37) See his effigies in coat armour, vol. i. p. 106
(38) This Joan married afterwards to Sir Thomas Erpingham, Knt.; Johanna, que fuit uxor Thome Erpingham, militis, primò uxor Johannis Howard, junioris, militis, filij Johannis Howard, senioris, militis, obijt 13° Decem. (sc. 3° Hen. VI. anno 1424,) ult. preterit. et Elizabetha filia et heres dictorum Johannis Howard et Johanne, fuit etatis 14 annorum et amplius in festo Sci. Barnabe Apostoli ultimo preterito. Her first husband, Sir John Howard, died in 1410, 27 years before his father. Esch. Ao 3 H. VI. No. 19.
(39) Johannes Howard, miles, obijt. 17 die Novembris Ao 16 H. VI. (1437) et Elizabetha uxor Johannis Vere Comitis Oxonie, est consanguinea et heres propinquior, viz. filia Johannis filij predicti Johis. Howard, militis, et Margarete de Plais, uxoris sue, et est etatis 27 annorum et amplius. Esch. Ao 16 H. VI.
(40) See Weever's account of the Howards and Tendrings monuments at Stoke Neyland:
Hic iacent Iumulati Domius Willus Tendryn Miles, et Domina Katherina Clopton Uror eiusben obieruut Ao 1408.
Alicia Tendring condidit testamentum suum 13, et obiit 18 Oct. 1428, sepulta est in ecclesia de Stoke-Neyland Jurta Patrem.
(41) In 1402, 3d Henry IV. Johannes Howard, vicecomes comit. Cantabr. et Huntind. Johannes Howard, vicecomes Essex et Hertford. (Rot. Pip.) I take the first to be the father, and the second the son.
In 1399. Sir John the father was steward of the liberty of St. Edmund's Bury. Placita coram Rege 1 H. IV.
Inter Willum. Tendryng, chevaleir, querentem, et Thomam Hamun et alios, defendentes, pro duobus cignis, &c. et vicecomes retornavit, quod fecit retornari brevem Domini Regis Johanni Howard, seneschallo libertatis Sancti Edmundi.
In 1418, William Howard of Wisbitch, Esq. who was of the Wigenhale branch, and Tho. Howard of Wigenhale, Ao 1410, sealed with Howards arms, without any difference.
1418, John Howard, chevalier, vicecomes Essex et Hertford. Rot. Pip. 7 H. V.
1422, 1 H. VI. preceptum est vicecomiti Norf. distringere Johannem Howard, militem, pro homagio, fidelitate et relevio Domino faciend. et persolvend. pro terris in Tilney, Terrington, et West-walton, 20 Febr.
Inquisicio capta post mortem Johannis Mowbray Ducis Norfolcie Ao 11 H. VI. de feodis militum pertinentibus dicto Duci et manerio suo de Framelingham in comitatu Suffolcie.
Johannis Howard, chevalier, tenet decimam partem unius feodi in Brokes quam Alicia de Holbrook quondam tenuit.
Idem Johannes et Robertus Wing field tenent unum feodum militis in Baileham et Colneys, quod Johannes de Rothing quondam tenuit.
(42) He had also by her, two daughters, Margaret, married to Sir William Daniel, Knt, and Catherine to Edward Nevile Lord Abergavenny.
Daniel, arg. a pale fusilé sab.
Nevile, gul. on a saltier arg. a rose of the field.
(43) Henrico filio 2do pater suus Johannes, maneria de Terrington, Est-Walton, Bokenham's, et Wigenhale in Garboldisham cum multis alijs sibi, et heredibus masculis de corpore talliavit Ao 1435.
(44) Henricus Wentworth vixit Ao 1481. Rot. Turr. &c. 22 E. IV. N. 11.
Wentworth, sab. a chevron between three leopards faces or.
(45) Thus it appears, that this Sir John Howard, the first Duke of Norfolk, by his mother was descended from King Edward I. Thomas de Mowbray Duke of Norfolk being son of John Lord Mowbray and Eliz. his wife, daughter and coheir of John Lord Segrave, by Margaret his wife, eldest of the two daughters and coheirs of Tho. de Brotherton Earl of Norfolk, fifth son of King Edward I. but eldest, by his second wife, Margaret daughter to Philip the Hardy King of France.
This Sir John Howard being the first Duke of Norfolk of the family, an account of him and his successours is very judiciously drawn up by Mr. Collins, in the Peerage published at London 1741, vol. i. p. 8, so that I shall transcribe it here, inserting such additions as I have met with.
(46) See vol. iii. p. 150, 72. See more of him in the Atlas of Norfolk, p. 355.
(47) Rot. Pip. I find no constables of the castle of Norwich, after it was once committed to the custody of the sheriffs of the county for a common prison.
(48) Rot. Pip.
(49) Rot. Parliament. 12 Edw. IV.
(50) Rex Edwardus, &c. Sciatis quod pro 500 marcis solutis nobis concessimus Johanni Howard, militi, et Thome Howard, armigero, (filio suo,) custodiam et maritagium Johannis Bourgchier, militis, Domini Berners, qui de nobis tenet in capite diversa maneria, &c. habend. præfatis Johanni et Thome custodiam et maritagium predict. absque disparagacione, &c. Teste meipso apud West. 6 Aug. Ao reg. 14°.
(51) E Stemmate.
Johannes Howard unus quatuor militum fuit, qui Regem Edwardum Quartum e castello de Midelham in comitatu Eborancensi, in arctâ custodiâ Ricardi Nevile comitis Warwicensis, eduxerunt; ut in Chronicâ Radulfi Holingshed.
(52) Tenuit officium Comitis Marescalli Anglie sibi et heredibus de corpore exeuntibus, &c. creatus fuit Dux Norfolcie, &c. 1483. Rot. Cancellar. 1 R. III.
(53) Manerium de Strange's in Est-Walton, Howard's manor in Terrington, tenentur de honore de Wormegeye, manerium sive, mes suagium vocatum Howard's manor in Est-Walton et Boteler's alias Howard's manor, tenentur de Saham-Tony, &c.
(54) See vol. iii. p. 173.
(55) See Weever's Funeral Monuments.
Molins, paly wavy of six or and sab. sometimes or and gul. Buried at Stoke-Neyland in Suffolk.
(56) Gorge, masculy or and azure, a chevron sab.
(57) Mortimer, barry of six or and az. an inescutcheon arg. on a chief of the 2d two pallets between two esquires dexter and sinister, of the first.
(58) Timperley, gul. a lion party per bend ermine and ermines.
(59) Windham, az. a chevron between three lions heads erased or. For this Margaret see vol ii. p. 360, 401, 66.
(60) Chetworth, az. a chevron between three nags heads erased or.
Johannes Howard, Dominus Howard miles, et Margareta uxor ejus, in jure ipsius Margarete tenent certa tenementa vocata Soninghills in com. Berk. pro termino vite ipsius Margarete, reversion. inde Willo. Norris et heredibus ejus. Claus. Ao. 12 E. IV.
(61) Bourchier, arg. a cross ingrailed gul. between four water-budgets sab.
See more of her at p. 152, and in vol. iii. p. 172.
(62) Thomas, Dux Norfolcie, eâ intentione quod in ecclesiâ Beate Marie de Butley in Suffolciù unum obitum, tam pro salubri statu dicti Ducis, quam pro salute anime ejus, cum ab hâc luce migraverit, nec non pro anima patris sui, ac eliam animabus omnium antecessorum suorum, et omnium fidelium defunctorum, in die xxvo Septembr. annuatim servaturum, omnia illa tenementa sua, prata et pascua vocata Staverton Park, in villa de Eike in Suffolcia, dedit et concessit, tenend. dicto priori et conventui et successoribus suis in perpetuum. E Stem.
Claver's or Clavering's Manor,
Was originally part of the capital manor granted by the Bygods to John de Clavering, from whom it took its name, and was held of it at a quarter of a fee. In 1283, William le Claver or Clavering of Stirston, and Katherine his wife, and Miles le Parker of Stirton, and Christian his wife, settled it on Ralf de Creping; and in 1286, John de Vaux was lord, and had free-warren allowed to it in eire. It after belonged to John le Graunt, in 1306, to John Jermy, and in 1308, to Henry Page; in whose time an extent of it was made, and the customary perch or pole was then found to be sixteen feet and an half. It had a manorhouse, and above 86 acres in demean, and 12 acres of wood, and 9 copy or customary tenants, and 65 freemen. In 1329, John Rudokin died seized, and in 1333, John Claver and Agnes his wife settled it on themselves and their heirs in tail; Walter Claver, parson of Little-Plumpstede, being deforciant in the fine; it then contained 8 messuages, and many large parcels of land in Forncet, Multon, Aslacton, Wacton, Tharston, and Tacolneston. In 1385, Christian Snoryng was lady, and in 1391, Thomas Brampton was lord, and held it in 1432, of John Mowbray Duke of Norfolk, as of his honour here. In 1480, a Tho. Brampton died seized; in which family it continued till 1536, and then William Brampton and Elizabeth his wife sold it to Thomas Reeve; and in 1559, Thomas son of Thomas Reeve was lord, and in 1570, it was sold to Edward Clere, Esq. who in 1571, sold it to William Moore, Gent.; in 1605, Thomas Lingwood died seized of a moiety of it; it after passed through the Cocks and Edwards, and now belongs to Mr. Matthew Goss, a dyer in Norwich.
Here are two churches now in use, which were given by Roger Bigot to the monks of Thetford, (fn. 80) who released that gift very early; these churches were annexed very soon, for I never find them presented to separately: though Domesday makes them both parish churches, governed by one rector, who then had in their right, a house and 40 acres of glebe. They were valued as one benefice at 30 marks, and paid 4s. 9d. synodals, and procurations, besides 3s. Peter-pence, and 4d. ob. carvage; all the institutions run to Forncet only, till 1465, and then to Forncet utraque; the rectory always paying double institution fees, shows it to have been an ancient consolidation; though for many ages St. Peter's church hath been esteemed as a chapel of ease to St. Mary, the mother-church; there were anciently three gilds here, those of St. Mary the Virgin, and St. John the Baptist held in St. Mary's church, and one of St. Peter held in his church. (fn. 81) The terriers have 85 acres of glebe, and a good parsonage-house, and it pays first-fruits and yearly tenths, it being valued at 20l. in the King's Books. The Prior of Bukenham's temporals were taxed at 4d. those of the monks of Thetford 17s. 6d. The whole town of Forncet St. Mary, or Forncet Magna, with Forncet St. Peter, or Parva Forncet, paid 3l. 10s. clear to every tenth. There is a farm belonging to the Girls Hospital at Norwich. (See vol. iv. p. 451, 2.)
Rectors of Forncet.
1256, Master Guy de Tornello; (see vol. ii. p. 151;) he was presented by the Prior of Thetford.
1305, Sir Robert Boutetorte. The Earl of Norfolk,
1316, Mr. John de Claxton. Tho. de Brotherton Earl of Norfolk.
1321, Walter Flemming. Ditto.
1324, William de Langford. Ditto.
John Devennys resigned in 1348, in exchange for Haverhill, with
Tho. Guyan, who was presented by Sir John Segrave, Knt.
1349, Hugh de Elnestow, senior, shaveling. John Lord Segrave.
1351, Rob. de Wyngreworth. The King, in right of Sir John Segrave's lands; who at his death, in 1353, gave it to
John Wellewyk.
1361, Rob. de Arneburgh. Sir Walter Manney, Knt. Lord Manney, who in 1368, presented
John de Lavenham, accolite. In 1388, Margaret Countess of Norfolk preferred
John Fordham to it, at whose death in 1391, she gave it to Will. Stokere.
1408, Robert Rolleston had it of Gerard Ufflete and Eliz. his wife, who was Dutchess of Norfolk, being relict of Thomas Mowbray Duke of Norfolk. In
1413, Rob. Bond, rector here, exchanged for Cottesmere in Lincoln diocese, with
Tho. Wilcotes. Ditto: and he in 1419, changed for Newchurch in Canterbury diocese, with
John Southo, S. T. P. In 1444, John Duke of Norfolk presented
Ric. Haddesley, who in 1447 changed for Depeden in London diocese, with
Sir Thomas Patteshull, ditto. In 1457, the Duke gave it to
Henry Fraunceys, who exchanged it in 1465, with
Thomas Frysby, and he in 1476, with
John Savage, who was presented by John Selot, doctor in the decrees, and Robert Bernard, Esq. patrons of this turn. In 1496, on Savage's death, Eliz. Dutchess of Norfolk gave it to
John Manning, as did the Duke of Norfolk in
1522, to William Hodgeson. In 1541, Thomas Duke of Norfolk, presented
John Richards, his domestick chaplain, and prebend of Norwich, for whom see vol. iii. p. 669. In 1560, the Duke's trustees gave it to
John Killet, who died in 1578, and the Queen by lapse gave it to
Robert Norgate, who was B. D. second prebendary of Ely, and master of Bennet college in Cambridge. In
1581, Alexander Browne had it, of Philip Earl of Arundel, and in
1582, John Rawlyns. In
1584, William Dixe and William Cautrell feoffees to the Duke of Norfolk, gave it to
George Gardiner, Dean of Norwich, for whom see vol. iii. p. 620. In 1588, the King presented
Miles Hunne, chaplain to Lettice Countess of Essex, and licensed preacher; he held it with Hetherset. (See p. 28.)
1615, Thomas Hunne, A. M.
Edward Hunne. (Ibid.)
1617, John Gould, A. B. Will. Browne for this turn.
1630, Hugh Williams, A. M. lapse; he was sequestered, and afterwards kept school at Low-Layton in Essex. (Walker's Sufferings, &c. Part II. fo. 402;) at his death in 1661, Algernoon Earl of Northumberland, and Richard Onslow, guardians to the Duke of Norfolk, presented
William Lock, A. M. at whose death on June 6,
1702, William Aggas was presented by Thomas Aggas, who had purchased the turn. At his death in
1725, Rowland Hill, A. M. was presented by the Honourable Ric. Hill. The advowson having been purchased of the Duke of Norfolk, by Dr. Hill, who hath obliged his heirs for ever, to present a fellow of St. John's college in Cambridge, (fn. 82) and accordingly at Mr Hill's death,
The Rev. Mr. Lloyd, fellow there, was presented, and is now rector.
The church of St. Mary hath only a nave and chancel, both thatched; a north porch, which is leaded; and a square tower, and three bells, on the biggest of which is this,
In multis annis Resonet Campana Johannis.
And there are no other memorials of any kind in it.
The church of St Peter, hath its steeple round at bottom, and octangular at top, with five bells; the north porch, nave, and two isles, are leaded, and the chancel is tiled.
In the communion rails, on the north side, on a black marble,
Aggas, az. a fess erm. cotized or, in chief, three bucks heads caboshed of the last.
William Aggas, A. M. who was 27 Years Vicar of Hempnall, and 23 Years Rector of both the Forncets, Sept 4, 1724, 51.
There is a black marble in the church, for Edmund Marcon, Sept. 16, 1709. Grace Marcon Aug. 22, 1710. Edmund Marcon his son, Nov. 8, 1727, John Marcon May 20, 1728, 39.
Hic iacet Ricardus Barter, qui per Jsabellam Urorem eius, habuit duos filios et duas Filias, et postea ignave vulneratus, inde obiit ultimo die Maii Anno Dni. Mo cccco lrrrv. cuius anime propicietur Deus.
There is a curious altar tomb, with the figures of a gentleman and his wife engraved to their middle, erected (as I take it) to the memory of Thomas Drake and Elizabeth his wife; the inscription is now gone, but part of it remains in Weever's Funeral Monuments, fo. 823.
Orate pro animabus Thome Drake, et Elizabethe Uroris eius
All Christian Peple, that walk by thys Tomb erly or late, Of your Cherity say a Pater noster for the Soul of Tho. Drake.
Near it, on the ground, on a stone inlaid with brass plates, is this,
Thomas Barter 1535.
Orate pro anima Thome Barter, qui Durit Margaretam Fis liam Willelmi Drake Generosi, et habuit eritum, quatuor Filios, et unam Filiam et obijt rvo die Aprilis A. D. M. ccccc. rrrv.
Three shields, two of Baxter, arg, on a pale in a bordure az. three estoils of the field.
The third having a wivern, the paternal arms of Drake.