Pages 495-502
An Essay Towards A Topographical History of the County of Norfolk: Volume 5. Originally published by W Miller, London, 1806.
This free content was digitised by double rekeying. All rights reserved.
SAXLINGHAM.
This and most other towns, begining with the words, Saire, Seaxe, or Sax, such as Saxham, Saxmundham, &c. had their names, in all probability, from one or more persons of the name of Sax, among the Saxons, which name continued till after the Conquest, as appears from the Consuetudinary of Bury Abbey, (fn. 1) where Richard, son of Sax, is mentioned after that time.
The town is commonly divided into two parts, called Nethergate, and Overgate, or Thorp; the manors were called Netherhall-Verdons, and Overhall or Thorphall, and have been united for some time past; to the former the advowson of Saxlingham-Nethergate belonged, and to the latter that of Saxlingham-Thorp. (fn. 2)
Saxlingham Overhall, or Verdon's Manor,
Was in several parts in the Confessor's time, held by Edric, Herald, Ulf, Ailward, Ulnoht, Lefolt, and Stegar, and at the Conqueror's survey, by that King, who managed his part by Godrie; Robert Malet, who gave his part to Walter Fitz-Walter; Roger Bigot, Drue de Bevraria, Robert Fitzcorbun, whose part Gunfrid held, and John Waleram's nephew, to whose part the advowson of Nethergate church, and 10 acres of glebe, valued at 16d. per annum, then belonged, the whole town being two miles long and half a mile broad, paid 16d. to the geld. The parts were afterwards vested in the Bigods and were infeoffed by Roger Bigod in
William de Verdon, in Rufus's time, along with Brisingham, &c. as you may see, vol. i. p. 49, and it continued in the Verdons, till Wido de Verdon gave it with his eldest daughter, Alice, to Nicholas de Bruncester, (fn. 3) and the said Nicholas, gave it with Oriel, or Muriel, his eldest daughter, to Walter Malet, and their heirs male; for want of which, it returned to the Verdons, and passed a long time in that family, with the manor of Brisingham, to which I refer you. In 1285, John de Verdon, knight, had liberty of free-warren allowed him here, and held the manor of the Earl of Norfolk, at one fee, as of his manor of Forncet. In 1365, Sir John Verdon settled it, &c. as in vol. i. p. 53, on Simon Simeon, in fee, on default of issue male; and in 1380 the said Simeon had it, and presented in full right. In 1401 John Bernak, Knt. held it. In 1478, John Broughton, Esq. died seized of this, Stonham Aspale in Suffolk, and Colne Eugayne in Essex, and left John his son and heir, who died in 1528, leaving Anne and Catherine his coheiresses, (his only son John dying under age,) who had livery of their several moieties of this, Tilney, and many other manors in Norfolk, Suffolk, Bedfordshire, Devonshire, Berkshire, Buckinghamshire, Cornwall, Huntingdonshire, Cambridgeshire, Leicestershire, Hertfordshire, Oxfordshire, Essex, and Northamptonshire; so great was the estate of this family; these two coheiresses married,
Anne, to William Howard, Knt. lord Howard of Naworth; and Catherine, to Sir Thomas Cheine, Knt. lord warden of the Cinque Ports, by whom several large parts were severed from the manor, which went to Sir William Paulet, Knt. (fn. 4) in right of Anne his wife, one of the coheiresses of William Lord Howard; and in 1603, the Marquis of Winchester was found lord and patron; and in 1609, Sir Henry Gawdie, Knt. of Claxton, and other inhabitants of Saxlingham, (who had purchased several parcels of its demeans (fn. 5) ) were found to hold Verdon's manor at 1 fee, of Forncet manor. In 1636, Sir William Pawlet and Sir Henry Gawdie had it: and afterwards it belonged to Judge Gawdie, in whom all the manors and advowsons were joined. After him it was Charles Suckling's, and then John Tattle's, Esq. who died in 1684, and Elizabeth his daughter and heiress inherited; she married John Mingay, Esq. and died in 1716, leaving her three daughters her heiresses; 1, Elizabeth, married to John Burkin, Esq.; 2, Mary, to John Fowle, Esq.; 3, Susan, to John Baron, D. D. Dean of Norwich, who all joined and sold it (except the advowson) to Robert Atwood, Esq. father of John Atwood, Esq. whose daughter, and heiress, Anne, by Joanna his wife, is now married to the present lord, Thomas Gooch, Esq. of Benacre in Suffolk, eldest son to Thomas Lord Bishop of Ely.
The Manor of Thorphall
Belonged at the Conquest to the Abbot of Holm, and was given by Hugh, Abbot there, to John son of Robert, commmonly called FitzRobert, and his heirs in fee; to be held by the service of half a knight's fee, on condition, that if John son of Pagan or Fitz-Pain should recover it from the Abbot, then he was to hold it of Fitz-Pain.
Eustace de Vesci gave to Adam de Carleolo, or Carlisle, in the time of King Stephen, in exchange for the manor of Caldebec, &c. which his father gave to Adam with Maud his daughter, all his land in Saxlingham, being half a fee, held of the Abbot of St. Benedict, and 19 bovates of land in Knapton, &c.
Stephen Blund, and Agnes his mother, in 1198, held half a carucate, and in 1235, Ellen le Blund held it of William Cardville and John de Gosford half a fee; and the same year the heirs of Stephen le Blund, held here a quarter of a fee of the Earl of Arundel. 1306, Will. son of Ralf le Blund sold it to Peter son of Will. de Nerford. In 1317, the King seized John son and heir of Simon de Gosford, because the said Simon held his manor of Berewell in Saxlingham of William de Carliolo and his wife, who were now rebels, by adhering to his enemies of Scotland, it being held at half a fee of Saxlingham manor. 1323, William Blund had it. In 1343, Roger, parson of Heydon, and Tho. de Brewse, held it; and John de Gosford and Roger Herdegrey held half a fee, late John de Gosford's, which soon after fell again into this manor.
Tifordina de Kardville held it at half a fee after him. In 1225, William Cardville held it of the heirs of Vesci; they of Rob. Fitz-Roger, he of the Abbot of St. Bennet, and he of the King in capite, as part of his barony. In 1272, Ascelina widow of William le Blund or Blunt, brought a writ against William son of Warine de Muntchensy and Sapientia widow of Will. de Cardville for her dower in Saxlingham. In 1285, Will. de Karliolo or Cardeyl, son of William and Sapientia, lord here, had weyf, assize of bread and ale, and view of frankpledge; and in 1290, King Edw. I. granted him a charter of free-warren in all his demeans here, and in Utredely and Crossely in Cumberland. In 1297, John de Goseford owned that he held by half a fee of this William, a messuage and 60 acres in Saxlingham, which John his father had of the grant of Will. father of this Will. (fn. 6) who being a rebel to Edw. I. that King seized all his lands and gave them to
Sir William de Monteacute, Knt. and Eliz. his wife, with Knoll in Somersetshire, and Woneford in Devonshire, and Will. de Scottow, clerk, took possession of this manor, as his attorney; this William died seized about 1319, and of the advowson of Saxlingham-Thorp, leaving Eliz. his widow, and William his son 18 years old, who had his manors here, and in Somersetshire, Lincolnshire, Oxfordshire, Devonshire, Dorsetshire, Backs, and Hertfordshire; in 1316, this Will. de Monteacute had a charter for free-warren here, and in Drayton, Knoll, and Woneford, and died seized; in 1320, Will. de Monteacute and Eliz. his wife held it with the manors of Ughtreby, Bampton, Crossley, and 10 bovates in Brunesly in Gillesland in Cumberland.
In 1350, John de Stoke-ferry, and Alice his wife, settled it on Geffery Botiler and Joan his wife, and Tho. de Bumpstede, and John de Plumstede, to the use of Geffry, who jointly with his wife, in 1357, conveyed it to Sir John Wingfield, Knt. and Eleanor his wife, and their heirs; and this year John de Verdon and Maud his wife settled their manor here on Sir John Wingfield and his wife (except Overhall advowson) for life; in 1358, Sir John and Eleanor (fn. 7) his wife settled Netherhall on themselves in tail, remainder to Catharine wife of Sir Michael de la Poole, Knt. remainder to Thomas and William Wingfield, his brothers, Ric. de Amundevile being trustee. Michael de la Poole and Catharine his wife, in 1389, held this manor, and the advowson of Saxlingham Thorp; in 1401, Mich. de la Poole Earl of Suffolk held it of the Abbot of St. Bennet; in 1433 William Earl of Suffolk and Alice his wife had it, and died seized, and left it to his son John, and it remained in the Suffolk family till the attainder of Edmund de la Poole, and then the King seized it, and granted it in moieties, to Edward Wadham and Thomas Fogg, and their heirs males, in 1509; and in 1512 the King granted Fogg's moiety to Christopher Garneys, and his heirs males, but Margaret, wife of Edmund de la Poole, enjoyed the whole manor for life, but survived her husband only two years; in 1511, John Bremer, of Newton Flotman, Gent. gave his moiety to John his son; one moiety, now in the Crown, was granted to the Lady Anne de Cleve for life; and in 1558, Thomas Chapman had livery of it at the death of Alexander his father, and held it in 1561, and in 1566 sold it to Thomas Gawdy of Claxton, and Frances his wife, and his heirs, and Henry Gawdy his son joined it to Verdon's manor:
The other moiety, which was Bremer's, came to John Dimock, who in 1567, with the Queen's license, sold it to William Tuttill, of whom Gawdy bought it, and joined it to Verdon's about 1567.
The church of St. Mary of Saxlingham Nethergate. In the east chancel window are these arms.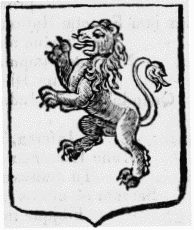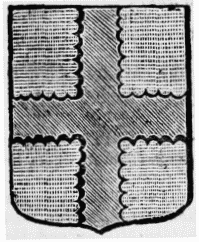 On the south side of the altar is a neat mural marble monument, with the arms of Norwich deanery, impaling
Baron, gul. a chevron arg. corded lozenge az. between three garbs or, and a coat of pretence of Mingay, and this inscription of the Dean's own composing:
Cujus ossa hic Sita Sunt, Si Rerum novarum curiosus, Scire desideras, Quisquis ades Spectator, Saxo nihil, Vicinis Dubia respondentibus, Me forté mei certiorem habes Indicem; Fui JOHANNES BARON Clericus, Hujus Ecclesiæ quondam Rector, Ecclesiæ Cathedralis Norvici tandem Decanus, Qui Exuvijs hic depositis, né Vermibus deficerent pabula, Animum in Creatoris manus transmisi; Reducem, Sæcula Expectantem meliora.
Si Fortunæ Dotes in primis quæsitas, Quæras; eas vix esse nostras Existima, Deo tamen dante, me fuisse intelligas, Quosque per Ingenium, per malevolis licuit, Doctrinâ, opibus, Famâ, Loco, Sic Satis, Cum hoc mihi potissimum in votis fuerit, Ut declinatâ Invidiâ, otio fruerer honesto, primorum Extremus, Si Vitæ jam Exactæ Rationem Quæras; frustrà quæris in præsentiâ Cum neque respondere probé Sciam Ipse, Nec Curat populus omnino, aut curat nimium, In alium Diem differenda est Cognitio, Quando omnium Judici Deo Rationem Sum redditurus; Tu quoque, Interea, Tu candide Spectator, Hunc Hominem considerans, Teipsum respice, Tu Judex æquissime, pater optime, Servum de multis malé admissis dolentem, Absolve, Filijque immerentis, & Supplicis; Miserere mei.
Wiseman, gul. three coronels of tilt spears erm.
There are stones in the nave for, Anne, relict of Leonard Cleane, Gent. and Elizabeth their daughter.
Amy Copping, 1720. 20.
Our Time is short, the longer is our Rest, God calls them soonest, whom he loveth best.
In the chancel, Mingay impales three crescents.
John Mingay, of Ranthrophall, Esq; 1684. John Tuthill, Gent. 1684. Eliz. Wife of John Mingay and Daughter of John Tuthill, 1716. Will. their Son, 1716. Eliz. Wife of John Burkin, Esq; Daughter of John Mingay, Esq; and Eliz. his Wife, 1697. Eliz. Burkin their Daughter, 1683. Jane their Daughter, 1686. Eulesia their Daughter, 1689. John their Son, 1692. Jane their Daughter, 1700. Mary, Daughter of John Baron Clerk, and Susan his Wife, Daughter of John Mingay, Esq; 1707. Anne Baron their Daughter, 1712.
Gleane impales three garbs 2 and 1. Leonard Gleane, Gent. died Oct. 26, 1654. 60. Six verses in his commendation, but illegible.
The church of St. Mary of Saxlingham Thorp is now ruinated, the steeple and walls only standing; it stands thus in the Revision of the Archdeaconry of Norfolk, made in 1630:
Saxlingham-Thorp is a rectory, of which Sir Robert Gawdy, Knt. is patron, and William Pudding, A.M. licensed preacher, is rector; it is valued in the King's Books at 6l. 13s. 4d. and pays 16d. synodals, and 7s. 6d. ob. archdeacon's procurations. He holds Nethergate also by a personal union.
In 1608, Robert Robinson, rector, certified that there were 140 communicants in this parish, and that Sir Henry Gawdy was then patron.
Being sworn of the clear yearly value of 25l. it is discharged of first fruits, and tenths, and in 1740, was consolidated to Nethergate. There was a gild in honour of the Virgin Mary anciently held in this church.
Rectors of Saxlingham-Thorp.
1307, Richard.
1328, Ric. le Sekesteyn, accolite, res. Sir John de Boyland, Knt.
1330, Henry de Northwold, accolite. Sir Tho. de Furnival, senior, Knt. and Eliz. his wife.
1349, Simon de Bertington. Eliz. widow of Will. de Monteacute, Knt.
1361, Peter, son of Alan of Thefford, priest. Lady Eleanor de Wingfield.
1362, William Hervy, priest. Ditto. Afterwards it was generally held by union, with
The church of St. Mary of Saxlingham Nethergate, which stands thus in the Revision: it hath the same patron and rector with Thorp; the Bishop's visitatorial procurations are 3s. 4d. ob. qr. Synodals, 18d. Archdeacon's procurations 7s. 7d. ob. The prior of St. Faith at Horsham had a portion of tithes out of this church, valued at 20s. per annum, and so paid 2s. to each tenth, as the village did 6l. clear, besides 28s. paid by the religious, for their lands here, viz. the Abbot of Holm, 5s. The Abbot of Langley 2s. The Prior of Dunmowe 40d. The Prioress of Campsey 4s.; and the Prioress of Carow 2s. The Marquis of Winchester, late Lord St. John, being patron. Both the parishes being in Brook deanery and Norfolk archdeaconry. Here were two gilds, one of St. Margaret, the other of St. Mary.
Rectors of Saxlingham-Nethergate.
1200, Thomas de Brook.
1307, Adam.
1325, Richard de Stradebrook, priest. Ric. de Brewse, Knt. in right of the dower of Eleanor his wife.
1350, Richard Skyn, resigned in exchange with Robert de Ashele, priest for St. Mary in the Marsh in Norwich. Sir John Verdon, Knt. (See vol. iv. p. 51.)
1380, Richard Daneys changed with Hugh Forester for Thingden vicarage in Lincoln diocese, of which the Abbot of Croxton was patron, and of this, Simon Simeon.
1401, Sir Thomas Hare, priest. Sir Hugh Bernak, Knt.
1474, William Aggys, rector.
1494, William Christian, rector.
1603, Robert Robinson and of Thorp. He returned 140 communicants in this parish.
1617, William Puding.
1621, Francis Cornes.
1636, John Harmer, (see vol. iii. p. 401.)
John Baron, dean of Norwich, for whom see vol. iii. p. 630. At his death, in 1739, both these rectories, which he held by personal union, became void, and in 1740 were really annexed and consolidated, and on
June 7, 1740, John Berney, A.M. the present rector, (now D. D. and archdeacon of Norwich,) was instituted to the rectory of Saxlingham Nethergate with Saxlingham Thorp annexed, being collated by Thomas Gooch Bishop of Norwich (to whom he was chaplain) by lapse of time, and had a union to the consolidated rectories of the two medieties of Hetherset, and Cantlose, which he now holds with the rectory of St. Clement in Norwich. (See vol. iv. p. 459.)
It stands thus in the King's Books: 13l. 11s. 8d. Saxlingham Nethergate rectory, 45l. clear yearly value, and so is discharged of first-fruits and tenths.
This town produced Adam de Saxlingham (a white friar of Norwich convent; see vol. iv. p. 418,) a man of good learning, and great ingenuity in preaching and disputing: he wrote divers treatises, and flourished under Edward III. Ao 1350.
The church is 25 yards long, and 6 and an half broad, and hath no isles; the nave and chancel are leaded, and the south porch is tiled, it hath a square tower, and six bells; the parsonage, which is a good and convenient house, joins to the west part of the churchyard.