Pages 168-197
An Essay Towards A Topographical History of the County of Norfolk: Volume 6. Originally published by W Miller, London, 1807.
This free content was digitised by double rekeying. All rights reserved.
OXBURGH,
In Domesday Book, is called Oxenburgh, taking its name from its site on the Ouse or Wissey, a river navigable from hence to Cambridge, Lynn, &c.; thus Oxford, from a ford over the Ouse; and this name it very well answers, as being a peninsula, surrounded by this and two or three other rivulets, except in the north-east point. The adjunct word burgh bespeaks its eminence, showing it to have been some fortified town, and place of strength; and besides its natural site above observed, about half a mile from the town, to the north west, on a place called the Warren-Hill, may be observed a very deep vallum or trench adjoining. The word burgh may also signify some remarkable place of burial, and about the limits of the town are several tumuli, three or four near one another, on the common a little south of the church and town; and by the river that divides the town from the common, (near the said tumuli,) are several places contiguous, about 4 or 5 yards long and two or three broad, having the earth sunk a little, where it may be justly concluded many persons who fell in some battle were interred, those little pits being called by ancient people the Danes graves. (fn. 1)
That it was a place of account in the time of the Romans, appears from coins of silver and brass found here, two of Constantine being a few years past recovered; and that it continued so in the Saxon age appears from coins of their kings, an Aedelred being not long since dug up. In the time of the Danes it was, (and probably before,) in royal hands, and Cnute their King having made Turchill or Turketel, a Dane, and one of their chief leaders, Earl of the EastAngles, he became governour and lord of the town, as he was of Attleburgh, the cities of Thetford, and Norwich, as places of strength and eminence; so that the lciani, (fn. 2) a Roman station, might be with some show of reason and justice presumed to have been here, rather than at Ickborough, (if it was in the neighbourhood,) where Talbot in his notes of Antoninus's Itinerary has fixed it, for this place bears also the same distance as Ickburgh to Villa Faustini and Camborito, as is assigned by him.
The aforesaid Turchill held this lordship in the Confessor's time, but when William I. became King, he gave it to Ralph de Limesio a Norman Baron, his sister's son, on whom he bestowed 41 manors in several counties, with the lands of Christina, one of the sisters of Prince Edgar, grandson of King Edmund Ironside, who was brother to King Edward the Confessor.
At the grand survey we find there were 3 carucates of land in domain, 7 villeins, 9 bordars, and 3 household servants; 12 acres of meadow, 2 mills, a fishery, 180 sheep, and 8 freemen held 100 acres and 3 carucates of land, and 12 acres of meadow; it was one mile in length and half a mile in breadth, and paid xi. pence Dane-gelt, when the hundred was taxed at xxs. and was always valued at 100s. and one of those freemen, Ralph de Tony laid claim to, his ancestour having the soc and sac, as the hundred testified. (fn. 3)
Gerard de Limesi (great grandson of Ralph,) had issue John de Limesi whose son Hugh dying young and sans issue, the barony of Limesi (of which this town was part) was divided between Hugh de Odingsels, knight, grandson of Hugh, a Fleming, who married Basilia, and David de Lindsey, a Scot, who married Alianore the daughters of Gerard, and sisters and coheirs of John de Limesi aforesaid.
David de Lindsey had by Atianore, several children, David, Gerard, &c. and Alice.
David, the eldest son, was lord here and of Cavendish in Suffolk, in the reign of Henry III; (fn. 4) and in 1223, a precept was directed to the sheriff of Suffolk, to deliver to this David (then in custody of the King of Scotland) seizen of all his lands in his bailywick which were detained, because he had not done his service to the King in his Welsh expedition. This David and his brothers dying without issue, his moiety in this lordship came to Sir Henry de Pinkeny, Knt. by the marriage of Alice, sister and heir to David; and by his son, Sir Henry, it was by deed granted to his kinsman, Sir William Odingsels, lord of the other moiety, son of Sir Hugh de Odyngsels abovementioned as appears by the following Pedigree: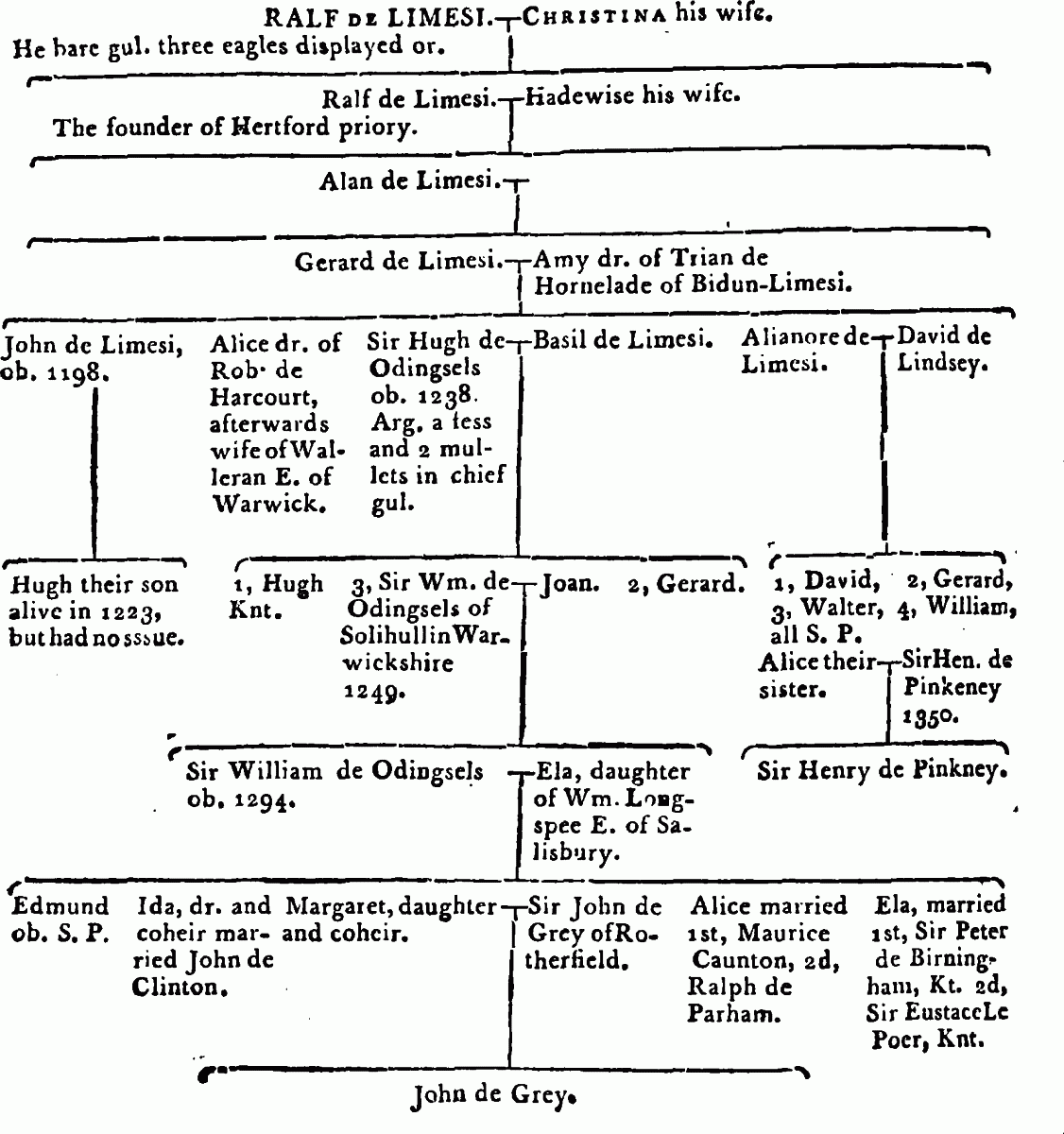 Sciant, &c. quod ego Henricus de Pinkeny, miles, concessi, &c. Dno. Willo. Odyngsel, &c. omnia illa dominica, &c. in villa de Periton et de Maxstoke, &c. (fn. 5) que habui de dono quondam Dni. Davidis de Lindesey, avunculi mei, et Dni. Gerardi fratris sui, et cum homagio et toto servitio Huberti Ruffin, et omn. hered. vel assignatorum suor. in villa de Oxburgh, et cum advocatione ecclesiar. scil. medietal. advocationis. ecclesie de Oxeburgh, &c. habend. &c. de me et heredib. meis, predicto Dno. Willo. &c. faciendo inde mihi &c. servitium sex militum quando scutagium advenerit, &c. et de terris et tenement. predicti Huberti Ruffin, et hered. &c. in predicta villâ de Oxeburch, servitium quarterij unius militis, &c. sans date. (fn. 6)
Pinkeny thus granting his moiety to Sir William de Odingsel, he became lord of the whole town;
Hubert Ruffin held it under him; this Hubert, (fn. 7) and Richard his son, gave lands here to the abbey of West Derham, and afterwards convyed away his right herein to
Ralph de Wygornia, or Worcester; who in 1252, had a patent dated at Winchester, for a weekly mercate here, on Tuesday, and a fair every year, for two days, on the Vigil, and on the Nativity of the Blessed Virgin. (fn. 8) In 1265, the lord had the return of all writs here, and his steward would not permit the sheriff to enter into his fee. (fn. 9)
In the 3d of Edward I. Nicholas de Weyland was found to be lord, and to hold it of Robert Burnel, and he of Odingsels, the capital lord; (fn. 10) this Nicholas married Julian, daughter and heir of the said Robert, and had the manor of Garboldesham in Norfolk of 10l. per annum given him by Robert Burnel, (fn. 11) and probably this also; the lord had then the lete, a toll here, and other privileges belonging to this lordship, as part of the barony of Limesi. On the 20th of January, in the 12th of Edward I. he had a confirmation of the aforesaid mercate and fair, and on the 12th of May in the following year of the said King, had a grant of another fair for two days, on the vigil, and the day of the Assumption; also one for 8 days every year, on the vigil day and morrow after the Annunciation of the Blessed Virgin, and for 5 days following, (fn. 12) and of free-warren in all his demeans. In the 15th year of the said King, Sir Nicholas de Weyland, Knt. had these following privileges of this lordship allowed in Eyre, view of frankpledge, assize of bread and beer, gallows, pillory, tumbrell, weyf and stray, the aforesaid three fairs in the year, and the weekly mercate; (fn. 13) all which bespeak this town to have been in that age a place of consequence, capable of great reception; and it appears from many old ruins and foundations, to have been in length (from the closes nigh to Goodestone-common, where the old road laid to the town, to the entrance of the low ground by Oxburgh-Hithe) above a mile and an half; about 30 houses and cottages having been pulled down, &c. in the space of about 30 years. All these fairs were kept regularly and annually (as appears from the court-rolls of the manor) till about the reign of Queen Elizabeth; and one fair still continues to be kept on the Annunciation, where horses and cows are brought to be sold, and tradesmen resort with their goods.
In 1315, Sir William de Weyland, Knt. was lord; (fn. 14) and in 1318 a fine was levied between him and Elizabeth his wife, querents, and Laurence de Riston, defendant, of this manor, on a marriage settlement. In 1327, the said Sir William, on an inquisition, was found to die seized of this manor held of the heirs of Burnel, by the service of one knight's fee, and of certain tenements in Shipeden and Hempsted, which were members of the said manor, and the said heirs held the same, of the heirs of John de Limesi, by the aforesaid service; and the premises were of the yearly value of 15l. 6s. 5d. and Robert was son of Sir William.
By an inquisition taken in 1326, (fn. 15) it appears that Robert de Weyland, then a knight, held it of John de Grey and Margaret his wife, one of the daughters and coheirs of Sir William de Odyngsels; this Sir Robert, by Cecilia his wife, daughter of Sir Thomas de Baldock, had
Sir Edmund Weyland his son and heir, who married Alianore, daughter of Sir John Wesenham, and dying without issue, about the 43d of Edward III. this lordship descended to
Sir John Weyland, his brother; and in the 59th of the said King a fine was levied between John de Eccles, querent, this Sir John and Burga his wife, of the manor of Vaux in Ruston in Norfolk, which Burga was the daughter and heir of John Sparwe, Esq. (fn. 16) of Yorkshire, and the Lady Burga his wife, relict of Sir William de Vaux. Sir John had by this Burga, Peter, who died young, and
Elizabeth his daughter and heir, who being married to John Harewell, Esq. of Warwickshire had
Joan, their daughter and heir, married to John Streche, of Devonshire, who was lord in right of his wife, and kept his court here in the 2d year of Henry V.; (fn. 17) and in 1427, Joan (then his widow) kept her first court; and soon after, on certain terms resigned her right for life to her cousin,
Sir Thomas Tudenham, Knt. whose relation to her will appear from the following pedigrees of the Weylands and Tudenhams. (fn. 18) (fn. 19) (fn. 20) (fn. 21) (fn. 22) (fn. 23) (fn. 24) (fn. 25) (fn. 26) (fn. 27)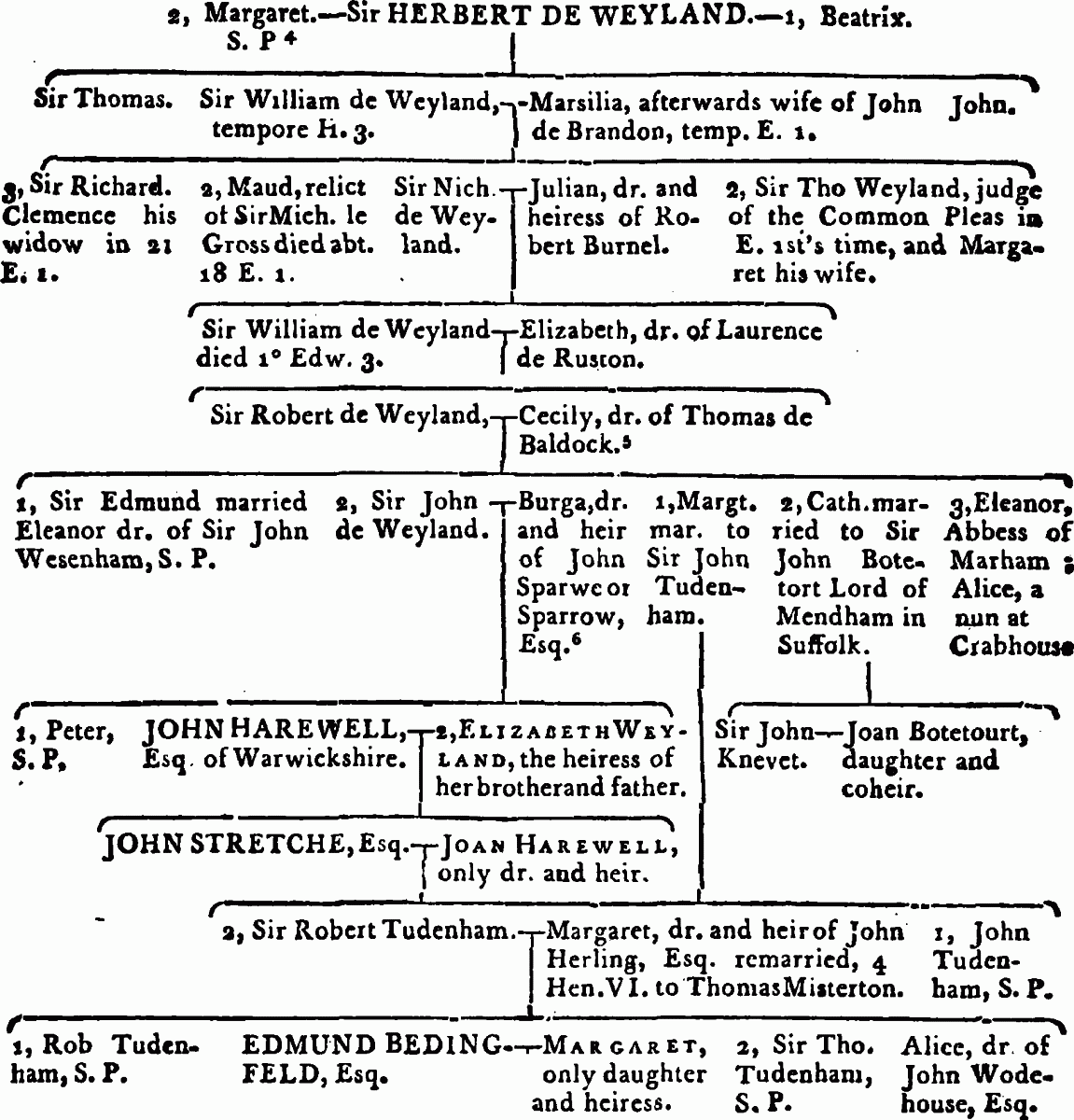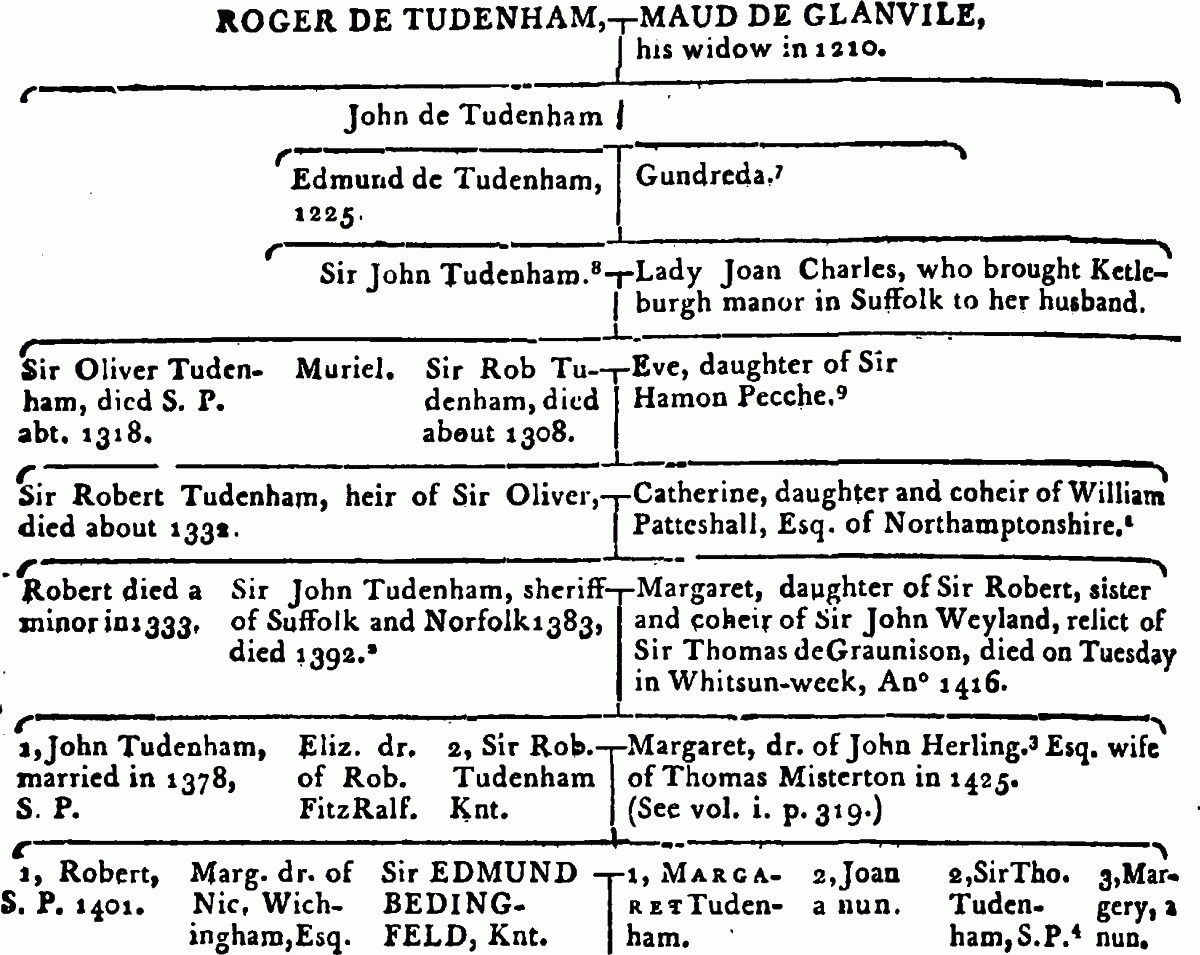 In 1434, on the death of Joan Streche, a fine was levied between Sir Thomas Tudenham, and Sir John Knevet, who married Joan daughter of Sir John Botetourt and Catherine his wife, one of the sisters, and now coheirs, of Sir John Weyland, grandfather to the said Joan Streche, who died without issue? (fn. 28) by virtue of which, this manor, with those of Charsfield, Brandeston, Westerfield, &c. in Suffolk, was granted to Sir Thomas, and the manor of Radwell in Somersetshire, &c. to Sir John, being lately the possessions of the aforesaid Joan.
Sir Thomas Tudenham married Alice, daughter of John Wodehouse, Esq. before he was of age, and in 1436 November 22, on a full hearing of the cause at Lynn, before the chancellor of Norwich, the Prior of Lynn, &c. he was divorced from her, on proof, and her own confession of adultery; she had before this left him, and was at that time a nun professed at Crabhouse in Wigenhale in Norfolk; and he had power to remarry. (fn. 29) But the close of his life was yet more unfortunate; for in February, 1461, John Earl of Oxford, Aubrey his son and heir, (fn. 30) this Sir Thomas, John Clopton, John Montgomery, and William Tyrrell, Esq. were arrested by John Earl of Worcester, constable of England, on suspicion of having received letters from Margaret, wife of King Henry VI. and being convicted in court by the said Earl of Worcester, were all beheaded (except Clopton) on Tower Hill, on the 22d of February, 1461. On the same day he made his will in the Tower, and gave to
John Lord Wenlock this manor, those of Caldecote, Shingham, and Sparham, with the fourth part of the barony of Bedford, for life; but soon after, these, with the rest of his inheritance, were delivered to
Margaret, sister and sole heir to Sir Thomas, relict of Edmund Bedingfeld, Esq. of Bedingfeld in Suffolk. It appears that as heir to her brother, she died seized of the lordships of Ereswel, Westerfield, Brandeston, Charsfeld, Cotton-Hall, Belings-Magna, Groundesburgh, Fenhall, Newton, Elveden, Tudenham, Chamberlains, Shardelows, and Carbonels; also of the fourth part of the manor of Whatfield, and lands in Kediton in Suffolk, the lordships of Oxburgh, Sechithe, SparhamHall, Shingham, Caldecote, Fouldon, Tyes, and Aldenham in Weston, 10l. yearly rent out of the manor of Gerboldesham in Norfolk, and the manor of Abington-Parva in Cambridgeshire. (fn. 31)
Her will is dated at Ereswell, 24th May, 1474, (fn. 32) and was proved by the Bishop of Norwich, she being, as is there expressed "nobilis et arma gerens." She bequeaths her body to be buried before the image of the Holy-Cross, near the altar of the Virgin in the nave of the church of St. Peter of Ereswell, 40l. for vestments, books, and necessary ornaments, and to the repair of the said church, 53s. 4d. for a vestment, in which her chantry-priest was to officiate on high festivals, before the altar of the Blessed Virgin, and 40s. for another to officiate in, on other holidays. To St. Laurence's chapel at Ereswell, 53s. 4d. and 10 marks to the poor dwelling in her manor of Ereswell and other her manors in Suffolk and Norfolk; an house with gardens, pastures, meadow grounds, and 42 acres of land, with liberty of faldage, and certain rents and services thereto belonging, for a chantry-priest to officiate daily in the church of St. Peter, for her soul, and that of her father, mother, grandfather, grandmother, husband, children, brother, &c. To the monastery of Brusyard in Suffolk, where her mother was buried, 100s. and to the nuns there 100s. to the Augustin-Friars in London, where her brother (Sir Thomas) was buried xxl. and that a good and decent marble stone be bought to cover his body, and the residue to be divided amongst the friars there. To the church of Bedingfeld, where her husband was buried, 46s. 8d. for a vestment in memory of her and her husband; to the friars-minors at Babewell, 26s. 8d.; the same sum to the Carmes at Ipswich; to the friars-preachers at Thetford 20s.; to the Augustinefriars there 20s.; and to the nuns there 10.; and to the repair of Bedingfeld nunnery 10s.; to the repair of Carhow nunnery 10s.; and to the nuns there 10s.; to the nuns of Shouldham 20s.; to be distributed amongst them; to the repair of the church of Belings-Magna 56s. 8d. a silver cup to the altar of the Virgin in the church of Ereswell, to every priest assisting at mass on the day of her sepulture 8d.; to every clerk 2d.; every poor man and woman at her burial praying for her soul 2d.; and to every poor boy 2d.; and to the Lady Alice Tudenham, a nun at Crabhouse, ten marks.
The will of her husband Edmund Bedingfeld, Esq. is dated at Bedingfeld in Suffolk, 4 June 1451, and was proved on the 20th of July following; (fn. 33) he bequeaths his body to be buried in the churchyard of Bedingfeld, gives to Margaret his wife all the goods and chattels, which Margaret Tudenham, (daughter of John Herling, Esq.) her mother, had given her; to Thomas his son and heir 12 silver spoons and a covered cup, which was his father's; and to Edmund, son and heir of Thomas, a silver cup, &c.
I have been the more particular in these wills, as they are of undoubted truth and record, and must silence a great and prevailing mistake made by Sir Henry Spelman in his Icenia, (and by others copied after him,) where he asserts, that the abovementioned Edmund Bedingfeld and Sir Thomas Tudenham being in different interests, the first attached to the house of York, the other to that of Lancaster, entered into a most solemn compact: (fn. 34) Beding feld engaging, if his party prevailed, to intercede in the behalf of Tudenham, who was to perform the like good offices for Beding feld: the house of York prevailing in King Edward the Fourth's time, Beding feld broke his faith so solemnly plighted, begged and obtained the estate of his brother Tudenham, and left him in the hands of justice to be beheaded. Edmund Bedingfeld, whose memory is so ill treated, appears to have died above 10 years before the sentence passed, &c. on his brother-in-law Tudenham; neither Edmund or his son and heir, Thomas Bedingfeld, inherited it, dying in 1453, before his uncle Sir Thomas, and his mother Margaret first enjoyed it; and on her decease, it came to her grandson, Edmund, son of Thomas, of which Edmund, Alice Dutchess of Suffolk, by her deed, dated 1st of December in the 33d of Henry VI. 1454, grants the custody and wardship, being then a minor, to his great uncle, Sir Thomas Tudenham aforesaid. (fn. 35)
This Edmund, son of Thomas, married first, Alice, daughter of Sir Ralph Shelton, by whom he had no issue male, his second lady was Margaret daughter of Sir John Scot of Scots-Hall in Kent and comptroller of Calais: (fn. 36) on the coronation of King RichardIII. he was created a Knight of the Bath, and was so highly in favour with King Henry VII. for his eminent services, that he paid him a royal visit at Oxburgh, the room where he lodged, being called the King's Room to this day, and rewarded him with several valuable lordships in Yorkshire, forfeited to the Crown on the attainder of the Lord Lovell: his will is dated at Calais, on the 12th of October 1496, and was proved the 28th of January following; he bequeaths his body to be buried in the church of Oxburgh, before the Holy Trinity, and gives 40l. to lead the church of Caldecote. This Sir Edmund (fn. 37) had a royal patent from King Edward IV. dated July 3, 1482, to build the present manor-house or hall of Oxburgh, with towers, embattlements, &c. "more castelli," and for a weekly mercate in this town, on Friday, with a pye-powder court to be kept by the steward or bailiff, of the said mercate.
This ancient seat stands a little south-west of the church of Oxburgh; being built of brick, it very much resembles Queen's College in Cambridge, built also in the same reign; the present entrance to it is over a bridge of brick, with three great arches, and embattled with free stone, (formerly over one of wood, with its draw-bridge,) through a grand majestick tower, the arch whereof is about 22 feet long and 13 broad; to this tower adjoin four turrets, one at each corner, of the same materials with the tower, brick, coped also and embattled with free-stone, projecting and octangular; the two in front are about 80 feet or more from the foundation in the moat to the summit, and about 10 feet above the great tower. The court-yard (about which stands the house) is 118 feet long and 92 broad; opposite to the great tower on the south side of the court, stands the hall, in length about 54 feet, and 34 in breadth, between the two bowwindows, the roof is of oak, (in the same style and form with that of Westminster) equal in height to the length of it, and being lately very agreeably ornamented and improved, may be justly accounted one of the best old Gothick halls in England. The outward walls of the house stand in the moat, which is pure running water, (fed by an adjoining rivulet) about 270 feet long, and 52 broad on every side, and faced with brick on the side opposite to the house, and can be raised to the depth of about 10 feet of water, or let out as occasion serves.
Sir Thomas Bedingfeld, eldest son of Sir Edmund, the founder, dying without issue, and Robert the second son being in holy orders, the inheritance descended to
Sir Edmund, the 3d son, who attended King Henry VIII. in his wars abroad, and was knighted by Charles Brandon Duke of Suffolk, general of the English army at Montdedier in France on the taking of that town in 1523; by his lady, Grace, daughter of the Lord Marny, he had
Sir Henry Bedingfeld, his son and heir, who was one of those gentlemen that appeared in arms at Framlingham in Suffolk, in defence of Queen Mary, and her title to the crown, and brought with him 140 men completely armed; by her he was appointed knightmarshal of her army, captain of her guards, and on the 28th of Oct. 1555, was made governour of the Tower of London, and one of the privy council; in 1557, vice-chamberlain to the Queen, and had a pension of 100l. per annum assigned him for life, and part of the estate of Sir Thomas Wyat, forfeited on his rebellion. This gentleman had the care and charge of the Lady Elizabeth for some time, and stands charged by Mr. Fox with severity towards her; (fn. 38) but the royal visit which she either did, or designed to pay him, in her Progress into Norfolk, (fn. 39) shows as if it was not as that author represents it. It being unlikely she would then have designed him such an honour.
That the Queen was wont to call him her Jaylor, may be true, but that seems to have rather been a term of royal familiarity, than contempt; for had it been the latter, he would scarce have been so much at court as it appears he usually was.
His son Edmund, by Anne, daughter of Sir Robert Southwell of Hoxne in Suffolk, had Thomas, his son and heir, who by an inquisition taken on the 30th of July, in the 32d of Queen Elizabeth, at Swaffham, was found to die seized of the manors of Oxburgh, Caldecote manor held of Eliz. wife of Sir John Denham, Secche manor, Shingham manor, held of the Crown, as of the honour of Clare, Easthall manor in Cley, held of the Crown as of the honour of Clare, Westhall manor in Cley, held of the Crown as of the honour of Richmond, the rectory of Cley St. Peter's held of the Crown. The hundred of South-Greenhoe held of the Crown in capite, by half a fee, an annuity of 10l. per annum issuing out of the manor of Gerboldesham, Ickburgh manor and advowson held of the honour of Clare, Necton manor, with its appurtenances, Ashill manor, Uphall, Collards, Games, &c. held in capite, with the advowson of the church. Cavenham manor in Stoke, Werham, and Wretton held of the Crown: Buxton and Heveningham manors, held in capite. North Pickenham and Houghton manors held in capite. Swanton Morley manor held in capite, Worthing manor held in capite, Stratton-hall manor held of the manor of Hoxne, and Welham, and Rees's manors there, held of Sir Robert Inglos in Norfolk, the manors of Bedingfeld, Denham and Charsfield, Ereswell, also of Chamberlains in Ereswell, and Scots manor in Martlesham in Suffolk, Pebmarsh's and Dagworth's in Essex, with Henney and Pooly manors in the said county; all which descended to his son and heir,
Sir Henry Bedingfeld, whose great grandson,
Sir Henry Bedingfeld, Baronet, is the present lord of this town, who inherits it as immediate heir to the Weylands and Tudenhams, without any alienation, for about 500 years.
Odes, Sparrow's, or Chantry Manor.
In the reign of Henry III. Nicholas de Oxburgh, was found to hold the 8th part of a fee of Hubert Ruffin, Hubert of Sir Hugh de Odynsels; (fn. 40) in the 9th of Edward II. Nich. de Oxburgh was returned to hold it; and in the 20th of King Edward III. Christiana, wife of Nicholas, was found to have held the same of Sir John de Grey. In the 3d of Henry IV. it was held by the heirs of Christiana, that is (as I take it) by the Odes, a family of good account in this town: William Ode was lord in the 2d of Richard II. and had then a foldcourse for 240 sheep; after this, Thomas Ode, and his son John, (by Agnes Langwade his wife,) in the 33d of Henry VI. had a capital messuage and other messuages here, 300 acres of arable land, 52 acres of pasture, 20s. &c. rent of assize, with the liberty of two freefolds, and other privileges to the said messuages and lands belonging, in Oxburgh and Caldecote, and paid to the lord of Caldecote 8s. 8d. per annum.
In 1463, Thomas Wellys, LL. B. and Godfrey Joy, citizen and alderman of Norwich, enfeoffed John Hewer, alias Bocher, of Oxburgh, Thomas Kyppyng of Caldecote, clerk, Thomas Mason of StokeFerry, and Henry Malvern of Ashill, in all and singular the messuages, lands, &c. with their appurtenances in Oxburgh and Caldecote, with the liberty of two freefolds for sheep in the said villages, with all the meadows, pastures, rents, wards, reliefs, eschaets, &c. which they held lately, together with John Paston, senior, Esq. Edward Coteler, citizen and alderman of Norwich, Stephen Brasier, notary, and William Swayn of Norwich, draper, by the enfeoffment of John Whittrat, clerk, dated in 1460, to the use, behoof, and fulfilling of the last will and testament of John Ode, late of Norwich. After this, in 1480, John Hewer and Thomas Kyppyng enfeoffed Edmund Bedingfeld, Esq. William Grey, Esq. John Fincham, junior, Gent. &c. in the same; what were the use and behoof of Odes will, is uncertain; probably it was given to some religious use, &c. and was held by feoffees, till license of mortmain could be obtained; for it appears, that Richard Sparwe, or Sparrowe, Gent. afterwards held it; and by his will, dated 24th of April, 1482, (fn. 41) and proved the 10th of February 1483, gives this manor, with all the services, quitrents, lands, tenements, pastures, meadows, &c. lying in the towns and fields of Oxburgh, and Caldecote, to the founding of a chantry in the church of Oxburgh, and for the maintenance of a priest to officiate in the said church, to pray for his soul, the souls of his parents, children, and all his benefactors.
The chantry (as appears by the said will) was founded in honour of the Holy Trinity, the glorious Virgin Mary, St. John the Evangelist, and All the Saints. William Elys was named by the founder the first chantry-priest, whom he requires to be a native of the diocese of Norwich, a secular priest, and to have no ecclesiastical benefice; he appoints 12 trustees, and when it devolved to three, they were to make a new election, and to name and appoint the said priests, and on their neglect for one month, the prior of Westacre was to name, &c. and on his neglect for one month, the churchwardens of Oxburgh; and the rector of Oxburgh was supervisor of his will.
Chantry Priests.
William Elys. Thomas Kyppyng, buried here in 1489. William Blome, he died about 1504. Thomas Woodrofe, rector also of Caldecote and Shingham, died in 1540. William Shymplyng was also rector of Caldecote and Shingham, and on the dissolution of this chantry in the 2d of Edward VI. had a pension from the Crown of 4l. 9s. 7d. per annum.
The capital messuage, lands, &c. were granted by the King in the said year to Osbert Mundeford and Thomas Gawdy, Esquires, and their heirs, to be held in free-soccage of the manor of Drayton in Norfolk, on the 16th of June; in the 6th of Elizabeth, it was held by Gabriel Bates, Gent. who for the sum of one hundred and sixty pounds, sold it to John Curlington, from whom it passed by John Grimston, Arthur Hewer, Thomas Chaplin, Edmund Peirce, Remigius Booth, William Scot, Gent. &c. to Thomas Craske, that is to say, the capital messuage, with about 50 acres of land, arable and pasture, the manor and most of the lands being alienated.
That it was originally well endowed, appears from what hath been already specified, and from a terrier made in the 11th of Henry VII. when there were 17 acres of pasture enclosed, sevenscore and five acres, with three roods of arable land then belonging to it. About the year 1720, Thomas, son of the aforesaid Thomas Crask, sold it to Sir Henry Bedingfeld, Bart.; the house that belonged to it, in which the priest lived, stands in the town of Oxburgh, a little east of the church, being a great building, and had lately a large hall with screens, butteries, &c. adjoining, as in colleges, enclosed next the street with a lofty long wall of free-stone, with embattlements or copings of the same; the entrance to it was through a neat and lofty arch in the walls, now worked up.
The Abbot of West Derham held here, in the reign of Henry III. the 3d part of a fourth of a fee, given to that house by Hubert Ruffin and his son; and in the 20th of Edward III. it was held of that Abbot, and at the Dissolution was granted to Sir Thomas Bedingfeld. This abbey, with the priory of St. Winwaloy in Werham, were taxed in 1428, for their temporalties here, at 46s. 8d.
Almand of Southacre held in the reign of Henry III. the 12th part of the 4th part of a fee, which in the 20th of Edward III. was held by the Prior of Westacre, and was granted by King Henry VIII. to Sir Thomas Bedingfeld: in 1428, the prior was taxed for this, at 12s. 1d.
The Abbot of Wendling, John le Man, Richard Methwold, and Robert Costeyn, held also the 4th part of a 4th part of a fee in the 20th of Edw. III. which Thomas le Warr formerly held; in the 3d of Henry IV. it was held by the Abbot, and the heirs of John Methwold; these also were granted to Sir Thomas Bedingfeld, and for them a fee-farm rent of 3l. 6s. 8d. is paid.
Godric the King's sewer held also here, at the time of the grand survey, 60 acres, part of his manor of Goderston, and is there valued; (fn. 42) it was held by a freeman and a villein, in the Confessor's time; these 60 acres were a few years past in several hands, but on the enclosing of the town and commons about 24 years past, were purchased by Sir Henry Bedingfeld.
About two miles east of the town, (fn. 43) in the road to Cley, a little before you come to Langwade Cross (part of which is still standing on the greenway, which is the boundary between Oxburgh and Cley) was a house of lepers; (fn. 44) Thomas Salmon, chaplain of Oxburgh in 1380, gave by will to the Chapel of St. Mary at Oxburgh, 3s. 4d. and to the lazars at Langwade 6d. There was an ancient family of this name, who took their name from the long-wade or passage here, over the river. Ralph and Robert de Langwade gave by deed sans date, lands to West-Derham abbey.
The lete is in the lord of the manor.
The church of Oxburgh is dedicated to St. John the Evangelist; it is a large and regular edifice consisting of middle, north, and south isles, in length from the west door to the chancel about 88 feet, and including all the isles, in breadth about 53 feet; the chancel is about 46 feet long, and 21 broad, the whole is of flint-stone, &c. covered with lead, and seems to have been founded about the reign of King Edward I. At the west end stands a foursquare tower of curious workmanship of flint, with quoins and battlements of free-stone, on this is raised a lofty octangular spire all of free-stone throughout, the whole being 150 feet in height. In this tower hang five musical bells, the first thus inscribed, Omnia sint ad Gloriam Dei, 1610. The third, Te per Orbem Terrarum Sancta confietur Ecclesia, Patrem immensæ Majestatis 1582, and on this is the figure of St. Edmund. The fourth, Venerandum tuum verum, et unicum Filium, 1582. The fifth, O Christe, Rex Gloriæ Es Tu, 1586: here also is a clock, (which strikes on the bell hanging on the outside of the spire,) with a dial-plate on the west-side of the tower. At the west door, as you enter, lie two old grave-stones, one on the right hand, the other on the left, with plain crosses on them; also a third with a cross flory, and serves for the uppermost step, as you descend into the church; in memory, most probably, of some of the family of the Weylands, lords of the town, and founders of the church. The Lady Cecilia de Weyland, by her will dated in 1384, bequeathed her body to be buried in the churchyard before the west door. (fn. 45) On each side of which is a niche of stone-work for images. On the pavement of this church lie several gravestones, deprived of their brasses: on one before the screen of the chancel, with a brass plate,
Orate pro anima Domini Johannis Bkome Capellan' qui obiit rrb Die julii Ano Dni' M. ccccciiii, Cuius, &c.
He was chaplain of Sparrow's chantry in this church; and by his will dated 16th of April, 1501, bequeathed his body to be buried here, near the altar of the crucifix, and gave all his lands and tenements in the town and fields of Oxburgh, to the keeping of his anniversary on Monday in Easter-Week for ever, placing one herse over his sepulchre, and finding two lights on it, of one pound of wax, to burn in time of exequiæ and mass performing on the day of the commemoration of his death; four torches to burn before his sepulchre, and to find one light to burn before the image of the Holy-Trinity in the chancel every festival day in time of divine service, and one penny offering at the mass on the commemoration of his death; to the increase and maintenance of the green torches in the said church 3s. 4d. to the finding and maintaining the bason light in the said church, hanging before the crucifix 3s. 4d. and to pay the Rome-shot and candle-silver of the whole village for ever. He appoints that when all his feoffees but four were dead, a new feoffment should be made to 16 or 12 of the best and honestest men of the parish. (fn. 46)
The pulpit and desk are of neat plain oak; round the sounding board in letters of gold. "This Pulpit and Desk together with a Clock, was made by the Gift of Robert Shales, Gent. who died May 20, 1702, aged 47." Before the desk stands a very large brass eagle, supported by three lions, the whole being about 6 feet in height, thus inscribed,
Orate pro anima Chome Hyyyyng (fn. 47) quondam Rectoris de Dar- burgh.
The roof of the nave is supported by octangular stone pillars forming 12 large arches, 6 on a side, with windows over them. In the window over the fourth arch on the south side is
Arg. on a cross gul. five escallops or, Weyland.
And in that of the fourth arch on the north:
Orate pro animab' Dni' Roberti Meyland et Cecilie Vroris eius.
Here is a mural monument of marble, on which is this,
M. S. Thomæ Hewar Gen.
Siste Viator, et percontare paulisper, providus Ego, et pariter migravi non hic solus, Opera me sequuntur Comitem, nam Ecclesiæ Ruinis prospexi, in Ævum prius simul Et Victum et Vestitum Legavi Pauperibus, Divitibus et Levamen et Exemplum. Vixi Annos 60 Æque Deo et Hominibus charus, tandem Pie occubui 16 die Mensis Febr.
Anno Dom' 1625, et hic demum Recumbo suaviter, secundum Salvatoris Adventum expectans.
Vale et fac similiter.
Moved with Compassion, Love and Zeal, the Store God gave, I left unto the Church and Poor.
My Dust to Dust, my hope wing'd Soul aspires To Heaven, the Receptacle it desires.
Where I shall see my Issue and persever In Charity with his Elect for ever.
Such is his Promise (in the Word) that saith Love dy's not and the Just shall live by Faith.
Et in hâc spe acquiesco.
Posuere hoc Oppidani de Oxboro, Pietatis et Gratitudinis ergo.
This gentleman was buried near this monument, and in his last will he desired the same; where by the gravestones, and the arms thereon, he perceived some of his ancestours (the Hewars) to be interred.
On the pavement lies a marble in memory of Abraham Younge, Gent. who departed February 26, 1719, aged 70, and of Catharine his wife, who departed April 16, 1708, aged 52. Another in memory of Jane, wife of Richard Martin, who died 1st of February, 1705.
The east end of this isle is of different work from the other parts of it; the roof is advanced, has a large window, and was, as I take it, the Chapel of St. Mary, the effigies of the Virgin with the child Jesus may be still observed, also an holy water stop, makes part of the pavement; to this isle is annexed a large porch.
On the pavement of the north isle are some gravestones also with their brasses reaved, about the midst of the isle, one very antique, which has been ornamented like the above, observed in the south isle: the inscription that runs round this was in French, as appears from the incision for the brass letters, these two words being with difficulty legible, DE CETTE VILLE. and probably was in memory of Sir John de Weyland, (or his brother Sir Edmund,) lord of the town. At the east end was a chapel dedicated to St. Anne, her image is said to be on the north side of the church; the window here has been curiously painted, now quite shattered, on the summit have been the effigies of the Apostles, &c. St. Peter, and St. John the Baptist, are still remaining: in a pannel are the remains of one lying sick in a bed, and another administering something to her relief in a cup. In another pannel the figure of an elderly person with a prolix beard, bare-headed in a close blue vest, and a gown or cloak of scarlet, with a girdle or, and a large purse hanging to it; also one on his left hand, in a white coat with a long cape or cowl hanging behind, with a cap or, and a red belt; also the figure of a third person on his right hand representing a shepherd in a russet coat, with a girdle round it; near him are sheep feeding, and a dog couchant; and on a label,
—ad—cam Porta et Saccifica.
coming from the first and principal figure.
This isle has a porch, the roof of which has been painted; over the door as you enter the church is a pedestal, and on the pavement are the remains of an old marble gravestone, probably for the founder, and it is covered with lead; the whole isle is of different workmanship, and more modern than the rest of the church.
In the chancel hangs a table thus inscribed,
OXBURGH,
Benefactors to this Church and Poor.
Thomas Hewar, Gent. by his last Will dated at Castle Rising in Norfolk, September 12, 1619, and proved there, March 25, 1625, gave a Messuage or Mansion-House, with a Barn, Stable, a Pasture Close and Hempland thereto adjoining, containing by estimation about 5 Acres, also 83 Acres of Arable Lands in several Pieces dispersed thro' the Fields, and late inclosed Grounds of OXBURGH; all which is leased to Sir Henry Bedingfeld, Baronet, at the Yearly Rent of 20 li. he making good all Repairs, and paying all Taxes whatsoever; one third Part of this, is to be laid out in the Repairs and Ornaments of the said Church, the Residue to be divided amongst the most Necessitous Poor; the Rent of this Estate is always paid to the Feoffees on St. Thomas's Day.
Rev. Mr. Charles Parkin, Rector of Oxburgh.
Feoffees for this Estate.
Mr. Thomas Young of Oxburgh,
Mr. Robert Collison late of Oxburgh,
Mr. Thomas Sutton late of Oxburgh,
Mrs. Mary Hammond in the Reign of King Charles II gave a Pasture Close in the Parish, of about 3 acres, now leased to Sir Henry Bedingfeld at 50s. per Ann. which is given to the Poor on the 25th of July.
Mr. Yorker, Rector of Cockley Cley, gave 10 Acres of Land in this Parish, now leased to Sir Henry Bedingfeld at 3 li. per Annum. This is given for 5 Years to the Poor of Cley, and every Sixth Year to the Poor of Oxburgh.
Sir Henry Bedingfeld pays also at Lady Day 2 li. Yearly, for Lands belonging to the Township of Oxburgh; this is called the Walk-Money, and is then given to the Poor.
Go thou and Do likewise, for he that giveth to the Poor, lendeth to the Lord. 1735.
The chancel is separated from the church by a lofty screen, which with the pannels has been curiously painted; over this are the King's arms: as you enter, on the pavement lies a gray marble stone, with the portraiture of a priest robed, &c. with a label,
Jesu Fili Dei. miserere Me.
On which (as I find from an old account) was this epitaph.
Orate pro anima Johannis her quonbam Rectoris istins Ecs elesie qui obiit ro die Mensis Octob' Ano Dni' Mcccclrr. Cuius anime propitietur Dens.
On the same pavement is a little gray marble stone, with a rim of brass thus inscribed,
Moc suc Marmoceolo iacet Withelmus Schanchey, Chome Bedingfyld Militis quondam famularis ac olim isra pcr vene pulsans Drgana, Vigint' Ann. ruius animam, Deus ad alta Poli probehat Astra. Don. Dovemb' Ano Oni' M.ccccc Vicessimo primo.
Against the north wall of the chancel is a neat mural monument of marble, ornamented with two marble pilasters of the Ionick order, 2 piles of books, and on them 2 lamps with flames of gold; on the summit is an urn, festoons, and 2 lamps, &c.
Hic situs est Henricus Meriton, A. M. qui Hadstochiæ in agro Essexiensi, Cantabrigiæ inter Magdalenses educatus, et per Sexaginta et amplius Annos, Parochiæ hujus Rector vigilantissimus, quam nactus est Provinciam antiquâ fide, eximia Pietate, atque egregiâ rerum Sacrarum Scientiâ, implevit, ornavit. Indefessus Veritatis Indagator, Assertorque strenuus, et jam arduis et difficilibus temporibus perniciosos, Romanensium, aliorumque Errores, et Fraudes, perspicaci et firmo animo detexit et labefactavit, obiit 30 Januarij 1707.
At the bottom is this shield,
Az. on a chevron or, three roses gules, and a canton ermine, Meriton.
And under the urn above,
Impensis Johannis Meriton filij Henrici.
On the north side is the vestry, built of flint, &c. and covered with lead. At the end of the south wall is a neat wrought and enarched seat of stone for the bishop, priest, and deacon, in the cornish, which is embattled, are little angels gilt with gold; under the arch have been small shields, two only are now visible, one has a cross, the other the shield or emblem of the Trinity: on the summit of this seat there seems to have been stations for 2 images; the window here has been finely painted, on the top are several of the prophets, &c. Jeremias with this label, Patrem invocabitis, &c. 3 ch. v. 19. Isaias with this, Ecce Virgo concipiet, &c. 7 ch. 14 v. Baruch, Hic est Deus noster, &c. 3 ch. 35 v. and Moses, In principium erat Verbum, &c. Gen. 1 ch. 1 v.
The east window is very large and stately, rising as high as the summit of the roof, in the small pannels above; the 9 orders of Angels have been painted, four only of these figures are now left, with their names under them, angels, archangels, virtues, seraphims, &c. (fn. 48) In the middle pannels have been other figures, by the robing of one, on which is the letter M, in this character, and a crown over it, it is plain the Virgin Mary was here figured; in the lower pannels, was the history of our Saviour's birth, and the Wisemen worshipping him, and their offerings, his resurrection, &c. On the great pannels of the other chancel windows have been the Apostles with labels of the Creed, &c. The roof is impannelled, on it are carved many fanciful works, viz. men plaining and boring of wood, saws, hammers, mallets, squares, wimbles, compasses, cups, &c. our Saviour's name in old characters, a shield ornamented with a cross, crowns of thorns, nails, spears, &c. to represent the crucifixion: one shield with a cross botony, another with the arms of Derham abbey, (but the colours are now faded,) az. three bucks or deers heads caboshed or, the lowest pierced with a crosier, on the summit of which is a cross-pattee, or; this church being in the patronage of that abbey, a third quarterly, arg. an eagle displayed gul. beaked, &c. or, in the first and fourth, Bedingfeld, and lozengé arg. and gul. in the second and third, Todenham, impaling arg. three Catharine wheels sable, in a bordure ingrailed gules, Scot of Scot's-hall in Kent.
Between the church and chancel is an arch of stone for the saintsbell; south of the chancel, and at the east end of the south isle, is a very beautiful chapel of free-stone, with buttresses of the same, and separated from the chancel and the south isle, with stone-work about 4 feet high, on this is raised a large arch or covering of brick-earth curiously moulded, burnt and whitened, on which are several pilasters, with capitals of the Corinthian order, cherubs, lamps, vases, &c. neatly executed; the space between the body and the arch or covering, is guarded by iron rails, on the roof, which is of oak and covered with lead, are the arms of Beding feld and Todenham, Weyland, Scot, and vert, a chevron ermine between three rams tripping arg. Wetherby, and also Shelton.
Margaret Bedingfeld, relict of Sir Edmund, Knight of the Bath, was the foundress; by her will dated 12th of January, 1513, she bequeaths her body to be buried in the church of Oxburgh, before the image of the Trinity, where I will a Chapel to be erected.
Against the south side, is a large altar monument of marble, &c. two pillars of the Corinthian order with their capitals gilt with gold, support a canopy or covering, whereon stand three shields. In the midst,
Bedingfeld, erm. a spread eagle gul. beaked and peded or, with h s quarterings,
Lozenge, arg. and gules, Todenham.
Arg. a fess between two chevronels gul. Peche.
Checque or, and gul. on a fess az. three escallops of the first, Rochester. (fn. 49)
Arg. a fess sable, between three crescents gul. Pateshull.
Arg. on a cross gul. five escalops, or. Weyland.
Arg. an unicorn seiant sable, Herling.
Paly of six or and gul. a chief ermine, Jenny.
Arg. a chevron gul. between three lions rampant sab. Bourn of Long-Stratton.
Per pale arg. and gul. Waldgrave.
Per chevron embattled gul. and or, three lions rampant counterchanged. Wyfold. (fn. 50)
Azure a chevron between three eagles heads erased, or. Claworth. (fn. 51)
Crest, a demi-eagle or.
On the right of this, stands a shield with the arms of Bedingfeld and Todenham, quarterly, impaling azure a chevron ermine, between three escallops arg. Townsend, and arg. a lion rampant, and crusuly of cross croslets gules, Brews, quarterly.
On the left is the shield of Townsend, with his quarterings, viz. gul. a chevron or between three de-lises arg. Haywell.
Brewse as above, Ufford, and gul. a cross arg. in a bordure ingrailed or. Carbonell.
Arg. a chevron gul. between three cross croslets fitché azure. Shardelowe.
On the wall-piece is this inscription in letters of gold:
Casta Bedingfeldo Comes, hic Katharina Marito est, Lustris Viva decem, quæ fuit ante Comes.
Prole Virum Conjux, Vir adauxit honoribus illam, Factus post multos Nominis hujus Eques.
Inde Satellitium sumpsit, Turrimq; regendam, Pars a Consilijs Una, Maria tuis.
Privatus Senium, Christoque, Sibique dicavit, Vir pius, et veræ Religionis amans.
Hospitio largus, miserisque suisque benignus, Ad Mortem et Morbi tædia, fortis erat.
Round this inscription are several knots, and horses fetterlocks, or, (badges made use of by this family,) the fetterlock was the badge of the house of York, and might by some grant have been given to the Bedingfelds for their attachment to it; and there was a particular room (as appears from an old inventory of Oxburgh-hall) called by the name of the Fetterlock. This badge was devised by Edmund Duke of York, fifth son to King Edw. 3d, locked, as one should say, (fn. 52) for he was far from the inheritance: and was given by King Edward IV. unlocked and somewhat open or to his second son Richard Duke of York; so fond was that King of this badge or device, that the apartments of the prebendaries of Windsor were built by him in this form, and the said King made use of it himself. Hall has a draught of a fetterlock with a falcon in it, before his History of the Life of that King; and Edmund of Langley Duke of York, when he rebuilt Fotheringhay Castle in Northamptonshire, made the highest keep in the same form. Camden says that the aforesaid Edmund bare also a falcon in a fetterlock, implying he was Locked up from all hope and possibility of the kingdom, when his brethren began to aspire thereunto; whereupon he asked his sons on a time, when he saw them beholding this device set up in a window, what was Latin for a fetterlock? whereat when the young gentlemen studied, the father said, well if you cannot tell me I will tell you: hic, hæc, hoc, taceatis; (fn. 53) as advising them to be silent and quiet, and therewithal said, Yet God knoweth what may come to pass hereafter. This his great grandchild, King Edward IV. reported, when he commanded that his youngest son, Richard Duke of York, should use this device with the fetterlock open. There is no date to this monument erected to the memory of Sir Henry Bedingfeld, Knt. Captain of the guards, Governour of the Tower of London, and privy counsellor to Queen Mary, who was buried here, as appears from the Register, on the 24th of August, 1583, and his lady on the 7th of December 1581.
Against the north wall of the said chapel is a large and lofty monument of black and white marble, resting on the pavement. On the summit is an urn of black marble ornamented with festoons, &c.; below that, two shields supported by two angels, on one of which is this inscription:
Under this Monument lyeth the Body of Sir Henry Bedingfeld, the 17th Knight of his Family, eminent for his Loyalty to his Prince, and Service of his Countrey, in the Time of the Rebellion he was kept three Years Prisoner in the Tower, and great Part of his Estate was sold by the Rebels, the rest sequestred during his Life. He had two Wifes, the first Mary Daughter to William Lord Howard of the North, by whom he had one Son, who dyed without Issue: His second Wife was, Elizabeth Daughter of Peter Houghton, Esq; by whom he had 5 Sons and 6 Daughters, he died November 22, Ano Dni' 1657, Æt. 70, and 6 Months.
On the other shield,
Here lyeth Elizabeth Wife of Sir Henry Bedingfeld, Knt. and Daughter of Peter Houghton of Houghton-Tower in Lancashire, Esq; she dyed on the 11th of April Ano Dni' 1662.
Beati Mortui qui in Domino moriuntur. Eccles'
Below these, are two shields with arms, Bedingfeld, and sable three bars arg. Houghton.
On the lower part of this mural monument are two other shields, one with the arms of Bedingfeld, the other of Paston, and this inscription:
Under this Monument lyeth the Body of Sir Henry Bedingfeld, the first Baronet of the Family, made by the especial Favour of King Charles the II. He was Tall and Comely, endow'd with rare Parts both Natural and acquir'd, He serv'd King Charles I. in all the Rebellion, and till the Restoration was a great Sufferer in his Person and Estate. From which Time to his Death, he liv'd a most exemplary Life, beloved and admir'd for his Virtue and Wisdom, his Death was extremely Lamented, which happen'd on the 24th of February Ano Dni' 1684, Æt. 70 and 5 Months. He married the Daughter and Heiress of Edward Paston, Esq; by whom he had 7 Sons and 6 Daughters.
Here lyeth the Body of Dame Margaret, the only Child of Edward Paston, of Horton in the County of Gloucester, Esq; & the only Wife of Sir Henry Bedingfeld here also interr'd, a Person of extraordinary Parts, Piety and Prudence, who after 50 Years enjoyment of perfect Felicity in the Married State, pass'd 18 Years Widowhood, in an absolute Retreat, in the constant Exercise of her Devotions, and dayly Distribution of Charity, and departed this Life, January 14, 1702, Aged 84 Years, having first erected this Monument to the Memory of her Dear and deserving Husband.
Against the east wall of the chapel is a neat mural monument of black and white marble veined with red; on the summit is an urn with a flame of gold; at the bottom is a death's head between two cherubims, and the whole is ornamented with festoons, and the arms of Bedingfeld, also Bedingfeld impaling sable six swallows arg. Arundel. Bedingfeld impaling Howard.
On the body is this inscription in letters of gold,
Beneath this Monument is interr'd the most Virtuous and Pious Lady, Elizabeth, youngest Daughter of Sir John Arundel of Lanbern in Cornwall, and second Wife to Sir Henry Bedingfeld of Oxburgh, Knt. and Bart. who in the 35th Year of her Age, departed this Life, on the 13th of April 1690, leaving an only Son and 3 Daughters.
Requiescat in Pace.
Hic jacet Domina Anna Bedingfeld filia et Hæres Caroli Howard, Comitis de Berkshire ex Dorotheâ Conjuge Uxor Henrici Bedingfeld Equitis Aurati, quæ Pietate in Deum, Charitate in Egenos, Equitate in omnes insignis, obijt die 19 Septembris 1682, Ætatis suæ 32.
Requiescat in Pace.
Here lyeth the Body of Sir Henry Bedingfeld Son of Sir Henry Bedingfeld by Dame Margaret Paston, he was a Person of great Worth and Honour, and particularly eminent for his great Hospitality, he had two Wifes, the first Ann Howard, only Child then living, of Charles Lord Viscount Andover, and afterwards Earl of Berkshire, by whom he had no issue; the last Wife was Elizabeth, youngest Daughter of Sir John Arundel, by whom he has left one Son and two Daughters, and departed this Life, September 14, 1704, Aged 68.
Requiescat in Pace.
On the pavement near to the east end, lies an old marble gravestone, on which was the effigies of a person in brass, &c. now reaved.
About the middle lies a gravestone:
Orate pro anima Thomæ Marwood, qui obdormivit in Domino 26 Octob' 1718, Pauperes in eo, Patrem, Domus Bedingfeldiana, Amicum verum, et Benefactorem insignem, perdiderunt.
Requiescat in Pace.
On the south side in the church-yard, is a black marble of a very large size, on which is this;
Hic jacet Dionisius Shales Generosus, qui obijt September 2 1689. Ano Æt. 71. Sub eôdem Marmore jacet Filia ejus Maria quæ obijt Febr' 18, 1696–7, Ano Æt. 40.
On the North Side of this Stone lyeth the Body of Alice the Wife of Dionise Shales, who departed this Life May the 20th 1702, Aged 83 Years. Here lyeth the Body of Robert Shales, (fn. 54) second Sone of Dionise and Alice, who died May 20th 1702, Aged 47 Years.
Dionisius Shales, Gent obijt 1723.
Rectors.
About the beginning of the reign of King Edward I. we find from Norwich Domesday, that Sir William de Odynsels was lord of the town and patron of the church; the Rector then had a mansion-house with 15 acres of glebe; the rectory was valued at 18 marks, procurations and synodals 7s. 7d. ob. St. Peter's-pence one shilling.
Henry de Hastings (fn. 55) occurs rector in the 57th of Henry III. and in the 14th of Edward I. one of the same name was rector of Stratford on Avon in Warwickshire in 1316; and the lord and patron of this town being of that county, it is probable he was one and the same person.
Richard de la Coppe; he was presented by the Lady Margaret Grey, widow of John de Grey Lord of Rotherfield, daughter and coheir of William Odyngsells, Knt. of Maxstoke in Warwickshire; he occurs rector in the 4th and 5th of Edward III. (fn. 56)
William Breton, resigned in 1337.
1337, Nicholas Oliver. Sir John de Grey.
1343, Alan de Retford. Ditto. Oliver exchanged with Retford, for the church of Malberthorp in Lincolnshire.
1366, Peter Bray. The Lady Avice de Grey, widow of Sir John de Grey Baron of Rotherfield, daughter and coheir to John Lord Marmion.
Stephen de Holt, he was also rector of Barnham-Broome in Norfolk, and in 1383, vicar-general to the Bishop of Norwich. (fn. 57) In his will he desires to be buried in the church of St. Giles at Norwich.
1386, John Elvered. Robert de Fordham rector of Thirston, Edmund Gurnay, Nicholas de Massingham, Hugh de Holland, John de Methelwold, and John Chante of East-Walton. By his will, dated at Oxburgh, 1st of October, and proved the 16th of the said month 1416, he desires to be buried in the church of St. John the Evangelist of Oxburgh, gives one Manual and 8 marks, to buy a Gradual for that church, to every order of friars at Lynn 20s.; to John Ardern for his stipend to pray for him and his benefactors 3 years 27 marks; to the Abbess of Marham 6s. 8d.; and to every nun there, 20d.; to Crabhouse 20s.; to the House of Hales 13s. 4d.; to the House of Bromhill to repair it, 6 quarters of barley; to Buckton new tower 3s. 4d. (fn. 58)
1416, William Whytemete, presented by the Abbot and convent of West-Derham.
Edmund Gurnay and Hugh de Holand gave the advowson of this church to that abbey. They seem to have been trustees for that purpose. In the 41st of Edward III. a fine was levied between Sir William Crosier, Knt. querent, and John Lord Grey of Rotherfield, defendent, of the advowson of this church, conveyed to Sir William; and in the 46th of Edw. III. a fine was levied between Reginald de Shirland, &c. querents, and Sir William Crosier, Knt. defendent, of this advowson, conveyed to Reginald, &c. In the 50th of the said King, a patent was granted to appropriate this church to West-Derham; but Henry Spencer, the active and warlike Bishop of Norwich, who was no friend to the monastick order, would not consent to it. And before this, in the 35th of the said King, an inquisition "Ad quod damnum, &c." was brought, whereon the jury present that it would not be to the King's prejudice, if John de Grey Lord Rotherfeld granted the advowson to the prior and brethren of St. John of Jerusalem in England.
Whytemete resigned this rectory, for that of Yuxham in Norfolk; he was buried at the east end of the north isle of the church of Upwell in Norfolk, where he was a soul or chantry priest; on his gravestone there, is this inscription on a brass plate,
Nic iacet Dns' Millms' Mhntemete quondam Rector be Mars ham, qui obiit bii bie Mensis Scptemb' An Dni Mccccfffii, cuius anime propittietur Deus, Amen.
1429, John Saresson, alias Wygenhale, doctor in the decrees, on the 28 of December 1425, was presented by the convent of Wendlyng in Norfolk, to Yaxham, and exchanged that, with Whytemete, for the rectory of Oxburgh, to which he was presented by the convent of West Derham; on the 26th of October, 1447, he was instituted into the prebend of St. Mary's Mass in the collegiate church of St. Mary in the Fields at Norwich, collated by the Bishop of Norwich; and in May 1452, to the archdeaconry of Sudbury; (fn. 59) was also Abbot of WestDerham, rector of Massingham Magna in Norfolk, and vicar-general to the Bishop of Norwich 1436, and Dean of St. Mary college, alias chapel in the Field college, at Norwich, John de Wethamstede, Abbot of St. Alban's, calls this Wygenhale, "Vir altæ discretionis, et morum gravitate pollens." (fn. 60)
1448, John Wellys, L. L. D. ob. The convent of Wendlyng.
1451 Richard Cranwell. Ditto.
1446, John Kerr, or Carr, buried in the chancel, in the middle of the quire, as is above shewn; he resigned the church of Newton Flotman, Norfolk, in 1445.
1470, John Wilton. Ditto.
Thomas Harvey occurs rector in 1472, ob.
1470, John Gardener, chaplain, buried in St. John the Evangelist's church, before the image of St. Paul, to keep up the green-torches, 2s.; to the gilds of Corpus Christi, Holy-Trinity, St. Mary, St. John Baptist, and St. Peter 2s. each; and the other 2 gilds of All-Saints, and St. Thomas the Martyr 12d. each. So that now there were no less than 7 gilds in this parish.
1501, Ambrose Ede, doctor of decrees; he had been vicar of Methwold, Norfolk, was principal official or chancellor to the Bishop of Norwich in 1500, died rector of this church, and of Caston, near Breccles in Norfolk, and master of Thompson college in Norfolk.
1502, John Forster, ob. John, Abbot, and convent of West-Derham. He was archdeacon of Huntington, prebend of Moreton Magna, in the church of Hereford.
1512, Robert Bedingfeld, second son of Sir Edmund Bedingfeld of Oxburgh, was pensioner of Corpus Christi college in Cambridge, and a benefactor thereto, by making the west windows of the building, leading from the college, to Bennet church (which was then used as a chapel for the college) at his own charge. In 1537 he was rector of Caysterton Parva, in Lincoln diocese, and was instituted rector of Ereswell in 1533, being buried in Oxburgh church in 1539, July 19.
1539, Edmund Warter, alias Tofts, presented by Richard Warden, on a grant of the presentation hac vice from the abbot, &c.; at the Dissolution he was Abbot of Hagreby in Lincolnshire, and on the surrender of that house, had a pension from the Crown of 16l. per ann. which he enjoyed in 1553, and was also rector of Thurlethorp St. Helens in Lincolnshire.
1554, Edmund Cosyn, S. T. B. on the deprivation of Warter; (fn. 61) presented by Francis Baldero, Gent.
On the Dissolution of the abbey of West-Derham, the advowson of this church was given to Edward Lord Clinton in the 6th of Edward VI. to be held of the King, as of the manor of East-Greenwich in free-soccage; and in the said year, the aforesaid lord sold it to William Breton of London, Gent. who conveyed it soon after, to Francis Baldero, Gent. of Redgrave in Suffolk, from whom it came to Edmund Dethick, Esq. of Wyrmegay, and then to Henry Reynolds, Esq. of Belstede in Suffolk, who sold it to John Hethe of Lynn Regis, and of Kypier in the county of Durham, who conveyed it to John Chetham of Livermere in Suffolk, Gent. on the 22d of May, 19th of Elizabeth, and Chetham conveyed it to Edmund Bedingfeld 4th of August, 26th of Elizabeth, and Sir Henry Bedingfeld, 18th of Charles I. to Henry Meriton, clerk, of Stilton in Huntingtonshire, which Henry left it to John Meriton, his son, rector here, and he gave it to his widow for life, after whose death it went to John Meriton, clerk, his son and heir, who sold it to Caius College in Cambridge, and that society now hath the patronage.
1558, Edmund Warter iterum; (fn. 62) he was deprived 15th of March 1553, being then a married priest, divorced and suspended from celebrating of divine service: and on the accession of Queen Elizabeth, was restored to his right; he resigned before his death. By his will, dated 27th of January, 1584, he wills to be buried in the middle alley of Oxburgh, by Joan his late wife, and he was accordingly buried 15th of January, 1585, and must have been a very old man, if we consider him an abbot before the Dissolution. In the 11th of Elizabeth, one Edmund Warter was instituted to Heringby in Norfolk.
1579, Thomas Scott, A. M. The Queen by lapse. One of the same name was rector of Northwold about the same same time.
1581, Thomas Nuce, S. T. B. Thomas Chetham, Esq.; he was fellow of Pembroke-hall, rector of Cley All-Saints in Norfolk, vicar of Gasely in Suffolk, and prebendary of Ely. He lies buried in the chancel of Gasely, with this epitaph on a black marble gravestone,
Here who lyes if you Enquere, 'Tis Thomas Nuce his Sepulchre.
Vicar of this Parish late, Whose Soul enjoys a happy State.
And in fullness shall of Tyme, Re-assume this Earthly Slyme.
By his Side, now as in Life, Lyes the Body of his Wife, And who in a Number even, Five Sons brought him, Daughters Seven.
To the World, they living dyde, So dyeing, livinge they abide.
He dy'd the 8th Day of November 1617, She dy'd the 12th of January 1613.
1583, Thomas Scott, ob. probably the same with the aforesaid Thomas Scott, and rector of Northwold.
1607, John Sherwin, A. M. Sir Henry Bedingfeld. He was rector of Ickburgh, and of Beacham-well St. John.
1616, John Sherwin, A. M. ob. Sir Hen. Bedingfeld. Vicar also of Stow Bardolph.
1641, William Scott, A. M. ob. Ditto.
1647, Henry Meriton, A. B. ob. Robert Williamson, John Watts, and Robert Clerk. He was also rector of Boughton.
1707, John Meriton, A. M. (fn. 63) rector of Boughton and Caldecote, ob. buried here in 1707. John Novell, clerk, trustee for Meriton.
1717, September 25, the Rev. Mr. Charles Parkin, A. M. late of Pembroke-hall in Cambridge, the present rector, (fn. 64) was presented by Mrs. Mary Meriton, relict of the last rector, and holds it united to the rectory of Boughton, to whom I am obliged for his great pains and industry in the account of this town, hundred, &c.
Parkin, vert, a chevron between three ostrich's feathers, arg. in a bordure or.
Crest, a demi-woman proper, holding an ostrich's feather arg.
Motto, Nisi Christus, Nemo.
From the ancient wills of persons here buried, we may learn several particulars relating to the Gilds, images, lights, &c. belonging formerly to this church.
1420, Nicholas Blaunche, rector of Shingham, was buried in Oxburgh churchyard, and gave to Shingham church, a chalice and patin, and a legacy to St. Mary's altar, in Oxburgh church, &c.
Richard Reed of Oxburgh wills, in 1438, to be buried before the great crucifix of our Lord in the church of Oxburgh, and gives a legacy to Corpus Christi gild; this gild had 3 acres of land in the field of Oxburgh.
Thomas Wayprow, in 1447, gives legacies to St. Mary's altar, and St. Thomas's altar.
Robert Gelour of Oxburgh, by will dated 30th of October, 1472, desires to be buried on the north side of the church of St. John the Apostle, &c. of Oxburgh, before the image of St. Anne there, gives to the gild of Corpus Christi 6s. 8d.; to the light before the crucifix 11s.; to that before the sepulchre 2s. 4d.: to the green light 13s. 4d.; to Sir William the priest xxd.; to John Blome, chaplain 12d.; and to Sir Thomas, stipendiary priest there 8d.; Thomas Harvey, rector, and John Hewer, executor. Regr. Gelour, p. 1.
Richard Sparwe or Sparrowe, in 1412, desires to be buried before the image of the crucifix standing on the south side of the church of Oxburgh, bequeaths legacies to the gilds of Corpus Christi, and St. Thomas, to the torches, and towards the maintenance of the 15 waxcandles burning before the image of St. Mary, in that church; he also gives 6 acres and 3 roods of free land in the fields of Stow Bedon called Burgh Crofts, to the maintenance of a wax-candle to burn before the image of the crucifix in time of divine service. Regr. Caston, p. 189.
John Rowning, by will dated in 1500, desires to be buried in the church of Oxburgh; Item, I bequeath to Mary my Wife 4 Acres of Land, and 4 Fete more or lece, lying at the Mill-Hill, for Terme of her Life, to the Intent that she shall keepe for my Sowl, and all Crystian Sowls, a competent Yereday Yerly during her Life; and after, to the Disposition of the Church Revyse of Oxburgh then beyng, they to occupy it, to the Beholfe of the said Church, provided alway that my Yer-Day be Yerly observed and kept. Regr. Spyltimer, p. 285.
The Lady Margaret Bedingfeld, by will dated 12 January, 1513, gives to the gilds of the Holy Trinity, St. Thomas, and CorpusChristi here, 6s. 8d. to each, and legacies to the high altar of several neighbouring churches.
They were called gilds, from the Saxon word [Gild] or [Geld] which signifies money, because a gild is a society or fraternity, associating themselves either upon the account of charity, religion, or trade, and they contributed money, goods, and often lands, for the support of their common charges, and are said to be common, even in the Saxon times. These gilds had their frequent meetings, and their grand annual, on the day of the saint to whom they were dedicated, and maintained a priest or priests, to sing mass, and celebrate divine service, for the souls of the King and Queen, and for the souls of the living and dead of their fraternity; from hence the several companies in cities and corporations had their beginning, and the chief hall of the city of London, and that of Norwich, &c. is called at this day Gild-Hall: license was generally granted from the Crown to found them. They consisted of a custos, alderman, or master, and as many persons men and women, in the township or neighbourhood as thought fit to be of the fraternity; and the warden or alderman, with the major part of the society were empowered to choose annually a warden and other officers, for the government of the same; they as a body corporate, had power to purchase lands, &c. for the maintenance for their chaplains, who were to pray at the altar belonging to them in the parish church: divers of the nobility, bishops, and other eminent persons thought it no dishonour to be admitted into them, which admission was sued for with great reverence; and an oath was taken to be good and true to the masters of the gilds, and to all the brethren. We have an account of a festival of the gild of the Holy Cross at Abingdon in Berkshire: this fraternity held their feast yearly on the 3d of May, the Invention of the Holy-Cross, and then they used to have twelve priests to sing a dirige, for which they had given them four-pence a piece; they had also 12 minstrels, who had 2s. 3d. besides their diet and horsemeat. At one of these feasts 23d of Henry the Sixth, they had six calves, valued at 2s. 2d. a piece, 16 lambs, 12d. a piece, 80 capons, 3d. a piece, 80 geese, 2d. ob. a piece, 800 eggs which cost 5d. the hundred, and many marrowbones, creame, and floure, besides what theyre servants and others brought in; and pageants, plays, and May-games to captivate the senses of the zealous beholders, and to allure the people to the greater liberality; (for they did not make their feasts without profit, for those that sat at dyner pay'd one rate, and those that stood pay'd another.) These plays were histories of the Old and New Testament, the persons therein mentioned being brought upon the stage, whom the poet according to his fancy, brings in, talking to one another; a specimen of one of these plays, called Corpus Christi, may be seen in Stephen's Additions to the Monasticon. These gilds also gave annual charity: stipends to poor persons, found beds, and entertainments for poor people that were strangers, and had people to keep and tend the said beds, and did other works of charity; the houses, where those entertainments were held, were generally near the church; and the house on the south side of the churchyard of Oxburgh, belonged to one of the gilds there, and is called in old writings the gild-hall, and the house on the east side of the said churchyard, was another gild-hall, and belonged to that of Corpus Christi, the cielings being painted and beautified with the portraiture of our Saviour, the five wounds, &c. as may be observed at this day.
South-west of the present church, about half a mile, and near to the rectory-house, stands the ancient parochial or mother church, being a single building of flint, &c. with a finishing over, and having four large buttresses of free-stone, one at each corner: it is a very plain rude edifice about 34 feet in length, and 20 in breadth, very much resembling that draught of the church of Glastonbury, said to be built by Joseph of Arimathea, as exhibited by Sir Henry Spelman, in his History of the Councils.
About the south-west part of this pile, near the foundation of the buttress, a gardener digging some few years past, found a small Saxon brass coin, on one side the legend is Aedelred Rex, the reverse is obscure, but seems to be Leofstan, probably the mint-master. This is that Edelred or Eldred, who was King of England in 946, about whose reign this church was most likely erected. The greatest part of the old pile is still entire, with the arches of the east and west windows, and some of the principals of the old roof; the western part of it is now a dove-house, and has been so time immemorial; it was most likely disused some ages since, upon the building of the other church, as may be supposed from the burials of several rectors there, some ages past. On the north side of the east window, is an arch in the wall, no doubt for the imago principalis, which was enjoined to be in all churches; to this old church there belonged a very large churchyard or cemetery, containing 3 or 4 acres of ground, now part of the glebe; incredible number of human bones and sculls have been dug up, in the ground round this edifice; now the smallness of the old church, bearing no proportion to its cemetery, shows that the parish in those early days was very large, and required a large cemetery to inter them in; but small churches were often found, and very mean ones too, at that time in large places: if there was but room for an altar, and for a number to hear mass, it was sufficient. Preaching in those days, and till near our own times, being often in the churchyards, as under the oak in St. Clement's churchyard, and in the Green-yard at Norwich, at Paul's-cross in London, &c.
This rectory is valued in the King's Books at 18l. 6s. 8d. and is discharged of tenths and first-fruits, and being sworn of the clear yearly value of 40l. it is capable of augmentation.
Synodals 18d. visitatorial procurations to the Bishop 4s. 7d. procurations to the archdeacon 7s. 7d. ob.
Some years since an act passed to impower Sir Henry Bedingfeld, Bart. lord here, to drain, improve, and enclose seven hundred acres of land called Oxburgh common, which was accordingly done. The village contains about 30 houses and 180 inhabitants.
Burials of gentlemen, &c. from the parish register.
1540, Thomas Woodrofe, chaplain.
1541, Mr. Edward Greene, Gent.
1542, Mrs. Margaret Yelverton.
1570, Edmund Grimston, Gent.
1584, William Tassel, Esq.
1580, Robert Constable, Esq.
1587, Grace, wife to George Ryveley, rector of South-Pickenham.
1597, Thomas Bretton, Gent. From the year 1607, to 1660, there is a chasm in the register.
1684, John Shadwell, Esq. (father of the poet Shadwell.)
1685, John Bedingfeld, Esq.
1685, Mrs. Susan Clough, wife of Mr. John Clough, rector of Suffield.
1715, Robert Lawrence, Gent. of Brockdish.
1720, Mrs. Anne Lawrence, widow of Robert.
1732, Mrs. Mary Parkin, late wife to the present rector, and widow of his predecessor.
1736, William Pordage, Gent.