Pages 115-119
An Essay Towards A Topographical History of the County of Norfolk: Volume 7. Originally published by W Miller, London, 1807.
This free content was digitised by double rekeying. All rights reserved.
NORTON, or PUDDING-NORTON,
Was an hamlet or beruite, at the survey, belonging to the King's manor of Fakenham, containing half a carucate of land, and a bordarer, and half a carucate, and half an acre of meadow, &c. There were also 7 socmen who held a carucate, and 20 acres; it was 3 furlongs long, and 2 and an half broad, and paid 6d. half-penny gelt; and here was a church endowed then with 8 acres, that were valued at 6d. per ann. (fn. 1)
Edmund de Lexham, son of John de Lexham, was lord in the 6th of Edward I. and in the 26th of the said King, John de Lexham, as lord, held a court baron, had free bull and boar, and the assise of bread and beer; Edmund de Lexham was his son, and held a court Ao. 7th, 15th, and 20th of Edward II. and Edmund appears to have a lete in the 5th of Edward III. Edmund de Lexham, and Matilda his wife, were living in the 7th of Edward II. and 21st of Edward III. In the 2d of Edward II. Ralph de Docking had 13 messuages, 15 acres of land, one of meadow, 2 of pasture, and 6 marks rent here, in Testerton and Tofts, settled on him by the said Edmund and Maud; and in the 9th of Edward III. John de Patesley, and Henry de Pagrave held a court, probably as trustees. In the 21st of that King, John Neuman of Puding-Norton grants to Edmund de Lexham, and Maud his wife, several homages, services and rents, wards, reliefs and eschaets here; and in failure of heirs of the said Edmund and Maud, to Osbert de Mundeford, and John his son. This John held his first court, after the death of Edmund de Lexham, without issue, on Monday before the feast of St. Alphage in the same year, held of the Lord Scales in free soccage, and that lord of the King, of the honour of Hawley. Osbert de Mundeford had a court and lete in the 46th of the said King; Osbert his son was lord in the 8th of Richard II. and dying about 1496, was succeeded by his son Osbert Mundeford, Esq. who occurs lord in the 12th of Henry IV. and of Hockwold, where the family resided; and by his will, dated in 1456, October 4, and proved December 20, following, was buried in the church of Hockwold, and gave legacies to that church, and those of Norton, Barrow in Suffolk, &c. By Margaret his wife, he left Osbert his son and heir, who married Elizabeth, daughter of — Berney, Esq. who being his widow in the 39th of Henry VI. held this manor, by whom he had Mary, his daughter and heir, who brought it by marriage to Sir William Tindale, Knight of the Bath, who died lord in the 12th of Henry VII. leaving Sir John Tindale, Knight of the Bath, who by Amphelicia his wife, daughter of Humphrey Canynsbe, Esq. justice of the King's Bench, had Sir Thomas Tindale, Knt. who had livery of this manor in the 31st of Henry VIII. and afterwards sold it (as it seems) to Richard Benson, Esq. in the 13th of Elizabeth, there being several law-suits between Sir Thomas Tindale, John and Henry Tindale, &c. concerning this lordship, then in the possession of Richard Benson: Sir Thomas, with his lady and sons, released on the 10th of June all their right to the said Richard for 100l. by whom it was sold, then valued at 100l. per ann. to Ferdinando Paris, Esq. of Little Linton in Cambridgeshire, in the 18th of the said reign, eldest son of Sir Philip Paris, (one of King Henry the Eighth's chief visitors of the abbies, &c. at the Dissolution,) by Margaret his wife, daughter and coheir of Thomas Bowes, Esq. citizen and mercer of London: Ferdinand, by Frances his wife, daughter of Thomas More of Whaddon in Cambridgeshire, had Philip Paris, Esq. his son and heir, who by Magdalen his wife, daughter of Charles Waldgrave, Esq. of Staningfeld in Norfolk, left at his death, September 20, Ao. 13th of James I. several daughters; Frances, married to Francis Dame, Esq.; Eleanor to Edward Atslow, Esq. of Downham in Essex, son of Edward, a famous physician, &c.; and two sons; Charles Paris, the eldest, married Mary, daughter of Sir John Gates, but died without issue in the 15th of King Charles II. and was succeeded in his estate here by his brother, John Paris, Esq. who took to wife Ann, daughter and heir of Thomas Cocket, Esq. of Brunsthorp in Norfolk, (by whom he had issue, (fn. 2) a daughter and heir,) and afterwards was the wife of Sir Joseph Coulston, M.D. She held it in jointure, and on her death, about 1698, this lordship came to the descendants of the sisters and coheirs of Charles and John Paris, Esq. aforesaid, as this pedigree sets forth: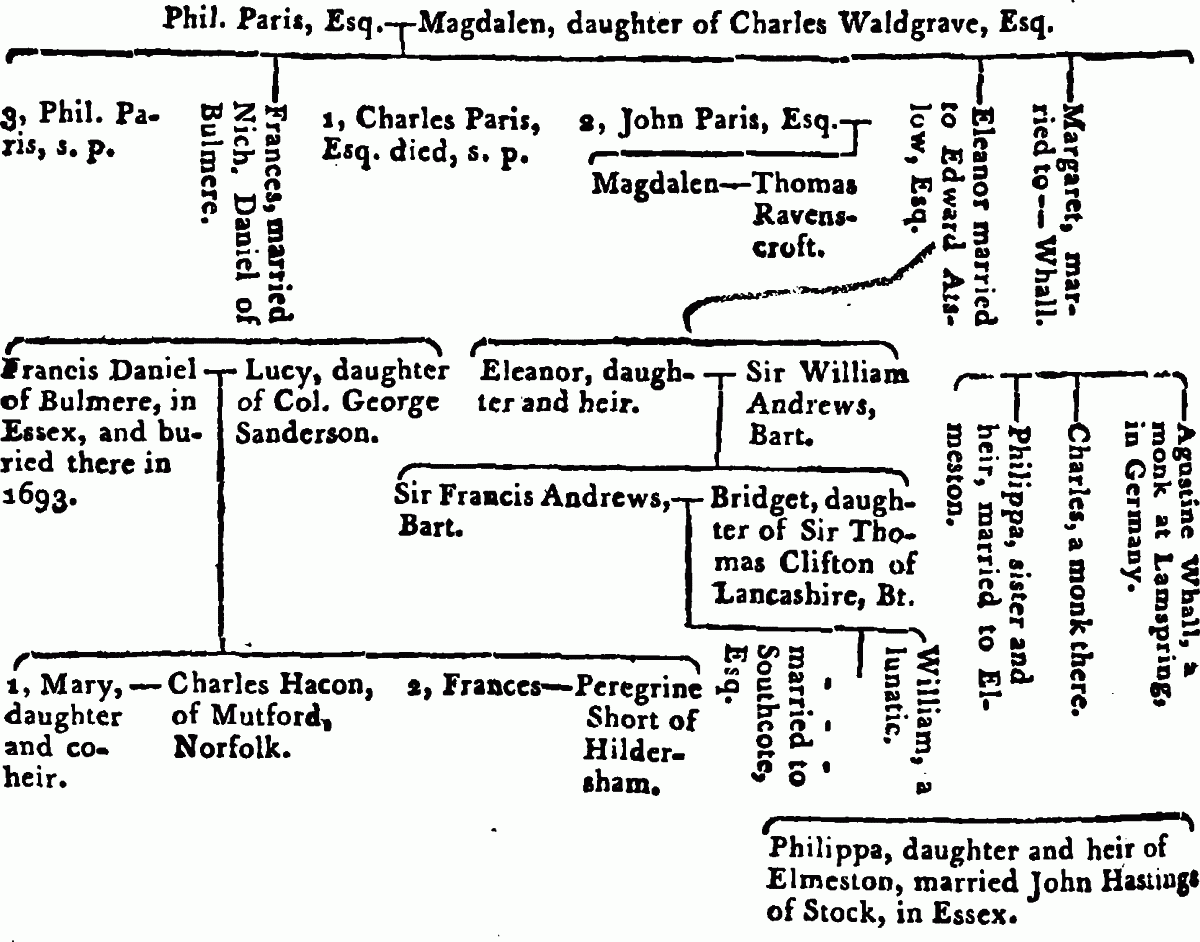 Sir Francis Andrews, one of the coheirs, purchasing the rights of Mary, wife of Charles Hacon, of Frances, wife of Peregrine Short, and of Philippa, the wife of John Hastings, became lord of this manor, and lived there in the year 1700. Sir Francis descends from Thomas Andrews, Esq. who was high sheriff of Northamptonshire in 1587, and attended at the execution of Mary Queen of Scots, at Fotheringay. He was succeeded by Robert Andrews, Esq. of Harleston, in the said county, who, by Elizabeth his wife, daughter of William Gent, Esq. was father of Sir William Andrews of Denton in Northamptonshire, created Bart. December 11, 1641; who by Catherine his lady, daughter of John Flamstede of Denton, had two sons; Sir John, the eldest, dying without issue, was succeeded by his brother, Sir William, (fn. 3) who (by Eleanor, daughter of Edward Atslow, Esq. of Downham-Hall in Essex, and his wife Eleanor, daughter and coheir of Philip Paris, Esq.) left at his death, August 15, 1684, Sir Francis Andrews, Bart. who by his lady Bridget, daughter of Sir Thomas Clifton of Latham in Lancashire, had a son, William, a lunatic, and a daughter, Bridget, married to Philip Southcote, Esq. of Weybridge in Surry, a younger son of Sir Edward Southcote of Witham in Essex, who was the late lord, Sir Francis having resigned it to him. This lordship is said to be held in free soccage of the King's manor of Fakenham, by the payment of 3l. 6s. 8d. per ann.
Hempton-Priory Manor,
Extended into this town; and in the 3d of Edward I. the prior held in Norton, and in Tofts, 2 marks rent per ann. purchased of William de Helveton by William de Waterden; the Lord Bardolf held it of the Earl Warren, who held it in capite. In 1428 the temporalities were valued at 22s. 4d. q. and after the Dissolution King Henry VIII. granted it, September 9, in his 37th year, to Sir William Fermer, and Thomas Fermour, Esq. his nephew, sold it to Richard Benson, Esq. from whom it came to the Paris's, &c. and was united to the capital manor abovementioned.
Here was also another lordship. Margaret, widow of Lambert of Pudding-Norton, in her widowhood, granted and confirmed to Henry, son of Lambert of Pudding-Norton, all her right in lands, meadows, pastures, homages, reliefs, with part of a foldcourse, &c. paying to her for life 2 quarters of barley, and after her decease to the chief lord of the fee, Sir Wydo de Ferreris, and to Elizabeth his wife, 3s. 10d. ob. and to the Earl Warren all his hundred court at Gallowe, 3d. —Witnesses, Sir Roger de St. Martin, John de Lechesham.
It is to observed, that this is the first time that I meet with the additional, or adjunct name of Pudding, from its dirty site, most likely; thus Puddington in Devonshire, Pudlemore in Somersetshire, or from some little stream of water.
In the 24th of Edward III. Thomas Berte of Wadeton, and Elizabeth his wife, confirmed to Hamon de Wodenorton, and Joan his wife, and the heirs of their bodies, all the lands, tenements, and foldcourse, in Puding-Norton, which was the part or share that came to Elizabeth on the death of Hugh de Greston, her brother, with her part of the rents, services, &c. of the free tenants in Puding-Norton, Colkirk, Testerton, Oxwyk, and Wyssingset:—Witnesses, Osbert de Mundeford, lord of Norton, &c.
In the 5th of Henry V. it appears that there were 2 manors, called Newhall and Pekhall, and the site of Newhall was by the church. Henry Fermer bought, in the 4th of Henry III. a manor here of John Brigham, which in the next year he conveyed to William Shaa of this town; and in the 29th of that King, John Perne quit-claimed to Oliver Reynes of Burnham Ulp all his right of this manor, purchased by Oliver of William Shaa, of Richard Banyard in the said year; Richard Ward, executor to Thomas Perne of this town, sold it, Ao. 11th of Henry III. to Banyard, who had married Agnes, the widow of Thomas Perne.
Michael Lamming had also a lordship, and paid suit of court every three weeks to the prior of Hempton; also every three weeks to the court of Fakenham, paying 2s. 9d. per ann. also suit of court to the hundred, and pays 2d.—Henry Lamming of Norton, in the 18th of Elizabeth, conveyed all his right in lands, messuages, and services, late his father's, William Lamming, to Richard Benson; and so this came also to the Paris's, &c. and to Sir Francis, and to Southcote, who was lord of the whole village, and is now in his widow.
The tenths were 1l. 2s. 3d.—Lete fee to the lord of the hundred 4d.
A patent was granted, April 11, Ao. 4th Edward VI. to Thomas Bishop of Norwich, and his successours, of the manors of Peterston and Norton, with land, called Dovehouse Close, in Norton, lately belonging to Walsingham priory. It is now a depopulated village, only a hall, or manor-house, with a farm-house remaining.
The Church, which is now in ruins, was dedicated to St. Margaret, and there was her guild here; nothing now remains standing but part of a small four-square tower, and is a rectory valued at 6l.—The ancient valor was 15 marks. Peter-pence 10d. ob.
Rectors.
Reymond was rector in the 24th of Edward I.
1310, Roger de Ductone, presented by Gilbert de Clare Earl of Gloucester, by grant of the King.
1316, Henry Hale, by David de Strathbolgy, Earl of Athol.
1343, William de Walcole, by Isabel Queen of England.
1347, William de Watton. Ditto.
1348, John de Creyk. Ditto.
1355, John de Harpele. Ditto.
1387, Phil. Stanton, by the King.
1387, John Drew. Ditto.
1389, William de Slotheby. Ditto.
1415, Henry Kays. Ditto.
1418, Edmund Knyvet. Ditto.
1421, Walter Barker. Ditto.
1425, John Brodewyn. Ditto.
1439, William Welford. Ditto.
In 1460, William Wode occurs rector.
1465, William Cory. Ditto.
1489, Andrew Wylliamson, by the Bishop, a lapse.
1596, Robert Lawe, by William Conynsby, serjeant at law, as guardian to the heir or Sir William Tindale,
Richard Ward occurs rector 1518.
1537, Robert Reder, by William Fermor, Esq. on a grant from John Tindale, hac vice.
1549, John Whight, by Sir William Fermor, Knt.
1554, Richard Stapleton, by the Bishop, a lapse.
1575, Richard Russell. Ditto.
1576, John Dalton, by the assignees of Ferdin Paris, Esq. William Toll.
1603, Robert Allison, by William Keynolds.
1624, Nath, Clarkson, by Charles Paris, Esq.
1661, William Carter, by Mary Paris, widow.
1671, Roger Bayly, Ditto.
1702, Timothy Caryan held it by sequestration.
1711, Thomas Jessop, by Franc. Westhorp.
1737, Henry Roberts, by Charles Cooper Morley, Esq.
1744, Michael Bridges. Ditto.
Here were St. Margaret's gild, the lights of St. Margaret and St. Mary.