Pages 260-261
A History of the County of Bedford: Volume 2. Originally published by Victoria County History, London, 1908.
This free content was digitised by double rekeying. All rights reserved.
THE HUNDRED OF CLIFTON
Containing The Parishes of Arlesey; Campton-Cum-Shefford and Chicksands; Clifton; Henlow; Holwell; Meppershall; Shillington (part of) with Lower stondon and Little Holwell; Stotfold; Upper Stondon (fn. 1)
The boundaries of this hundred have remained almost unchanged since the Survey of 1086, in which the same places are found mentioned. (fn. 2) The extent of the hundred was 91 hides 3 virgates, assessed at £93 3s. in 1086, as opposed to £103 12s. in the reign of the Confessor. Shillington has always extended into the two hundreds of Clifton and Flitt; (fn. 3) the abbots of Ramsey, who held Shillington till the sixteenth century, owed suit at both hundred courts. (fn. 4) The civil parish of Holwell was transferred by Local Government Board order to the administrative county of Hertford in 1897.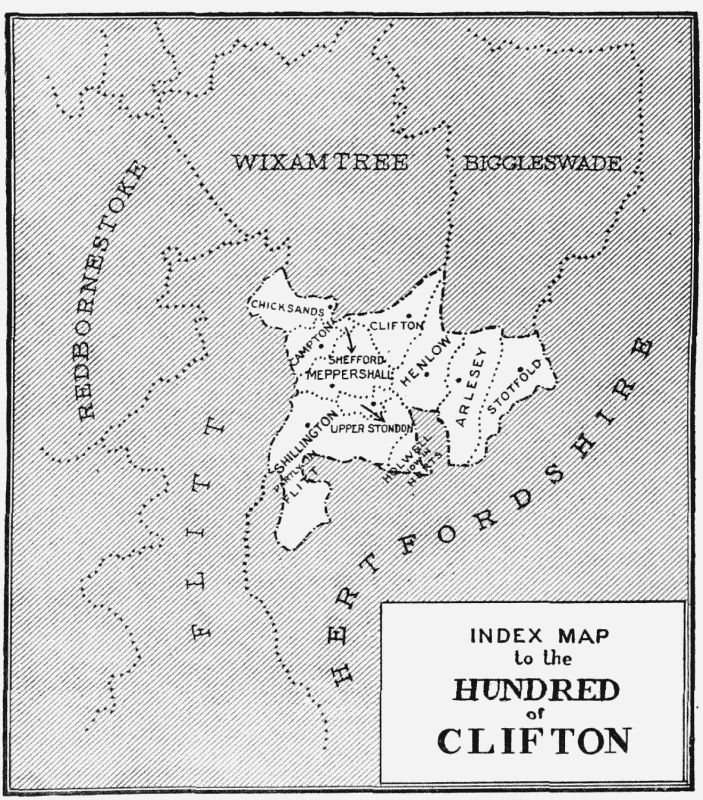 Clifton was a royal hundred, and remained, so far as is known, in the hands of the crown until 1631, when Charles I made a grant of the hundred to Thomas earl of Cleveland, (fn. 5) which grant became forfeited in the time of the Commonwealth. (fn. 6)
Clifton paid £39 12s. 1d. towards a general subsidy in 1313; (fn. 7) for shipmoney in 1637 it was assessed at £16 3s. 10d., (fn. 8) whilst the returns of a polltax levied in 1667 were £196 1s. (fn. 9)
By the time of a survey taken of this hundred in 1651 it was declining in value, the total of rents and royalties was £7 15s. 10d., (fn. 10) and the court leet had for some time fallen into disuse. (fn. 11)