Pages 256-261
A History of the County of Bedford: Volume 3. Originally published by Victoria County History, London, 1912.
This free content was digitised by double rekeying. All rights reserved.
SOUTHILL with ROWNEY
Sudgible, Sudgivele (xi cent.); Southyevell (xii–xiv cent.). Rueye, Runheye (xii, xiii cent.); Rowndehay, Rownhey (xvi cent.).
Southill with Rowney, including the hamlets of Stanford and Broom and the extra-parochial hamlet of Shefford Hardwick, forms a large parish lying a mile west of the Roman Way. The land slopes towards the River Ivel, which forms the eastern and southern boundary of the parish. The lowest point is near Stanford Mill, and is 108 ft. above the ordnance datum; the highest point north of Rowney Warren is 269 ft. above ordnance datum. The area is 6,094¾ acres, of which 3,122 acres are arable land, 888¾ are permanent grass and 341 woods and plantations. (fn. 1) The soil is partly gravel and partly clay, the subsoil principally clay. The chief crops are wheat, barley, beans and turnips; an increasing area is devoted to market-gardening, an industry which is rapidly developing.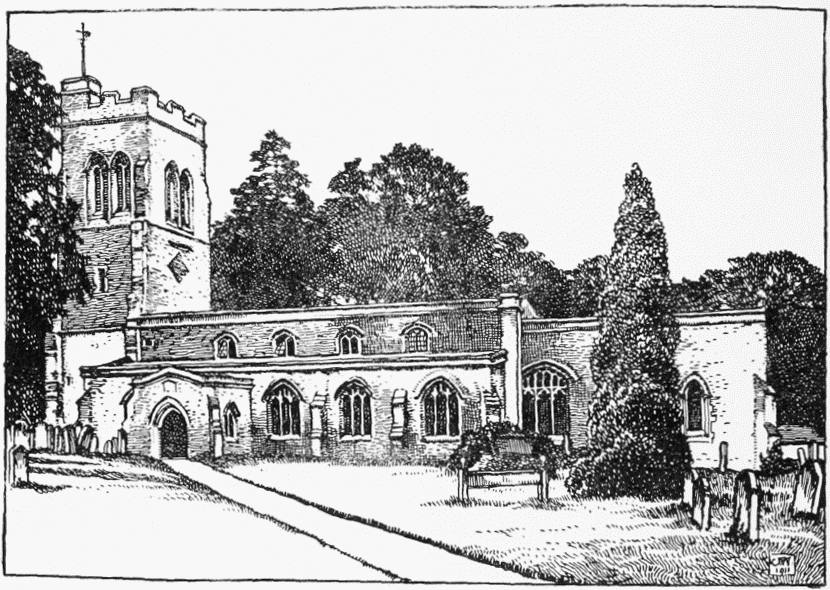 Southill village is of considerable size; it consists mainly of substantial thatched or tiled cottages— many bearing the initials of that Samuel Whitbread who purchased property here more than 100 years ago—standing in pleasant gardens or orchards. There are a few examples of half-timbered cottages. The ancient church stands at the extreme north-west corner of the village away from the main street. (fn. 2) Southill Park, the seat of Mr. Samuel Whitbread, covering some 800 acres, is west of the village. The grounds are well wooded and include a fine sheet of ornamental water. About 2 miles west of the village is Southill station on the Bedford and Hitchin branch of the Midland Railway.
Stanford is a scattered hamlet containing a school, two inns and a mill. Stanfordbury Farm lies near Shefford Hardwick, which consists of one farm, the property of Mr. Samuel Whitbread.
Broom forms a compact little hamlet in the eastern part of the parish, containing Broom Manor Farm, an infant school and an assembly room. Broom Hall, the residence of Mr. Rupert Fordham, in the north of the hamlet, stands in a fine park. Gastlings, which derives its name from the Gastlyn family, who lived there in the 13th century, is in the west of the parish. A few scattered houses to the north of the parish are known as Ireland (the Inlonde of the 16th century (fn. 3) ).
Two Romano-British vaults were found near Stanfordbury Farm in this parish in the early part of the 19th century. (fn. 4)
The following place-names have been found in documents relating to this parish:—Stratfurlong, Trottesmere, Rowmerfurlong in the 14th century; Cockinsteleland, Herteshyne, le Meredither, Doys House, Bryky Close, Duf Close, Great Hell Close, Ketilsey, Pondefeld, Graces Ground in the 16th century.
The names of Johnson and his biographer Boswell are connected with Southill. John Dilly, brother of Edward and Charles Dilly, the booksellers in the Poultry, lived here, and was visited by Boswell in 1779. Two years later Johnson accompanied his friend on a visit to the same hospitable mansion. 'He found himself very happy at Squire Dillys, where there is always abundance of excellent fare and hearty welcome.' Johnson attended the parish church, and subsequently drank tea with the vicar. From Southill he went on to see Luton Hoo, recently built by the Marquess of Bute. (fn. 5)
MANORS
In 1086 Hugh de Beauchamp held 2 hides 1 virgate of land which later became known as SOUTHILL MANOR. (fn. 6) This land appears to have passed from the Beauchamps to Warden Abbey some time in the 12th century, for in 1198 its charter of confirmation contains mention of land in Southill. (fn. 7) In 1330 the abbot claimed view of frankpledge and rights of free warren in this manor, (fn. 8) which was retained by the abbey till the Dissolution, its value being then estimated at £32 18s. 10d. (fn. 9) The manor remained for some time Crown property, (fn. 10) but one of the more important estates in Southill which emerged after the Dissolution, Fisher's Grange, which in the previous century had been held by Sir John Fisher and Agnes his wife, (fn. 11) by whom they had been granted to Warden in 1506, was acquired in 1542–3 by Sir Michael Fisher. (fn. 12) It passed by the marriage of his granddaughter and heir Agnes to Oliver Lord St. John of Bletsoe, who died in 1582. (fn. 13) Their son Oliver died in 1618 holding the same land in Southill, but their grandson Oliver, created Earl of Bolingbroke in 1624, had acquired the manor in addition to the grange, probably by purchase, before 1641. (fn. 14) He was killed at the battle of Edgehill in 1642, fighting on the side of the Parliament, and was succeeded by his grandson Oliver. (fn. 15) It has not been found possible to trace how Southill Manor passed from the Bolingbrokes to the Ongleys, but in 1792 it was in the possession of Robert second Lord Ongley, who still held it in 1797, (fn. 16) and whose family had acquired considerable property in Southill at different times. The greater part of his lands in this parish he exchanged with Samuel Whitbread early in the 19th century for an estate in Old Warden. (fn. 17) Lord Ongley, however, retained the manorial rights in Southill, and they passed on his death in 1814 to his son Robert third Lord Ongley, (fn. 18) who conveyed them to Joseph Shuttleworth, when the latter purchased nearly all the Ongley estates in Bedfordshire between the years 1869 and 1873. After his death in 1883 these rights passed to his son Col. Frank Shuttleworth, (fn. 19) who is the present lord of the manor of Southill.
Other tenants in Southill in 1086 besides Hugh de Beauchamp were designated as two Frenchmen, holding of William Spech 5 hides ½ virgate. (fn. 20) The overlordship of the land belonging to one of these tenants, which later became known as GASTLYNS or GASTLYNBURY MANOR, fell to the inheritance of Albreda, the younger sister of Walter Espec, who married Geoffrey de Trailly. (fn. 21) It became attached to the honour of Trailly, comprising the possessions of Albreda's descendants, with the exception of half a virgate of land which belonged to the neighbouring fee of Simon le Bel of the barony of Warden. (fn. 22) The Trailly overlordship is last mentioned in 1428. (fn. 23) The half virgate does not reappear in connexion with Gastlyns after 1284–6, and was probably reabsorbed in the neighbouring fee.
In 1229 Walter de Godarvill, the first tenant of the manor whose name has been traced, was reinstated by the king in his land in Southill, (fn. 24) and continued in possession until his death in 1250, when the manor was held by a yearly rent of 6d. and a pair of gilt spurs. He was succeeded by his daughter Joan, the wife of Sir Geoffrey Gastlyn, from whom the manor derives its distinctive name. (fn. 25) She survived her husband, and was succeeded by her son Edmund in 1286–7, (fn. 26) who alienated the manor to Hugh Doffevill in 1301 for 100 marks, but was re-enfeoffed later by Hugh with his wife Isabel. (fn. 27) She held the manor in 1313, being succeeded by her son John before 1316. (fn. 28) He was living in 1337, but in 1346, his heir Edmund being under age, the manor was entrusted to the care of his aunt, Alice Gastlyn, and John Baret. (fn. 29) He must have died without direct heir, for Alice was lady of Gastlyns in her own right in 1356, (fn. 30) but by 1363 the manor had been alienated to John Creuker for his life, with reversion to Geoffrey Gastlyn, Alice's son, which reversion the latter granted in that year to Richard Gregory and others in trusteeship. (fn. 31) Six years later they assigned the manor to Warden Abbey on condition that two chaplains were provided to celebrate divine service daily for the souls of Geoffrey and Alice Gastlyn, of their ancestors and of all faithful departed at the altar of St. Mary in the conventual church of Warden, (fn. 32) whose abbot paid £100 for a licence to hold this gift in mortmain. (fn. 33) Gastlyns Manor remained in the possession of Warden Abbey until the Dissolution. (fn. 34) In 1544 it was in the tenure of John Gardiner, and was granted to Francis Pigot of Stratton, (fn. 35) whose son Thomas conveyed it to Hugh Cartwright in 1566. (fn. 36) In 1587 William Cartwright alienated it to Nicholas Thurgood and his heirs, (fn. 37) who remained in possession for eighty years. The will of Thomas Thurgood, great-nephew of Nicholas, was proved 4 January 1648, in which Gastlyns was left to his elder son John, with contingent remainder to his younger son Nicholas. (fn. 38) In 1667 John Thurgood conveyed the manor to Sir John Keeling. (fn. 39) The Keeling family were still represented at Southill in 1707, (fn. 40) and their property there was probably sold about this time to Sir George Byng, who bought largely in Southill during the second decade of the 18th century, and was created Baron Byng of Southill in 1721. (fn. 41) His grandson George fourth Lord Torrington was in possession of Gastlings Manor in 1762, (fn. 42) and sold it in 1795 to Samuel Whitbread, (fn. 43) whose family have since resided at Southill Park, the present representative being his great-grandson Mr. Samuel Whitbread, J. P.
In the time of Edward III John Gastlyn claimed the right of free warren in Gastlyns, and produced a charter of King Henry III to his mother Joan granting her this right and also that of a weekly market on Tuesday. (fn. 44) The free warren in 1369, when the manor was assigned to Warden Abbey, was worth 6s. 8d. yearly, (fn. 45) but no reference was made to the market, which had apparently fallen into disuse.
The land which belonged to the other French tenant of William Spech in Southill at the time of the Domesday Survey was held in 1166 by John le Bel and was attached to the barony of Warden. (fn. 46) In the next century it was known as the fief of Simon le Bel, held of the heirs of Warden, (fn. 47) and in 1284–6 was divided between the Abbot of Warden and the Priors of Chicksands, Newnham and St. John of Jerusalem. (fn. 48) No later mention of the overlordship has been found in Southill; the greater part of the land was absorbed by Warden Abbey before 1346 and became part of their manor in Southill. (fn. 49) The principal part of the property of Chicksands Priory in Southill evidently consisted of the Tithe Mills, which were situated in Clifton and Southill and have been treated under Clifton. (fn. 50) The value of the land which they possessed in Southill itself at the Dissolution was only worth 2s. 8d. (fn. 51) With the exception of the rectory the land attached to Newnham Priory at that time was valued at £1 19s. 2d. (fn. 52) In the reign of Edward III the Prior of St. John of Jerusalem held view of frankpledge at his manor at Langford for the tenants on his land in Southill. (fn. 53)
There are three entries dealing with small portions of land in the hamlet of Stanford in Domesday. Roger held of Hugh de Beauchamp 1 hide which Ailmar d'Ow held and could sell to whom he wished (fn. 54); secondly, Alric held in chief a quarter of a virgate which had belonged to him in the time of King Edward, and which he could assign as he chose; and lastly, Ordin, who was a man of King Edward, and who also possessed a quarter of a virgate, as he had done under Edward the Confessor, which he could sell as he pleased. (fn. 55) The last two holdings do not reappear, and probably became attached to the manor of Eaton or absorbed in the barony of Bedford, which are both traceable in Stanford by 1284–6. (fn. 56) These overlordships continued in Stanford, the last reference that has been found to the Eaton Barony being in 1360, (fn. 57) to the barony of Bedford in 1499. (fn. 58)
There were two manors in the hamlet of Stanford. Of these STANFORDBURY MANOR derived its origin from land which was confirmed to Warden Abbey in 1198 in a charter of Richard I. (fn. 59) Various small grants were added to this from time to time, (fn. 60) and in 1257 the abbey possessed nearly 4½ hides in Stanford attached to the barony of Bedford, (fn. 61) which in 1284–6 represented the corresponding half fee to that held by John le Child. (fn. 62) The manor remained with the abbey until the Dissolution. (fn. 63) In 1543 the Crown granted Stanfordbury to Edward Gostwick and his wife Dorothy. (fn. 64) The former died in 1558, leaving as his son and heir William, then aged fifteen years, (fn. 65) who had livery of the manor in 1564, (fn. 66) and in the same year conveyed it to Oliver Lord St. John of Bletsoe, brother and heir of John Lord St. John referred to above, (fn. 67) who died seised of it in 1618. (fn. 68) After this it appears to have followed the descent of Southill Manor (q.v.), and passed to the Whitbread family, who own it at the present day, the name being retained in Stanfordbury Farm. (fn. 69)
STANFORD MANOR
STANFORD MANOR, the second manor in this parish, was in 1284–6 in the possession of John le Child, who died before 1287. (fn. 70) His son, also John, alienated it before 1316 to John de Pabenham, (fn. 71) son of Sir John de Pabenham of Pavenham Manor (q.v.). John de Pabenham the younger died seised of Stanford Manor in 1330. (fn. 72) His widow, Joan, was holding in 1346, and her son James established his right during the following year as her heir. (fn. 73) No later connexion, however, of the Pabenhams with the manor has been found, and it was probably this land which was granted to Warden Abbey in 1360 by William Burlee and others, (fn. 74) as it had passed into the possession of the abbey before 1428. (fn. 75) After the Dissolution it was leased for terms of years, but by 1574 Cuthbert Reyner had received a permanent grant from the Crown and sold it in that year to George Mordaunt. (fn. 76) There was a long law-suit between George Mordaunt and Thomas Bedell, which in 1579 resulted in the confirmation of the property to the former. (fn. 77) In 1595 he conveyed it to John Lord St. John of Bletsoe, (fn. 78) after which date it becomes absorbed in the manor of Stanfordbury (q.v.).
View of frankpledge and a free fishery in Stanford water were named in connexion with Stanford Manor in 1574 and 1579, (fn. 79) and view of frankpledge and a court leet were included in the grant of Stanfordbury to Edward Gostwick. (fn. 80) Roger, Hugh de Beauchamp's tenant at Domesday, owned a moiety of a mill in Stanford worth 5s. (fn. 81) Stanford Mills at the Dissolution were worth £2 (fn. 82) and one was named in 1579. (fn. 83) A water-mill mentioned in 1632 and 1792 (fn. 84) is probably the same as that existing at the present day.
There is no reference to Shefford Hardwick in Domesday, but William le Caron's half-virgate of land evidently lay in this part of the parish of Southill, for the Caron family were still living there in 1298. (fn. 85) It has not been found possible to connect any early holdings in the hamlet with SHEFFORD HARDWICK MANOR, which belonged in 1562 to Peter Grey, who conveyed it in that year to John Whitbread. (fn. 86) John's son William sold it in 1589 to Robert Barbor, whose son, another Robert, of King's Walden, Hertfordshire, sold it in 1614 to William Goldsmith of Campton, who died before 1639–40. (fn. 87) The manor, called Hardwick, in 1650 belonged to Robert Staunton, whose family twenty-two years later still had an interest in it. (fn. 88) From the end of the 17th century the name of Pickering occurs in connexion with this manor, (fn. 89) and in 1764 a moiety of it was owned by a member of the same family, Miss Dorothy Elizabeth Pickering. (fn. 90) After this the manorial rights became lost, and the hamlet at the present day consists almost entirely of a large farm which was purchased by Samuel Whitbread in 1813, apparently from Joseph Ashby Partridge, and has since remained in the possession of the Whitbread family. (fn. 91)
Rowney apparently formed part of the original grant of Walter Espec to Warden Abbey, (fn. 92) consisting of those woodlands which overlapped from Old Warden into Southill, for ROWNEY GRANGE was named among the possessions of Warden Abbey in 1198 in the second confirmation charter of Richard I. (fn. 93) At the Dissolution it was granted temporarily to William Rolte, serjeant-at-arms, and in 1544 to Francis Pigot of Stratton, (fn. 94) whose widow Margery surrendered her life interest in the grange to Thomas Pigot, her husband's son, (fn. 95) and he in 1566 alienated it to Hugh Cartwright. (fn. 96) In 1587 Hugh's relative, William, alienated Rowney Grange to Nicholas Thurgood, who in his turn conveyed it to Sir John Brett in 1599. (fn. 97) Owen Brett succeeded his father in 1620. (fn. 98) He fought on the king's side in the Civil War, and in 1651 he was fined £1,396 13s. 4d., of which sum two days later he was only able to pay £100. (fn. 99) Soon after Rowney Grange was conveyed by fine to Henry Wynn and his son John for £200. (fn. 100) With the exception of a later conveyance by fine in 1663, in which a quitclaim was granted to Peter Newes and others from Brett Norton and Sarah his wife, (fn. 101) Rowney does not reappear as a separate estate. The name survives in Old and New Rowney Farms, which belong to Mr. Whitbread at the present day. (fn. 102)
A grant of free warren in the woods belonging to Rowney Grange was made to Warden Abbey in 1252, with a special protection against the distraint of their sheep and a fine of £10 against any disturbing their peace. (fn. 103) The right was claimed by the abbot under Edward III as from time immemorial. (fn. 104)
The rabbit warren in Rowney was granted in 1519 to Michael, afterwards Sir Michael Fisher and John his son for life in survivorship, by Augustine, Abbot of Warden, the reversion of which was granted in 1544 to Francis Pigot for £698 6s., at the same time with Rowney Grange. (fn. 105) There are frequent references to this warren during the 16th century, the ownership following that of the grange. Under Elizabeth none of the queen's tenants of Southill had any right of common for cattle in Rowney Grange lands. (fn. 106)
HOLME MILL GRANGE
HOLME MILL GRANGE was an estate belonging to Warden Abbey, which after the Dissolution was conveyed in 1594 to Richard Sutton for the use of George Fish, queen's surveyor in the county of Bedford. (fn. 107) George Fish died in 1603, and was succeeded by his son Sir John Fish. (fn. 108) The estate was alienated by Sir Edward Fish, son or grandson of Sir John, between 1635 and 1668, (fn. 109) and does not reappear.
Holme Mills formed a separate estate from the grange, (fn. 110) and were granted in 1607–8, being then in the tenure of William Rolffe, to John afterwards Sir John Brett, who died in 1620, leaving a son and heir Owen, (fn. 111) after which they do not reappear as a distinct estate, though the name has survived in the district to the present day. Holme Mill was partly destroyed by fire, and rebuilt, a few years ago. The old water-mill is still working, with additional enginepower. (fn. 112)
There was a rabbit warren in Southill covering 100 acres, and worth £1 13s. 4d. yearly, which after the Dissolution was in the tenure of George Fish, and was granted in 1607 to Sir Edward Phillips. (fn. 113)
The names of five other tenants in Southill were recorded in the Domesday Survey. Of these Walter the Fleming held half a hide of woodland, which his predecessor owned in the time of King Edward, and Alric held 1 virgate of Walter (fn. 114); further, Richard Pungiant owned another half-hide of woodland, which had belonged to Archbishop Stigand before the Conquest. (fn. 115) It has been found impossible to trace the later descent of these holdings. Another of the small Domesday tenants was William le Caron, who held half a virgate of Eudo Dapifer, (fn. 116) to whom reference has been made under Shefford Hardwick.
Countess Judith also owned 1 hide of land in this parish, having Hugh de Beauchamp as her tenant. (fn. 117) This holding followed the same descent as that of Southill Manor, which passed to Warden (q.v.), and in 1257–8 Robert Bruce, representing the honour of Huntingdon, relinquished to Warden all claims in Southill. (fn. 118)
The priory of St. John of Jerusalem had an estate in Stanford in 1284–6 which they held of the barony of Eaton, and which was tenanted by Richard Wyscard. (fn. 119) During the reign of Edward I the prior claimed view of frankpledge in his lands in Stanford under a charter of Henry III, (fn. 120) and in the time of Edward III the courts were held twice a year in the manor of Clifton. (fn. 121) After the Dissolution in 1540 this property was granted to Sir Richard Longe. (fn. 122) The later descent of this estate has not been traced.
The priory of Chicksands owned part of a knight's fee of the barony of Bedford in Stanford during the 14th and 15th centuries, but at the Dissolution their property in the hamlet was only worth 2s. 8d. (fn. 123)
One tenant in Broom is mentioned in Domesday, Nigel de Wast, who held 5 hides of Nigel d'Albini. (fn. 124) It has been found impossible to trace the early descent of this land, but in 1319 land in Broom was named in connexion with Holme and Biggleswade, and awarded to Thomas de Holme and Nichola his wife as against Roger son of Richard de Milnho. (fn. 125) Broom remained closely connected with Holme, for at the end of the 14th century, when Richard II transferred Richard le Scrope's gift of all his lands there to the monastery of St. Peter at Westminster, the grant included all manors, lands and tenements in the hamlet of Broom formerly belonging to Richard le Scrope. (fn. 126) After the Dissolution these lands were granted in 1542 to the Dean and abbey of Westminster. (fn. 127)
CHURCH
The church of ALL SAINTS consists of a chancel 34 ft. 3 in. by 15 ft. 7 in., nave 63 ft. 6 in. by 20 ft. 5 in., north aisle 11 ft. 4 in., south aisle 10 ft. 7 in. wide, and a western tower 12 ft. 1 in. by 12 ft. 9 in.
A repair, almost amounting to a rebuilding, in 1814 has taken away most of the interest of the church. The greater part of the walls and most of the windows are rendered in cement; the chancel, clearstories and upper part of the tower are constructed in brick, the walling of the aisles and the lower part of the tower is of stone and of mediaeval date. All the walls are finished with plain brick parapets, except those of the tower, which are embattled and quite modern.
The east and south-west windows of the chancel are 15th-century work, and the traces of a small blocked south door are to be seen to the east of the latter window, but there is otherwise nothing of interest in this part of the church.
On the north side of the chancel is a sepulchral vault to the Byng family, built of plastered brick; there are several memorial slabs to various members of the family, including one to George Viscount Torrington, Rear-Admiral of Great Britain, who died 17 January 1732. The vault also contains the tomb of Admiral John Byng born in 1704, tried and condemned for error of judgment, and executed 14 March 1757. In the vault is also an old iron-bound chest with three hasps and padlocks. Between this vault and the north aisle is a vestry, in the north wall of which is a two-light window with a wooden frame. The chancel arch is modern, of two chamfered orders with a label, the inner order springing from two moulded corbels.
In the interior the walls of the whole church are plastered.
The nave arcades are of five bays and a half, as on both sides a half bay butts up against the west end, and are apparently 19th-century imitations of 14th-century work, entirely uninteresting in effect. The arches are in two chamfered orders with labels, and spring from piers formed of four rounds with moulded capitals. The clearstories are alike and contain four windows with four-centred heads consisting of two lights in plain wooden frames.
In the north wall of the north aisle, which from the detail of its plinth seems to be of the 14th century, are two 15th-century windows like the east window of the chancel and a 15th-century doorway with a pointed head and label, the jamb moulding being two double ogee orders separated by a hollow. In the west bay is a three-light north window with geometrical tracery of very good style, covered with cement, but apparently old; it must date from c. 1300. In the west wall is a pointed doorway, and there is a blocked opening at the west end of the south aisle. The south door is modern, and opens to a modern porch of plastered brickwork, and in this are four 15th-century windows, each of three cinquefoiled lights, with tracery beneath a four-centred head.
The tower has clasping buttresses at the west angles and square buttresses at the east angles; it is divided by strings into three stages, in the top one of which on each side are pairs of two-light windows, each having a quatrefoil in the head. In the story below are small trefoiled lights, the clock face being set over that on the east side. The west doorway has a pointed arch under a square head with tracery in the spandrels, and over it is a window of three cinquefoiled lights.
There is now no entrance from the tower into the church, but in the tower can be seen the square edge of an eastern arch. The font, which is modern and stands in the centre of the nave between the north and south doors, is octagonal with panelled sides.
At the west of the nave is a gallery in which is the organ, and in the tower is an old chest with moulded panels; the altar table is 18th-century work, but all other woodwork is quite modern. In the floor of the chancel are memorial slabs to John Nodes, 1666, to Mary wife of Thurgood Upwood, 1687, and to Sir John Kelynge, serjeant-at-law, 1680. On the walls of the chancel and aisles and also in the floor of the nave are several 18th and 19th-century memorial slabs.
There are six bells, of which five are by John Briant of Hertford, 1814, and the tenor is by Mears & Stainbank, London, 1867.
The plate consists of a flagon, chalice, paten and credence paten, all of silver and very massive.
The registers previous to 1813 are contained in five books: (1) all 1538 to 1710; (2) all 1710 to 1766, marriages till 1754; (3) marriages (printed) 1754 to 1799; (4) baptisms and burials 1767 to 1812; (5) marriages (printed) 1799 to 1813.
ADVOWSON
The advowson of Southill Church was part of the original endowment of Newnham Priory (fn. 128) by Simon de Beauchamp, as is confirmed in the second charter of Henry I, inspected in 1317. (fn. 129) It remained in the possession of the priory until the Dissolution, (fn. 130) when the Crown retained it in 1605. (fn. 131) In 1640 it, together with the vicarage, belonged to Francis and Richard Bickley, (fn. 132) in 1662 to Thomas Cookson, and later in the century to Sir John Keeling, a member of whose family, another John Keeling, presented to the living in 1681. (fn. 133) He was probably the same John Keeling of Southill who was one of the commissioners of the land tax for the county of Bedford in 1707. (fn. 134) It had been purchased by Sir George Byng before 1711, and remained in his family (fn. 135) until 1795, when it was sold by George Byng fourth Lord Torrington to Samuel Whitbread, who united it to Old Warden in the same year. (fn. 136) The present owner of the advowson is Mr. Samuel Whitbread of Southill Park.
At the Dissolution Southill Rectory, hitherto the property of Newnham Priory, was valued at £17, and became Crown property. (fn. 137) It was leased in 1562–3 to Thomas Marbery, (fn. 138) and afterwards to Richard Lydall and Edmund Bostocke in 1607. (fn. 139) In 1624 it had passed from the Crown to private hands and was conveyed to Humphrey Fishe and his heirs, who still retained half of it in 1695. (fn. 140) The other half passed into the possession of Sir John Keeling, (fn. 141) after which it followed the same descent as the advowson until the parish of Southill was inclosed in 1797, when allotments were made to Mr. Whitbread and Mr. Barber as impropriators of the great tithes and to the vicar for the small tithes. (fn. 142)
CHARITIES
Maynard's and Poor's Land Charity.
In 1557 John Maynard by his will devised land and tenements in Broom, the rents to be distributed to the poor and in the mending of the highways, at the discretion of the trustees. On the inclosure in 1797 certain allotments were made in lieu of the open-field land comprised in the devise and other property then belonging to the poor. In 1906 the trust estate consisted of 14 a. 2 r. of allotment land and 27 poles known as Cook's Lane leading thereto, producing £35 a year, which, augmented by subscribers, was applied in the distribution of coal to sixty recipients.
In 1842 Miss Frances Smith by her will, proved in the P.C.C. 19 August, left £200 to be invested, and income applied for the benefit of the poor of Southill and Old Warden in such manner as the trustees should think fit. The legacy was invested in £214 15s. 3d. consols, which is held by the official trustees, producing £5 7s. 4d. a year. The moiety applicable in this parish was in 1906 distributed among thirty-one recipients.