Pages 76-80
A History of the County of Bedford: Volume 3. Originally published by Victoria County History, London, 1912.
This free content was digitised by double rekeying. All rights reserved.
PAVENHAM
Pabenham (xiii–xvii cent.); Patenham, Patnam (xvi–xvii cent.).
The parish of Pavenham is situated 6 miles northwest of Bedford, and is bounded on the east and south by the River Ouse. It has an area of 1,370 acres, of which 615½ acres are arable land, 561¾ permanent grass and 93¾ woods and plantations. (fn. 1) The slope of the ground is from north to south, the highest point above the ordnance datum being 270 ft. The soil is clay, the principal crops are wheat and barley.
The parish is crossed by a main road passing from Milton Ernest in the east to Carlton in the west. The small village, composed mainly of plastered cottages with thatched or tiled roofs, is situated towards the centre of the parish on either side of this road. Pavenham Bury, belonging to Mr. Joseph Tucker Burton Alexander, is in the north of the parish—a modern building with a good deal of old panelling and a fine 18th-century oak staircase. Behind it on rising ground is the parish church of St. Peter.
Stafford Bridge crosses the Ouse and connects Pavenham and Oakley. It was originally of four stone arches. There are only two remaining, and these are reinforced with large wooden beams. They have chamfered stone ribs on the soffit of the arch, and are probably mediaeval. The remainder of the river (on the Pavenham side) is spanned by steel girders. There is also a small brick arch at the end of the bridge on the Pavenham side. The river here is about 50 ft. wide. It is said to derive its name from the Staffords, lords of the honour of Gloucester, to which Pavenham was attached. (fn. 2) The situation of Pavenham at a point on the Ouse where its tortuous course lends itself to the cultivation of osiers has led to the development of a considerable industry in rush matting and wicker baskets. The former manufacture is said to date from the 17th century. (fn. 3)
There are gravel pits and an old quarry in the east of Pavenham, and prehistoric remains have been found in Miller's Bog. (fn. 4)
The parish was inclosed by Act of Parliament in 1769. (fn. 5)
There is a Wesleyan chapel, built in 1859.
MANORS
Three manors are mentioned in Pavenham in the Survey of 1086, of which one, PAVENHAM MANOR, was held by Turstin, the Chamberlain of the king, in chief. It was assessed at 2½ hides, and had been previously held by Alsi, a man of Alli. (fn. 6) This manor, in common with Turstin's other properties in Campton and Hinwick (q.v.), later became part of the barony of Bedford, and is first mentioned as so held about 1240. (fn. 7) On the subdivision of this barony in 1265 amongst the co-heirs of John, the last feudal baron, the overlordship of Pavenham Manor passed, as in the case of Astwick (q.v.), to Maud de Beauchamp wife of Roger Moubray, and so to the Latimers and Nevills. (fn. 8) The latest reference that has been found to the overlordship occurs in 1614, when Pavenham Manor is described as held of Lord Latimer. (fn. 9)
Turstin Chamberlain was followed in the lordship of Pavenham, or Pabenham as it was then alternatively called, by a family who assumed the name of Pabenham. John Pabenham held a knight's fee in Bedfordshire in 1201–12, (fn. 10) and John Pabenham, a descendant, died seised in 1269 of this manor, then consisting of one messuage, 7 virgates, 21 acres of meadow, a fishery, 12s. 11½d. rent and common of pasture, held for half a knight's fee. (fn. 11) He left a son John, of full age at the time of his father's death, who held this manor till his own death in 1322, when his son John succeeded. (fn. 12) Pavenham Manor is mentioned as part of the possessions of John Pabenham on his decease in 1330, (fn. 13) and in 1340 his son John alienated it to his uncle Thomas Pabenham, (fn. 14) whose death took place in 1345, (fn. 15) in which year William Croyser (who held another manor in Pavenham) received the guardianship of this estate. (fn. 16) An inquisition taken the following year on the possessions of his mother Elizabeth Pabenham sets out in detail the alienation by John Pabenham to Thomas, and expressly states that, after the surrender to Thomas, Elizabeth had no further interest in the manor. (fn. 17) Thomas left a son Laurence, who was under age, as a guardian was appointed, and who survived his father until 1399. (fn. 18) Laurence made a settlement during his lifetime of the manor on his son Laurence and his wife Joan; the former died before his father without heirs, but his widow Joan, afterwards wife of John Waleys, held the manor till her death in 1414. (fn. 19) Laurence Pabenham, senior, left as heir a son John, who died without issue some time previous to Joan Waleys, so that at her death Pavenham Manor reverted to Eleanor wife of John Tyringham and Katherine wife of Thomas Aylesbury as daughters and co-heirs of Laurence. (fn. 20)
They both appear to have taken a moiety of Pavenham Manor, but that of Eleanor Tyringham was the more important and continues to be called Pavenham Manor, whilst Katherine's share will be found treated of later as Cheneys Manor. From Eleanor and John Tyringham the manor passed to their son John, who died seised of it in 1465, (fn. 21) and for seven generations Pavenham continued in the Tyringham family with an unbroken descent from father to son.
The names of the successive owners with the dates of their deaths are as follows: John Tyringham, 1484 (fn. 22); Thomas Tyringham, 1504 (fn. 23); Robert Tyringham, 1531–2 (fn. 24); Thomas Tyringham, 1595 (fn. 25); Anthony Tyringham, 1614 (fn. 26); Thomas Tyringham, 1637–8. (fn. 27) John Tyringham, son of the last-named Thomas, almost immediately on the death of his father sold Pavenham Manor to William Alston, who died seised of it in 1638. (fn. 28) It thus became merged into the larger estate of the Alstons in Odell, under which parish its descent will be found traced until the year 1814, when Thomas and Justinian Alston suffered a recovery of the manor. Mr. Rowland Crewe Alston is the present lord of the manor. (fn. 29)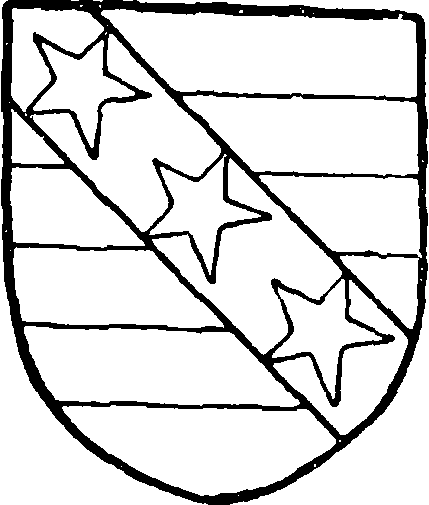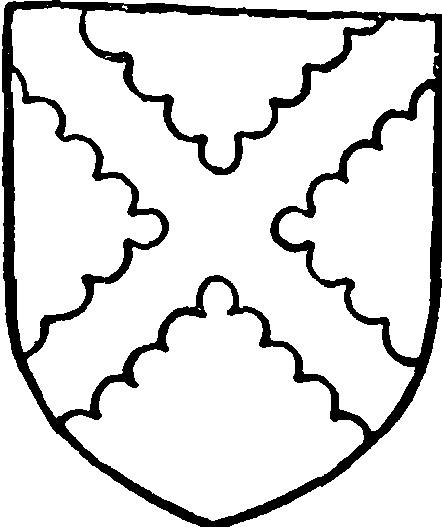 The descent of that moiety of Pavenham Manor which passed to Katherine Pabenham, and later became known as CHENEYS MANOR, now remains to be traced. Katherine married Thomas de Aylesbury, and on his death William Cheyne, by whom she had a son Laurence Cheyne. (fn. 30) His grandson Sir Thomas Cheyne some time previous to his death in 1513–14 arranged a marriage between his daughter and sole heir Elizabeth (aged at the time of the inquisition nine and more) and Thomas son and heir of Sir Nicholas Vaux, who can have been little more than four years of age. (fn. 31) This marriage was eventually consummated, and Pavenham or Cheneys Manor, as it is called to distinguish it from the various other manors in the parish, became the property of the Vauxes of Harrowden, whose history has been traced under Carlton (fn. 32) (q.v.) until in 1649 Edward Vaux Lord Harrowden alienated it to John Alston, whose family had previously acquired Pavenham Manor (q.v.), with which its descent is henceforward identical. The last mention that has been found of it individually occurs in 1687, (fn. 33) but it has since become completely re-absorbed.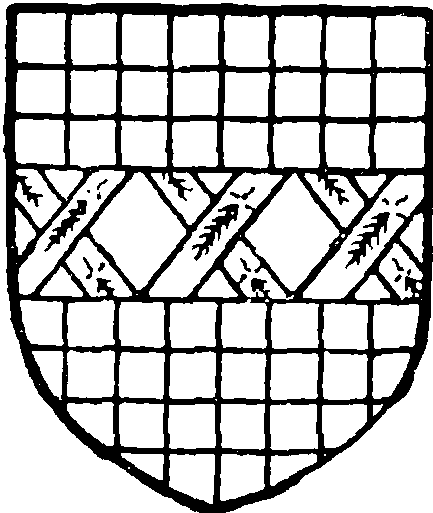 A second manor in this parish in 1086 was PAVENHAM MANOR belonging to Rannulf son of Ilger. It consisted of 5 hides, and was held in the time of the Confessor by a thegn called Godwin. (fn. 34) The overlordship subsequently passed to the Clares and became part of the honour of Gloucester (fn. 35); its history is identical with that of Biddenham (q.v.). The last mention which is found of it occurs in 1461, when Humphrey Duke of Buckingham held a view of frankpledge in Pavenham as of this honour. (fn. 36)
Robert son of Nigel held Pabenham Manor of Rannulf in 1086, (fn. 37) and from him it passed at some time before the 13th century to the d'Abernon family, who came from Surrey, where their name is perpetuated in Stoke d'Abernon. The first mention found of them in connexion with Pavenham is in the Testa de Nevill, when the Templars held a knight's fee here in custody for the heirs of Gilbert d'Abernon, who died in 1236. (fn. 38) John d'Abernon son of Gilbert received a charter of free warren in his demesne lands of Pavenham in 1253, 'provided the lands were not within the king's forest.' (fn. 39) By 1278–9 John had been succeeded by a son John d'Abernon, who at that date held the manor, consisting of a carucate of land in demesne, a free fishery in the Ouse and rents of free tenants. (fn. 40) He died in 1327, and his son John d'Abernon in 1331 claimed certain manorial privileges as having been granted to his grandfather by Henry III. (fn. 41) In 1334–5 John d'Abernon transferred Pavenham Manor by fine to trustees, (fn. 42) and in 1346 Adam de Swinburn held the quarter fee which represented this manor, apparently as trustee. (fn. 43) William d'Abernon, son of John, had one daughter Elizabeth, who married William Croyser, and in 1353–4 her father made a settlement of Pavenham Manor on her and her husband. (fn. 44) William Croyser died some time before 1368–9, (fn. 45) and his widow, subsequently married to John Grey, held Pavenham during her lifetime. (fn. 46) It then passed to William Croyser her son by her first marriage, whose daughter Anne wife of Richard Tyrrell brought a successful claim against John Grey as to her right to the manor. (fn. 47) John Tyrrell, probably a son of Anne, held one-fourth of a fee in Pavenham in 1428, (fn. 48) and this property remained in the same family for upwards of 200 years. In 1630–1 George Tuke and other trustees conveyed Pavenham Manor by fine to William Tyrrell and Dorothy his wife, (fn. 49) who in 1635–6 alienated it to William Alston. (fn. 50) It thus became united to Pavenham Manor (q.v.), with which its descent is henceforward identical.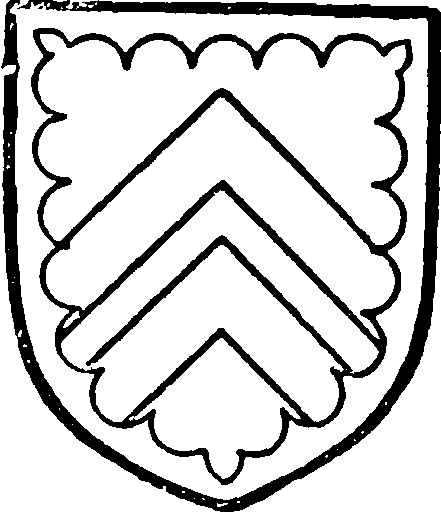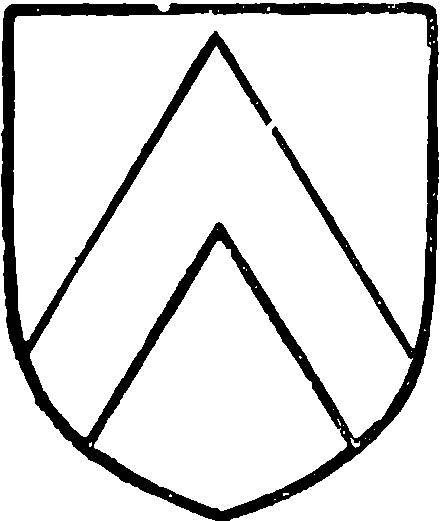 A manor known as PAVENHAM or BRAYS MANOR is found in Pavenham in the 16th century, and appears to be an offshoot of Pavenham Manor last described. The first mention that has been found of it is in 1501–2, when Sir John Norbury and Joan his wife alienated the manor of Pavenham to Sir Reginald Bray. (fn. 51) Sir John Norbury was the son of Ann Croyser, who on the death of Richard Tyrrell had married again Sir Henry Norbury, (fn. 52) and it seems likely that this property was a detached portion of the manor. Sir Reginald Bray already owned a manor in Bromham (q.v.), and Pavenham followed the same descent as that manor until the late 16th century. (fn. 53) Some time previous to 1594 it was sold by the representative of the Brays to George Vaux, who died seised of it in 1594. (fn. 54) Like Cheneys Manor (q.v.) it remained with the Vaux family until 1649, when it was alienated to John Alston, (fn. 55) and henceforward follows the same descent as the other manors in Pavenham.
A third Domesday holder in Pavenham was Count Eustace of Boulogne, of whom Ernulf de Ardres held PAVENHAM MANOR extended at 2½ hides and including a mill worth 20s. This manor had formerly belonged to a thegn named Alevold. (fn. 56) It followed the same descent as Ernulf de Ardres' manor in Stevington (q.v.), in which it became more or less absorbed, reappearing however as a separate manor in the 16th century. Several extents of Stevington Manor from the 13th to the 15th century prove the continued existence of this manor. In 1278–9 Baldwin Wake, in right of his wife Hadwisa de Quincy, held 7 virgates of land in villeinage here as of his manor of Stevington. (fn. 57) In 1349 an extent of Stevington Manor includes one water-mill at Pabenham, worth when in use 70s., and nothing at the time of the inquisition on account of the Black Death; and in Stevington and Pavenham together there was £29 16s. 0½d. rent of free tenants. (fn. 58) In 1598, on the occasion of the conveyance of his estates by William Earl of Derby into the hands of trustees, Pavenham Manor is differentiated by name from Stevington, (fn. 59) and continues to be mentioned as a separate manor though following the same descent.
John d'Abernon and John Pabenham both owned a free fishery in their respective manors of Pavenham in the 13th century. (fn. 60) They also received charters of free warren, the former in 1253, (fn. 61) the latter in 1312. (fn. 62)
CHURCH
The church of ST. PETER consists of a chancel 24 ft. 6 in. by 15 ft., nave of equal width and 45 ft. long, north chapel and aisle 10 ft. 6 in. wide, of the full length of the chancel and nave, south transept 13 ft. 10 in. by 14 ft. 6 in., south porch, west tower 10 ft. 2 in. by 9 ft. 10 in., and a modern vestry at the west end of the aisle 10 ft. 11 in. by 10 ft. 10 in. A south aisle formerly existed. The site has a considerable fall from east to west, and the floor of the church follows the natural ground line with a very picturesque effect. The building is interesting from several points of view, but its most striking feature is the extraordinary wealth of 17th-century woodwork with which it has been fitted. This takes the form of panelling on the walls, seats, &c., and has been collected and put up in modern times, none of it being an old fitting.
The church in the 13th century consisted of a nave and chancel, to which in the 14th century were added the western tower and a chapel to the north of the chancel, and in the next century a north aisle and south transept were built.
The only 13th-century work remaining is the external doorway of the south porch, which abuts on the south transept; this doorway, which has certainly been removed from elsewhere, is in three deeply undercut orders on moulded jambs, containing two detached shafts restored with moulded caps and bases. The chancel has been considerably rebuilt, with a steep modern roof; the east window is a modern window of three trefoiled lights with flowing tracery. In the north wall of the chancel there are two arches in two chamfered orders, springing from a small 14th-century octagonal capital and shaft; to the east is an aumbry with a carved oak door. In the south wall of the chancel are a modern square-headed window of three trefoiled lights, a modern doorway with a pointed head and a label with old head stops, and a small restored square-headed window of two trefoiled lights, the head only being old. The chancel arch is in two chamfered orders, with 14th-century capitals and semi-octagonal responds.
The north chapel has a considerable amount of old walling, but the roof, which is steeply pitched, is modern; there is a modern window in the east end of 15th-century style, consisting of three cinquefoiled lights, under a depressed two-centred arch. There is a modern external buttress about the middle of the north wall of the chapel, and there is an old buttress to take the thrust of the west arch of the chapel. In the north wall of the chapel are two 14th-century sedilia with crocketed ogee canopies, labels stopped on heads and terminating in finials, and richly moulded jambs, capitals and bases. The west arch is in two chamfered orders, the inner of which is stopped on the north side by a grotesque head.
The north arcade of the nave is of three bays in two chamfered orders on 15th-century octagonal piers with moulded capitals and bases; in the south wall of the nave above the south door there is a blocked doorway with plain jambs and a pointed head, opening to a room over the porch which is lighted by a plain two-light square-headed window on the north. This wall of the nave has been lately rebuilt with two square-headed windows of two trefoiled lights on the level of the clearstory opposite, and a window of two trefoiled lights with a quatrefoil in the head on a level with and similar to a 14th-century window in the north aisle opposite. The clearstory consists of four single-light windows of recent date with square heads. The roof, which is low pitched in four bays, is old. There is a south transept which has been recently entirely rebuilt, with an arch in two chamfered orders, and two 15th-century niches with trefoiled heads in the east wall. They have gabled canopies, and stand on foliated corbels flanked by grotesque heads and pierced by square holes where the figures were fixed. In the south wall are a large three-light 15th-century window and a 14th-century piscina with trefoiled head resting on shafts with moulded capitals and bases. On the apex of the transept gable there is a sundial. The roof is modern. Adjoining this transept is the south porch with a room over, with the 13th-century doorway described above; the inner doorway is of the 14th-century in one richly moulded order on semi-octagonal jambs with moulded capitals and bases.
The north aisle has been largely rebuilt; there are a 14th-century square-headed window consisting of three trefoiled lights, the mullions, however, being modern, a blocked 14th-century doorway, the sill being now below the ground level, and a 14th-century window of two trefoiled lights in two chamfered orders, with a quatrefoil in the head. There are two square buttresses at the north-west angle of the aisle, and adjoining it a low modern vestry, built on to the north side of the tower. The 14th-century tower is in five stages and has been partly restored. In the ground stage on the west side is a pointed doorway with mouldings like those of the blocked doorway of the north aisle, and in the stage above is a two-light window of two chamfered orders with modern cinquefoiled heads and flowing tracery; in the fourth stage there is a similar window, blocked, with a grotesque figure at the apex of the label. In each face of the belfry stage there is a window like that in the second stage above the west door, but having old jambs and tracery, the mullions being modern. On the south side in the fourth stage there is a very small trefoiled light with a square label. The tower buttresses project very considerably; there are two at each of the west angles and one at the south-east, the latter being in four stages, the other on the south side and that on the north in five, and the two on the west in six. The tower is surmounted by a 14th-century octagonal broach spire, having two sets of spire lights.
The interior of the church, except the east wall of the transept, is panelled to a height of between 6 and 7 ft. in 17th-century carved oak, which has been collected from various sources in recent times; there is also a carved front of the same type to a gallery at the west end right across nave and aisle, supported on a post with a rude Ionic capital, and screens separating the nave from the tower and the aisle from the vestry. The clergy and quire pew and the pulpit are similar, and there are four richly carved oak settees of the same date in the aisle and two arm-chairs in the sanctuary. One quatrefoil in the three-light window of the aisle is filled with old stained glass representing a star.
There are two coats of arms on the north wall of the chapel, one of Alston impaling Temple, and the other of Alston impaling Brooke, and a mural monument to John Franklyn, who died 1748, surmounted by the arms Azure a bend between two dolphins or. In the south wall of the chapel there is also a marble slab to Lucretia Newill, daughter of Joseph Franklyn, who died 1779. There are no other monuments. The font is modern and is under the nave arcade on the east side of the middle bay.
There are five bells: (1) 'Robt. Taylor St. Neots founder 1796, Danl. Hipwell and William Dix C wardens.' (2) 'God save the Queene, 1602' (in black letter). (3) 'John Hodson made mee 1663 Richard Gilbert Robert Tole Churchwardens W. H.' (4) 'Newcome made mee A° 1614.' (5) 'I.K. God save our King 1623.'
The plate consists of a silver-gilt communion cup with lid, surrounded by a foliated band, and with I.H.S. in a rayed circle, the latter also on lid, date mark 1629, a modern silver-gilt foot-paten and a silver-gilt plate.
The registers previous to 1813 are as follows:— (i) has all entries 1561 to 1641; (ii) (which is at Felmersham Church, not Pavenham) the same, 1640 to 1799; (iii) baptisms and burials 1800 to 1812; (iv) marriages 1757 to 1812.
ADVOWSON
Pavenham appears as a chapelry attached to Felmersham in 1205, when the grant of the advowson to Lenton Priory was confirmed by the Pope, (fn. 63) and has followed the same descent as Felmersham Church (q.v.) until 1859, when it was separated and endowed by the late Joseph Tucker. It is now in the gift of Mr. Joseph Tucker Burton Alexander.
At the Dissolution the chapel was worth £5 6s. 8d., (fn. 64) and in 1769 at the time of the inclosure of Pavenham parish allotments of land in lieu of tithes were assigned to the Master and Fellows of Trinity College, Cambridge, impropriators at that time, and to the vicar of Felmersham. (fn. 65)
At the dissolution of the chantries in the reign of Edward VI 2 acres of land were held in Pavenham, value 1s., towards an obit in the parish church. (fn. 66)
There are no endowed charities in this parish.