Pages 88-94
A History of the County of Bedford: Volume 3. Originally published by Victoria County History, London, 1912.
This free content was digitised by double rekeying. All rights reserved.
SHARNBROOK
Seernebroc, Sernebroc (xi cent.); Sarnebroc (xii cent.). (fn. 1)
Sharnbrook is a parish 9 miles north-west from Bedford. It covers an area of 2,467 acres, of which 853 acres are arable land and 1,305¾ acres permanent grass. (fn. 2) The parish is watered by the River Ouse, which forms the southern boundary. The slope of the ground is from north to south, the highest point above ordnance datum is 303 ft. in the north, the lowest 143 ft. in the south. The soil is clay, the subsoil clay and gravel, the principal crops being wheat, barley, oats, peas, beans and turnips.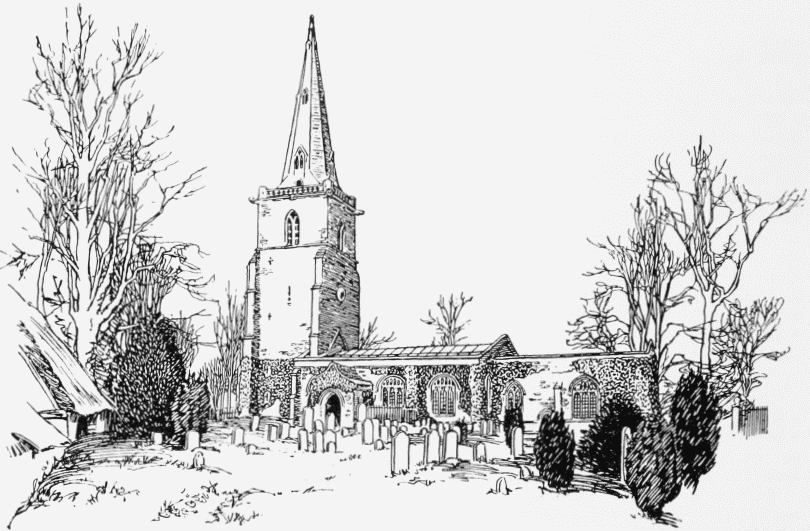 Sharnbrook village is in the west of the parish. The church of St. Peter is situated on the west of the road as it approaches the village. The old vicarage, which was pulled down about 1910, stood about 180 yds. from the present new house. It was built of stone with a thatched roof, and was an interesting specimen of a priest's house of the 16th century.
The Tofte, a small but substantially built stone mansion, occupies a pleasant position about half a mile northward of the church. In the gable on the south front is an inscription 'Except the Lord build the house their labour is but lost that build it. 1613.' It has been much modernized and a new wing erected in recent years. Whilst taking down the walls during the alterations various pieces of old masonry were discovered. Forty feet to the north of the old house some old buttressed foundations were found. In 1907 human remains were found in the grounds about 3 ft. below the surface. It marks the site of a manor formerly belonging to Newnham Priory, and is at present the property of and occupied by Mr. A. R. Alston. East of the church is Sharnbrook House, in the occupation of Mr. E. Arkwright, Master of the Oakley Hunt. It is a Georgian house of red brick, with stone quoins and a rich wood cornice, and was formerly known as Towns End House.
Sharnbrook Grange, a 17th-century house, stands in park-like grounds of 25 acres. It is a rectangular brick building with a tile roof. Through the cellar is a constant flow of water, but whence it comes is not known. In the garden are some fine cedars and two stone basins dated 1658 and 1745 respectively.
The Midland Railway, which has a station at the east end of the village, has a bridge of ten arches across the Ouse.
Colworth, which is described as a hamlet of Sharnbrook in 1278–9, now consists principally of the Colworth House estate. This house, which was built in the 18th century by Mark Antonie, stands in a well-wooded park of 176 acres. Lysons describes it as one of the most elegant mansions in the county. (fn. 3) It is at present the residence of Mr. Albert Edward Bowen. Sharnbrook is well wooded, containing in all 269¼ acres. (fn. 4) Among the woods may be named Halsey Wood, with the largest area, Francroft Wood, Round Wood, Woodend Plant and the Swell, the last-named being in the Colworth park.
There is a small industry in hand-made lace, dating from the 16th century, still carried on in this parish.
Two mills still exist in Sharnbrook, one a disused windmill, in the south, the second a steam corn-mill on the site of a former water-mill in the south-west near the approach to the village.
There are two Baptist chapels in Sharnbrook.
The following place-names have been found in documents connected with this parish:—Carswellfielde, Sondewood, Temple Leys, Temple Corner (xvi cent.), Castle Close, Coffle End, Clipsey Spinney, Eyles Plantation, Naboth's Vineyard, Uttersfield Plantation (xx cent.).
MANORS
At the Survey of 1086 eight proprietors of land are named as holding in Sharnbrook. First amongst these Domesday tenants may be mentioned Albert of Lorraine, whose lands subsequently became known as LORINGS or PIPINGS MANOR. In 1086 Albert of Lorraine, who had been preceded by Algar, a man of Queen Edith, held 2 hides, a quarter of a virgate and a mill worth 16s. (fn. 5) He owned land, including a 10-hide manor at Wootton, elsewhere in Bedfordshire, and, as has been shown by Mr. Round, (fn. 6) was a clerk or chaplain who enjoyed the favour alike of Edward the Confessor and of William, and received from them lands and houses.
With regard to the overlordship of this manor, it was held by Albert of Lorraine of the king in chief in 1086, (fn. 7) but in 1185 is found attached to the barony of Bedford, (fn. 8) to which overlordship the latest reference has been found in 1419. (fn. 9)
The reasons for connecting the Loring family, who subsequently held in this parish, with Albert of Lorraine, the clerk of Domesday, may be briefly summarized as follows:—Albert held in four Bedfordshire parishes at Domesday: Chalgrave, Wootton, Shelton, Sharnbrook. Some century and a half later it is found that in three out of these four, Chalgrave, Wootton and Sharnbrook, the Loring family are holding by knight service, and that moreover all three have become attached to the barony of Bedford. (fn. 10) The chief seat of the Lorings was at Chalgrave; the descent of their Sharnbrook Manor was as follows:—Roger Loring died some time before 1185, at which date his son Peter, aged twelve, was in the guardianship of the king. (fn. 11) This Peter was still alive in 1250, in which year he was defeated in a suit against Dunstable Priory, (fn. 12) and it was probably his son Peter who died in 1286, and whose epitaph is given by the Dunstable chronicler as 'qui super omnes progenitores suos specialius nos amavit.' (fn. 13) The feudal assessment for 1302 gives Peter Loring as still holding one-fifth fee in Sharnbrook. (fn. 14) Roger Loring his son died before 1346, (fn. 15) and was succeeded by his son the eminent Sir Nigel Loring, a founder Knight of the Garter, who on his death in 1385–6 left two daughters as co-heirs. Of these Isabel became the wife of Robert Lord Harington, (fn. 16) and acquired Sharnbrook as part of her share in her father's property. Her husband died in 1406, when the Sharnbrook property included a messuage, 100 acres of land, 20 acres meadow and 10 acres of wood. (fn. 17) Their son John Lord Harington died in 1417–18 without issue, and his brother William succeeded him. (fn. 18) In 1449 William Lord Harington conveyed this estate, called for the first time a manor, into the hands of the Archbishop of Canterbury and other trustees. (fn. 19) He died in 1458, leaving as heir Elizabeth wife of William Bonville. (fn. 20) Her son William, who acquired the title Lord Harington in right of his mother, was slain at Wakefield in 1460, and Sharnbrook passed to his daughter Cecilia, who became the wife of Thomas Grey first Marquess of Dorset.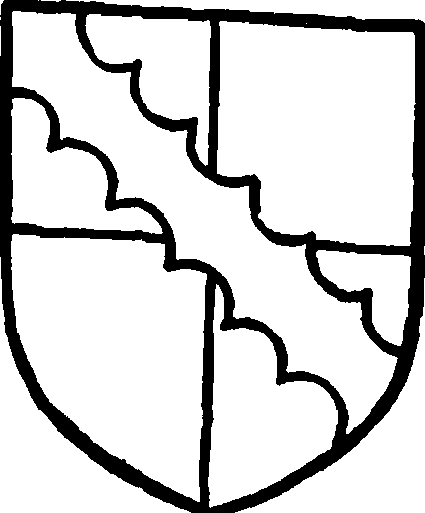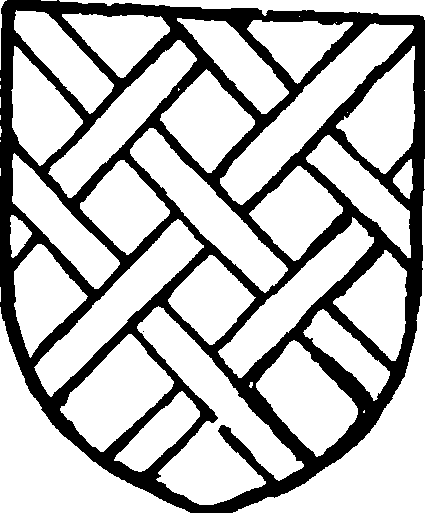 Her son Thomas Grey Marquess of Dorset died seised of the manor in 1530, (fn. 21) and in 1543 his son Henry alienated this manor, here first called by its alternative title of Lorings, to George Boteler. (fn. 22) George Boteler died in 1551, when his estates in Sharnbrook passed to his son John, (fn. 23) who in 1614 was succeeded by his son Sir Oliver Boteler, kt. (fn. 24) He died in 1633, leaving as heir his eldest son John, (fn. 25) of whom Harvey says, 'This gentleman gave his seat (The Tofte) and estate at Sharnbrook to his wife; but his mother, widow of Sir Oliver, bought it of her daughter-in-law, and gave it to her third son (William).' (fn. 26) The inquisition taken regarding Sir John Boteler's property at his death in 1634 certainly names William Boteler as heir to Sharnbrook, (fn. 27) and by fine the same year Alice widow of John Boteler conveyed her rights in these manors to William Boteler and his mother. (fn. 28)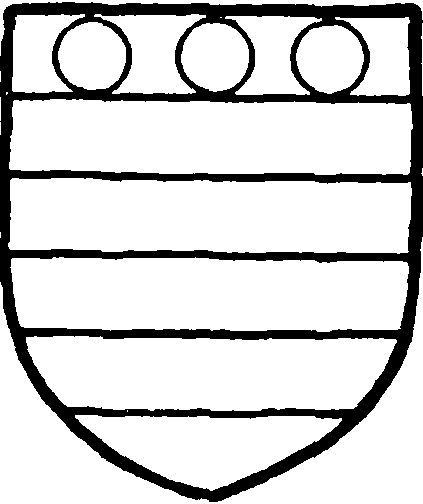 William Boteler was created a baronet in 1641, (fn. 29) and on the outbreak of the Civil War he raised a regiment at his own expense and was slain whilst commanding it at Cropredy Bridge in 1644. He lies buried in the south transept of Christ Church Cathedral, Oxford. His son Sir Oliver Boteler succeeded him, and dying about 1690 was followed by Sir Philip Boteler, third baronet, (fn. 30) whose son Sir Philip Boteler in 1765 sold Lorings Manor, together with his other manors in Sharnbrook, to Vice-Admiral Sir Samuel Cornish, on whose death without issue in 1770 they passed to his nephew Admiral Pitchford, who assumed the name of Cornish. (fn. 31)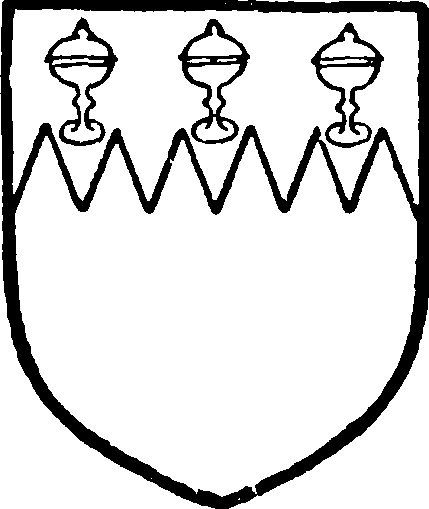 He died without issue and the estates came into the possession of his wife's nephew Admiral Gambler, who was lord of the manor in 1864. In 1876 these manors were dispersed by sale, the residence known as the Tofte and 235 acres of land going to Mr. C. Magniac and the Temple Estate with 662 acres to Mr. C. Bartholomew, (fn. 32) from whom it was purchased by Mr. Brown. It is now the property of Mr. Alexander Rowland Alston. (fn. 33)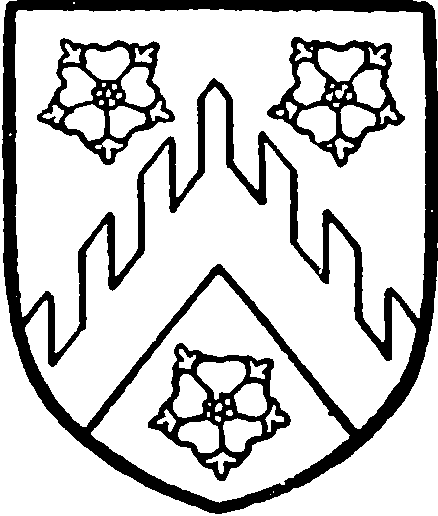 Newnham Priory owned TOFTS or THE TOFTE MANOR in Sharnbrook from the 13th century. Its origin is to be sought to a great extent in the land which Count Eustace held at Domesday, (fn. 34) further supplemented by grants from the Beauchamp fee. Robert son of Rozelin, who was Count Eustace's tenant in 1086, was succeeded by the Trikets, of whom four generations are mentioned in Newnham Cartulary as benefactors of the priory in the 12th and 13th centuries—William son of Simon Triket, Baldwin son of William and Simon son of Baldwin. (fn. 35) Their gifts, which were all held of the honour of Boulogne (to which Count Eustace's lands subsequently became attached), ranged from 2 virgates of land in Toft—whence the manor derived its distinctive name—to 3 acres of land in Tranecroft, and by 1278–9 included a capital messuage, 180 acres of land, meadow and pasture, and 10 acres of wood. (fn. 36) Newnham Priory also received various grants of land from William Druel and other members of the same family, who held of the barony of Bedford, 13 selions from Robert de Parentine, and 27 selions from John le Child, whose father also granted the priory certain inclosed waters 'from Sitegate to Besebrigg.' (fn. 37)
Newnham Priory therefore held land in Sharnbrook attached to these two honours of Boulogne and Bedford. In 1281 the prior protested against appearing as suitor at the court of the former honour, saying that he owed no service though often distrained by the bailiffs. (fn. 38) The prior's name appears, however, in 1302 as holding a half fee of this honour, (fn. 39) whilst in 1346 and again in 1428 he held half a fee of the barony of Bedford. (fn. 40)
The manor was in lease to William Tofte in 1331 by assignment from one Bartholomew and Ellen his wife, who held it for their lives. (fn. 41) In 1385 the prior received a charter of free warren in Sharnbrook, (fn. 42) and at the Dissolution this manor became Crown property. (fn. 43) In 1540 George Boteler received a grant of this manor, (fn. 44) which henceforward follows the same descent as Loring s (q.v.). The Tofte has long been the residence of the lords of the manor and the principal house in the village.
A third manor in Sharnbrook, that of TEMPLE HILLS, was owned from the 12th century by the Knights Templars. The Bishop of Coutances held in all 4½ hides in Sharnbrook in 1086. This land, in which he had been preceded by Borred, was held of him by various tenants. Turgis an Englishman held half a hide, Humphrey held half a hide, whilst seven sokemen together held 3 hides. (fn. 45) This land was granted by Alice de Clermont to the Knights Templars, and became known as Temple Hills Manor. (fn. 46) In 1199 they received a charter granting them assart of 200 acres of land in Sharnbrook, (fn. 47) and a charter of free warren was given them in 1253. (fn. 48) In 1276 the master claimed view of frankpledge twice yearly and 2 hides of land in Sharnbrook. (fn. 49) By virtue of the statute by which the Knights Templars' lands were transferred to the Knights Hospitallers, the prior of the latter order claimed Temple Hills Manor in 1331. (fn. 50) At this time it was leased to Sir John de Wolaston and Margaret his wife for the term of their lives. (fn. 51)
At the Dissolution Temple Hills Manor was granted in 1543 for fifty years to Robert Tyrwhitt, (fn. 52) who in 1544 obtained a grant in fee. (fn. 53) In the following years Robert Tyrwhitt alienated the manor to George Boteler, (fn. 54) and it thus became united to Lorings Manor (q.v.), with which its history is henceforward identical until its purchase by Mr. Brown of Wellingborough, who has retained Temple Hills and alienated Lorings Manor. It retains, however, its individual name down to the present day.
A fourth estate in Sharnbrook, known in the 16th century as LANGTONS MANOR, was held of the barony of Bedford. It may therefore have originated in the 1½ virgates of land which Osbern de Broilg held of Hugh de Beauchamp in 1086. (fn. 55) But it is impossible to state this definitely, for as will be seen from the number of tenants (the Druels, Parentines and Patishalls) who owed allegiance to this honour, the overlordship must have been considerably extended between the Survey and the early 13th century. It seems unlikely that Langtons was ever a manor in the technical sense, for, as mentioned above, it is not so called until very late.
The family of Osbern de Broilg remained in Sharnbrook for more than a century after the Survey, for in 1200 Robert de Broy acknowledged the right of Henry of Sharnbrook to a mill in Sharnbrook. (fn. 56) A gap then occurs in the descent, and the property reappears in 1324 as belonging to Robert de Utteford. (fn. 57) The estate, here alienated to John de Langton, is extended at one messuage, 80 acres of land, 2 acres of meadow and 6 acres of wood. (fn. 58) The Langtons, though they gave their name to the manor, do not appear to have held it long. Thomas de Langton held by feudal service in this parish in 1346, and in 1428 Thomas Bromflete held his fee. (fn. 59) Henry Bromflete Lord Vesey, son of Sir Thomas Bromflete, died in 1469 seised of land in Sharnbrook. (fn. 60) He left a daughter Margaret wife of Launcelot Threlkeld, who died in 1493. She alienated Langtons Manor, which appears in 1495 as a capital messuage, and 51s. 1d. rent, of which George Ingleton died seised, though how he acquired it has not been traced. (fn. 61) He left a son Robert, aged nine, who died in 1505. (fn. 62) His daughter Joan, nine months old at her father's death, subsequently married George Tyrrell, and dying in 1557 left a son George Tyrrell, aged twenty-eight, (fn. 63) and he in 1563 sold to Thomas Cobbe, the manors of Langtons (here so called for the first time) and Parentines for £240. (fn. 64) In 1573 Thomas Cobbe, whose family appear to have been settled in Sharnbrook for three generations, (fn. 65) died seised of Langtons Manor, which then passed to his son John. (fn. 66) He died in 1575 without attaining his majority, when Langtons and Parentines Manor passed to his brother Thomas, (fn. 67) then aged sixteen. He was followed by his son Paul Cobbe, (fn. 68) whose son Thomas Cobbe suffered a recovery of the manors in 1634. (fn. 69) He had several sons, of whom Paul held the manors in 1669. (fn. 70) William Cobbe was the only son to leave issue, a son William, who died in 1687 at the age of sixteen, when the manors passed to George Cobbe, a distant relation. (fn. 71) He conveyed the manor in trust in 1694, (fn. 72) but at his death without issue a partition of his property was made in 1700 between his sisters and co-heirs. (fn. 73) They were Elizabeth wife of James Watkins, Anne wife of John Aspin and Rebecca wife of Joseph Godfrey, and they appear to have held the manor conjointly until 1726. (fn. 74) It passed next to the Bullock family, and was held by John Bullock in 1766, (fn. 75) of whom it was purchased by Mr. Gibbard, (fn. 76) whose descendant Mr. L. Stileman Gibbard owns Langtons and Parentines Manors at the present day.
A small estate in Sharnbrook, later called PARENTINES MANOR, was also attached to the barony of Bedford, whose overlordship is acknowledged in 1278, 1302, 1346 and 1428. (fn. 77) The first mention that has been found of the Parentine family in Sharnbrook is amongst the benefactions to Newnham Priory, where Robert de Parentine's name occurs as having bestowed 13 selions of land in Haselhoo in this parish. (fn. 78) This would probably de early in the 13th century. In 1278 Ellen de Parentine held 1 hide in Sharnbrook, (fn. 79) and her name reappears in feudal aids for 1302 and 1316. (fn. 80) No further trace has been found of the Parentines, but by 1346 their fee appears to have become assimilated with Langtons Manor (q.v.). Parentines Manor, though following the same descent, did not lose its separate identity, which is mentioned as late as 1766. (fn. 81)
A sixth estate in Sharnbrook, known at the present day as OUSE MANOR, had its origin in the various grants made by the Child family to Newnham Priory about the 13th century. Robert son of William le Child gave the priory the waters of the Ouse inclosed from Sitegate to Besebrigg, (fn. 82) whilst John his son bestowed at various times 7, 5 and 20 selions of land. (fn. 83) In 1278 the prior was declared to have a free fishery from the mill of Pinch to the mill of Stoke and from Sculteleye to the head of the pond of Pinch. (fn. 84) This property followed the same descent as Tofte Manor, and it is not until 1614 that it becomes differentiated. It then appears in an inquisition as '5 messuages 246 acres of land and a piece of water called le Owes in Sharnebrook.' (fn. 85) It appears later in the Cobbe family, (fn. 86) though no record of the transfer has been found, and in 1700, on the partition of George Cobbe's estate amongst his sisters, it passed to Rebecca wife of Joseph Godfrey, who was holding it in 1721. (fn. 87) It was subsequently sold by Rebecca to Charles Dymoke William, (fn. 88) from whom it passed by sale to the father of Charles Tanqueray, who sold it before 1809 to Mr. Thomas Gell. (fn. 89) He left it by will to his nephew William Islip, whose mortgagees sold it in or about 1880 to the present owner, Mr. William Whitworth. (fn. 90)
Hugh the Fleming, brother of Walter, owned half a hide and one quarter of a virgate in Sharnbrook in 1086, (fn. 91) which is afterwards found attached to the barony of Wahull from the 13th to the 15th century. (fn. 92) Robert was the tenant of Hugh at Domesday, and this land passed later to a family called alternatively Rivers or Water. Richard Rivers held half a fee in Sharnbrook at the time of the Testa. (fn. 93) In 1278 the same Richard held half a hide, (fn. 94) which in 1302 had passed to Henry atte Water. (fn. 95) Alice atte Water was holding in 1346, (fn. 96) after which only one further mention has been found of this fraction of a knight's fee, when in 1428 William Herdewyk was declared to hold the quarter fee which Alice atte Water formerly held. (fn. 97)
Mention has been found of a seventh SHARNBROOK MANOR. Higham Ferrers College, which was founded by Henry Chicheley in 1422, (fn. 98) owned lands in Sharnbrook valued at £4 at the Dissolution. (fn. 99) In 1542 this land, here called Sharnbrook Manor, was granted to Robert Dacres, (fn. 100) who in the following year received a licence to alienate the property to George Boteler, (fn. 101) which became absorbed in Lorings (q.v.) and the other manors possessed by him in Sharnbrook.
In 1086 Osbern the Fisherman held half a hide in Sharnbrook, the Countess Judith held 3 virgates, and Almar, a burgess of Bedford, held half a virgate, of which estates no further mention has been found. (fn. 102)
Colworth, which is described as a hamlet attached to Sharnbrook as early as 1278, included a property held of the barony of Beauchamp of Bedford, known as COLWORTH MANOR. In 1278 it was held of William Fruel as of this barony in right of his wife, (fn. 103) and in 1417 was held of Baldwin Pigot, who had acquired rights of overlordship by descent. (fn. 104) The earliest tenants found of this manor were the Druels. John Druel held half a hide in Colworth in 1278–9, with free tenants, and 2 virgates in villeinage. (fn. 105) In 1304, together with Amice his wife, he obtained recognition of his right to the manor from William Warren. (fn. 106) In 1331 John son of John Druel acknowledged the right of his brother Giles to Colworth Manor. (fn. 107) No further trace has been found of the Druels, but within the next generation Colworth passed to the Greene family. Sir Thomas Greene died in 1391–2 holding by knight service in this hamlet, (fn. 108) leaving sons Thomas and Henry. (fn. 109) This manor appears to have passed to Henry Greene, the younger son, for c. 1415 John son of Henry Greene remitted to his brother Ralph all his claims on this property. (fn. 110) A year later Sir Ralph Greene, kt., and his wife Katharine are found placing this manor in the hands of William Islip and other trustees. (fn. 111) Ralph Greene died in 1417, when his brother John was declared to be his heir. (fn. 112)
This manor subsequently became Crown property, probably escheating during the Wars of the Roses. In 1484 Richard III granted it to Thomas Lynom and heirs male of his body 'for his good services against the rebels.' (fn. 113) Either the failure of issue of Thomas Lynom, or what is more probable, a forfeiture of the grant on the accession of Henry VII, brought this manor again into the possession of the Crown, and in 1546–7 Sir Edward Montague, kt., obtained a grant of it. (fn. 114) He died seised of this manor ten years later. (fn. 115) His son Edward, who was also knighted, died in 1602, leaving four sons, of whom Edward, the eldest, inherited the manor. (fn. 116) A gap here occurs in the history of this estate, which, according to Lysons, was purchased about the year 1700 by Mark Antonie, (fn. 117) who, dying in 1720, was succeeded by John Antonie, by whom the greater part of the present Colworth House was built. (fn. 118) He died in 1760, when this estate passed to his brother Richard Antonie, (fn. 119) who on his death without issue in 1771 left it by will to William Lee, who assumed Antonie as an additional name. (fn. 120) John Fiott, his nephew, succeeded William Lee-Antonie in 1815, assuming the name of Lee under his uncle's will. He was a great collector of pictures and other works of art, both ancient and modern, with which he enriched Colworth House. (fn. 121) He died in 1866, but previous to that date, in 1854, Colworth was sold to Hollingworth Magniac, who made it his residence until his death in 1867, when it passed by will to his eldest son Charles Magniac. (fn. 122) It subsequently became the property of the late William Clarence Watson, who modernized the house, which is now the residence of Mr. Albert Edward Bowen.
In 1340 the Prior of Caldwell owned 4s. rent in Sharnbrook. (fn. 123) At the Dissolution the temporalities of the priory here amounted to 5s., (fn. 124) and in 1540 were granted, together with Tofte Manor (q.v.), to George Boteler, and henceforward became absorbed in the larger estate. (fn. 125)
CHURCH
The church of ST. PETER consists of a chancel 32 ft. by 18 ft., north chapel of the same size, nave 46 ft. by 19 ft., north and south aisles 9 ft. 3 in. wide, west tower 17 ft. 5 in. by 12 ft. 4 in., and north and south porches.
The nave arcades show that in the 13th century the nave was 10 ft. shorter than at present, with north and south aisles; the chancel was about the same size as now. In the 14th century a large north-east chapel was added to the chancel, and a west tower built 10 ft. from the west end of the existing nave, or perhaps begun to the west of an existing tower. When the tower was completed the north and south walls of the nave were lengthened westwards to join it. A widening of the north aisle seems to have been intended, judging by the arch at the west of the north-east chapel; but, as so often happens in work of this date, the intention was abandoned, probably on account of the Black Death. In the 15th century the north aisle was extended westward to the tower, and perhaps rebuilt; and the south aisle was treated in the same way, another arch being added to the nave arcades on each side; the 14th-century window at the south-west of the south aisle must have been then moved to its present place.
The east window of the chancel is of three cinquefoiled lights of 15th-century style, the heads and tracery being modern, while the details of the jambs look like 14th-century work; but the chancel has a 15th-century plinth on its east and south walls, and appears to have been rebuilt early in that century. On the north side is a 14th-century arch of two orders with clustered responds opening to the chapel; on the south side are two windows—one of three lights and 15th-century tracery; the other, at the west, of two lights, with jambs of the same earlylooking section, but obviously of the same date as the 15th-century tracery. In its inner jambs are 14thcentury shafts with moulded capitals. A small south doorway between them with continuous moulded jambs and a moulded label also looks like 14thcentury work. The chancel arch has two hollowchamfered orders and responds with a semicircular shaft with a moulded capital to the inner order. The chancel roof is of low pitch, and is divided into three bays by plainly moulded tie-beams, perhaps of 17th-century date.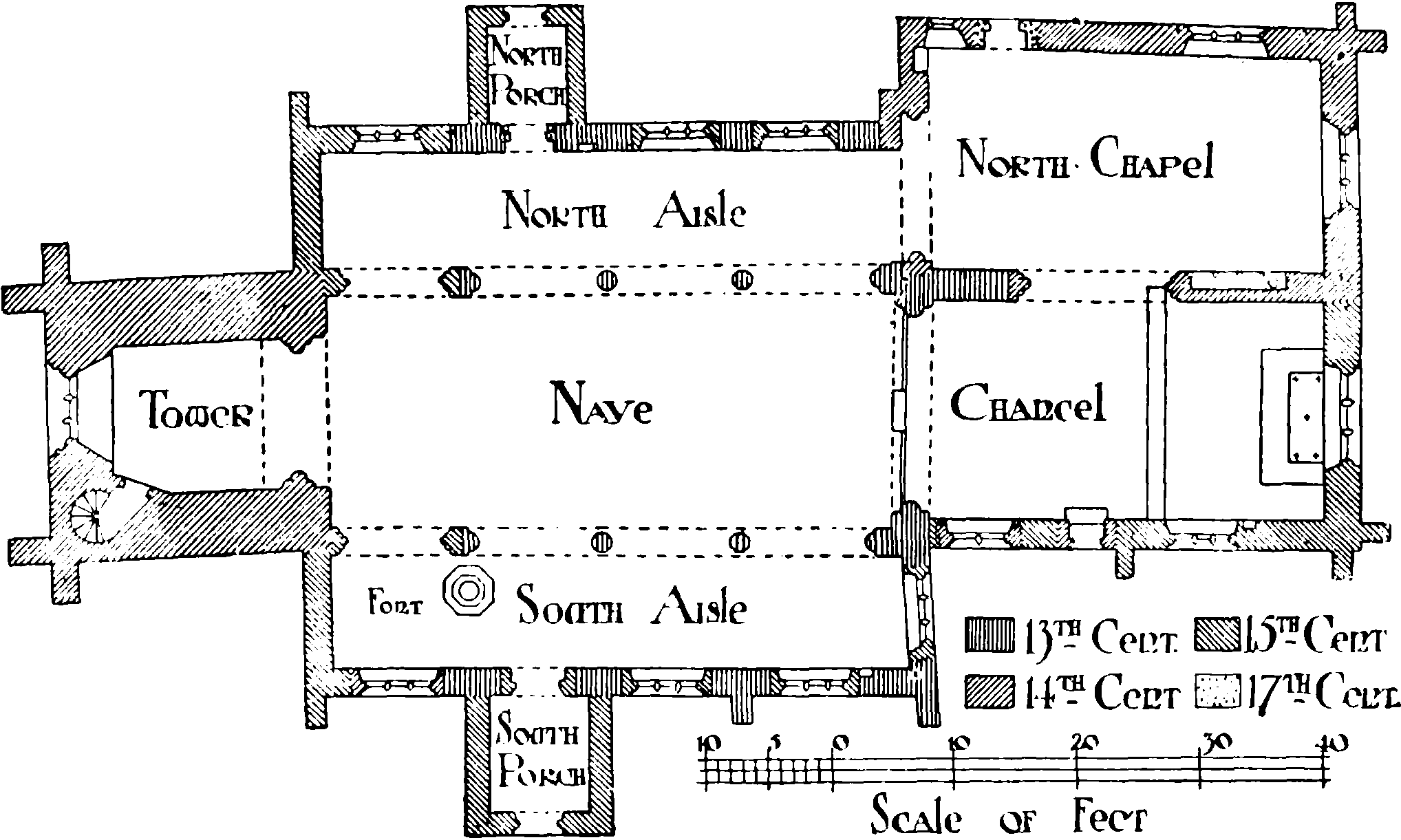 In the north chapel is a 15th-century east window of three lights in 14th-century jambs with internal shafts, capitals and bases; the head of the window is now four-centred, in order to suit the flat-pitched roof, but the older pointed head can still be seen on the inside. On the north side is a 14th-century square-headed window of three trefoiled lights with net tracery and moulded jambs, and further west is a plain early 17th-century doorway with a squareheaded window close to it on the west, to light a recess in the west wall, which has a trefoiled head and a stone seat. In the south wall is a range of three stepped 14th-century sedilia and a piscina, with trefoiled heads; they are separated by shafts with moulded capitals and bases. In the west wall, partly overlapped by the north wall of the aisle, is an arch moulded like that into the chancel, but resting on half-octagonal responds with plainly moulded capitals and bases. The roof is flat, and probably of the same date as that of the chancel. The nave arcades are of four bays, the first three on both sides being of the 13th century and the western bays of the 15th. The earlier work has arches of two hollow-chamfered orders with a label, the outer order having stops; the stop near the chancel arch on the south side is carved as a human head. The responds are semicircular, and of the columns the eastern pair are octagonal and the others circular; all have moulded capitals, that of the first column of the north arcade having a cable mould on one member. The stop to the label over this capital is a bishop with hand raised in blessing; and on the opposite side of the nave there is a bishop's head. The west arch in both arcades is of three chamfered orders with clustered responds and moulded capitals and bases. The nave roof is divided into four bays by 15th-century moulded principals, having carved and gilded bosses in the middle. The north aisle has three 15th-century windows, each of three cinquefoiled lights, but the cusping of the middle window has disappeared. The north doorway is of the date of the arcade and has a moulded arch and label, and in each jamb is a detached shaft with a moulded capital and base; it is probably in situ. Over it is a small 15th-century porch. The south aisle has an east window and two south windows like those in the north aisle, and at the south-west a three-light 14th-century window with net tracery. The south doorway, of the 15th century, is in two hollow-chamfered continuous orders and opens into a porch of the same date, which formerly had a roof of lower pitch than at present.
The tower, which opens to the nave by a massive pointed arch of three orders with moulded capitals and bases, has a large three-light west window with flowing tracery, and a stair at the south-west. It is finished with a parapet of pierced quatrefoils, and has the stump of a large pinnacle at each corner; above this rises a tall stone spire with three tiers of spire lights. The belfry is lighted on each side by a simple window of two lights. To the south of and above the west window of the ground stage are ogee-headed cinquefoiled niches, and below it is a sharp pointed four-centered doorway in two chamfered orders.
In the south aisle is a well-designed 15th-century octagonal font with quatrefoiled panelling, resting on an octagonal base with buttresses at each angle. The pewing is modern, but there is a good early 16th-century screen, with a crocketed ogee head to the middle opening, and on each side five traceried lights. The lower panels are solid, being on the south re-used 17th-century woodwork, but original on the north, with three holes cut through them in ancient times to give a view of the altar to anyone kneeling just outside the chancel. At the east end of the chancel is a wooden tablet to Thomas Cobbe, 1662, with his arms Gules a cheveron wavy between three cobfish argent, and a chief argent with three ravens therein. Over the arch on the north side of the chancel is a similar wooden tablet to William Cobbe, his son, 1675, with his arms impaling Azure a cheveron between three leopards or. In the north chapel is a large modern monument of 18th-century design to the Magniac family of Colworth. In the floor is a slab with the name of William Cobbe, 1687. In the north chapel is a fine Jacobean mural monument, with the Boteler arms, three covered cups, inclosing a brass panel, set up by Sir William Boteler, with a pedigree of his family on it. There are two 17th-century chests at the west end of the north aisle.
There are six bells: the treble, cast by John Warner, 1887; the second, by Henry Bagley, 1683; the third and fourth, by Matthew Bagley, of the same date; the fifth, by Newcombe of Leicester, 161–, the last figure being omitted; and the tenor, by Henry Bagley, 1699.
The communion plate is modern. A silver chalice and paten were given by Miss Bowen in 1910.
The earliest book of registers contains baptisms and burials 1596 to 1653 and marriages 1596 to 1676; the second contains baptisms and burials 1653 to 1765 and marriages 1676 to 1754; the third contains births and deaths 1766 to 1812; and the fourth marriages 1754 to 1812.
ADVOWSON
The church of Sharnbrook was granted to the abbey of St. Mary de Pré, Leicester, by Baldwin Triket in the reign of King John. (fn. 126) Its value in 1291 was £13 6s. 8d., (fn. 127) and at the Dissolution the vicarage was worth £7 9s. 8d. and the rectory £11. (fn. 128) The advowson then passed to the Crown, with whom it remained (fn. 129) until 1877, in which year Charles Magniac presented, having purchased the right under Lord Westmorland's Act of 1863. (fn. 130) The present patron is Mr. Vernon Magniac.
Edward Earl of Lincoln and others received a grant of Sharnbrook Rectory in 1577–8, (fn. 131) which in 1586 had passed to Lord St. John of Bletsoe. (fn. 132) Oliver Lord St. John died seised of the rectory and tithes in 1618. (fn. 133) His son was still in possession in 1639, (fn. 134) but between this date and 1669 alienated the rectory to Paul Cobbe, who held it at that date. (fn. 135) In 1694 George Cobbe alienated to John Orlebar, (fn. 136) whose family retained the rectory as late as 1734. (fn. 137) By 1770 it had passed to William Gibbard, who died in 1800, when, with his other estates, it passed to John Gibbard his son, (fn. 138) who was impropriator at the time of the inclosure of the parish, when the great tithes were commuted for 239 acres of land. (fn. 139)
At the dissolution of the chantries Sharnbrook Church had an endowment of 30d., due from rents in the parish, to supply an obit and lamp. (fn. 140)
CHARITIES
In 1827 William Curtis by will bequeathed £200 upon trust to be invested and income applied for the benefit of poor frequenting the meeting-house of Particular Baptists. The legacy with accumulations is represented by £265 17s. 11d. consols, with the official trustees, producing yearly £6 12s. 8d.