Pages 134-136
A History of the County of Berkshire: Volume 3. Originally published by Victoria County History, London, 1923.
This free content was digitised by double rekeying. All rights reserved.
SUNNINGHILL
Sunninghull (xiii cent.); Sonynghill, Sonnynghall (xv cent.).
The parish of Sunninghill is very extensive, and includes a small part of Virginia Water. Ascot, originally included in the parishes of Sunninghill and Winkfield (q.v.), was formed into a separate ecclesiastical parish in 1865. (fn. 1) The area of Sunninghill, including Ascot, Cheapside and South Ascot, is 3,135 acres, of which 1,288 are permanent grass, 307 are woods and plantations and 179 are arable land. (fn. 2) The soil is gravel and sand with a subsoil of sand and clay and there are several gravel and sand-pits in the neighbourhood. The average altitude is 200 ft., rising to over 300 ft. in the west on the Wokingham and Staines Road.
The main road from Wokingham to Staines runs eastwards through the parish and is intersected by roads leading to Old Windsor, Winkfield and Cranbourne Chase. Sunninghill is watered by the Blakmoor Stream. It has also several springs, one of which, 'The Wells,' is a chalybeate spring, formerly much frequented. (fn. 3)
A palaeolithic perforated hammer of quartzite has been found in Sunninghill. (fn. 4)
The village lies in the east of the parish, I mile from Ascot station on the London and South Western railway, and contains a public recreation room with library and reading rooms, the Cordes Hall, built in 1903 by Mrs. Cordes, and the Durning Library, a free library of 3,000 volumes, given by Miss Durning Smith.
Sunninghill Park, a late Georgian stucco building of two stories with modern additions, standing in a densely wooded park of which part is in Winkfield parish, is the residence of Mr. Edward Eyre. Silwood Park, owned by Mrs. Cordes, the lady of the manor, has a deer park of 250 acres, but the old house has been replaced by a modern red brick building. Other residences are Titness Park, the seat of Captain Sir Reginald A. E. Cathcart, bart., a stucco building of two stories in the Gothic style, to which is attached a small park; Buckhurst Park, a threestoried stucco building with additions made in 1906, owned by Sir Joseph Savory, bart., D.L., J.P.; Harewood Lodge, the residence of Col. the Hon. Chas. Rowley Hay-Drummond; Tittenhurst (Tetenhurst, (fn. 5) xiii cent.), a stucco mansion in the Grecian style with an Ionic portico, the property of Mr. T. H. Lewinsky; and Tetworth Park, a stucco building of two stories, at present unoccupied. The house near the church, called the Cedars, was owned in 1729 by the Hon. John Yorke, fourth son of Lord Chancellor Hardwicke. He sold it to George Ellis, the friend of Sir Walter Scott, Canning, Rogers and other literary men of his time. Scott stayed there, and a stone in the garden marks his favourite resort. Ellis was one of the chief contributors to the Rollia and the Anti-Jacobin. (fn. 6)
There is a Roman Catholic convent and boarding school and also a Franciscan priory in the parish and a Wesleyan chapel at Cheapside.
Anthony Ashley Cooper, first Earl of Shaftesbury (1621–83), spent some time at Sunninghill with John Locke the philosopher as his medical attendant. (fn. 7)
MANORS
SUNNINGHILL is not mentioned in the Domesday Survey and apparently then formed part of the manor of Cookham, of which it was still a member in the 18th century. (fn. 8)
Geoffrey de Baggesate died in 1255 seised of a serjeanty called Baggeset, pertaining to land in Sunninghill and Coworth. His heirs were his aunts Alice Tywe and Joan de Hurule and his cousin Alice de Froxle. (fn. 9) This was probably the same serjeanty as that held towards the end of the 13th century by Hugh de Froyle, and alienated by him to Richard Batayle in or before 1272. (fn. 10) In 1275 Batayle had withdrawn his suit at the hundred court of Cookham, (fn. 11) which the king later recovered. (fn. 12) Sunninghill is called a manor in 1362 when it was settled on John de Sunninghill and his wife Joan and their heirs. (fn. 13) John gave a rent of £20 from the manor in 1374 to William de Brantingham, and sold the manor in the following year to William le Venour, his sister and heir Joan confirming the sale. (fn. 14) John died before 1386, when the manor was confirmed to his widow for life by William de Brantingham. (fn. 15) In 1438 Thomas Haseley alienated the manor to trustees, (fn. 16) who in 1449 sold it to John Norreys. (fn. 17) The latter died seised of it in 1466, (fn. 18) and Sunninghill then descended with Yattendon (q.v.) in the Norreys family (fn. 19) until in 1567 Henry Norreys, afterwards Lord Norreys of Rycote, sold it to Henry Lane, (fn. 20) who with Agnes his wife conveyed it in 1583 to William Day. (fn. 21) Matthew and William Day were dealing with the manor in 1654 with Dr. Samuel Collins, (fn. 22) and in 1668 William Day and his son Matthew sold it to John Blagrave. (fn. 23) Later it came to the Aldridge family. (fn. 24) It was held by John Aldridge of Doctors' Commons and was sold by his widow Catherine Lane and his son John Aldridge in 1764 to John Pitt of Encombe in Corfe Castle, co. Dorset, (fn. 25) from whom it was purchased by James Hartley. (fn. 26) The latter sold it in 1787 to James Sibbald the banker, who was dealing with the manor in 1796 (fn. 27) and built the new house. He was created a baronet in 1806 and sold the manor before 1813 to George Simson, (fn. 28) who was ruined by the financial crisis of 1825, and Mr. Michael Forbes became the owner. He sold it to Mr. Hargreaves, of whom it was purchased by Mr. Charles Stewart. On his death in 1882 the manor was sold to Mr. Thomas Cordes, formerly of Bryn Glàs, Newport, Monmouth, whose widow is the present owner. (fn. 29)
SUNNINGHILL PARK
SUNNINGHILL PARK was included in the forest of Windsor until the reign of Charles I. (fn. 30) It was granted by Charles I to Thomas Carey in 1630. (fn. 31) He died three years later and the park was purchased of his daughters Philadelphia, Frances and Elizabeth by Thomas Draper. (fn. 32). He was created a baronet in 1660 (fn. 33) and died in 1703 without male issue. The property was inherited by his daughter Mary Baber, whose grandson Thomas Draper Baber sold the estate in 1769 to Jeremiah Crutchley, (fn. 34) in whose family it still remains, the present owner being Mr. Percy Edward Crutchley. (fn. 35)
KING'S WICK
KING'S WICK was an old mansion near the church at the cross-roads. (fn. 36) It was the property of Olivia fourth daughter of John Lord Butler, who in 1620 married Endymion Porter, groom of the bedchamber to Charles I. She left it by will to Mrs. Mary Baron who bequeathed it to Elizabeth Willis, afterwards wife of Joseph Windsor, of whom it was purchased before 1740 by Sir Edmund Elwill, bart. From him it passed in 1740 to his son Sir John, who was succeeded in 1778 by an only child, Selina Mary, wife of Felton Lionel Harvey, and afterwards of Sir William Henry Freemantle. The old house fell into disrepair, and was inhabited in 1792 by some French refugees. It was the birthplace of the young Prince de Craon. The trustees of Lady Freemantle sold it to the Hon. Richard FitzPatrick, the fashionable gambler, who pulled down the house and included the property with his own house. He gave it to Mrs. Caroline Price for life and then to his niece Lady Caroline Fox, of Little Holland House, Kensington. She succeeded in 1826 and conveyed the property to Michie Forbes of Silwood Park in 1838. It was afterwards purchased by the Hargreaves family, with whom it remained until 1873, when it was bought by Mr. G. M. Hughes, the historian of Sunninghill, who built the present house. (fn. 37)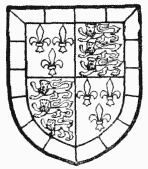 The priory of Benedictine nuns at BROMHALL in this parish was suppressed in 1522, when its lands, including the manor of Bromhall, were granted to St. John's College, Cambridge. (fn. 38) The priory stood on rising ground on the southern bank of the stream which flows from Charters Pond to Virginia Water. A roadside inn called Brummell Hutch marks the spot where it stood, but there are no actual remains.
The mill-pond of Sunninghill was stated in the reign of James II to be partly in this parish and partly in Winkfield. (fn. 39) The mill was burnt down at the end of the 19th century. There was also one at Bromhall. (fn. 40)
CHURCH
The church of ST. MICHAEL AND ALL ANGELS consists of a chancel, north vestry south chapel and organchamber, nave, north and south aisles, and a west tower. The church was entirely rebuilt of brick in the 'Perpendicular' style in the years 1807 and 1827, and the chancel, vestry, and south chapel were added in the year 1888.
There are three bells, the first inscribed 'William Eldridge Made Mee 1662,' the second inscribed 'S. O K 1705,' and the third by John Warner, London, 1867.
The plate includes a paten bearing the mark of 1703, inscribed 'Emptum in Usum Ecclesiae de Sunninghill in Com. Berks. Anno Dom. 1704 J.A., N.D.' and a paten bearing the mark of 1715, inscribed 'A gift to Sonning Hill church 1716 With ye Number of Ounces 33.' Engraved upon it is a shield charged with a double eagle within a border with eight roundels. There are also a paten bearing the mark of 1834, a chalice and spoon of 1904 and a silvermounted glass flagon of 1876.
The registers previous to 1812 are as follows: (i) all entries 1561 to 1641 (fn. 41); (ii) baptisms 1653 to 1738, burials 1653 to 1740, marriages 1653 to 1739; (iii) all 1740 to 1775; (iv) all 1776 to 1795; (v) all 1796 to 1812.
ADVOWSON
The advowson of the church of Sunninghill was granted by King John in 1200 to the nuns of Bromhall, (fn. 42) who held it until the dissolution of the priory in 1522. The possessions of the priory were then granted to St. John's College, Cambridge, (fn. 43) which has held the patronage of the living ever since. (fn. 44) Sunninghill Church was appropriated to the nunnery and St. John's College gave the rectorial tithes to the vicar. (fn. 45)
CHARITIES
The following charities have been consolidated by a scheme of the Charity Commissioners of 2 February 1894 under the title of the Parochial Charities— namely, the charities of Edward Lane, founded by will proved in the P.C.C. 26 October 1732, whereby the testator charged all the tithes within the liberty of Coworth with 40s. a year for the poor, now paid by the Earl of Derby.
Elizabeth Squire, by will proved in the P.C.C. 8 January 1734, legacy of £200 to the poor, represented by a charge of £7 per annum upon land at Winkfield, now belonging to Sir Joseph Savory, bart.
Anne Palmer, indentures 23 and 24 March 1749, gift of £50 for bread, now represented by £360 8s. 2d. consols arising from sales in 1862 and 1863 of certain allotments awarded under an Inclosure Act (fn. 46) in lieu of lands originally purchased.
Mrs. Ann Dawson, by will 1831, trust fund, £102 2s. consols, for supplying blankets and warm clothing.
The parish trust estate, acquired partly through grants or purchases of ancient date and partly by allotments under the Inclosure Act above referred to, consists of land, a cottage and garden at Cheapside, Sunninghill, four cottages and 6 a. 2r. 28 p. in Sunninghill Bog, together with £99 17s. 6d. consols (representing proceeds of sale of land in 1885), producing in the aggregate £16 1s. 6d per annum.
John Stables, by will proved at London 4 June 1863, trust fund, £333 6s. 8d. consols, the dividends to be applied in warm clothing.
The above-mentioned sums of stock, together with £161 8s. 8d. consols arising from investment of cash balances, constitute the sum of £1,057 3s. consols, which is held by the official trustees.
The gross income of the parochial charities amounts to £49 0s. 2d. per annum, and the net income was, in pursuance of the scheme, applied in 1909 as to £15 to coal and clothing clubs, £10 in the distribution of warm clothing and £12 in food and other necessaries in cases of sickness or infirmity, the recipients being chosen on the recommendation of the clergy and others in the several districts of the parish.
The fuel allotment —By the Windsor Forest Inclosure Act land known as Sunninghill Bog was granted to the poor in lieu of their right or liberty to cut fuel from the common or waste lands. Portions of the land have from time to time been sold or exchanged, and the property now consists of about I I I acres of land, producing about £37 14s. per annum, and a sum of £1,507 14s. 6d. consols with the official trustees (representing proceeds of sale of land from time to time), annual dividend, £37 13s. 8d. The net income is applied in the distribution of coals in quantities of one or two sacks in each case to poor persons of the labouring class.
The National schools, originally erected by Augustus Schutz and his wife Elizabeth in or about 1819, were endowed by the former with a sum of stock now represented by £1,154 0s. 5d. consols with the official trustees, who also hold a sum of £102 2s. like stock bequeathed by will of Mrs. Ann Dawson in or about 1831. Additional land was conveyed by deed poll of 13 December 1866 by St. John's College, Cambridge, and in 1872 a portion of the parish trust estate was also appropriated for the school.
Lucas Hospital (see Wokingham).—This parish is entitled to have an inmate in the hospital.
The Sunninghill mission hall, comprised in indentures of 24 May 1881 and 9 October 1899, is settled upon trust for public worship or for religious instruction. There is no endowment, and the property is subject to a mortgage of £400.
The Cordes Hall is comprised in an indenture dated 24 June 1901. The site for the hall was purchased with £400 given by the late Mr. Thomas Cordes, and his widow provided for the erection of the hall at a cost of £1,800. The hall is used for parochial meetings, and the expenses of the caretaker's wages, repairs, &c., are provided by letting it for entertainments.