Pages 447-448
A History of the County of Berkshire: Volume 3. Originally published by Victoria County History, London, 1923.
This free content was digitised by double rekeying. All rights reserved.
THE HUNDRED OF MORETON (fn. 1)
CONTAINING THE PARISHES OF
ASHAMPSTEAD
HAGBOURNE
SOTWELL
ASTON TIRROLD
HARWELL
STREATLEY
BASILDON
NORTH MORETON
BRIGHTWELL
SOUTH MORETON
WALLINGFORD BOROUGH with CLAPCOT
DIDCOT
MOULSFORD
The present hundred of Moreton includes the two Domesday hundreds of Sloteford (Eletesford, Heslitesford, xi cent.; Sloteford, xiii cent.; Slotesford, xiv cent.) and Blewbury (Blitberie, xi cent.; Blebir, Blekebyr, xiii cent.). The two hundreds became united early in the 13th century, (fn. 2) and later in that century the name of Blewbury Hundred was changed to Moreton or South Moreton. (fn. 3) In 1327, however, Moreton and Sloteford Hundreds were again returned separately, (fn. 4) but Sloteford had disappeared before 1428 and the hundred was known as Moreton from that time. (fn. 5)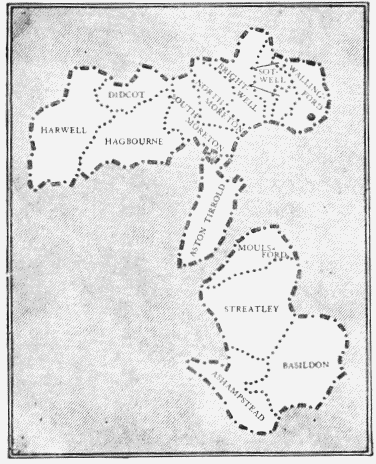 Between 1086 and the present day few changes have been made in the hundred. Blewbury, from which part of the hundred took its name, was transferred before 1327 to Reading Hundred, (fn. 6) but its hamlets of Aston Upthorpe, Upton and Nottingham Fee have always been in Moreton Hundred. (fn. 7) Cholsey was in Sloteford Hundred in 1086, but became part of Reading before 1327. (fn. 8) It seems probable that Moulsford was part of Cholsey in 1086, but it remained in Moreton Hundred, where it was returned early in the 13th century. (fn. 9) Hartridge in Ashampstead was returned in Reading Hundred in 1086, and in Theale Hundred in 1327 (fn. 10) and in 1549. (fn. 11)
The hundred has always belonged to the Crown. (fn. 12) In 1651 it was held, evidently under a lease, by William Lenthall, Speaker of the House of Commons. (fn. 13) At that time the court leet for the hundred was held once a year at Michaelmas, while the three-weekly court was held fairly regularly. (fn. 14) The place at which the leets were held is not known. Sloteford, where the leet for Sloteford Hundred was probably once held, was evidently in Moulsford, Simon and Nicholas de Sloteford occurring in the Subsidy Roll of 1327 for that parish, (fn. 15) but it is not now identifiable.