Pages 125-130
A History of the County of Berkshire: Volume 4. Originally published by Victoria County History, London, 1924.
This free content was digitised by double rekeying. All rights reserved.
YATTENDON
Etingedene (xi cent.); Yetingeden, Yatingedene, Yatingden, Yatinden (xiii cent.); Yatenden (xv cent.); Yattenden (xvi cent.).
The parish of Yattendon lies in the valley of the Pang and extends considerably to the east. The village lies around the church at the centre of the south side of the parish close to the boundary. The land rises from the point where the Pang leaves the parish at about 260 ft. above the ordnance datum to 407 ft. in the extreme north. The parish contains 1,400 acres, of which 464 are arable, 194 permanent grass and 132 woods and plantations. (fn. 1) The chief crops are wheat, barley and oats. The soil is partly chalk, but there are beds of clay and sand on the eastern side. No railway or canal passes through the parish, but the high road from Hermitage to Pangbourne crosses the southern part. There are two Primitive Methodist chapels in the parish. The western part of the parish is known as Everington, but it does not appear to have been a distinct vill.
Yattendon Court, a fine modern mansion, which was designed by the late Alfred Waterhouse, R.A., is the residence of Mrs. Waterhouse, the manor-house is occupied by Miss Godley, Craston's Orchard by Mr. Paul Waterhouse, Everington House by Sir Arthur William R¨cker, F.R.S., and the Grange is at present unoccupied. The population is mainly agricultural, but many of the inhabitants engage in metal work in their spare time, under the auspices of the Home Arts and Village Industries Association.
A spring here, known as the 'Miraculous Well,' is always quite full, but never overflows. (fn. 2) A revel used to take place on St. Peter's Day, 10 July, at which the game of single-stick was kept up, in memory, it was said, of a battle fought that day in Yattendon Fields, which began near Manstone Farm and ended at England's Stile. (fn. 3)
There is a round barrow at the south-west corner of the parish, but no record has been found of its exploration. (fn. 4)
In 1878, while digging the foundations of Yattendon Court, a hoard of bronze implements was found, numbering fifty-nine pieces, about 2 ft. below the surface. (fn. 5) A bronze knife-dagger was found at Rowcroft in this parish some years earlier. (fn. 6)
Early in the 19th century some foundations were found in a field called Green Ditch at Everington, which were thought to be those of a Roman villa. A vast quantity of Roman bricks and tiles were found in the wood adjoining, and a few coins of the same date were discovered about the same time. (fn. 7)
Manor
In the time of Edward the Confessor YATTENDON was held by Baldwin of the king in alod, and at the time of the Domesday Survey it was held by William son of Ansculf. (fn. 8) The overlordship descended, like that of the manor of Stanford Dingley (q.v.), to the Paynels, de Somerys and de la Beches. (fn. 9) At the death of Edmund de la Beche in 1364 the overlordship passed under the same settlement to Thomas Langford, (fn. 10) who seems to have been a son of Edmund's sister. It appears to have remained in the Langford family until 1441–2, when Edward Langford remitted all his right in the manor to John Norreys, (fn. 11) who had purchased the fee. The overlordship and the fee were thenceforth merged.
According to the Domesday Survey Baldwin held this manor of Edward the Confessor, but in 1086 Godebold held it of William Fitz Ansculf. (fn. 12) There is no further mention of the mesne tenant until the 13th century, when we find Peter de Yattendon holding a fee here of Roger de Somery. (fn. 13) Peter had a grant of free warren here in 1252, (fn. 14) and in 1258 he received a charter to hold a weekly market on Tuesdays and a yearly fair on the vigil, feast and morrow of St. Nicholas. (fn. 15) In 1259–60 he granted lands and rents here to Nicholas. (fn. 16) The latter died before 1273, (fn. 17) when we find his brother and heir Bartholomew holding the manor. (fn. 18) Bartholomew was holding the manor in 1286, (fn. 19) and in 1287–8 conveyed the reversion to Hugh de Brandeston, who had married his daughter Margaret. (fn. 20) Bartholomew died before 1289, when a dispute arose between his two daughters as to the disposition of the manor.
Beatrice, Bartholomew's widow, stated that she and her husband inherited the manor, of which they enfeoffed Hugh and Margaret, while retaining a life interest for themselves, but Eleanor, the other daughter, and her husband Ralph de Kniveton or Kineton claimed to inherit half. (fn. 21) The decision was for a time postponed, and in 1290 we find both Hugh and Ralph returned as holding the vill. (fn. 22) The case was finally settled in favour of Eleanor in 1291, (fn. 23) though shortly afterwards she and her husband disposed of their share to Hugh and his wife. (fn. 24) Hugh died seised of this manor in or before 1298, when the king proceeded to administer the estate, as his son Henry was then under age. (fn. 25) The following year the manor was restored to Margaret, who proved that she had a life interest in it. (fn. 26)
In spite of the fact that her interest was limited, she sold the manor in 1315 to Osbert Clynton and his wife, (fn. 27) and they conveyed it the same year to John de la Beche, (fn. 28) who is returned as its owner in 1316. (fn. 29) John immediately obtained a charter of free warren, (fn. 30) and in 1318 of a weekly market on Tuesdays and a yearly fair on the vigil, feast and morrow of St. Peter and St. Paul (29 June). (fn. 31) He was holding the fee in 1322, (fn. 32) but appears to have died soon afterwards, for he was evidently dead by 15 January the following year. (fn. 33) He was succeeded by his son Thomas, then a minor, (fn. 34) who died without issue in 1331, when the manor passed to his brother John, then aged sixteen. (fn. 35) In 1335 the latter's uncle Sir Nicholas and Philip de la Beche, his father, had licence to impark the woods here, (fn. 36) and the same year they had a charter of free warren. (fn. 37) It seems likely that they were acting as guardians of John, who was still a minor. John died in or before 1336, when his heirs were his three sisters—Joan, the wife of Andrew de Sackville; Isabel, the wife of William Fitz Ellis; and Alice, the wife of Robert Danvers. (fn. 38) Within the course of the next five years all three of these heirs sold their shares to their uncle Sir Nicholas de la Beche, who had in the meantime obtained the overlordship. (fn. 39)
He died in 1345, and the manor passed with the overlordship to his widow Margery for her life, and so to his brother Edmund the archdeacon, (fn. 40) except a third, which seems to have been regranted by Margery to Isabel and William Fitz Ellis. (fn. 41) At the death of Edmund in 1364–5 the remaining twothirds descended to Andrew son of Joan and Andrew de Sackville and Edmund son of Alice and Robert Danvers, subject to the life interest of Edward de la Beche, who held the manor until his death in 1381. (fn. 42)
In 1315–16 Margaret widow of Hugh de Brandeston sold her interest in the manor, which appears to have been only a life interest, although she had a son Henry, who was at that time a minor. Henry had a son Hugh, who left two daughters—Agnes, the wife of Philip de Aylesbury, and Rose, who married Richard de Montfort. In 1366 these claimed the manor from Andrew de Sackville, Edmund Danvers and John Duyn, who was the son of Margery the only daughter of Isabel and William Fitz Ellis, but the case was postponed until the coming of age of John Duyn. (fn. 43)
It seems probable that when this manor and the other estates thus inherited were divided among the three co-heirs Edmund Danvers conveyed his share to Andrew de Sackville, for there is no further reference to any interest in this manor belonging either to him or his heirs. Andrew de Sackville seems to have had two thirds and John Duyn one third. Sir Andrew sold his share in 1365–6 to Ralph de Restwold and Thomas Hancepe, (fn. 44) apparently in trust for the latter, who sold it in 1371–2 to Sir Thomas de Coleshill. (fn. 45) From Sir Thomas it passed to his daughter and heir Isabel the wife of Hugh Crane, who was holding part of the manor in 1381 (fn. 46) and sold it in 1382–3 to Alice Coteron and others, when the share was stated to be two thirds. (fn. 47) John Duyn obtained possession of his share on coming of age in 1381–2. (fn. 48) A John Fitz Ellis, who may be the same man—in which case he had in the meantime taken his mother's name—or perhaps a cousin of his, died seised of a third of the manor in 1395–6, when his heir was his son John, then aged ten. (fn. 49)
In 1408–9 John conveyed his share of the manor to John atte Hyde and William Bruyly. (fn. 50) In 1414 John Coteron was still in possession of two-thirds of the manor, for that year Rose Montfort, now a widow, and Roger son of Agnes Aylesbury again attempted to establish their right to the manor. (fn. 51)
What happened is uncertain, for no records have been found to trace the descent of these shares during the next fourteen years, but in 1428 (fn. 52) we find the manor in the hands of Richard Merbroke and John Golafre, (fn. 53) the latter of whom had probably inherited the share of the manor bought by William Bruyly in 1408–9.
Richard Merbroke's only daughter and heir Alice seems to have married Sir John Norreys, K.B., a son of William Norreys of Bray, (fn. 54) and Sir John seems to have been in possession of the manor by 1441–2, when he purchased the overlordship of Edward Langford. (fn. 55) He appears to have acquired Golafre's interest in the manor, for no further reference to this has been found, and at the same time made his title secure by purchasing the interest, if any, of the heirs of Hugh de Brandeston, who at this time seem to have been Elizabeth wife of John Doyvyle and Joan wife of John Aylesbury. (fn. 56) To add still further security he obtained a charter from the king between 1446 and 1448. (fn. 57) He was usher to the chamber, squire to the body and master of the wardrobe to Henry VI, Sheriff of Oxford and Berkshire in 1442 and 1457, and squire of the body to Edward IV. He died in 1467 and was buried at Bray, (fn. 58) when he was succeeded by his son William, who was holding the manor in 1471. (fn. 59)
Sir William Norreys was knighted at the battle of Northampton on 9 July 1458 and was knight of the body to Edward IV. He was Sheriff of Oxford and Berkshire in 1468–9, 1482–3 and 1486. In October 1483 he joined the Duke of Buckingham's rebellion, was attainted and fled to Britanny to join Richmond, and returned with him in 1485, when he commanded a troop at the battle of Stoke. (fn. 60) He executed a deed at Yattendon in 1479. (fn. 61) He married first Isabel daughter of Sir Edmund Ingoldesthorpe of Borough Green, Newmarket, and widow of John Nevill Marquess of Montagu, by whom he had, besides three daughters, three sons, William, Lionel and Richard, all of whom died young, though the two former had been knighted in 1487 and 1529. (fn. 62) By his second wife, Jane daughter of John Vere twelfth Earl of Oxford, he had four sons, the eldest of whom was Sir Edward. By his third wife, Anne daughter of John Horne, alderman of London, and widow of Sir John Harcourt, he had one son and four daughters. (fn. 63)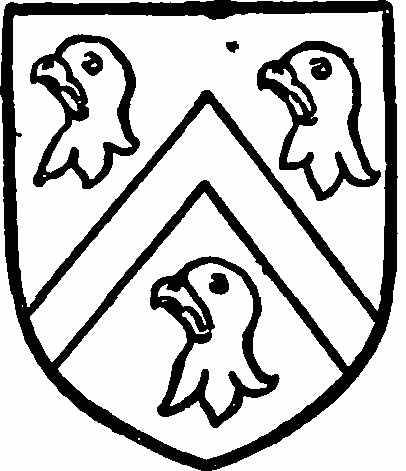 Sir William died on 4 January 1506–7, but it is uncertain whether he was succeeded by his son Sir Edward, who married Frideswide, sister and heir of Francis Viscount Lovel, (fn. 64) or by their son John Norreys, who was certainly holding the manor in 1517. (fn. 65) In any case John seems to have had some interest in this manor, or at any rate to have lived here before his grandfather's death, for he is described as late of Yattendon in 1484. (fn. 66) He is again referred to in 1526, (fn. 67) and entertained the king in 1520, (fn. 68) and was holding the manor in 1539. (fn. 69) As he had no issue (fn. 70) by his wife Elizabeth he had licence in 1542 to settle this manor on himself and his wife, with remainder to his nephew Henry, the son of his brother Henry, who was then about to marry Margery daughter of Sir John Williams, afterwards Lord Williams of Thame. (fn. 71) He died in 1564, (fn. 72) when under the settlement the manor passed to his nephew. (fn. 73)
Henry Norreys was knighted, and in 1572 was created Lord Norreys of Rycote. (fn. 74) He was holding this manor in 1576 (fn. 75) and died in 1601. (fn. 76)
His eldest son William Norreys died in 1579, having married in 1576 Elizabeth daughter of Sir Richard Moryson and Bridget, afterwards Countess of Bedford; he left a son Francis, then aged one year and eight months. (fn. 77) Another son of Henry was Sir John Norreys, kt., who served in the Low Countries as commander. He died in 1597, and is said to have been buried at Yattendon, though his name does not occur in the registers, (fn. 78) but a monument in the church states that he died at his house here on 3 July 1597. (fn. 79) On the death of Henry Lord Norreys the manor passed to his grandson Francis, who in 1610 conveyed the manor to trustees, (fn. 80) apparently on his marriage to Bridget, second daughter of Edward seventeenth Earl of Oxford. Francis Lord Norreys was made a knight of the Bath on 6 January 1604–5 and on 20 January 1620–1 created Viscount Thame and Earl of Berkshire, at the suggestion of the Earl of Buckingham. He shot himself with a cross-bow (fn. 81) and died on 31 January 1622–3, leaving an only daughter Elizabeth, married to Edmund Wray, (fn. 82) whose only daughter Bridget married as her second husband Montagu Bertie second Earl of Lindsey, and was the mother of James Bertie Lord Norreys of Rycote, created Earl of Abingdon in 1682. (fn. 83)
Ten years before his death, however, in 1613, the Earl of Berkshire had settled the manor of Yattendon and other estates on an illegitimate son by Sarah Rose, afterwards the wife of Samuel Hayward. (fn. 84) This son, known as Francis Norreys, was knighted on 27 August 1633, served as Sheriff of Oxfordshire in 1635–6 and was M.P. for Oxfordshire in 1656 and 1658. (fn. 85) In 1629 he married Jane daughter of Sir John Rouse, kt., when he placed the manor in settlement. (fn. 86)
In 1662 Sir Francis Norreys, with Hester his second wife and Edward Norreys their son, made a further settlement conveying the manor to Vincent Barry and John Smith, (fn. 87) apparently in trust on the marriage of Edward, who was knighted on 22 November the same year. (fn. 88) On the death of Sir Francis (fn. 89) in 1669 the manor passed to his son Edward. Sir Edward served as M.P. for Oxfordshire from 1675 to 1679 and again from 1700 to 1708, and appears to have died soon afterwards. (fn. 90) His son Francis, who was M.P. for Oxford from 1700 to 1705, died in 1706 during his father's lifetime. (fn. 91)
At Sir Edward's death the manor seems to have passed to James Norreys, who would appear to have been another son, and in 1714 he and his wife Mary conveyed the manor to James Close, apparently in trust. (fn. 92) James Norreys seems to have died without issue shortly afterwards, for in 1721 we find the manor held by James Bertie, (fn. 93) who appears to have been the son of Henry Bertie, brother of the first Earl of Abingdon, and his wife Philadelphia, who was a daughter of Sir Edward Norreys. At the death of James Bertie the manor passed to his son Norreys Bertie, who was holding it in 1747 (fn. 94) and again in 1759. (fn. 95) By his will dated 1766 he left a charge on his estates to his cousin Willoughby fourth Earl of Abingdon, in trust for Lady Elizabeth Gallini, while the manors were left to his cousin Captain the Hon. Peregrine Bertie, the earl's brother. Notwithstanding this will, in 1784 he sold the manor for £2,000 to Sophia Harris, (fn. 96) who seems to have been a distant cousin, for Jane, another daughter of Sir Edward Norreys, had married Roger Harris of Winchester, (fn. 97) while the mother of Norreys Bertie was Elizabeth daughter of Roger Harris of the same city.
Soon after the sale the manor was bought back by the Hon. Peregrine Bertie, who sold it the following year, 1785, to Sir John Andrea Gallini. (fn. 98)
Giovanni Andrea Gallini, born in Florence on 7 January 1728, arrived in England nearly destitute about 1753 and became a famous dancer at the Haymarket Theatre. As dancing master he visited the house of the Earl of Abingdon and married one of his daughters, Lady Elizabeth Peregrine Bertie, before 13 October 1766. They lived together for some time, but during their later years separated. He danced before the pope, who made him a knight of the Golden Spurs, after which he called himself Sir John. He survived his wife, who died in 1804. At his death (fn. 99) in 1805 the manor passed to his son John Andrea Gallini, who was holding the manor in 1806, (fn. 100) but was dead before 1825, when one-fifth of the manor belonged to one of his daughters, Mary. (fn. 101)
The children of Gallini, who appear to have been five in number, of whom two at least were sons, Alfred and Arthur, (fn. 102) were still possessed of the manor in 1839. (fn. 103)
In or about 1841 they sold the estate to T. A. Howard, and as the title seemed insecure owing to Sir John Gallini being an alien, a royal warrant was issued in 1841 to make this good. From T. A. Howard the manor passed to his son Thomas Aubrey Howard, who sold it in 1877 to the late Alfred Waterhouse, R.A., LL.D., at whose death, on 25 August 1905, it passed to his widow, the present owner. (fn. 104)
The Domesday Survey makes mention of a mill of the annual value of 5s., (fn. 105) but there is no mill in the parish at the present day.
The western part of the parish is called Everington (Everinton, xii–xiii cent.; Everyngton, xiv cent.) and the field of Everington is mentioned in a deed of the 13th century. (fn. 106)
In 961 King Edgar granted to his servant Alfric 9 mansae at Ætheringetune, which may very possibly be Everington, though there is nothing in the description of the lands to enable a satisfactory identification to be established. (fn. 107) It appears to have been attached to Yattendon before the Norman Conquest, for no separate mention is made of it in the Domesday Survey, and subsequent documents show that it belonged to that manor.
Walter and Reginald of Everington are mentioned in 1189–90, (fn. 108) while William of Everington sold 3 hides of land here to Ralph de Meinfelin in 1197. (fn. 109) Free warren here was granted to the lord of Yattendon Manor in 1252, (fn. 110) 1316 and 1317. (fn. 111) Lands and tenements here and a messuage called Barnes in Everington are mentioned in 1539 (fn. 112) and 1611, (fn. 113) in both cases held of the lord of Yattendon, and the manor is described as the manor of Yattendon and Everington in 1629, 1662, 1825, 1827 and 1832. (fn. 114)
Church
The church of ST. PETER AND ST. PAUL consists of a continuous chancel and nave, modern north vestry, west tower and modern south porch.
The church was rebuilt about the year 1450 by John Norreys. (fn. 115) In 1858–60 the church was rigorously restored, when the tracery of the windows was repaired and reset. (fn. 116) It is said that the original design was followed in every case. In 1881 the tower was repaired and the vestry added. In 1896 the tower was further restored and the present spire added at the cost and under the direction of the late Alfred Waterhouse, R.A., by whom the rood stairs were also opened up.
In the east wall of the chancel is a much-restored 15th-century window of five cinquefoiled lights with a traceried two-centred head and an external label. This wall leans outwards very considerably, and the portion containing the window was straightened at the last restoration by the addition of an extra thickness of wall at the foot. At the south-east is an original angle buttress of one offset, but the north-east buttress is modern. In the east end of the north wall is a modern two-centred drop arch opening into the vestry; next to the westward is a 15th-century traceried window of three cinquefoiled lights with a twocentred head. This and all the remaining windows of both chancel and nave have external labels, and all are exactly alike. In the south wall are two windows, and between them a priest's doorway with an original four-centred head. There is no chancel arch, the walls of chancel and nave being continuous.
At the north-east of the nave are the rood stairs, which are entered by square-headed upper and lower doorways and project externally. There are two windows in the north wall and two in the south. Between the latter is the much-restored 15th-century south doorway, which has a four-centred arch within a square external head, traceried spandrels and label and modern head stops. The south porch is entirely modern. The walls generally are plastered outside and there are buttresses at the western angles and at the junction of the nave and chancel on the south.
The west tower is in one stage with angle buttresses of two offsets at its western angles, a plain parapet and a modern timber spire. Internally there are two stories. The tower arch and west window are modern. The west door has a twocentred moulded head and jambs and an external label, with some original 15th-century stones. Lighting the clock-stage on the west is a small modern window. The belfry has a window of two trefoiled lights within a square head in the west wall, and on the north and south single trefoiled lights.
The roof, which is tiled, is of original 15th-century date and supported by trusses with lower and upper collars strengthened by curved braces forming fourcentred arches. The truss over the junction of the nave and chancel is supported by moulded wall posts brought down to the floor, and between them is placed the chancel screen. The uprights of the latter are portions of the original rood gallery, but the tracery in the heads of the open upper panels is modern. The south door, which is divided vertically into five panels, appears to be a piece of original woodwork.
On the south wall of the nave is a white marble tablet to the memory of Sir John Norreys, who died on 3 July 1597. This was formerly in the pavement of the chancel under the altar. A long inscription details his military career, which began 'in ye Civil Wars of France under Admiral Coligne.' Over the tablet a helmet said to be that of Sir John Norreys is suspended. This was discovered a few years since, having been stowed away in the rectory-house, which was built in the 18th century.
There is a ring of six bells, inscribed: (1) 'The Gift of Richard Welborne Esq 1756 they owe their mirth to me. Lester Pack Fecit'; (2) '1657'; (3) 'Let your ceasless Change vary To our great Maker still new praise'; (4) '1660'; (5) 'Sancte Nicollae Ora Pro Nobis.' This bell probably dates from the 15th century. It bears the early lion's head stop of the Wokingham foundry and the cross composed of four fleurs de lis; (6) 'Henry Knight made mee ano 1617.'
The communion plate consists of a chalice bearing the almost obliterated date letter of the year 1722 and inscribed 'W. Puller Rector Yattendon Berks An° Dom. 1729,' a paten bearing the date letter of the year 1713, inscribed 'The Gift of Bridget daughter of Anthony Lybbe of Hardwick Oxon Esq & Widdow to Fran. Sayer late Rector of Yattendon Berks to ye use of the said Church 1714,' and a modern flagon.
The registers before 1812 are as follows: (i) baptisms 1558 to 1643 (here follows a gap till the year 1649), 1649 to 1726, burials 1562 to 1652, 1660 to 1726 (the years between 1652 and 1660 are lost or were never entered), marriages 1559 to 1654, 1660 to 1726 (here is also a gap); (ii) baptisms and burials 1726 to 1773, marriages 1726 to 1753; (iii) baptisms and burials 1774 to 1812; (iv) marriages 1754 to 1812.
Advowson
The first reference to a church that has been found is in 1290, when Sir Hugh de Brandeston and Ralph de Kniveton, then joint owners of the manor, held the church of Yattendon. (fn. 117) The following year the church is mentioned again, when it was valued at £6 13s. 4d. (fn. 118) Many further references to the advowson have been found in documents already cited, which show that it went with the manor. In 1348 the king presented while the manor was in his hands owing to the forfeiture of Margery de la Beche's fourth husband, John de Dalton. (fn. 119) In 1340–1 the ninths on the glebe and tithes were returned as 7 marks. (fn. 120) The value of the rectory in 1535 was estimated at £14 6s. 8d. (fn. 121) The advowson continued to pass with the manor until the 17th century, and Lord Norreys of Rycote presented in 1617 and 1620. Later it seems to have been sold, for in 1660 Elizabeth Sayer, widow, presented, and Sir Thomas Draper, bart., in 1663. (fn. 122) The advowson seems then to have returned to the lord of the manor, for James Bertie presented in 1724, Norreys Bertie in 1735, 1738, 1743, 1747 and 1748, and then the advowson was again sold to Lancelot Hill, who presented in 1758 (fn. 123) and was patron in 1759. (fn. 124) Peregrine Bertie seems to have purchased the advowson when he acquired the manor, for in 1785 he sold it to Joshua Tanner and John Hawkins. (fn. 125)
Soon afterwards it was in the possession of Stephen Flory, who presented in 1802, (fn. 126) and who was patron in 1806, (fn. 127) and it passed from him to John Flory Howard, the elder son of T. A. Howard, the lord of the manor, who presented in 1829 and 1873. It then passed into the hands of Mrs. Loveday, from whom it was purchased by Mr. Alfred Waterhouse, whose widow is the present patron. (fn. 128)
When the chantries were suppressed it was found that there was land in Yattendon worth 6d. yearly, given to maintain a lamp in the church here. (fn. 129)
Charities
The sum of £6 4s., being 5 per cent. of the net income of the charity of James Pocock, (fn. 130) founded by will 1610, is divided by the trustees between this parish and Frilsham, and is applied in the distribution of blankets and sheets.
The Bethel chapel was erected on a site comprised in indentures of 20 November 1879 (enrolled) and 17 October 1889, and is held upon the trusts of the Walworth Model Deed of 24 March 1864.
In 1889 Elizabeth Bew, by her will proved at Oxford on 20 August, bequeathed £100 to the trustees of the chapel upon trust to invest the same, the interest to be paid to the chapel fund. The sum of £25, part of the principal sum of £90, the amount of the legacy, less duty, was expended in underpinning the chapel and the balance invested with the official trustees. The trust fund in 1908 amounted to £77 8s. 7d. India 3 per cent. stock investment account.