Pages 156-157
A History of the County of Berkshire: Volume 4. Originally published by Victoria County History, London, 1924.
This free content was digitised by double rekeying. All rights reserved.
THE HUNDRED OF KINTBURY EAGLE
Containing the Parishes (fn. 1) of
Avington; Chaddleworth with Woolley; Enborne; Fawley with Whatcombe; Hampstead Marshall; Hungerford with Eddington, Hindden, And Sandon Fee; Inkpen; Kintbury; Ketcinbe Bassett; Letcombe Regis with East; Challow And West; Challow; Shalbourne; East Shefford; West Shefford; West Woodhay;
The present hundred of Kintbury Eagle comprises the Domesday hundreds of Kintbury (Cheneteberi) and Eagle (Eglei). The two remained distinct until the 15th century, though from the beginning of the 14th they answered at the assize court by the same twelve jurors, (fn. 2) and in 1316 the parishes contained in the two hundreds are not distinguished. (fn. 3) In the 16th century they were united as Kintbury Eagle. (fn. 4)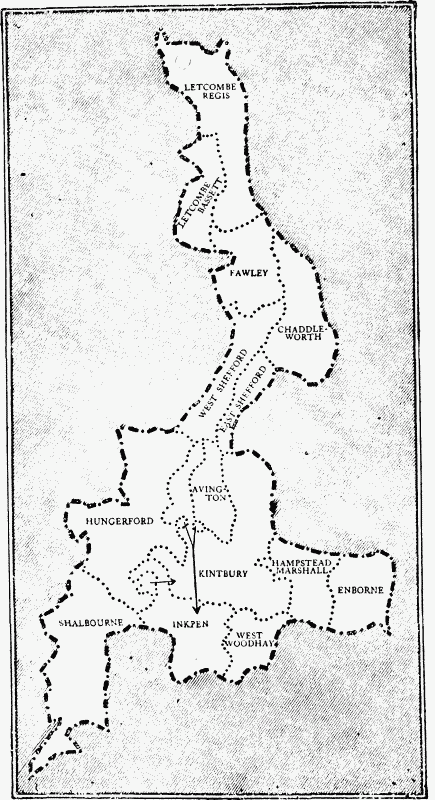 The hundred has undergone little alteration since 1086. Part of East Ilsley then in Kintbury Hundred had been transferred to Compton Hundred by the end of the 13th century. (fn. 5) The tithing of Westbrook in the parish of Boxford (q.v.) and Benham and Church Speen in Speen have always formed part of Kintbury Eagle Hundred, (fn. 6) though Boxford and Speen are in Faircross Hundred. Shalbourne has always been partly in this hundred and partly in that of Kinwardstone in Wiltshire, though the Berkshire portion was transferred to Wiltshire in 1895. (fn. 7) Leverton and Calcot, tithings of Chilton Foliat (co. Wilts.) have always been in Kintbury Hundred. (fn. 8) In 1260 it was stated that the men of Calcot used to do suit at Kintbury Hundred, but that Alan de Farnham the sheriff had withdrawn that suit about eighteen years before. (fn. 9)
Kintbury Eagle has always been a royal hundred. (fn. 10) It was held in 1652 by Thomas Castleton, evidently as a lessee of the Crown, (fn. 11) and was granted in 1665 to Katherine, the queen consort, the lessee at that time being Thomas Holt. (fn. 12)
The three-weekly courts for Kintbury Eagle and Faircross Hundreds were held at Speen and the court leet for Kintbury Eagle at West Shefford. (fn. 13) Tradition assigns the site of the court leet to a place on the boundary between Hungerford and West Shefford, where a pollard ash formerly grew. The court was afterwards transferred to Hug Ditch Court in East Shefford. (fn. 14)
Combe in Pastrow Hundred (co. Hants) was transferred to Berkshire in 1895 (fn. 15) and borders on the parish of Inkpen in Kintbury Eagle Hundred.