Pages 199-203
A History of the County of Buckingham: Volume 3. Originally published by Victoria County History, London, 1925.
This free content was digitised by double rekeying. All rights reserved.
CHENIES
Isenhamstede (xii cent.); Iselhamstede Cheynes (xiii-xix cent.); Eastnamsted Cheynes (xvi-xix cent.); Chenies (xx cent.).
The parish of Chenies was originally known as Isenhampstead, but from the 13th century onwards (fn. 1) was spoken of as Isenhampstead Chenies from its connexion with the Cheyne family, who resided here for nearly 300 years. During the 19th century the old name was gradually dropped, and to-day the parish is universally known as Chenies.
It covers an area of 1,759 acres, of which 1,056 acres are arable land, 474 acres are permanent grass, and the rest is covered by woods and plantations, (fn. 2) while there are 10 acres covered by water. The soil is gravel, flint and chalk and produces crops of wheat and barley.
In the south the land attains a height of 407 ft. above ordnance datum at the small hill on which the church is placed. It falls away to under 300 ft. in the west and to 270 ft. in the extreme south-east near Chorley Wood station, where the Metropolitan railway enters the parish.
The village stands near the northern boundary on the brow of a hill. In the centre is the green with its well, sheltered by rows of tall elms and surrounded by red brick cottages, solid and well built with pointed gables and tall chimneys and good-sized gardens round the cottages. A road leads to the church on the west, behind which is Great Home Farm, while opposite stands the old manorhouse of the Cheynes, which for a long time has been used as a farm. It was rebuilt probably about 1530 by the first Earl of Bedford, who had married Anne Sapcote in 1526. Leland, who visited Chenies a little later, says: 'The olde House of the Cheyneis is so translated by my Lorde Russel that litle or nothing of it yn a maner remaynith untranslated: and a great deale of the House in ben newly set up made of Bricke and Timber: and fair logginges be new erected in the gardein. The House is within diverse Places richely painted with antique Workes of White and Blak. And there be about the House 2 Parkes, as I remember.' (fn. 3)
Only one wing now remains, but it is in a state of good preservation, due to the solid material used and to the good work put into its construction. Its high-gabled roofs with clusters of quaintly twisted and ornamented chimneys form a striking feature, which has been copied in the architecture of the cottages in the village. Some original glass remains, including a shield with arms and quarterings of Russell within a garter with a coronet above, also some old tiles and three fireplaces of Totternhoe stone.
A few yards north of the house is a cellar of two chambers, dating apparently from the 15th century, and probably part of a former house. The walls are of flint and chalk and both chambers have vaulted roofs.
In a field in front of the manor-house stands an oak said to have been planted by Queen Elizabeth on her visit in 1570.
Chenies House, the residence of Miss Russell, stands in pretty grounds north of the church, from whence a fine view can be obtained of the woods at Latimer. From the church a road leads past the Bedford Arms and Baptist chapel, erected in 1779, to the rectoryhouse, half a mile distant from the church. The schools, which were built in 1846, lie a little south of the village. Further south in Green Street, a lane leading to Chorley Wood station, are Little and Great Green Street Farms.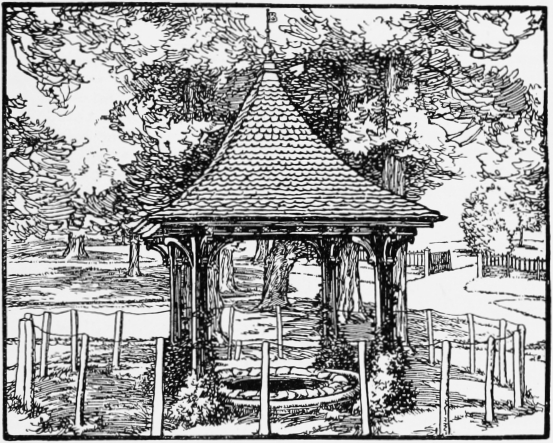 The country around is hilly and richly wooded and watered by the River Chess, which on the north turns the wheel of Chenies Mill and separates the parish from Hertfordshire. The Chess is here famous for its trout, and Mr. Froude has written many pages descriptive of the pleasure of trout-fishing at Chenies. (fn. 4) Woodside House, which lies between the woods and the river, is the residence of Adeline Duchess of Bedford. A road running parallel with the river leads west through park-land bordered by woods to Dell Farm, near which is the site of a fairly large Roman villa, (fn. 5) and from here footpaths lead south to Oldhouse Farm.
Peter Allibond, who translated theological treatises from the French and Latin, was rector of Chenies at his death in 1629 and was buried in the chancel of the church. (fn. 6)
MANOR
The manor of Isenhampstead, afterwards called ISENHAMPSTEAD CHENIES, is not mentioned in the Survey of 1086, but was doubtless included in the possessions of Manno the Breton, of whose descendants it was afterwards held as of their barony of Wolverton, (fn. 7) the last mention of the overlordship occurring in 1619. (fn. 8)
The first notice of Isenhampstead is found in 1165, when it was held for a knight's fee by Alexander de Isenhampstead. (fn. 9) He was probably the ancestor of the Alexander Cheyne who presented to the church in 1232 (fn. 10) and died before 1247. (fn. 11) His son John, (fn. 12) who was Sheriff of Bedfordshire and Buckinghamshire in 1278, (fn. 13) incurred debts to the king. After his death about 1285 his manors, among them Isenhampstead, valued at £11 4s. 3d., were taken by the king, but a certain pension was allowed to the widow Joan. (fn. 14) The next to hold Isenhampstead was Bartholomew Cheyne, whose name occurs between the years 1296 and 1316. (fn. 15) He was followed by Alexander Cheyne, who with Margaret his wife was in 1321 in possession of Isenhampstead Chenies Manor, so called for the first time, (fn. 16) and was still holding in 1346. (fn. 17) By 1350 it had passed to John Cheyne, (fn. 18) who was Sheriff of Bedfordshire and Buckinghamshire in 1371 (fn. 19) and a knight of the shire in 1373. (fn. 20) He was afterwards knighted, (fn. 21) but in 1397 was condemned to death as a Lollard with Sir John Oldcastle. (fn. 22) The sentence was, however, at the intercession of the Lords, commuted to one of perpetual imprisonment. (fn. 23) The next owner of the manor, another John Cheyne, married about 1400 Agnes sister and heir of William Cogenhoe, with whom he obtained Cogenhoe Manor, Northamptonshire. (fn. 24) He was returned as member for the county in 1413 and 1425 (fn. 25) and was sheriff in 1426 and 1430. (fn. 26) Agnes his wife having died, he married Isabel Mortimer, for which he obtained a dispensation in 1421, Agnes his first wife having been godmother to a child of Isabel by her former husband. (fn. 27) In 1440 John Cheyne united with his son Alexander to convey the manor to a trustee, (fn. 28) but in 1444 alienated it to Thomas Cheyne of Chesham Bois, of another branch of the family. (fn. 29) After John Cheyne's death his son William confirmed the conveyance in 1445, (fn. 30) but Thomas Cheyne apparently alienated Chenies to his brother Sir John Cheyne, lord of Drayton Beauchamp and Grove in Chesham (q.v.), to whom he was indebted for £400, (fn. 31) and William Cheyne acknowledged Sir John Cheyne's right in 1451. (fn. 32) On Sir John Cheyne's death without issue in 1468 (fn. 33) his widow Agnes married Edmund Molyneux, who was sheriff of the county in 1475 (fn. 34) and presented to the church in 1479. (fn. 35) He died in 1484, (fn. 36) and Agnes survived him ten years. By her will 20 November 1494 her first husband's greatgreat-nephew John Cheyne of Chesham Bois (q.v.) obtained Drayton Beauchamp, Grove and Cogenhoe Manors, but Chenies passed to Agnes Cheyne's niece Anne wife of David Philip. (fn. 37) Anne and David Philip, who was sheriff in 1498, (fn. 38) had some difficulty in inducing the trustees to hand over the manor, (fn. 39) but were in possession in 1500, when Chenies was settled on Anne and her issue. (fn. 40) She died seised of it in 1510, when it passed to her granddaughter Anne wife of John Broughton and daughter and heir of Guy Sapcote, son of Anne Philip by a former husband. (fn. 41) John Broughton died in 1518, (fn. 42) and by 1523 Anne was the wife of Richard Jermingham. (fn. 43) He died before 1526, in which year Anne married John Lord Russell, (fn. 44) the favourite of Henry VIII, who stayed at Chenies in 1534. (fn. 45) Lord Russell was made lord high admiral in 1540, (fn. 46) and in 1541 the privy council met at Chenies. (fn. 47) In 1550 Russell was created Earl of Bedford, and on his death in 1555 he was buried in the mausoleum in Chenies Church built by his widow Anne, (fn. 48) and in which all the succeeding Earls and Dukes of Bedford lie buried.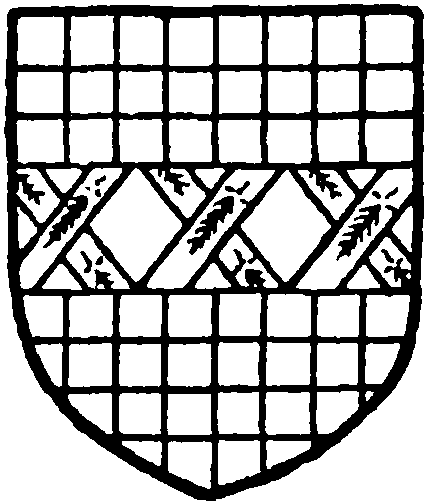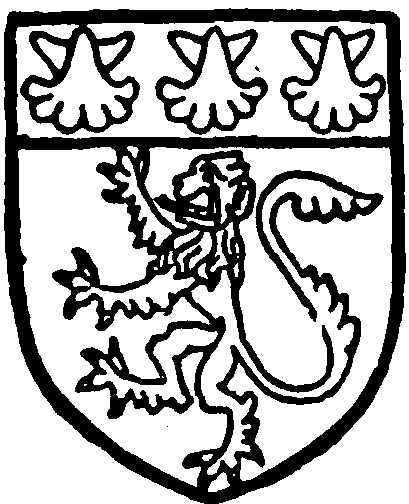 Francis the second Earl of Bedford established his right to the manor beyond all dispute in 1561, when he procured a renunci ation from John Cheyne of any claim which might be put forward by the Cheynes of Chesham Bois. (fn. 49) He entertained Queen Elizabeth at Chenies on 19 July 1570 (fn. 50) and she thought of returning there in August 1576. (fn. 51) In October 1592 the privy council again met at Chenies. (fn. 52)
Lord William Russell, son of the fifth earl, is perhaps the most interesting figure in connexion with Chenies. As a member of the country party in the House of Commons he backed the Bill excluding the Duke of York from the throne. Being afterwards implicated in the Rye House Plot he was executed for treason in Lincoln's Inn Fields on 21 July 1683 and has earned for himself the name of 'patriot' or martyr of the Revolution. (fn. 53) He was buried at Chenies and his widow Lady Rachel Russell visited the church in later years, when she decided to 'make a little monument' and erected the one to the fifth earl and his wife with medallions of their children, conspicuous among which is that of Lord William Russell, ranged in rows on either side. (fn. 54) Chenieshas remained in the Russell family until the present day, (fn. 55) the present Duke of Bedford being lord of the manor, but it is many years since the family ceased to use the old manor-house as a residence.
CHURCH
The church of ST. MICHAEL consists of a chancel 30 ft. 6 in. by 16 ft. 6 in., organ chamber, nave 47 ft. by 16 ft. 6 in., north chapel, south aisle 12 ft. 6 in. wide, south porch and west tower 10 ft. 6 in. square, these dimensions being all internal. It is built of flint with stone dressings and roofed with tiles.
The present church was built in the 15th century on the site of an ancient edifice the only remains of which are the font and a capital now lying in the south aisle, both dating from the 12th century. The north or Bedford chapel was built in 1556 and enlarged in 1906, while in 1861 and 1887 the whole building was extensively restored; the organ chamber and porch are modern. The chancel has a modern east window of three lights containing some 16th-century glass showing a man at prayer, and two modern two-light windows on the south side. On the north is a mid-16th-century arch. The nave communicates with the Bedford chapel on the north by a modern arcade of two bays and in the south wall is a late 15th-century arcade of four moulded arches supported on clustered pillars with moulded capitals and bases. The pointed tower arch at the west is of two moulded orders, the inner one of which is supported on engaged shafts. The south doorway and two windows in the south wall of the south aisle are of late 15th-century date considerably repaired, the windows being of four cinquefoiled lights in depressed heads. There is a restored piscina at the east end of the south wall. In the west wall is a three-light window in a depressed head. The tower is of two stages with an embattled parapet; it has diagonal buttresses and a stair-turret at the south-east. The doorway and window in the west wall are much restored, but above the window is an original single cinquefolled light.
The late 12th-century font has a circular bowl fluted and enriched on the upper edge with a band of foliage and supported on a square scalloped base.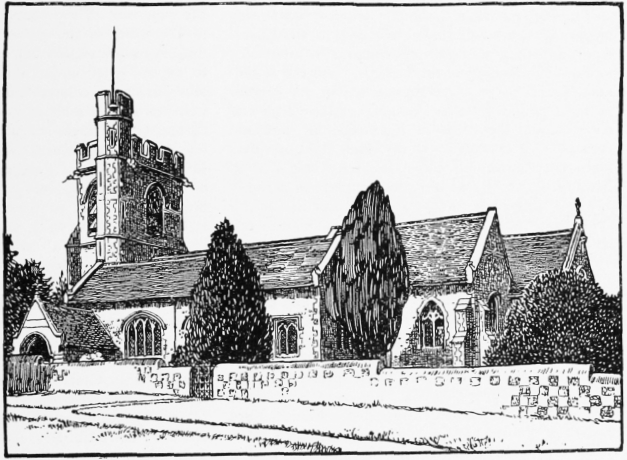 The detail of the Bedford chapel is entirely modern. It has a shallow chancel, nave and north aisle. In the east wall there is a tablet with the inscription 'Anno Dni 1556: Thys chappel ys built by Anne Countysse of Bedforde, wyfe to John Erle of Bedford, according to ye last wyll of the said Erle.' At the east of the chapel are two carved wooden images of early 16th-century date which were brought from the church of La Royal in France, and at the west are some carved wood angels, probably from a 17th-century roof, which hold shields bearing the Russell arms with their quarterings. On the wall are four funeral helms.
On the west respond of the south arcade is a brass with the figure in mass vestments of Richard Newland, rector, who died in 1494; the inscription is inverted. On the west wall of the south aisle are brass figures of Agnes widow of Sir John Cheyne, kt., who died in 1494, and of Edmund Molyneux, her second husband, who died in 1484, the man in armour and both beneath canopies; a figure holding a heart under a rich canopy with four shields and scrolls to Anne widow of Sir David Philip, lady of Thorne, co. Northants, and Isenhampstead Chenies, who died in 1510; figures of John Waliston, 'faber istius ville,' who died in 1469, and Isabel and Joan his wives; an inscription only to Sir Nicholas Smythe, late parson of Latimer, who died in 1517. On the west wall of the nave is a marginal inscription and part of a scroll to Agnes Johnson, mother of Robert Leyst, rector, who died in 1511, and part of an inscription with two shields to Elizabeth daughter of John Broughton, who died in 1524. The church possesses two coffin trestles, and in the vestry is a carved chest, all of the 17th century.
The Bedford chapel, lighted by windows containing modern glass with allegorical references to the Russell family and hung with banners, contains an interesting series of monuments of the Russells. All the recumbent figures of men are represented in the armour of their period with the insignia of the garter and coronets, and the ladies in their robes of state and coronets. The earliest is the fine alabaster altar tomb with unpainted effigies of John first Earl of Bedford (d. 1555) and of Anne, daughter of Sir Guy Sapcote, (fn. 56) his wife (d. 1559); his head lies on his crested helm and hers on cushions, while his feet rest on a lion and hers on a chained antelope. The sides of the pedestal have panels containing shields of arms and surrounded by arabesque work in relief and inlay. (2) An alabaster altar tomb with the coloured effigies of Francis second earl (d. 1585) and Margaret his first wife, daughter of Sir John St. John of Bletsoe (d. 1561). The pedestal is divided into panels containing shields and has Doric pilasters at the angles. The inscription at the west end states that the monument was erected by Francis Lord Russell of Thornhaugh in 1619. (3) An altar tomb with effigy of Bridget, second wife of Francis, second earl, daughter of Lord Hussey (d. 1600), was brought from Watford Church. The marble pedestal has the kneeling figure of her grandsons, Francis Lord Norreys on the south side and Sir Charles Morison on the north, and shields of arms. (4) An alabaster and marble altar tomb with the recumbent effigy of Anne wife of Ambrose Earl of Warwick and eldest daughter of Francis, second earl (d. 1604). The painted figure lies upon a slab supported by four Ionic columns. (5) An altar tomb with effigy of Elizabeth wife of William Lord Russell of Thornhaugh (d. 1611) was also brought from Watford Church. The pedestal is ornamented with Doric pilasters and shields. (6) The memorial to Frances daughter of William third Earl of Bath and Elizabeth (Russell) (d. 1612) was erected by her cousin Anne Countess of Dorset. It consists of a black marble slab resting on four white marble Doric columns, which stand on a black marble floor slab on which lie shields in white marble. (7) An alabaster altar tomb attached to the north wall to Frances wife of Giles Lord Chandos, daughter of Edward Earl of Lincoln, and mother of Katherine Countess of Bedford (d. 1623), was erected by her grandson William, the fifth earl and first duke. The lady is shown reclining on her left elbow with her hand on a book, and wearing an embroidered dress with a ruff and cap. (8) An altar tomb with the painted alabaster effigies of Francis second Lord Russell of Thornhaugh and fourth Earl of Bedford (d. 1641) and Katherine (Bridges) his wife (d. 1653). An inscription records that Lord Russell had placed in the chapel monuments to his grandfather Francis the second earl and Margaret his wife, his aunt Anne Countess of Warwick, and his mother Elizabeth Lady Russell. On the wall above the effigies, under a broken pediment, are two round-arched niches, that on the left containing the reclining figure of Frances, their eldest daughter (d. 1612), and that on the right a chrisom child, their fourth daughter Elizabeth (d. 1616). (9) An immense white marble monument to William fifth earl and first Duke of Bedford (d. 1700), and Anne (Carr) his wife (d. 1684), occupies the west wall of the chapel. It represents the duke in the robes of the garter and his wife in classical drapery on a high pedestal, seated in attitudes intended to express grief under a draped cupola flanked by four Corinthian columns which support an entablature with the Russell arms in a pediment above. On the curtain behind them is a medallion portrait of their son William Lord Russell, who was executed in 1683. Between the columns are medallions of eight others of their eleven children. (10) A large allegorical mural monument in white marble to Wriothesley second duke (d. 1711), and Elizabeth (Howland) his wife (d. 1724), erected by their son John Duke of Bedford in 1769 from designs by Sir William Chambers, R.A., and sculptured by Joseph Wilton, R.A. It represents figures, probably intended for the duke as a young man, kneeling with outstretched arms gazing up to heaven, and the duchess as a young woman, also kneeling, but with her head bowed. (11) A table tomb consisting of a black marble slab supported on four Doric columns to John Earl Russell (d. 1878), author of the Reform Bill of 1831 and twice Prime Minister. (12) A monument in the form of a bronze candelabrum with statuettes of Love, Truth, Courage and Faith, designed by Alfred Gilbert, R.A., to Lord Arthur Russell (d. 1892). (13) A mural monument designed by George E. Fox, F.S.A., to Francis Charles Hastings, ninth duke (d. 1891). It consists of a dark marble sarcophagus in an arched recess which contains an inscription, and flanked by pilasters supporting a cornice and frieze. (14) A Jacobean panel in alabaster to George William Francis Sackville, tenth duke (d. 1893), by the same designer. There are mural monuments to Georgiana Duchess of Bedford (d. 1858) designed by Richard Westmacott, R.A., and to Odo William Leopold Lord Ampthill (d. 1884), with medallion portrait by Sir Edgar Boehm, R.A., and many tablets to other members of the Russell family. In the north aisle of the chapel are effigies probably to Sir John Cheyne, the Lollard, who died about 1400, and his wife. The man, who is in armour, is unfinished from the waist downwards. The birds on his coat seem to be part of the arms, a fesse between four martlets, which Sir John Cheyne is known to have borne; the woman's effigy is much damaged.
The north and west walls of the churchyard are partly built of 17th-century brickwork, and among the tombs is one to John Vernon, who died in 1622, and his wife, who died in 1650.
There is a ring of six bells by T. Mears of London, 1826.
The communion plate includes a stand paten which is probably of 1634, though the date letter is indistinct.
The registers previous to 1812 are as follows: (i) all entries from 1592 to 1679; (ii) baptisms and burials 1679 to 1769, marriages 1679 to 1754.
ADVOWSON
The church of Isenhampstead Chenies, first mentioned in 1232, (fn. 57) has always been held by the lords of the manor (fn. 58) (q.v.), and is in the gift of the Duke of Bedford at the present day. The church was assessed at £4 13s. 4d. in 1291 (fn. 59) and at £13 6s. 8d. in 1535. (fn. 60)
CHARITY
The charity of the Countess of Warwick, founded by deed, 10 October 1603, is endowed with £2,269 13s. 1d. consols, which was augmented by the Duke of Bedford by deed of trust, 12 December 1890, with £720 2½ per cent. annuities. The annual income, amounting to £74 14s. 8d., is applied in pursuance of a scheme of the Charity Commissioners, 14 December 1909, in pensions to not more than four men, and not more than six women, of sixty years of age or upwards, except in case of physical disability. The sums of stock are held by the official trustees.