Pages 302-313
A History of the County of Buckingham: Volume 3. Originally published by Victoria County History, London, 1925.
This free content was digitised by double rekeying. All rights reserved.
STOKE POGES
Stoches (xi cent.); Stoke Pugeis or Pogeis (xiv cent.).
Stoke Poges parish, including a detached part of 260 acres at Ditton, contains an area of 3,448 acres, of which 27 are water. There are 651 acres of arable land, 1,432 of permanent grass and 381 of woods and plantations. (fn. 1) The general slope of the land in the main part of the parish is from 255 ft. above the ordnance datum in the north to 97 ft. in the south; the detached part lies considerably lower, the slope only varying between 62 ft. and 84 ft. above the ordnance datum. The soil and subsoil are gravel, and the chief crops are wheat, oats and barley. In the north-west the parish is well-wooded. To the north-east stretches Stoke Common, covering 200 acres of land which were vested in trustees in 1810 to provide fuel for the poor inhabitants, the lord of the manor receiving an allotment in lieu of his right to dig brick earth there. (fn. 2)
The largest portion of the village lies on the rising ground leading to Stoke Common. There are also a few scattered houses at Wexham Street, Stoke Green and West End. The parish church of St. Giles with its spire stands on rising ground to the west of the village. Of late years, owing to its association with Gray, the churchyard has been occasionally described as the scene of Gray's Elegy. (fn. 3) A brick table tomb with plain stone slabs marks the spot where Gray lies buried by the side of his mother and aunt. An inscription let into the wall of the church under the window opposite the grave alone denotes this fact. Outside the churchyard to the east of the church is the cenotaph to the poet's memory finished by Wyatt in 1799 for John Penn. (fn. 4)
The old manor-house of Stoke Park, which stood to the north of the church, was the 'fair house' completed in 1555 (fn. 5) by Francis Earl of Huntingdon (fn. 6) on the site of the house which had been crenellated by John de Moleyns under royal licence granted in 1331 (fn. 7) and confirmed in 1334. (fn. 8) In 1601 Queen Elizabeth was sumptuously entertained at Stoke by Chief Justice Sir Edward Coke, (fn. 9) and in August 1647 Charles I spent a night or two there as a prisoner on his removal from Moor Park, Rickmansworth. (fn. 10) Stoke Park, now the property of Mrs. Wilberforce Bryant, was one of the estates suggested for purchase by the nation for the Duke of Marlborough in 1705. (fn. 11) In 1789 the house had not been inhabited for some years and needed extensive repairs. (fn. 12) Since it was not considered to be a particularly fine specimen of Elizabethan architecture, it was taken down, with the exception of the west wing. (fn. 13) This house situated in the Park is now the property of Dr. Morriston Davies, and has been recently restored. The building is three stories in height, and preserves its original mullioned windows and gables on the west side, but the eastern elevation dates from the period when the rest of the house was demolished. The hall, which is two stories in height, is at the south end. The gallery at the east end of the hall is modern, and the elaborate 16th-century fireplace in the west wall appears to have been moved here from the destroyed portion of the house. The opening has a moulded stone head and jambs and is flanked by oak caryatid pilasters; the overmantel is richly carved and bears the arms of Hastings on a clunch panel framed in oak. A fine oak chimneypiece of the same period also remains in a room on the first floor. A panel above it was painted in the 17th century with various texts, as 'Feare the Lord,' and 'Love thi neighbour,' and with other devices.
The new mansion, begun by Nasmyth in 1789, and completed in 1801, from the designs of James Wyatt, who altered and enlarged it, (fn. 14) stands nearly in the centre of the well-wooded park, a quarter of a mile south-west of the old manor-house, and is held under a long lease by the Stoke Poges Golf Club, who have converted the old deer park into links. Amongst other objects brought from the old manor-house is a bell dated 1660 and inscribed, 'Robert Gayer, Esquire,' with a shield of arms and the initial 'B.' Some old glass, probably of late 16th-century date, with representations of Queen Elizabeth, Mary Queen of Scots, and shields of their arms, is also preserved.
Brown, Richmond and Repton in turn tried their skill in the last half of the 18th century in the general arrangement of the grounds and ornamental water, (fn. 15) and in 1810 a flower garden was laid out in the manner described by Mason in his English Garden. (fn. 16) In the park is the Doric column designed by Wyatt to support Rossi's statue of Sir Edward Coke, erected in 1800. (fn. 17) There is a tumulus at the south-west corner of the park, and in 1911 a cinerary urn of the Bronze Age was turned up by some workmen in making a bunker. (fn. 18)
Near Stoke Park, a quarter of a mile north-east of Stoke Poges Church, is the hospital, a brick building dating from 1765. (fn. 19) The original foundation by Edward Lord Hastings of Loughborough, third son of George Earl of Huntingdon, in 1557, stood on the south side of the churchyard. (fn. 20) The former building, probably the old chantry-house, was pulled down and the hospital removed to its present position by Thomas Penn, who in 1765 obtained an enabling Act of Parliament. (fn. 21) To the north-west of the hospital is the vicarage; it was built in 1802 from a design by Wyatt, when, in consequence of an exchange of land between John Penn and the vicar, the old vicarage, the grounds of which opened into Stoke Park, was pulled down. (fn. 22)
Stoke Court, or West End House, stands in a sheltered position to the north of Stoke Park. The house, known in the middle 18th century as West End Cottage, Gray's 'compact box of red brick with sash windows,' was refaced and greatly enlarged by Granville John Penn in 1845, (fn. 23) and further additions were made by Mr. Christian Allhusen in 1873 and by the present owner; but several of the rooms of the old cottage, including that occupied by the poet, still exist in their original shape. The grounds contain a summer-house overlooking the Thames valley, from which Gray could have obtained his 'Distant Prospect of Eton College,' and a maze planted in 1893. (fn. 24) The house was occupied by Jonathan Rogers, Gray's uncle, in 1742, (fn. 25) and in the later 18th century it appears to have been lived in by the Salter family, who had owned it during Mr. Rogers's tenancy and previously. (fn. 26) Nicholas Salter, Sheriff of Buckinghamshire in 1686, (fn. 27) was buried at Stoke Poges in 1693, (fn. 28) and there are memorials to other members of his family during the 18th century. (fn. 29) Christopher Salter of Stoke Poges was Sheriff of Buckinghamshire in 1812. (fn. 30) The house and estate were purchased by Granville Penn in 1844 (fn. 31) and sold to Abraham Darby in 1851. (fn. 32) Mr. Christian Allhusen acquired it in 1872, (fn. 33) and was succeeded in 1890 by his grandson Mr. A. H. E. Allhusen, (fn. 34) who is the present owner.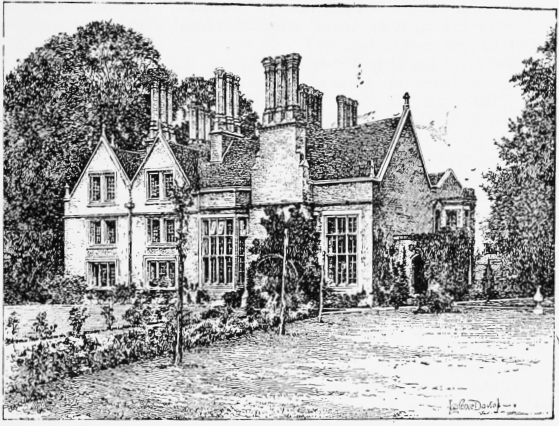 To the east of Stoke Court, on the other side of the main road to Slough, lies Sefton Park, the seat of Lord Decies, covering 180 acres. In the 19th century it was known as Stoke Farm, the ferme ornée of the Earls of Sefton. (fn. 35)
Holly Bush Hill, a hamlet to the north of Sefton Park, contains a chapel of ease to the parish church. Both here and at Stoke Green there are several cottages of 17th-century date.
Tithe Farm (formerly Vicarage Farm), on the western boundary of the parish to the north of Stoke Park, is the property of Mr. A. H. E. Allhusen and residence of the Hon. Mrs. Murray and dates from the latter part of the 16th century. The house has been very largely refaced and enlarged; among other original features remaining is a fine open newel staircase. The tithe-barn and stable are contemporary with the house.
Stoke Place stands to the south of Stoke Green in grounds which were altered and decorated by Brown about 1771, (fn. 36) and contain a sheet of water and some fine cedars. It was purchased about 1771 by General, afterwards Field-Marshal, Sir George Howard, (fn. 37) and his descendant, Mr. Howard Henry Howard-Vyse, (fn. 38) is the present owner.
Baylis House, in the south-west of the parish, near Slough, is a rectangular brick mansion with a slate roof rebuilt at the end of the 17th century by Dr. Gregory Hascard, Dean of Windsor, (fn. 39) and added to in the 18th century. The Earl of Rosslyn died here in 1805. (fn. 40) For many years during the middle of the 19th century it was occupied as a Roman Catholic boarding school for boys. (fn. 41) It is now a Food Reform establishment.
The principal feature in Ditton (Dittone, xi cent.) is the estate of Ditton Park, for many years the residence of Charlotte Anne, widow of the fifth Duke of Buccleugh, who died in 1895. It is now occupied by Lord Wolverton. The present squarebuilt mansion, to which access is obtained by a drawbridge over the moat, (fn. 42) stands in a well-timbered park of 260 acres. The house and chapel were rebuilt by Elizabeth Duchess of Buccleugh after a fire in 1812, but they contain a good many fittings from the former house, including the late 15th-century font, a considerable quantity of 16th and 17th-century stained glass, and a glazed tile with a shield of arms, a fesse between six crosslets. There are also some 17th-century outbuildings.
The earlier house here was crenellated or fortified by John de Moleyns in 1331. (fn. 43) In it or a later house, then a royal residence, the infant Princess Mary passed the autumn of 1517. (fn. 44) It was enlarged at various periods, (fn. 45) and is said to have been rebuilt by Sir Ralph Winwood in the early 17th century. (fn. 46) The small building near the south-east corner of the park, formerly a chantry, is now a chapel at present served by the vicar of Datchet.
The connexion of Thomas Gray with Stoke Poges commenced in 1742, shortly before his mother and her sister Mary Antrobus came to live with their lately widowed sister, Mrs. Rogers, at West End Cottage. (fn. 47) The 'Ode on a distant Prospect of Eton College,' called in Gray's own MS. 'Eton College, Windsor, and the adjacent country,' (fn. 48) is descriptive of the views of 'distant spires' and 'antique towers' from the ridge between West End Cottage and Farnham Common. The Elegy, commenced in 1742, was certainly finished at Stoke and inclosed in a letter from Gray to Walpole dated 12 June 1750. (fn. 49) Walpole showed it to his friend Lady Cobham, who lived at Stoke Manor House. She persuaded her niece Miss Speed and a guest, Lady Schaub, who knew a friend of the poet's, to pay him a visit at his mother's house. He was out, but the incident, described in the Long Story, led to an acquaintance which ripened into friendship. (fn. 50) Gray's mother, 'the careful tender mother of many children, one of whom alone had the misfortune to survive her,' (fn. 51) died in 1753, four years after her sister Mary. (fn. 52) In the same year Mrs. Rogers was stricken with paralysis, (fn. 53) and after her death in 1758 Gray shut up the house, and from that time only visited Stoke Poges when asked to stay at Stoke House. (fn. 54) He died in 1771. (fn. 55)
The parish of Stoke Poges was inclosed in 1810. (fn. 56)
The following place-names have been found: Cokeshawe, Egleshull, le Estwell, Grene Innyng, Michelcrouches Croft, Pekesgrove, Pondeshawe, Little Ruding, Taillourcroft, Wynsmerehull (fn. 57) and Templewood (fn. 58) (xiv cent.); Brokeis (fn. 59) and Hyde (fn. 60) (xvi cent.); Bullock's Breach Wood (fn. 61); and among field-names Great Armeshill, Great Cobwell, Great Cudcroft (where bricks were formerly made), and Tapses (fn. 62); also le Hame and Selys at Ditton (fn. 63) (xvii cent.).
MANORS
In 1086 STOKE POGES (Stoke [Poges] Manor), assessed at 10 hides, was held of the king in chief by William son of Ansculf, (fn. 64) formerly Sheriff of Buckinghamshire. (fn. 65) He was lord of the fief, extending into twelve counties, which had Dudley Castle for its head. (fn. 66) In the 13th century Stoke Poges Manor was held as a fee of the honour of Dudley, (fn. 67) and continued to be held of the same honour as appurtenant to the manor of Newport Pagnell. (fn. 68) In 1429 it was held of that manor in socage, (fn. 69) and the last reference to this overlordship that has been found occurs in 1438. (fn. 70) Before 1591 Stoke Poges Manor was among the possessions of Henry Earl of Huntingdon, taken into the hands of Queen Elizabeth for debt, (fn. 71) and at that date (fn. 72) and in 1622 was held in chief. (fn. 73)
The Domesday tenant of Stoke Poges Manor, which before the Conquest had been held by Siret, a man of Earl Harold, was Walter. (fn. 74) His family continued to hold it, taking their name from the manor. Early in the 12th century Hugh de Stoke and his wife are mentioned, (fn. 75) and references to Sir Roger de Stoke occur in 1199. (fn. 76) In the 13th century Richard de Stoke held Stoke Manor, (fn. 77) and was still living in 1242. (fn. 78) In 1254 Humbert le Pugeis or Pugeys had the custody of Stoke, (fn. 79) evidently as guardian of the daughter and heir of Richard de Stoke. His son and heir (fn. 80) Sir Robert Pugeys or Pogeys (fn. 81) married Amice de Stoke and held Stoke, henceforth distinguished as Stoke Poges, before 1269. (fn. 82) After his death about 1330 his heirs were Gille wife of John de Moleyns, Joan wife of Bartholomew Galyen, and Alice wife of William de Langley. (fn. 83) Gille was the daughter of Margaret, one of the daughters of Sir Robert Pugeys, and Joan and Alice were the daughters of Eleanor, his other daughter. (fn. 84) In 1331 the other heirs of Sir Robert Pugeys quitclaimed their interests in the manor of Stoke Poges to John de Moleyns and Gille, (fn. 85) according to an agreement made in 1328. (fn. 86) John de Moleyns was treasurer of the king's chamber, (fn. 87) and became a banneret in 1339. (fn. 88) In the following year he was charged with irregularities regarding the money required for the siege of Tournay and sent to the Tower. His lands and goods were seized (fn. 89) and remained in the king's hands (fn. 90) until 1345, when he was restored. (fn. 91) He was made queen's steward, (fn. 92) but again got into trouble in 1355, (fn. 93) and was outlawed in 1357. (fn. 94) He and his wife were imprisoned at Nottingham Castle and Cambridge Castle, (fn. 95) and in 1359 William his son obtained seisin of his father's lands under a settlement upon him for life. (fn. 96) In 1360, after the death of her husband, (fn. 97) Gille was pardoned and her lands were restored. (fn. 98) She held Stoke Poges at her death in 1367, when William de Moleyns succeeded. (fn. 99) He died in 1380, and was followed by his son Richard, (fn. 100) who died five years later. (fn. 101) The custody of William his son and heir, who was only seven, (fn. 102) was given to Thomas Earl of Buckingham, (fn. 103) who was shortly afterwards created Duke of Gloucester (fn. 104) and died in 1397. (fn. 105) Sir William de Moleyns died in 1424, (fn. 106) and was succeeded by his son William, (fn. 107) who gave proof of his age in 1427 (fn. 108) and was slain two years later (fn. 109) at the siege of Orleans. (fn. 110) His daughter and heir Eleanor, then only three years of age, (fn. 111) married Robert, afterwards Sir Robert, Hungerford, Lord Hungerford and de Moleyns, (fn. 112) who obtained livery of her lands in 1441. (fn. 113) In 1460 Stoke Poges Manor formed part of the security for £3,000 paid for his ransom as a prisoner in France. (fn. 114) He was attainted as a Lancastrian after the battle of Hexham and beheaded (fn. 115) in 1464. (fn. 116) His son and heir Sir Thomas Hungerford was also attainted and beheaded in 1469. (fn. 117) Eleanor in the meanwhile had married Sir Oliver Maningham. (fn. 118) They received a general pardon in 1472 and the restoration of most of their lands. (fn. 119) Stoke Poges and the other de Moleyns manors were not recovered from the feoffees of 1460 without a lawsuit. (fn. 120) A judgement in favour of Richard Fowler as principal feoffee was given in 1472, (fn. 121) but the Maninghams (Sir Oliver obtaining a second general pardon in 1481) (fn. 122) were in possession in 1486. (fn. 123) Eleanor died about 1492, (fn. 124) when a settlement of Stoke Poges Manor was made on Sir Oliver Maningham for life, with reversion to Sir Edward Hastings and his wife Mary (fn. 125) daughter and heir of Sir Thomas Hungerford, (fn. 126) afterwards Lord Hastings. Sir Edward Hastings died in 1506, (fn. 127) and five years later (fn. 128) his widow married Sir Richard Sacheverell, receivergeneral of Lord Hastings. (fn. 129) He died in 1534, his wife having predeceased him. (fn. 130) At her death Stoke Poges passed to George son of Edward Lord Hastings, (fn. 131) who was created Earl of Huntingdon in 1529. (fn. 132) In 1532 he made a settlement of the manor on the marriage of his son and heir Francis, (fn. 133) and after his death in 1543 his wife Anne held Stoke Poges in dower for her life. (fn. 134) Francis Earl of Huntingdon was holding Stoke in 1557, (fn. 135) and was succeeded in 1561 by his son Henry. (fn. 136) He was plaintiff in a lawsuit in 1566 as to the detention of a book containing the Court Rolls of the manor. (fn. 137) By an Act of Parliament 1584–5 the manor was settled on his wife Katherine for life, (fn. 138) but in 1591, in order to raise money, he obtained licence to alienate it to Richard Branthwaite and his heirs, (fn. 139) who in 1594 conveyed it to Thomas Spencer and other trustees. (fn. 140) Branthwaite died in the same year, (fn. 141) and his widow Margaret married Edward Jones. (fn. 142) They and the trustees were defendants in an action brought in 1598 by George Earl of Huntingdon to prevent the sale of Stoke Poges. He claimed to hold the reversion of the manor as heir of his brother Henry, the late earl, who had died in 1595 and denied the mortgage or sale of the manor to Branthwaite. Even granting the mortgage, the interest was excessive and the deed therefore void, and Branthwaite by his will declared that the mortgage could be redeemed by the heirs of the earl. (fn. 143) Finally the earl declared that, not being a party to the agreement, it could not bind him. (fn. 144) He was unsuccessful in hindering the sale, which took place in the following year, the purchaser being Edward Coke, then attorney-general, afterwards Lord Chief Justice Sir Edward Coke. (fn. 145) He was imprisoned in the Tower in 1620, (fn. 146) and two years later Lord Danvers and Lord Houghton obtained a grant of Stoke Poges Manor in connexion with a Crown claim for the debts of the late Earl of Huntingdon. (fn. 147) On his release soon after Sir Edward obtained a reversal of this grant by judgement of the barons. (fn. 148) He died in 1635, (fn. 149) and his wife, Lady Hatton, (fn. 150) held the manor for life. (fn. 151) On her death about 1646 (fn. 152) it passed to John Viscount Purbeck by settlement (fn. 153) on his marriage as Sir John Villiers in 1617 with Sir Edward Coke's daughter Frances. (fn. 154) He died in 1657, (fn. 155) when Stoke Poges Manor passed to John Gayer, who in the previous year had purchased the reversionary rights from Robert Villiers alias Danvers, (fn. 156) son of Frances Viscountess Purbeck. (fn. 157) John Gayer died in 1657, and was succeeded by his elder brother Robert, (fn. 158) who was knighted in 1661. (fn. 159) He with others in 1670 conveyed Stoke Poges Manor in trust to Dr. Sancroft, (fn. 160) who in 1689, when Archbishop of Canterbury, settled it on Sir Robert and his heirs. (fn. 161) Sir Robert Gayer died about 1702, and by will devised the manor to trustees to be sold. (fn. 162) In 1706 his son and heir Robert (fn. 163) was allowed to retain it on condition that he paid his father's legacies. (fn. 164) This he could not do, and in 1723 the Court of Chancery decreed that the property should be sold to Edmund Halsey for £12,000, of which £11,000 in South Sea bonds should be accepted as part of the purchase money, (fn. 165) and after the sale in 1724 (fn. 166) that the legacies should be paid. (fn. 167) Edmund Halsey died in 1729, (fn. 168) and Stoke Poges Manor passed to Sir Richard Temple, bart., husband of his only daughter Anne. (fn. 169) Sir Richard Temple was created Viscount Cobham in 1714, and after his death without issue in 1749 (fn. 170) his widow made her home at Stoke Poges (fn. 171) until her death in 1760. (fn. 172) Her executors sold the manor in 1761 to the Hon. Thomas Penn, (fn. 173) son of William Penn, founder of Pennsylvania. (fn. 174) He was succeeded in 1775 by his son John, then a minor. (fn. 175) John Penn (fn. 176) died in 1834, (fn. 177) and in 1848 his brother and successor Granville (fn. 178) sold the estate, usually known as STOKE PARK, to the Right Hon. Henry Labouchere, (fn. 179) created Lord Taunton in 1859. (fn. 180) It was purchased from him in 1863 by Mr. Edward John Coleman, (fn. 181) and remained in his family until 1887, (fn. 182) when it was sold to Mr. Wilberforce Bryant. (fn. 183) He, who was Sheriff of Buckinghamshire in 1902, died in 1906 (fn. 184) and his widow is the present owner of Stoke Park.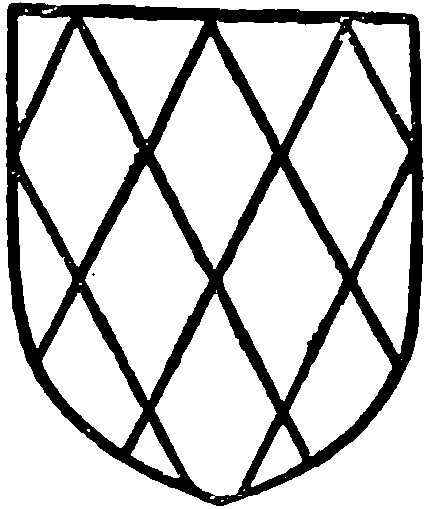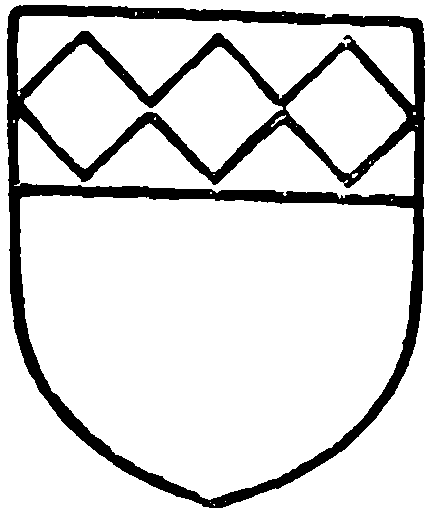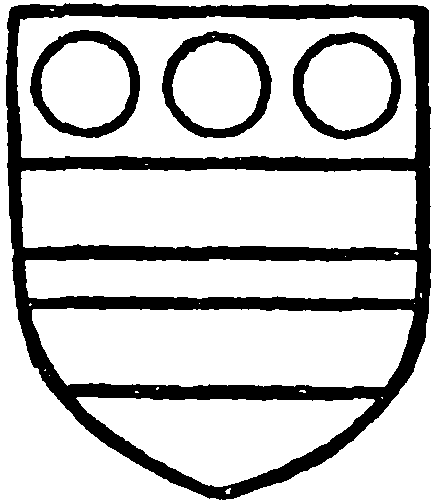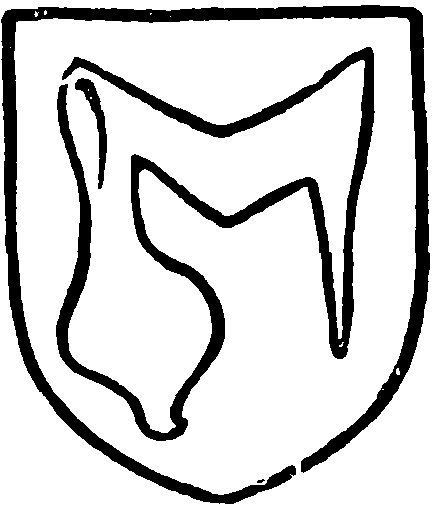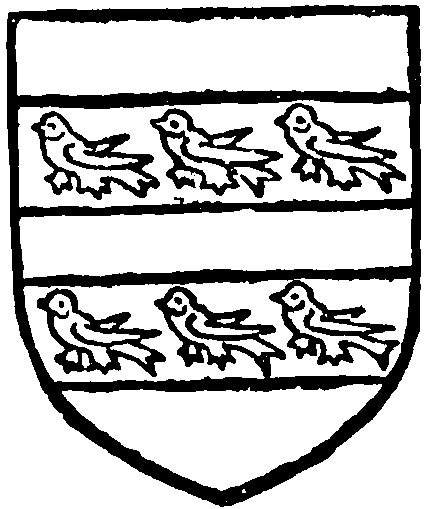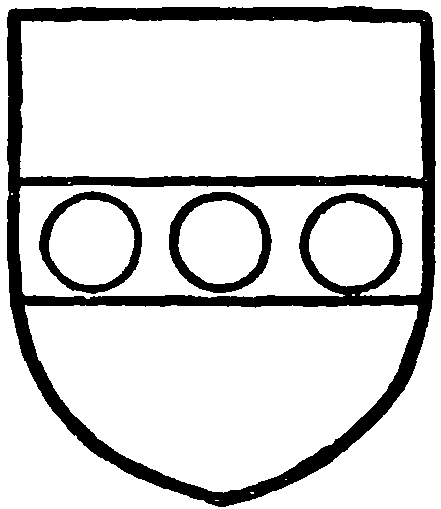 In 1286 Sir Robert Pugeys claimed the right of view of frankpledge in Stoke held once a year, (fn. 185) but this being declared to be insufficient it was taken by default into the king's hands. (fn. 186) In 1332 it was, however, granted to John and Gille de Moleyns, (fn. 187) was exercised by their successors, (fn. 188) and mentioned in 1724. (fn. 189) Other liberties granted to John de Moleyns at Stoke Poges were free warren (fn. 190) in 1331, (fn. 191) freedom from toll throughout the kingdom in 1333, (fn. 192) return of writs, judgement of malefactors in 1337, (fn. 193) and the assize of bread and ale in 1338. (fn. 194) The enabling charters were inspected and confirmed in 1346 (fn. 195) and were carefully enumerated in 1440. (fn. 196) Stoke Poges Park dates from 1331, when John de Moleyns obtained a licence to inclose three woods, (fn. 197) and a reference to his new park occurs ten years later. (fn. 198) A keeper was appointed by the Crown in 1358. (fn. 199) Licence was granted to John de Moleyns in 1331 to hold a market every Monday at Stoke Poges and two fairs yearly, one on the vigil and feast of St. Barnabas (10 and 11 June) and five following days, (fn. 200) the other on the vigil and feast of St. Giles (31 August and 1 September) and five following days. (fn. 201) A third fair on the vigil, feast and morrow of the Annunciation (24, 25 and 26 March) was also allowed in 1333. (fn. 202) The market and the three fairs are mentioned in the middle of the 15th century, (fn. 203) but no later reference to them has been found. In the early 19th century a small fair for toys was held on Stoke Green every Whit Tuesday. (fn. 204)
The detached part of Stoke Poges parish forms the manor of DITTON. Assessed at 5 hides, it was held in 1086 by William son of Ansculf, (fn. 205) and the overlordship followed the same descent as that of Stoke Poges Manor (fn. 206) (q.v.) until 1472, when it became parcel of the honour of Windsor. (fn. 207)
In 1086 Ditton was held by Walter, (fn. 208) who also held Stoke Poges (q.v.), and followed the descent of the latter manor till 1472, except that it was held in dower by Margery widow of Sir William de Moleyns from 1381 to 1399 (fn. 209) and by Margery de Moleyns from 1424 to 1438. (fn. 210) In 1472 Ditton was excepted with Datchet from the restoration to Sir Oliver Maningham and his wife Eleanor, (fn. 211) and was quitclaimed by them to Edward IV. (fn. 212) It remained with the Crown (fn. 213) until 1631, (fn. 214) when it was granted to William Collins and Edward Fenn, with the exception of Ditton Park. (fn. 215) The manor eventually passed, being apparently purchased either by Ralph Duke of Montagu or his son John, to the Montagu family, owners of Ditton Park (q.v.). In 1760 George Earl of Cardigan owned one moiety, (fn. 216) and in 1768 Edward Lord Beaulieu the other, (fn. 217) in respect of their wives Mary and Isabella, daughters and co-heirs of John Duke of Montagu. (fn. 218) In 1810 Ditton Manor belonged to Henry Duke of Buccleugh and his wife Elizabeth, (fn. 219) only daughter of George Earl of Cardigan, who had owned a moiety since her father's death in 1790. (fn. 220) Elizabeth died in 1827 (fn. 221) and was succeeded by her second son Lord Montagu of Boughton, (fn. 222) who died without issue in 1845. (fn. 223) On the death of his widow in 1859 the Ditton estate devolved on his nephew Walter Francis fifth Duke of Buccleugh, who died in 1884. (fn. 224) His widow Charlotte Duchess of Buccleugh owned it until her death in 1895, when it passed to her second son Henry Lord Montagu of Beaulieu. He was succeeded in 1905 by his son John Walter Edward.
A moiety of Ditton Manor appears to have been subinfeudated for a time by a marriage between the Dittons and the Stokes. Richard de Ditton died about 1205, leaving a widow Cecilia de Stoke (fn. 225) and two sons Robert and Gilbert de Ditton, the former of whom subinfeudated half the vill of Ditton to the latter, with the exception of the capital messuage and the alder grove near the fish-pond. (fn. 226) The moieties seem to have become united by 1338. (fn. 227)
Ditton Park dates from 1335, when John de Moleyns obtained a licence to make a park of 38 acres of land and wood in Ditton and Datchet, which he held in severalty. (fn. 228) It was enlarged in 1338 by 8 acres of land in the manor of Langley Marish, by the payment of 4s. yearly during Queen Philippa's life and the service of a rose at Midsummer after her death. (fn. 229) It furnished alders used in building Eton College. (fn. 230) Norden's Survey in 1608 states that the park contained at that time 'about 220 deer, 50 of antler and about 20 bucks, 195 acres of good ground but little timber in a circuit of 2¼ miles.' (fn. 231) The office of keeper was an appointment for life. (fn. 232) It was one of the emoluments granted to Anne Boleyn as Marchioness of Pembroke in 1532, (fn. 233) and in 1614 it was worth £150 yearly. (fn. 234) In 1615 it was granted to Sir Ralph Winwood, secretary of state, and his son Richard for their lives, (fn. 235) and in 1617 in tailmale. (fn. 236) In 1630 Ditton Park, containing 218 acres, was granted to Sir Ralph's widow Elizabeth Lady Winwood at fee farm. (fn. 237) She died in 1659 (fn. 238) and was succeeded by their son Richard, (fn. 239) who died in 1688. (fn. 240) On the death of his widow in 1693 (fn. 241) the Winwood estates passed (in accordance with a settlement made by Sir Ralph Winwood) (fn. 242) to his nephew Ralph Earl of Montagu, son of Edward Lord Montagu of Boughton and his wife Anne Winwood. (fn. 243) He was created Duke of Montagu in 1705 and died in 1709. (fn. 244) His son and successor John Duke of Montagu died without male issue in 1749, and his wife Mary, youngest daughter and co-heir of John Duke of Marlborough, in 1751. (fn. 245) Ditton Park passed to their daughter Isabella dowager Duchess of Manchester, who died in 1786. (fn. 246) On the death of her second husband, Sir Edward Hussey-Montagu, created in 1762 Lord Beaulieu of Beaulieu, this estate came in 1802 to her niece Elizabeth Duchess of Buccleugh, (fn. 247) already owner of a moiety of Ditton Manor (q.v.), from which it has not again been severed.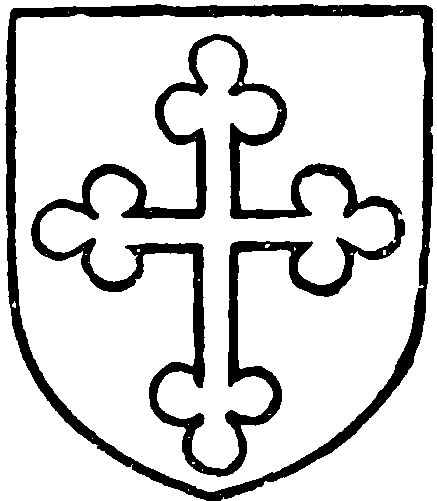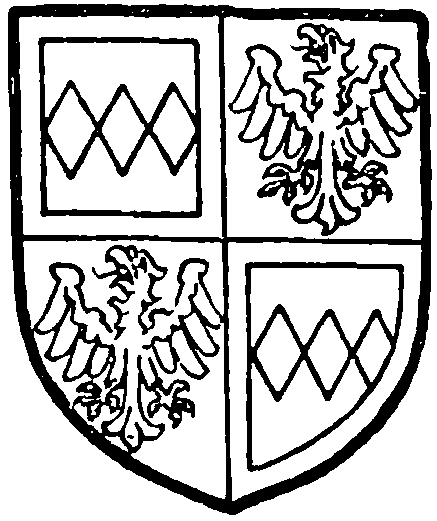 The grants of liberties to John de Moleyns for Stoke Poges also covered Ditton. (fn. 248) In 1331 he had licence to fortify the manor-house and to hold it quit of livery of the marshals and other officials. (fn. 249) In 1548 the free tenants of Ditton Manor paid at any decease a relief of a year's rent and suit of court, and the customary tenants their best beast as heriot and a fine at the lord's will. (fn. 250) In 1611 it was decreed that certain copyhold tenants on every alienation should still pay to the lord of the manor 5s. for every messuage and 2s. for every acre of land. (fn. 251)
The RECTORY MANOR in Stoke Poges after the Dissolution was held in chief as one-fortieth part of a knight's fee. (fn. 252) In the early 12th century Hugh de Stoke and his wife granted to the priory of St. Mary Overy, Southwark, (fn. 253) the lands which Alured, priest of the church of St. Giles in Stoke, held of them with the tithes of Stoke and Ditton, and in 1338 the prior obtained a quitclaim from John and Gille de Moleyns. (fn. 254) Exchanges of land in Stoke Poges were made between John de Moleyns and the priory in 1332 (fn. 255) and 1340. (fn. 256) In 1346 John atte Lee of Stoke Poges obtained a licence to alienate to the priory a messuage and 57½ acres of land in Stoke Poges (fn. 257) which members of his family had held in 1258. (fn. 258) Further grants in free alms were also made to this priory in the early 13th century of a small estate in Ditton, (fn. 259) and in 1387 by William of Wykeham, Bishop of Winchester, of 102 acres of land and a wood in Stoke Poges (fn. 260) which he had leased to it in 1382. (fn. 261) The Rectory Manor remained with St. Mary Overy Priory until its surrender in 1539. (fn. 262) The Crown granted it in 1543 to John Dorsett of Colnbrook, (fn. 263) who died seised in 1546. (fn. 264) He left the manor to his wife Joan for life or during her widowhood, (fn. 265) and his heirs were his daughter Elizabeth wife of Thomas Bowser and John Northcote, a minor, son of his daughter Agnes, who had predeceased him. (fn. 266) Elizabeth Bowser died seised of a third of the manor in 1558, (fn. 267) with the reversion of the rest after the death of Joan. (fn. 268) Elizabeth's son and heir Thomas had livery of the third in 1566. (fn. 269) The remainder was then still in the hands of his grandmother Joan, but at his death in 1572 he was seised of the whole manor, (fn. 270) his daughter and heir Elizabeth being then only four years old. (fn. 271) In 1583, during her minority, William Higgons, who had married her mother, held the manor in right of his wife. (fn. 272) In 1589 Elizabeth Bowser joined with her husband John Chamberleyn in alienating it to Richard Tredway (fn. 273) in liquidation of a debt of £105. (fn. 274) Richard's son Sir Walter Tredway, kt., (fn. 275) died seised in 1604, (fn. 276) and his widow Anne held the manor by settlement for her life. (fn. 277) She married Sir Dudley Carleton, (fn. 278) later Viscount Dorchester, in 1607 and died in 1627. (fn. 279) Her son Edward Tredway had died in 1615, and the manor reverted to his sisters Lettice and Elizabeth. (fn. 280) Elizabeth proved her claim to her half in 1618 (fn. 281) and died seised in 1634. (fn. 282) Her husband, William Stafford, died in 1637, when their son Edward was still a minor. (fn. 283) His brother William, next in tail-male, (fn. 284) in 1654, with Edward Alchorne, alienated the manor to Edmund Griffith. (fn. 285) He left it in trust at his death in 1659 to Sir Theophilus Biddulph, John Vincent and Peter Birkenhead, (fn. 286) who sold it in 1661 to Sir Thomas Clarges. (fn. 287) He died in 1695 and was buried at Stoke Poges. (fn. 288) His only son and heir Sir Walter Clarges (fn. 289) was created a baronet in 1674 and died in 1706. (fn. 290) In 1727 the Rectory Manor was owned by George Clarges, (fn. 291) younger son of Sir Walter, who alienated it in 1740 to Francis Godolphin. (fn. 292) The descent has since been the same as that of Chalvey Manor (q.v.), George Godolphin Osborne, tenth Duke of Leeds, being the present owner.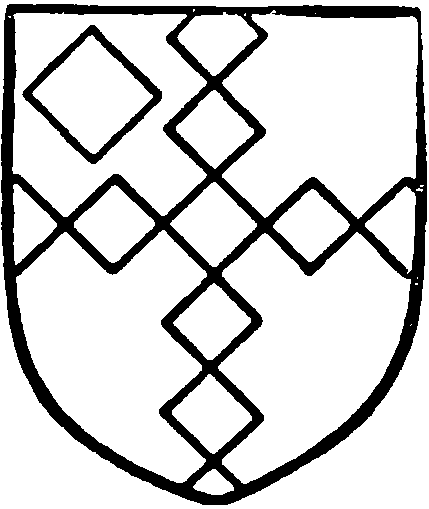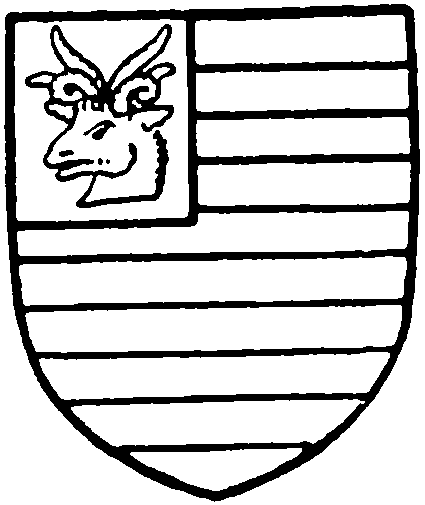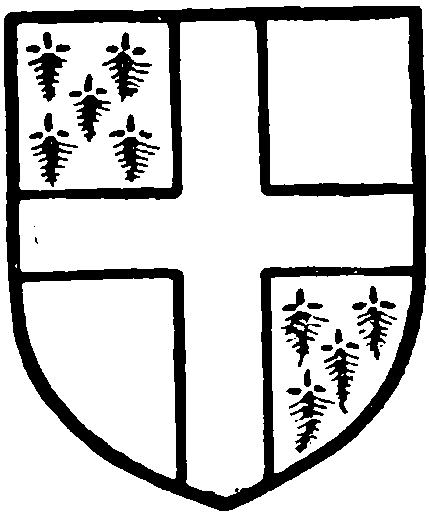 Frequent reference to the right of free warren in this manor, as appurtenant to it, occurs from 1589 to 1654 (fn. 293) and in 1675. (fn. 294)
BAYLIS alias WHITMARSH
BAYLIS alias WHITMARSH, parcel of Stoke Poges Manor, appears in the 16th century. As the 'manor of Bailis' it was included in Abraham Sybells's property at his death in 1501, (fn. 295) and was referred to as the 'messuage called Baylis' in 1526, when his son and heir Isaac Sybells (fn. 296) died seised of it, his heir being his sister Anne wife of John Cheyne. (fn. 297) John Cheyne died in 1527 (fn. 298) and Isaac's widow Joan and her second husband Christopher Kemp filed a bill in Chancery for the recovery of Baylis from Anne's trustees, who had leased it to her husband. (fn. 299) Anne afterwards married John Pointz of North Ockendon, Essex, who died in 1547. (fn. 300) She survived until 1554, (fn. 301) in which year Baylis or Whitmarsh was conveyed by John Herbert and his wife Jane to Thomas Onslow, to hold during Jane's life with reversion to Frances Astley, (fn. 302) daughter and heir of Anne by John Cheyne and wife of John Astley of Melton Constable, Norfolk. (fn. 303) By his will made 9 December 1558 and proved the following February John Astley left his property to Frances during the minority of their eldest son Isaac. (fn. 304) Frances died in 1579 (fn. 305) and in 1585 Baylis was quitclaimed by Isaac and his brother Cheney Astley to William Fitton. (fn. 306) His heir Edmund Fitton alienated it to Lord Chief Justice Sir Edward Coke in 1607, (fn. 307) and from that date its descent is the same as Stoke Poges Manor (q.v.) until 1647, when on the death of Lady Hatton the Baylis estate evidently passed to her grandson Robert Villiers alias Danvers, who held it in 1646 (fn. 308) and alienated it in 1659 to the trustees of Robert Gayer. (fn. 309) It was included in the deed of 1670, (fn. 310) but excepted from the settlement of 1689 between Dr. Sancroft, Archbishop of Canterbury, and Sir Robert Gayer. (fn. 311) It was evidently purchased by Dr. Hascard, who became Dean of Windsor in 1684. (fn. 312) He died in 1708 and was buried in Stoke Poges Church. (fn. 313) Dr. Godolphin purchased the Baylis estate from Mrs. Hascard, the dean's widow, and Mr. Henry Hascard, (fn. 314) and it followed the same descent as Chalvey Manor (q.v.). George Godolphin Osborne, tenth Duke of Leeds, the present owner of the estate, has recently sold the house and gardens.
The so-called manor of BOONIORDENS was apparently parcel of the possessions of the priory of St. Mary Overy, Southwark, (fn. 315) which after the Dissolution were leased in 1539 to Sir Andrew Lord Windsor for ninety-nine years from 1529. (fn. 316) This property was included in the grant of Henry VIII to Lord Windsor in exchange for his manor of Stanwell in 1542. (fn. 317) It is called Booniordens (Boneforden) Manor in 1558 (fn. 318) and followed the same descent as Eton Manor (q.v.) until 1668. No later reference to it has been found, and Lysons, writing at the beginning of the 19th century, states that he was unable to gather any information concerning it. (fn. 319)
Burnham Abbey owned a small estate in Stoke Poges arising out of various grants made to it in the 14th century. (fn. 320) The abbey lands in Stoke were farmed at the Dissolution for £2 yearly (fn. 321) and were annexed to Windsor Castle in 1540. (fn. 322) Lipscomb says that the parsonage, now usually called the vicarage, farm formed part of these lands, and was sold about 1800 by Lord Francis Godolphin Osborne to John Penn and included in the Stoke Park estate. (fn. 323)
CHURCHES
The church of ST. GILES consists of a chancel 32 ft. by 16 ft. 6 in., vestry, south or Hastings chapel 36 ft. 6 in. by 20 ft., nave 45 ft. by 22 ft., north tower 15 ft. 6 in. square, north aisle 25 ft. by 10 ft. 6 in., south aisle 45 ft. 6 in. by 10 ft., and a south porch. All these dimensions are internal. With the exception of the south chapel, which is of brick, the walling generally is of flint and stone and the roofs are tiled.
A church consisting of a chancel and nave was probably builtshortly before it was given to St. Mary Overy early in the 12th century; the tower and south aisle were built about 1225, when the chancel was lengthened, and the north aisle was added in the last half of the same century. In the early part of the 14th century the timber south porch was built, and in the 15th century a vestry, since destroyed, was added north of the chancel, while the Hastings chapel was built about 1560. The church has been extensively restored, and the vestry was added in 1907.
The chancel is lighted from the east by a 15th-century traceried window of three cinquefoiled lights, and on the north are two 13th-century lancets, the western one of which is blocked. Below the latter is a 15th-century pointed doorway to the former vestry, and near the east is a small rectangular opening which looked from this vestry into the chancel, while the vestry piscina, which has a pointed head and square bowl, still remains in the wall outside. The remaining part of the north wall is of original 12th-century date, and is faced with herringbone flintwork. In it is a blocked 12th-century window, and between this and the vestry doorway is a mid - 14th - century tomb recess which may have been used as an Easter sepulchre. It has a trefoiled drop arch, moulded jambs, and a label with crockets and finial, and is flanked by panelled pilasters with pinnacles. Above the recessare traces of another blocked window. The south side of the chancel is occupied by an unglazed 15th-century window of two lights and a wide opening spanned by a flat plastered lintel, probably of the 18th century, both of which open into the chapel; at the south-east is a 13th-century piscina with a trefoiled head, carved spandrels and round bowl. The chancel arch is modern, and is built of brick coated with plaster; the rectangular opening above it is probably also modern. The Hastings chapel is lighted from the east by a three-light window and from the south by two windows of two lights, all of which are original and have square heads, and are partly covered by a late 18th-century gallery. The doorway in the south wall is also of the 16th century, and retains the original oak door with strap hinges, while carved in stone above the four-centred external head is an achievement of Hastings.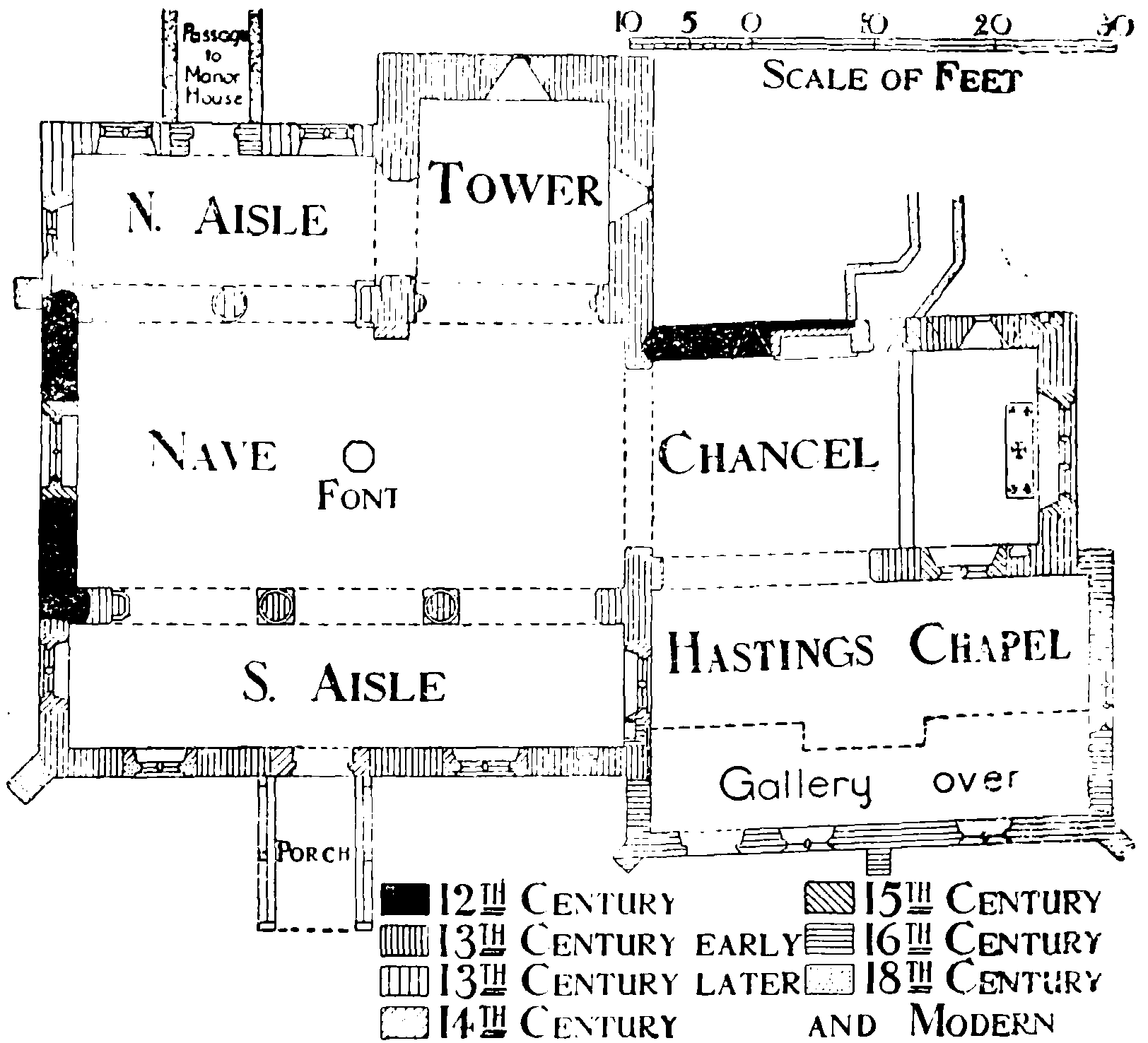 On the north side of the nave an early 13th-century pointed arch, of two chamfered orders with semi-octagonal responds having moulded capitals, opens into the tower. West of this is an arcade of two bays of the late 13th century opening into the north aisle, the pointed arches of which are supported on a circular pillar and responds with moulded capitals and bases, the semicircular shaft of the east respond being cut away below the capital. The arcade in the south wall dates from the first half of the 13th century. It is of three bays and has two-centred arches of two chamfered orders springing from circular columns, with moulded capitals and bases. The eastern respond has been removed below the abacus, while one capital has been renewed and another retooled. In the west wall, now partly filled by a modern window, is a 15th-century doorway with a pointed arch under a square head, with shields in the spandrels, one of which is charged with three pales wavy, and above is a large three-light window of the same period with modern tracery.
The tower, which rises one stage above the aisle roof, has an embattled parapet and is surmounted by a modern timber spire. The ground stage, which is occupied by a large pew, is strengthened on the south by a buttress, probably of the 14th century, which projects into the nave on the west side of the tower arch; it has modern single lights on the north and east and on the west side is an arch opening into the aisle similar to those of the north arcade, but much defaced by the insertion of modern panelling and a wood staircase to the ringing chamber. The latter is formed in a gallery opening into the nave and aisle, and is lighted by a 13th-century lancet in each of the north and east walls, the lower part of the east light being converted into a doorway, while the lower part of the north light is blocked. The bell-chamber is pierced by pointed two-light windows, all of which are considerably weather-worn.
The north aisle is lighted from the west by a modern window, and from the north by two late 13th-century windows, each of two pointed lights. Above the north-east window is a modern dormer, and in the middle of the wall is a four-centred doorway which probably dates from the late 16th century. A modern passage north of this doorway leads to the manor-house. At the north end of the passage is a lobby, in the windows of which is some heraldic glass, said to have originally been in the old manor-house of Stoke; it is principally Flemish and dates from the 16th and 17th centuries. The south aisle has a 14th-century pointed doorway in the south wall, on either side of which is a two-light window; both appear to be in original 14th-century openings, but, with the exception of one head and the rear arches, they have been entirely renewed. In the east wall is a 14th-century pointed window of two plain lights looking into the chapel, and in the west wall is a window of two cinquefoiled lights of the same period. At the east end of the south wall is a 13th-century double piscina with trefoiled heads, springing from a central corbel, much decayed, and in the east wall is a four-centred recess of about 1600. The oak south porch is a good example of 14th-century timber work. The outer archway has sunk spandrels and the gabled end is finished with cusped barge-boards; the upper portions of the side walls were originally occupied by open trefoiled lights arranged in two bays, but the mullions have been destroyed, and in some cases 17th-century pendants have been fixed below the springing of the heads.
The chancel and chapel have plaster ceilings, but the open king-post roof of the nave and the lean-to roofs of the aisles, which are externally continuous with it, are all of 14th-century date.
The font is modern. In the chancel are brass figures of Sir William de Moleyns (d. 1425), in plate armour, and Margery his wife wearing a veil and loose dress, with an inscription and two shields; of Edward Hampden (d. 1577) and his wife, daughter of Richard Curzon, with an incomplete marginal inscription, and shields of Hampden and Hampden impaling Curzon; and a slab with a brass inscription and arms and a matrix for the figure, to Eleanor de Moleyns, who married first Sir Robert Hungerford, and secondly Oliver Maningham, kt. There is also in the chancel a late 13th-century slab with a cross in low relief and a French inscription to William de Wytemerse. The niche in the north wall contains part of a 15th-century altar tomb enriched with quatrefoil panels containing three brass shields of arms, two of which are of Moleyns. On the same wall is an elaborate monument of late 17th-century date, which, however, has no inscription remaining. Beneath the window in the east end of the south aisle is a fragment of an altar slab. At the west end of the nave is preserved a seat of about 1500 with a traceried back and poppy-head standards, and in the south chapel is a 17th-century communion table. The base of an early 16th-century altar cross is preserved in a case on the south wall of the chancel; its bronze sexfoiled foot, which shows traces of gilt, is enriched with foliage and flowers and bears the following inscription: ' Ihs Nazarenus rex iudeorum Fili dei miserere mei.' Two funeral helms are hung on the south wall of the chancel; both are made-up pieces, one being apparently a late 15th-century tournament bascinet, to which the beaver of a later close helmet has been added, while the other incorporates part of a late 16th-century burgonet. The former has a crest of a horse's head collared with a crown carved in oak.
There is a ring of six bells: the treble is by Thomas Mears, 1824; the second, 1772, and the fourth, 1773, by Thomas Hunt; the third, fifth and tenor by R. Phelps, 1728.
The plate consists of a Victorian chalice, two patens and a flagon.
The registers of baptisms and marriages begin in 1563 and of burials in 1564.
The chapel of ST. MARY, Ditton, consists of a chancel and nave and has one bell by Lester & Pack, 1764.
The chapel of ease at HOLLY BUSH HILL was originally built for a Wesleyan place of worship, but was purchased by the Rev. John Shaw, a former vicar, about 1855. It now consists of a chancel, nave and west turret containing one bell.
ADVOWSON
The church of St. Giles was given early in the 12th century to the priory of St. Mary Overy, Southwark, by Hugh de Stoke and his wife and Alured, priest of Stoke. (fn. 324) Its valuation in 1291 (fn. 325) and on an ecclesiastical taxation of later date cited in the priory register was £12 (fn. 326) and in 1535 £8 yearly. (fn. 327) Sir John and Gille de Moleyns, to whom the restoration of the church in the 14th century is generally attributed, (fn. 328) quitclaimed to the priory in 1338 all rights in the advowson. (fn. 329) It remained with Southwark Priory until its dissolution in 1539, and the descent is the same as that of the Rectory Manor (fn. 330) (q.v.). George Godolphin Osborne, tenth Duke of Leeds, is the present owner.
John de Moleyns founded two chantries in Stoke Poges in 1338, one in the chapel of St. Thomas the Martyr in the parish church, the other in Ditton chapel for the daily celebration of divine service for the health of the royal family, of himself, his wife, his father Vincent and his mother Isabel. (fn. 331) For this and other charitable purposes he granted land to Burnham Abbey. (fn. 332) The chantry of St. Thomas (fn. 333) was appurtenant to Stoke Poges Manor, (fn. 334) but £6 yearly was paid in 1535 to Andrew Clerke, the chantry priest, (fn. 335) by Burnham Abbey, (fn. 336) and in 1537 by the Court of Augmentations from the abbey revenues. (fn. 337) He also received in rent 6s. 4d. for the chantry-house and 6s. 8d. from Edward afterwards Sir Edward Hastings for the garden and an acre of land. (fn. 338) In 1549 the chantry-house was granted to William Sawle and William Bridges. (fn. 339) It was apparently utilized in 1557 by Sir Edward Hastings, who in the following year was raised to the peerage under the title of Lord Hastings of Loughborough, with the land which he had previously rented, for his hospital, (fn. 340) which was to consist of a chantry priest and four beadsmen. (fn. 341) Under Elizabeth it was incorporated under the name of master and brethren. (fn. 342) The appointment to it (the vicar of Stoke is the present master) was vested in the representatives of the founder, holders of the barony of Hastings of Hastings, (fn. 343) the present baron being Charles, the eleventh Earl of Loudoun.
The advowson of the chantry of the chapel of the Assumption at Ditton (fn. 344) appertained to Ditton Manor. (fn. 345) In 1535 John Wolff, the chantry priest, (fn. 346) received £6 yearly from Burnham Abbey, (fn. 347) and in 1537 from the Court of Augmentations as a charge on the abbey revenues (fn. 348); also 13s. 4d. in rent for his house from Sir Maurice Barkley. (fn. 349) In 1549 a grant of the chantry-house was given to William Sawle and William Bridges, (fn. 350) and in 1550 of the chapel to Thomas Reve and others. (fn. 351) Richard Winwood purchased the chapel before 1684 (fn. 352) from people named Slocombe and Franklyn, repaired it and endowed it in his will with £50 yearly, or £30 if the chaplain lived in the great brick house which the testator purchased with the chapel and where he kept his hawks. (fn. 353) The advowson was vested in his heirs, and in default in the owner of Ditton Manor, (fn. 354) and follows the same descent. (fn. 355) The trustees of Charlotte Duchess of Buccleugh are the present patrons.
CHARITIES
The hospital of Lord Hastings of Loughborough, for a master and four poor men and two poor women, was originally founded in pursuance of an Act of 1557–8 (fn. 356) upon land granted for the purpose and endowed with a quit-rent of £53 9s. 10d. issuing out of the manor of Creech St. Michael, Somerset, and other lands, and in 1564 statutes for the government thereof were ordained by Lord Hastings. (fn. 357) In 1647 Lady Elizabeth Hatton by her will, proved in the P.C.C., bequeathed £100 to be laid out in land, (fn. 358) and in 1717 the Rev. Richard Redding by his will, proved in the P.C.C., directed land of the value of 40s. yearly to be purchased for the use of the hospital. The property of the charity now consists of the abovementioned quit-rent of £53 9s. 10d., the master's house, garden and meadow containing 5 a. 2 r. 32 p., the hospital meadow containing 19 acres, other meadow land containing 11 acres or thereabouts, and two cottages and gardens, producing a rental of about £100 a year; also a sum of £55 0s. 1d. consols with the official trustees, producing £1 7s. 4d. yearly, representing a legacy of £50 by will of the Rev. Arthur Bold in 1830. The hospital is now regulated by a scheme of the Charity Commissioners, confirmed by an Act of 1856. (fn. 359) The six inmates each receive 7s. weekly.
The four charities undermentioned are regulated by a scheme of the Charity Commissioners of 4 May 1906, under the title of the United Charities, namely, the charities of:—
Ann Church, founded by will, 2 February 1709, for apprenticing a poor boy; trust fund, £72 16s. 7d. consols, producing £1 16s. 4d. yearly, which is accumulated and applied as required in apprenticing.
Mary Gardner, by will, 11 December 1805, trust fund, £100 consols, annual dividends, amounting to £2 10s., for poor in bread on the Sunday preceding Christmas Day.
Lady Elizabeth Hatton, by will, proved in P.C.C. 14 May 1647. The trust property consists of 14 acres in Wexham, purchased with £100 originally bequeathed, let at £15 12s., and £386 10s. 8d. consols, producing £9 13s. yearly, arising from sale of allotment land and of gravel. The income is applicable for the relief and maintenance of sickly, aged and impotent poor.
Mrs. Parker Sedding's charity for widows, gift in 1812, trust fund, £180 3s. 8d. consols; the dividends, amounting to £4 10s., are applied in bread and linen for poor widows. The several sums of stock are held by the official trustees.
In 1758 Mary Wiseman by her will left £50 stock, now £54 1s. consols, the dividends, amounting to £1 7s. yearly, to be distributed by the vicar and churchwardens among poor widows, communicants of the Church of England.
The poor's fuel allotment, awarded in 1810, is regulated by a scheme of the Charity Commissioners of 30 January 1877. The endowment now consists of £614 14s. 11d. consols held by the official trustees, arising from the sale of the allotment, producing £15 7s. 4d. a year, which is applied in support of the coal club.
The following charities for education are regulated by a scheme of the Charity Commissioners, 15 December 1885, as varied by a scheme of the Board of Education, 4 October 1910, namely:—
Foundation of Mary Church, by will, 1791, trust fund, £130 0s. 4d. consols.
Mrs. Parker Seddings, educational endowment, trust fund, £180 3s. 8d. consols, arising from a gift in 1812.
The Rev. Arthur Bold's foundation, by will, 12 November 1830; trust fund, £55 consols.
The sums of stock are held by the official trustees, producing £9 2s. 4d. a year, which are applied in book prizes to children of Stoke Road School and books and money prizes to Stoke Poges School.
For the school founded by Mary Salter and others see article on Schools. (fn. 360)