Pages 35-37
A History of the County of Buckingham: Volume 3. Originally published by Victoria County History, London, 1925.
This free content was digitised by double rekeying. All rights reserved.
THE HUNDRED OF DESBOROUGH
BRADENHAM
Bradeham (xi cent.).
Bradenham is a small well-wooded parish in the neighbourhood of the Chilterns. Its area is 1,101 acres, of which over 600 acres are arable land and 135 permanent grass. (fn. 1) There are 300 acres of woodland. Munt's Wood, in the north-west, is of some size; the Coppice (with Pimlocks Wood and Falconers Hill), Park Wood, Beaman Green Wood and Bradenham Wood are in the north-east. The soil is light, with a subsoil of chalk and flint. The principal crops are wheat, barley and oats. The ground lies high, especially in the north and east, where it varies from 660 ft. to 638 ft. above ordnance datum. In the south and west the level is from 365 ft. to 320 ft. above ordnance datum. The main road runs north-west from Princes Risborough to Wycombe.
The village is situated in the west of the parish, off the main road. It is built round a green on the north side of which are a house and some scattered cottages of the 17th century or earlier but much restored and altered. At the upper or east end of the green are the large iron gates leading to Bradenham House, the residence of Mr. John Hicks Tempest. The house is E-shaped and probably follows the plan of that built by the second Lord Windsor, who died in 1558, but foundations of what was possibly a south-west wing have recently been discovered. The present building is of brick, and externally is modern except a part of the west front, which dates from the latter part of the 17th century. It was enlarged and modernized by Isaac D'Israeli in the first half of the 19th century, but contains some panelling and two staircases of the 17th century and a fireback dated 1626.
West of Bradenham House, surrounded by pines, is the church. The rectory, a comparatively modern house of red brick, stands some distance south-west of the church. It marks the site of an earlier 'parsonage-house,' which is described in a terrier of 1607 as consisting of '5 bays of timber, part thatched and part tiled, disposed into seven rooms.' (fn. 2)
Two sections of Grims Ditch, each about 500 yards long, can be traced running in a south-easterly direction through Beaman Green and Park Woods, in the north of the village.
Charles Lloyd the divine (1784–1829) lived at Bradenham, which was also the birthplace of William Forster Lloyd the mathematician. (fn. 3)
MANOR
One mention occurs of BRADENHAM MANOR in the Domesday Survey, when it appears under the lands of Lewin of Newenham, whose tenants Suarting and Herding are said to hold 'of the king.' They had been preceded in their tenure by two brothers, men of King Edward, who could sell to whom they would. (fn. 4) In the 13th century the Earl of Warwick held this land by socage. (fn. 5) In 1333 Simon de Fawsley (cf. mesne descent) was said to hold it of the lord of Daventry by the service of a pair of gloves valued at 1½d. (fn. 6) One further reference has been found to the overlordship in 1506, when Bradenham Manor was said to be held of Edward Duke of Buckingham. (fn. 7)
The 2 hides held by Suarting and Herding in 1086 escheated later to the Crown, and were granted some time during the 12th century to the de Bohuns, later Earls of Hereford and Essex. As appears from an inquisition of 1262–3, Humphrey de Bohun, whose death took place in 1183, (fn. 8) granted it to his sister Maud on her marriage with Henry Doyley. (fn. 9) She left a son Henry, who died without issue, and two daughters. (fn. 10) Of these latter Margaret, the elder, married Henry Earl of Warwick and died some time before 1208. (fn. 11) Her son Thomas Earl of Warwick next held Bradenham, (fn. 12) which on his death in 1242 passed to his sister Margaret, at this time wife of John du Plessis, her second husband, who was created Earl of Warwick. (fn. 13) She died without issue, and her husband obtained seisin of the manor in right of his wife, (fn. 14) but on his death in 1262–3 it was declared to revert to Walter de Daventry, who represented Joan, younger sister and co-heir of Margaret Doyley. (fn. 15) Robert son of Walter de Daventry succeeded his father some time before 1272, in which year he obtained a grant of free warren in Bradenham. (fn. 16) He appears to have transferred the property to his younger son Simon, who is returned for Bradenham in the assessment of 1316, (fn. 17) and who made a settlement of the manor in 1330–1. (fn. 18)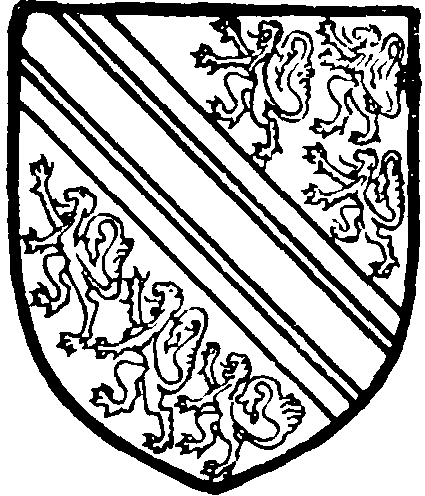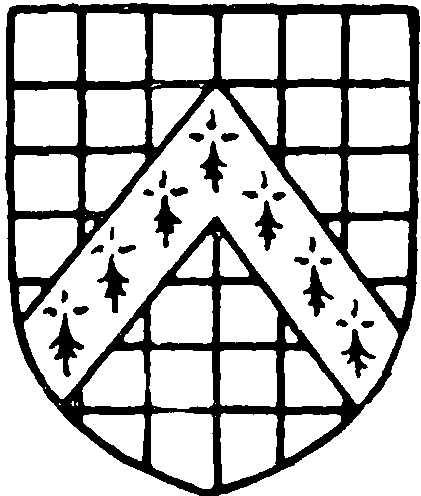 About this date he purchased the property of Fawsley in Northants, and his family is henceforward called 'de Fawsley.' (fn. 19) He died in 1333, when Bradenham was extended at a capital messuage with a garden worth 2s., 100 acres of land worth 33s. 4d., 3 acres of meadow 6s., pasture worth 6s. 8d., underwood worth 2s., and rent of free tenants worth 3s. 4d. (fn. 20) From inquiry it appeared that the lord of Daventry, whilst resigning the tenancy in fee, had acquired the dues of overlordship, which were no longer paid direct to the Crown. (fn. 21) Thomas son of Simon de Fawsley was ten years old at his father's death. He is found presenting to the church, whose advowson was attached to the manor, as late as 1350, (fn. 22) soon after which date Bradenham was alienated to Thomas Frisel. He made a settlement on Simon Fraunceys and Maud his wife in 1357–8. (fn. 23) Ten years later a further change of ownership had been effected, the manor having passed to the family of Wiltshire, members of which are found presenting to the parish church between 1368 and 1416. (fn. 24) For the next fifty years nothing has been discovered regarding this manor. It was then acquired by John Scott, (fn. 25) whose family held Dorney (q.v.), with which manor its history is identical until the beginning of the 16th century.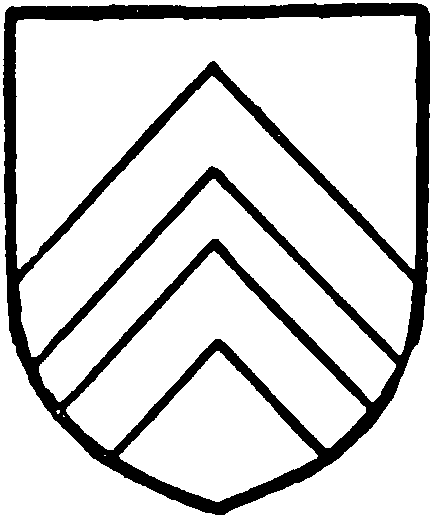 In 1505 John Scott of Dorney made a settlement of Bradenham preparatory to a sale which took place shortly after to Andrew Windsor, (fn. 26) son of Thomas Windsor of Stanwell. Andrew Windsor, who was created Lord Windsor in 1529, died in 1543, and was succeeded by his son William second Lord Windsor, (fn. 27) who built a manor-house at Bradenham, where he resided, and also added a chapel to the parish church. His death took place on 20 August 1558, and he was buried at Bradenham 'very splendidly according to his quality.' (fn. 28) His son Edward, who succeeded to Bradenham under his father's will, is said to have entertained Queen Elizabeth in 1566 on her return from visiting the University of Oxford. (fn. 29) He died in 1574 in Germany, and by a codicil in his will desired his body to be buried at Liége and his heart to be inclosed in a leaden casket and buried in the chapel of Bradenham beneath the tomb of his father. (fn. 30) He further left directions to his eldest son Frederick, who succeeded to Bradenham and other of his father's estates, to build and endow almshouses in this parish for a master and six poor men, which bequest was never carried out. (fn. 31) Frederick Lord Windsor died in 1585 and was succeeded by his brother Henry. (fn. 32) Thomas son and heir of the last-named made a settlement of Bradenham on his wife in 1615. (fn. 33) He made a further settlement in 1641 on Thomas Windsor Hickman, son of his sister Elizabeth, conditional on his adopting the name of Windsor. (fn. 34) He died in 1642, (fn. 35) and the manor appears to have changed hands almost immediately, passing to Sir Edmund Pye, bart. He, who was an ardent Royalist, was compounding as a delinquent in 1646, (fn. 36) and had already then acquired Bradenham, for his offence is stated to have been that he left his house there and went to reside in the enemy's quarters. (fn. 37) At his death in 1673 Bradenham passed to his elder daughter and co-heir Martha, wife of John Lord Lovelace of Hurley, and her issue. (fn. 38) Martha Lovelace, her daughter, who as granddaughter and heir of John Lord Lovelace was suo jure Baroness Wentworth, married Sir Henry Johnson. (fn. 39) She died in 1745 without issue and Bradenham passed under her will to her cousin and heir Edward (Noel) Lord Wentworth, created a viscount in 1762. (fn. 40) He died in 1774, and in the following year his son Thomas Viscount Wentworth suffered a recovery of the manor (fn. 41) and finally sold it in 1787 to John Hicks of Plomer's Hill, Bath. (fn. 42) On the death of John Hicks in 1825 the title to the manor and advowson was contested and remained for a long time in Chancery. (fn. 43) It eventually passed to Mrs. Hearle as sole surviving daughter of John Hicks, (fn. 44) with remainder settlement on the Rev. John Graves, her nephew and grandson of John Hicks. He took possession of Bradenham in 1854, (fn. 45) and his representative John Hicks Tempest at present owns the manor.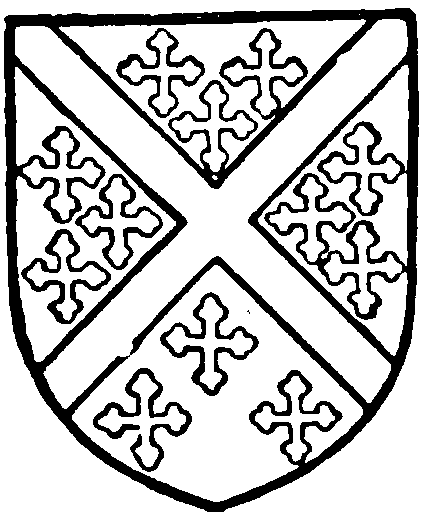 Whilst the estate was in Chancery Bradenham House was leased to various tenants. Sir William Lawrence Young, governor of Tobago, resided here until his death in 1824. (fn. 46) Another and better known tenant is Isaac D'Israeli, author of The Curiosities of Literature, who removed here in 1829. The boyhood of his famous son Benjamin was passed at Bradenham House. Isaac D'Israeli died in 1848, and there is a tablet to himself and his wife in the parish church. (fn. 47)
CHURCH
The church of ST. BOTOLPH consists of a chancel measuring internally 22 ft. 6 in. by 13 ft., north chapel 22 ft. by 18 ft., nave 39 ft. by 16 ft., south porch, and west tower 11 ft. by 10 ft.
The earliest part of the church is the nave, built probably about 1100; the west tower is of the end of the 15th century, and the north chapel was built by William second Lord Windsor in 1542. (fn. 48) A new chancel was built in 1863. The porch on the south side was added and the nave restored during the last century. The walls are of flint rubble with stone dressings, and the north chapel is coated with rough-cast. The roofs are all tiled.
On the north side of the chancel is a modern arcade to the chapel, and inset in the wall is an ancient stone bracket. The chancel arch is modern. The 16th-century east window of the north chapel is of three lights and contains some heraldic glass of the 17th and 18th centuries with some earlier fragments. The two-light windows in the north wall and the door in the west wall with a four-centred head are contemporary with the east window.
The nave is lighted by two windows in each side wall; that at the north-east is modern, while the others are restored 14th-century two-light windows with tracery in pointed heads. In the south wall is an original Norman doorway, which is unusually small. It has a round head with plain tympanum and flat lintel, the latter being enriched with lozenge pattern over a cable moulding and supported on brackets. The inner order of the head is relieved by an edge roll which is continued down the jambs, and the outer order is formed by a large roll moulding springing from attached shafts with chamfered capitals, the eastern of which has been restored. Both capitals have cable neck mouldings and that on the west is enriched by a lozenge pattern.
The west tower, of two stages, has a turret on the north side and diagonal buttresses. The tower arch, which is of one plain order, has been coated with cement. The lower part of the west doorway with the moulded jambs is of the latter part of the 15th century, but the head and label are probably of a later period. The three-light west window is also of the 15th century. The bell-chamber has late 15th-century windows.
There is a brass on the south side of the chancel to Richard Redberd, rector of the parish, who died in 1521. It consists of a small figure of a priest in mass vestments with an undated inscription.
In the tower is a 17th-century panelled oak chest.
On the south wall of the north chapel there is a monument to Charles West (d. 1684), eldest son of Charles Lord De la Warr. It is of black and white marble, and has two figures supporting a cornice with arms and an inscription. There is also an inscription to his wife Elizabeth, daughter of Sir Edmund Pye. There is also a tablet to Isaac D'Israeli (d. 1848) and his wife.
There are three bells; the second and third have the inscription 'Michael de VVymbis me fecit.' They are of about 1300 and unusually well preserved, and are interesting as being two of the very few remaining bells by this founder.
The plate consists of a silver paten, chalice and flagon remodelled from the old service in 1863.
The registers before 1812 are as follows: (i) baptisms and burials 1627 to 1812, marriages 1627 to 1756; (ii) marriages 1754 to 1812.
The churchyard walls contain some 17th-century brickwork and some coping stones of earlier date.
ADVOWSON
The advowson of Bradenham Church has always followed the same descent as the manor (q.v.), the first mention being found in 1235, when the Earl of Warwick presented. (fn. 49)
In 1354 William atte Coumbe left by will one sheep to the church of Bradenham. (fn. 50)
Richard Fletcher, D.D., afterwards Bishop of London, was appointed rector here in 1575. (fn. 51)
CHARITIES
Charity of Katherine Pye, founded by deed 1713. (fn. 52) The annual sum of £12 is divided between this parish, Towersey and West Wycombe, the sum of £4 received by each parish being given to two poor widows or superannuated maids.
The residue of the net rents, applicable for educational purposes, is divisible equally between the same three parishes and the parishes of Hughenden and Princes Risborough, amounting to £7 to £8 a year for each parish.