Pages 432-435
A History of the County of Buckingham: Volume 3. Originally published by Victoria County History, London, 1925.
This free content was digitised by double rekeying. All rights reserved.
TATTENHOE
Thateo (xii cent.); Tattenho, Totenho (xiii cent.); Tottynho (xvi–xvii cent.); Tattenhall (xviii–xix cent.).
Tattenhoe is a small rural parish which consists of 163 acres of arable land, 562 acres of permanent grass, and 16 acres of woods and plantations. (fn. 1) The soil is stiff clay; subsoil clay and gravel. The highest point in the parish—412 ft. above the ordnance datum —is in the extreme west, and the land slopes gradually down to a height of 297 ft. in the east. (fn. 2) A small stream rising in the neighbouring parish of Mursley flows through Tattenhoe in a north-easterly direction. There is no village.
The church of St. Giles stands in the north of the parish, near the moated site of the ancient manorhouse of the Stafford family. About the middle of the 18th century this house was described as being in a ruined condition and inhabited by a labourer. (fn. 3) A few farms lie scattered in the neighbourhood, but the population in 1901 was only sixteen persons. (fn. 4)
The following field-names are found in the 16th century: Adams land, Ladymead, Corner Close, Prior's Stocking, also called Snelshall Stocking, and Windmill Hill.
MANOR
There is no mention of TATTENHOE in the Survey of 1086; the earliest records concerning it show that Sibyl de Angerville, or Dangerville, held land here before 1167. Ralph Martel, her grandson, held Tattenhoe at the beginning of the 13th century or even earlier. (fn. 6) In 1205, when the lands of the Normans in rebellion against England escheated to the Crown, his land at Tattenhoe was valued at 60s. and the stock upon it consisted of twelve oxen. (fn. 7) In 1210–12 Roger de Kauz paid 60s. for the Buckinghamshire lands of Ralph Martel, (fn. 8) who afterwards, however, received them again at the hands of the king. (fn. 9) William Martel, brother of Ralph, afterwards held Tattenhoe, (fn. 10) but in 1224, having been concerned in the rebellion of Faukes de Breauté, he was hanged at Bedford, (fn. 11) and his lands were forefeited to the Crown. The manor had been held by the Martels in demense of the Crown, but Henry III granted Tattenhoe before May 1225 to William de Cauntelow, (fn. 12) who subinfeudated it, and this mesne lordship was still held by his family in 1324. (fn. 13) In 1278–9, however, the land was said to be held of the honour of Bolebec (Bolewyk). (fn. 14) In 1529 the manor was held by Elizabeth Pigott as of her manor of Shenley. (fn. 15)
Paul Pever, who was subinfeudated by William de Cauntelow, held Tattenhoe in 1226, (fn. 16) and was granted view of frankpledge by Henry III. (fn. 17) Paul Pever, about 1241, subinfeudated the manor to William de Jarpenville for suit of court and rent. (fn. 18) In 1278–9 William de Jarpenville paid 40s. annually from the hamlet of Tattenhoe for all services to the heirs of Paul Pever, (fn. 19) and they were in receipt of this sum as late as 1333. (fn. 20) In 1302–3 William de Jarpenville was in possession of Tattenhoe, (fn. 21) which by 1316 had passed to Richard de Jarpenville, (fn. 22) and in 1324 the manor was held by Colette de Jarpenville. (fn. 23) In 1398 John Trenchefoyle and Maude his wife held it in the right of the latter, (fn. 24) and in 1415 Alice and John Trenchefoyle, daughters and heirs of Maud, (fn. 25) granted Tattenhoe to John Giffard of Whaddon. (fn. 26) Any right in the manor retained by the Jarpenville family was renounced in the following year by Thomas, son of Richard de Jarpenville. (fn. 27)
The manor was held by feoffees until 1431–2, (fn. 28) when it was settled on John Giffard and Elizabeth his wife in survivorship and on their heirs. (fn. 29) Elizabeth Giffard held courts at the manor from 1438 to 1440. (fn. 30)
Thomas Giffard, their son, (fn. 31) died before 1446, in which year Alice Giffard, widow, delivered seisin of half the manor of Tattenhoe to Gilbert Standish and Alice his wife, (fn. 32) daughter and heir of Thomas. (fn. 33) This heiress afterwards married Richard Hayton, (fn. 34) with whom she held the manor in 1475. (fn. 35) In 1477 they quitclaimed the manor to John Brentwood and Thomas Stafford. (fn. 36) The former released his right to Stafford in 1478, (fn. 37) and in the same year Roger Standish, son and heir of Alice, also gave up all his title in the manor. (fn. 38) In 1516 Thomas Stafford enfeoffed trustees of the manor to the use of his illegitimate son, William Stafford, (fn. 39) and died in the following year, when his legal heir was stated to be Humphrey Stafford, afterwards Sir Humphrey Stafford of Blatherwycke (Northants), the son and heir of his eldest brother, Humphrey Stafford. (fn. 40) Thomas Stafford had left £10 to Sir John Bentley, the parson of Mursley, to educate his son 'in the seyence of gramer,' and to send him in three years' time to Oxford or Cambridge, but Alice, widow of William Ingoldsby and mother of William Stafford, accused Bentley and Humphrey Stafford of abducting the boy. (fn. 41) A dispute arose later between William and Humphrey, and the latter sent the title deeds in a great coffer to Woburn Abbey (Beds.) for safe custody, whereupon William Stafford, bastard, sued the abbot for their recovery. (fn. 42) He also brought an action against Humphrey's brother, William Stafford of Bradfield (fn. 43) (Berks.), but was eventually satisfied in 1525 by a grant of the manor to himself and his wife Eleanor for life for an annual payment of £10 to William Stafford of Bradfield. (fn. 44) William Stafford, bastard, died in 1529 (fn. 45) and William Stafford of Bradfield sold Tattenhoe in 1531. It was bought by Sir George Throckmorton, (fn. 46) who evidently soon became desirous of selling it again, as in 1534 he wrote to Cromwell as follows: 'At my last departing from you I broke unto you concerning the manor of Tottynho which I had bought in Buckinghamshire. I had rather you had it than any other man as I am driven to put it away, for I owe £800 for a lordship I bought lately .… Master Baldwin can instruct you of the title, who induced me to buy it. I have but £18 lands in hand. The rest is in reversion on the death of a gentlewoman now married to Ashfield.' (fn. 47) The gentlewoman was Elizabeth or Eleanor, widow of William Stafford, bastard, who married Edmund Ashfield as her second husband, (fn. 48) and they quitclaimed their right in the manor later in 1534. (fn. 49) The projected sale to Cromwell did not, however, take place, and it was not until 1544 that Sir George Throckmorton finally sold Tattenhoe, the purchasers being Francis and John Englefield, (fn. 50) sons of Sir Thomas Englefield. (fn. 51) The manor was settled on John and his issue. (fn. 52) He died in 1567 and was succeeded by his son Francis, (fn. 53) who was created a baronet in 1611. (fn. 54)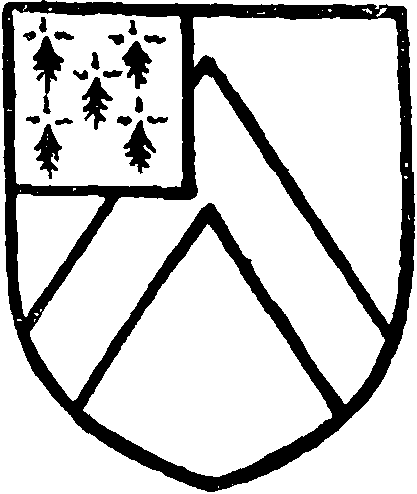 Throughout this period the Stafford family, formerly lords of the manor, continued to own a large propertion of the lands in the parish, and in 1584 it was stated that while Francis Englefield was seised of the manor Thomas Stafford, son of William Stafford, bastard, (fn. 55) held over 200 acres in Tattenhoe (the lands of both parties amounting to 470 a. 20 p.) and that Stafford's lands were so intermingled with Englefield's that 'it certainly could not appear which was which, which occasioned many suits.' (fn. 56) An agreement was therefore made by which all the manor and lands were settled on Stafford, who was to pay an annual rent of £80 to Englefield and his heirs. (fn. 57)
Thomas Stafford settled Tattenhoe on his eldest surviving son Thomas in 1607, and died the same year. (fn. 58) The son died seised of the manor in 1629, and his son, who was also called Thomas, succeeded him. (fn. 59) The estate of Stafford was seized in 1647 as that of a delinquent, and his lands in Tattenhoe and in the neighbouring parish of Shenley were valued at £600, (fn. 60) but the case against him was discharged in 1651, (fn. 61) and the lands remained in his family some time longer. Thomas Stafford died in 1684, (fn. 62) and his eldest son Edmund having predeceased him, Charles Stafford, second but first surviving son of Edmund, (fn. 63) became lord of the manor. (fn. 64) In his hands the estate became heavily mortgaged, and he himself was sued for debt. (fn. 65) Tattenhoe was mortgaged for the most part to James Selby, (fn. 66) and on this account the manor was vested in 1732 by a decree in Chancery (fn. 67) in Thomas James Selby, his son and heir.
Charles Stafford, who had spent the estate, died in 1716, having made over his right, title, and interest to his great friend Captain Gardiner; all claim, however, was finally given up to the Selby family after a tedious lawsuit. Thomas James Selby bequeathed the manor with his Whaddon estate to William Lowndes, in whose family it still is. (fn. 68)
Tattenhoe Bare, the field in the west of the parish, was from ancient times regarded as parcel of the manor. In the time of the Staffords, and particularly in the 16th century, it was frequently the subject of dispute between the lord of the manor and the men of Shenley, who claimed right of common on it, as parcel of Whaddon Chase. (fn. 69) From disputes it seems evident that the Shenley men also urged, in proof of their right, that Tattenhoe was a member of Shenley and not an ancient manor at all. This claim, however, was proved untenable, as Court Rolls and deeds were produced as evidence of the manorial status of Tattenhoe. (fn. 70) It was decided, too, about the year 1604, that Tattenhoe Bare was and had always been parcel of the manor. (fn. 71) It contained 300 acres, and a hedgeditch in it, extending from Queen Standing Gate to Tattenhoe Gate, divided it into two parts, north and south; on the north part was common for all horses, oxen and cows, and for twenty sheep from a messuage and 2 yardlands in Shenley. (fn. 72) The lords of Tattenhoe had a hogsty there, erected houses, felled trees, made trenches, put in cattle without stint and could impound the cattle of others on the Bare. (fn. 73) The name of Tattenhoe Bare is still borne by a farm in the parish.
Ralph Martel made a grant of land in Tattenhoe and of housebote and haybote in his wood there to Snelshall Priory, (fn. 74) and William Martel confirmed these grants. In addition, William Martel, in the early 13th century, gave the monks a piece of ground to augment their cemetery, as at that time the dead, both of the priory and of Tattenhoe parish, it is said, were buried in a wood. (fn. 75) The priory acquired other lands in the parish about this time. (fn. 76)
Paul Pever remitted to the monks suit at his court of Tattenhoe, (fn. 77) but this does not appear to have held good, as later Court Rolls of Tattenhoe Manor show that the Prior of Snelshall owed suit at it and was frequently fined for making default. (fn. 78)
In 1278–9 each of the four tenants of the prior in this parish was stated to owe William de Jarpenville, then holding the manor, 1½d. annually and one man at harvest time. (fn. 79) From the same lord the monks also obtained a piece of land on which to build a windmill, on condition that the freemen of the manor should have right of way to it, and that the lord's corn should be ground there three times a year. (fn. 80)
In 1536 the priory held lands at farm in Tattenhoe from which they received 126s. 8d. annually, (fn. 81) and in the grants of its site and property, made after the Dissolution, its lands at Tattenhoe were included. (fn. 82)
CHURCH
The church of ST. GILES consists of a chancel and nave in an unbroken range, 42 ft. 3 in. by 14 ft. 3 in., with a western bell-turret of wood.
It was built in 1540 from some of the remains of Snelshall Priory in the adjoining parish of Whaddon. It would appear to have been disused for a time in the 17th century, and a proposal was made to rebuild it. This was not done, but in 1636 it was reendowed and provision for the services was made. (fn. 83) In 1892 the church was restored. The walls are of rubble, partly plastered, with ashlar dressings, and the roof is tiled.
The 16th-century east window is of three plain lights with tracery in a depressed head, and contains some fragments of old glass, including an inverted shield charged with a cheveron between three roses or cinquefoils and part of an inscription. On either side of the window, built into the wall, is a 15th-century semioctagonal moulded bracket. The north and south walls are each pierced by three windows; the easternmost, which are of the 16th century, light the chancel, and are each of three cinquefoiled lights in a depressed head; the second and third windows on each side, which appear to be of earlier date, are respectively of three and two trefoiled lights in square heads. Between them on either side is a 14th-century doorway with pointed head and continuously moulded jambs. The door on the north side has been blocked and can only be seen inside the church; to the east of it is a rectangular niche. At the east end of the wall is a 15th-century piscina with a defaced cinquefoiled head. The west window is of the same period and of three rectangular lights in a square head with an external label.
The roof of the eastern part is plastered on the underside of the rafters, while that of the western part has a flat ceiling.
The carved octagonal bowl of the font is modern, but the base is probably of the 13th century and consists of four grouped shafts with moulded capitals and bases, all painted. The 17th-century communion table has turned legs.
There is one bell, inscribed 'Petrus deveston (fn. 84) me fecit.'
The plate includes a cup and cover paten of 1662 and a plated flagon and almsdish.
The register of baptisms begins in 1733, of burials in 1755, and of marriages in 1765.
ADVOWSON
Sibyl de Angerville, grandmother of Ralph Martel, granted the place called Snelshall (locum de Snelleshal) and the chapel of Tattenhoe to the monastery of Lavendon in the 12th century. (fn. 85) This grant appears to have been before the foundation of Snelshall Priory (on the land given by her to Lavendon (fn. 86) ), as after that event she made a grant both of the site and of the chapel to the new foundation. (fn. 87) Confirmations of both grants were subsequently made—to the abbey in 1215 (fn. 88) and in 1227, (fn. 89) and to the priory both before and after those dates. (fn. 90) As a result of this confusion the monks of Snelshall paid to Lavendon Abbey for the chapel and for the site of their priory the yearly rent of 1 mark until about the year 1232, when Hugh, Bishop of Lincoln, confirmed a grant made by Lavendon to Snelshall Priory of the chapel of Tattenhoe, for all obligations concerning which the priory was henceforth to be responsible, and of the annual rent hitherto paid to the abbey. (fn. 91)
After this date the priory retained uninterrupted possession of the chapel until the Dissolution. (fn. 92)
In 1578 it was granted by the Crown to John Farnham and his heirs for ever, but it was acquired afterwards, doubtless by sale, by the Stafford family, who held the manor. (fn. 93)
In 1636 Thomas Stafford was made patron of a church which was to be erected here in place of the chapel, the endowment of tithes and other provision for a rector to be made by Stafford and continued by his successors. (fn. 94) The new arrangement may have been partly due to various claims to the tithes which had been made by the rector of Shenley. (fn. 95)
The patronage has since remained with the lords of the manor, the living being a donative, and served by the vicar of Bradwell.
CHARITIES.
Countess of Bridgewater's Educational Trust (see under Edlesborough). This parish receives £10 a year from the trustees, which is applied in support of the school.