Pages 144-147
A History of the County of Buckingham: Volume 4. Originally published by Victoria County History, London, 1927.
This free content was digitised by double rekeying. All rights reserved.
AKELEY
Achelei (xi cent.); Aqueleie, Akeleia (xii cent.); Acle (xiii cent.); Akle juxta Bukyngham, Ocle under Whittilwode (xiv cent.); Akeley-cum-Stockholt (xviii cent.).
This parish, lying on the road from Towcester to Buckingham, covers 1,325 acres, most of which is laid down as permanent grass, only 195 acres being arable land. (fn. 1) Both soil and subsoil are clay. The ground rises slightly from about 300 ft. above the ordnance datum in the north-east to about 400 ft. in the south.
The village lies 3 miles north of Buckingham station on the Verney Junction and Banbury branch of the London and North Western railway. The church of St. James stands on high ground with the rectory, a modern building, to the south. In 1639 the parsonage-house is described as a building of two bays. (fn. 2)
There are several 17th-century cottages and houses in the village, some timber-framed and some of stone, with thatched or tiled roofs. About a quarter of a mile east of the rectory is the manor-house. It is a 17th-century house, originally built of stone, but it has now been refronted in brick. Some of the original mullioned windows remain.
There is a Wesleyan chapel, built in 1828, at Duck End, close to the church of St. James, and a little south of the church is the school, built in 1854, and subsequently enlarged for 100 children.
North of the village is Akeley pottery, and the industry is evidently an ancient one, since Pottery Hooke is one of the closes mentioned in the early 18th century. (fn. 3) To the south-east of the pottery are brickworks.
About half a mile north-west of the village lies Stockholt Farm, all that remains of the once important manor and district of Stockholt (Stotholt, Stockholt, xiii cent.; Stockholt next Ocle, Stockholtbernes, xiv cent.; Stockholt Barnes, xvi cent.; Stockholte Barnes alias Stockholt alias Stockwell, xvii cent.). The name does not occur before the early 13th century (see below), but by the 18th century the parish was known as Akeley-cum-Stockholt, (fn. 4) and a chapel of ease to the parish church apparently existed at Stockholt at that date. (fn. 5) As its name would imply, it was that wooded part of Akeley which extended into Whittlewood Forest, (fn. 6) and was probably included in the woodland for 806 swine which appertained to Akeley Manor in 1086. (fn. 7) In 1279 the Prior of Newton Longville brought an action for trespass against William de Brewes for taking wood from Stockholt Wood in Whittlewood Forest, (fn. 8) at that time assessed at 21 acres. (fn. 9) The inclosure of this wood began with the grant to Ralf Briton (see below), who in 1228 had licence to inclose 4 acres with ditch and fence, and to cultivate the same (fn. 10); and in 1412 Thomas Linford, lord of Stockholt Manor, was permitted to add to Stockholt Park by inclosing an adjoining field called Homfeld alias Mansherdfeld and Coppedmorfeld, containing 200 acres, and a wood of 100 acres with a fence adjoining the same, and a park called Kingsshrobfeld. (fn. 11) Further extensive inclosures were made about 1660, and among the names of closes mentioned in a dispute as to tithes in 1710 are Swannells Grounds, Waking Slade, Parson's Hooke, Bam and Cockley Leas, Kill and Netherway Closes, and Chadwells. (fn. 12) The Inclosure Act for the parish was passed in 1794, the Award being dated 1796. (fn. 13) An allotment of land was then made for the poor in lieu of furze, and compensation was made for tithes, the modus or composition for the Marquess of Salisbury's property of Stockholt Farm remaining, however, as before. (fn. 14) There is very little wood now left in the parish, only 75 acres being covered by woods and plantations. (fn. 15) Akeley Wood, referred to as an inclosure in the suit of 1710, (fn. 16) covers about 200 acres of well-timbered grass land in the west of the parish, with Akeley Wood Farm at the north-western end, and at the southern Akeley Wood House.
Manors
Before the Conquest Alric son of Goding held 3 hides at AKELEY, which he could sell. (fn. 17) By 1086 this estate was held by Robert of Walter Giffard, (fn. 18) who bestowed it, together with Newton Longville (q.v.), on the priory of St. Faith at Longueville in Normandy. (fn. 19) Like Newton Longville it was part of that division of the honour of Giffard of Gloucester which went to the earls of Gloucester and Stafford, (fn. 20) and though the prior of Newton Longville was said in the 13th century to hold in free alms, (fn. 21) in the 14th century the service of a half fee was demanded from Akeley, the prior paying 20s. at the assessment of 1346. (fn. 22) The manor can never have been of much importance, the prior's possessions here being rated at only £4 2s. 4d. in 1291, (fn. 23) and it was deemed to be part of Newton Longville Manor, with which it was granted in 1441 to the Warden and Fellows of New College, Oxford, (fn. 24) who have remained in possession ever since.
In the 17th century Robert Smyth, whose father Sir William had been a Fellow of New College, 1558–71, (fn. 25) obtained a lease for a thousand years of the manor. (fn. 26) He was slain in 1645 fighting for the king, (fn. 27) and his widow Martha compounded in 1647 for the estate, which was sequestered for her husband's delinquency in leaving his habitation and residing in Oxford, and because her son William Smyth, M.P., joint purchaser with his father, had adhered to the king. (fn. 28) She obtained leave to compound on the ground that her son had no right to the estate except as trustee, and that her husband had directed in his will, of which he had appointed her executrix, that the lease should be sold by her. (fn. 29) The estate, however, ultimately passed to her son William, a captain in the king's army, who compounded in 1647 for his delinquency, (fn. 30) and was made a baronet as of Radclive in 1661, (fn. 31) when he was member of Parliament for Buckingham. (fn. 32) At his death in 1696 he was succeeded by his son Sir Thomas Smyth, bart., (fn. 33) who held in 1711, (fn. 34) and at whose death unmarried in 1732 (fn. 35) the Akeley property, freehold and leasehold, passed to his cousin William Smyth (see Wavendon), according to the terms of the first baronet's will. (fn. 36) William Smyth, described as a baronet in his will, proved in 1741, left his lands in Akeley to William, Thomas and John King, sons of Margaret the daughter of the first baronet, (fn. 37) by whom they were probably alienated, for there is no later record of this family in Akeley.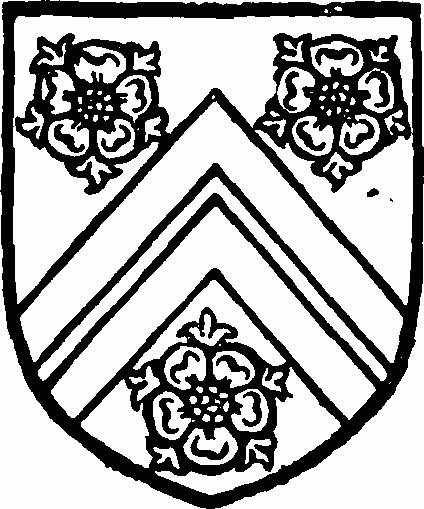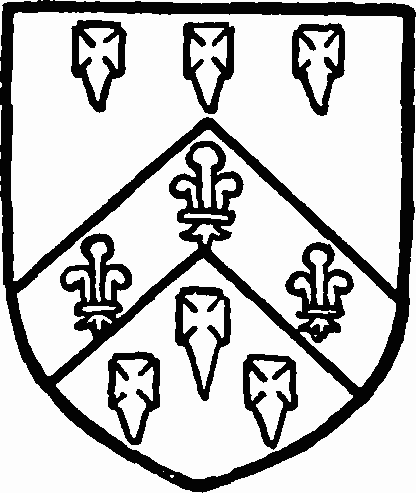 The estate known in the 13th century and sub sequently as the manor of STOCKHOLT, and from the 14th century more usually called STOCKHOLT BARNES, appears to have been included in Akeley at the date of the Domesday Survey, and to have been granted by Walter Giffard as parcel of that manor to the priory of Longueville, whose prior made various grants in Stockholt early in the 13th century. (fn. 38) In 1235 Gilbert Marshal, Earl of Pembroke, the overlord, included Stockholt among other Buckinghamshire manors, the issues of which were granted by him to his sister, Eleanor Countess of Pembroke, to hold until the payment of £400 which he owed to her was complete. (fn. 39) It was accounted parcel of the manor of Akeley, and was held of New College as late as 1627. (fn. 40)
The nucleus of the manor appears to have been 4 acres of wood in Stockholt granted to Ralf Briton in 1228 by the Prior of Longueville. (fn. 41) These he received licence to inclose, and in the following year acquired from the priory 12 acres of land in Stockholt 'in augmentum terre sue de Stocholt.' (fn. 42) In 1242 John de Ferentin had apparently acquired this property, a grant of Stockholt being made by him on 1 February to John de Gatesden, (fn. 43) between whom and Thomas de Aldham a fine was levied of the manor of Stockholt in the time of Henry III. (fn. 44) John de Gatesden's daughter Margaret held the manor with her husband John de Cameys in 1279, when other property was granted for life by them to Thomas de Aldham's widow Isabel and her then husband Richard de Pevenes. (fn. 45) The manor had passed to Stephen de Trafford and Elizabeth his wife, apparently as the inheritance of Elizabeth, before 1332, in which year Edmund de Ayete surrendered to them all right which he had in the manor under a lease at 8 marks yearly which they had made to him. (fn. 46) In the same year Stephen and Elizabeth granted a messuage and land in Akeley to Thomas de Useflete, clerk, for life, to hold at a rent of 10 marks, with reversion to themselves and the heirs of Elizabeth, (fn. 47) and in 1345 Stephen son of Stephen de Trafford granted the manor for 100 marks to the same Thomas de Useflete, (fn. 48) who in 1347, being then Dean of St. Martin le Grand in London, conveyed the manor to John Giffard, canon of St. Peter's, York, and to John Holt, parson of Althorp Church, and the heirs of John Giffard. (fn. 49) In 1352 John Holt granted the manor, then first called Stockholt Barnes, to Adam le Lorymer of Leominster and Agnes his wife, (fn. 50) to whom in 1358 John son of Roger Giffard, kinsman and heir of the late canon, released all his right in the manor. (fn. 51) For more than a century the history of the manor is obscure. It was held in 1412 by Thomas Linford, (fn. 52) who had been succeeded in 1473 by Thomas Littleton, by whom it was granted in that year to Richard Fowler. (fn. 53) His son Sir Richard Fowler was lord in 1507, (fn. 54) but Akeley had passed before 1540 to George Baldry, who died seised of it on 14 February of that year, (fn. 55) when he was succeeded by Elizabeth, his year-old daughter and heir, who about 1555 married Robert, second Lord Rich. (fn. 56) Robert Lord Rich died in 1581, (fn. 57) and his widow, at her marriage with her second husband Robert Forthe, settled the manor in 1585 on herself and her husband for life, with remainder successively in tail-male to her second son Edwin Rich, and to her grandsons Robert and Henry, sons of her eldest son Robert Lord Rich. (fn. 58) She died on 1 December 1591, (fn. 59) and six years later the manor was sold by Sir Edwin Rich and his wife Margaret to John Lambert, or Lambard, (fn. 60) of the Castle House in Buckingham. He held Barton or Lambards Manor in Buckingham (q.v.), with which Stockholt descended to his granddaughter and eventual heir, Mary Lambert. (fn. 61) She made a settlement of the manor in 1641 on her marriage with her second husband Edward Bagot, (fn. 62) who succeeded his father as baronet in 1660. (fn. 63) In 1670 they settled the manor on their son and heirapparent Walter, (fn. 64) who succeeded his father in the estate and title in 1673. (fn. 65) Three years later he conveyed Stockholt Barnes to Simon Bennett of Beachampton, (fn. 66) and from this date it descended with Beachampton (fn. 67) (q.v.), until sold c. 1800 by James Marquess of Salisbury to Robert Lord Carrington, (fn. 68) by whom it was conveyed to the Duke of Buckingham. (fn. 69) The Duke sold it c. 1850 to Mr. A. J. Robarts, whose grandson, Mr. Abraham Robarts, now owns it.
Church
The church of ST. JAMES, consisting of a chancel, nave, and a tower, with a spire, on the south side, was rebuilt in 1854 in stone in the style of the 14th century and restored in 1901. The churchyard was enlarged by gift of Mr. George Attwood in 1903.
The church has two bells, one modern, and the other by Richard Chandler, 1674.
The plate includes a cup and cover paten with date-mark 1569.
The registers begin in 1682, the early volumes having been burnt. (fn. 70)
Advowson
The church was granted with the manor by Walter Giffard to Longueville Priory, (fn. 71) the presentation being made by the Norman prior, (fn. 72) who had a pension of £113s. 4d. in the church, (fn. 73) by the Prior of Newton Longville, or by the king when the temporalities of the English cell were in his hands by reason of war with France, (fn. 74) until the grant of the manor to New College. The advowson was held by New College until 1873, (fn. 75) when it was transferred to Mr. C. Pilgrim, who held it until 1892. (fn. 76) In 1893 and 1894 it was held by Mr. E. A. Mounsey, and from 1895 to 1897 by the trustees of Mr. C. Pilgrim. From 1898 to 1911 it was vested in Mrs. Pilgrim, and is now in the Church Association Trust. (fn. 77)
The church was returned as worth £6 13s. 4d. yearly in 1535. (fn. 78)
In 1279 Robert, rector of the church, held 1 virgate of land, with which the church was endowed. (fn. 79)
Charities
The poor's allottment, containing 12a. 2r. 9p., was allotted for the benefit of the poor on the inclosure in 1794. The land is let in allotments, producing about £12 a year. The net income is distributed in money gifts to the poor.
Sir William Smyth, by his will proved in the P.C.C. 10 February 1696–7, bequeathed £100 for the benefit of the poor. The sum of £66 13s. 4d., part of the legacy, was invested in an annuity of £2 13s. 4d. payable out of the rectory of Oving, and the balance was placed out on a mortgage. The mortgage, with considerable arrears of interest, was paid off and invested in 1874 in £196 7s. 10d. consols with the official trustees, producing £4 18s. yearly. The income of the charity is by a scheme of 31 July 1874 made applicable in supplying clothes, bedding, fuel, &c., to the poor, in giving pecuniary aid, and in aiding provident associations. The distribution is usually made in coal.