Pages 215-220
A History of the County of Buckingham: Volume 4. Originally published by Victoria County History, London, 1927.
This free content was digitised by double rekeying. All rights reserved.
PRESTON BISSETT
Prestone (xi cent.); Prestona (xii cent.); Preston Byset (xiii cent.).
This parish covers 1,520 acres, of which 130 are arable and 1,339 permanent grass. (fn. 1) The soil is clay and gravel, the subsoil various. The parish is watered by a tributary of the River Ouse. The west of the parish lies low, but the land rises to 357 ft. above the ordnance datum at Cowley in the south-east.
The picturesque village of Preston Bissett is situated in the north of the parish, and is grouped round the parish church, which stands in a churchyard on rising ground. The cottages of which it is mainly composed are thatched, many of them dating from the 17th century, whilst the inn known as 'The Old Hat,' which stands opposite the church, is an ancient building of interest. A house on the south side of the church dates probably from the 16th century, and still retains some of its oak-mullioned windows. The rectory, some little distance to the north of the church, is a brick and stucco house built in the Gothic style in 1840 by the rector. The National schools, in the south of the village, were erected in 1858 and the Methodist chapel in 1853. There are a few modern residences in the east of the village.
The small hamlet of Cowley (Coveleg, Covele, Couele, xiii cent.) lies to the south-east of Preston Bissett, and consists of three farms and two or three cottages. Foundations of the ancient chapel are still to be seen in the field known as Parson's Close. (fn. 2) Cowley Farm, built in 1604 according to a date on a frieze inside the house, has been coated with roughcast. Casemore Farm occupies an isolated position in the centre of the parish.
The water in this parish is strongly impregnated with iron, and one spring has been found, although it is not used. (fn. 3)
An Inclosure Award was granted to Preston Bissett in 1781, when a field of 940 acres and a plot of land of 60 acres (which had been granted from Tingewick Common on the inclosure of that parish) were said to be commonable. (fn. 4) The rector received an allotment on inclosure in lieu of tithes on land in Preston Bissett. (fn. 5) The tithe on the lands in Cowley was commuted at £200 a year, and still remains chargeable on these lands.
The following place-names have been found in records: Patrons Acre (fn. 6) (xvi cent.); Gamons Wood, Poole Hooke Meade, and le Wyndmill Hill (fn. 7) (xvii cent.).
Manors
Under the Confessor PRESTON alias PRESTON BISSETT and COWLEY MANOR was held by Wiluf, a man of Earl Lewin, who had power to sell. (fn. 8) In 1086, when it was assessed at 15 hides, it had passed to the Bishop of Bayeux. (fn. 9) In the middle of the 13th century the overlordship was attached to the honour of 'Chelefeud,' (fn. 10) the manor being held by the service of castle ward at Rochester Castle, later commuted to a money payment. (fn. 11) No reference to the overlordship has been found after the year 1421.
Ansgot de Ros was the tenant of the Bishop of Bayeux in 1086, (fn. 12) and the next owner of the manor was William son of Helte, who held Preston in the reign of Henry II. (fn. 13) He appears to have enfeoffed a member of the Bissett family, probably Manasseh Bissett, the well-known dapifer of Henry II, for we find the name of Manasseh Bissett in the Pipe Roll of Bedfordshire and Buckingham for the year 1158–9, (fn. 14) and also for the year 1162–3 in connexion with 'Prestinton.' (fn. 15) Again he may be identified in all probability with the 'Maness' who rendered account of half a mark in Preston in 1166–7. (fn. 16) Manasseh's successor was Anselm Bissett, whose name is first found in connexion with Buckinghamshire in 1199, (fn. 17) and with Preston Manor in 1205. (fn. 18) In that year, and again in 1208, William de Ceriton preferred rights in the manor against Anselm Bissett. His claim was based on his relationship to William son of Helte mentioned above, who had died without issue, leaving three sisters as co-heirs. William de Ceriton was the son of Sibyl, one of these sisters, the other sisters Alice and Emma being represented by a son Anfrid de Caney, and a grandson Robert de Setvans (Septem Vannis) respectively. (fn. 19) William de Ceriton's claim appears to have been one of overlordship only, which was recognized in 1284–6. (fn. 20) Anselm was succeeded in Preston by Ernald Bissett, who held here in 1254, (fn. 21) or even earlier. (fn. 22) At the former date his possessions in Preston were extended at 6½ hides. (fn. 23) Ernald Bissett appears to have alienated the manor about this date to Laurence de Brok, (fn. 24) whose death took place in or about the year 1275, (fn. 25) when the executors of his will delivered goods in the manor to his son and heir Hugh. (fn. 26) In 1284–6 Hugh de Brok is returned as lord of the vill of Preston and half the hamlet of Cowley. (fn. 27) William Bissett is here named as his intermediary lord, but in 1290 Hugh received a final quitclaim from him of the manor. (fn. 28) Laurence de Brok succeeded his father Hugh, (fn. 29) but some time before 1299 the manor was acquired by Walter, Bishop of Coventry and Lichfield, who in that year received a grant of free warren in this manor. (fn. 30) In the following year the bishop alienated to William Tuchet, (fn. 31) to whom also free warren was confirmed in Preston Bissett. (fn. 32) In 1312 William Tuchet entered into an arrangement with Bartholomew de Badlesmere by which he, William, was to hold Preston Bissett for life, with reversion to Bartholomew if he should die without heir male. (fn. 33) Both William Tuchet and Bartholomew de Badlesmere took part in the Earl of Lancaster's rebellion, (fn. 34) and in 1322, after Boroughbridge, were executed, Preston Manor escheating to the Crown. Laurence de Brok, its former owner, now claimed possession on the ground that he had been unjustly disseised by the Bishop of Coventry and Lichfield, (fn. 35) and his widow Eleanor claimed and received dower in the manor some years later, her right being last mentioned in 1341. (fn. 36) On the other hand when Giles son of Bartholomew de Badlesmere (who had obtained the reversal of his father's attainder in 1328) (fn. 37) finally acquired livery of his father's lands in 1333, (fn. 38) Preston Bissett was included among them. (fn. 39) Giles de Badlesmere married Elizabeth daughter of the Earl of Salisbury, and on his death without issue in 1338 she received in dower two parts of the manor of Preston Bissett. (fn. 40) Elizabeth de Badlesmere subsequently married Hugh le Despencer and held Preston with him till his death in February 1348–9. (fn. 41) She later married Guy Lord Bryan, (fn. 42) retaining the ownership of this manor till her death in 1359. (fn. 43) Preston Bissett then passed, in accordance with the settlement made at the time of her first husband's death, to Thomas de Ros de Hamlake, younger surviving son of Margery, wife of William de Ros and eldest sister of Giles de Badlesmere. (fn. 44) Thomas de Ros died in 1383, leaving a son and heir John, aged eighteen, (fn. 45) but Preston was held in dower for some years by his widow Beatrice, (fn. 46) who married Richard de Burley some time previous to 1386. (fn. 47) John de Ros predeceased his mother, dying at Paphos in Cyprus on his way to the Holy Land in 1393. (fn. 48) He left no issue, so that, on the death of Beatrice de Burley in 1415, Preston Manor passed to her grandson and his nephew John son of William de Ros. (fn. 49) John de Ros was slain at Beaugé in March 1420–1, (fn. 50) and Preston Manor passed to his brother Thomas, aged fourteen. (fn. 51) He died in 1431, and was succeeded by his son Thomas de Ros, a zealous Lancastrian, who was attainted in 1461. (fn. 52) In consequence Preston Manor escheated to the Crown. In 1465 William son of Thomas Fowler had a grant for life for good service, (fn. 53) and the reversion was given to Richard Fowler and his heirs male in 1467. (fn. 54) Richard Fowler died seised of his interest in the reversion in 1477, (fn. 55) and in 1484 Thomas Fowler (whose precise relationship to the preceding members of his family has not been established) and Alice (Hulcote) his wife received a further royal confirmation of the manor. (fn. 56) In the following year Edmund de Ros obtained a reversal of Thomas's attainder, (fn. 57) and Preston Manor, thus restored to his family, was in 1541 in the possession of Thomas Earl of Rutland, whose father was nephew and coheir of Edmund de Ros. (fn. 58) At that date the Earl of Rutland conveyed the estate to Sir John Baldwin, at whose death in 1545 Preston passed to his grandson John, son of Parnel Borlase. (fn. 59) The Borlase family (whose descent is given under Little Marlow, q.v.) retained Preston for the next fifty years. (fn. 60) In 1594 William Borlase combined with Mary his wife to make a settlement of the manor on John Freestone and William Bridgewater, (fn. 61) but no further reference has been found of them in connexion with Preston, which according to Willis passed in 1630 to the Cater family. (fn. 62) This is so far confirmed by documentary evidence that in 1631 John Cater is found settling land in Preston Bissett. (fn. 63) The same authority states that it next passed to the Gibbs family by the marriage of Alice daughter of John Cater to Robert Gibbs. (fn. 64) This statement also receives the confirmation of a fine levied on the manor in 1701–2 between Thomas Gibbs combining with other members of his family and Sir Edmund Denton of Hillesden, (fn. 65) who had, however, held the manor for at least three years previously. (fn. 66) Preston Bissett now followed the same descent as Hillesden (q.v.) until the 19th century, passing like that manor by descent to the family of Coke, (fn. 67) whose representative, Thomas Coke, Earl of Leicester, alienated Preston Bissett in 1824 to John Farquhar. (fn. 68) From him it passed almost immediately to the Duke of Buckingham and Chandos, (fn. 69) whose descendant, Lady Kinloss, is at the present day lady of the manor.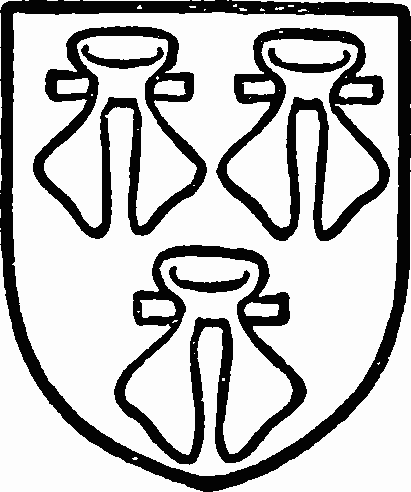 On the partition of the property of Giles de Badlesmere in 1338 lands in COWLEY appear to have been granted to his second sister and co-heir Maud Countess of Oxford. (fn. 70) It was stated in 1392 that Maud widow of Thomas de Vere, Earl of Oxford, son of the above Maud de Badlesmere, (fn. 71) held the 'manor' of Cowley. (fn. 72) In 1407, when Philippa, widow of Robert de Vere, Earl of Oxford and Duke of Ireland, made a settlement of her property in Cowley, it is described as a toft, 15 acres of land, 20 acres of meadow and 20s. rent. (fn. 73) No further mention of it has been found.
For more than 100 years previous to their acquisition of the advowson and manor of Preston Bissett the Dentons owned a property in the parish. In 1552 Nicholas Michell and Jacomyne his wife appear to have conveyed their farm or capital messuage in Cowley to Thomas Denton. (fn. 74) When his descendant Edmund Denton compounded as a delinquent in 1647 his estate in Preston is mentioned as fined, (fn. 75) and is described as the manor of Cowley alias Coveley in his will, dated 17 October 1657, empowering his trustees to sell part thereof for the payment of his debts. (fn. 76) His son Alexander Denton was stated in 1676 to hold the 'manor' of Cowley, (fn. 77) and likewise gave directions to his trustees to sell the same in order to raise money. (fn. 78)
A property in the hamlet of Cowley in this parish appears to have included the mill which formed part of Preston Bissett at Domesday. (fn. 79) It was attached to Preston Bissett Manor, of which it was held by payment of 3s. towards the ward of Rochester Castle. (fn. 80) First mention is found of it in 1252, when John son of Mauger de Cowley received a life grant from John son of John [Mauger] de Cowley (fn. 81) of a messuage and lands. (fn. 82) In 1258 Mauger de Cowley combined with Henry de Bayworth (who in 1252 had acquired a carucate of land in Cowley from Roger de Gray (fn. 83) ) to bring an action against the Archdeacon of Buckingham and others regarding the chapel of Cowley. (fn. 84) In 1284–6 John de Cowley had succeeded to this property. (fn. 85) His name occurs in 1302–3, (fn. 86) and that of a descendant, also John de Cowley, in 1346, (fn. 87) whilst in 1368 Henry son of Henry de Cowley and Joan his wife were disputing about his mother Agnes's dower in Cowley and elsewhere. (fn. 88) No further trace has been found of the name Cowley in connexion with this parish, but the almost immediate appearance of the name Major leads to the inference that the 'Mauger' of the 13th century had always been perpetuated and that the Cowleys of the 13th and 14th centuries may be identified with the Majors, who continued to hold down to the 17th century. In 1377 John Major of Cowley was concerned in an assault made on William la Zouche at Middle Claydon. (fn. 89) Again, the water-mill in Preston was held of John Major (Mager) by Thomas Giffard in 1469. (fn. 90) Towards the close of the same century (c. 1493–1500) Thomas Benet brought a suit against Thomas Major, who had seized deeds relating to his (Benet's) lands in Preston and Cowley, and had refused to give them up. (fn. 91) Thomas was followed by John Major, whose son Richard Major died in 1570 seised of a cottage and 4½ virgates of arable land in Cowley, which passed next to his son Edmund Major. (fn. 92) The latter married Anne daughter of Edward Ayleworth, whose memorial brass, dated 1613, the year of her death, is still to be seen in the chancel of Preston Bissett Church. (fn. 93) Edmund Major was still living in 1631, when with his son Edmund and his grandson Ayleworth Major he made a settlement. (fn. 94) Edmund Major, jun., died in 1634, his father surviving, and the 'capital messuage,' cottages and lands in Cowley passed, in pursuance of a previous settlement, to his son Ayleworth Major. (fn. 95) Ayleworth Major continued to reside on the family estate at Cowley and had a son Edmund, rector of Turweston, whose death in 1685 is commemorated by a tablet in the parish church. (fn. 96) The property, which comprised closes in Cowley called Gibbs Perry Croft and Sea Croft, was left by Edmund's widow Susanna, by her will dated 30 July 1703, to her daughter Susanna, wife of Peter Mourse, D.D. (fn. 97) With her disappears the last trace of this family, who, as has been shown above, had been connected with Cowley for more than 400 years.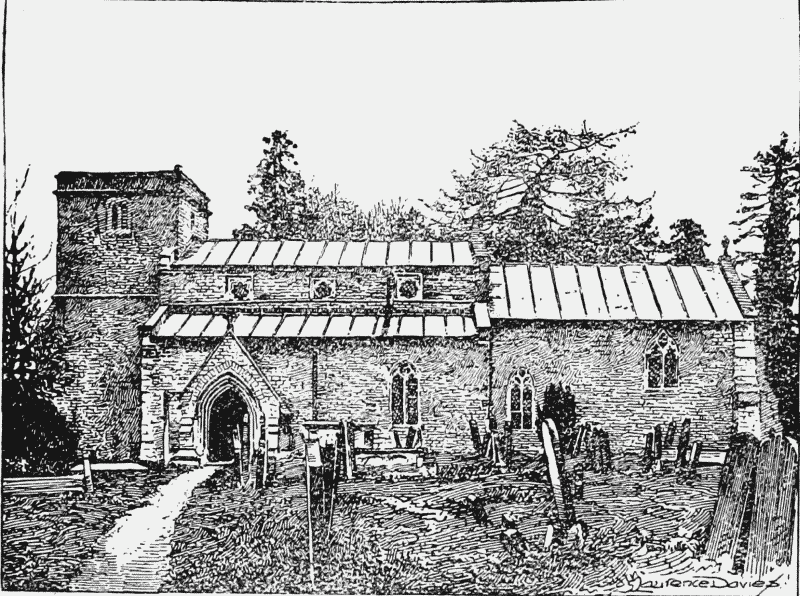 The monastery of Nutley held lands and rents, valued at 18s., in Preston, (fn. 98) which were granted in 1540 to William Risley and Alice his wife, (fn. 99) and were still held by his family in 1603. (fn. 100)
Land in this parish also belonged to the gild of St. Rumbald of Buckingham, as appears from an inquisition of 1579 on Richard Major, who held a messuage, 2 virgates of land in Cowley bought from William Risley, and 1 virgate bought from Thomas Moyle, all of which had formerly belonged to the gild. (fn. 101)
Church
The church of ST. JOHN BAPTIST consists of a chancel measuring internally 28 ft. by 16 ft., nave 33 ft. 6 in. by 17 ft. 6 in., north aisle 8 ft. wide, south aisle 7 ft. 6 in. wide, south porch, and west tower 11 ft. square; it is built of squared limestone rubble, and all the roofs, except that of the modern porch, are covered with lead.
The chancel, nave and tower were built during the early years of the 14th century, (fn. 102) probably on the site of an early 12th-century church, fragments of which, including round window heads and pillar capitals, were found during a modern restoration, and have been built into the east wall of the north aisle. The aisles and the nave clearstory were added about 1350, while a mediaeval south porch and a vestry, which stood on the north side of the chancel, have since been destroyed. The building was considerably restored at various periods during the 19th century, particularly in 1873; an 18th-century gallery has been removed, and the clearstory and the south porch have been rebuilt.
The chancel, which is long in comparison with the nave, has a large east window, inserted about 1350, of three cinquefoiled lights with flowing tracery in a pointed head, and in each side wall are two original two-light windows with tracery in pointed heads, those at the eastern ends being placed high in the walls; the south-west window has flowing tracery in the head and a transom, below which the lights doubtless served the purpose of a low-side window. In the window opposite are some fragments of mediaeval glass. Below the north-east window is a blocked doorway which led to the mediaeval vestry, the roof weather-course of which still remains on the wall outside, and to the west of this is an original moulded doorway with a pointed head. On the south side are two 14th-century sedilia with trefoiled heads, and a pointed piscina with a modern bowl; the sedilia have vaulted canopies and are further enriched by crocketed labels with flanking pinnacles and head-stops. The pointed chancel arch, dating from the 14th century, is of two chamfered orders, the outer continued down the responds and the inner springing from corbels carved as crouching figures; the figure on the south faces outward and has both hands resting on his knees, and that on the north, which is now headless, faces west, one hand resting upon a knee, the other raised to support the abacus.
The nave has 14th-century arcades of three bays on either side with pointed arches, supported by octagonal pillars and pilaster responds; the mouldings of the capitals and bases of both arcades are somewhat unrefined, though elaborate, but there is no evidence of recutting, as the forms used have greater affinity to the 14th century than to any subsequent period. The arches have labels with head-stops of various designs. In the west wall of the nave is a low two-centred drop arch to the tower with a continuous outer order, and an inner order springing from roughly-moulded head corbels, the heads of which are defaced. The clearstory is lighted on either side by three windows, all composed of a large modern octofoil set in an original square framework. On the apex of the gable above the chancel arch is a mediaeval sanctus bellcote formed in a single block of stone and now much weatherworn.
The east window of the north aisle, of three trefoiled lights, is a charming example of mid-14thcentury work with flowing tracery cut from a single block of stone; near by, but to the south of the respond pilaster of the north arcade, is a contemporary trefoiled piscina, now without its bowl, which doubtless served the altar here. There is a two-light window of the same period on the north and another on the west, both with flowing tracery in their heads, containing fragments of mediaeval glass. The original north doorway, which has continuous wave mouldings and a label with crowned head-stops, is now blocked. The windows of the south aisle are also of the 14th century. On the east is a three-light window with flowing tracery, near which in the south wall is a trefoiled piscina without bowl; on the south is a two-light window with quatrefoil tracery in the head, and on the west a window of similar design, but more richly moulded. The pointed south doorway, also original, has a deep moulded splay and a label with head-stops, now somewhat weatherworn. The open timber roofs of the chancel and aisles retain mediaeval beams and purlins.
The low tower is of two stages with a straight parapet and string-courses between the stages and below the parapet; at the western angles are diagonal buttresses, which were added in the 15th century, and rise to the height of the first stage only. The ground stage has a small modern window on the west, and the bell-chamber a single trefoiled light on the north, twin trefoiled lights on the west and south, all of the early 14th century, and a plain light on the east, probably also original.
The font dates from the 15th century and has an octagonal bowl and stem, and a square base with broached stops. On the chancel floor are a mediaeval coffin-lid with a plain cross, and a late 15th-century slab with matrices for a brass figure and four shields. The communion table is of the early 17th century. In the tower are two old plain chests and a late 17th-century bier.
There is a bell, dated 1788, which is probably by W. & T. Mears, and a saunce by Edward Hemins of Bicester, 1728.
The communion plate consists of a cup, paten and flagon, all of 1775.
The registers begin in 1662.
Advowson
The church of Preston Bissett does not appear to have been attached in the first instance to the principal manor of Preston Bissett. The earliest patron of whom mention has been found is Henry de Belesby, who in 1252 acknowledged the services due from his tenements in Cowley to Henry de Bayworth (cf. Cowley Manor). (fn. 103) He presented to the church in 1262, (fn. 104) and was succeeded some time before 1307 by Henry de Greynsby, whose name appears as patron at the latter date. (fn. 105) From that time till 1403 the family of Greynsby, called also Reyner de Greynsby, continued to hold the advowson. (fn. 106) At the beginning of the 15th century John Langston of Caversfield, who according to Willis married an heiress of the Greynsby family, acquired the right of presentation. (fn. 107) The Langstons retained the advowson till the last half of the 16th century, (fn. 108) when, like Caversfield Manor (q.v.), it passed by female descent to the Moyles, a member of whom, Walter Moyle, alienated it in 1594 to Edmund Major. (fn. 109) He presented in 1604, (fn. 110) but in 1621 the advowson was once more alienated, passing from Edmund Major to Walkden Wood, who had held the living since 1604. (fn. 111) Elizabeth, widow of Walkden Wood, presented in 1645, (fn. 112) and in 1656 the trustees or mortgagees of the Woods, Edward Butterfield, Peter Paxton, and others, (fn. 113) conveyed the advowson to John Kersey and Richard Blagrave. (fn. 114) The Crown presented to Preston Bissett Church in 1662 'per pravitatem Simonæ,' (fn. 115) but John Kersey's name recurs as patron in 1674. (fn. 116) Between this date and 1676 it was again alienated, being acquired by Alexander Denton, (fn. 117) whose successor Edmund Denton twenty years later acquired the manor of Preston Bissett. It thus follows the same descent as the manor until about the middle of the last century, when it was separated by the assignees of the late Duke of Buckingham (d. 1861) and sold to the Rev. J. S. Bolden. (fn. 118) It is now in the gift of and held by the Rev. Charles Bolden.
The church of Preston Bissett was endowed with a messuage, a toft, lands and meadows in Preston, including a bovate and 6 acres of land in Cowley. This endowment was the subject of a suit between Henry de Greynsby, the patron, and William Tuchet, then lord of Preston Bissett Manor, early in 1306. (fn. 119) Henry de Greynsby had presented Robert de Tyrington or Westyrington to the living, and he had proceeded to enfeoff William Tuchet for life of the above endowment. Henry de Greynsby then brought an action for unlawful ingress against William Tuchet, who was able to produce satisfactory evidence of his right. (fn. 120) Further complications arose, however, on the seizure of William Tuchet's lands for his felony in 1322, for the endowment fell into the possession of the Crown and so remained for some years. It was, however, ultimately proved to be frankalmoign of the church, and accordingly restored to the incumbent. (fn. 121) Traces of this endowment are found in 1558, when John Langston was said to hold 16 acres in Preston called Patron's Acre and the advowson of the church appended to the said meadow. (fn. 122)
In the 13th century there was a chapel at Cowley which was subject to the church at Preston and was endowed with 1 virgate and 6 acres of land in the hamlet. Divine service was celebrated here every week. (fn. 123) This land was exchanged by the rector in 1847, under the powers of 'An Act for amending the Acts for the commutation of Tithes,' for portions of land in Preston Bissett and Tingewick, belonging to Sir Edward East and Lord Leigh.
Charities
The Rev. William Pearse, a former rector, who died in 1749, by his will bequeathed £100, the interest to be distributed among the poor for ever. The legacy is represented by £106 16s. 2d. consols with the official trustees, the annual dividends of which are paid to the Radcliffe Infirmary, Oxford, whereby benefits are secured for the poor of the parish.