Pages 338-343
A History of the County of Buckingham: Volume 4. Originally published by Victoria County History, London, 1927.
This free content was digitised by double rekeying. All rights reserved.
EMBERTON
Ambretone (xi cent.); Embirtone (xiv cent.).
The parish of Emberton is well watered by the Ouse and its tributaries. The river divides it from Olney, but connexion with that town is secured by a very low bridge. The compact little village lies about 2 miles south of Olney station on the Bedford and Northampton branch of the Midland railway. There are remains of an abandoned railway near the western boundary. At the south end of the village is the church, to the north of which is the rectory, in its present state mainly of the 18th century, and the school.
Along the road to Olney which forms the village street are some old houses of stone. On the east side is a square house with a slate roof bearing on a plaster panel on the chimney shaft the initials P TS and date 1699. Next to it is a 17th-century house with a thatched roof. Further north is Manor Farm, originally Emberton Manor, an Elizabethan house with a tiled roof, containing some original fittings. In the centre of the village is a clock tower erected in 1845 to the memory of Margaret wife of the Rev. Thomas Fry, rector. About a quarter of a mile east of the church, off the Newport road, is Emberton House, occupied by Mrs. Savory.
In the east of the parish is Petsoe Manor (Pettesho, Petrosho, xii cent.; Petisho, Pottesho, xiii cent.), the property of Lincoln College, Oxford, and formerly a separate parish, but now annexed to Emberton for ecclesiastical purposes. The hamlet, called Petsoe End at its western extremity, contains Grange Farm, and the manor-house at the northern end is occupied by Messrs. M. A. Inns & Sons. A free chapel formerly existed at Petsoe and another at Ekeney, the adjoining manor, coupled in the 15th and 16th centuries with Petsoe as the manor or manors of Petsoe and Ekeney. Now no trace remains of Ekeney or of the churches.
Browne Willis wrote in 1733 of Petsoe and Ekeney as 'two small depopulated vills now reduced to one single House . . . left standing at Petsoe . . . there was some Tradition of 17 Tenements having been at Ekeney heretofore, tho' I could see no footsteps of any: . . . the Contents of the two vills did not comprise above 500 acres.' (fn. 1) He was unable to ascertain the date of destruction of the chapels, though the site of Ekeney was still very discernible, there being traces of the churchyard bounds in St. Martin's field, about a quarter of a mile south-east of Petsoe manor-house. In the centre of the site of about half an acre was a toft, on which the church had stood, 'a small Fabrick of one single Isle of about 18 Paces in Length and 7 in Bredth.' Some stones were said to have been moved and re-used in a barn at Petsoe manor-house. The tenants frequented Clifton Church for service and burials, though they were nearer to Emberton, in which parish was a small hamlet of about eight or ten cottages called Petsoe End, besides two houses in the grounds belonging to the college, all known as Petsoe. (fn. 2) Between Petsoe Manor and the eastern boundary of Emberton is Church Farm.
Emberton has an area of 1,880 acres of land and 7 acres of water, and Petsoe Manor covers 411 acres. The whole area contains 685 acres of arable land, 1,387 acres of permanent grass, and 121 acres of woods and plantations. (fn. 3) The principal woods are Crossalbans Wood, Parrages Wood, Mulducks, and Hollington Wood, the last of which, is mentioned in the 17th century. (fn. 4) The soil is gravel and clay, and the chief crops grown are wheat, barley, beans and roots. The land falls from a height of 341 ft. above the ordnance datum in the south-east to 161 ft. on the banks of the Ouse, where it is marshy and liable to floods.
The open fields were inclosed in 1798. (fn. 5)
Among the place names occur Gore Acre, Culvers Pightell, Maggotts Furlong, Little Dusse, (fn. 6) Cresable Field, and Fluxland (fn. 7) (xvii cent.).
Manors
Three hides in EMBERTON were assessed in 1086 among the possessions of the Bishop of Coutances, (fn. 8) and, like his estate in Oving (q.v.), afterwards became part of the honour of Dudley. (fn. 9) This belonged in the 12th century to the Paynels, (fn. 10) to whose manor of Newport Pagnell, Emberton became attached, (fn. 11) the last mention of the overlordship occurring in 1638. (fn. 12)
The under-tenants in 1086 were two thegns who had held the land in the time of King Edward, one of these, Godric, holding 2 hides, and the other, Ulric, 1 hide, as one manor. About 1219 the lord of the manor appears to have been William son of Payn, who then presented to the church, (fn. 13) and who seems to have been succeeded by Nicholas son of William, or Nicholas de Emberton, who held in the middle of the 13th century. (fn. 14) In 1252 he complained of trespass in his free fishery, (fn. 15) and in the following year was awarded damages for having been disseised of his common pasture in Middlecroft 'cultura.' (fn. 16) Nicholas de Emberton was probably the brother of Eleanor wife of Thomas Furneys, and of Isabel, who claimed the estate as daughters and co-heirs of William le Lord. (fn. 17) Roger Furneys held in 1284. Eleanor's part of Emberton, (fn. 18) afterwards called HALL ORCHARD MANOR. He was dead in 1291, (fn. 19) and his heir, doubtless a minor, in whose stead Robert Lathbury is returned as lord of Emberton in 1302, (fn. 20) is probably identical with the Thomas Furneys who held the manor in 1316. (fn. 21) He was in possession in 1322, (fn. 22) but appears to have transferred his rights to the Tolthorp family, (fn. 23) as Alice widow of Sir John Tolthorp held Emberton in 1346. (fn. 24) Robert Tolthorp, who was later in possession, (fn. 25) left a widow Alice (fn. 26) and a son John, (fn. 27) known as John Olney of Weston Underwood. (fn. 28) His daughter and heir Katherine married John Chamberlain, (fn. 29) and in 1373 they made a settlement of the manor by which the third then held in dower by Alice widow of Robert Tolthorp was to revert to John Olney of Weston. (fn. 30) John Chamberlain was dead by 1379, in which year Katherine was the wife of Wakelin Brewes. (fn. 31) In 1392 she conveyed Emberton to Thomas, her son by John Chamberlain, and his wife Sarah, (fn. 32) who were still in possession in 1413. (fn. 33) After this date there is no trace of the manor, which was probably obtained by the Tyringhams, lords of the other moiety, since they acquired sole rights in the advowson at this date, the Chamberlains who held Petsoe Manor in this parish having no connexion, as far as is known, with the Hall Orchard family. The Tyringhams' property, moreover, began to be differentiated about the middle of the 17th century as the manors of Tyringham Higham and Willsheires in Emberton, (fn. 34) and this distinction was maintained at least as late as 1720. (fn. 35)
The other moiety of Emberton belonging to Isabel, second daughter of William le Lord, (fn. 36) was acquired in the 13th century by Roger Tyringham, (fn. 37) from whose family it took the name of TYRINGHAMS MANOR, and descended with their manor of Tyringham (q.v.) until the beginning of the 16th century. (fn. 38) In 1509 it was held by Richard Higham in right of his wife Anne, (fn. 39) probably a Tyringham, and they conveyed it to Henry Edon, merchant of the staple of Calais, and others, evidently trustees. (fn. 40) Henry Edon leased Tyringhams at a yearly rent of 11 marks to John Some of Emberton, and Thomas Ellis of Weston Favell (Northamptonshire), from whom Henry's son Thomas Edon, after his father's death, attempted to recover possession. (fn. 41) Thomas Edon, jun., with others, obtained in 1524 a renunciation of rights from Edward Bardewell on behalf of his wife Mary, (fn. 42) and in 1527 conveyed the manor to Sir Robert Brudenell, (fn. 43) uncle and trustee of Thomas Tyringham, who had died in 1526. (fn. 44) Emberton remained in the Tyringham family until after the death of Sir Thomas Tyringham in January 1637–8. (fn. 45) In 1640 his son and heir John Tyringham and Anne his wife conveyed Tyringhams Manor to Thomas Coppin, (fn. 46) who presented to the church in 1661. (fn. 47) He died between 8 December 1662 and 19 February following, (fn. 48) his son John, who succeeded, (fn. 49) dying in 1684, leaving a widow Mary and a son John. (fn. 50) He and his wife Anne obtained in 1719 a renunciation of all rights in the manor from Francis Coppin, (fn. 51) probably a brother, (fn. 52) and conveyed it in the following year to John Gore. (fn. 53) At the same time he acquired Helsthorpe Manor in Drayton Beauchamp (q.v.), with which Tyringhams Manor descended until c. 1797, when it was bought by William Praed. (fn. 54) By his marriage with Elizabeth Tyringham Backwell, heiress of the Backwells and Tyringhams, William Praed had acquired Tyringham Manor (q.v.), and the two manors, thus reunited, have since descended together, (fn. 55) and are now the property of Mr. F. A. König
Three hides in Emberton held as a manor in the time of King Edward by Alric, a man of Bishop Wulfwing, were surveyed in 1086 among the lands of the Countess Judith, (fn. 56) and afterwards, as PETSOE MANOR, formed part of the honour of Huntingdon, (fn. 57) passing from the Hastings (fn. 58) to the Greys of Ruthyn, (fn. 59) the last mention of the overlordship occurring in 1520. (fn. 60)
Roger, the under-tenant in 1086, had been succeeded before the middle of the 12th century by Osbert the steward (dapifer) and Michael his son, called lords of the estate in a charter of 1151–4, confirming grants made by them. (fn. 61) The next name connected with Persoe is that of Niel, son of Reynold, who in 1197 subinfeudated half a virgate here to Ralf son of Arnulf. (fn. 62) This estate afterwards passed to Philip Lengleys (le Angleys, Anglicus), but was forfeited by him as a rebel, and conceded by King John in 1216 to Roger de Gaugy. (fn. 63) Philip Lengleys returned to his allegiance the following year, (fn. 64) but appears to have again fallen into disfavour, as Petsoe was held about 1235 by Ralph de Kameis (Kameys), (fn. 65) who had also revolted against John and returned to his allegiance under Henry. (fn. 66) Philip Lengleys, however, was reinstated before 1241, (fn. 67) and John Lengleys, the heir of the family, carried the manor in marriage to John Lindsey. (fn. 68) He conveyed it before 1274 (fn. 69) in exchange for other lands to William Chamberlain of North Reston, Lincolnshire, (fn. 70) whose widow Joan held alone in 1284. (fn. 71) In 1286 she proved her right to a view of frankpledge once a year, waif, gallows, tumbril, and quittance of suit of county and hundred. (fn. 72) She is still called Joan Chamberlain in 1302 (fn. 73) and 1304, (fn. 74) but before 1310 had married Saer de Raundes, (fn. 75) with whom she was defendant in an action brought by Simon Lindsey to recover the manor. He claimed as son and heir of John and Joan Lindsey, his elder brother Adam having died without issue, (fn. 76) but Joan, again a widow, having produced a charter, he renounced all rights in 1313. (fn. 77) In the same year she settled Petsoe on herself for life, with reversion to Robert son of her first husband William Chamberlain and his heirs. (fn. 78) She was returned as lady of the manor in 1316, (fn. 79) and in 1323 she and Robert Chamberlain obtained licence to make, with Richard Chamberlain, a fresh settlement of Petsoe, (fn. 80) which took place in the following year, whereby contingent remainder was assigned to Richard, infant son of John Chamberlain, and Margaret his wife. (fn. 81) Robert Chamberlain was in possession in 1331, (fn. 82) in 1346, (fn. 83) and in 1348, (fn. 84) but apparently died without issue, since Richard, son of John Chamberlain, known as Sir Richard Chamberlain of Coton (Northamptonshire), upon whom the contingent remainder had been settled in 1324, held in 1375. (fn. 85) In 1379 he settled some Bedfordshire estates on his son Richard and the latter's wife Margaret, (fn. 86) and died in 1391. (fn. 87) Richard the son died in 1396, leaving a son Richard, a minor. (fn. 88) His widow Margaret was the wife of Philip St. Clair two years later. (fn. 89) She died in 1408, her son Richard Chamberlain being then sixteen. (fn. 90) He held Petsoe until his death in 1439, (fn. 91) and Richard, his son and heir by his first wife Elizabeth, dying in the same year, (fn. 92) Petsoe passed to William, his son by a second wife Margaret. (fn. 93) Margaret afterwards married William Gedney, and in 1451 sued the trustees of her first husband for her dower in Petsoe. (fn. 94) At her death in 1458 William Chamberlain, then aged twenty-two, entered the manor, (fn. 95) but was dead before 1471, (fn. 96) leaving a widow Joan, (fn. 97) and a son and heir Richard. (fn. 98) He and his wife Sibyl Fowler obtained livery of the manor from the trustees in 1471, (fn. 99) and at his death in 1496 he was succeeded by his son and heir Edward, (fn. 100) Sibyl, his wife, surviving until 1525. (fn. 101) In 1520, however, Sir John Mordaunt and others, apparently feoffees of Edward Chamberlain, received a licence in mortmain to grant the manor to Lincoln College, Oxford, (fn. 102) money for the purchase having been contributed by Edmund Audley, Bishop of Salisbury, in 1518. (fn. 103) In 1600 Robert Chamberlain, probably as descendant of the former owners, renounced all rights in Petsoe to Lincoln College, (fn. 104) and in spite of a claim to part of the demesne land by Sir Thomas Tyringham, lord of Emberton Manor, in 1619, (fn. 105) Lincoln College has retained Petsoe until the present day. (fn. 106)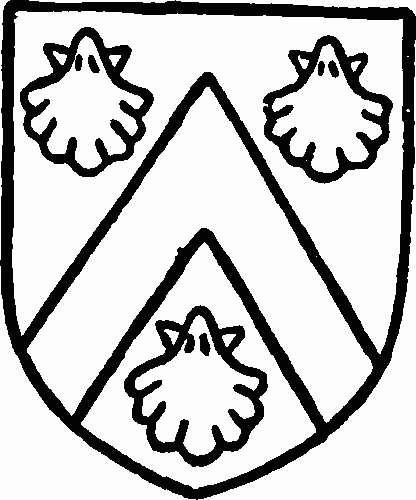 The manor of EKENEY is not mentioned in 1086, but may have been included in the estate of the Bishop of Countances in Emberton, since it was afterwards held of the honour of Newport, (fn. 107) the last reference to the overlordship occurring in 1497. (fn. 108)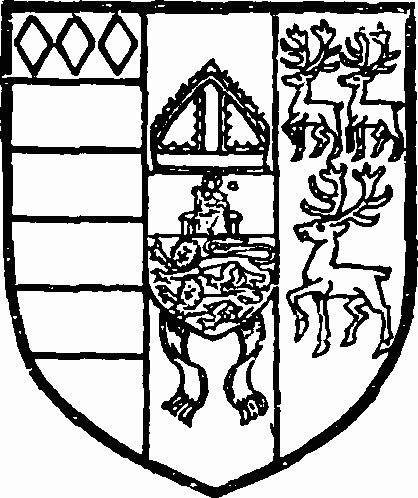 Ekeney appears to have been held in the early 13th century by John Fitz Nicholas, whose widow Felise in 1248 claimed lands in Emberton against Emma daughter of Parnel, who was first wife of John, and against Adam Fitz Nicholas, (fn. 109) who had presented to Ekeney Church in 1246. (fn. 110) Robert Fitz Adam, who held in 1278, (fn. 111) was probably not only the son of Adam Fitz Nicholas, but also identical with the Robert de Ekeney who presented to Ekeney in 1274, (fn. 112) and held in Ekeney in 1291. (fn. 113) He, or a successor of the same name, was returned as lord of Ekeney in 1302 (fn. 114) and 1322, (fn. 115) but in 1346 John Talworth held this property. (fn. 116) In 1396 it figured among the estates held by Richard Chamberlain at his death, (fn. 117) and henceforward descended with Petsoe Manor, with which it was alienated to Lincoln College in 1520. (fn. 118) It is not mentioned by name after 1619, (fn. 119) and all trace of the hamlet and chapel has likewise disappeared. (fn. 120)
In the 13th and early 14th centuries there were three separate estates in Emberton held of different overlords, which united about 1350 to form EMBERTON or GREENS MANOR, the threefold overlordship continuing till the 15th century. One of these estates appertained to the Hastings' honour of Huntingdon, (fn. 121) passing to the Beauchamps of Bergavenny, to whom suit of court once a year at Emberton was owed. (fn. 122) The last mention of this interest in Emberton is dated 1476. (fn. 123) The second estate was part of the fee of Arundel, (fn. 124) and was later attached to Olney Manor, (fn. 125) held by Ralf Basset in the 14th century, when suit was due from Emberton every three weeks. (fn. 126) There is no reference to this overlordship after 1417, when appearance at the Earl of Warwick's court at Olney once a year was demanded. (fn. 127) The third estate was attached to the Chamberlains' manor of Petsoe, and was held in the 14th century for one-thirtieth of half a fee and suit every month at Petsoe court. (fn. 128) This overlordship was existing as late as 1417. (fn. 129)
The under-tenant of the Hastings fee in 1313 was Edmund de Shakelee, (fn. 130) who had been succeeded in 1375 by Henry Green. (fn. 131) The Arundel fee was held in the earlier 13th century by Robert Bataille, (fn. 132) and a successor, Nicholas Bataille, was living, with Emma and Isabel, his sisters, in 1273. (fn. 133) This estate appears to have been held by John de Haversham in 1284, (fn. 134) and to have passed by 1302 to Robert Lathbury, (fn. 135) who had common pasture here in 1308, (fn. 136) and died about 1311, his brother John succeeding. (fn. 137) At this date the Lathburys were also tenants of the estate held of the Chamberlains, of which this is the first mention, and which descended with the Arundel fee. In 1314 John Lathbury alienated the property to John Pabenham, jun., and Jane his wife. (fn. 138) This transaction was probably a mortgage, which was renewed in 1327 by John Lathbury to the said John Pabenham, (fn. 139) who died seised of the estate about 1330. (fn. 140) By 1343 these two holdings had come into the possession of Henry Green, (fn. 141) afterwards chief justice of the king's bench, (fn. 142) and united with the Hastings fee, held by his son Henry Green, (fn. 143) in 1375 (fn. 144) to form Greens Manor. It descended in the Green family with their manor of Wavendon (q.v.), with which it was divided into thirds in the 16th century. The third alienated by George Browne to John Lord Mordaunt in 1557 with the third of Wavendon was claimed by his son Wistan Browne in 1568, (fn. 145) but evidently unsuccessfully, as in 1590 Lewis Lord Mordaunt made a settlement of his two-thirds of Emberton Manor. Both parts were to be held by George Woodward for six days after Lewis's death with reversion to Thomas Tyringham, lord of Tyringhams Manor, and Anthony his son and heir. (fn. 146) As no later deeds for Greens Manor can be found, it was probably merged in Tyringhams Manor in this parish.
In 1276 land, wood, and one-third of two mills in Emberton, held by Thomas de Marleberg and Isabel his wife in her right, were granted to Master Roger de Turkelby. (fn. 147)
A free fishery was held with the manor of Emberton in 1719. (fn. 148)
Church
The church of ALL SAINTS consists of a chancel measuring internally 35 ft. by 17 ft., south vestry, nave 56 ft. by 17 ft., north aisle 9 ft. wide, south aisle 8 ft. 6 in. wide, north and south porches, and west tower 11 ft. by 10 ft. 6 in. It is built of stone and the roofs are covered with tiles and slate.
The church was built during the first half of the 14th century, and consisted originally of the chancel, nave and aisles. The tower was added about 1400, and the vestry and porches are modern. In 1869 the fabric was considerably restored.
The chancel has a rich traceried east window of the early 14th century, having five trefoiled lights with internal jamb shafts and a moulded rear-arch. In each lateral wall are two windows of three lights with reticulated tracery, and on the north is an original moulded doorway. A four-centred doorway on the south, now opening into the vestry, and a low-side transomed window of one cinquefoiled light at the west end of the south wall, were both inserted in the 15th century. Traces of a squint from the south aisle can be seen in the west jamb of the lowside window. At the south-east are three considerably restored sedilia in range with a piscina with an octofoil bowl; the recesses are divided from each other by attached shafts with moulded capitals and bases. In the north wall is a plain locker. An original stringcourse is carried round the walls internally and continued across the transom of the low-side window. Externally the side walls are crowned by a moulded cornice enriched with flowers and grotesques, and there is a string-course at the level of the window sills. In the east wall, below the east window, is a square recess, and in each of the east buttresses is a trefoiled niche. The chancel arch, which is of two moulded orders dying into the wall on each side, probably dates from the early 15th century.
The nave arcades are each of five bays with pointed arches supported by clustered pillars and responds with moulded capitals and bases. Opening to the tower on the west is a sharply pointed arch of about 1400 springing from clustered responds with bell capitals and moulded bases. The clearstory windows are modern. There are three traceried windows, each of three lights, in the north wall of the north aisle, the external stonework of which has been renewed, but the internal jambs and rear-arches are original. Internally, on the north wall, there is an original moulded string-course at the level of the window sills. The moulded north doorway, and a small trefoiled light above it, now opening to the parvise of the modern north porch, are also of the 14th century. West of the doorway is a staircase with a modern doorway to the parvise. The windows and doorway of the south aisle are practically all modern, and of the original piscina only the pointed head remains.
The tower, which retains its original details, is of three stages with a projecting turret at the northeast, and is supported by diagonal buttresses and surmounted by an embattled parapet. The ground stage has a pointed west doorway of three orders with a traceried west window of two trefoiled lights above it. In the south wall of the second stage is a small trefoiled light, and the bell-chamber is lighted from each side by a deeply recessed window of two trefoiled lights with tracery in a pointed head.
The font, which dates from about 1400, has an octagonal bowl with traceried panels, a panelled stem and a moulded base.
On the north wall of the chancel is the brass figure of a priest in mass vestments, with the following inscription: 'Orate pro anima magistri Johannis Mordon alias Andrew quondam Rectoris istius ecclesie qui dedit isti ecclesie portos missale ordinale pars oculi in craticula ferrea manuale processionale et ecclesie de Olney catholicon legendam auream et portos in craticula ferrea et ecclesie de Hullemorton portos in craticula ferrea et alia ornamenta qui obiit die . . . mensis . . . anno domini M°CCCC°X . . . cuius anime propicietur deus amen.' Issuing from the mouth of the figure is a scroll inscribed, 'Jon preyth the sey for hym a pater noster & an ave.' John Mordon probably died in 1413, his successor being instituted in November of that year. (fn. 149) Below the north-east window of the chancel are three cinquefoiled heads of a 15th-century screen with sub-cusping and carved spandrels. There are also in the chancel two elaborately carved chairs of the late 17th century.
The tower contains a ring of five bells, all by W. & J. Taylor of Oxford, 1839, and a small bell, probably of the 18th century, but uninscribed. A former ring of four bells (fn. 150) was inscribed (i) 'Ave Maria,' (ii) (modern), (iii) 'In multis annis resonat campana Johannis,' (iv) 'Joñes Andrewe Rector de Emberton me fieri fecit.'
The communion plate consists of a 17th-century cup and cover paten without hall-marks; a large salver of 1671 presented in 1694; and a modern chalice and flagon.
The registers begin in 1659.
Advowson
The church is mentioned in or before 1219, when the advowson was held by William son of Payn. (fn. 151) The advowson descended with the manor, the presentation being made alternately by the lords of each moiety. (fn. 152) In 1390 an action was brought against Sir John Tyringham by the Bishop of Salisbury and others, who claimed the right of presentation, (fn. 153) and in 1400 Thomas Chamberlain enfeoffed John Olney of Holt in his interest, losing his case when he sought to recover his right in 1413. (fn. 154) After this date the Tyringhams secured sole right in the advowson, which descended with their manor of Tyringhams (fn. 155) until 1720, when it was not included in the sale to John Gore. (fn. 156) In 1741 the patron was Benjamin Pomfret, (fn. 157) whose successor Robert Pomfret was rector in 1798. (fn. 158) The advowson changed hands many times in the 19th century, (fn. 159) and is now vested in Mr. Campbell A. G. Hutton of Birkdale, Southport.
There was a free or independent chapel of St. James at Petsoe (fn. 160) which was bestowed in the 12th century by the lords of Petsoe on Tickford Priory, the gift being confirmed in 1151–4 by Robert, Bishop of Lincoln. (fn. 161) The right of presentation had, however, been recovered in 1274 by the lords of Petsoe Manor, (fn. 162) with which it descended, the chapel being united to the chapel of Ekeney sometime in the 15th century. (fn. 163) The united chapel, the presentation to which was still vested in the lords of Petsoe in the middle of the 16th century, (fn. 164) was assessed at 57s. 6d. in 1535. (fn. 165) In 1561 a return was made that there was neither church nor congregation, and no more entries of institutions occur. But a stipend of £10 was paid by Lincoln College to persons nominated to the benefice of Ekeney and Petsoe, Samuel Pepys, M.A., rector of Clifton Reynes, becoming minister of the free chapels of Ekeney cum Petsoe on 21 October 1664. (fn. 166)
In 1650 Petsoe was accounted a chapelry to Emberton, (fn. 167) and it has since been annexed to Emberton for ecclesiastical purposes.
The church or free chapel of St. Martin at Ekeney is mentioned in 1246, when Adam Fitz Nicholas held the advowson, (fn. 168) which descended with Ekeney Manor, being united to Petsoe chapel in the 15th century. (fn. 169)
Land in Emberton worth 8s. 4d. yearly was given for the keeping of a light, lands and rents for the keeping of obits being worth 9s. 4d.; a rent of 8d. from 2 acres of land was paid for 'keeping of a drinking at Swannes Nest on Rogacion Tuesday.' (fn. 170)
Charities
The parochial charities have, by a scheme of the Charity Commissioners of 17 January 1911, been consolidated. They comprise the following charities, namely:
(1) The Feoffee estate, comprised in an indenture of 28 January 1805, the property of which consists of a building formerly used as a schoolroom, with the master's house adjoining, 6 a. 1 r. 32 p. and six cottages at Petsoe End, and three cottages near the schoolroom, producing an aggregate income of about £40 a year.
(2) Mary Hughes, founded by a codicil to will proved at London 19 October 1861, trust fund, £48 2s. 3d. consols, producing £1 4s. yearly.
(3) Mrs. Knight Millar, will proved at London 10 December 1852, trust fund, £46 18s. 9d. consols, producing £1 3s. 4d. yearly.
The scheme directs that the school-house be used for a Sunday school, and that the master's house be occupied rent free by a caretaker for the schoolroom; that the income of Mrs. Millar's charity be divided at Christmas among ten poor aged widows, and that the income from the Feoffee estate and Mary Hughes's charity be applied for the benefit of the poor generally.
The sums of stock are held by the official trustees, who also hold £50 17s. 10d. consols, known as 'Hill's Gift to the School,' the annual dividends of which, amounting to £1 5s. 4d., are made applicable, by a scheme of 2 January 1883, towards the support of any efficiently conducted Sunday school in the parish.