Pages 372-379
A History of the County of Buckingham: Volume 4. Originally published by Victoria County History, London, 1927.
This free content was digitised by double rekeying. All rights reserved.
LATHBURY
Lateberie, Latesberie (xi cent.).
This parish covers nearly 1,055 acres, including 315 acres of arable, 627 of permanent grass and 12 acres of woods and plantations. (fn. 1) The slope of the land varies from 178 ft. above the ordnance datum in the south-east of the parish to 210 ft. to the north-west of the village. The soil is gravel, the subsoil limestone, and the chief crops are wheat, barley and roots. The land in the neighbourhood of the River Ouse, which encircles this parish on all sides except the north-west, is liable to floods. Flood Dyke, about 3 ft. high, in the south-east of the parish, follows the course of the Ouse, extending from Woad Farm in a wide semicircle towards the Bedford road. A bridge, built mainly of stone, of four arches, called North Bridge, (fn. 2) connects the south end of Lathbury with the parish of Newport Pagnell. Just beyond it, within the parish boundary, is a bridge of brick, consisting of three arches. A mile to the north-east the River Ouse is crossed by Sherington Bridge, also of three arches.
The village of Lathbury occupies a central position. A road leads south-west from it past the rectory and the church to Lathbury Park, the seat of Mr. William Trevor. The house is of stone and was built in 1801 by Mansel Dawkin Mansel on the site of that erected by Sir William Andrewes, kt., in the early 17th century, (fn. 3) and called the Place in 1735. (fn. 4) Quarry Hall, in the south-west of the parish, derives its name from an old quarry; there is a farm of the same name a quarter of a mile to the north-east. Gallard Farm is situated in the north of the parish. The old inn, a large and well-built building, is now used as a farm-house, with nearly 400 acres of land attached. (fn. 5)
James Chelsum, an opponent of Gibbon, was vicar of Lathbury at the end of the 18th century. (fn. 6)
The following place-names occur: Ernesden Wood, belonging to Lavendon Abbey (fn. 7) (xiii cent.); Windmill Post (fn. 8) (xvi cent.); an inn called the 'Hart's Head' (fn. 9) (xvii cent.); Beggars or Hospitalholme (fn. 10) (xviii cent.).
Manors
Four hides of land in LATHBURY which had been held as two manors before the Conquest by two thegns, Leuric and Olviet, were held as one manor in 1086 by Hugh de Beauchamp. (fn. 11) It was attached by the service of half a fee to the barony of Bedford. (fn. 12) After the subdivision of that barony in 1265 (fn. 13) the over lordship passed with that portion which descended to the Mowbrays and Brays, (fn. 14) and is last mentioned in 1626. (fn. 15)
A mesne lordship of this manor was held in 1223 and 1229 (fn. 16) by Mabel de Bidun, one of the five sisters and co-heirs of John de Bidun. (fn. 17) Her heir Miles de Beauchamp was living in 1254, (fn. 18) and was succeeded about ten years later by his son Richard, (fn. 19) mesne lord in the later 13th century. (fn. 20) In 1310 this lordship was vested in William Jukel in right of his wife Cecily, (fn. 21) apparently one of the daughters and co-heirs of Richard de Beauchamp. (fn. 22) William Jukel was still holding in 1317, (fn. 23) but his rights in Lathbury had passed before 1324 to Richard Grosset (fn. 24) and do not reappear.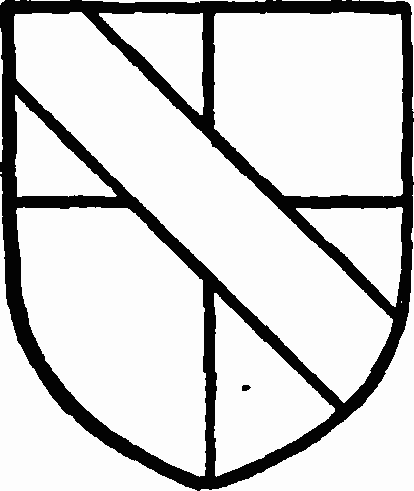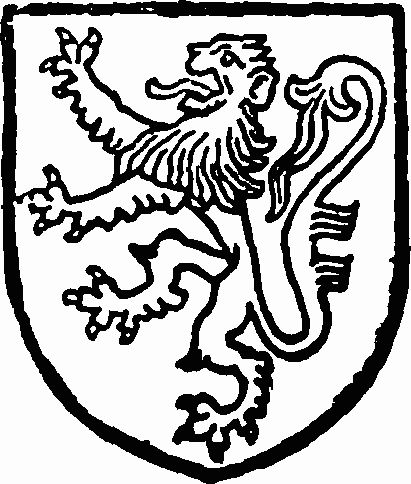 William d'Orenge was tenant of the Beauchamp manor of Lathbury in 1086. (fn. 25) Ralph d'Orenge and his son and heir William (fn. 26) were successive holders in the next century, the latter probably the same William d'Orenge who was holding of Simon de Beauchamp in 1166. (fn. 27) Through the marriage of William's daughter Mabel with Simon de Houghton (fn. 28) (Hocton) Northamptonshire, who was living in 1199, (fn. 29) the Orenge lands in Lathbury came to William de Houghton. (fn. 30) He married Isabel daughter and heir of Robert Daubeny of Cainhoe (Bedfordshire), (fn. 31) and died about 1235. (fn. 32) His widow in 1236 obtained the custody of his lands and heir from John Earl of Chester, to whom it had been previously granted. (fn. 33) She held Lathbury (fn. 34) for her son William, who, taking the name of Daubeny, attained his majority before his mother's death in 1262 (fn. 35) and died seised of Lathbury Manor about 1264. (fn. 36) His son and heir Simon died without issue in 1272, leaving as heirs his sisters Isabel, Christine and Joan. (fn. 37) Isabel married Hugh de St. Croix; Christine, Peter de la Stane; and Joan, Roger Dakeney. (fn. 38) In 1286, after the death of Ellen, widow of William Daubeny, (fn. 39) who held Lathbury Manor in dower, the elder co-heirs with their husbands surrendered it with some trifling reservations to Roger and Joan Dakeney. (fn. 40) Roger died in 1286, (fn. 41) and in the following year Joan's right by inheritance in his lands was acknowledged. (fn. 42) Joan survived another husband, Aumary de Nowers, and died in 1310, when her son Robert Dakeney succeeded. (fn. 43) On his death in 1316 the custody of his son Roger with two-thirds of Lathbury Manor was granted to Richard de Cave, and the remaining third of the manor was assigned to the widow, Joan Dakeney. (fn. 44) Roger Dakeney proved his age in 1324, (fn. 45) and continued holding in Lathbury (fn. 46) until 1355, when he and his wife Joan surrendered their rights there to Hugh de Sadelyngstanes. (fn. 47) He settled Lathbury Manor in 1357 on his wife Isabel and his heirs, (fn. 48) and was living in 1361. (fn. 49) Before 1409 it had come into the possession of Sir William Thirning, who settled it in that year with Stantonbury Manor on John Fever and other trustees. (fn. 50) Sir William Thirning died in 1413 (fn. 51) and Lady Thirning was holding Lathbury in 1433, (fn. 52) but the manor evidently reverted to the Vaux family and descended with Stantonbury (fn. 53) (q.v.) until 1535. Thomas Lord Vaux appears to have sold Lathbury Manor in this year to Henry Earl of Essex. (fn. 54) His daughter and heir Anne married William Parr, Queen Katherine's brother, who was created Earl of Essex in 1543. (fn. 55) He sold Lathbury Manor to Anthony Cave of Chicheley, who died seised in 1558. (fn. 56) One moiety of this manor was allotted to his daughter Anne, the other to his daughter Martha, who married John Newdigate. (fn. 57) Martha Newdigate died in 1575, and on the death of her husband in 1592 her moiety passed to their son John. (fn. 58) He and his wife Anne at once conveeyd it to John and Henry Jackman (fn. 59) preliminary to its purchase by William Andrews, (fn. 60) who was knighted in 1604, (fn. 61) and appointed sheriff of the county in 1607. (fn. 62) He died seised in 1625, and was succeeded by his son William, (fn. 63) who had been knighted in 1618. (fn. 64) In 1650 he settled the Lathbury estate in favour of his son Henry on his marriage with Elizabeth daughter of John Brown of Shingleton, Great Chart, Kent. (fn. 65) Henry also acquired the greater part of the other moiety, the Hampdens' interest, (fn. 66) shortly before his father's death in 1657. (fn. 67) Henry Andrews, who was created a baronet in 1661, (fn. 68) made a settlement of the Andrews' moiety of this manor in 1662, (fn. 69) and acquired property in 1695 from Brereton Bourchier and others. (fn. 70) On the death of Sir Henry Andrews in 1696 the baronetcy became extinct, but his nephew Henry Andrews (fn. 71) succeeded to Lathbury Manor. (fn. 72) He was sheriff of the county in 1705 (fn. 73) and died in 1744. (fn. 74) By his will Lathbury Manor passed to his eldest daughter, Elizabeth Uthwatt, for life. (fn. 75) In 1753 she gave it to her son Henry for life, (fn. 76) and after his death in 1757 (fn. 77) she and her sister Jane Symes settled the reversion after their deaths on Jane daughter of Jane Symes. (fn. 78) After the death of Elizabeth Uthwatt, in 1764, (fn. 79) a further settlement was made in 1769. (fn. 80) Jane Symes, widow, died in 1778, and the younger Jane Symes died unmarried at Lathbury in 1799, (fn. 81) leaving the manor to her cousin Margaret Dalway and her friend Mansel Dawkin Mansel for life in survivorship, with a life estate on their death to Elizabeth Brown in the event of her marrying Mansel. (fn. 82) The effect of a codicil to the will was to divide the residue in favour of the principal legatees and their heirs. (fn. 83) Mansel Dawkin Mansel, who was Sheriff of Buckinghamshire in 1800, (fn. 84) married Elizabeth Brown, (fn. 85) and they with Margaret Dalway made a settlement in respect of Lathbury Manor in 1801. (fn. 86) He retained the principal estate and built a new residence on the site of the old one, dying there in 1823. (fn. 87) His widow, surviving him only a fortnight, was also buried at Lathbury. (fn. 88) Their sons sold the Lathbury estate to Richard John Tibbits of Barton Seagrave, Northamptonshire, whose daughter and heir Mary Isabella married Samuel third Viscount Hood. (fn. 89) He died in 1846, his widow surviving until 1904. (fn. 90) Their son, the fourth viscount, immediately sold the manor and a great part of the estate to Mr. Joseph Evans Whiting, the present owner. Lathbury Park with the manor-house was at the same time acquired by Mr. William Trevor. (fn. 91)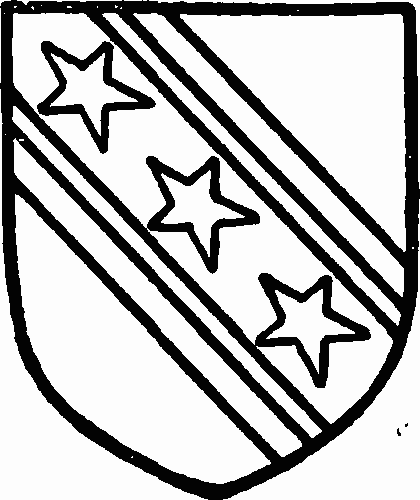 Margaret Dalway's moiety of the manor does not reappear after the early 19th century. (fn. 92) It is possibly represented in part by Major Long's estate in Lathbury, which has been in his family since 1862 and earlier. (fn. 93)
The moiety of Lathbury Manor inherited by Anne Cave in 1558 passed by her marriage to Griffith Hampden. (fn. 94) After his death in 1591 (fn. 95) she gave it to their son William, (fn. 96) and it descended with Great Hampden Manor to his grandson Richard Hampden, (fn. 97) who was owner in 1653. (fn. 98) Three years later he sold the greater part of this estate to Richard son and heir of John Brown, who in the following year transferred most of the property to his brother-in-law Henry Andrews, owner of the other moiety. In 1664 a further settlement of the estates was made between Sir Henry Andrews and his niece Elizabeth, daughter and heir of Richard Brown, by which an arrangement of 1622 between Sir William Andrews and John Hampden (the patriot) was superseded. In 1677 a settlement of Elizabeth's portion was made on her marriage with Thomas Leigh, Lord Leigh of Stoneleigh, but there is no later reference to this small estate. (fn. 99)
A court leet and view of frankpledge were among the manorial liberties in the 18th century, (fn. 100) and references to free fishery in the Ouse occur in the 17th and 18th centuries. (fn. 101) A several fishery in this river is also mentioned in 1697 (fn. 102) and the rights of free warren and toll of the New Bridge in 1758. (fn. 103)
A second manor called LATHBURY MANOR was held before the Conquest by Edduin, son of Borret, one of King Edward's thegns. (fn. 104) In 1086 it was assessed at 5 hides and held by the Bishop of Coutances. (fn. 105) The overlordship rights evidently passed later with those of Weston Underwood (q.v.) to the Brewers, and were divided with them in 1233 between the Wakes and Fertes. (fn. 106) The Wake interest in a quarter of a fee in Lathbury (fn. 107) passed after 1349 to the earldom of Kent, (fn. 108) and is last mentioned as held in dower by Joan widow of Thomas Earl of Kent at her death in 1442. (fn. 109) The overlordship of the other quarter fee was attached to the honour of Chaworth, (fn. 110) last mentioned in connexion with Lathbury in the early 14th century. (fn. 111) Kempsford, in Gloucestershire, the caput of the English barony of Patrick de Chaworth, (fn. 112) had by this time come through the marriage in 1298 of Maud or Joan, daughter and heir of his younger son Patrick de Chaworth, (fn. 113) to Henry third Earl of Lancaster. (fn. 114)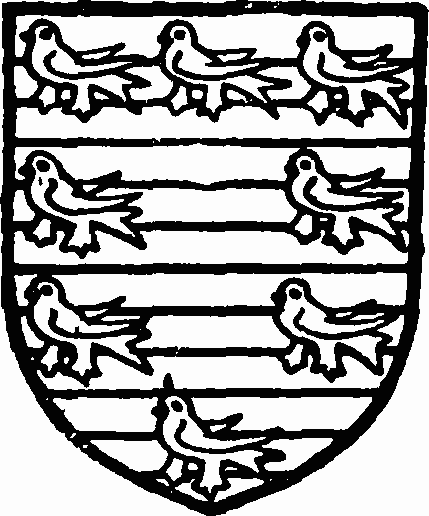 The Bishop of Coutances had subinfeudated his manor in Lathbury before 1086 to William (fn. 115) (de Bidun), who was also his tenant in Lavendon, the caput of the Bidun holdings in Buckinghamshire. This manor descended with Lavendon Castle (q.v.) to John de Bidun, (fn. 116) and had been allotted before 1225 to one of his five sisters and co-heirs, Ermengarde de Bidun, (fn. 117) widow of Andulf de Gatesden. (fn. 118) It is represented by the half fee in Lathbury which she was holding in 1235 (fn. 119) and 1236. (fn. 120) In 1241 she subinfeudated part of this land to her younger son Richard, and the remainder, comprising the manorial rights, had passed before 1254 to John son of her elder son John de Gatesden. (fn. 121) He conveyed it to his relative Walter de Gatesden, (fn. 122) apparently with the advowson in 1269. (fn. 123) In this year Walter de Gatesden transferred both to Robert Burnel, (fn. 124) who also had a quittance from John de Gatesden. (fn. 125) Three years later Burnel bestowed the manor and advowson in free alms upon Lavendon Abbey. (fn. 126) Lathbury was retained by the abbey, (fn. 127) which, after prolonged lawsuits between 1310 and 1318 with Richard Chamberlain and his wife Joan, daughter and heir of John de Gatesden, (fn. 128) and afterwards with their son John Chamberlain, finally secured a verdict against the latter in 1321. (fn. 129) Several small properties in Lathbury were acquired by Lavendon Abbey during the 14th century, (fn. 130) and it owned a considerable estate there in 1535. (fn. 131)
After the Dissolution the manor was leased in 1539 to Thomas Lawe of Olney, (fn. 132) and the capital messuage called the Parsonage House or Place was granted to him in fee in 1543. (fn. 133) He alienated it, retaining leasehold rights, to Edward Ardes, (fn. 134) who transferred it in 1545 to Anthony Cave. (fn. 135) He purchased the Lawe interests from Hugh and Thomas Lawe, and died in 1558 seised of all their property in Lathbury which had formerly belonged to Lavendon Abbey. (fn. 136) It was divided between his daughters Anne and Martha with the other Lathbury Manor, and part of Martha's share is distinguishable from her moiety of that manor until 1626. (fn. 137)
The land which Ermengarde de Bidun granted to her younger son Richard (fn. 138) in 1241 was rather less than a carucate of land, (fn. 139) equivalent to the quarter fee of the honour of Chaworth which he was holding in Lathbury about this time. (fn. 140) John Prude is named as an under-tenant to Richard de Gatesden in 1279, (fn. 141) and a Richard de Gatesden held in 1302 the quarter fee which lay partly in Upper Filgrave. (fn. 142) Before 1346 it had passed into the hands of the two manorial lords in Lathbury, Roger Dakeney and the Abbot of Lavendon, (fn. 143) and does not reappear.
Fishery rights in Lathbury belonged to the manor in 1269, (fn. 144) and a dovecote is mentioned in 1291. (fn. 145)
A close and pasture called Monwood in Lathbury had been granted by Richard de Beauchamp to Lavendon Abbey before 1227. (fn. 146) It seems to be in respect of this land that the abbey owed service to the Dukes of Norfolk, paying a quit-rent of 20d. yearly in 1535. (fn. 147) Monwood was purchased in 1580 from John Newdigate by Christopher Cotes of Hanslope, who died seised in 1612, leaving a son and heir Henry. (fn. 148)
Lands in Lathbury belonged in 1502 to Edmund Denny, (fn. 149) at whose death, in 1520, they passed to Thomas his son. (fn. 150) In 1544 Anthony, younger brother of Thomas Denny, obtained leave to sell this property called LATHBURY MANOR, with other lands of the inheritance of John son and heir of Thomas Denny. (fn. 151) William Andrews, the next owner recorded, in 1596 sold the estate known as Dennys Lands to Daniel Cage of Layston, Hertfordshire. (fn. 152)
Another manor in Lathbury called STOCKING MANOR appears to correspond to a quarter fee held in 1166 by Jordan de Lathbury of the barony of Hanslope. (fn. 153) Overlordship rights in Stocking descended with the principal manor of Lathbury in the 13th and 14th centuries. (fn. 154)
Jordan, lord of Stocking, possibly a son of the Jordan de Lathbury mentioned above, was succeeded by John Passelewe, (fn. 155) who was holding jointly with his wife Mabel (presumably Jordan's daughter) in her right in 1245, when they acknowledged Ralph Dayrell's right to a carucate in Stocking and Lathbury and to the reversion of the land which Geoffrey de Easton Neston (Northants) and his wife Eustacia were holding of the latter's dower. (fn. 156) Ralph Dayrell allowed the Passelewes to retain their holding for life, (fn. 157) and in 1247, complaining of waste on the land held by Geoffrey and Eustacia, secured a quitclaim from them for an annuity of 40s. yearly during the latter's life. (fn. 158) By 1254 the whole of his interest in Stocking had passed to two heiresses, Sybil and Alice, and their respective husbands William de Merefeld and Peter de Grendon, who quitclaimed it (in subinfeudation which does not reappear) to Robert de Usburn, then holding a lease from Robert de Tothall and Mabel de Stocking (Passelewe). (fn. 159) Usburn obtained a licence to impark his wood at Stocking within Salcey Forest in 1257, (fn. 160) and evidently married Margery daughter of John de Stocking (John Passelewe). She was holding in 1262, (fn. 161) having secured the custody of their son Edmund de Usburn (fn. 162) or Stocking, and is the lady of Stocking mentioned in 1275. (fn. 163) Edmund was holding in 1279 (fn. 164) and 1286, (fn. 165) but had been succeeded by John de Usburn before 1309, when John settled the property on himself, his wife Alice and their heirs. (fn. 166) This estate is apparently identical with that held by John de Stocking in 1355, (fn. 167) when it is evident that the disintegration of the former manor of Stocking was nearly complete in the gradual absorption of its sub-tenancies by the owners of Lathbury Manor.
The tenant of one of these small holdings in Stocking in the earlier half of the 13th century was Roger de Stocking, (fn. 168) and in 1245 the custody of his land and heir was retained by Ralph Dayrell. (fn. 169) His holding appears to be that in which Simon de Stocking and his wife Agnes had a life interest in 1355, when the reversion was transferred with the principal manor of Lathbury to Hugh de Sadelyngstanes.
In 1262 Margery de Stocking quitclaimed a messuage, meadow and 50 acres of land in Lathbury to Adam Franklin, (fn. 170) and his holding is mentioned in 1279 (fn. 171) and 1286. (fn. 172) A descendant of his, John Franklin, was a tenant in Lathbury in 1355. (fn. 173) A small property there was given in marriage by Nicholas Franklin with his daughter Muriel to John de Usburn, (fn. 174) to whom in 1339 Thomas de Beauchamp subinfeudated a carucate of land. (fn. 175) Their son Thomas de Usburn quit claimed the former estate in 1366 to Henry Harlwin of Lathbury, chaplain. (fn. 176)
Bunsty, a detached part of Lathbury, which was transferred in 1886 to the parish of Gayhurst (q.v.), is in part identical with the hide of land which Siric, a man of Earl Leofwin, held and could sell before the Conquest. (fn. 177) Siric's lands, here and in Gayhurst, were obtained by the Bishop of Bayeux. His tenant in both places in 1086 was the Bishop of Lisieux, (fn. 178) and William de Nowers, the descendant of Robert de Nowers, the sub-tenant of the Bishop of Lisieux in Gayhurst (q.v.), was holding one-sixth of a fee in Lathbury as mesne lord in 1279. (fn. 179)
The lords of the principal manor of Lathbury were tenants under the Nowers before 1230, when William de Houghton was allowed to impark his wood at Bunsty. (fn. 180) Joan (Dakeney) was holding this park with the right of free warren in 1275 (fn. 181) as one of the heirs of William Daubeny. (fn. 182) This part of Lathbury appears to have been surrendered to the mesne lord before the middle of the 14th century, (fn. 183) and corresponds to the land there which has since descended with Gayhurst Manor (fn. 184) (q.v.).
Church
The church of ALL SAINTS consists of a chancel measuring internally 30 ft. by 15 ft. 6 in., nave 35 ft. 6 in. by 14 ft. 8 in., north aisle 10 ft. 8 in. wide, south aisle 11 ft. 4 in. wide, west tower 9 ft. 8 in. square, and south porch. It is built of rubble, with stone dressings, and the roofs are covered with lead.
The church dates from the early 12th century, and originally consisted of a small chancel and the present nave, to which a south aisle was added about 1180–90. The tower was erected in the early part of the 13th century and the south aisle was rebuilt about 1280, while the north aisle was added and the chancel rebuilt during the first half of the 14th century. The clearstory was added to the nave, and the nave, aisles and tower were provided with embattled parapets early in the 15th century. The porch is modern, and the whole fabric was restored in 1869.
The chancel is lighted by a large four-light east window, only the jambs of which are old, and by two 14th-century windows on either side, each of two trefoiled lights with tracery in a pointed head. The tracery of the south-east window is composed of a circle with running trefoils, and below the sill of this window are three sedilia with trefoiled ogee heads and a double piscina with heads of the same form and quatrefoil bowls. At the west end of the north wall is a low blocked opening with a modern lintel, and opposite to it on the south are a window and a low pointed doorway, both of which are also blocked. The chancel arch is of the 14th century, and has semi-octagonal responds with moulded capitals and plain bases; the north respond and both bases have been restored.
The nave opens to the north aisle by a lofty arcade of the early 14th century, consisting of two acutely pointed arches supported by an octagonal pillar and responds, with moulded capitals and restored moulded bases. A moulded abacus of considerable projection is placed on the capital for the reception of the thick 12th-century wall above. On the south is a late 12th-century arcade of two pointed arches, with a circular pillar and plain responds. The pillar has a moulded base with square plinth and leaf-spurs, and the capital is carved with a pair of doubleheaded dragons on each side. At the angles of the capitals are bunches of foliage upon which the dragons appear to be feeding, while a large grotesque head in the middle of the north face of the capital holds one head of each of the two dragons on that side in its open jaws. The responds have rich foliated capitals. The tower arch, which is now supported by a modern arch, was originally semicircular, but has become distorted. In the west wall above is the jamb of a blocked window, and in the south wall, near the apex of the eastern arch of the south arcade, is the round head of another window, both of which date from the early 12th century. There is a rood-loft stairway at the south-east, which is approached by a pointed doorway in the south aisle, and ascends by steep steps in the thickness of the wall to the upper doorway in the nave. The clearstory has on the south three early 15thcentury windows, each of two trefoiled lights with tracery in a pointed head, and on the north are three square-headed windows, originally similar to those on the south, but altered to their present form at a later period. The nave has a low-pitched open-timber roof, the trusses of which are supported by 15thcentury angel corbels. The embattled external parapet has the remains of a cross on the east gable.
The walls of the nave are covered with paintings chiefly of the 15th century. On the east wall, and extending partly over the lateral walls, is a painting of the Last Judgement, now indistinct, though our Lord, St. Michael, and small figures rising from their graves can be distinguished. The weighing of souls is depicted on the north wall, where a crowned figure of the Virgin, wearing a red cloak and holding a lily, appears to be placing her hand on the beam of the scales to incline it to the side of mercy; on the south side, Burial and the Seven Sacraments were represented, but Penance and Extreme Unction are alone visible. On the south wall are also several texts in black letter of the 16th century, and on the soffits of the arches of the south arcade are bands of foliage of the earlier period. Many of these paintings have now become very indistinct, but coloured drawings of them as they appeared when first uncovered are preserved at the rectory.
The north aisle is lighted from the east by a window of three plain lights, with interlacing tracery in a pointed head, from the north by two windows of a similar character, but of two lights, all of early 14thcentury date, though very considerably repaired, and from the west by a modern window of two cinquefoiled lights. The north doorway has an original reararch, but the external jambs and square head are of the 18th century.
In the east wall of the south aisle is a graceful late 13th-century window of two uncusped lights, with a circle in a pointed head. In the south wall are two early 14th-century windows with interlacing tracery in pointed heads, the eastern window of three lights and the other of two lights. To the east of the larger window, which contains a fragment of 15thcentury glass, is a 14th-century pointed piscina with a modern bowl. Below the east window is a small recess, now very much restored. The south doorway, which dates from the late 12th century, was reset when the aisle was rebuilt about a hundred years later. It has a round arch of two chamfered orders, and jamb shafts with foliated capitals and abaci; the shafts and the eastern capital are modern. The two-light west window is of the 15th century, but has been considerably restored. Reset in the wall at the northeast of the aisle is an early 12th-century tympanum, which was found during the repairs of 1869. Upon it is carved a central upright figure of interlacing strapwork, probably representing a serpent, upon which two beasts are making a vigorous attack, while issuing from the figure is some luxuriant foliage. Both aisles have 15th-century parapets with weather-worn gargoyles; at the eastern angles very large and bold figures are carved, that on the north aisle, which represents a fierce creature of half-human form carrying a smaller figure in its right arm, being comparatively well-preserved, but the other is considerably weatherworn.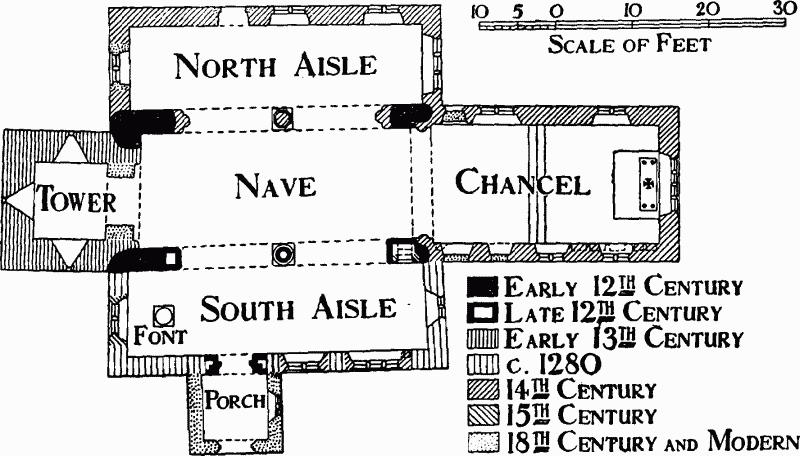 The tower is of three stages, with an offset between the ground and second stages, and has an original straight parapet with a 15th-century embattled parapet superimposed upon it. The ground and second stages are lighted by original lancets, while the bell-chamber has windows of two pointed lights with octagonal shafts and unpierced pointed heads; these are also original, but the east window is now filled with 15th-century tracery, the central shaft having been removed.
The font and pulpit are modern. At the east end of the south aisle is a mediaeval coffin-lid with an incised cross. The chancel is paved with black and white marble slabs of the 17th century, given, as stated by the inscriptions on three of them, by Margaret daughter of Sir Henry Andrews, bart., who died in 1680, at the age of fourteen years; some of the other slabs have the names of other members of the Andrews family. On the north wall of the chancel is a brass with arms, a lion passant between three fleurs de lis, in memory of Richard Davies of Kynant, Montgomeryshire (d. 1661), whose son Isaiah was vicar of the parish. The inscription is as follows: 'Richard Davies of Kynant in the county of Montgomery Gent. hereunder buried. He deceased at the house of his son Isaiah Davies, then minister of this parish, 20th day of November 1661, aged 77 years. His son Thomas Davies Esq., at that time Agent Generall for the English nation upon the coast of Africa caused a scenotaph to be erected in the church of Welch Poole, the place of his birth, to the pious memory of his father, and this small memorial for such Cambria-Brittaines as shall this way travaile.'On the south wall is a brass with arms to Mary wife of Isaiah Davies (d. 1686). On the north wall of the chancel is a mural monument, with arms, to Alice (Pigott) wife of Robert Chandflower, with an incised slab portraying the figures of a woman and child, both kneeing, and two infants, the arms being those of Pigott with a crescent for difference quartering a fesse between three cherubs. In the north aisle is a large mural monument with arms to Henry Uthwatt of Great Linford (d. 1757) and Frances his wife (d. 1800). In the south chapel is a communion table of the 17th century with shaped ends carved with foliage. Two small crosses are incised externally on the north-west corner of the north aisle.
The tower contains a ring of five bells; the treble was added in 1906, and the others have the following inscriptions: the second, 'Edward Hall made me 1731'; the third, 'Newcome made me 1614'; the fourth, 'God save our King 1627 IK. FC. RP. CW.'; and the tenor 'God save our King, 1629,' the last two being by James Keene.
The communion plate consists of a silver cup of about 1640, without date letter; a paten of 1683; a large flagon of 1648, inscribed 'The gift of Lady Andrews to the parish of Lathbury in memory of her dafter Mrs Margaret Andrews'; and a stand paten with embossed bottom.
The registers before 1812 are as follows: (i) all entries 1690 to 1762; (ii) baptisms and burials 1763 to 1812; (iii) marriages 1754 to 1813.
Advowson
John de Bidun, founder of Lavendon Abbey, endowed it with Lathbury Church, and his gift was confirmed in 1227 by Henry III. (fn. 185) In 1232, however, Ermengarde de Bidun obtained renunciations of right from the abbot, from William de Houghton, lord of the main manor, and from Robert son of Geoffrey, (fn. 186) her nephew. (fn. 187) The advowson was soon vested anew in Lavendon Abbey by the acquisition of the Bidun manor, and in 1281 Andrew de Gatesden confirmed the abbot in its possession. (fn. 188) Licence was obtained from the pope in 1306 (fn. 189) and from Edward II in 1310, (fn. 190) to appropriate Lathbury Church, which was endowed with 2¾ virgates of land. (fn. 191) After the dissolution of Lavendon Abbey the advowson was granted in 1546 to the Dean and Chapter of Christ Church, Oxford, (fn. 192) who have continued in possession until the present time. (fn. 193)
In 1528 Lavendon Abbey granted to Thomas Whalley a lease of the rectory, which he surrendered to the Crown in 1545, when a lease for twenty-one years was granted to John Johnson. (fn. 194) In 1546 the rectory was included in the grant to the Dean and Chapter of Christ Church, Oxford, (fn. 195) and the annual rent for the tithes was released by the Crown in 1554. (fn. 196) Various difficulties occurring in the middle of the 17th century about the lease of the rectory, the dean and chapter leased it in perpetuity in 1662 to Isaiah Davies, then vicar, and to his successors, (fn. 197) so that the vicar is also rector. The tithes were commuted in 1842. (fn. 198)
A suit was brought by Thomas Wellar, vicar of Lathbury, against John Whyte, about 1583, respecting a short lease of the vicarage. (fn. 199) A terrier of the vicarage dated 1674 is quoted by Browne Willis. (fn. 200)
There is reference to a chapel in the churchyard leased in 1553 for ninety-four years by the Dean and Chapter of Christ Church, Oxford, to Anthony Cave for his free school. (fn. 201) In 1699 this chapel, then called the school-house, having fallen into decay, was taken down and the materials were used to repair the vicarage. (fn. 202) Its site may perhaps be marked by one of the large mounds in the churchyard.
In 1548 5d. yearly was derived from some land and rent given for the maintenance of a light in Lathbury Church. (fn. 203) This lamp-land lay in a meadow 'in the western part of Lathbury in a place called the Lord's Dole' and was granted in 1549 to John Howe and John Broxholme. (fn. 204)
Charities
The Church Cobs.—It appears from the parish terrier that the rent of certain lands, known as the Church Cobs, was applied for church purposes. Two pieces, known as Plum Tree Cob and the Church Cob, respectively, were sold in 1870, and the proceeds invested in £179 15s. 2d. consols with the official trustees, producing £4 9s. 2d. yearly. The rest of the land, known as Ozier Cobs, is unlettable. The income is applied to church expenses.