Pages 482-485
A History of the County of Buckingham: Volume 4. Originally published by Victoria County History, London, 1927.
This free content was digitised by double rekeying. All rights reserved.
TYRINGHAM with FILGRAVE
Telingham, Tedlingham (xi cent.); Tyrenghamcum-Philegrave, Tyringham-cum-Filegrave (xiii cent.).
Tyringham with Filgrave is a parish covering nearly 1,792 acres, including 652 acres of arable, 1,004 acres of permanent grass and 73 acres of woods and plantations. (fn. 1) It is encircled on all sides except the east by the River Ouse and is liable to floods in the north and south. The level of the land varies between 164 ft. above the ordnance datum in the north of the parish and 292 ft. in the west on the road leading from Filgrave to the neighbouring parish of Emberton. The soil is mixed, the subsoil oolite and clay. The chief crops are wheat, barley, beans and oats. The cultivation of woad for dyeing was introduced into this parish among other places in the early 18th century by a company of Manchester manufacturers and Yorkshire clothiers with a view to breaking the heavy monopoly in this article. (fn. 2) The industry was still carried on here in the middle of the last century. (fn. 3) A large brick and tile works was also established about 1859, (fn. 4) but is no longer in existence.
Tyringham House, the old manor-house of the Tyringhams, was described by Pennant in 1782 as 'neglected . . . but not wholly unfurnished.' (fn. 5) The present house, the seat of Mr. F. A. Köing, was built by William Praed (fn. 6) after plans by Sir John Soane dated 1793, which are preserved in the Soane Museum, Lincoln's Inn Fields. It is a fine stonebuildings standing in the south-west of the parish in a well-wooded park of 100 acres sloping down to the River Ouse. The public road through the park leads over a one-arched stone bridge and joins the main road from Newport Pagnell to Northampton a little below the river. The small church of St. Peter stands on rising ground in the park about a quarter of a mile south-east of Tyringham House. Most of the few parishioners live at Filgrave, more than 1½ miles north-east of the church by the road. In a disused graveyard south of some allotments in the north-east of Filgrave is the site of the former parish church of St. Mary of Filgrave. (fn. 7) Near it to the south-east the Rectory House, formerly that of Filgrave only, (fn. 8) stands on high ground commanding beautiful views.
Some small inclosures made by Thomas Tyringham in this parish in 1509 had been removed by 1520. (fn. 9) About this date he was sued by the Abbot of Lavendon for not keeping his agreement in an interchange of an acre of land in Filgrave which he had required for his inclosure there. (fn. 10) Thomas son of the above-mentioned Thomas Tyringham was pardoned in 1578 for inclosing 480 acres in Tyringham and Filgrave. (fn. 11)
The following place-names occur: Mortons (fn. 12) (xvi cent.); Broadgreen, Colewort or Calliworth, Hobb's Beanfield and Portway (fn. 13) (xvii cent.).
Manors
In 1086 TYRINGHAM MANOR was held by William Fitz Ansculf, and assessed at 7 hides 1¼ virgates. (fn. 14) The overlordship afterwards passed to the barony of Dudley, (fn. 15) and descending with the honour and manor of Newport Pagnell (fn. 16) (q.v.) is last mentioned in 1638. (fn. 17)
Acard was sub-tenant of Tyringham Manor in 1086. (fn. 18) Richard de Tyringham held here between 1209 and 1220, and was succeeded by Giffard (fn. 19) (of Tyringham). John Giffard of Tyringham or John de Tyringham died seised about 1274, during the minority of his son and heir Roger, (fn. 20) and the custody of his lands was granted to Roger de Thurkelby. (fn. 21) Roger de Tyringham, who was holding in 1279, (fn. 22) is called Giffard in 1284, (fn. 23) but the latter surname did not survive in his family. He was succeeded by his son Roger, whose son, another Roger, (fn. 24) in 1342 settled the reversion of Tyringham Manor on his son John, his wife Isabel and John's heirs. (fn. 25) John son of John de Tyringham was in the king's wardship in 1373, (fn. 26) and he is apparently the Sir John de Tyringham whose widow Alice claimed dower in this manor in 1405. (fn. 27) At the death in January 1415–16 of the next heir John de Tyringham, John Reynes and other feoffees were seised both of the reversion of Alice's portion and of the remaining twothirds of the manor (fn. 28) for the payment of John de Tyringham's debts. They leased this manor to Roger Tyringham, (fn. 29) who received a grant of the marriage of the heir (fn. 30) John, son of the above John Tyringham and his wife Eleanor. (fn. 31) He attained his majority in 1432, (fn. 32) was exempted from attendance on juries in 1459, (fn. 33) and died in March 1464–5. (fn. 34) His son and successor, another John, (fn. 35) died in 1484. (fn. 36) His lands were granted to his widow Elizabeth during the minority of their son John. (fn. 37) The latter was holding Tyringham in 1492, (fn. 38) and was succeeded on his death in 1501 (fn. 39) by his brother Thomas. (fn. 40) He died in 1526, and his son Robert (fn. 41) died under age in 1532. (fn. 42) The wardship of the next heir, Robert's brother Thomas, (fn. 43) was granted to Sir Francis Brian. (fn. 44) Thomas Tyringham, who was sheriff of the counties of Bedford and Buckingham in 1560, (fn. 45) died seised of Tyringham Manor in 1595. (fn. 46) His son and successor Anthony, (fn. 47) afterwards Sir Anthony Tyringham, (fn. 48) was sheriff of the county in 1596 (fn. 49) and died in 1614. (fn. 50) His son and heir Thomas, (fn. 51) also knighted, (fn. 52) made settlements of this manor in 1621 (fn. 53) and 1628, (fn. 54) and died at Tyringham in January 1636–7. (fn. 55) His son John, afterwards Sir John Tyringham, (fn. 56) succeeded, (fn. 57) and was buried at St. Mary's, Oxford, in 1645. (fn. 58) His estates passed to his brother William, (fn. 59) who, after much delay, obtained a discharge in 1652 from liability for delinquency. (fn. 60) He took legal steps to secure his title to Tyringham Manor in 1653, (fn. 61) but continued to be treated as a suspect during the Commonwealth. (fn. 62) He was made a Knight of the Bath at the coronation of Charles II (fn. 63) and in 1670 conveyed this manor to John Morris and Richard Mounteney, jun. (fn. 64) They were presumably agents for Edward Backwell, the London goldsmith and banker, who acquired Tyringham about this time and in 1675 made a presentation to the church. (fn. 65) On his death in 1683 (fn. 66) Tyringham Manor passed to his son John Backwell, (fn. 67) who in 1678 had married Elizabeth daughter and heir of Sir William Tyringham. (fn. 68) She was buried at Tyringham in 1688. (fn. 69) Their son Tyringham Backwell (fn. 70) made settlements of the manor in the early 18th century, (fn. 71) in the lifetime of his father, (fn. 72) who was buried at Tyringham in 1708. (fn. 73) Tyringham Backwell died in 1754, a few months before his son Barnaby. (fn. 74) The next heir, Barnaby's son Tyringham Backwell, an infant at his father's death, (fn. 75) entered into possession of Tyringham Manor in 1775 (fn. 76) and died unmarried in 1777. (fn. 77) The manor passed in marriage with his sister Elizabeth in 1778 (fn. 78) to William Mackworth Praed, (fn. 79) who was member of Parliament for St. Ives from 1781 to 1806 (fn. 80) and died in 1833. (fn. 81) His son and successor James Backwell Praed (fn. 82) had been Sheriff of Buckinghamshire in 1807 (fn. 83) and represented the county in Parliament from 1835 until his death in 1837. (fn. 84) He was succeeded by his son William Backwell Praed, who, by royal licence in 1859, substituted for Praed the surname and arms of Tyringham. (fn. 85) His son Mr. Roger William Giffard Tyringham succeeding in 1870, owned Tyringham Manor in 1906, (fn. 86) but it has since been acquired by Mr. F. A. König, the present owner.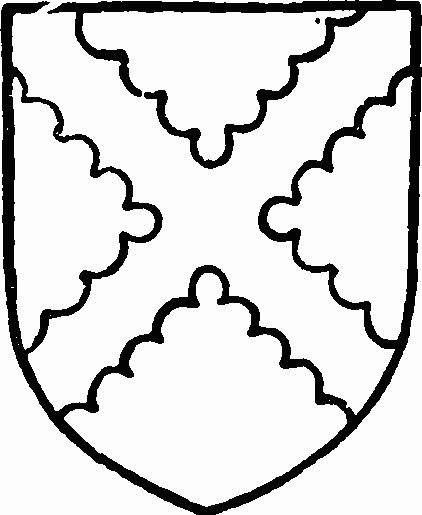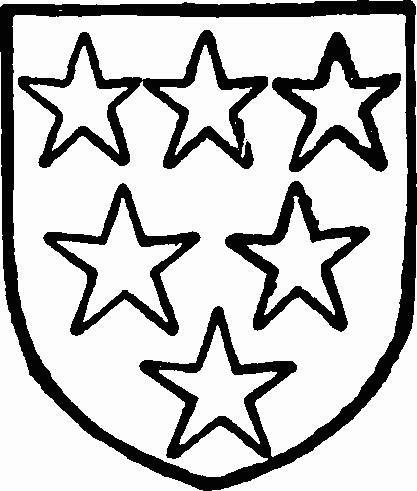 A second estate called TYRINGHAM MANOR in 1086 was then assessed at 2½ hides and threequarters of a virgate, and formed part of the lands of the Bishop of Coutances. (fn. 87) By the early 13th century it was included with the main manor in the Tyringham fee held of the barony of Dudley. Part of it afterwards became one of the manors in Astwood parish (q.v.), and the remainder constituted FILGRAVE MANOR.
Anschitil was sub-tenant of the bishop's manor of Tyringham in 1086. (fn. 88) By the early 13th century the whole of Tyringham had passed to the Giffards. (fn. 89) John Giffard's manor (fn. 90) evidently included Filgrave, (fn. 91) since his estate a few years later appears as Tyringham with Filgrave. (fn. 92) The descent of Filgrave Manor has been identical with that of Tyringham, (fn. 93) and Mr. König's estate of Tyringham with Filgrave includes the whole parish.
View of frankpledge in Tyringham and Filgrave was held by Roger de Tyringham, (fn. 94) who claimed the right by inheritance, but was deprived of it in 1286. (fn. 95) The right of warren appropriated by John de Tyringham shortly before his death (fn. 96) is not mentioned after 1279. (fn. 97) References to the manorial right of free fishery in the Ouse occur from 1274. (fn. 98)
In the later 13th century there were three watermills on the Tyringham with Filgrave estate, one of which was a fulling-mill. (fn. 99) Mills here are mentioned from time to time into the 17th century, (fn. 100) but only one in 1700. (fn. 101) The mill-house in Tyringham was the only house there in 1730 in addition to the manor-house. (fn. 102)
The overlordship of half a fee in Filgrave is attributed in the middle 13th century to the honour of Chaworth, (fn. 103) and the Wakes had an interest in half of this as in the case of Weston Underwood. Their rights in this quarter fee in Filgrave held under the heirs of the Biduns ('de Bydoneys') in 1279 (fn. 104) are traceable until 1442, (fn. 105) and descended with similar rights in the second manor of Lathbury (q.v.).
William de Sherington held the half fee in Filgrave of the honour of Chaworth c. 1235. (fn. 106) Part of this holding appears to have been comprised in the endowment of Filgrave Church confirmed by William son of Alexander de Sherington. (fn. 107) One virgate certainly passed in marriage with William de Sherington's daughter Hawise to Robert Curtfaluz. (fn. 108) It descended with the Curtfaluz manor in Weston Underwood (q.v.) to John Pever, who was sued for the same in 1261–2 by Hawise. (fn. 109)
Part of the half fee came to William son of Roland, who in 1222 subinfeudated a small estate in Filgrave to Simon Curtfaluz, father of the Robert aforesaid, (fn. 110) in return for a pair of gauntlets at Easter. (fn. 111) Before 1227 this was granted by Gervase de—with William's consent to Lavendon Abbey, (fn. 112) of which it was held by John son of John the clerk in the later 13th century as a half virgate. (fn. 113) Lavendon Abbey also obtained the remainder of the half fee, amounting in all to the quarter fee held under the Wakes, and its estate in Filgrave, assessed at 2 hides in 1279, (fn. 114) appertained to its property in Lathbury, with which it formed one vill in the 14th century. (fn. 115)
Some land in Filgrave was included by the later 13th century among the possessions of Tickford Priory, (fn. 116) and was comprised in the grants of the site of the priory (Newport Pagnell, q.v.) following upon the Dissolution. (fn. 117)
Church
The church of ST. PETER consists of a chancel, north chapel, nave, south transept, north porch and west tower. It is built of rubble and the roofs are covered with tiles.
A church existed here from the 12th century, but the only part of the old structure now remaining is the tower, the lower stages of which date from the end of the 12th century and the bell-chamber from about 1500. All the other parts were entirely rebuilt in the Gothic manner in 1871.
The chancel terminates in an apse and is lighted by lancet windows, while the nave has pointed windows of two lights with plate tracery. At the west end of the nave is the original tower arch, which dates from about 1200; it is semicircular and of two plain orders springing from hollowchamfered imposts, and above the arch are traces of a blocked window of the same period.
The tower is of four stages with diagonal buttresses and is surmounted by an embattled parapet. The ground stage has a blocked light on the north and a 17th-century window of two plain lights under a square head on the west. The third stage has a lancet window on the south and a blocked roundheaded window on the west, while the bell-chamber is lighted from all sides by transomed windows of two plain lights, that on the west having label stops carved with the shields of Tyringham and Howard. Below the string-course immediately under this window is another shield bearing Tyringham impaling Howard.
Affixed to the east wall of the transept are several brasses which have become detached from their original slabs. A man in armour and an inscription commemorating John Tyringham, Elizabeth (Catesby) and Elizabeth (Brudenell) his wives, probably belong to one memorial, the other figures having been lost. The man wears a helmet and a tabard bearing the arms of Tyringham, and is represented in the attitude of prayer, slightly inclined to the right and his feet resting on a dog. The figure of a woman in gabled head-dress, an inscription commemorating Mary (Tyringham) wife of Anthony Catesby (d. 1508) and two shields, one of Tyringham and the other of Catesby, doubtless formed another complete brass. Besides these there also remain an inscription, partly cut away, commemorating Thomas Tyringham (d. 1595) and Parnell (Goodwin) his wife (d. 1594), and a label of about 1500 inscribed 'domine accipe spiritum meum.'
The tower contains a ring of five bells: the treble, inscribed 'Ecce Quam Bonum Et Quam Jucundum 1629,' is by James Keene (fn. 118); the second and the tenor are by Richard Chandler, 1720 and 1708 respectively; the third, inscribed 'Sicut Ros Hermon In Monte Sion 1629,' is also by James Keene; and the fourth is by Thomas Russell of Wootton, 1735.
The communion plate includes a chalice of 1570 and a paten dated 1707.
The registers begin in 1629.
Advowson
A presentation to Tyringham Church was made by Richard de Tyringham between 1209 and 1220. (fn. 119) The advowson of the rectory, valued at £13 6s. 8d. yearly in 1291 (fn. 120) and at £13 17s. 4d. in 1535, (fn. 121) has always been appurtenant to Tyringham Manor. (fn. 122) The advowson of the rectory of Filgrave coming under the same ownership before 1614, (fn. 123) the union of the rectories was recognized in 1639. (fn. 124) The present owner of the advowson of Tyringham with Filgrave is Mr. F. A. König.
Filgrave Church with 2½ virgates 2 acres of land and four dwelling-houses was given by Hugh, clerk of Filgrave, to Delapré Abbey, Northamptonshire, and confirmed to that house by William son of Alexander de Sherington. (fn. 125) William de Sherington surrendered his claim to the advowson in 1230. (fn. 126) A vicarage was ordained at Filgrave before the inquiry by Bishop Hugh of Wells. (fn. 127) The advowson was retained by the abbey until the Dissolution, (fn. 128) when its value had increased from £4. 13s. 4d. yearly in 1291 (fn. 129) to £7. (fn. 130) It was granted in 1551 to Sir Nicholas Throckmorton with the site of Luffield Priory (q.v.) and nominally descended with it until 1701. (fn. 131) Filgrave Church, although still in use in 1585, (fn. 132) was allowed to fall into decay, and the advowson, as already stated, had, in fact, passed under the same ownership as that of Tyringham before 1615. A Commission (fn. 133) having reported that the churches had been so long under one incumbent that the glebe lands could not be exactly determined, a settlement of the glebe as suggested by John Tyringham (fn. 134) was made in 1639. (fn. 135)
In 1637 Filgrave Church was without a roof and trees were growing on its walls. (fn. 136) According to Browne Willis the ruined walls of the church were still standing in 1730, the tower being in a good state of preservation. (fn. 137) Cole says in 1760 that Mrs. Backwell gave orders in 1758 that the tower should be pulled down and the stones used for the repair of a mill. (fn. 138) He also states, on the authority of the then rector, that the latter had soon afterwards used the foundations of the church for the repair of his parsonage. (fn. 139)
In 1548 12d. yearly from a rood of meadow land in Ludney was used for the maintenance of a light in Tyringham Church. (fn. 140)
There do not appear to be any endowed charities subsisting in this parish.