Pages 89-91
A History of the County of Buckingham: Volume 4. Originally published by Victoria County History, London, 1927.
This free content was digitised by double rekeying. All rights reserved.
PITCHCOTT
Pichecote (xiii cent.).
Pitchcott is a small parish with an area of 925 acres, including only 32 acres of arable land, the rest, some 887 acres, being all pasture land. (fn. 1) The slope of the land drops from 500 ft. above the ordnance datum on Pitchcott Hill, in the north of the parish, to 267 ft. in the south-east. The soil is loam and the subsoil clay. The village is situated on the south-east of Pitchcott Hill, and from it there is a fine view over the Vale of Aylesbury. The church stands to the north-west of the village, with the rectory, built in the middle of the 19th century, to the south-east. There are no houses of importance in the parish, but the Manor Farm appears to date in part from the 17th century; the older parts of the building are, however, covered with cement, and little can be said of them. A panel of moulded brickwork, with pediment and pilasters, on the north-east wall, is said to be dated 1797, but, from its style, should be of considerably earlier date. The 'long causeway,' towards the repair of which John Perott in 1524 left a rent-charge, (fn. 2) is supposed to have been a line of stepping-stones used as a foot-road from Oving to Pitchcott churchyard.
Manor
In 1086 PITCHCOTT, though not named, was apparently assessed under Miles Crispin's land in Waddesdon Hundred, (fn. 3) since it was held as one fee of the honour of Wallingford in 1225. (fn. 4) The overlordship continued in this honour, (fn. 5) and was merged with it in that of Ewelme, (fn. 6) the latest reference to it in this connexion occurring in 1550. (fn. 7)
Pitchcott was probably one of the seven fees held of the honour of Wallingford in 1166 by William and Robert Pipard, (fn. 8) as in 1225 it was held in mesne by Roger Pipard. (fn. 9) This overlordship had passed by 1284 to Ralph Pipard. (fn. 10) In the next century it was vested in the earldom of Hereford, and in 1377 was held by the heirs of Humphrey Bohun, Earl of Hereford, (fn. 11) as an appurtenance of the manor of Haseley, Oxfordshire. (fn. 12) This manor passed in marriage with the earl's granddaughter Anne to Edmund Earl of Stafford, (fn. 13) who was holding the mesne lordship in Pitchcott in 1400. (fn. 14) No later reference to it has been found.
In 1225 William son of Richard Vernon of Haddon, Derbyshire, (fn. 15) was holding two-thirds of Pitchcott as Roger Pipard's tenant, (fn. 16) and the whole fee in 1235 (fn. 17) and 1236 (fn. 18) apparently as guardian of Hawise daughter of his half-brother Robert Vernon, (fn. 19) whom he seems to have married to his son Richard. The latter was holding both in Pitchcott and Haddon in the mid13th century. (fn. 20) Hawise afterwards married Gilbert Francis, (fn. 21) who, surviving her, died in 1278. (fn. 22) His son and heir Richard married the daughter of Michael de Hartcla, (fn. 23) and took the name of Vernon. (fn. 24) In 1290 he enfeoffed his son Richard and Eleanor daughter of Giles Fenes of Pitchcott Manor, (fn. 25) and in 1292 it was granted to her father in custody during their minority. (fn. 26) Richard Vernon, the father, regained seisin of this manor, however, before 1302, (fn. 27) and in 1323 was sued by Maud, the widow of his son Richard, who claimed a third of it in dower. (fn. 28) A grant of free warren in Pitchcott was made to Richard Vernon in 1328. (fn. 29) His grandson William Vernon (fn. 30) had succeeded early in 1331, when Isabel widow of his grandfather and Maud widow of his father claimed dower in Pitchcott. (fn. 31) William died before 1346, when two-thirds of Pitchcott was in the custody of the Earl of Northampton (fn. 32) during the minority of Richard, (fn. 33) afterwards Sir Richard Vernon, kt. He died in 1376, and, his son Richard being a minor, (fn. 34) the custody of Pitchcott Manor was granted to Thomas of Woodstock, son of Edward III. (fn. 35) In 1378 dower was assigned to the widow Juliane Vernon. (fn. 36) In 1400 this manor was granted by Edmund Earl of Stafford to Nicholas Bradshaw during the minority of Richard son of the last heir. (fn. 37) Sir Richard Vernon died in 1451, having a year previously granted Pitchcott Manor for life to his son Thomas subject to a rentcharge during his own life to Roger Palmer. (fn. 38) In 1453 Sir Richard's elder son Sir William Vernon (fn. 39) granted it to Thomas and Elizabeth his wife for life. (fn. 40) Sir William Vernon died in 1461, (fn. 41) and later in the century this manor reverted to his son (fn. 42) Sir Henry Vernon of Haddon, who at his death in 1515 had settled it in trust for his son and heir Richard. (fn. 43) He died in 1518, leaving as successor a young son George, (fn. 44) afterwards Sir George Vernon, kt., who died in 1566. (fn. 45) Pitchcott was assigned to his daughter and co-heir Margaret wife of Thomas Stanley, (fn. 46) and after various settlements, detailed under Adstock (q.v.), came to their son Edward Stanley, who mortgaged it in 1588 to Richard Saunders. (fn. 47) He died seised about 1602, (fn. 48) his son John obtaining livery of this manor in 1612. (fn. 49) In 1637 his daughter Elizabeth with her husband Sir Walter Pye conveyed this estate to her uncles (fn. 50) Sir Thomas and Francis Saunders, (fn. 51) who five years earlier had interests in it. (fn. 52) By mutual agreement (fn. 53) Pitchcott Manor descended in their families in moieties, one of which passed apparently in the direct line from Sir Thomas Saunders through his son Thomas (fn. 54) to Thomas Saunders, a distinguished naval officer, (fn. 55) who was sheriff for the county in 1733 (fn. 56) and was buried at Brill in 1741. (fn. 57) His son Thomas (fn. 58) made a settlement of his estate in 1749, (fn. 59) and in 1773 purchased the other moiety of the manor. On his death in 1775 Pitchcott Manor passed to his son Thomas, (fn. 60) who was sheriff in 1785. (fn. 61) His successor about 1798, in accordance with a settlement under his father's will, (fn. 62) was his uncle Captain Richard Saunders, whose son, another Thomas Saunders, (fn. 63) had succeeded in 1813 (fn. 64) and died in 1831. (fn. 65) A quarter of Pitchcott Manor went to his sister Elizabeth Lyster, (fn. 66) the other co-heirs being another sister, Mary Wheeley, and the heirs of their two sisters Martha Smith and Jane Wilson. (fn. 67) Their representatives sold this manor in 1852 to Baron Mayer de Rothschild, who in the following year exchanged it for property in Mentmore with the Dean and Chapter of Christ Church, Oxford, (fn. 68) who are the present owners.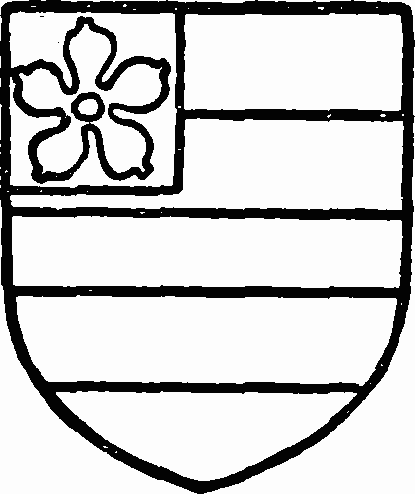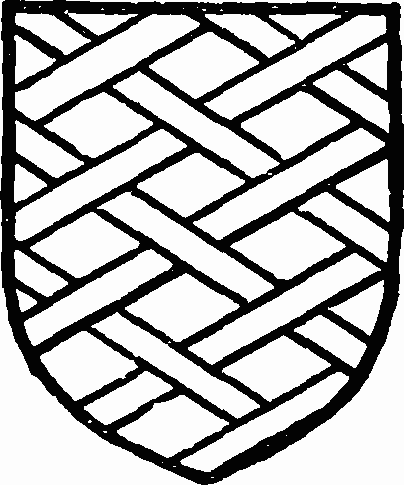 The other moiety of the manor passed before 1665 (fn. 69) to Thomas son and heir of Francis Saunders, (fn. 70) who was buried at Pitchcott in 1690. (fn. 71) His lands here, which in 1675 were settled on his wife Hester, (fn. 72) had reverted by 1708 to Thomas Saunders, (fn. 73) probably their son. He was knighted in 1714 as one 'of the honourable band of gentleman pensioners,' (fn. 74) and was living in 1727. (fn. 75) His moiety of the manor was owned by Francis Saunders in 1742. (fn. 76) Before 1773 it had passed to Ann Mead, widow, and Richard Mead, who conveyed it in that year to Thomas Saunders, (fn. 77) owner of the other moiety.
References to the manorial courts of Pitchcott occur in the 15th (fn. 78) and 16th centuries. (fn. 79)
Church
The church of ST. GILES has a chancel measuring internally 20 ft. by 14 ft., a nave 42 ft. by 15 ft., with south porch, and a west tower 8 ft. by 8 ft. 6 in. There is a modern vestry north of the chancel. The church was restored in 1864. (fn. 80)
The chancel dates from the first half of the 13th century, and the nave is of earlier date, though none of its original windows or doorways has survived. The west tower was added in the 15th century, but its upper part is of early 16th-century date.
The east wall of the chancel has been rebuilt in modern times, with the east window, but in the south wall are two 13th-century lancet windows, much restored, the eastern of the two having its sill carried down to serve as a sedile. The western lancet is interesting as having in its east splay a stone bookdesk, apparently in position, and part of the 13th century work. Between the lancets is a priest's doorway of c. 1340. The north wall of the chancel retains no old features except a plain locker, and the chancel arch is also modern.
The nave is lighted from the south by two squareheaded two-light 15th-century windows, and from the north by modern copies of them. The north doorway is of plain detail of c. 1400, and is now blocked, while the south doorway, of similar character, is the principal entrance, and has over it a trefoiled niche, now empty. The south porch has a four-centred outer doorway, above which is a stone with the date 1662, perhaps recording a repair of damage done during the Civil War. There are stone benches on both sides of the porch and modern single-lightwindows.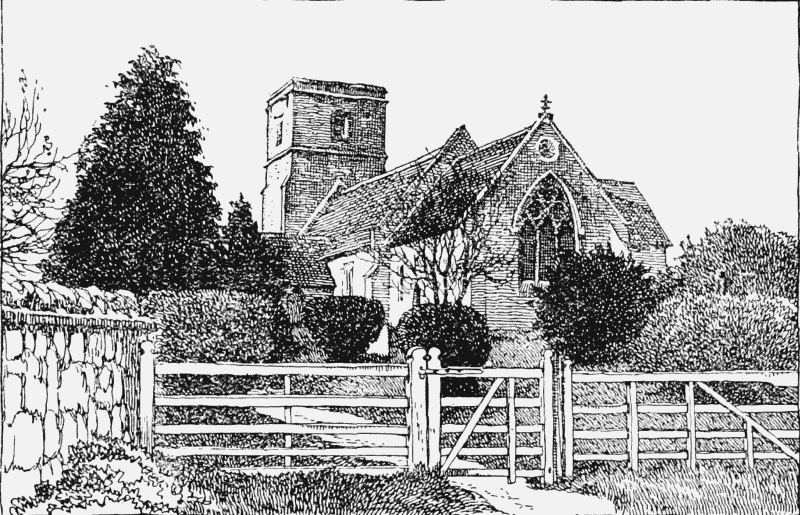 The tower has diagonal buttresses and a south-west staircase. There is a four-centred west doorway with a two-light window over it, and in the belfry stage, which, as already noted, appears to be later than the rest of the tower, are single trefoiled lights under square heads. The stonework is a good deal decayed, and has been made up with cement.
There is no old woodwork in the church, except some of the timbers in the tower.
There are three bells and a sanctus: the treble, of 1686, by Chandler of Drayton Parslow, and the second inscribed 'Sent Luke Apostel, 1590,' said by Mr. A. H. Cocks (fn. 81) to be the work of Robert Newcombe and Bartholomew Atton. The tenor, of 1717, is by George Chandler.
The communion plate includes a cup and cover paten of 1569, a chalice of 1871 with cover paten of 1884, a pewter paten and pewter flagon.
The registers begin in 1680.
Advowson
The advowson of the rectory of Pitchcott was appurtenant to the manor (q.v.). Presentations were made by Malvern Priory during the 13th century, (fn. 82) but in 1310 Richard Vernon proved his right to the advowson, (fn. 83) and it descended with the manor. In 1291 it was valued at £5 6s. 8d. (fn. 84) and in 1535 at £10 10s. 8d. (fn. 85) The owners of the moieties of the manor in the 17th and 18th centuries presented by turns. (fn. 86) The heirs of Captain Saunders retained the advowson until the later 19th century. (fn. 87) It has since belonged successively to the Rev. Peter Aubertin and his trustees, (fn. 88) to the Rev. C. L. Banister (fn. 89) and the Rev. C. J. Banister, (fn. 90) and has lately been acquired by Mr. H. Yates Thompson, the present owner.
In 1902 the rectory of Pitchcott was united with that of Oving, (fn. 91) and the owners of the advowsons have the right of presenting to the benefice alternately.
There do not appear to be any endowed charities subsisting in this parish.