Pages 215-220
A History of the County of Cambridge and the Isle of Ely: Volume 10, Cheveley, Flendish, Staine and Staploe Hundreds (North-Eastern Cambridgeshire). Originally published by Victoria County History, London, 2002.
This free content was digitised by double rekeying. All rights reserved.
CHURCHES.
In the early 12th century Bottisham church had been attached to the Giffards' manor. Shortly before his death in 1164 Earl Walter Giffard (II) gave it to his family foundation in England, Crendon Park (later Nutley) abbey (Bucks). The abbey permitted the son of the then parson to succeed his father as rector. Giffard's successor, Earl Richard de Clare, however, gave his rights in Bottisham church to Anglesey priory, shortly before 1213 when the two monasteries disputed the right to present. (fn. 1) In 1222 Nutley abbey released its claims to the advowson to Anglesey in return for a pension intended to increase, on the then rector's death, from 6s. 8d. to £4 13s. 4d.; (fn. 2) it was regularly paid by Anglesey until the Dissolution. (fn. 3) Earl Walter had also c. 1155 granted the tithes of his Bottisham demesne to his Cluniac foundation in Normandy, Longueville priory (Seine-Maritime), whose English cell at Newington Longeville (Oxon.) was by the 1220s receiving 7½ marks yearly for them. After Anglesey had claimed them in 1226, a compromise of 1227 assigned those tithes to Anglesey, which in return was to pay the cell a pension of c. £5, (fn. 4) duly rendered until the 1340s (fn. 5) and in the 1360s. (fn. 6) Later it went to royal nominees between the 1390s (fn. 7) and 1441 when Henry VI granted its reversion to New College (Oxford). (fn. 8) The Crown released both those tithe portions to Serjeant John Hinde in 1539. (fn. 9) A rector, a Lode man, was last recorded in 1222. (fn. 10) By 1225 John of Fountains, bishop of Ely, had appropriated Bottisham church to Anglesey priory, establishing a vicarage, (fn. 11) whose advowson was possessed and exercised by the priory, (fn. 12) despite attempts by the Crown to present in the 1390s during Mortimer minorities, (fn. 13) until the priory's surrender in 1536. (fn. 14) Any rectorial fieldland had long been absorbed into Anglesey's manorial demesne: in the late 1530s a Crown lessee of the rectory vainly tried to extract it from the priory's successor as lord, Serjeant Hinde, who also claimed tithe exemption for some former Anglesey arable. (fn. 15) The rectory, granted in 1541 to the King's Hall, Cambridge, (fn. 16) was confirmed in 1546 to its successor, Trinity College, Cambridge. (fn. 17) Those grants included both the advowson of the vicarage, retained by the college into the late 20th century, (fn. 18) and the great tithes, but no land except 10 a. of closes south of Bottisham church, which from the 16th century surrounded the rectory farmhouse and five-bayed tithebarn. (fn. 19)
About 1225 the bishop endowed the new vicarage with the 'altarage', including all small tithes save those from the lands of Anglesey priory, whose residents were also exempted from rendering offerings. The vicar was to have a house and glebe of 12 a., (fn. 20) which his successor still possessed in the 1530s. Some 7 a. then lately acquired had by the late 16th century enlarged the vicar's glebe to 16½ a. (fn. 21) About 1720 the small tithes were collected mainly in cash at customary rates for each kind of beast, as were some offerings levied by household. (fn. 22) At inclosure in 1808 the vicar was allotted 11½ a. for his glebe and 267 a. for his tithes, (fn. 23) of which 22½ a. was sold in 1803 to pay for internal fencing. (fn. 24) Vicarage Farm in the fen (103 a.) was sold in 1918 and some small plots later, leaving the vicar with c. 145 a. of glebe in the 1940s. (fn. 25)
The vicarial income, £5 in 1291, (fn. 26) was worth under £8 c. 1450, (fn. 27) £16 in 1535, (fn. 28) and only £32 in 1650 (fn. 29) as c. 1728. (fn. 30) It increased to c. £270 by 1830 (fn. 31) and £340-60 gross c. 1865-85, (fn. 32) before declining sharply with the agricultural depression. (fn. 33)
By 1500 the vicar's house stood in a 1 1/2-a. close south-east of the church, (fn. 34) which was still vicarial glebe c. 1800. (fn. 35) The house, still recorded in the early 17th century, (fn. 36) had before 1728 been allowed by absentee clergy to fall down. (fn. 37) In 1838-9 John Hailstone, vicar 1837-61, built at the south-east end of Bottisham street, on an 11-a. plot allotted to the living at inclosure, a large new vicarage house. Designed by James Walter of Cambridge, it is of grey brick, in a free Tudor style, with a bargeboarded south wing balancing a two-storeyed bay window. Hailstone found a quarter of the £1,700 cost himself. (fn. 38) That house, thought over-large by the 1920s, (fn. 39) was sold during a vacancy in 1938-9, the proceeds being used to build on a plot facing the church a large new vicarage, (fn. 40) still in use in 1991. The old house, later called the Grange, had by the 1980s been converted into a nursing home for sick or mentally infirm old people. In 1990 that home began building to the west a new medical block, giving it 100 hospital beds. (fn. 41)
Vicars were often recorded from the 1320s, (fn. 42) one being appointed penitentiary for his parish in 1346. (fn. 43) Three successive vicars quitted Bottisham by resignation, after brief tenures, 1396-9. (fn. 44) One 15th-century vicar had served as chaplain to the patron, but graduates began to be appointed from the 1440s, some of them holding the living for 20 years or more. (fn. 45) Some were perhaps non-resident, like their early 16thcentury successors. The church was probably often served by parish chaplains, who numbered three in 1379, (fn. 46) two in 1406. (fn. 47) One parish priest served, regularly attending villagers' deathbeds, 1520-32. (fn. 48) Anglesey's last nominee as vicar, although probably resident in the mid 1530s, (fn. 49) was by 1538 chaplain to a baron. (fn. 50) Successive curates, including a former canon of Anglesey, paid by the vicar or rectory farmer, ministered in the 1540s. (fn. 51)
In 1389 Bottisham had several longestablished guilds, whose masters were drawn from the village notables, among them manorial office-holders and two priests: the patronal guild of Holy Trinity, which found lights before its image on feastdays, and others, two also providing lights, of Corpus Christi, St. Nicholas, the Nativity of the Virgin, All Saints, St. Peter, and St. James. The Trinity guild, open to both sexes and supported by subscriptions in barley or wax, besides celebrating members' exequies with masses, helped the poor avoid excommunication by paying their church offerings. It also maintained the church fabric, books, and vestments. Those guilds claimed in 1389 that their resources had just been exhausted in replacing vestments and ornaments lately stolen from the church. (fn. 52) Guilds of the Trinity, All Saints, and the Virgin were still recorded in 1525 (fn. 53) and a guildhall was sold for the Crown in 1564. (fn. 54) Bequests for requiem masses, trentals, and obits, some substantial, and involving endowments charged on land, continued to be made into the late 1520s. (fn. 55) One man asked for such masses as late as the spring of 1547. (fn. 56) Only minuscule gifts for such purposes, including a sepulchre light, were traced and sold for the Crown in 1549-50 and 1572. (fn. 57)
Trinity College began to appoint former fellows as vicars in the 1550s, (fn. 58) but not invariably. The non-graduate in office in 1560, who was neither resident nor qualified to preach, employed a curate, (fn. 59) as did his successor. (fn. 60) A Trinity man, also not a fellow, probably served in person from 1575 to his death at Bottisham in 1611. (fn. 61) His immediate successors until the 1640s were mostly youthful ex-fellows (fn. 62) and probably often absentees, serving through curates. (fn. 63) About 1618 unlicensed outsiders were apparently reading some services. (fn. 64) Theodore Crosland, vice-master of Trinity, vicar from 1640, was accused, after fleeing to the Royalists in 1643, by a Puritan group among his parishioners of such 'Popish innovations' as reading prayers from the communion table, besides failing to examine intending communicants and inaudibly preaching sermons that were not 'edifying'. His substitute displeased the godly party by asserting complete baptismal regeneration. On his death they procured a minister of their own choice. The vicarage, sequestered in 1644, (fn. 65) was held in 1650 by a parliamentary nominee. (fn. 66) A curate was in charge in 1665. (fn. 67) Trinity recovered control after 1660, but, except for a Crown nominee presented by lapse in 1668, who served into the 1680s, (fn. 68) no vicars were appointed until after 1800. (fn. 69) Instead by the 1760s Bottisham was served by sequestration. (fn. 70) By the late 18th century the ministers were usually serving fellows of Trinity. (fn. 71) Only after the Crown had presented the master of the Charterhouse by lapse in 1801 did the college resume the formal appointment of vicars in 1812. (fn. 72)
Although living in college the minister had held two services each Sunday in 1728, when 30-40 villagers came to the thrice-yearly sacraments. (fn. 73) Those practices were continued from the 1770s to the 1830s by ministers, including those Trinity men whom the still absentee vicars employed as curates in the early 19th century, and who preached only once each Sunday. There were usually 20-30 communicants. (fn. 74) Only the diligent, but slightly eccentric William Pugh, vicar 1812-25, rode out in person every Sunday to take both services. (fn. 75)
The energetic John Hailstone, vicar from 1837, who came to reside at his new-built vicarage, had before he resigned in 1861 also restored Bottisham church and built one at Lode, besides starting church schools for both settlements, partly from his own resources. (fn. 76) In 1851, when Bottisham church had 469 sittings, 300 free, he claimed an average attendance of almost 250 adults, besides 110 Sunday-school children. (fn. 77) In 1862 his successor started a weekday evening service at the schoolroom to instruct the labourers in Scripture. (fn. 78) In 1873, when he preached twice each Sunday, there were c. 300 churchgoers, and only 40-60 people neglected worship altogether. (fn. 79) Under the next vicar, who claimed c. 360 churchgoers in 1885, the numbers attending communion, held monthly into the 1880s and almost weekly by 1897, increased from 20 to 35, but most of the older men went neither to church nor chapel. (fn. 80) Bottisham continued to have a resident incumbent, shared from the 1970s with the Swaffhams, into the 1990s. After 1910 most 20th-century vicars, still Trinity men, served for 10-12 years each. (fn. 81)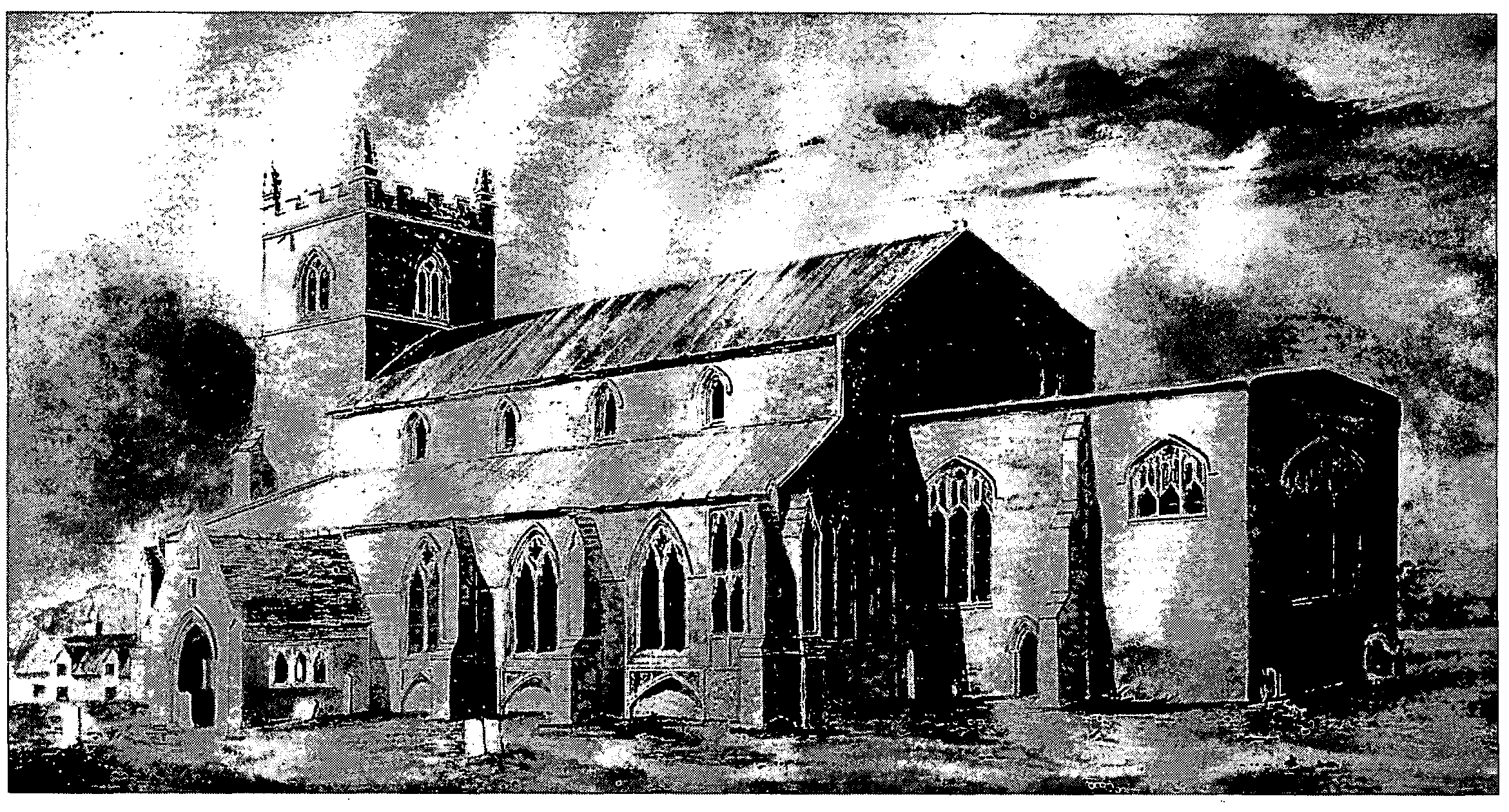 The church of HOLY TRINITY, so named by 1345, (fn. 82) consists of a chancel, aisled and clerestoried nave with north and south porches, a west tower and a western porch beyond it. It is mostly built of clunch. The nave and aisles, with their porches, have their lower courses, buttresses, and windows dressed with Barnack limestone. (fn. 83) From a preceding 12th-century church there survive fragments of a tympanum carved with a cross, and of a square font with chevron carving. The church began to be rebuilt in the early 13th century, from which period dates the chancel walling. Its south wall contains a priest's door of that time, and, inside, a simple piscina and sedilia. The contemporary tower of three stages, with plain two-light belfry windows, bears on the inside of its east wall the outline of a steeper former nave roof, and has triple-chamfered eastern and western doorways. To its west is a twostoreyed porch or galilee, originally opening westwards with a tall arch, soon filled with fieldstones, in whose lower part a new west doorway, also chamfered, was installed. The survival of a 13th-century doorway between the upper storeys of the porch and tower suggests that their upper rooms may then have housed a priest or clerk. In the late 20th century the decayed, uncoursed clunch walling of the tower and porch was largely renewed in whitewashed brick. (fn. 84) The nave and aisles were rebuilt in the early 14th century in five bays, the aisles being extended westward partly to embrace the tower. The cost of that work was perhaps met by the judge Ellis of Beckingham, who gave a silver chalice to the church before 1310 (fn. 85) and whose tombslab, robbed of its brass, but retaining the indents both of his robed figure under a floriated canopy and of the surrounding inscription, occupies, as it did in 1743, a place of honour in the centre of the nave. The chancel arch was also probably recut, soon after 1300, with new mouldings facing towards the nave. The matching nave arcades, with richly moulded arches on quatrefoil piers of clunch, have single-light windows above their spandrels. The aisles have, in windows of two lights at the sides, three to east and west, largely uniform tracery of pointed quatrefoils over cusped arches. At the aisle east ends the string course rises over a rectangular panel beneath a narrower, square-headed and transomed window. The one in the south aisle has surviving, ornately cusped, sedilia and piscina surviving beside the site of its altar. Under that aisle's other five windows moulded segmental arches, inside and out, their external spandrels filled with knapped flint, cover shallow recesses above apparent tombslabs: under one were found in 1839 the remains of a priest. (fn. 86) The matching north and south porches, gabled and with three-light side windows, are also early 14th-century. Probably in the 15th century the tower was embattled and pinnacled, while the chancel, which Anglesey priory repaired c. 1450, (fn. 87) received new windows with plain Perpendicular tracery. Glass seen there in 1743 contained, besides two saints, the arms of the manorial overlords Clare and Mortimer and of William Gray, bishop of Ely 1458-73. (fn. 88) About 1450 a stone screen of three arches on slim piers was installed under the chancel arch, while, perhaps after 1500, two two-light windows were inserted above that arch.
The existing plain octagonal font is probably 13th-century. The roofs of the nave and aisles, the former on kingposts, are in the main late medieval, but that of the chancel was renewed c. 1850. (fn. 89) In 1521 money was being collected towards leading the church. (fn. 90)
From the late 15th century the north aisle became a burial place for the lords of Alingtons manor. A wooden screen, possibly late 14thcentury, whose eight elaborately traceried compartments, two including double doors, follow three distinct designs, probably stood entirely in the north aisle until it was rearranged across the ends of both aisles c. 1839. (fn. 91) Under the north aisle's eastern arch stands a tombchest, robbed of the brass of an armed man; heraldry visible in 1743 indicated it to be that of William Alington (d. 1479). (fn. 92) A columned wall monument under the facing window, surmounted by heraldry and strapwork, contained the kneeling figures of Thomas Pledger (d. 1599) and his wife Margaret (d. 1598). (fn. 93) Under the east window two cherubs raise carved curtains to reveal the effigies of two infant children of William, Lord Alington. The south aisle east end, where the Jenynses had their high-sided family pew into the 1840s, (fn. 94) has under its east window the pedimented monument of Sir Roger Jenyns (d. 1740) and his wife Elizabeth (d. 1728), whose loosegowned figures hold hands. The neighbouring wall holds a tablet of 1796 to Soame Jenyns, made by John Bacon. (fn. 95)
The impropriators or their lessees neglected to keep the chancel in repair in the late 16th century, (fn. 96) as in the 1660s (fn. 97) and c. 1680. (fn. 98) The main restoration, undertaken as early as 1839-40 under Charles Papworth of Cambridge, renewed much stonework, but involved little substantial change to the structure. (fn. 99) Wainscotting and stalls around the chancel, in place by c. 1678, (fn. 100) were removed, the pews and seats were replaced in deal, and a gallery was put up across the nave west end to hold the school-children. (fn. 101) It was still there in 1991 when it carried the organ, installed c. 1845 and improved from a barrel instrument to a fingered one c. 1864. (fn. 102) The west tower and porch were repaired in 1849-50, some windows being re-opened. (fn. 103) The chancel was refurbished in 1867 and the south porch in 1870. (fn. 104) In 1875 the chancel east wall was rebuilt in memory of the squire's eldest son, Col. S. F. Jenyns (d.s.p. 1873): three stepped lancets, designed by A. W. Blomfield, replaced its Perpendicular window. (fn. 105)
In 1552 the church had, besides a silver gilt cross and censer, three silver chalices, two gilded. (fn. 106) The existing plate includes a cup, paten, and flagon of 1840, given by John Hailstone. (fn. 107) There were three bells in 1552, four between the mid 18th century and the mid 20th, (fn. 108) including one late 16th-century one, one of 1606, two of 1626, and one recast in 1829. (fn. 109) A sixth was added in 1976. (fn. 110) The parish registers, which begin 1561 × 1569, are substantially complete. (fn. 111) After the churchyard was closed in 1895, (fn. 112) 1 a. of glebe to its east was acquired by the parish council for a burial ground, in use from 1899. (fn. 113)
In 1852-3 John Hailstone erected at Lode a chapel of ease consecrated in 1853, which seated 300; he gave £1,090 of the £1,765 cost of building it, and £710 of c. £1,000 raised to provide £40 yearly for the permanent curate whom he employed there. (fn. 114) In 1857 it was already claimed that church activity there had greatly improved the inhabitants' supposedly 'idle and disorderly' way of life. (fn. 115) In 1863 Lode was constituted a separate chapelry, incorporating, besides 2,590 a. of Bottisham, Swaffham Bulbeck Poor's Fen; the southern boundary followed the Quy- Swaffham road. The vicar of Bottisham then resigned rights of presentation and supervision in favour of Trinity College, Cambridge, (fn. 116) which in 1925 ceded the patronage to the bishop of Ely. (fn. 117) By 1864 £2,000 more had been raised, half from that college, matched with £1,000 from the Ecclesiastical Commissioners, giving the new incumbent, styled a vicar from 1869, an endowment worth £155 yearly by 1900. (fn. 118) The college had also in 1863 given a plot north-east of the new church, on which a vicarage house was built in 1864. It was sold between 1974 and 1990. (fn. 119)
Incumbents of Lode between the 1860s and the 1940s were mostly young clergymen starting their careers; few stayed long. There were five 1863-70, and only three out of their thirteen successors served for ten years or more. (fn. 120) From the 1870s they regularly held two Sunday services, with communions at first monthly, by the 1890s weekly, attended by 50-70 people. Overall churchgoers there were said to number c. 300 in 1873, 600 by 1897. By 1885 a mission room had been opened at Longmeadow. (fn. 121) From 1974 Lode was left vacant, the church being served from Bottisham, whose vicar held both benefices by 1991. They were formally united in 1990. (fn. 122)
The church of ST. JAMES, so named from 1853, (fn. 123) standing east of the main street on a plot given by Trinity College, (fn. 124) is stone-built to designs by Rhode Hawkins in Decorated Gothic. It consisted originally of a chancel with vestry, nave, and south porch, the small western bellcote containing two bells. (fn. 125) In the late 20th century extensions were added on the north side for a new vestry and church room.